Pink and gold parties are so on trend right now at Catch My Party.
But first they need a stunning invitation.
We've rounded up our favorite invitation ideas for girl birthdays, baby showers, teen birthdays, bridal showers, quinceaneras, Sweet 16s,  milestone birthdays, baptisms, and every possible sweet themed party you can think of!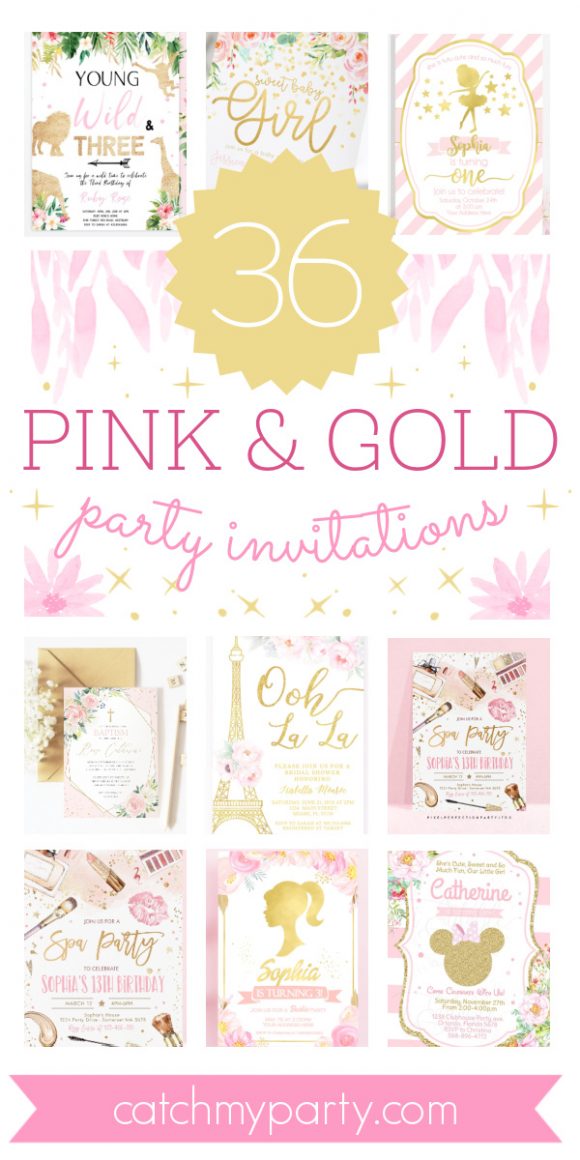 36 Gorgeous Pink and Gold Party Invitations!
Our first pink and gold party invitation is a generic girl birthday invitation that can be used for a pink and gold-themed party of your choice.
Covered in pink and gold dots and with gold typography, this invitation will definitely match your pink and gold party!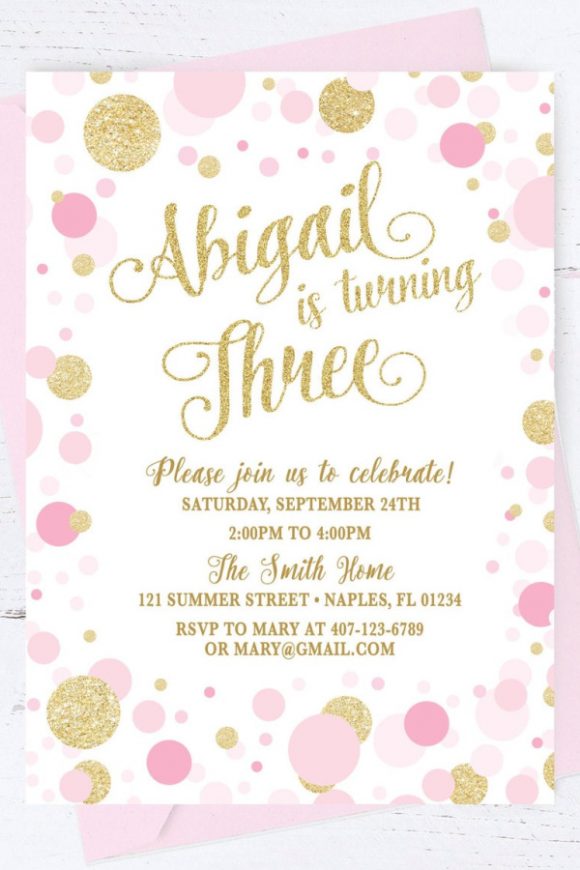 A 1st birthday is a big deal that should be celebrated with as many balloons as you can get your hands on.
Invite your family and friends over to the big bash with this cute pink and gold 1st birthday balloon invitation.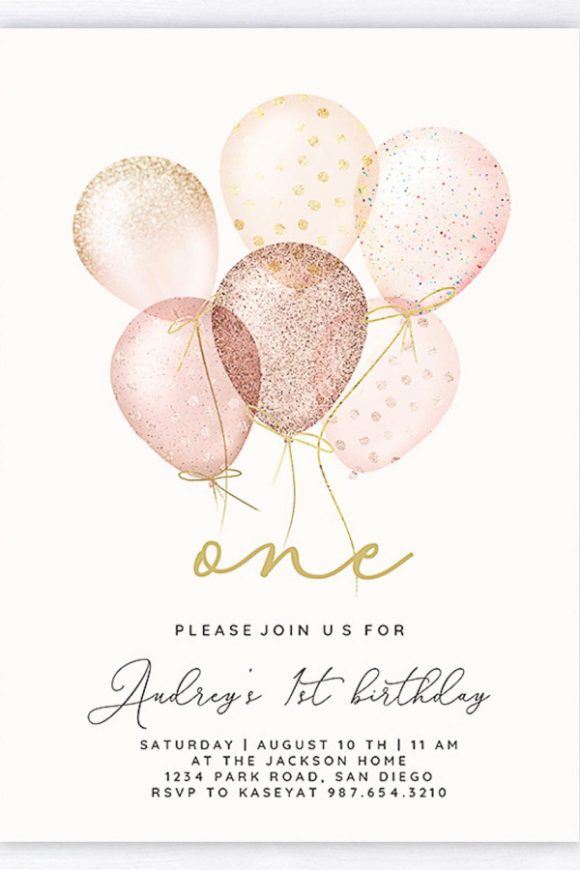 If you are looking for an invitation for a teen, then you know that style is important.
This pink watercolor background and gold geometric shape design is so elegant and a great example.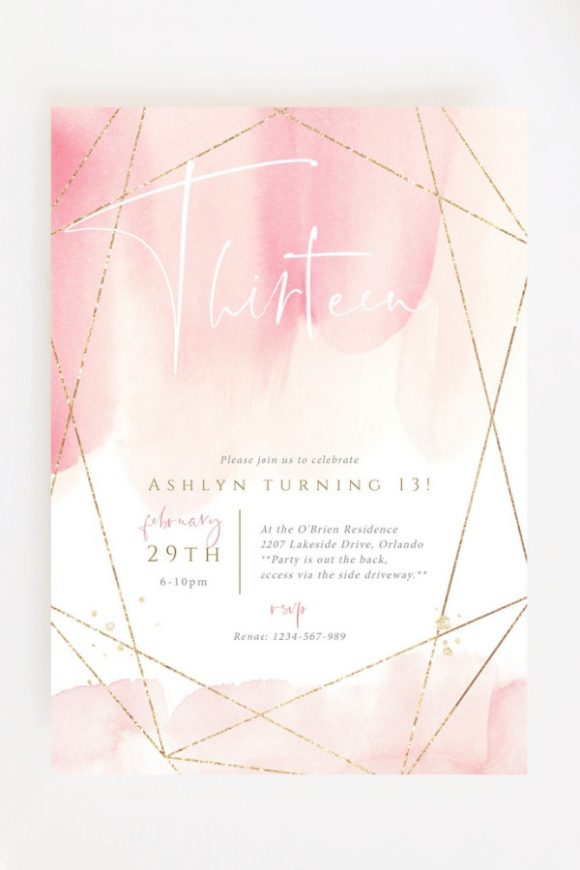 If you are throwing a pink and gold "coming of age" quinceanera for a special girl, then take a look at this gorgeous rustic invitation.
It's beautifully designed with pretty watercolor flowers that make this invitation so precious.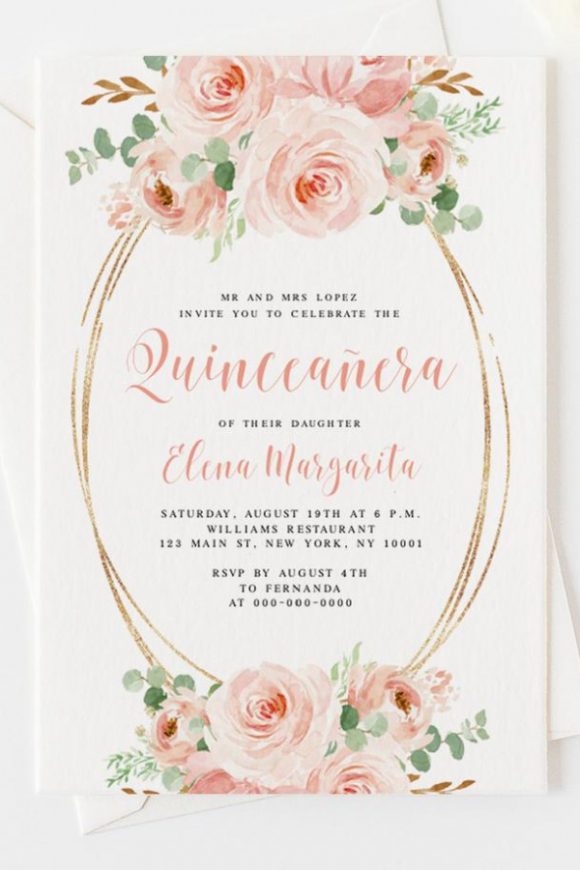 A 16th birthday is such an important milestone and should be celebrated with a fabulous Sweet 16 birthday party.
Get the party started with this fun pink and gold invitation with an awesome gold foil '16' balloon that takes center stage.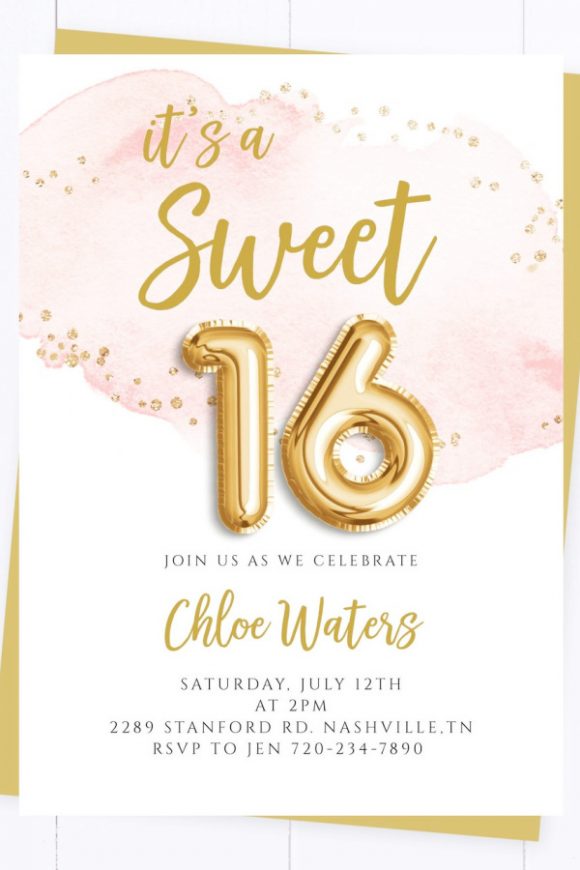 If you're turning 30 and wish to party with your family and friends this modern party invitation is so elegant.
The design of this invitation is a wonderful example of where less is more.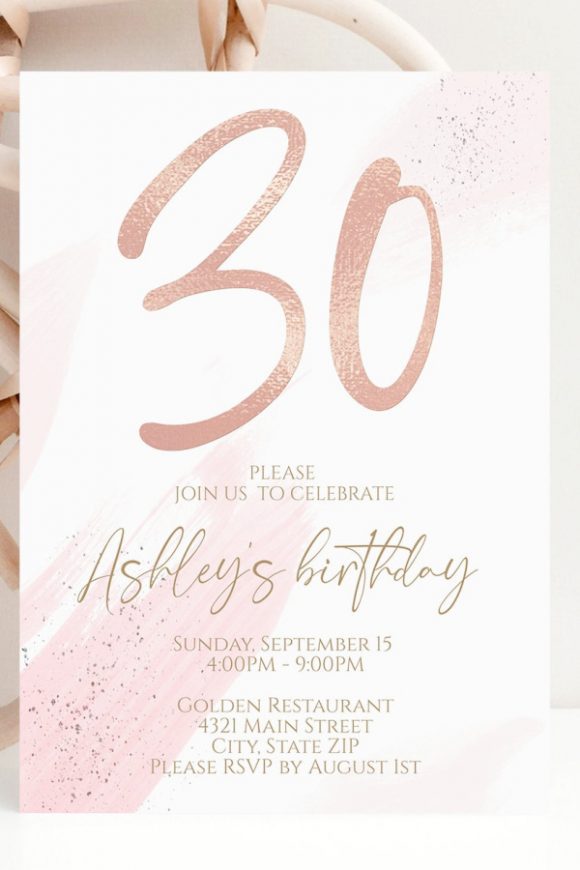 If instead, you are looking forward to celebrating your 40th birthday, check out this stunning invitation.
The design includes a wonderful scripted "forty" that fills the invitation with so much sophistication.
You are going to love it!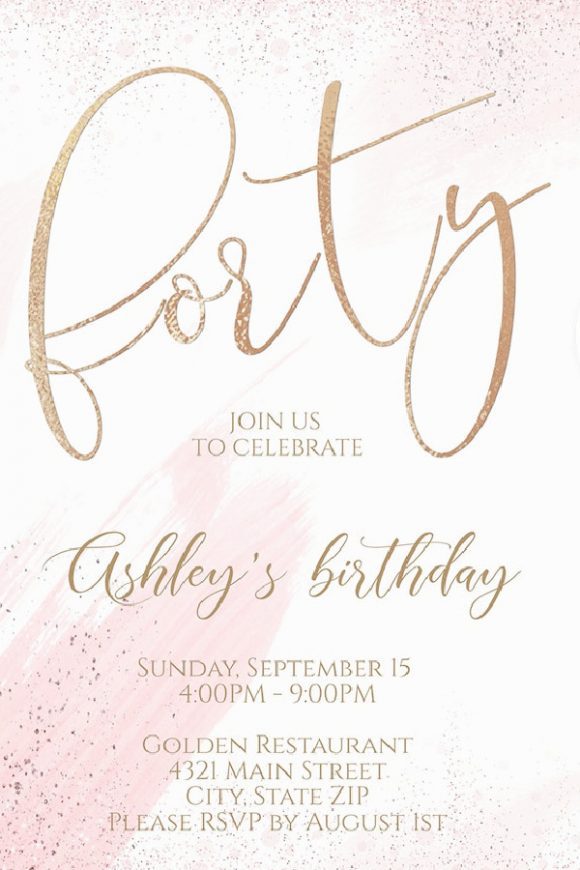 An 80th birthday needs to be celebrated with the best party ever, and this invitation to match.
This one oozes charm and is such a delight to marvel at gorgeous flowers and beautiful typography.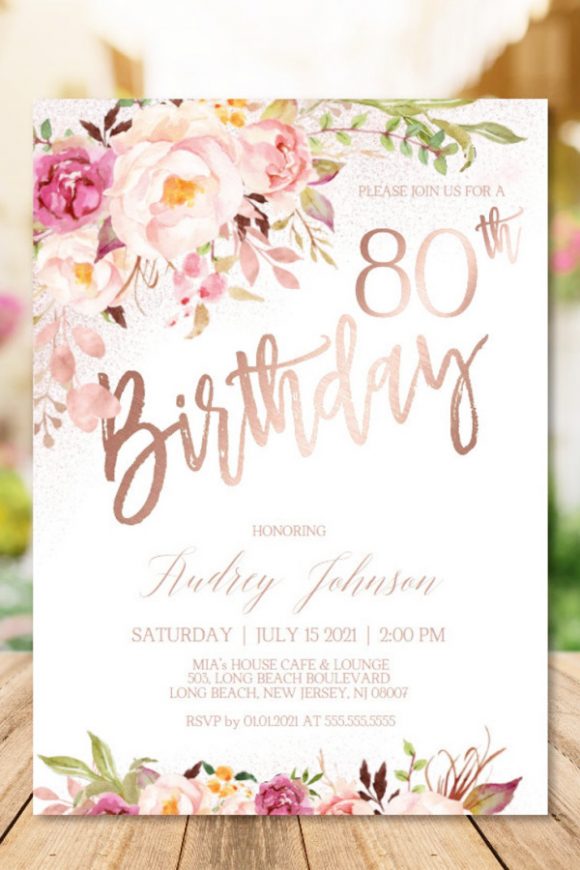 A true princess needs a party invitation that will dazzle her guests just as this one does just that.
The sparkly gold crown truly makes this invitation is definitely fit for a princess!
Minnie Mouse is an old favorite and a popular party theme, especially when it comes to celebrating 1st birthday's.
If you are planning a pink and gold Minnie Mouse bash look no further. This striped floral invitation is so adorable.
Love the gold sparkly Minnie with her cute pink bow.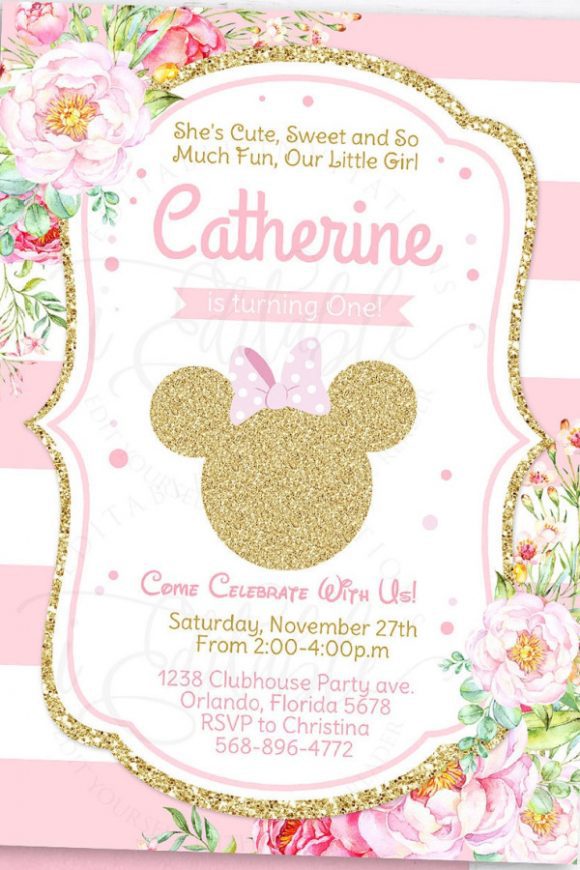 Every little fashionista loves Barbie, which is why she's a great theme for a girl's birthday party.
If you really want to see Barbie shine then don't miss this impressive gold silhouette Barbie surrounded by pretty flowers.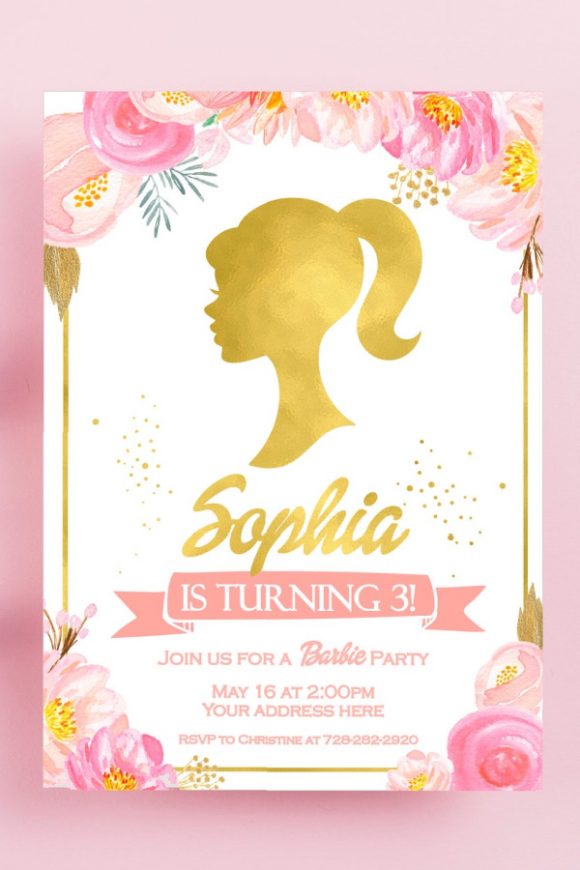 If your daughter loves unicorns then we've found for you the perfect pink and gold unicorn invitation.
This gorgeous invitation has a sprinkle of magic which is just what you need when you're throwing a unicorn party.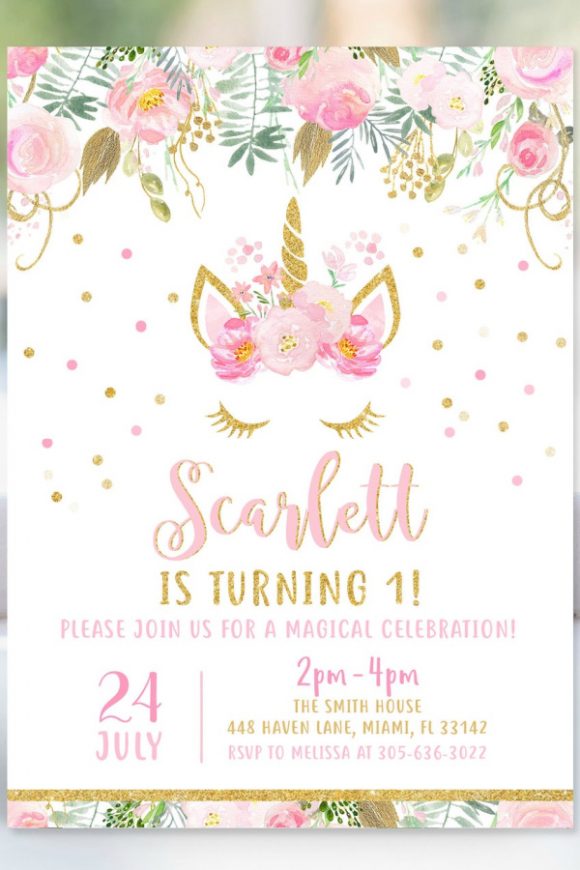 Just like with unicorns, llamas are also a guaranteed hit with young girls and are a fab party theme.
This pink and gold llama party invitation is a dream, with all the pretty gold dots and pink flowers.
It will surely warm everyone's heart.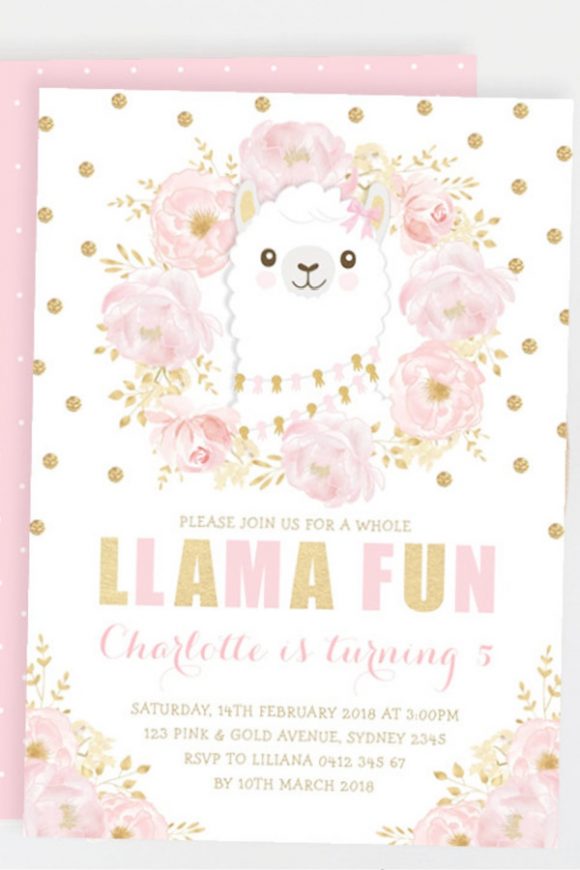 Carousel parties are a wonderful pick if you are thinking of hosting a vintage party.
Loving the design of this pink and gold invitation covered in pretty stars and flowers and with a dazzling gold carousel.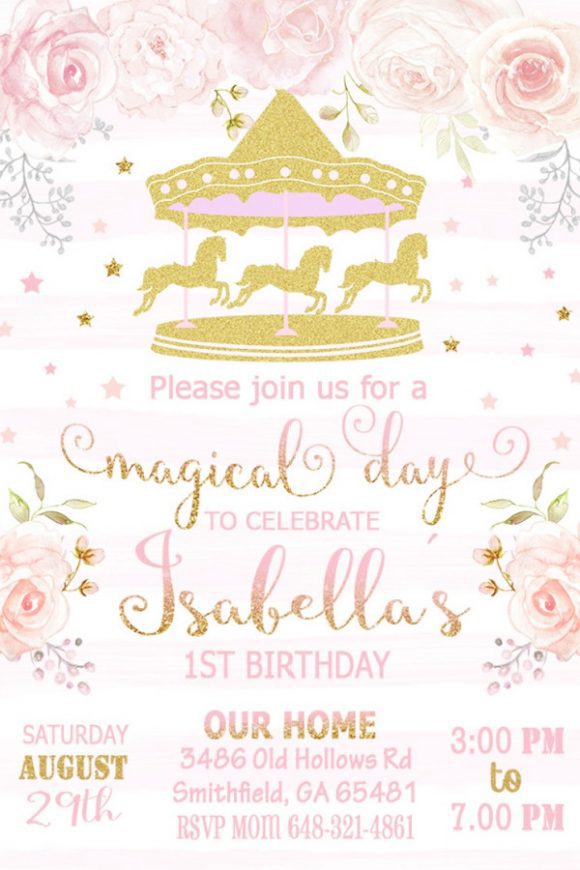 So many young girls love to dance, especially ballet, so if you are planning a pink and gold ballerina party, this invitation may be just what you are looking for.
The design includes a gold silhouette of a wonderful little prima ballerina surrounded by stars, up against a stripy pink and white backdrop.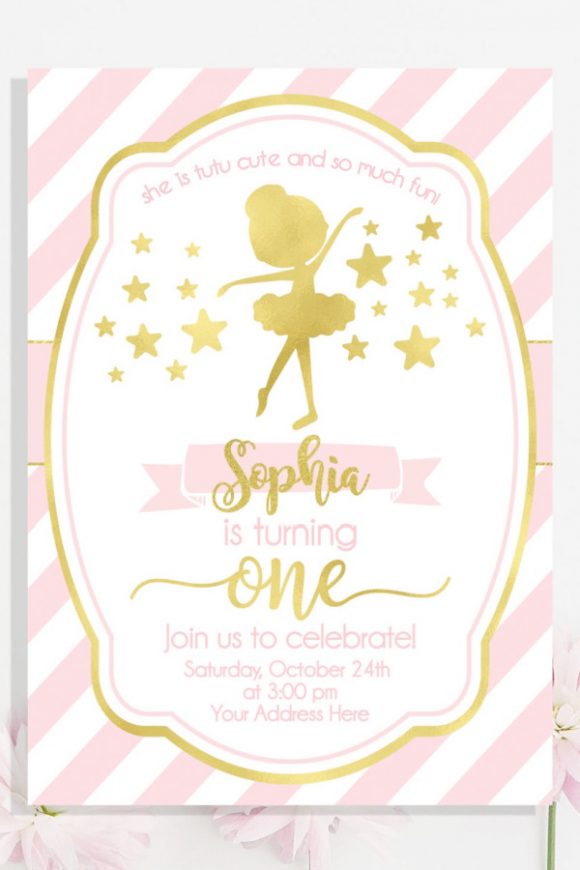 Sometimes it's nice to keep things simple and just enjoy your birthday with close friends and family.
If that's the case, and if you don't want too much of a fuss, a lovely alternative is to invite everyone to a birthday brunch with this elegant pink and gold party invitation.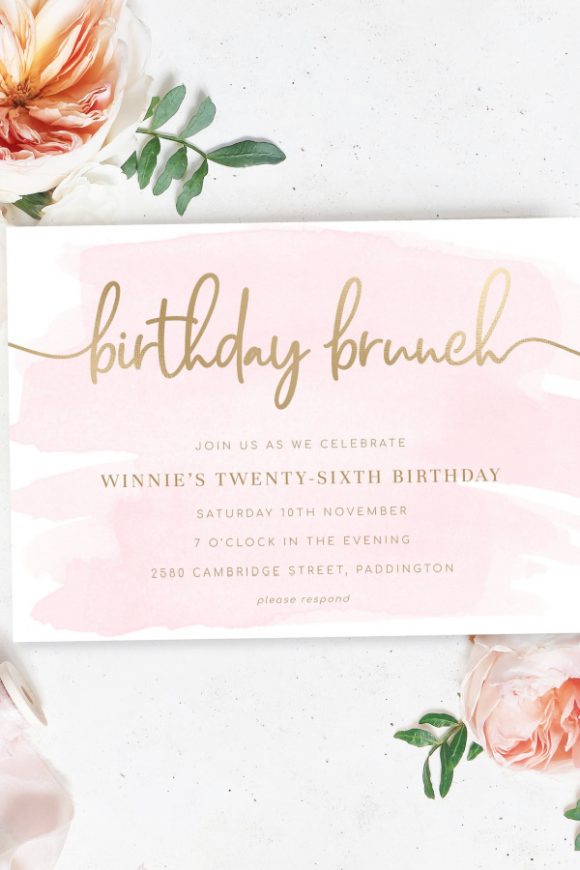 Butterflies leave everyone's heart a flutter, as will this invitation once your guests get a hold of it.
The design includes a sweet gold and floral number (according to the child's age) surrounded by whimsical pink butterflies.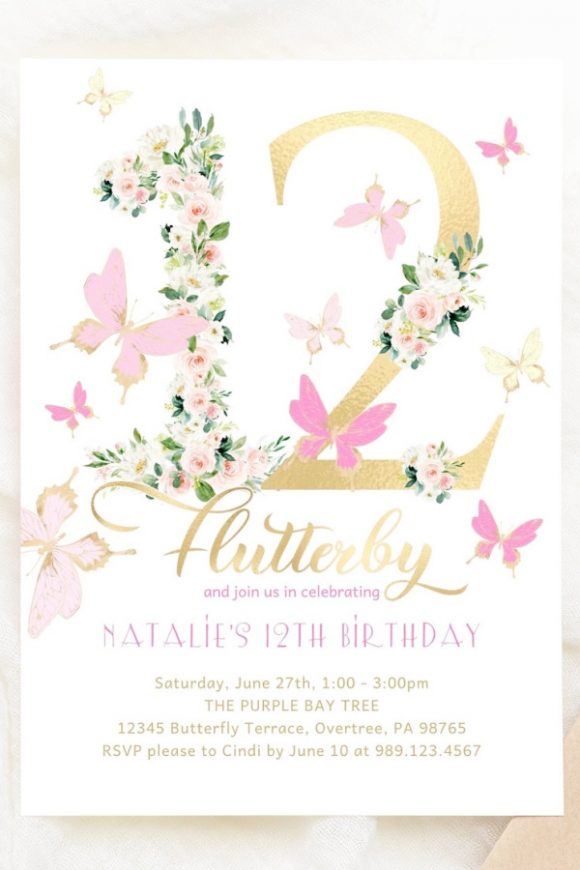 Dinosaurs aren't only a party for theme boys. More recently we've seen an uptick of dinosaur parties for girls that are just as cute, on CatchMyParty.com.
Celebrate your daughter's birthday with this awesome pink and gold dinosaur invitation and get ready for things to get wild!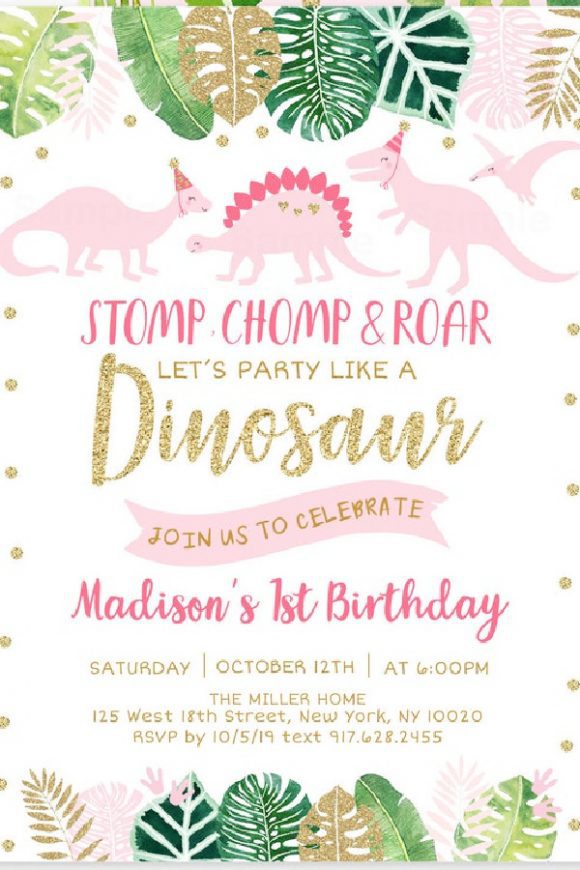 If on the other hand, you are looking for something more delicate and incredible girly, then you have got to go with this gorgeous fairy-themed pink and gold party invitation.
Decorated with pretty flowers, butterflies, and a lovely gold fairy, this invitation delight everyone who's lucky enough to get one.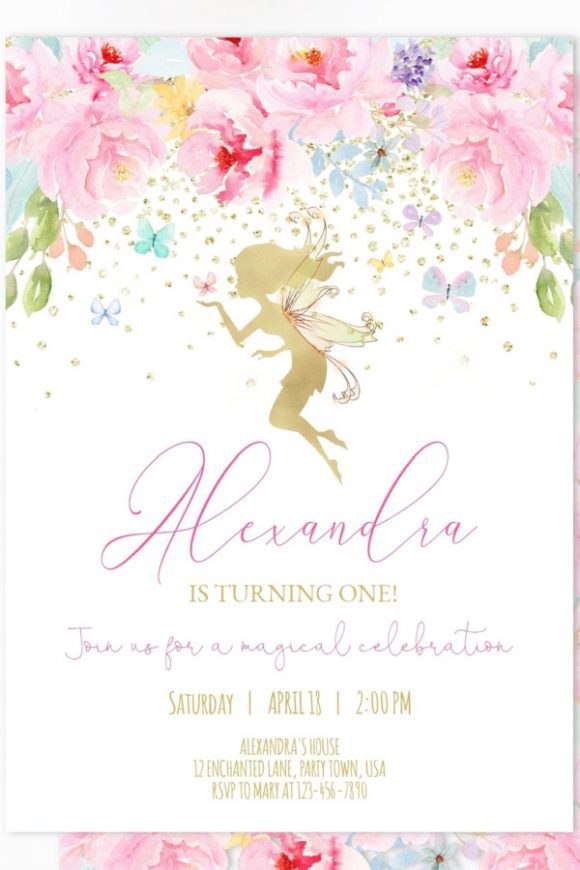 A farm-themed birthday party is a cool idea if your child loves everything about farm life and farm animals.
This pink and gold farm-themed party invitation is so cute. Love the gold animals and pink dots.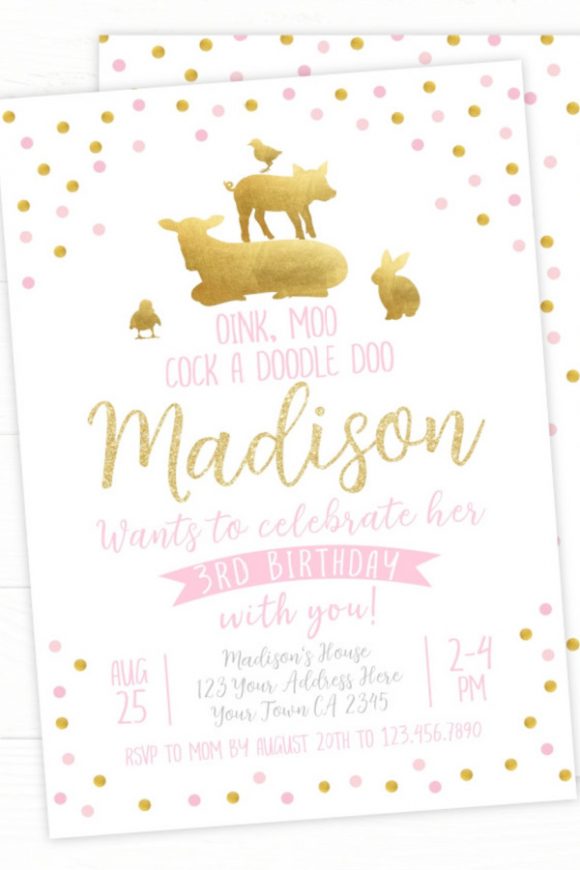 If on the other hand, you're looking for something more tropical, how about going for a pink flamingo and gold birthday party!
You really can't go wrong with this adorable flamingo invitation.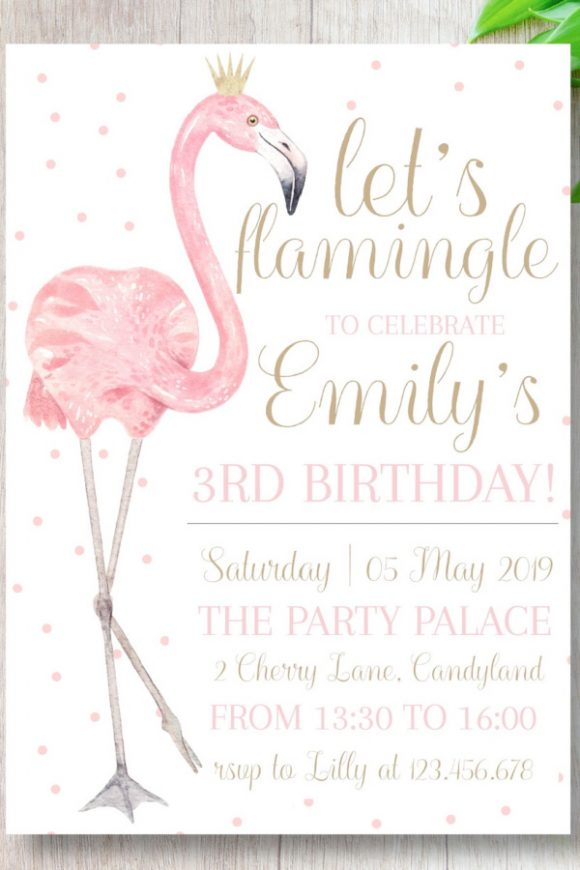 We've found the perfect invitation for a summer birthday party! Aloha!
Celebrate with a party in the sun and send out these fun pink and gold pineapple invitations to get everyone in the mood.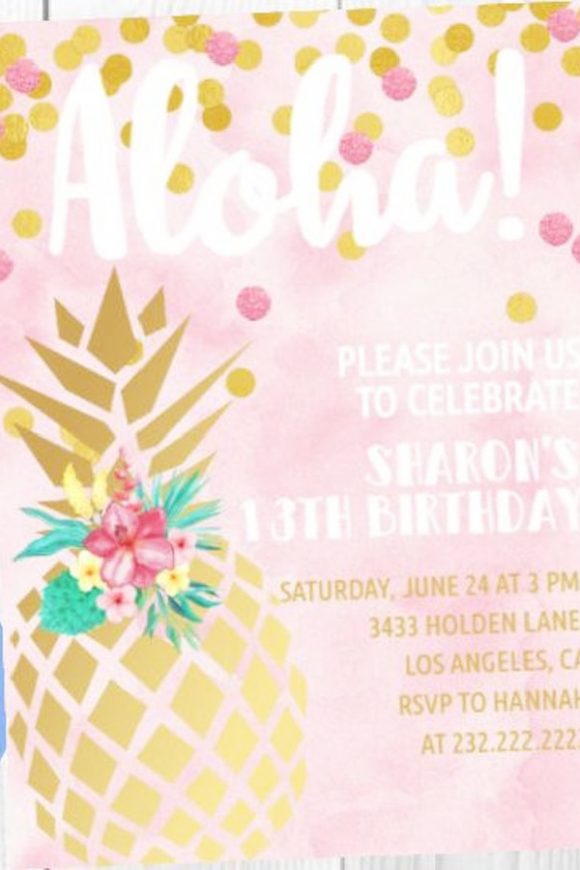 Hot air balloon parties are also really popular and are such a charming theme for a girl's birthday party.
Treat your guests to these delightful floral pink and gold party invitations, so they too can take flight!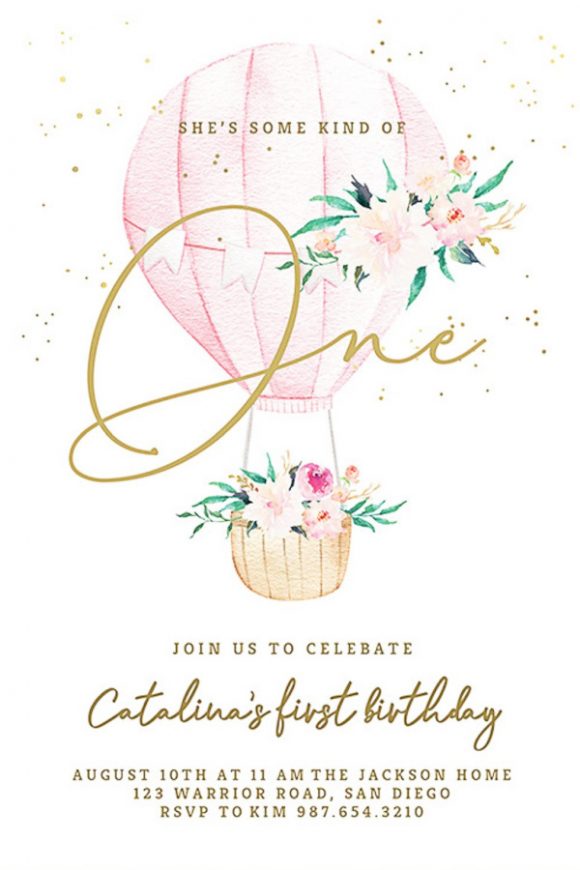 If you are throwing a party for a little mermaid then you won't want to miss this sweet pink and gold mermaid-themed invitation.
The design is simple but oh so beautiful, with a gorgeous gold mermaid tail and a bunch of pink and gold dots and shells.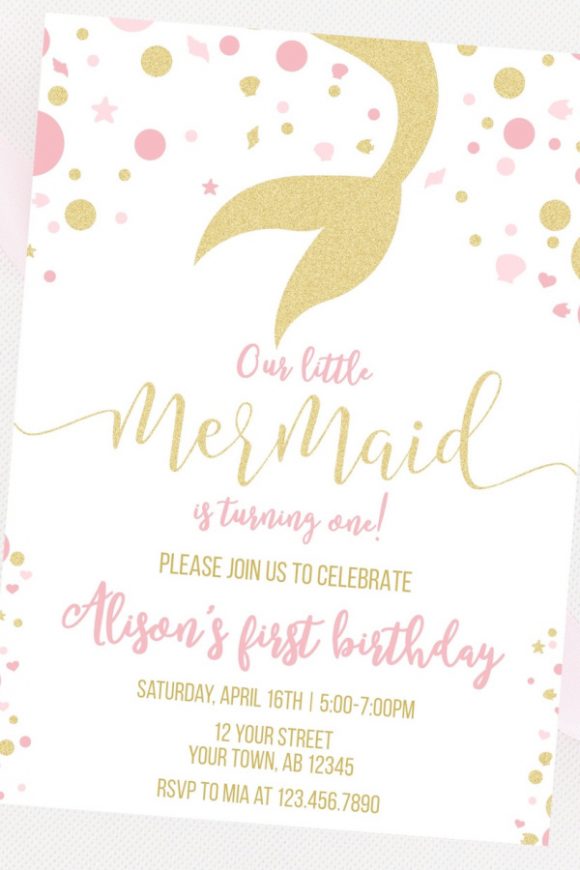 This next invitation is 'Oh, so chic!' and is the ultimate pink and gold Parisian party invitation!
The gold Eiffel Tower and all the pink flowers make this invitation so enchanting.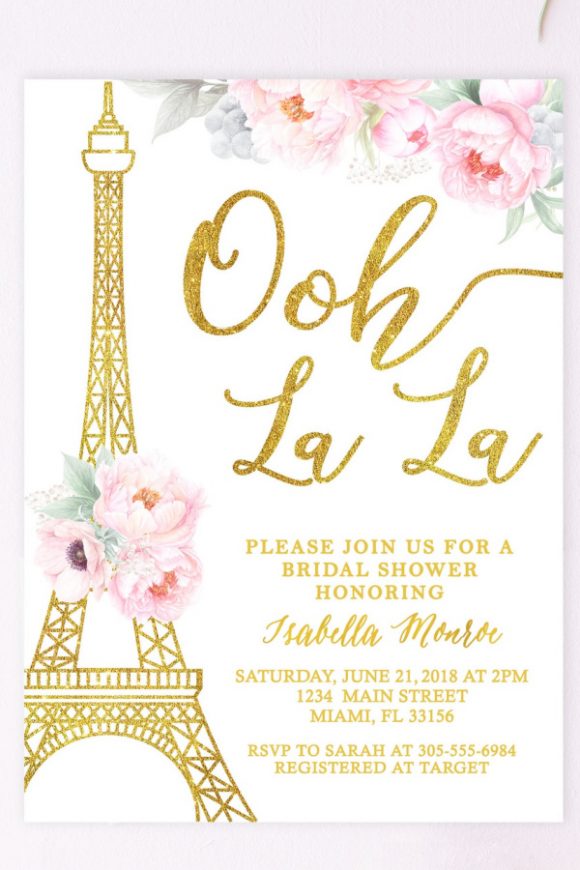 Rainbows are so on-trend right now, especially boho rainbows which fit in perfectly with our pink and gold party theme.
Just take a look at this stunning pink and gold watercolor rainbow and you'll feel lucky.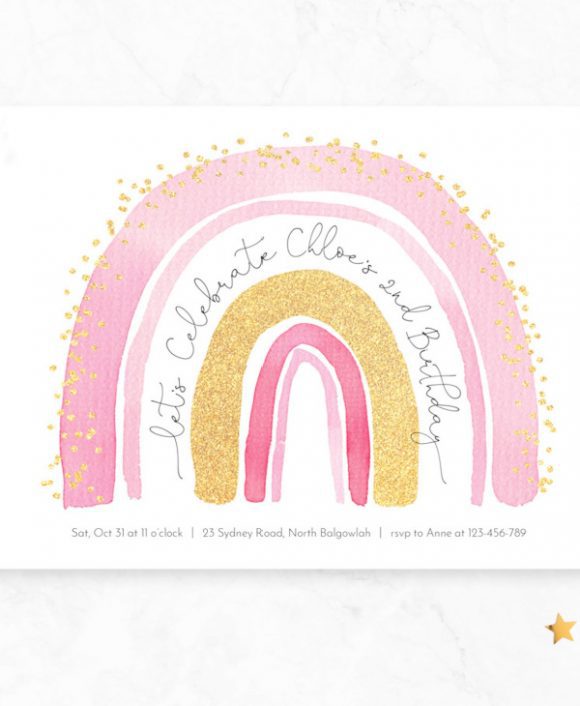 Another incredibly popular party theme that everyone is wild about are safari parties!
Who doesn't love a party full of wild animals and a jungle vibe?
This pink and gold invitation does the trick and will have everyone counting down to the big day.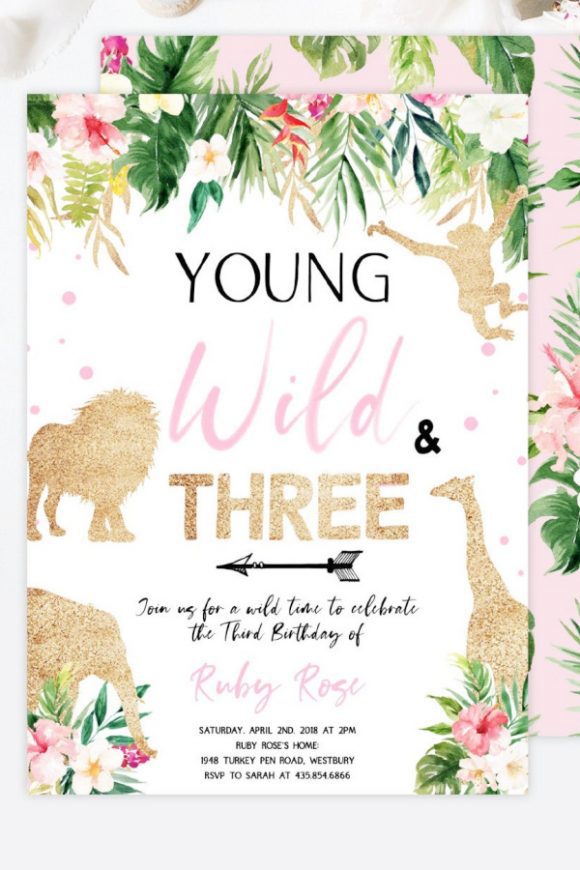 If you're in need of some pampering then a pink and gold spa-themed party is what you need.
Just look at this amazing invitation covered in make-up.
Anyone just looking at the invitation will feel a makeover coming on!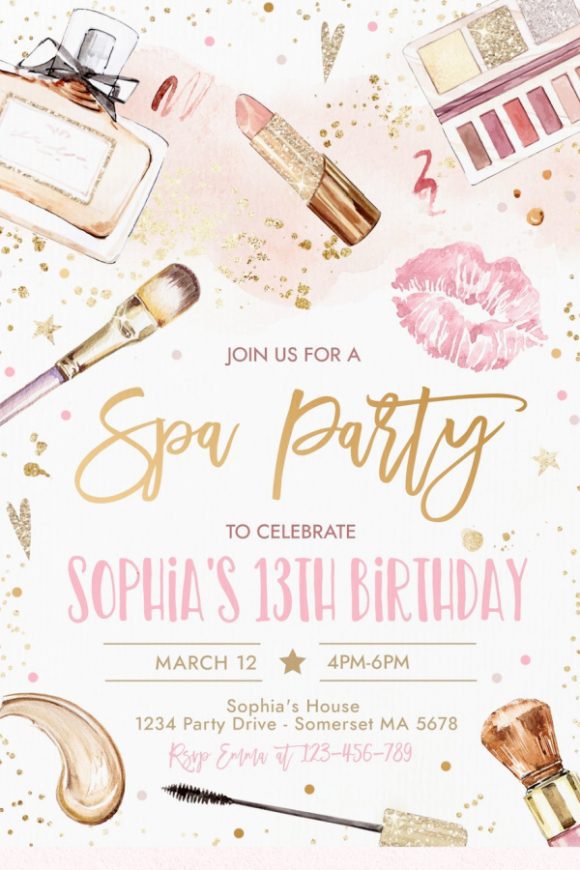 Who can resist this delicately designed pink and gold swan-themed party invitation?
It's so exquisite and such a joy. Love the swan illustration up against the pink watercolored circle.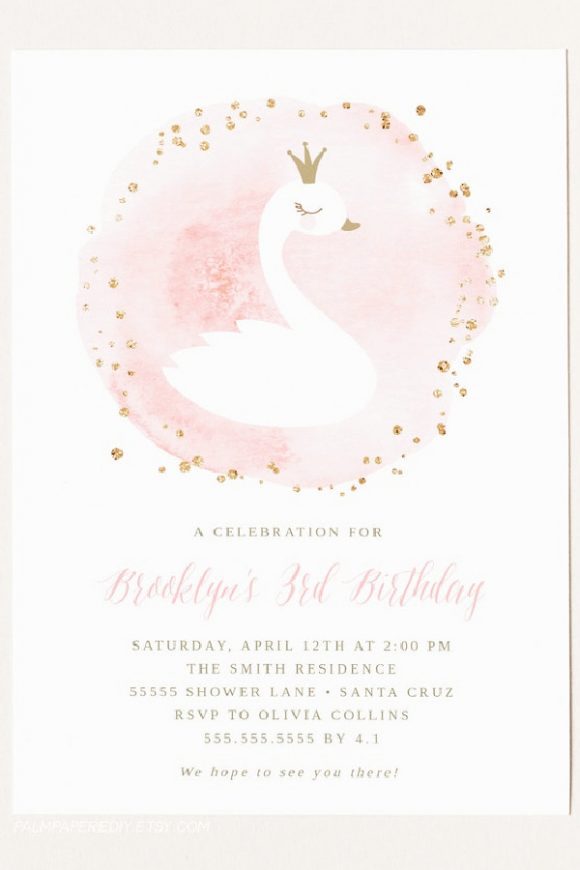 Tea parties are a great excuse to go all out and treat your guests to an afternoon of tea, cakes, pastries, and sandwiches.
Finding the perfect invitation can sometimes be a bit tricky, but don't worry cause we've found this lovely pink and gold invitation with stacked up teacups and flowers.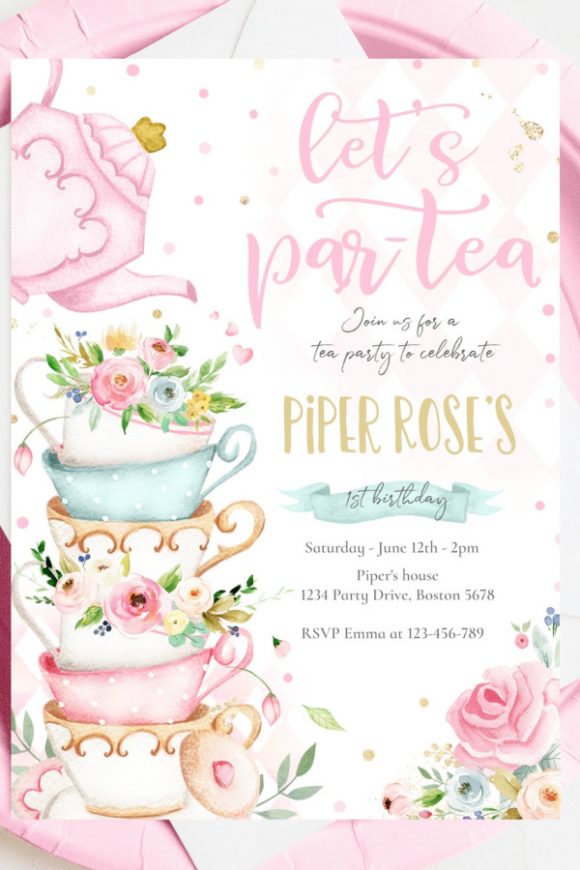 As with other animal-themed parties, a woodland birthday is such an enchanting choice for a girl's birthday party, and there's no better way to invite your guests than with this adorable woodland animal invitation.
Just look at the cute little animals.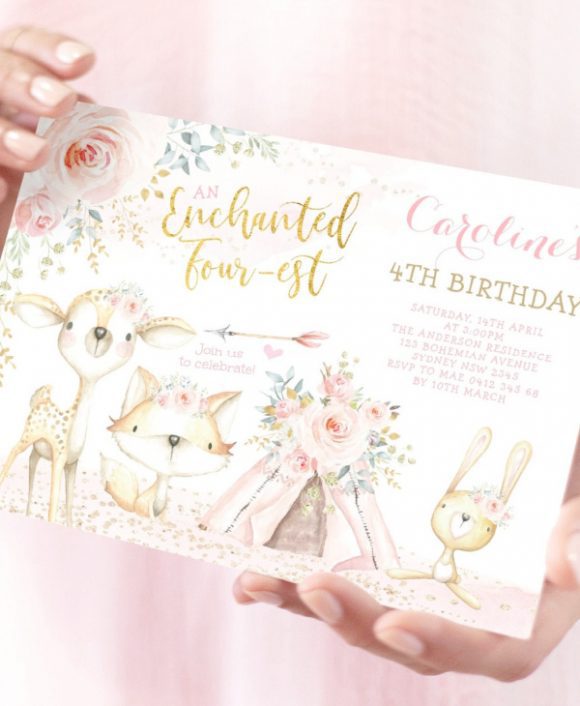 A sleepover is so much fun! There's not a girl out there that doesn't love to throw an all-nighter chatting away with her girlfriends.
So, if you are thinking of throwing a one this pink and gold invitation is your top choice.
The design is so cool with the pink and white stripes and the gold stars.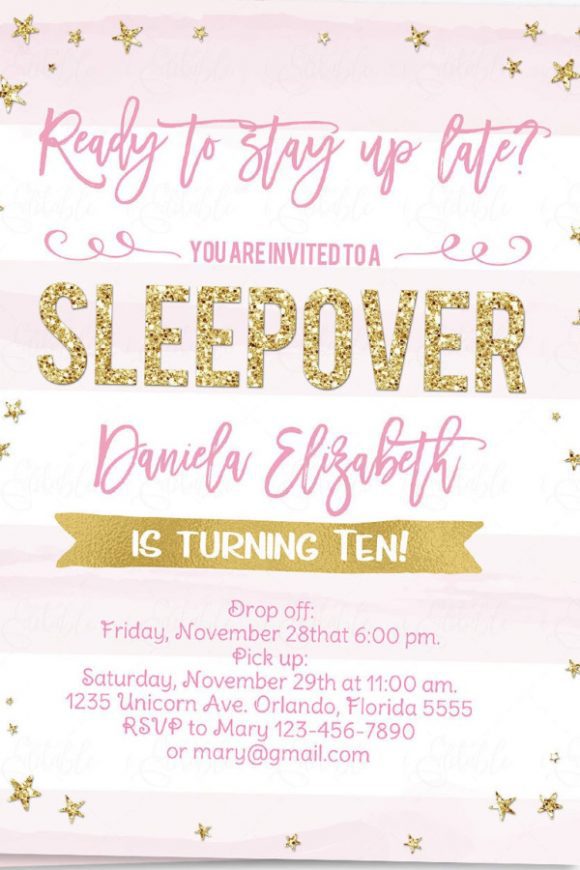 If instead of a birthday party you are planning a baptism don't miss this elegant party invitation.
The design is very modern with the gold geometric shape but the pretty pink flowers give it a graceful touch.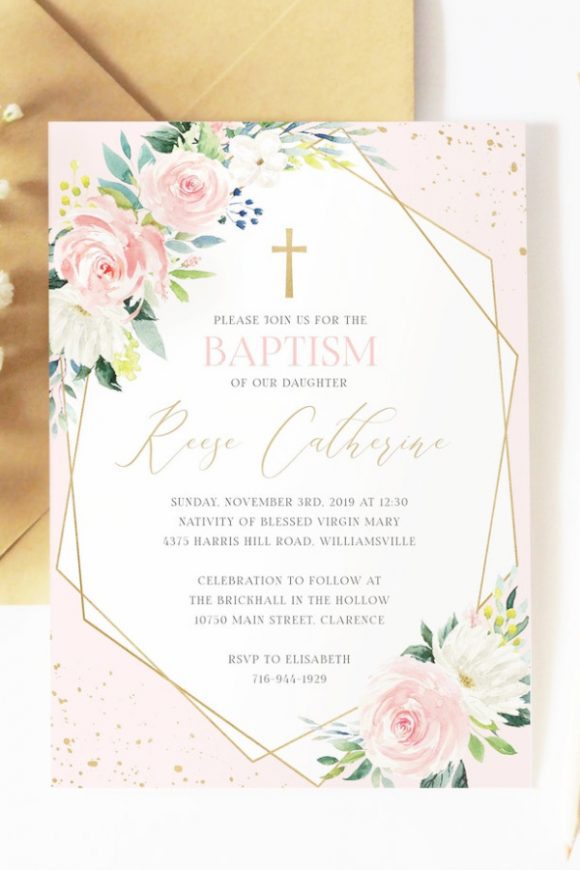 A baby shower is such a happy occasion and it's important you share it with your family and friends.
This stunning invitation with pretty gold typography and pink flowers is flawless.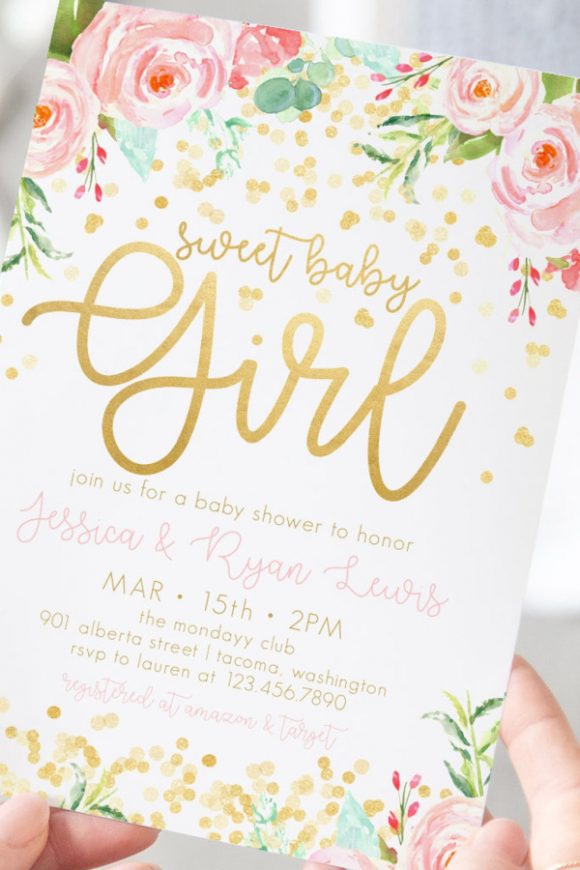 Get ready to be blown away by this simple but amazing pink and gold bridal shower invitation.
Again, this invitation is the perfect example of when less is more.
The design has a pink watercolor tint and over it some gold typography.
You couldn't wish for more.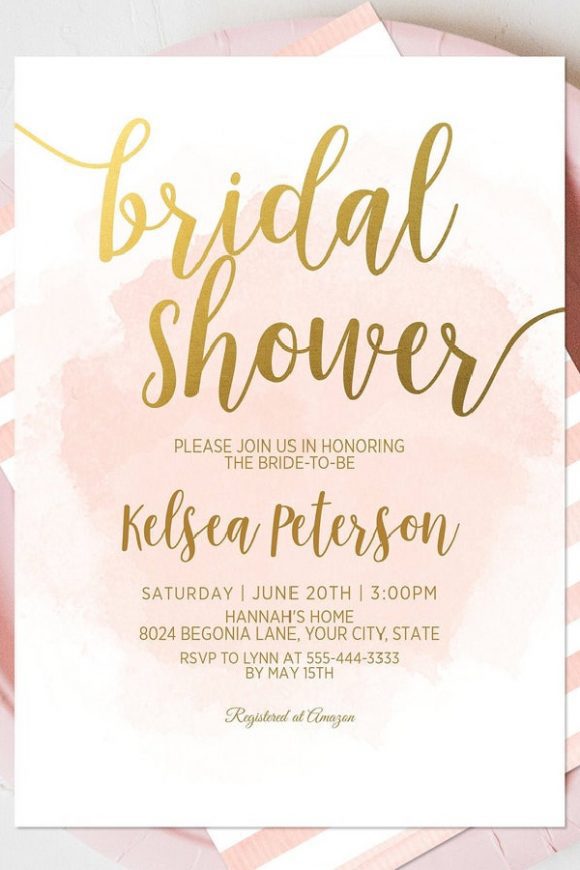 To finish off we have the lovely pink and gold graduation party invitation for all those of you celebrating all that's been accomplished this past year.
Love the pink ripples and the gold dots!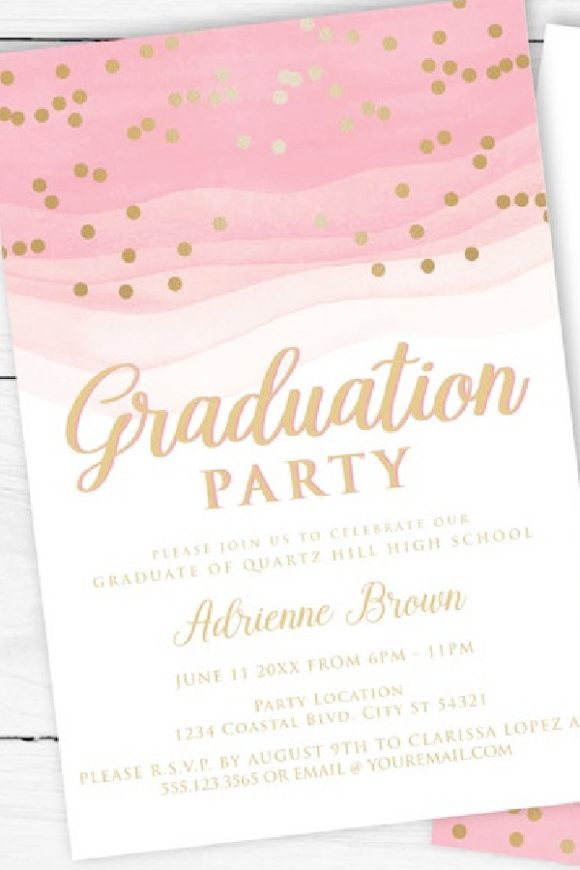 ** Some links are affiliate links.**