Every time I plan a party, I'm always amazed at how many details there are and how much work the whole thing is.
For my daughter's 3rd birthday party, my goal is to create a hip, fun, and relatively simple shindig, with low stress. A tall order, I know, but here's how I'm thinking of doing it…
The party will be at a local park. I'm limiting the invite list to just school friends to keep it manageable, however, we're still talking 25 kids and an equal number of adults.
I'm sending online invitations from Cocodot, my new favorite online invitation site. For $20 you get something like this.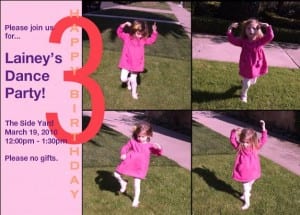 I'm serving pizza, salad, and a big fruit plate, but still deciding where the food is coming from.
For dessert, initially I was thinking I'd bake cupcakes, but now I'm talking to some bakers I found on Craigslist to see if they can do it for a reasonable price. Otherwise, I might splurge on a cake from Susie Cakes, my favorite bake shop in LA. I might not be able to control myself.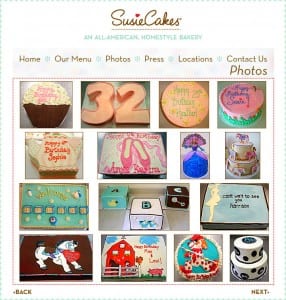 For entertainment (this is LA after all), and since my daughter LOVES to dance, I'm calling it her "dance party" and I've hired Gil Santoscoy, aka "Goofy Gil" to get the kids grooving. He's a kids' theater and movement teacher and he's fabulous — funny, silly, but always in control (even with seriously out-of-control three-year-olds). Trust me, the man has a gift.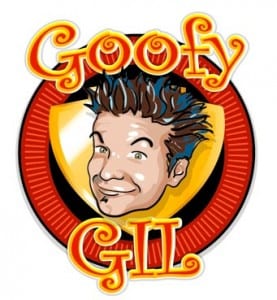 And for favors, I'm thinking of buying a slew of mardi gras beads to pass out during the party and then as a little gift for the kids to take home, getting CDs made of my daughter"s favorite dance songs — some Laurie Berkner, some Dan Zanes, some Yo Gabba Gabba… It's gonna rock (especially if you're a toddler).
Okay, so this is what I know so far. As I move forward, I'll keep posting. And if you have any thoughts or ideas on how to make this party simple but awesome, I'd love them!
(Isn't it funny how we'll go to such lengths to throw a party for our kid who won't even remember it when she's 25.)