I have mermaids on the brain!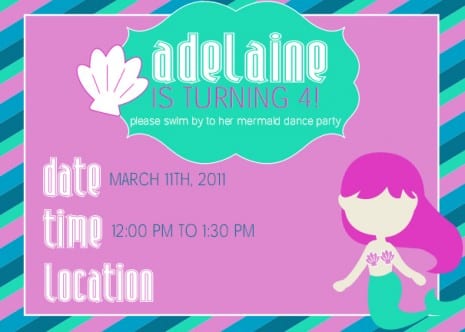 My daughter's 4th birthday is coming up in March. She's obsessed with both mermaids and dancing, so we're combining them and having a "mermaid dance party" (even though I'm not quite sure how mermaids dance). There is much to do and I've only just begun, so I thought I'd blog as I go through the process.
First, this gorgeous invitation…  Lindi from Love the Day, who designed many of our holiday printables, designed this invitation and a host of other printables (cupcake toppers, "Happy Birthday" banner, favor tags, water bottle labels, etc.) for me.
All I did was tell Lindi the theme and send her a color pallet and she went to town, simple. I couldn't be happier with the result (and Lindi is so lovely to work with), but more importantly, my daughter LOVES everything! Score one for Mommy! Here are the adorable cupcake topper…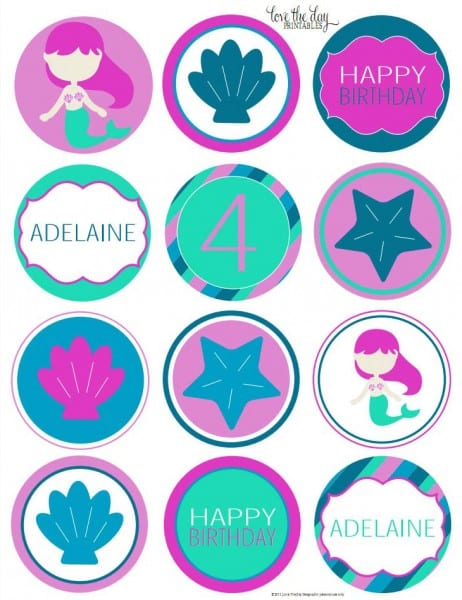 I sent the invitation out yesterday using Cocodot, the online invitation site.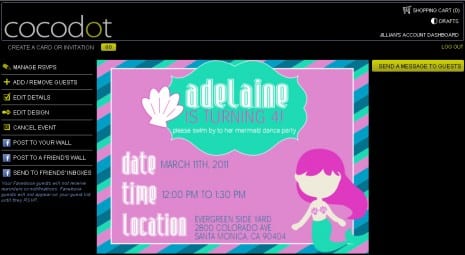 I love paper invitations, but since I have such limited time, I knew this would be much easier. I uploaded the invitation, typed in all my party info, added the guests' email addresses, and boom!  Of the 40 invitations sent, more than half have already responded.
I used Cocodot for my daughter's last party and liked them so much I wanted to use them again, plus I think they're classier than many of the other online invitation sites. Has anyone else used them and liked them?
I hope you stay with me as I continue on this party planning journey, and please keep in mind I'm not a party professional and I'm on a strict budget. So let's see how I pull it off. Wish me luck, or better yet, say a prayer.