Days are getting longer and school is almost out, and before we know it summer will be here! Time to host that incredible summer party!
Summer parties are such a big hit on our site, especially summer birthdays, so we thought we'd show off some of our best themes for your summer parties!
With the sun out, there's nothing better than being outdoors, especially with friends and family! And by the way, what could be better than a summer themed birthday party!
So make sure you check out these 24 most popular summer party themes to help you come up with the perfect theme!
Turn up the heat because many are perfect summer party themes for adults too!
Also, if you'd like to decorate your party in style (and on a budget), download our free tropical summer party printables or our free beach summer party printables or our free "fun in the sun" summer party printables to make your party stand out!
You won't be lost for ideas with all the fun summer themes we've rounded up for you! We've got ice cream socials, summer BBQs, July 4th parties, beach parties, and even watermelon parties, to mention just a few. Take a look for yourself! So get your flip-flops ready, because whichever summer theme party you choose it's going to be a sizzling hot time!
24 Popular Summer Party Themes!
Summer ice cream parties are a great excuse, not only to eat lots of ice cream, but to make use of lots of colors.
Treat your guests to delicious popsicles and an ice cream bar or sundae bar, where they can make their own creations with fun toppings, such as nuts, sprinkles, chopped fruit, etc…
Browse real ice cream parties here.
Free Ice Cream Party Printables
Download our free ice cream social party printables or our kids' summer ice cream party printables to add some fun and whimsy to your party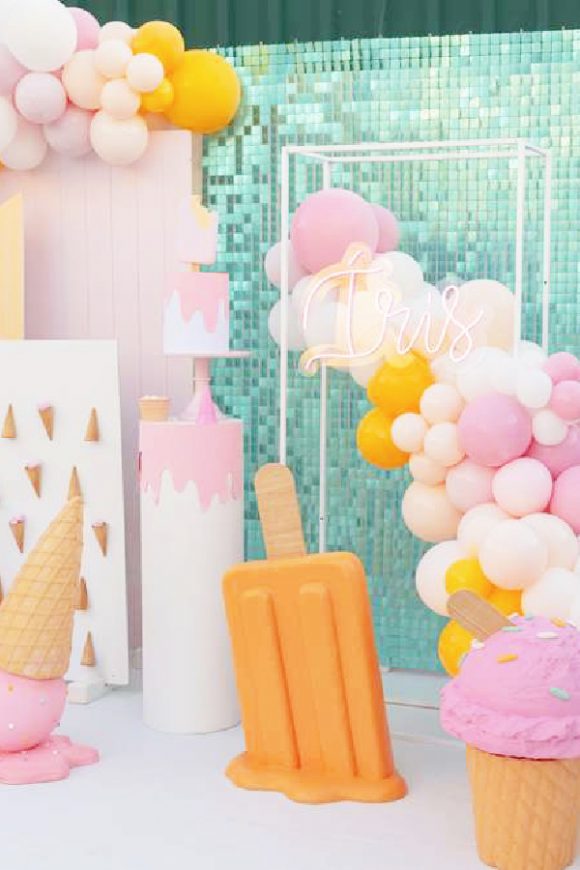 Even a simple summer barbecue can be turned into a fun party with friends with just a little creativity.
Your menu can be much more than just burgers on the grill. Add some tasty, tangy summer salads, ice-cold drinks, some s'mores pizza and some adorable BBQ grill cookies.
For instance, placing cold beers and ice in an empty BBQ is a great way to serve drinks!
We've rounded up even more barbecue party ideas to help inspire you, including this DIY tiered BBQ serving tray.
And how about setting up the adorable BBQ picnic candy table for your little guests. They will eat it up!
Browse all our real BBQ parties here.
Free BBQ Party Printables
We've even got these fun free Solo Cup BBQ party printables or our free rusting BBQ party printables to give your party some style!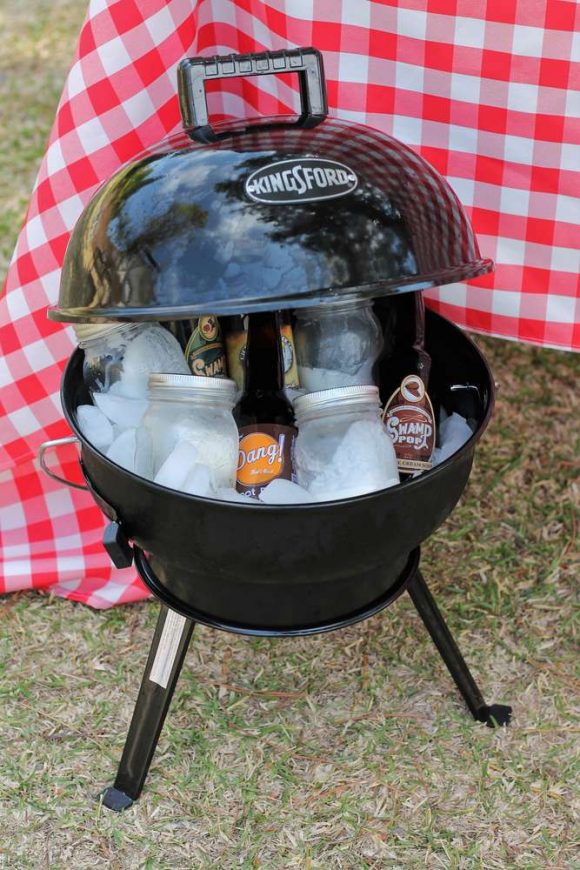 What can be a more summery party theme than a beach party?!
Lay out some blankets and have beach-themed party, even if you can't actually have your party on the beach.
We've got plenty of ideas for you to take the beach to your venue, as you can see below with these gorgeous boho table settings!
Browse real beach parties here.
Free Beach Themed Party Printables
Download these free beach summer party printables to decorate your party with effortless style.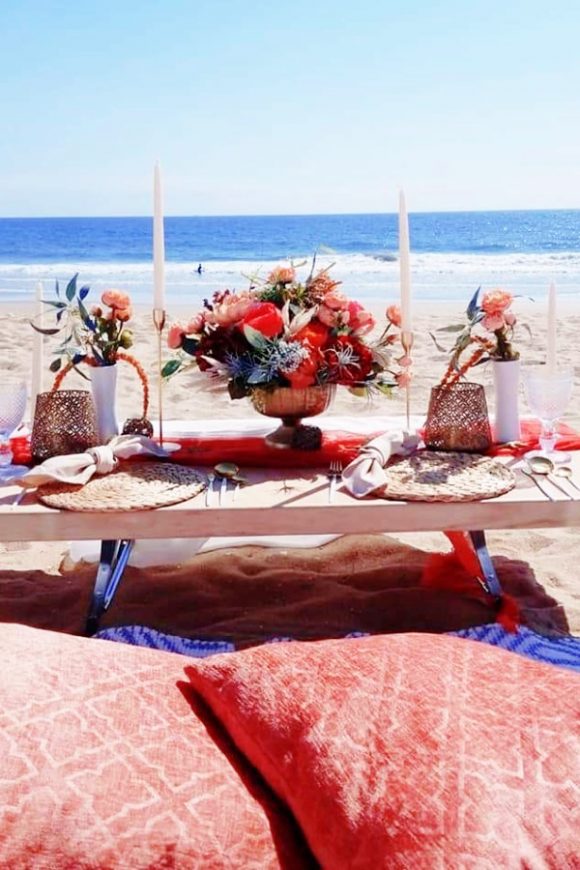 A camping-themed party can be just as much fun as sleeping out under the stars during the summer.
We've so many awesome parties for you to look through for fantastic camping and glamping ideas, such as the moon and star garland at this girls' camping party!
What's a camping party without s'mores? Here are some s'mores party ideas to inspire you.
Browse real camping parties here.
Free Camping Party printables
Decorate your party with style by setting up a s'mores bar. Download these free camping party printables to add some playfulness to your party.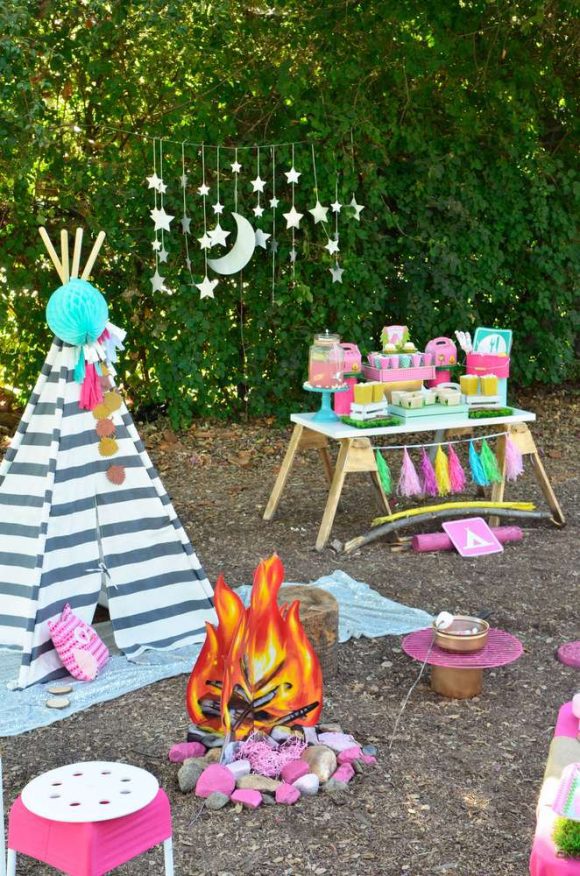 Garden parties and summer go hand in hand. Take your party outside and the most of the great outdoors and the wonderful weather.
Treat your guests to a rustic floral party where flowers are the star of the party decorations.
You can add some butterflies to your party too and create a gorgeous whimsical vibe.
Browse real garden parties here.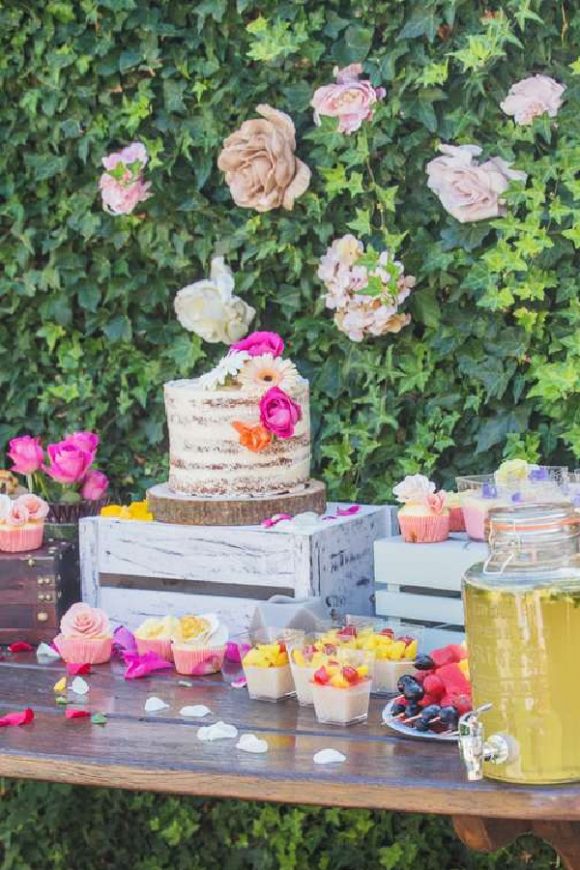 The most popular July party has to be July 4th! It's an excellent excuse to spend the day eating great food with friends and family while enjoying the heat and sun.
We've got a ton of amazing July 4th party ideas for you, from creating your own July 4th paper wreath, to creating these fun patriotic cookies, to serving July 4th themed ice cream sandwiches!
Also don't miss our post on safe firecrackers or our last minute 4th of July M&M cupcakes.
Browse real July 4th parties here.
Free July 4th party printables
We have 9 different free July 4th party printable collections to help you style your party on a budget and will serious patriotic vibes.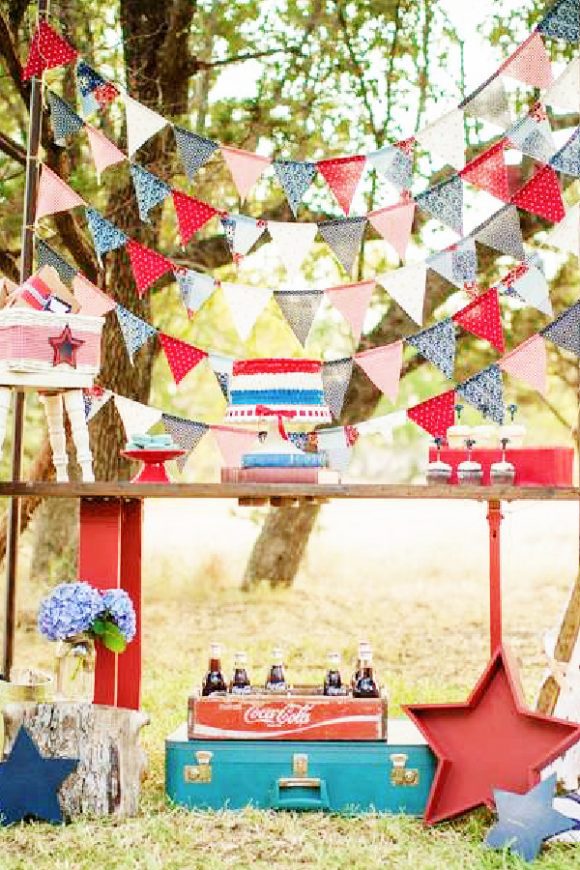 Kids love nothing more than splashing around at a pool party during the summer.
To make it simple, order up some pizza, put out some goodies, make sure there are towels, and let your attendees have some fun!
Check out the great ideas we have for pool party birthday cakes, cookies, and party decorations.
Browse real pool parties here.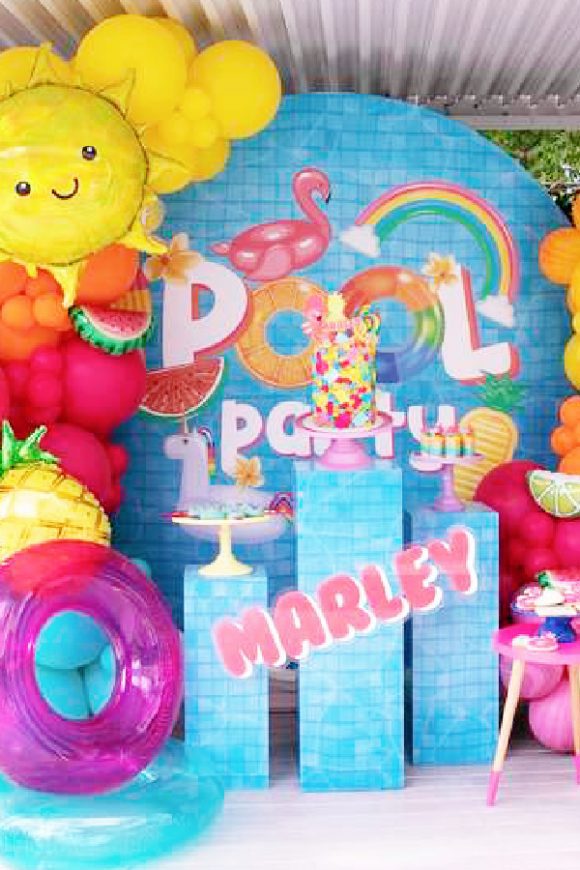 A lemonade stand is such a part of summer and is such an excellent theme for a summer party.
The bright yellow is so cheerful that it'll surely get everyone in the party mood.
Don't miss our wonderful ideas such as serving your guests to pink and regular lemonade at your very own lemonade stand!
And how about serving these delicious strawberry lemon jello cupcakes!
Browse real lemonade parties here.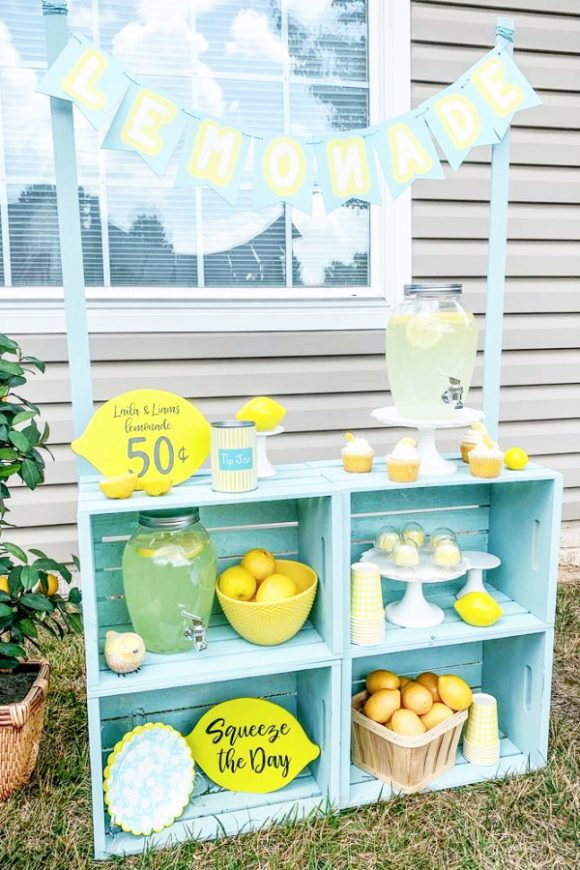 If your more of a sporty type and love to surf, then a surfing summer party theme is just what you need.
I love the surfboard backdrop at this summer party. You can almost feel the sand under your feet!
Here are some adorable surf desserts to inspire you!
Browse real surfing parties here.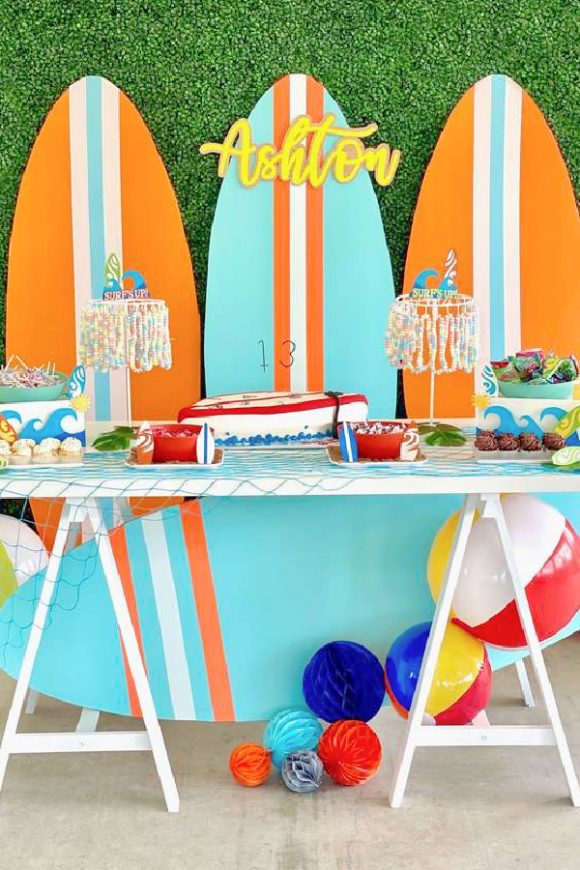 Flamingo parties have been a massive hit for a number of years now, and it doesn't look like they are going anywhere any time soon.
It's such a popular party theme with girls and there are so many incredible ideas out there.
Flamingo birthday cakes are always the show stopper, so you can't really go wrong with this tropical theme.
Browse real flamingo parties here.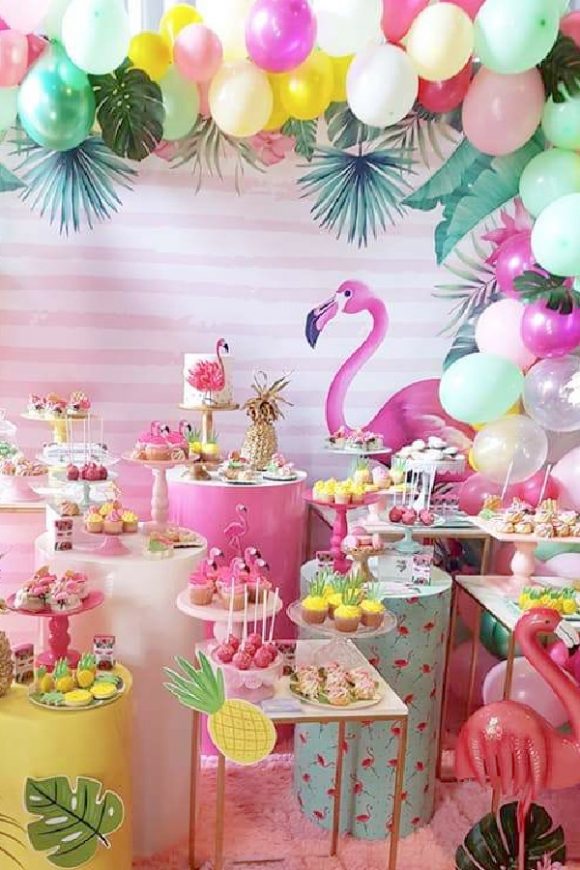 You can't have a tropical summer party without a pineapple, right? So why not make the pineapple the theme of your party?
It's such a popular one here on Catch My Party and we've so many excellent ideas for you to choose from.
Even the simple idea of serving cocktails in pineapples is so much fun and your guests will love it!
Browse real fruit parties here.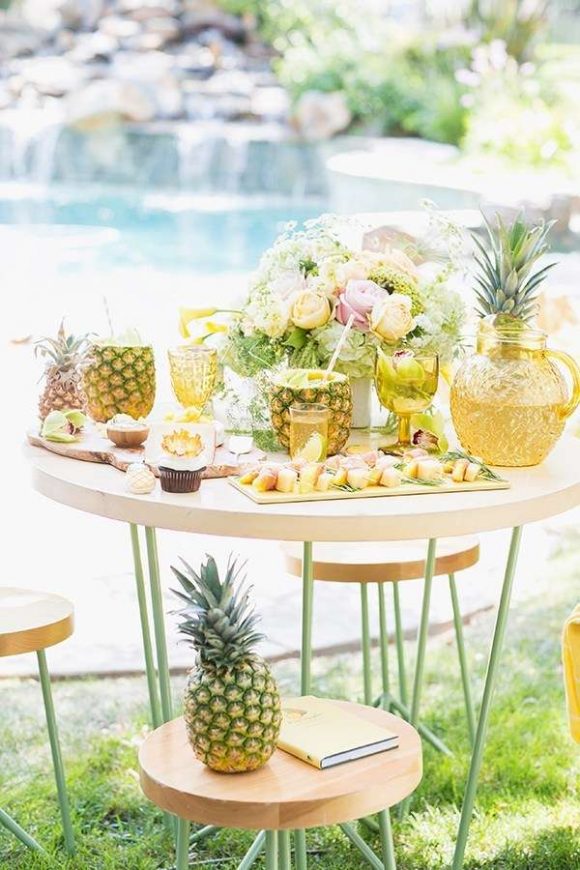 You can't get a better summer-themed party than a Hawaiian luau party!
They are a wonderful excuse to decorate your party with colorful hibiscus flowers and to transport your guests to a place where the sun always shines and where you can't help but feel happiness.
Here is our roundup of 50 must-see luau party ideas. Don't miss this.
Party tip: Hand everyone leis as they enter the party!
Browse real luau parties here.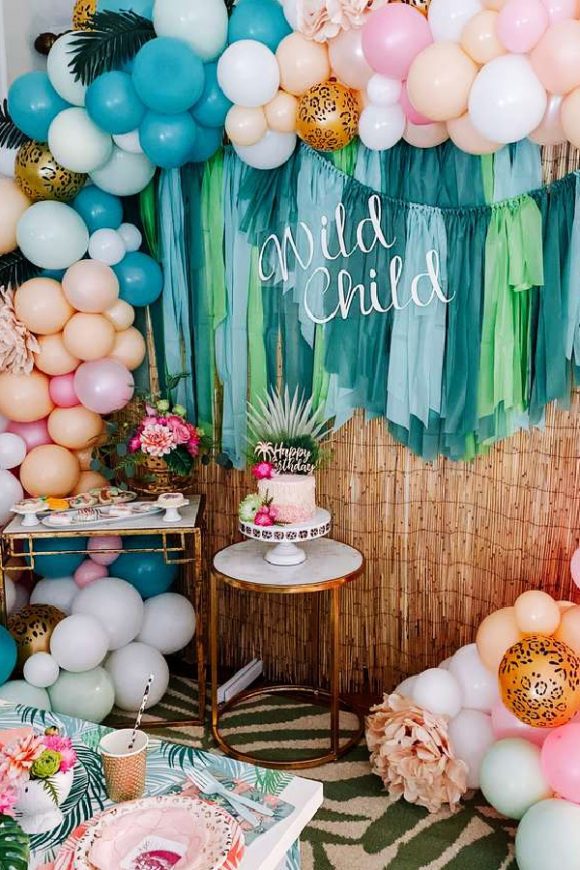 As I mentioned earlier, summer parties are a wonderful excuse to use lots of bright and vibrant colors, and another theme that allows you to do so are tutti frutti-themed parties!
Everyone from kids to adults loves fruit, so why not make it your main theme?
Just look at the amazing tiered tutti frutti cake and party decorations below. Simply mouthwatering!
Browse real tutti frutti parties here.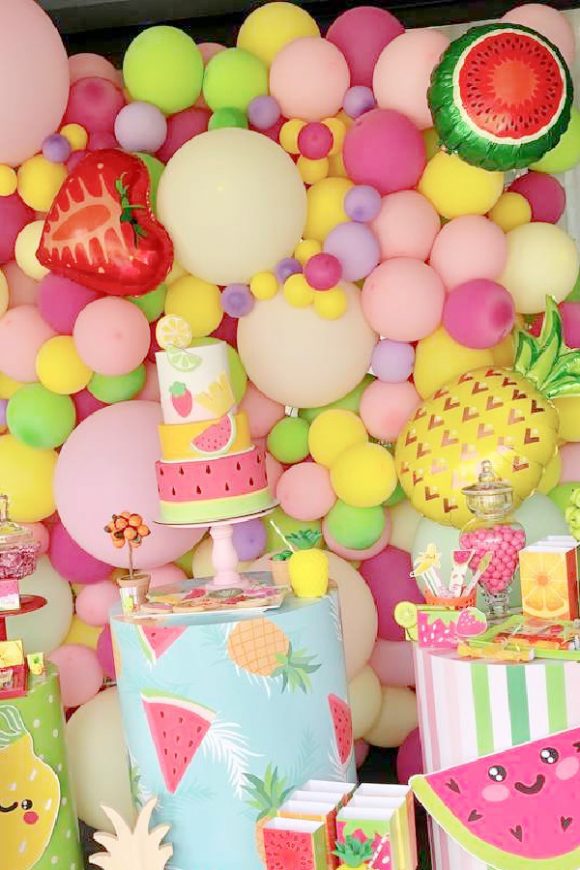 Another favorite summer fruit and popular party theme are watermelons.
There are so many excellent watermelon party ideas on our site.
How about serving these adorable watermelon cupcakes at your party, or this thirst quenching watermelon agua fresca with these easy watermelon ice cubes.
Browse real watermelon parties here.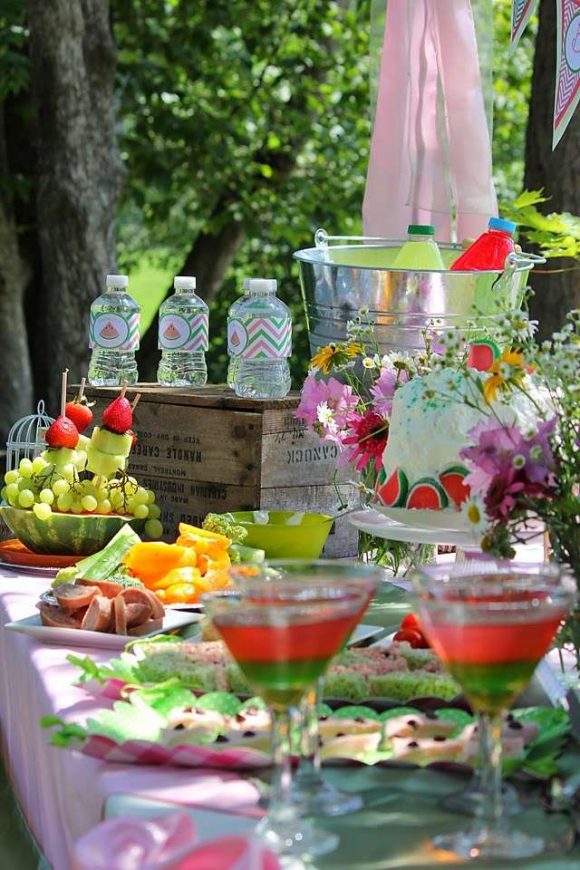 The movie Moana was such a big hit and is a favorite with so many children.
It's a great excuse to use loads of color and the perfect theme for a summer birthday!
Don't miss these beautiful Moana dessert tables to give you a ton of ideas.
Party Tip: As a party activity how about having your guests create this Moana canoe craft or Moana necklace.
Browse real Moana parties here.
FREE MOANA PARTY PRINTABLES
Download our free Moana party printable decorations and use them to give your party that extra island feel!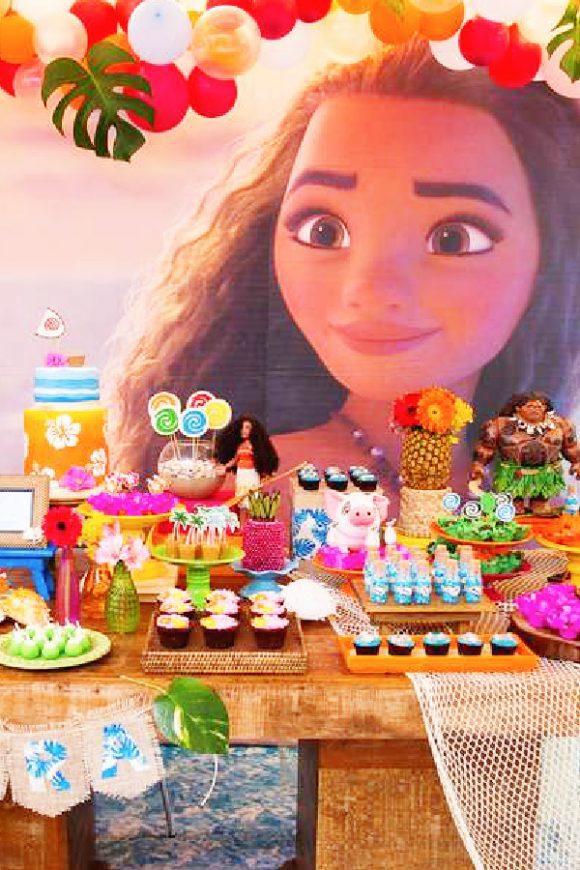 I love picnics! It's a wonderful way to get together with family and friends and have a laid-back party outdoors in the sun.
They are so on-trend right now and are such a cool option if you are stuck for a summer party theme.
You'll need a large blanket, some baskets, and delicious picnic food.
Browse real picnic parties here.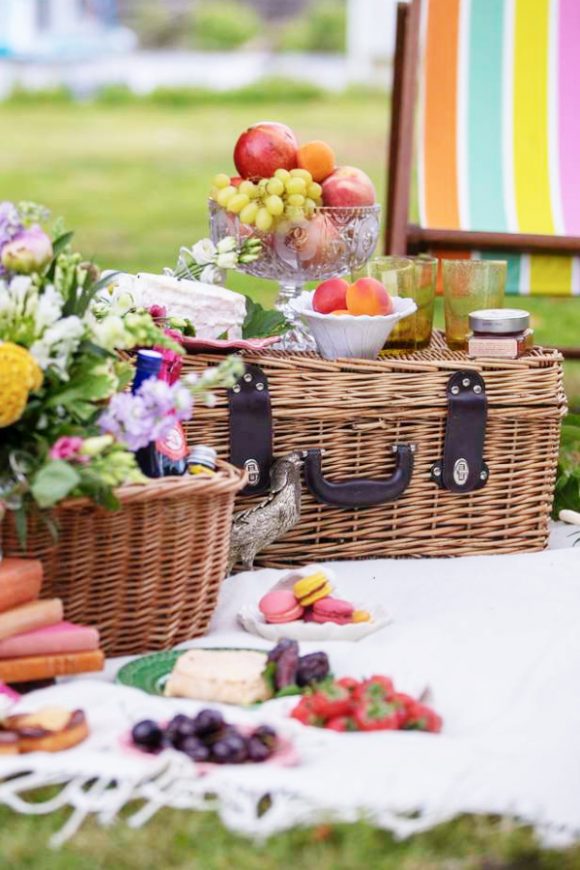 Boho parties are all about being more connected with nature which makes it a wonderful theme for a summer party.
If you're looking for an eclectic theme with a feminine touch, look no further.
You can never have enough flowers, teepees, pillows, and dreamcatchers, right?
Browse real boho chic parties here.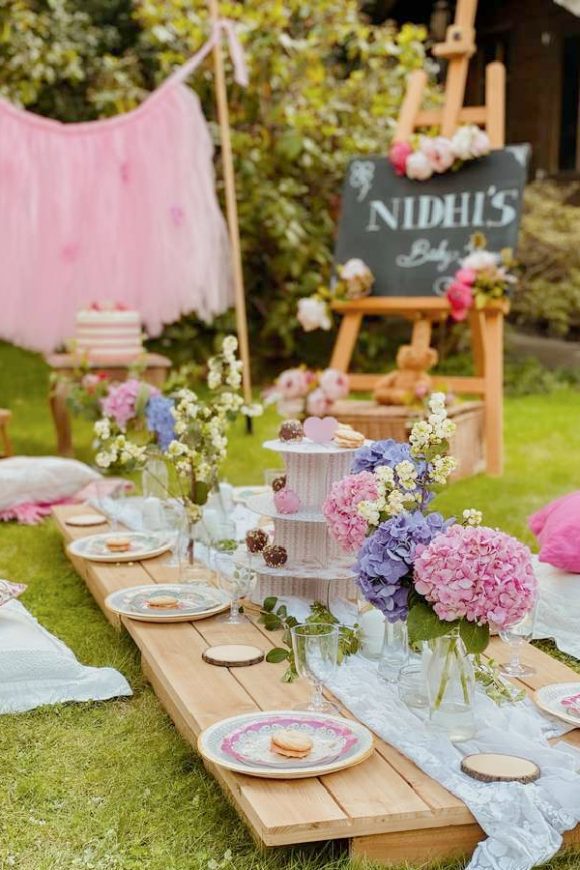 A cactus-themed party is perfect for summertime!
Use bright colors and festive vibes, and create a summer fiesta everyone will love.
Add some tacos and some cocktails and you've got yourself a summer celebration.
Browse real cactus parties here.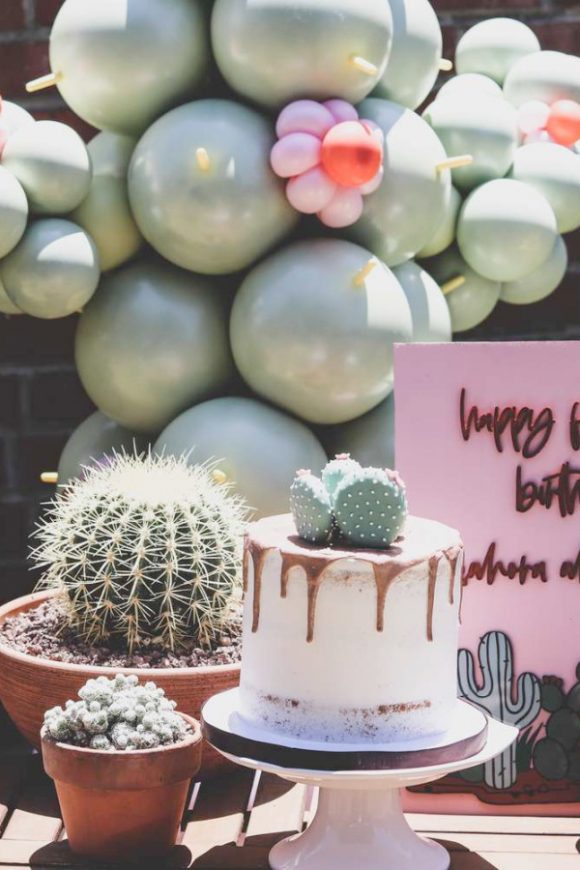 It's such a magical theme full of delight. You can't get a much better summer mermaid party than one like this at the beach.
If you're looking for mermaid treats, including ideas for under the sea themed cookies, cupcakes, and cakes, we've got you covered.
And here's a fantastic collection of mermaid games and activities to keep your guests entertained
Browse our real mermaid parties here.
FREE MERMAID PARTY PRINTABLES
And don't miss these fantastic free glitter mermaid party printables or our free retro mermaid party printables to decorate your party!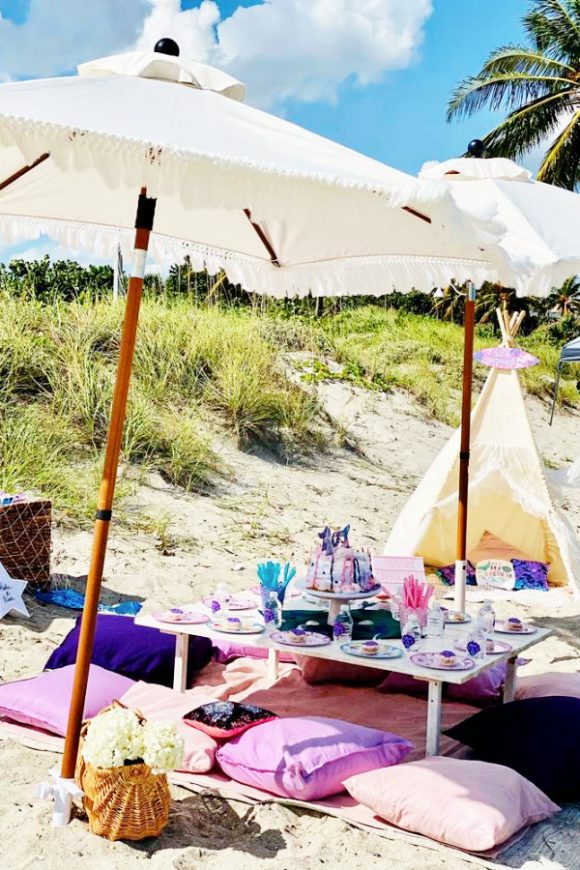 Summer and sharks go hand in hand, right?! If you are throwing a party this summer and are stuck on a theme how about throwing a shark-themed one?
It's a great excuse to go full-on beach mode, as in the party below, with beach balls and shark warning signs as party decorations.
Browse real shark parties here.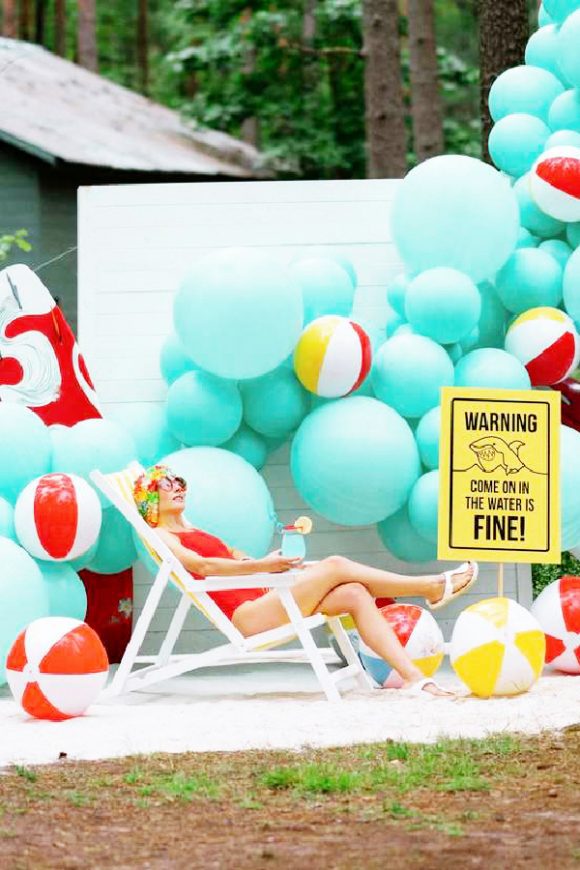 Minnie Mouse is such a classic and loved by so many of us. He definitely has a soft spot in my heart.
Give your Minnie Mouse party more of a summer tropical vibe, by adding flowers and pineapples.
Browse real Minnie Mouse parties here.
FREE MINNIE MOUSE PARTY PRINTABLES
Decorate your party with our full collection of free Minnie Mouse party printables in pink or free Minnie Mouse party printables in red.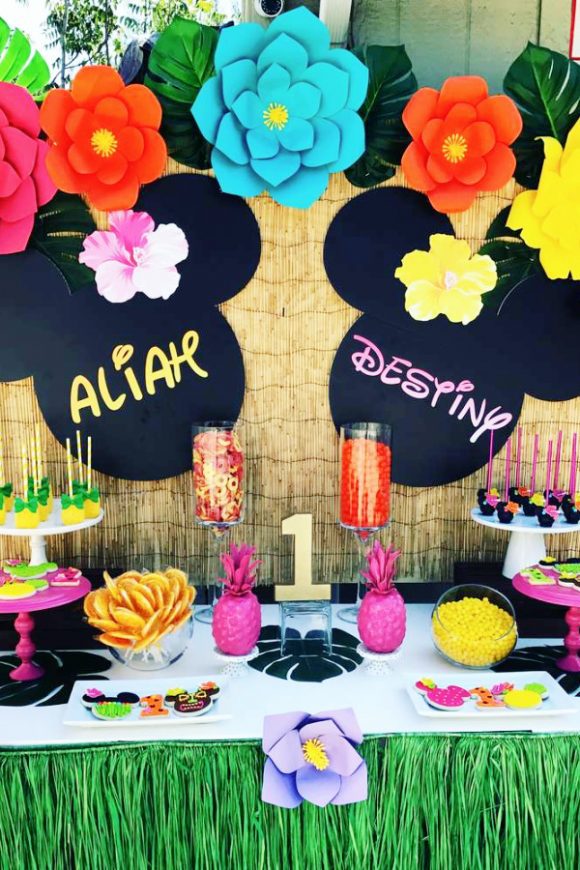 Summer camp is a big part of many kids' lives, so why not make it the theme of your party?
Decorate with elements of the great outdoors, and of course, treat everyone to some s'mores!
Browse real summer camp parties here.
Free Camping Party printables
Set up a s'mores bar. Download these free camping party printables to add some excitement to your party.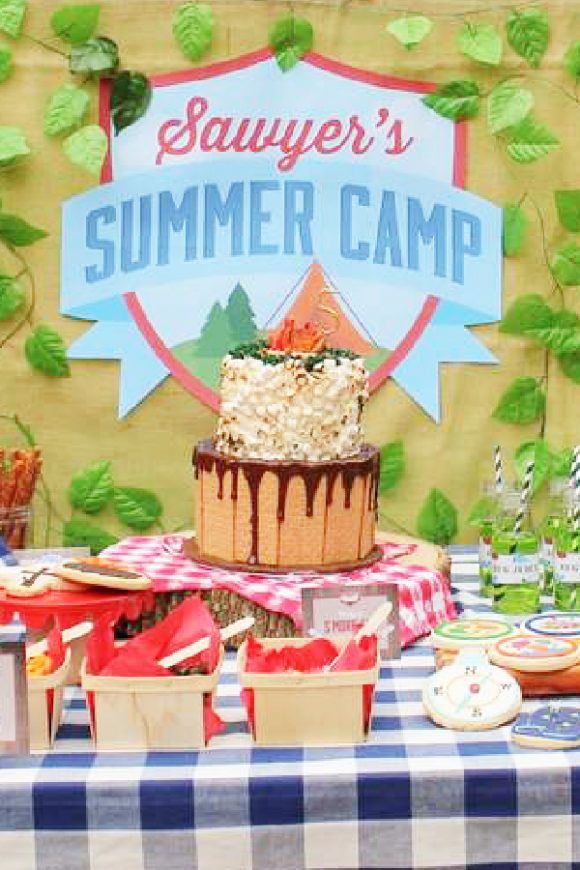 Glamping parties are perfect summer parties!
Set up your large glamping tent and scattered comfy floor seat cushions for everyone to sit down at your laidback party.
Browse real glam parties here.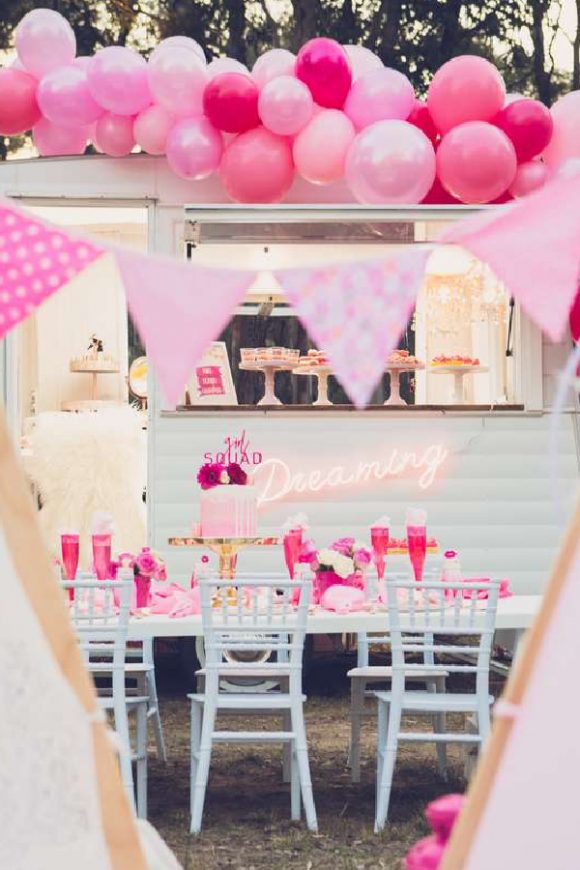 There's nothing better than all the sweet carnival smells and cheerful music, so lift everyone's spirits with a joyful retro backyard carnival this summer!
For unique inspiration, check out all our excellent carnival party ideas.
We also have great carnival party game ideas that all your guests will love.
Browse real carnival parties here.
FREE CIRCUS/CARNIVAL PARTY PRINTABLES
To take your party to a new level, be sure to download this complete set of free carnival party printables or our new collection of free retro circus/carnival party printables.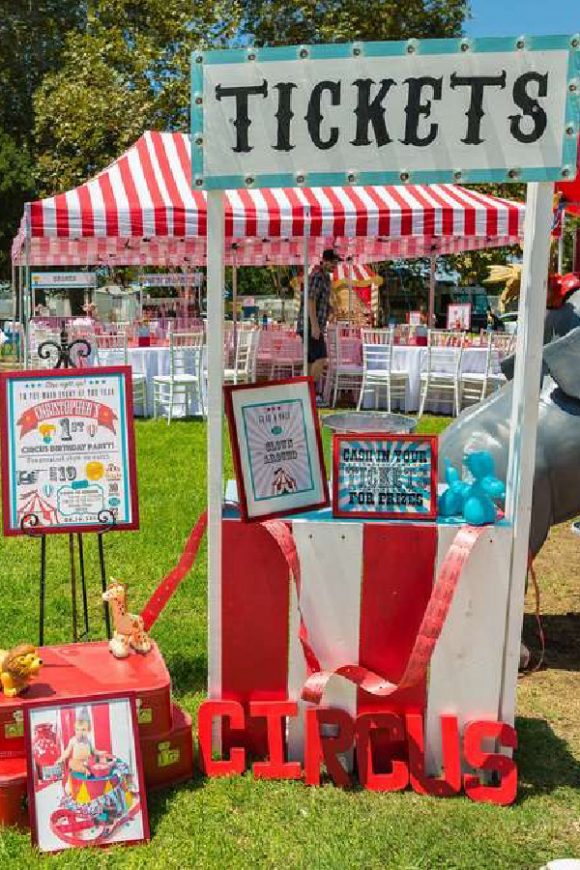 Need more summer party ideas?
Again, have fun browsing all the amazing real summer parties added to our site!