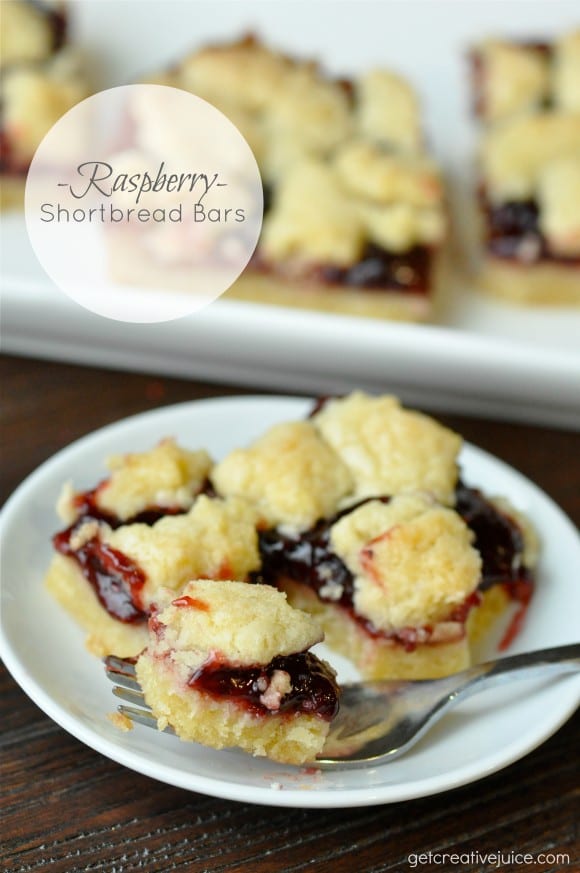 Mindy, the baking and entertaining expert behind Creative Juice, made these delicious raspberry shortbread bars and I couldn't help but share!
While I spent the last few months consumed with creating macarons for my book, there have been a few other sweet treats our family has enjoyed as well!
This is one of our favorites – Raspberry Shortbread Bars! We may or may not have even been guilty of having these for breakfast a time or two! My son has a dairy allergy so we often make this recipe using vegan butter and it is just as delicious. Enjoy!
RASPBERRY SHORTBREAD BARS
Ingredients:
1 cup room temperature butter
½ cup sugar
¾ cup powdered sugar
2 Tbsp. vanilla bean paste
2 ¼ cups flour
8 oz. raspberry preserves
Directions:
Preheat oven to 325 degrees.
Combine butter, sugar, powdered sugar, and vanilla until smooth and light.
On low speed, add the flour one half cup at a time until dough forms.
Grease a 9×9 pan and press ¾ of the dough evenly into the pan.
Refrigerate the remaining dough.
Bake at 325 degrees for 15-18 minutes or when edges are lightly browned.
Spread the raspberry preserves over the baked shortbread.
Remove the remaining dough from the refrigerator and crumble over the top.
Bake at 325 degrees for another 20 minutes or until golden brown.
Remove and allow to completely cool to room temperature before cutting into bars.
Makes: 9-12 servings
This dish is great for parties because it can be made up to two days in advance. Just store it in the refrigerator uncut and in an airtight container. Be sure to allow it to come to room temperature before serving. Everyone loves it!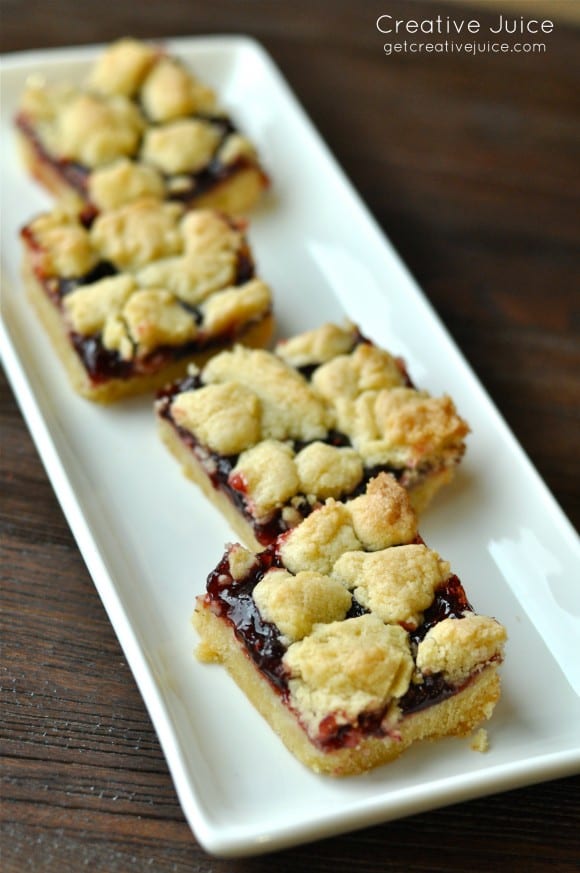 Thanks, Mindy, putting this post together made me so hungry!
To learn more about Mindy's entertaining & dessert adventures check her out at Creative Juice and on Facebook.