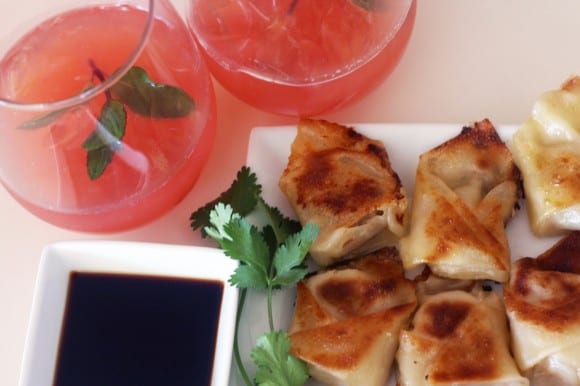 Now that I'm a busy mom, hosting a cocktail party is a rare phenomenon, however I do enjoy them. I decided it was an excuse to try out some new cocktail party recipes. I love pairing cocktails with hors d'oeuvres, so I thought this would be a fun challenge.
I actually started with the drink. I love Rieslings because they are so light and crisp. I mixed an inexpensive Riesling from Trader Joe's with some deliciously sweet and tangy blood oranges from the farmer's market. I threw in a hint of mint to give it a subtle complexity and a splash of color, and voila… My new favorite party drink.
So what to pair it with? I wanted something spicy and salty that would complement the fruity sweetness of the spritzer. I was thinking easy Asian, and then it hit me… Potstickers! To make them a little healthier I substituted chicken for pork and went about perfecting my recipe (which you can see below).
Here's how the potstickers turned out… Crispy and chewy on the outside, spicy and flavorful on the inside. When they were gone I was sad, which to me is a sign of a good recipe. 🙂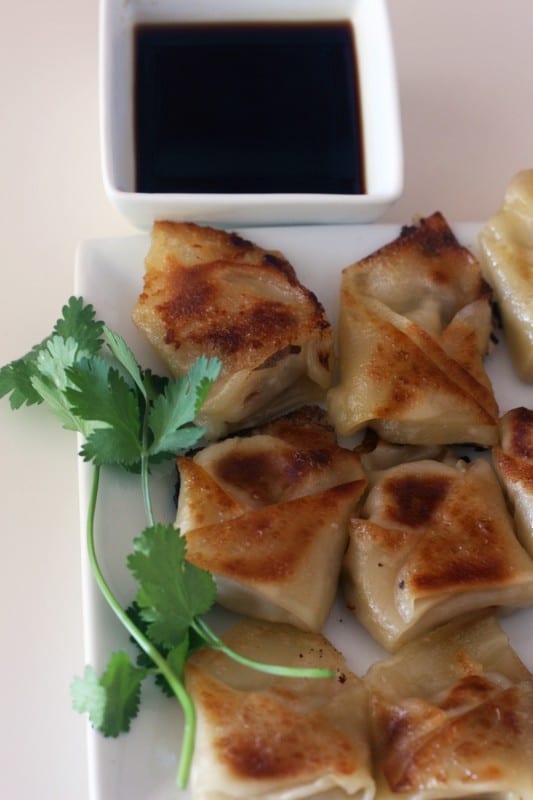 CHICKEN POTSTICKERS
Ingredients:
potstickers
1/4 pound ground chicken
1/4 teaspoon toasted sesame oil
1 1/2 teaspoons soy sauce
1 teaspoon rice vinegar
2 garlic cloves (minced or pressed)
1 tablespoon cilantro (chopped)
1 tablespoon carrot (grated)
1/4 teaspoon kosher salt
20 small wonton wrappers (square, about 3 inches to a side)
dipping sauce
1 tablespoon rice vinegar
2 tablespoons soy sauce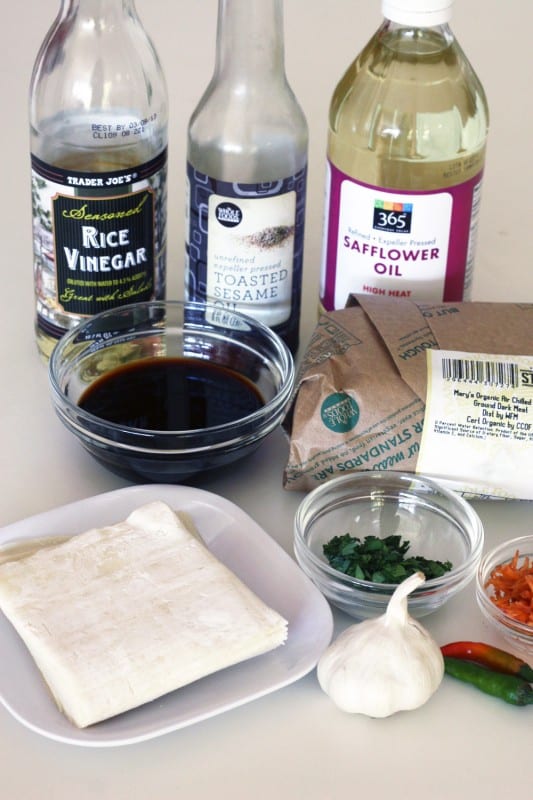 Put the ground chicken in a bowl, and add the soy sauce, vinegar, pressed garlic, chopped cilantro, grated carrot, and salt. Mix with a fork until just combined.
If you'd like to bring some heat to the dish, you can add a finely minced thai chili pepper (be careful, they are hot!), or add few drops of chili oil to the filling.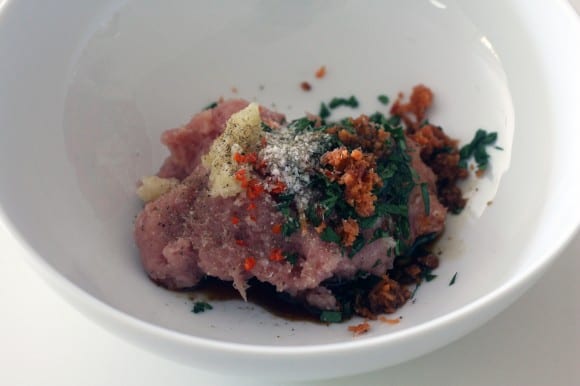 To form the potstickers, take a wrapper and wet the edges. Put a heaping teaspoon of the chicken filling in the middle of the wrapper.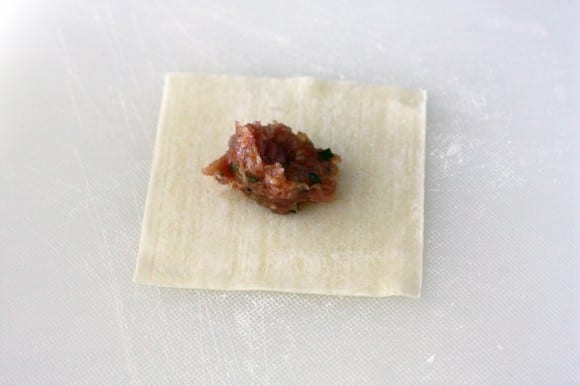 Fold the wrapper in half to form a triangle. Squeeze out the air around the filling, and firmly press the edges together to seal.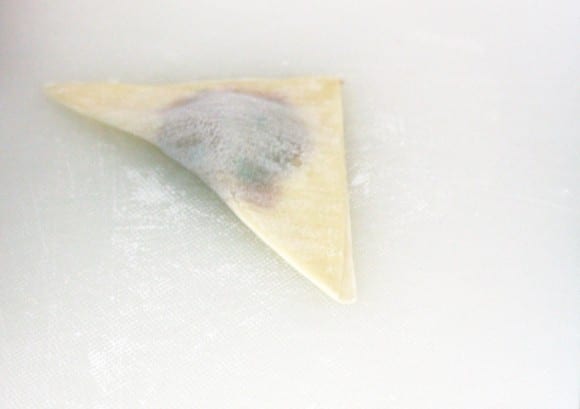 Now fold the left corner into the center, then fold the right corner onto the left, sealing with a little water.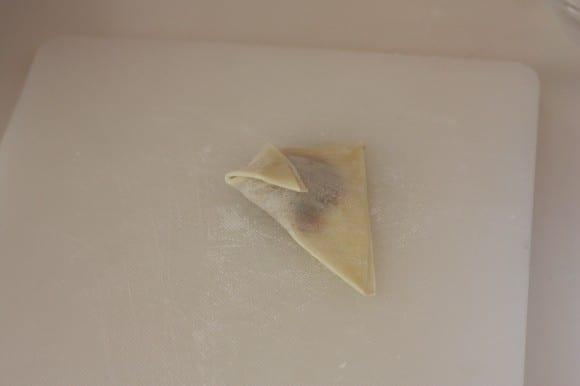 Here's what they look like about to go in the frying pan.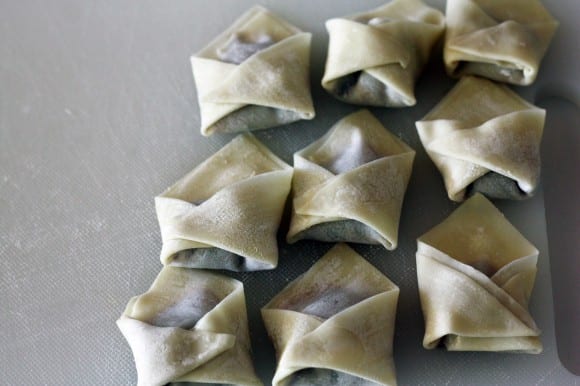 Heat the frying pan with some vegetable oil, and add the potstickers. Cook about 2 minutes per side, until browned. Add about 1/2 cup of water to the pan and cover with a lid. Let the potstickers steam for 7-8 minutes, until the water has boiled off.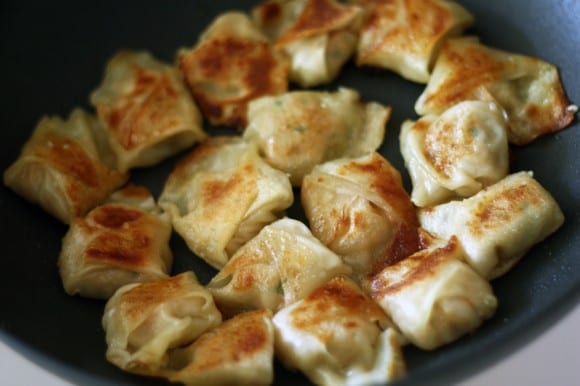 Serve with the dipping sauce (soy sauce and vinegar).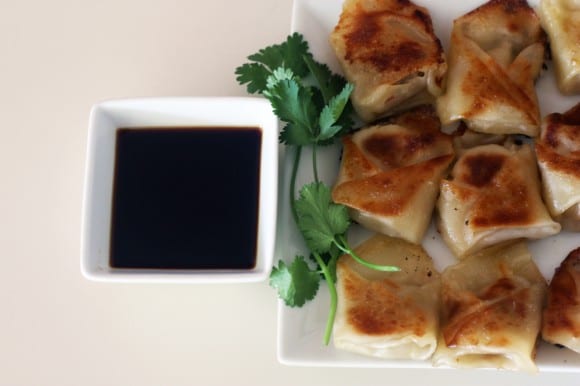 And now for the cocktail…
Riesling Blood Orange Spritzer
1 bottle of Riesling
1 bottle of sparkling mineral water
5-6 medium size blood oranges
Mint for garnish
In a pitcher, add the juice of the blood oranges, the bottle of Riesling, and the mineral water (the wine to mineral water ratio should be 1 to 1).
Serve in glasses with ice, and add a sprig of mint to garnish.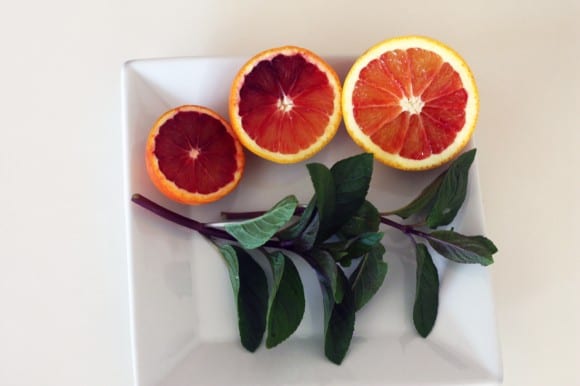 And the final pairing… Pretty and delicious. The balance of flavors was spot-on! I will be serving these at my next cocktail party.