This is our special Chinese chicken salad served in pretty wonton cups. Wouldn't these look great on a buffet table adding a nice splash of color?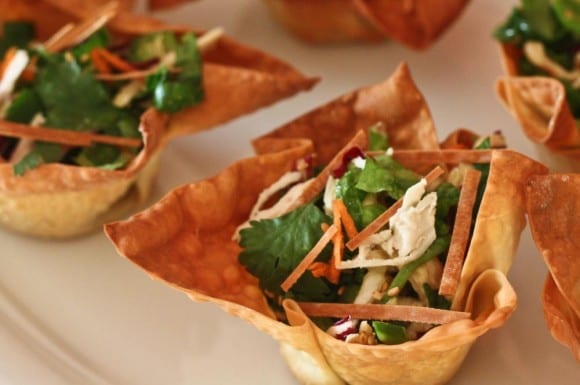 The salad is tangy and crisp, made with shredded chicken, napa cabbage, radicchio, romaine, and carrots.
We baked the wonton cups in muffin tins (but if you want to be more decadent, you can always fry them).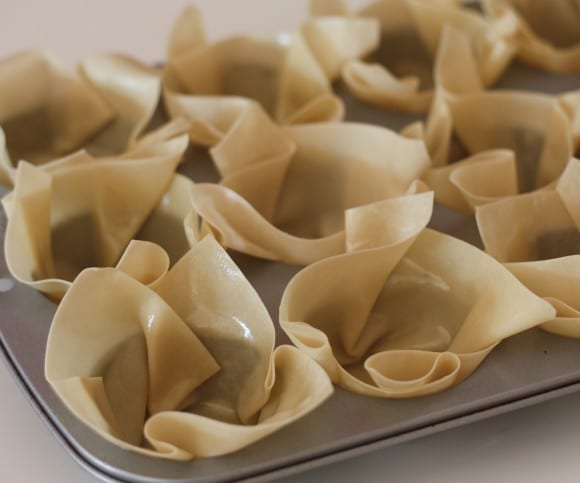 To finish off the cups, we garnished them with cilantro and baked wonton strips.
Not only are they yummy, but I thought they were beautiful to look at.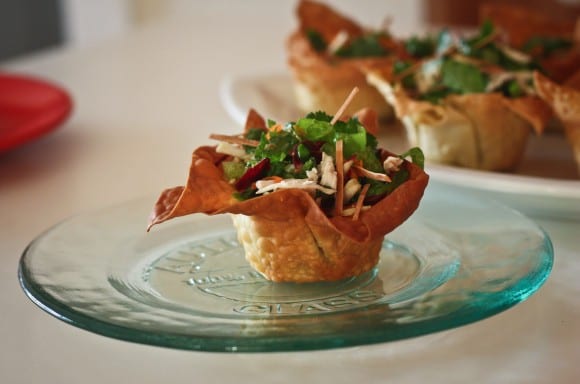 Ingredients
For the wonton cups
1 pack of eggroll wrappers
2 tablespoons canola oil
For the dressing
1/4 cup rice vinegar
2 tablespoons sesame oil (not toasted)
2 tablespoons olive oil
2 teaspoons dry mustard
pinch of salt
2-3 grinds of pepper
For the salad
1 head Napa cabbage
1 head Romaine lettuce
1 head radicchio
2 shredded chicken breasts
1/2 cup grated carrots
1/2 cup cilantro
Directions
Preheat the over to 350. To make the cups, I actually use eggroll wrappers (wonton wrappers are a little too small). Brush them with a little bit of canola oil, just to help them brown. Push them down into a muffin tin to form a basket. Put them tin in the oven and cook until the wrappers are browned – usually 5-7 minutes. Save one wrapper, cut into thin strips and bake until brown. You can use the strips as a garnish.
In a small bowl, add the rice vinegar, sesame oil, and olive oil. Whisk in the dry mustard, salt, and pepper.
Because we are going to be serving in a small cup, you should thinly slice the cabbage, lettuce, and radicchio. You can substitute other greens here – an asian mix works well (mizuna, tatsoi). Add the grated carrots and shredded chicken. Toss with the dressing.
Add the dressed mix to the wonton cups. Garnish with cilantro, and the baked strips of eggroll wrapper.
This recipe is peanut free. If you want more of a peanut flavor, you can substitute peanut oil for the olive oil, and garnish with a teaspoon of chopped roasted peanuts.