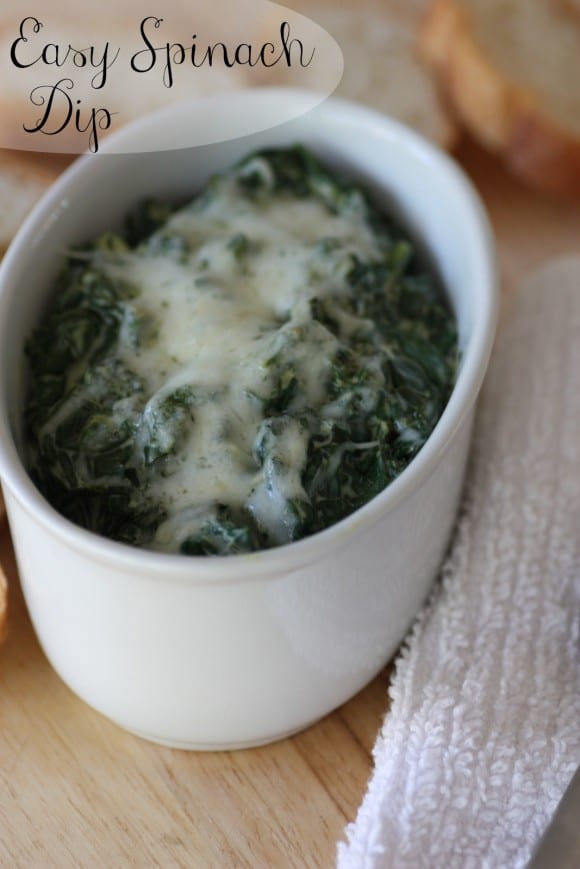 I love spinach, especially fresh from the farmer's market. This Smoked Gouda Spinach Dip is so flavorful and easy, and is definitely a party favorite. It can even be frozen for up to a month and pulled out just in time for last-minute entertaining.
What's so tasty about it is the smoky flavor from the Gouda and the heat from the chili pepper. I love to serve it with a crunchy baguette or pita chips.
Here's how I do it…
SPINACH DIP RECIPE
Ingredients:
2 pounds fresh spinach
1 small onion or half a large onion
4-5 garlic cloves
1-2 small hot peppers – (jalapeno or fresno peppers work well)
1 tablespoon olive oil
1 tablespoon lemon juice
1/2 cup milk
3/4 cup of cream cheese
3/4 cup grated smoked gouda (you can substitute mozzarella, jack, or your favorite cheese)
1-2 teaspoons salt
pinch of black pepper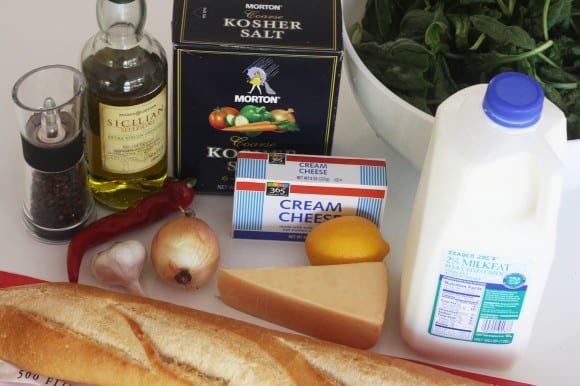 Directions:
Preheat the oven to 425.
Add 1 tablespoon of olive oil to a sauce pan and heat on medium high heat until shimmering. Add 4-5 minced or pressed garlic cloves, diced pepper (remove the seeds), and diced onion. Cook until onion is soft and translucent.
Roughly chop the spinach, and add to the saucepan along with 1 tablespoon of lemon juice. Cook down the spinach; it's always surprising how much it shrinks! Add the salt and pepper to taste.
Pour the spinach into a strainer and set in the sink. You can press down on it lightly with a spoon or whisk to get some of the liquid out.
You can now add the milk to the sauce pan on medium heat. Whisk in the cream cheese. Add 1/4 cup of the gouda (save the rest for topping), and continue whisking until it is melted. Now you can mix the spinach back to the saucepan.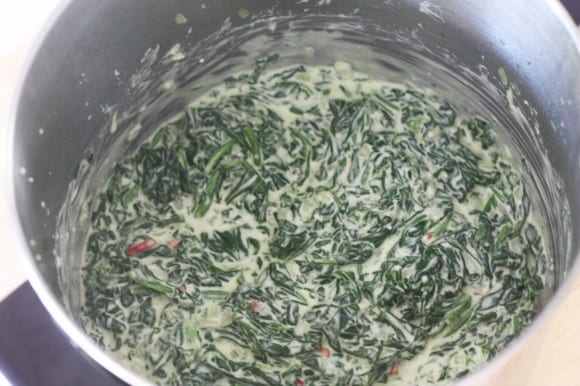 Add the mix to your baking dish. It will fill 2-3 large ramekins, or you could use an 8 inch baking dish.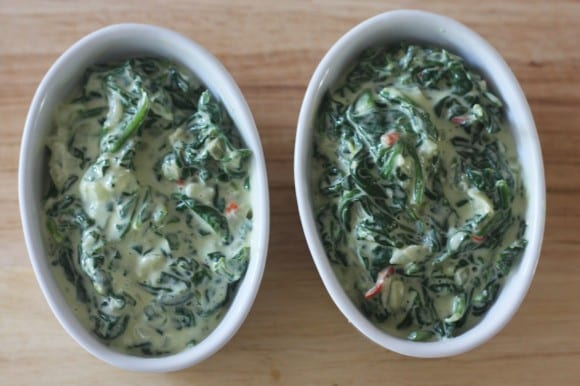 Sprinkle the remaining gouda on top.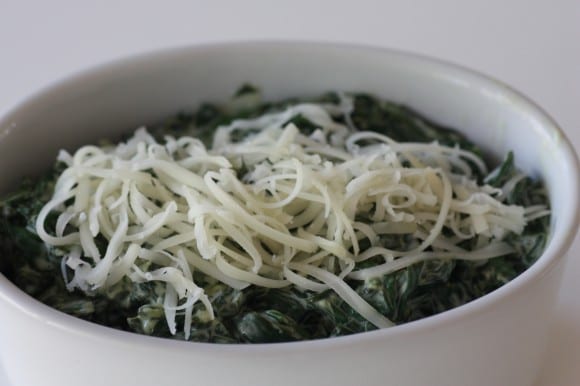 Cook for 25 minutes. If you aren't getting a nice golden brown crust on top, put it under the broiler for minute before you take it out. Watch it closely because it can quickly go from brown to black!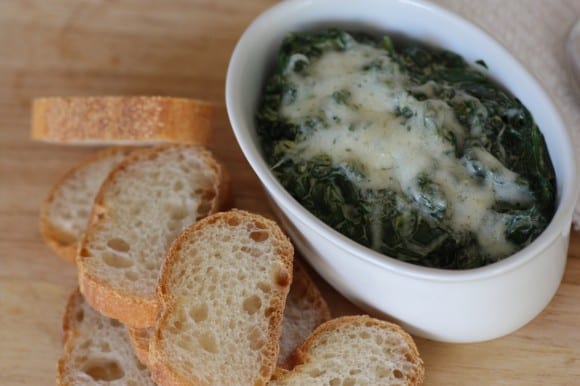 If you have extra, add to a ramekin, tightly seal with plastic wrap, and put in the freezer. You can keep it for at least a month, and then bake when you are ready to serve.
And for last-minute entertaining, here are a few of my other tips…
Tip 1 — Have some quick table setting items that you can quickly pull out in a pinch
My table settings tend to be simple, I'm a minimalist at heart. I have my go-to table runner, napkins, and plates that I use all the time. Plus, we have a lemon tree outside so I love picking a bunch of lemons, putting them in a basket, and using that as my centerpiece. See… simple. Also, I like to put out low candles because they look so pretty lit on a table (as long as there are no young children around). I keep everything ready to go in one cabinet in my dining room.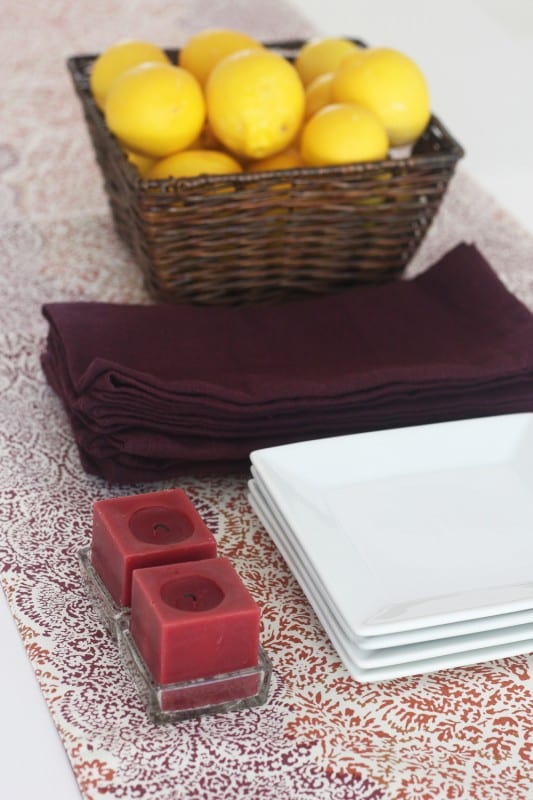 Tip 2 – Have food on hand that could work for fast preparation
Here's what I always have on hand that is easy to pull out of my fridge and cupboard for quick entertaining: cheese and crackers, puff pastry for making these cheese pinwheels, and silver dollar pancakes to top with whipped cream and strawberries (which are always in my fridge because they are my favorite fruit).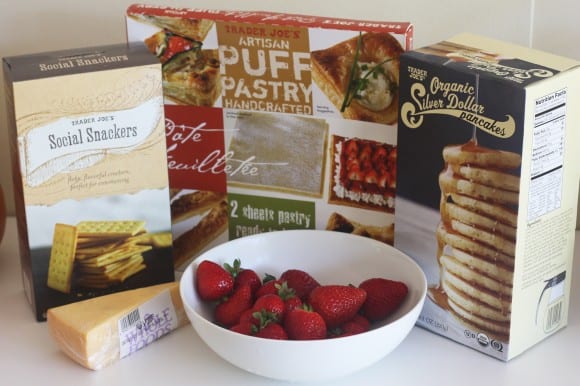 Tip 3 – Have mixes on hand to whip up some last minute desserts
I'm a big fan of dessert mixes. They are great to pull out for unexpected guests, school potlucks, and even a rainy day activity with my daughter. Since I think yummy smells add so much to a party, it's fun having something sweet cooking in the oven when your guests arrive, and they never have to know that it's really just a mix. Plus, they are easy to spruce up with powdered sugar, fruit, frosting, or sprinkles.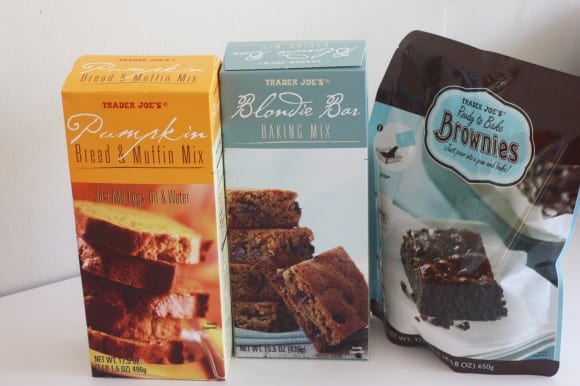 Tip 4 – Have candy, cellophane bags, and ribbon on hand for last-minute party favors
I usually like to send my guests home with something sweet. I keep candy stored away in my cupboard just for these situations. I like to put the candy in cellophane bags and tie them with pretty ribbon. It makes me look like such a seasoned host, but little do my guests know it took two minutes to do. This also works great with home baked items like cookies or brownies, even ones you've made with a mix. 🙂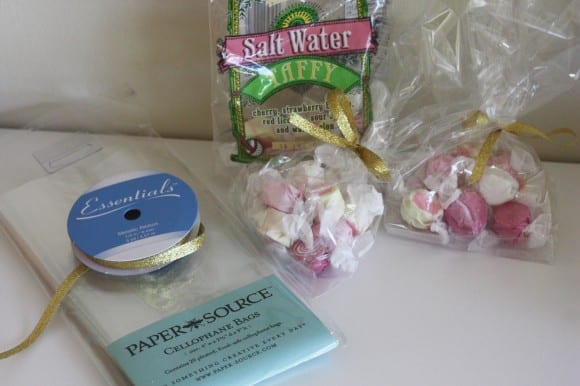 What are your quick entertaining tips? Please leave them in a comment here or on our Facebook page. I'd love to put a post together incorporating them.