I've actually seen photos of fairy bread before but and never knew what it was. Well, Alisha D sent me this recipe and photo of the fairy bread she made for her daughter's Delightful Delilah Turns One Rainbow Party.
It turns out it's an Australian treat and is so simple to make. Plus, look how pretty!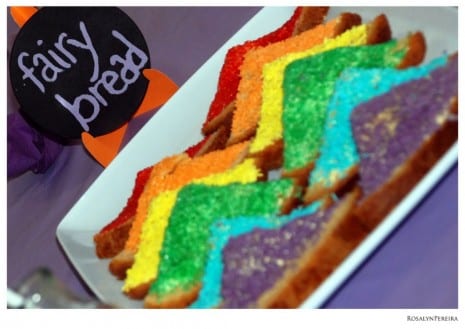 Ingredients:
White bread
Butter
Colored sugar or sprinkles
Directions:
Take a slice of white bread, butter it, cut into whatever shape you like with a cookie cutter, then dip the buttered side into coloured sugar or any type of sprinkles. (You can also spread Nutella on it before adding sprinkles.)
I told you… simple! Thank you Alisha for sending me the recipe.
If you make fairy bread for your next party, please send photos, I'd love to show it off.
Also, if you haven't seen Alisha's Delightful Delilah Turns One Rainbow Party, please take a look. It's that good.