This recipe comes via Sheryl B's blog, Lady Behind the Curtain. I saw these mini pecan pie pops on Sheryl's Father's Day Dessert Table and had to ask her if I could post the recipe. How amazing would these be for your July 4th barbecue!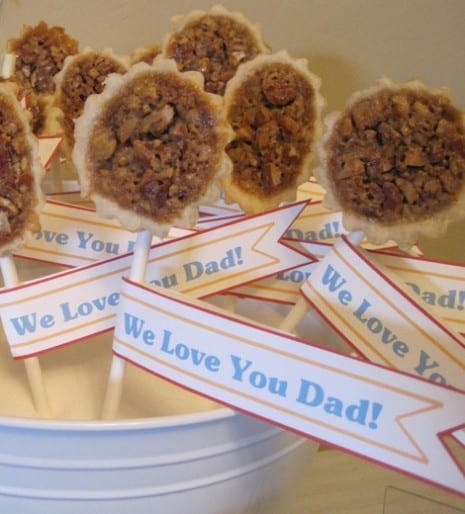 That's right pie ON A STICK!
It seems that everything is going on a stick. So why not a pie? It may look intimidating but it is a lot easier then you think and your guests are going to go GAGA (not the Lady kind) over them.
PECAN PIE POP RECIPE
Pastry Dough Ingredients
1/4 cup butter, softened
1-3 ounce cream cheese, softened
1 1/4 cups flour
Water
Pastry Dough Directions
Beat butter and cream cheese until fluffy mix in flour if needed add enough water to make the pastry cling together. Chill for 1 hour.
Filling Ingredients
1 egg, beaten
1 egg yolk
1/3 cup dark corn syrup
2 tablespoons brown sugar
2 tablespoons butter, melted
1/2 teaspoon vanilla
1/2 cup pecans, chopped
Filling Directions
Mix together egg, egg yolk, corn syrup, brown sugar, butter and vanilla.
To make tarts: Tear off a piece of dough and press into small tart pan. Spoon filling into tart pan and sprinkle with chopped nuts. Bake at 350 degrees for 20 – 25 minutes or until set. Once tarts are cooled take a tooth pick and run it around the edge to loosen.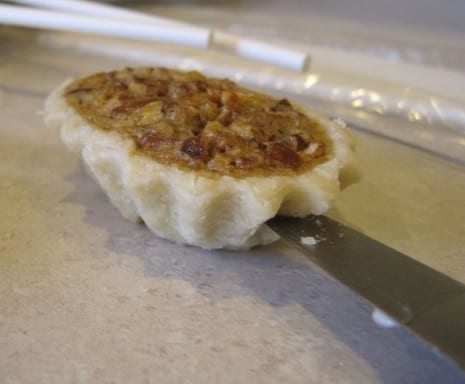 Cut a slit in the side of the tart and slide in the 8-in. Lollipop stick until you feel the other side. DO NOT go thru. NOTE: if you don't have tart pans then use a muffin tin and only go up the sides 1-in.
Makes approximately 8 tarts.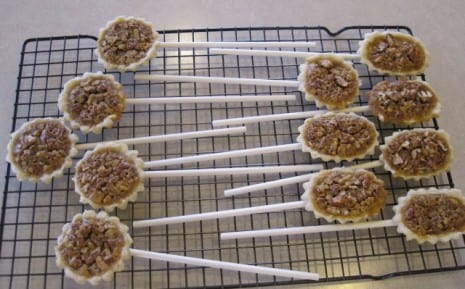 Thank you, Sheryl, for this great recipe. To learn more about Sheryl and discover more of her entertaining tips, please visit her blog, Lady Behind the Curtain.
And seriously, how cool would these pecan pie pops look on your next dessert table.