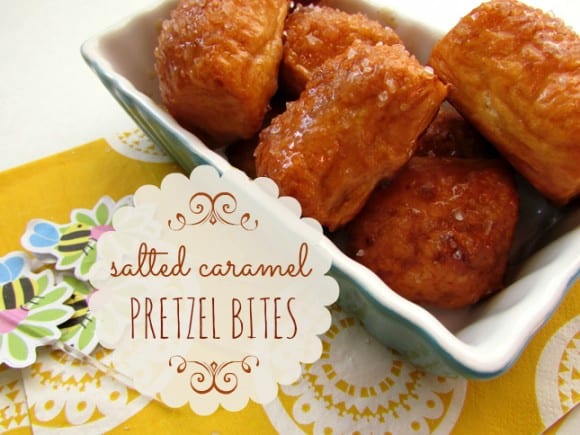 Molly from CakeFYI has been busy dreaming up some more delicious treats for us! Check out her newest recipe!

To me, soft pretzels are a dream come true. They're kind of tough on the outside, but they're so fluffy on the inside. They're the perfect snack at any age, but let me tell you, those simple pretzels can get so much better.
It's sort of a timely process to make pretzel bites, but it's incredibly fun and pretty darn simple. I dunked these in a homemade salted caramel sauce and sprinkled them with sea salt to give them an extra kick of flavor. I don't think you need any more convincing.
Ingredients:
1 1/2 C Warm Water
1 Tbsp Sugar
1 Pkg Active Dry Yeast
4 1/2 C Flour
2 Tbsp Butter, melted
6 Cups Water, for boiling
1/4 C Baking Soda, for boiling
1 Large Egg Yolk
Tools: Stand mixer fitted with a dough hook, large pot, baking sheet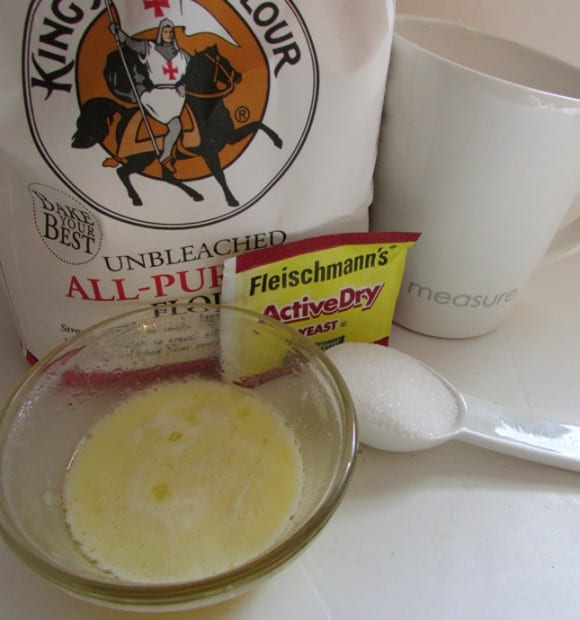 First, add your water and sugar to the bowl of a stand mixer. Then sprinkle in the yeast.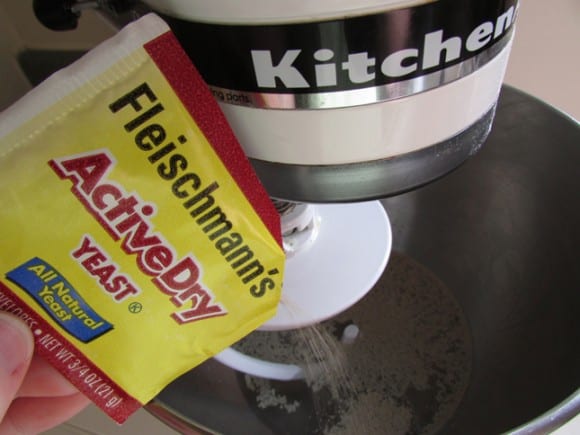 Give the mixture a little stir, and let it sit for 5 minutes.

After about 5 minutes, the yeast mixture will begin to bubble and foam. Then, gradually begin to add half of the flour, mixing on low as you go.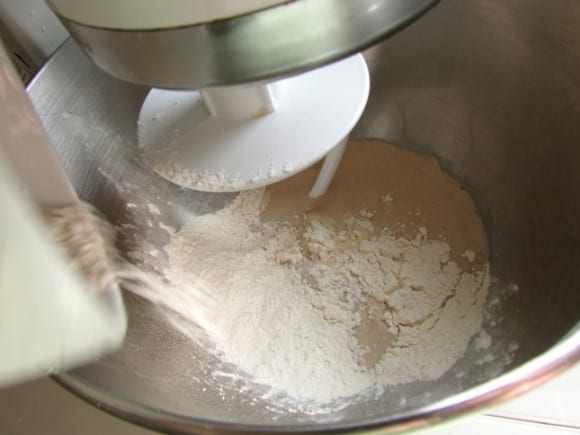 After adding half of the flour, gradually add the melted butter. Then, continue to add the remaining flour.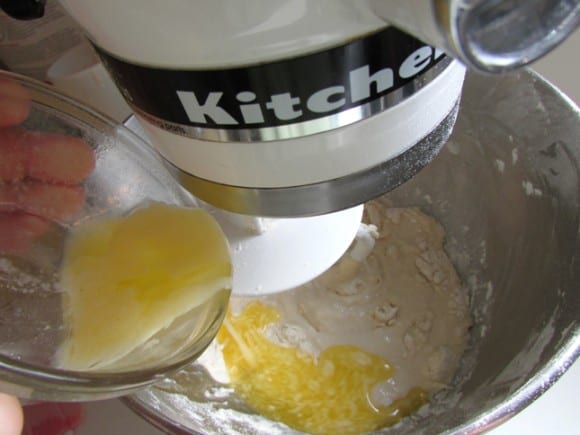 Once you've added all of the flour, and the dough begins to pull away from the sides of the bowl, it's ready to knead. Put your mixer on medium-high, and let it knead the dough for 5-7 minutes.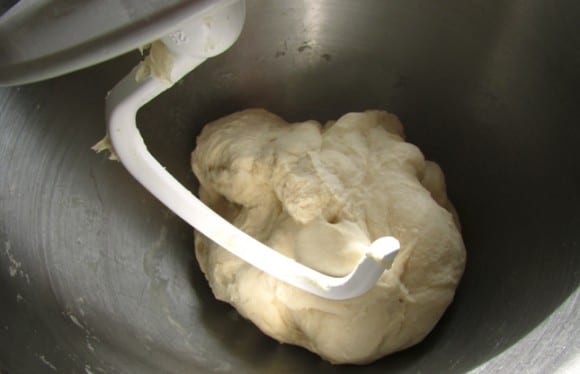 Next, brush the sides of a large bowl with oil, or spray it with cooking spray. Roll the dough around in the bowl to coat it in oil. Let the dough sit to rise in a warm spot for about 1 hour, until it has doubled in size. Once the dough has risen, we're ready to form the pretzel bites!

Fill a large pot with water and add the baking soda before you turn the stove on high. Let it come to a rolling boil. Preheat your oven to 450 degrees.
Meanwhile, divide the dough into 8 equal portions. Working with 1 dough portion at a time, roll out fat ropes of dough, about 10 inches long and 1 inch wide. Cut each dough rope into 8 small pieces, and set them on a greased baking sheet.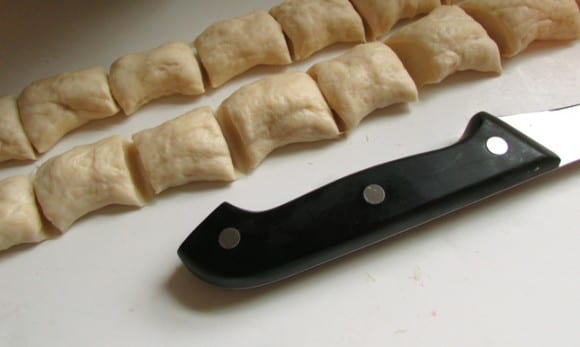 Once your water begins to boil, carefully drop 6-8 pretzel bites into the pot. Let them boil for about 30 seconds, and then place them back on the greased baking sheet. I like to use a slotted spoon or a spatula to get them out. That way, there isn't too much water on the baking sheet. They're going to look a bit lumpy at this point, but don't worry about it. They will take shape once they're baked.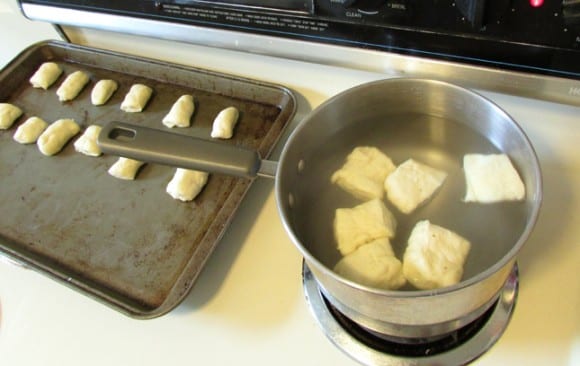 Whisk 1 large egg yolk with a splash of water. Brush the pretzel bites with this mixture to give it an egg wash.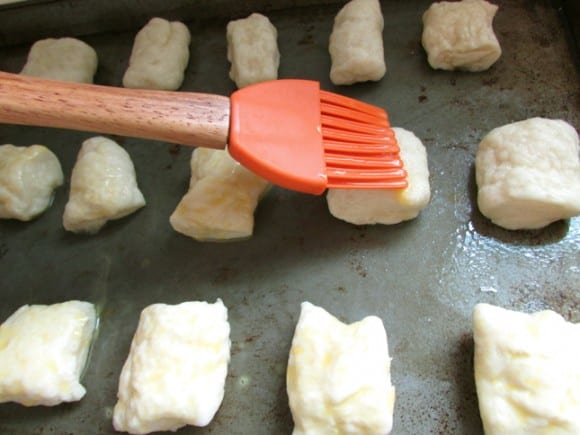 Bake the pretzel bites for 7-8 minutes until golden. Immediately transfer them to wire racks to cool.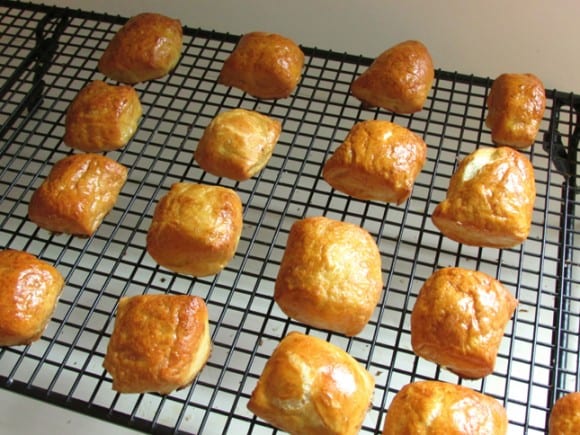 Now, what about that Salted Caramel Sauce I mentioned?
Salted Caramel Sauce
Ingredients:
4 Tbsp Butter
3/4 Brown Sugar
1/3 C Milk
1 Tsp Pure Vanilla Extract
3 Tsp Salt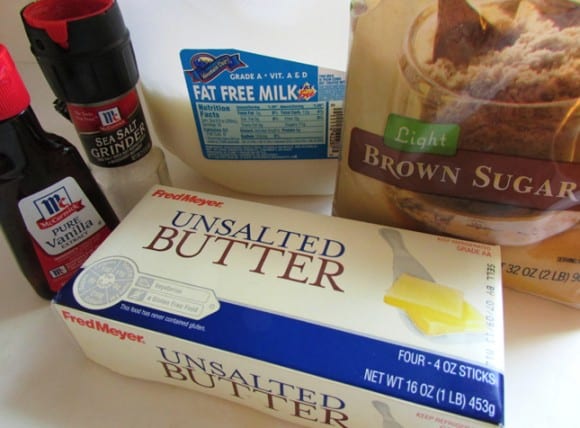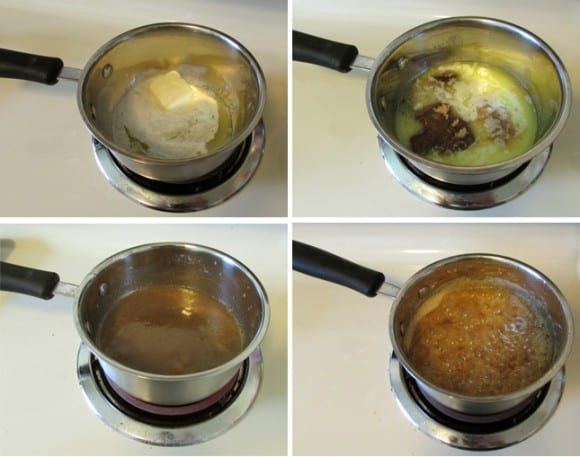 In a small saucepan, melt the butter. Once melted, add the brown sugar, milk, and vanilla and whisk well. Let the sauce boil over medium heat for 5 minutes. Do not stir it!
Once boiled, remove it from the heat and whisk well. Pour it into a jar or bowl immediately, and place it in the fridge for 5 minutes to slightly thicken.
Grab a cookie sheet, and place it under the wire rack. Dunk the top of each pretzel bite in the caramel sauce. Swirl it around to get the excess off. Top them with a sprinkle of salt, and let them set to dry for 1 hour.
And voila!!! Bite size deliciousness… bet you can't eat just one!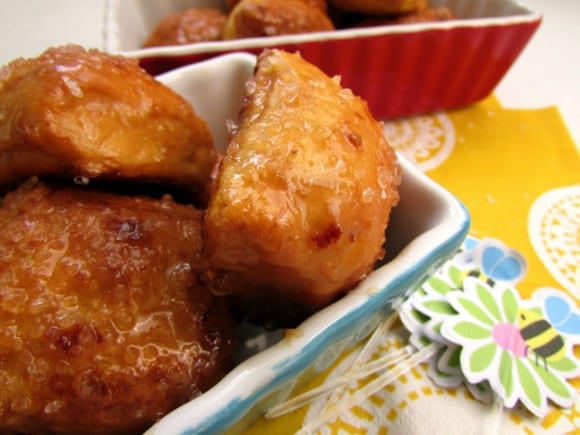 Thanks Molly, for the yummy recipe! To learn more about Molly check her out at CakeFYI.