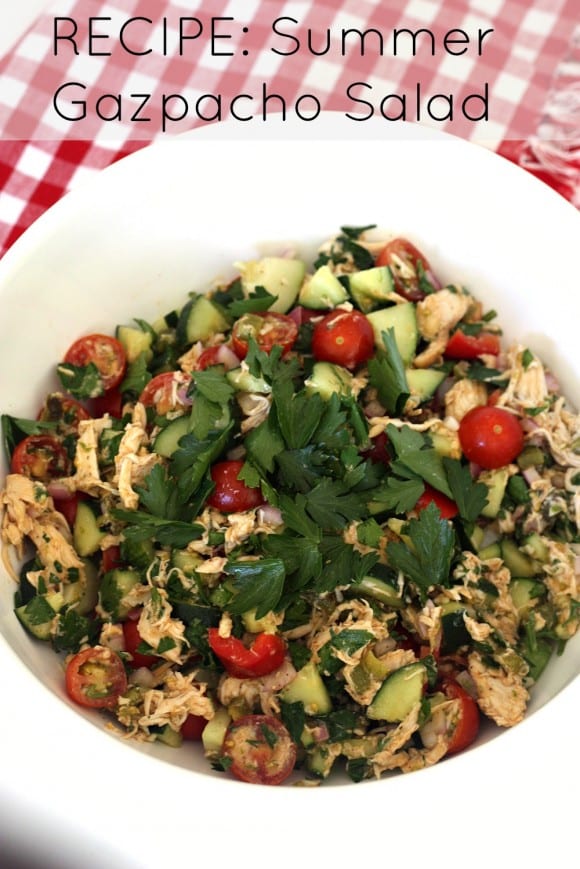 I love summer. I love the warm weather, the long days, and hanging out with friends and family. I also love taking trips. We're actually on our whirlwind summer trip right now to visit my family on the East Coast.
I'm writing this post from my hotel  room in NYC.  I put together this collage of some highlights of our NYC trip so far:
The view of the Empire State Building from our hotel room

A New York hotdog!
Gelato from Il Labratorio del Gelato
My daughter getting her photo on a cupcake at House of Cupcakes
Me trying on new glasses at Warby Parker
A pastrami sandwich and chicken soup from Katz's Deli — an institution!
A ginormous Hershey's Bar my daughter would like me to buy her
To see more of my trip and follow me a long, check me out on Instagram.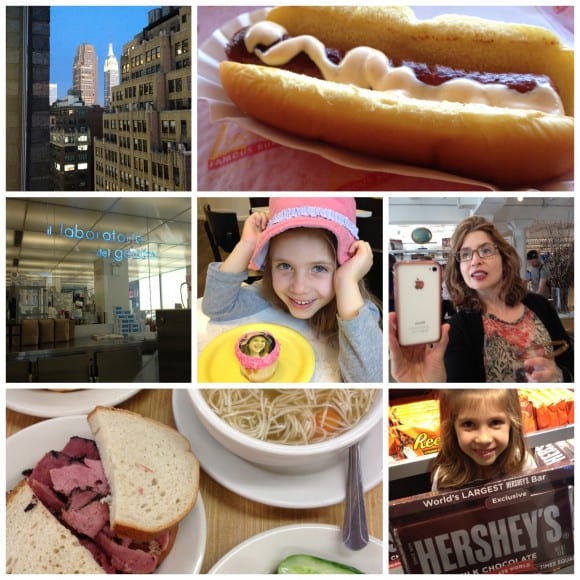 During the summer, I like to create food that feels casual and easy. So as a companion recipe to the Spanish Tortilla with Hot Dog I posted last week (and sticking to the Spanish theme), I also created this Summer Gazpacho Salad.
The salad features the flavors I love in a gazpacho – cucumber, tomato, pepper, and garlic with a nice kick from the vinegar and lime. The Spanish Tortilla brings a salty, richness to the menu, whereas the gazpacho salad brings a crisp, summer freshness.
SUMMER GAZPACHO SALAD
Ingredients:
1 large cucumber
1 red pepper
1 basket of cherry tomatoes
1 spicy green pepper (Jalapeño or Poblano)
1/2 onion
3 garlic cloves
2 tablespoons parsley (Italian)
2 tablespoons cilantro
1 lime
2 shredded chicken breasts
4 tablespoons olive oil
1 tablespoon red or sherry vinegar
1 teaspoon kosher salt
1 teaspoon chili powder
1/2 teaspoon cumin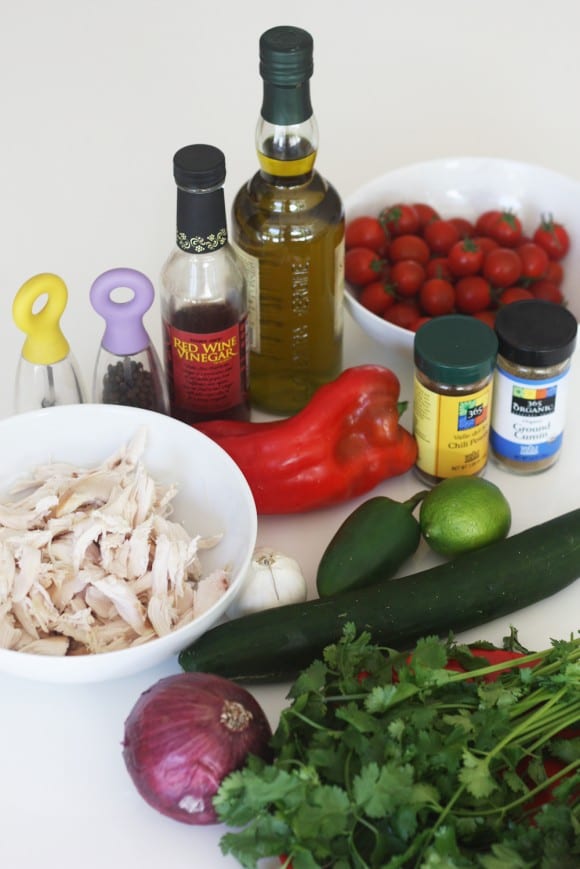 Directions: 
Dice the cucumber and red pepper, and add the cherry tomatoes (halved) to a bowl. To give the salad some heat, use a roasted a spicy pepper (we used a jalapeño). Remove the skin and seeds, dice the pepper, and add to the bowl.
Now shred or chop the chicken breasts and add to the bowl.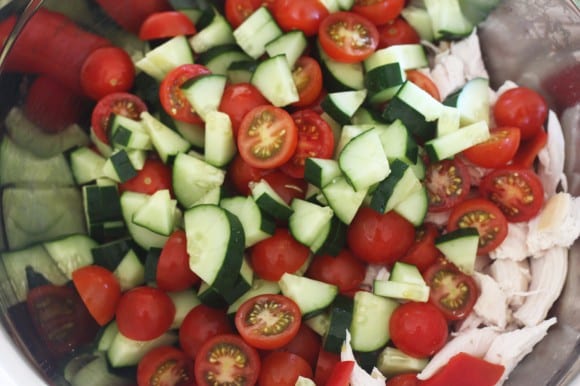 Dice 1/2 an onion, and mince or press the garlic. Chop 1 tablespoon of parsley and 1 tablespoon of cilantro and add to the salad. Save the rest of the parsley and cilantro for garnish.
To dress the salad, mix 4 tablespoons of olive oil, juice from 1 lime (and optionally the zest from the lime), 1 tablespoon of red or sherry vinegar, 1 teaspoon of chili powder, 1/2 teaspoon of cumin, and 1 teaspoon of kosher salt.
Toss the salad in the dressing, and sprinkle some of the leftover parsley and cilantro over the top. You can serve immediately, but it tastes even better if you put in the fridge for a few hours and let the flavor marinate.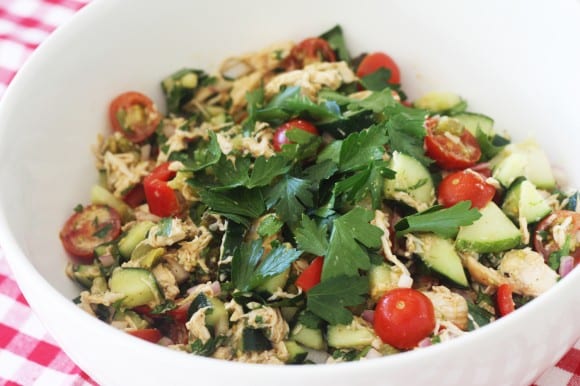 For summer entertaining, the Spanish tortilla and summer gazpacho salad make the perfect match! I love serving them together at a summer BBQ!