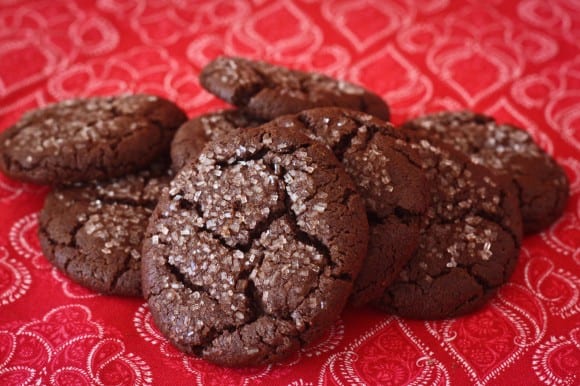 I'm a self confessed chocoholic. So when my husband mentioned a few weeks ago he and my daughter were talking about baking chocolate cookies, I was not going to let them forget it.
Baking is one of our favorite family activities, so when we don't have a busy weekend, we like to create in the kitchen.
Here are our yummy chewy chocolate cookies that are the exact right amount of sweet, perfect for adult and child palates alike. Plus, they're crunchy on the outside, chewy on the inside. If you're thinking of chocolate cookies, I promise you will love this recipe!
Ingredients
1 cup butter
3/4 cup granulated sugar
3/4 cup brown sugar
2 eggs
1 1/2 teaspoon vanilla
1 3/4 cups all purpose flour
1/4 teaspoon salt
2 teaspoons baking soda
1 1/4 cup unsweetened cocoa powder
2-3 tablespoons sanding sugar
Directions
Preheat oven to 350 degrees F.
Combine the dry ingredients in a medium bowl: flour, salt, baking soda, and cocoa powder. Whisk just until the ingredients look evenly distributed. Don't worry about clumps of cocoa powder, they'll break apart when you mix into the wet stuff.
In a larger mixing bowl, add the butter, eggs, granulated sugar, brown sugar (lightly packed), and vanilla. Mix until creamy. We used salted butter – if you use unsalted you might want to add another 1/2 teaspoon of salt.
Add the dry ingredients in 3-4 batches until fully mixed. The dough will be very thick.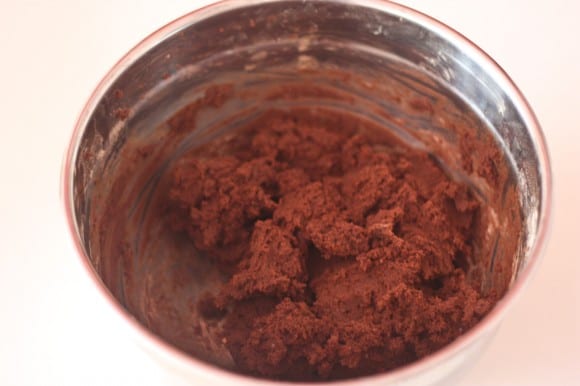 Scoop out ping pong ball sized scoops of dough. Roll the dough in the sanding sugar so they are about half coated. Lightly press on a cookie sheet. We used a Silpat, so we didn't butter the sheet. These cookies will flatten out (double in diameter) so leave plenty of room between cookies.
Bake for about 10 minutes at 350 degrees. The cookies should start to show cracks on the top about a minute before they are done.
After you take them out, let them rest for about 5 minutes. They should be a little crisp on the outside, and chewy in the middle – yum! We made just under three dozen cookies in total.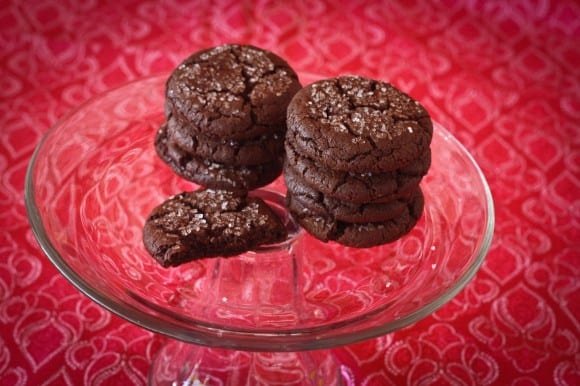 We also tried a batch with some maldon sea salt sprinkled on top. They were interesting, but we didn't like them as much as the batch with sanding sugar.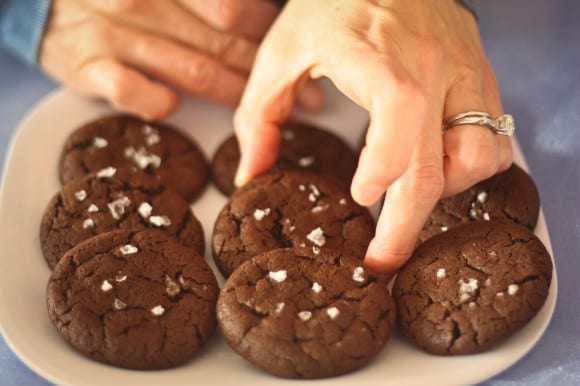 If you make them, please send photos to jillian@catchmyparty.com. How perfect would these be for Valentine's Day. Yum!