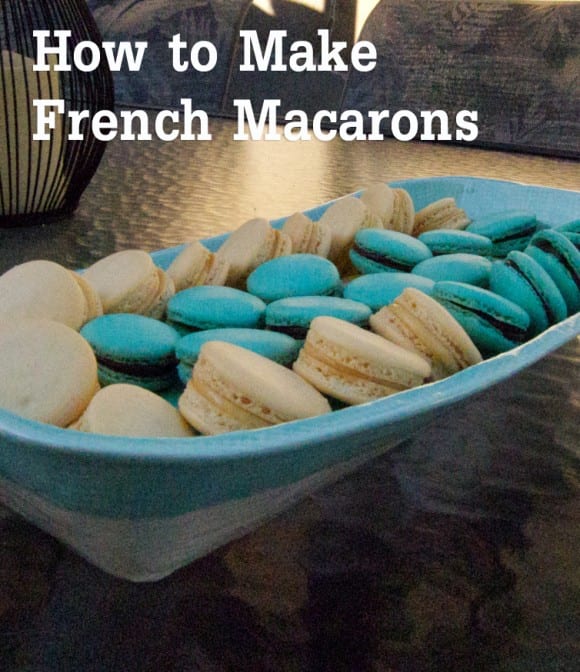 I know, French macarons. We've all heard the horror stories of how hard they are to make. But they are also absolutely gorgeous, look great on a dessert table, and where I come from, cost about $3.50 per macaron. So maybe I need to rethink my fear of trying. 🙂
To help me, I asked macaron expert and professional baker, Chris Roberson of Frostine Bakery. She makes hundreds of macarons, so if anyone knows how to do it, she does. She's shared not only her recipe but her trade secrets. Thank you, Chris, our lips are sealed (except for the fact that I'm posting it)!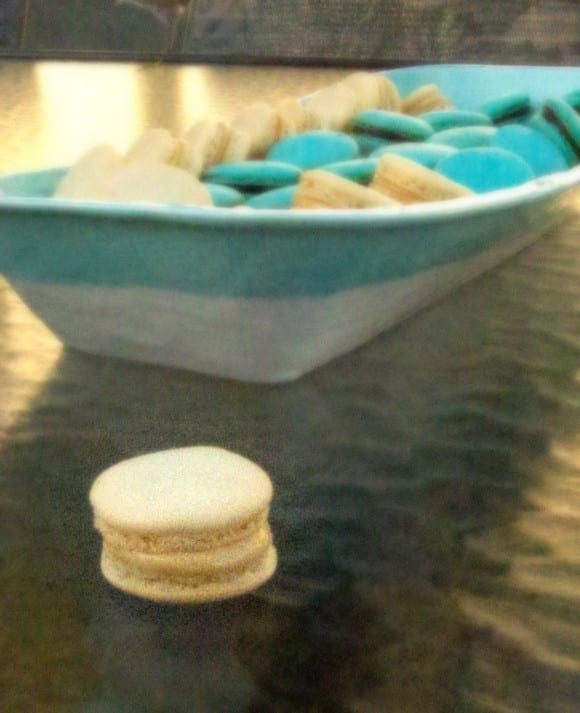 Yields about 100 shells, 50 cookies
Tools:
Parchment paper, cut to fit cookie sheets, or Silpat
Flat and even cookie sheets
Piping bag
Decorating tip (regular round is fine with large opening)
Ingredients:
120 grams almond meal (or 4 1/2 oz.)
200 grams powdered sugar (or 7 oz.)
100 grams egg whites, aged overnight (about 3 large egg whites)
Pinch of cream of tartar
30 grams sugar (1 oz.)
Note: Weight in grams will be more accurate. It is important to be precise with this recipe. I even use a food scale to measure the weights.
Directions:
Step 1. The night before you plan to bake (or morning of, if you are waiting until evening), measure your egg whites and in a bowl let them "age" on the counter overnight. The process of "aging" helps to break down the enzymes, making the whites whip better.
Step 2. Trace one-inch rounds onto parchment for uniform shapes. I used the opposite end of an icing tip to trace. Also, leave about ¼- ½ inch of room between the circles.
Step 3. Put the tip on your icing bag. Place the bag in a pint glass and fold the top of the bag around the rim of glass (this makes pouring the batter into the bag SO much easier)
Step 4. After measuring the almond meal and powdered sugar, place in a food processor and pulse until combined. Sift the mixture into a bowl and set aside.
Step 5. Using a stand mixer and the whisk attachment, whip the egg whites on low speed. Put in cream of tartar. Continue to mix on low until the whites become frothy, about 3 to 5 minutes.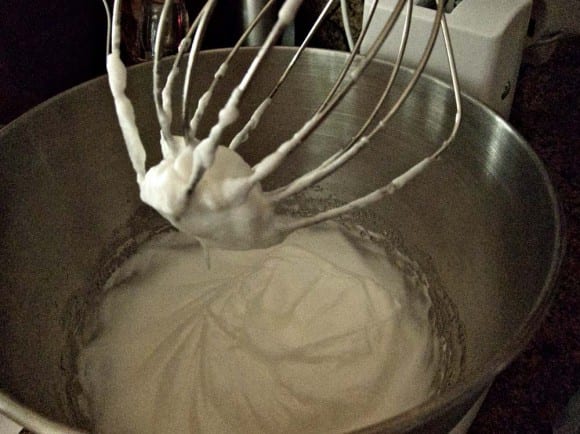 Increase the speed to medium-high and slowly add the sugar. Mix for another 3 to 5 minutes, until stiff peaks begin to form. At this point you can add in your desired gel food coloring.
Step 6. Once peaks are stiff, using a rubber spatula fold in the almond flour and powdered sugar mixture in quarters. In total, the mixture should only be folded about 60 times. More than that will make it deflate, creating more air bubbles and less "feet," which is the raised part of the cookie that looks a little bubbly.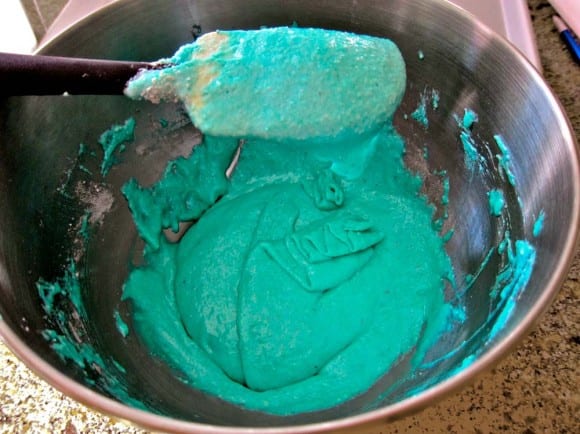 Step 7. Pour the batter into the bag and pipe rounds onto the parchment paper. Tap the cookie sheet on counter, being careful to keep it level. Use a toothpick to pop any bubbles that may come to the top.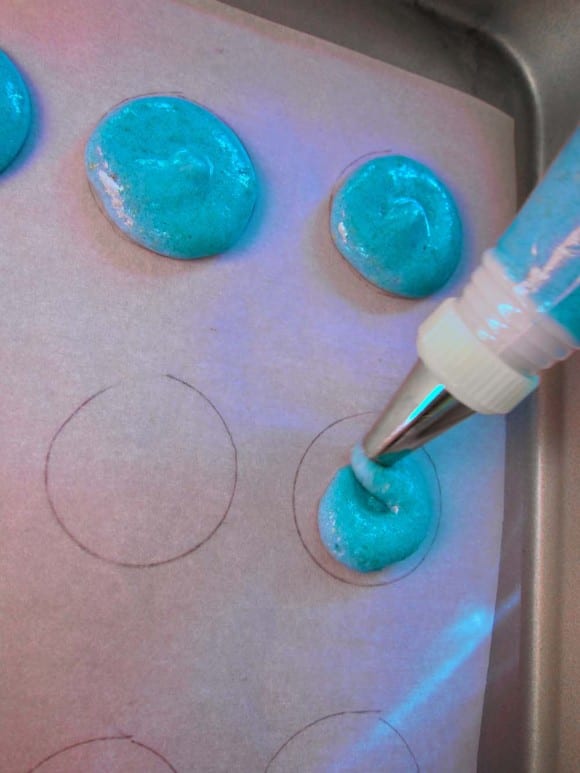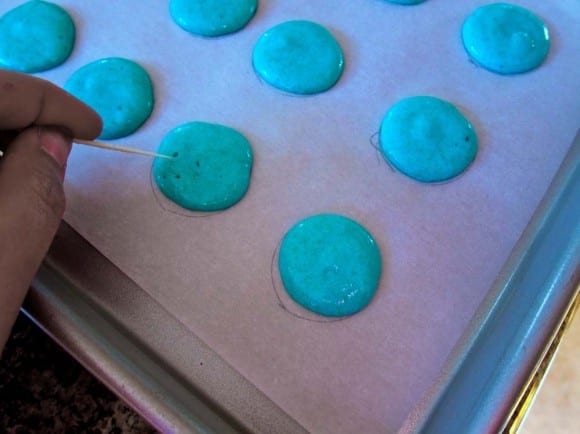 Step 8. Preheat oven to 375°F. Let shells rest 15 to 30 minutes before putting them into the oven. Resting gives the shell a tacky, almost firm top, giving the air only one place to go out: the bottom. This is what gives the macarons their feet.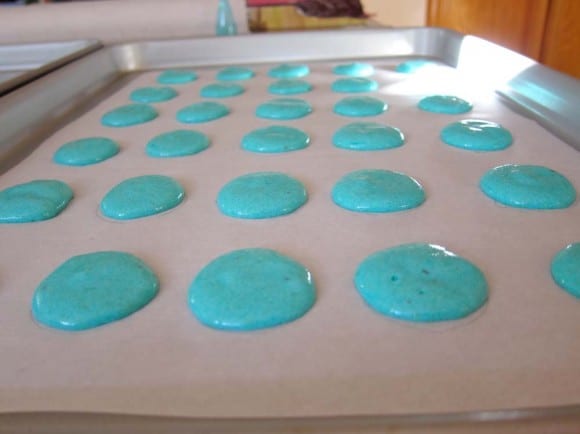 Step 9. Once the shells have rested, place in the oven and lower the heat to 325°F. Bake for 5 minutes, turn sheet, and bake for 5 more minutes. Take out to let cool before transferring to a cooling rack. While cooling, reset oven temp to 375°F. Let it rest at 375°F for 5 minutes before putting in your second tray.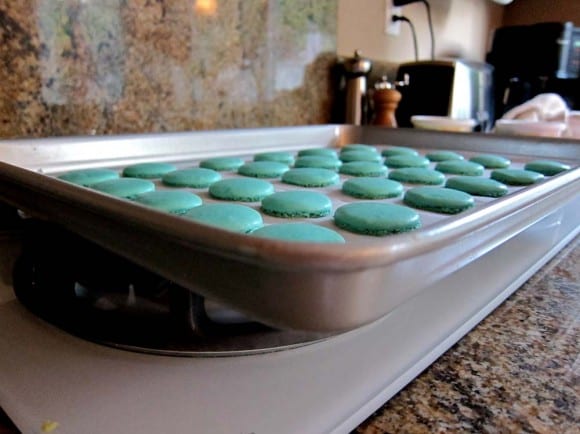 Step 10. You should now have beautiful macaron shells ready to fill with delicious filling! (These were made using a salted caramel buttercream and dark chocolate ganache)
Step 11  After piping the filling, refrigerate over night. You can eat one now, but I promise, they will taste 10 times better if you wait. Delayed satisfaction, I'm telling you.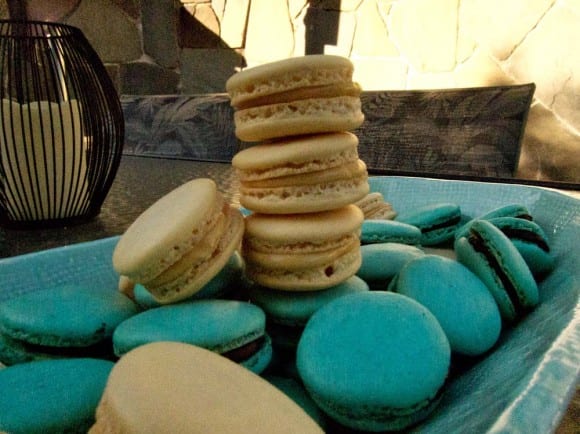 SALTED CARAMEL BUTTERCREAM FILLING 
Ingredients:
• 4 ounces European style butter (demisel), room temp
• 8 ounces caramel
• ½ cup powdered sugar
• ¼ teaspoon vanilla extract
• ¼ teaspoon flaky sea salt
Directions:
1. In the bowl of a stand mixer, and using the whisk attachment, whip butter until creamy. Slowly add in the caramel while still beating. Add in the powdered sugar and vanilla extract until well incorporated. With a large spatula, fold in the salt.
2. Refrigerate for about 30 minutes. Pipe filling on macarons.
Thank you, Chris, for your recipe and professional tricks. I'm definitely going to face my fear and try making some!
To learn more about Chris, check out Frostine Bakery. If you are in Northern California, and need macarons for your next party but don't want to bake them yourself, contact Chris, and I bet she can help you out. 🙂