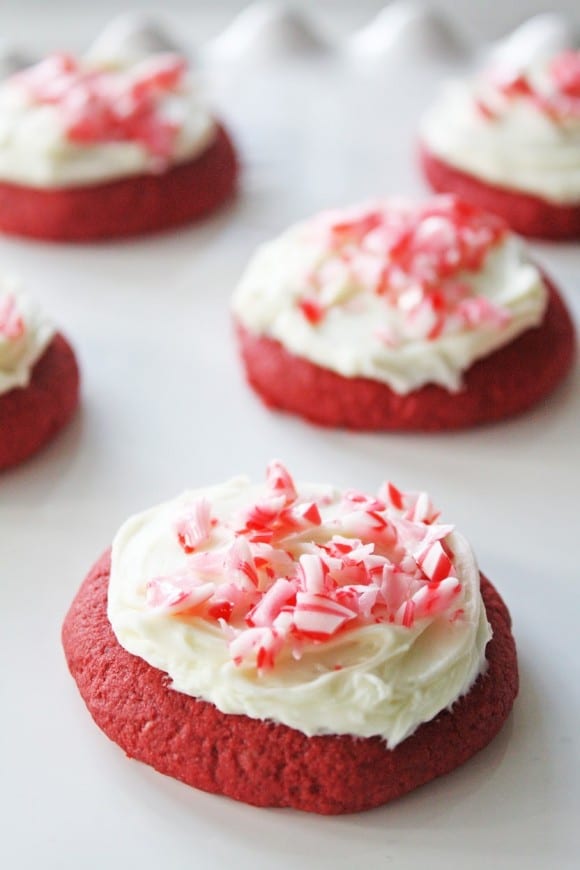 Just four days until Christmas! If you need a quick cookie recipe that's a little bit of a changeup for the holidays, how about whipping up a batch of these red velvet sugar cookies with peppermint frosting!
These have all the flavors of the holidays mixed into one cookie. You get chewy sugar cookies, a hint of chocolate, and lots of peppermint. Delicious!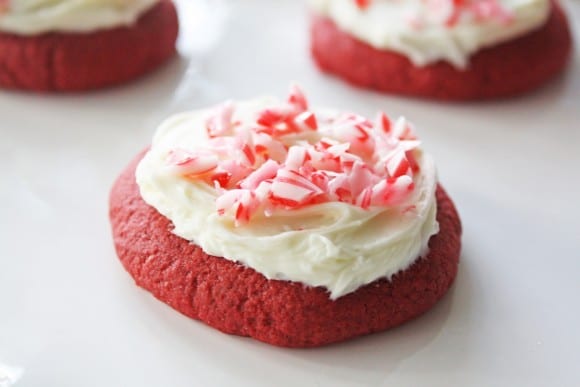 Red Velvet Sugar Cookies with Peppermint Frosting
Ingredients:
3/4 cup butter, unsalted
1 cup sugar
2 eggs
2 teaspoons vanilla extract
1 teaspoon red gel food coloring
2 cups all-purpose flour
1 tablespoon cocoa
1/2 teaspoon salt
½ teaspoon baking soda
Directions:
Cream together butter and sugar. Add eggs and vanilla extract. Add in red food coloring.
In a separate bowl combine flour, cocoa powder, salt and baking soda. In three additions, add flour mixture to the butter mixture. You can use a mixer, but just don't overmix.
Form a ball of dough. Chill for at least one hour.
Preheat oven to 350° F.
Using a candy scoop or tablespoon, form small balls with dough. Place on a greased cookie sheet and evenly flatten each ball.
Bake for 7-9 minutes. Cool.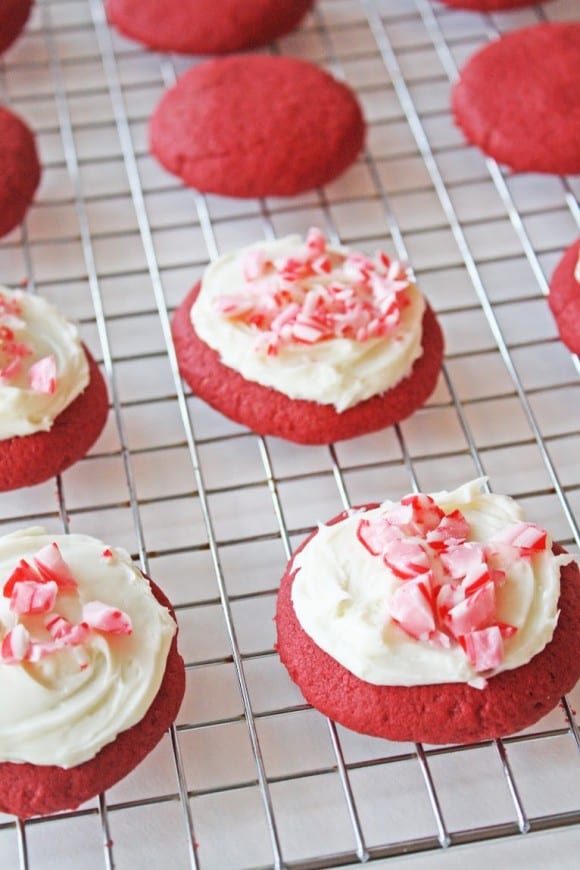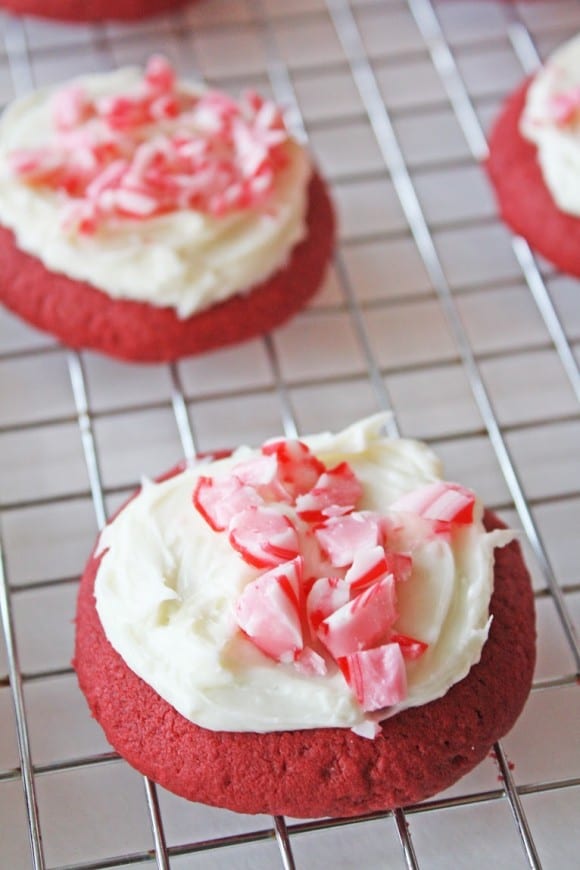 Peppermint Frosting:
Store bought vanilla frosting, or you can make your own
Peppermint extract
Crushed candy canes
Scoop the vanilla frosting into a small bowl. Add 1-2 teaspoons of peppermint extract. Mix to combine. Spread the peppermint frosting onto the red velvet cookies. Add crushed candy canes for a little crunch!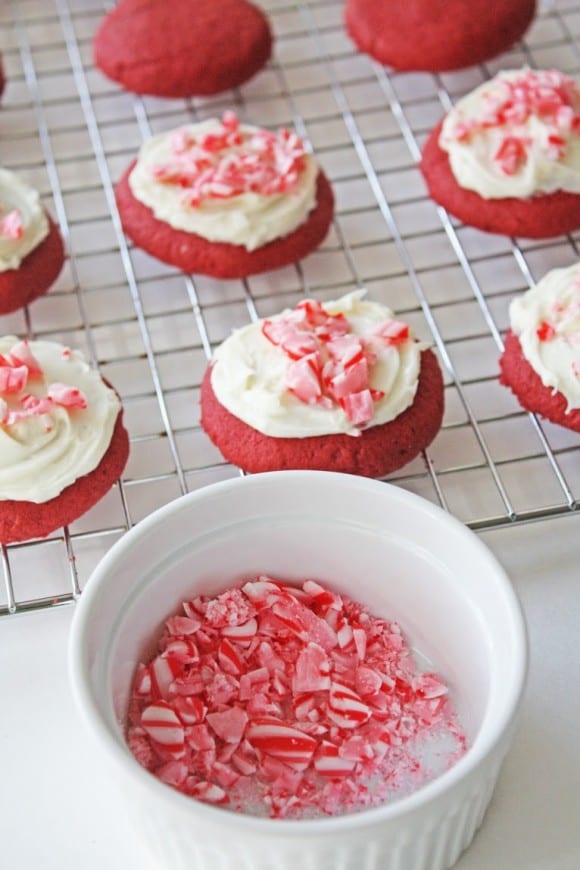 These gorgeous red velvet cookies are the perfect Christmas treat! They will disappear right before your eyes. Add them to your holiday baking gift baskets this year or make them for Santa!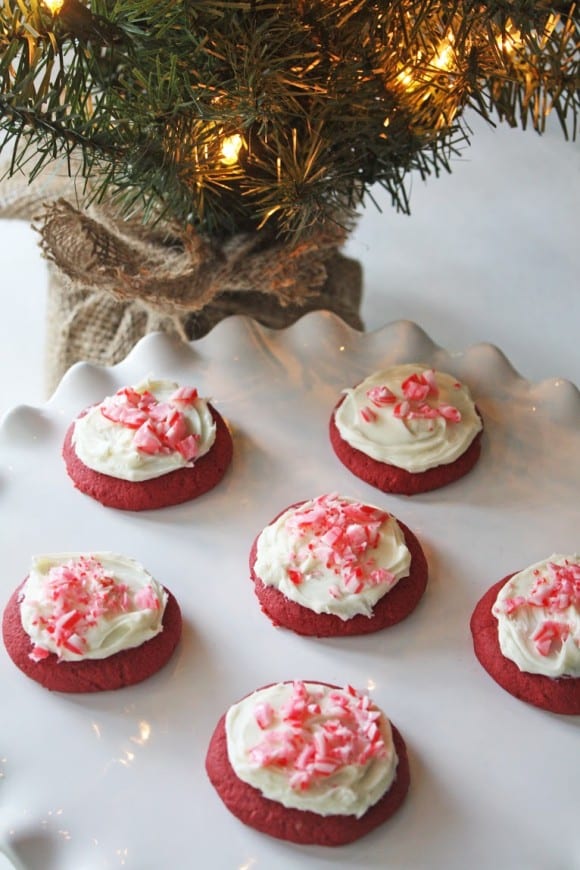 PIN IT FOR LATER:

For more holiday inspiration, check out these Christmas and holiday parties from our site, our collections of free Christmas party printables, and our holiday crafts and recipes!