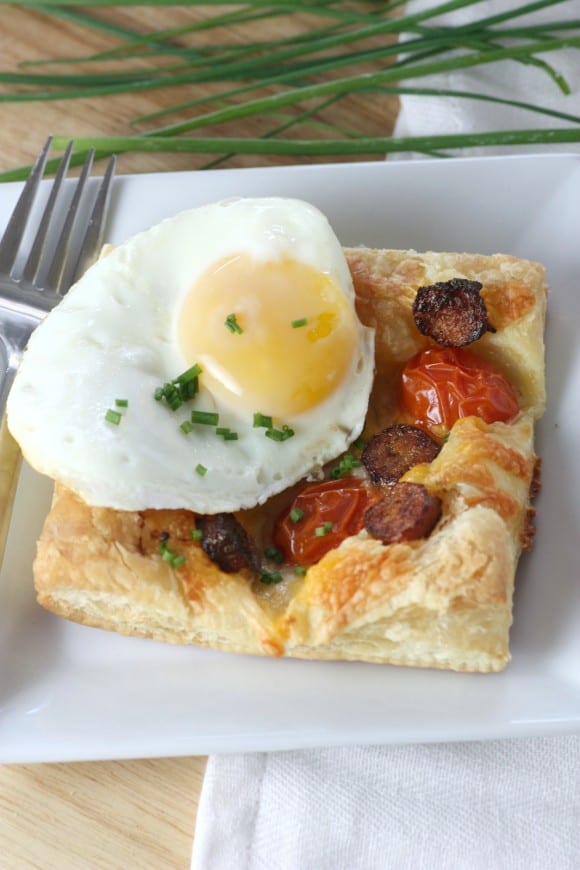 I wanted to make something easy and fast for breakfast that would "wow" my family (I love things that look hard but aren't), so I came up with these sausage and egg breakfast pastries.
I made them in minutes, and they came out tasting delicious. We all couldn't stop eating them, and I was a happy mom!
I used store bought puff pastry (****MY SECRET TRICK!****), topped it with shredded cheese and breakfast sausage, added cherry tomatoes, then I finished it with a fried egg.
The combination of the buttery crust, the smoky bold flavors from the sausage, the tang from the tomato, and the richness of the egg made this such a satisfying breakfast. My husband was sad when they were all gone. 🙂
Sausage and Egg Breakfast Pastry Recipe
Makes 8 pastries
Ingredient:
1 package puff pastry (2 sheets)
8 Fully Cooked Breakfast Sausages
1 cup shredded cheese
16 cherry tomatoes sliced in half
8 eggs
1 tablespoon chopped chives for garnish
Directions:
Preheat oven to 400F.
Lay out your puff pastry sheets and using a knife or a pizza cutter, cut it into squares, about 5″x 5″. With a fork poke holes in the pastry to keep it from rising too much.
Top with cheese, sliced sausage, and tomatoes. Use about 1 sausage and 4 tomato halves per pastry. Bake for about 20 minutes.
While the pasties are baking, you can start frying your eggs. When the pastries are golden brown and puffy, top with a fried egg, then garnish with chives (or other fresh herbs). Enjoy!
PIN IT FOR LATER HERE: