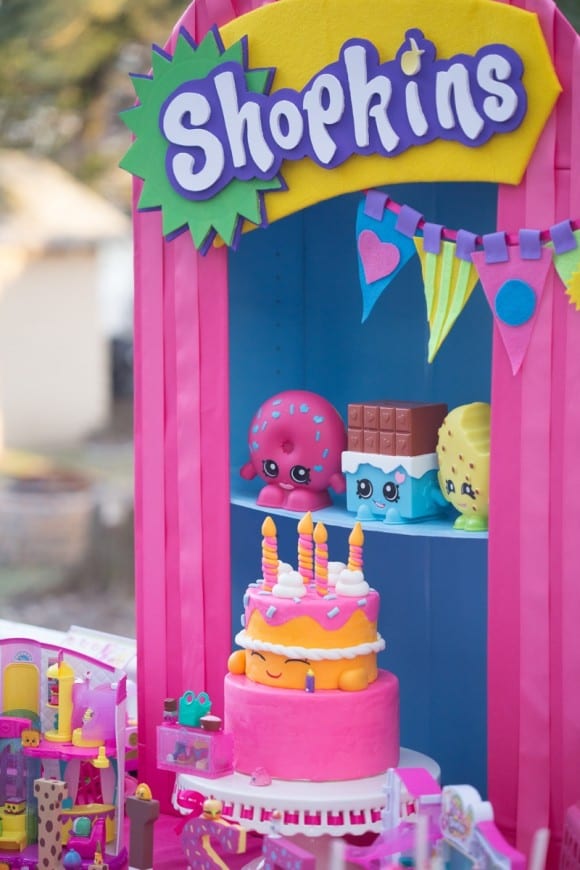 I'm excited to be sharing this Shopkins party styled by the talented, Jessebell from Dreamland Event Styling! 
If by now, you have been able to avoid the mini toy craze that is "Shopkins," be prepared, because with these Shopkin party ideas you'll be wanting to throw your own party!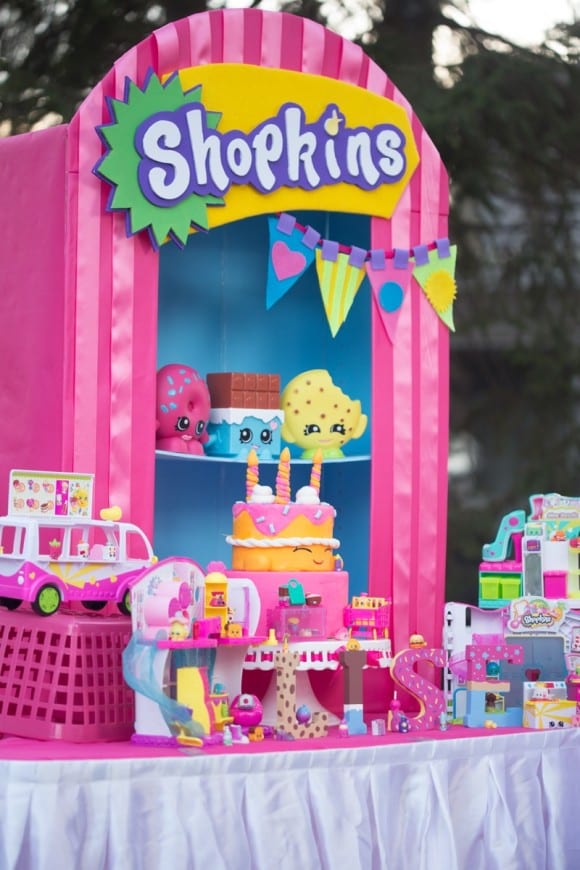 This party was completely inspired by the idea of having the most awesome shopping experience ever!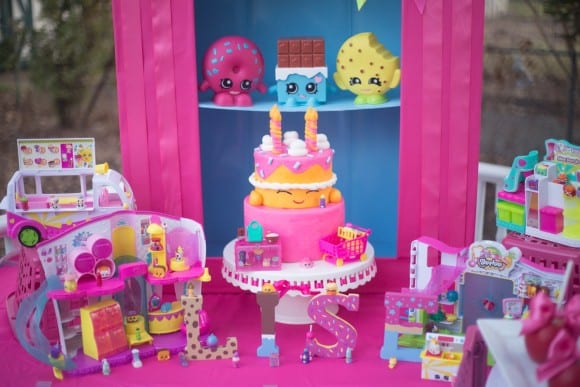 We wanted to bring the Shopkins shopping world to life, and with bigger-than-life props, we were able to bring the mini toys to life-size proportions.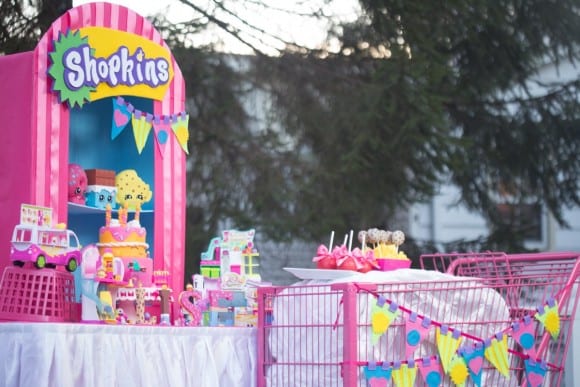 One of our focal points for the cake table was the "Store Shelf" that we made using pasteboard and an old bookcase.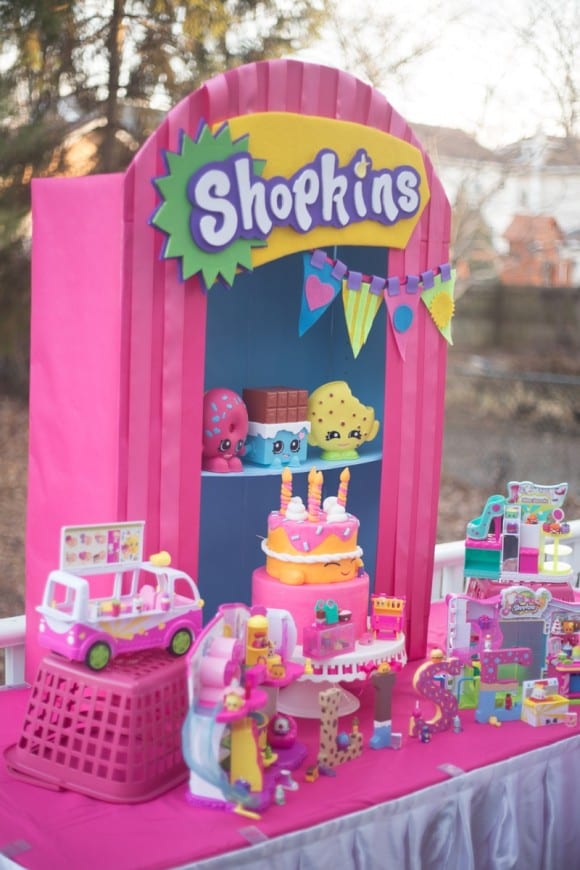 The "Shopkins" logo was made using foam core. This, of course, added the extra special "Shopkins" feel to the store shelf.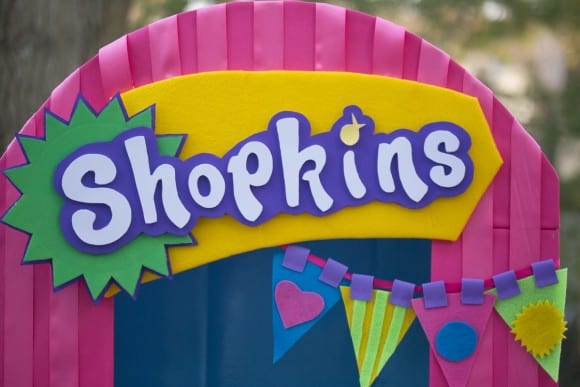 We found some super cute Shopkins piggy banks at our local Family Dollar Store over Valentine's Day. They were the perfect size to fit inside of our store shelf.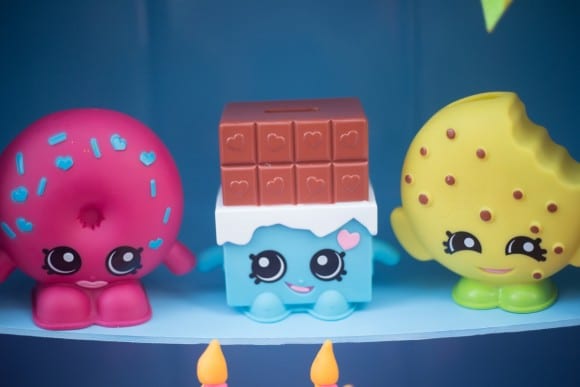 On the cake table, in front of the bookshelf, we had our magnificent "Wishes" cake, based on one of the Shopkins characters.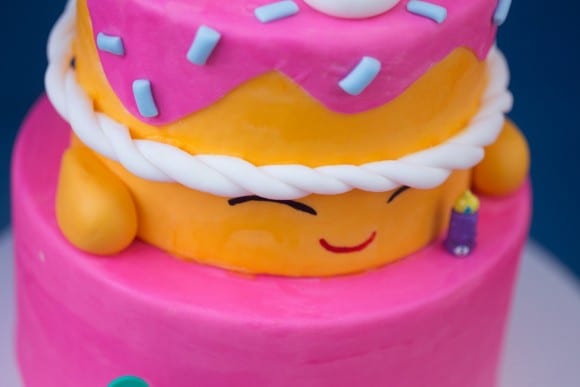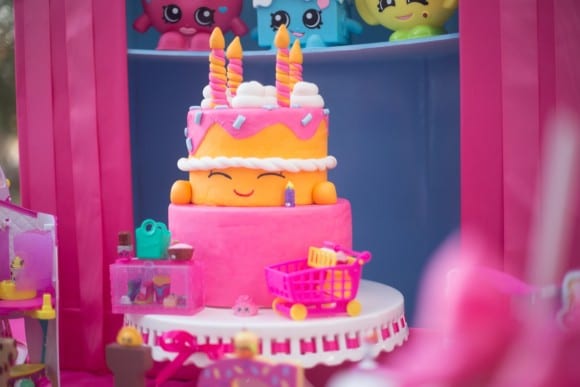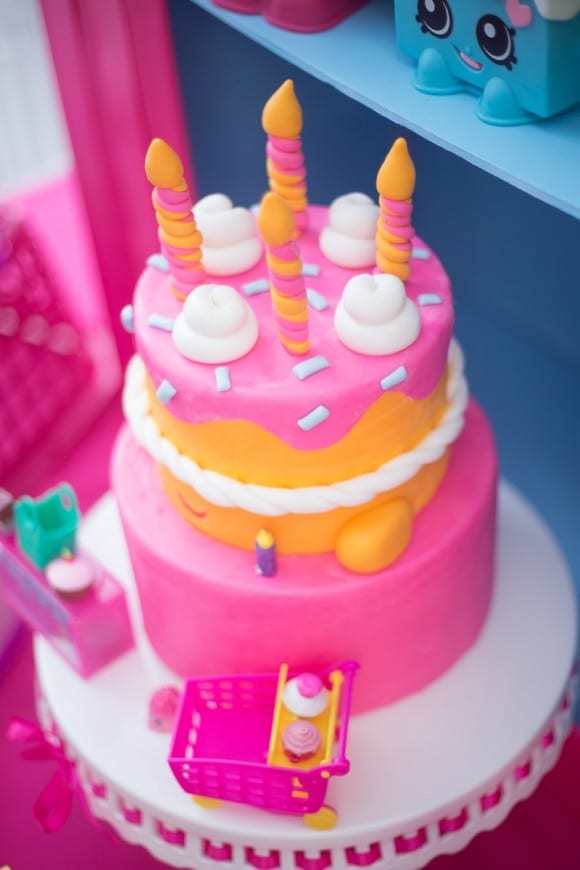 Also, on the table, we used painted wooden letters and spelled out the birthday girl's name. We decorated each letter with inspiration from different Shopkins. This is a super easy decorative piece that the birthday girl can keep as a present and reminder of her party!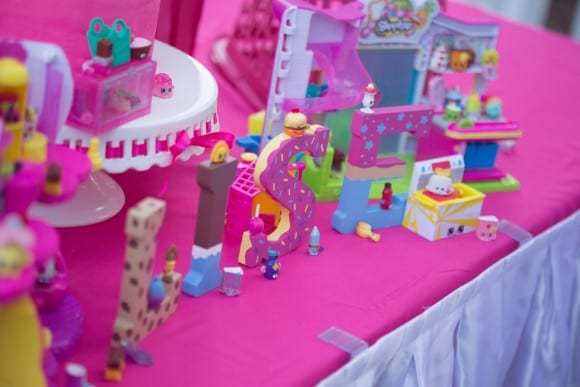 Another great idea is to use toys as part of your decor, especially if your child is anything like mine, and has a bunch already in her room!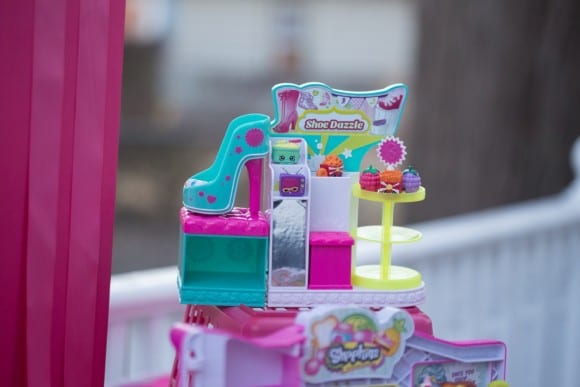 What else screams Shopkins more than a pink shopping cart dessert table?! After we spray painted the shopping cart pink, we built a table inside it to display our treats in a fun way.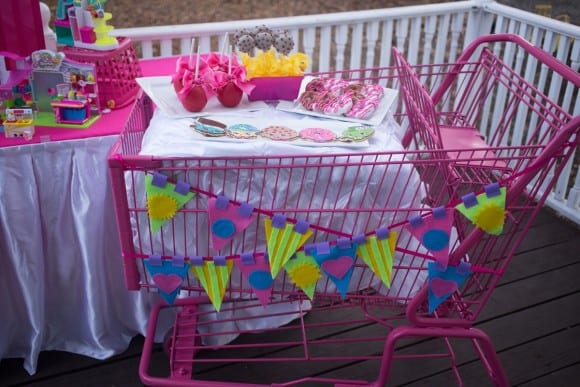 We even put felt pennant banners on the side to decorate it.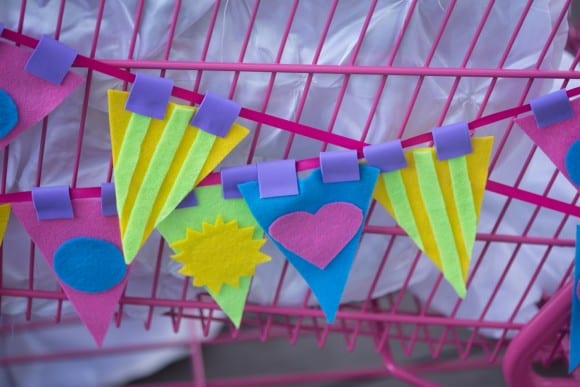 We displayed candy apples, cake pops, and chocolate covered pretzels.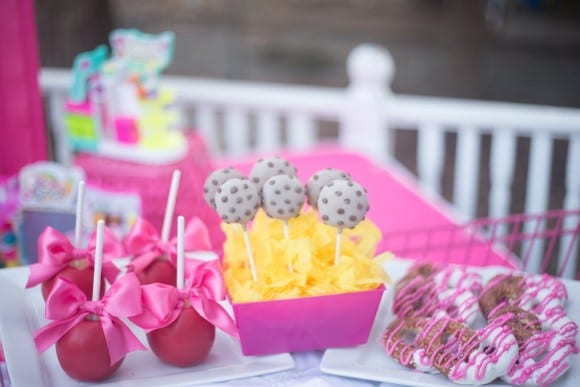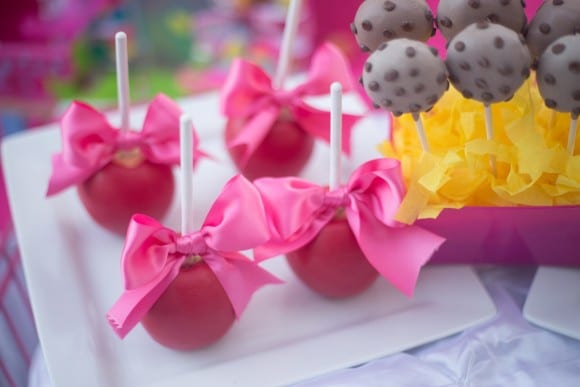 All the kids loved being able to "shop" for their treats! We also had gorgeous cookies made by the very talented Jennifer from My Sweetest Moment. They were almost too adorable to eat, but of course we did and they were DELICIOUS!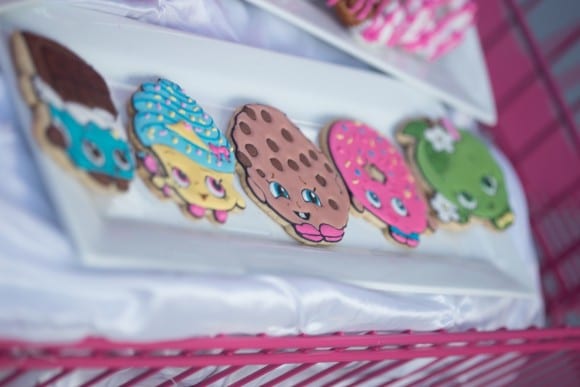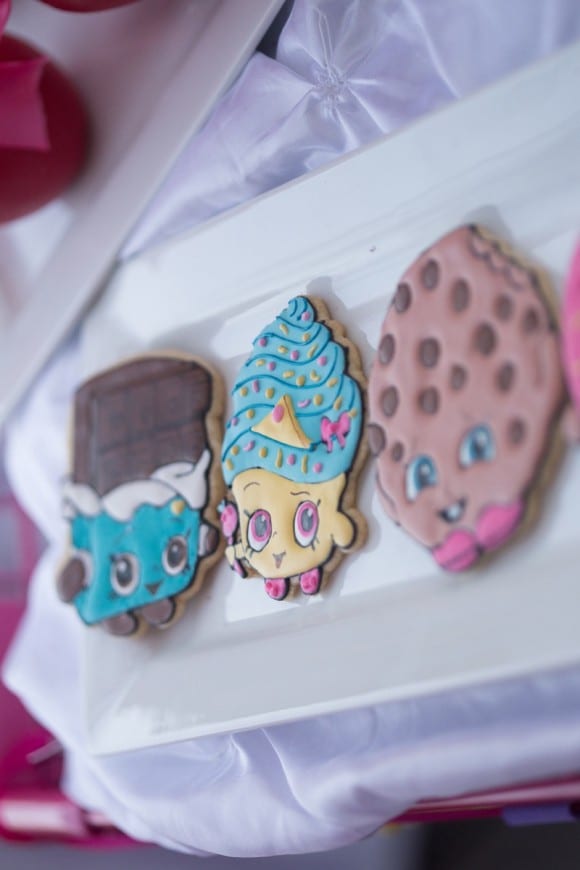 This party was so much fun to style, pulling inspiration directly from the toys themselves.
I'm hoping that by now we have inspired you to create your own Shopkins party for your little one and remember "Once you shop you can't stop!"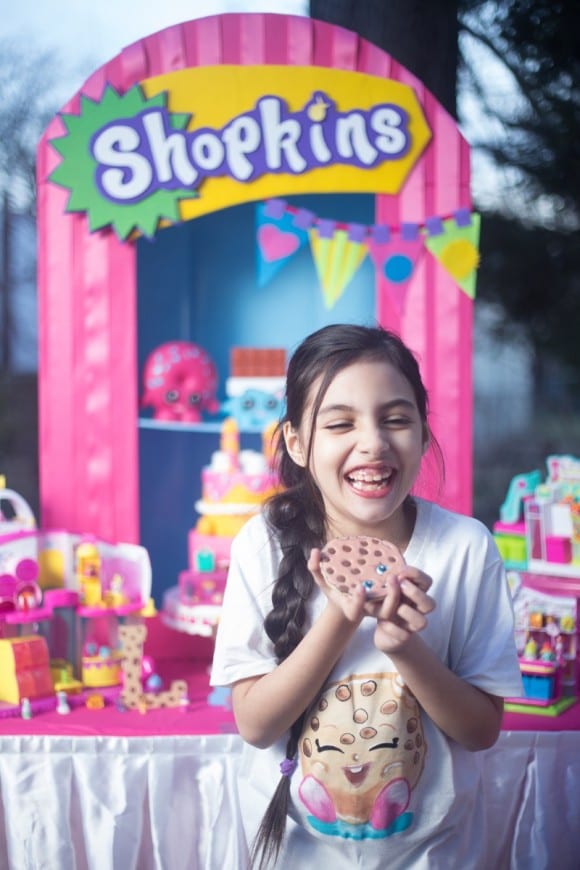 For more party inspiration, check out all these adorable Shopkins parties on our site.
To learn more about Jessebell and her company, Dreamland Event Styling, please visit her on Facebook, Pinterest, and Instagram!