I had the pleasure of talking with Eden Godsoe , founder of SkinnyScoop. When she told me about her "list making" platform and site, I knew she had to share it with our readers. Come on, what woman doesn't love a good list!

How many of you get your best information from your go-to girlfriend or that mom maven who shares her knowledge and recommendations with the rest of us? Well, it just got a lot easier.
Meet SkinnyScoop, a place where women come to create, discover, and share all of the things they know and love.
Whether you're planning a birthday party for one of your kids, or thinking about of all the graduation gifts you need to buy, the SkinnyScoop platform makes it easy and fun to keep track of everything you need by creating lists.
Moms use SkinnyScoop lists to catalogue their favorite iPhone apps, put together travel tips and stockpile family friendly recipes.
Hungry for some inspiration? Check out this fun list from Jessica M, who lives in North Carolina. She used her list to organize all of the things she wanted to buy for her son's pirate-themed birthday party: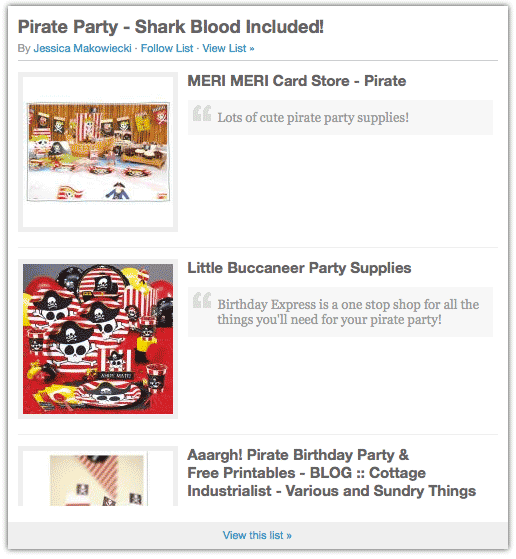 After you've created your list, you can e-mail or post it to Facebook with one click. The bonus to putting your collection of items into a SkinnyScoop list is that your research and favorites live on long after an e-mail is deleted or a Facebook post is buried. You can find or update your list on SkinnyScoop.com anytime you get a new idea.
Not a natural list maker? That's OK – you can visit and see what other moms have shared if you're just looking for expertise. From the best green baby toys to maternity must-haves, new lists from those in the know are popping up daily. SkinnyScoop is your virtual cheat sheet to everything.
So what are you waiting for? Come "unleash your inner Oprah" and be recognized for your knowledge and influence.
Women use SkinnyScoop's social curation platform, including collaborative list building tools, to share and discover parenting tips, product recommendations, travel advice, go-to books and apps, and much more. The SkinnyScoop network reaches more than 300,000 women each month and includes SkinnyScoop.com alongside 400 blogs and content partners.
Thanks, Eden. If you could see the lists on my desk right now, you'd know how much I need SkinnyScoop!