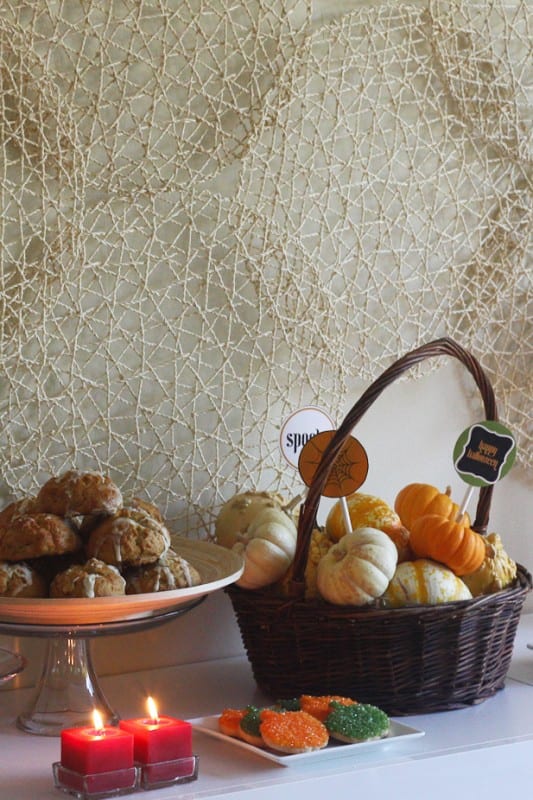 Putting together a dessert table for Halloween doesn't have to be difficult or expensive. I put this modern, adult table together in about an hour using inexpensive decorations, store-bought food, and free Halloween printables from our site. The only thing I made myself was using my hot spiced apple cider recipe, I made some delicious cider with nutmeg, star anise, cinnamon, cloves, peppercorns, and an orange (recipe below).
My goal with the table was to bring fall into our home and to have a little celebration. We all had a lot of fun!
Here's how I did the table…
I love modern lines and interesting backdrops, so I make this backdrop by wiring together $2 placemats I found at Ikea, then using Glue Dots to hang it on the wall… simple but definitely impactful.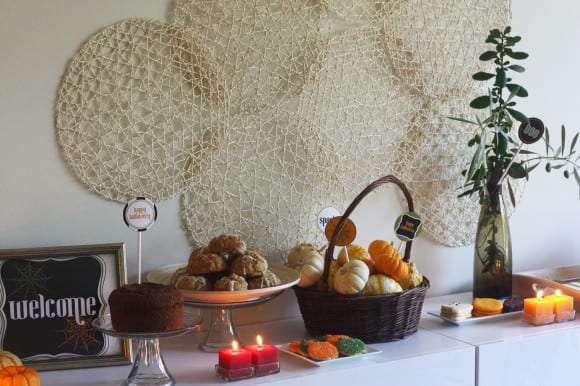 Next, I put out a lot of pumpkins, squashes, and gourds in different shapes and sizes to give it a real earthy feel, and added just a few of these free Halloween printables designed by Love the Day. Plus, I clipped branched from my bushes and olive tree outside to add some green. I love olive branches. You will be seeing lots of them in future posts, I promise. 🙂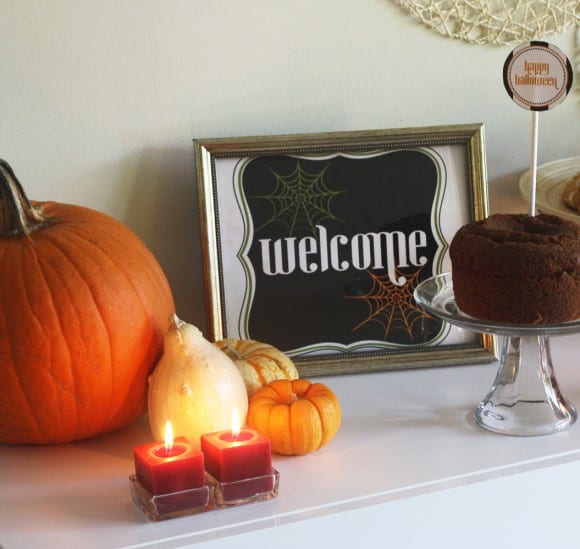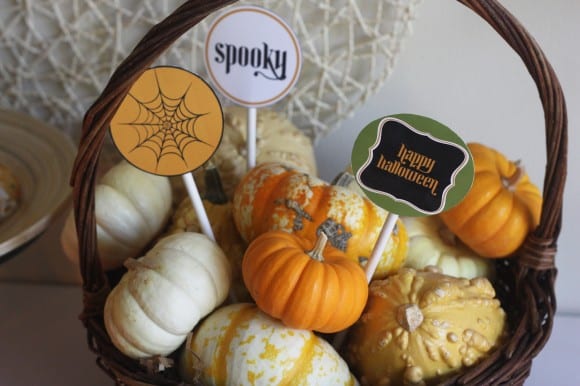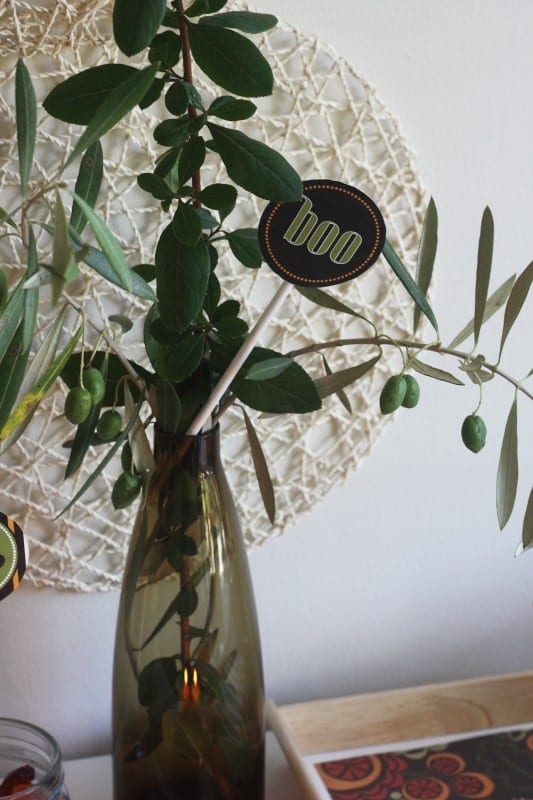 I bought simple Halloween treats at Trader Joe's: scones, cookies, a spice cake, and jelly candies and displayed them on pretty (but not expensive) plates and jars I have.
I added candles in warm hues to add drama as the sun went down.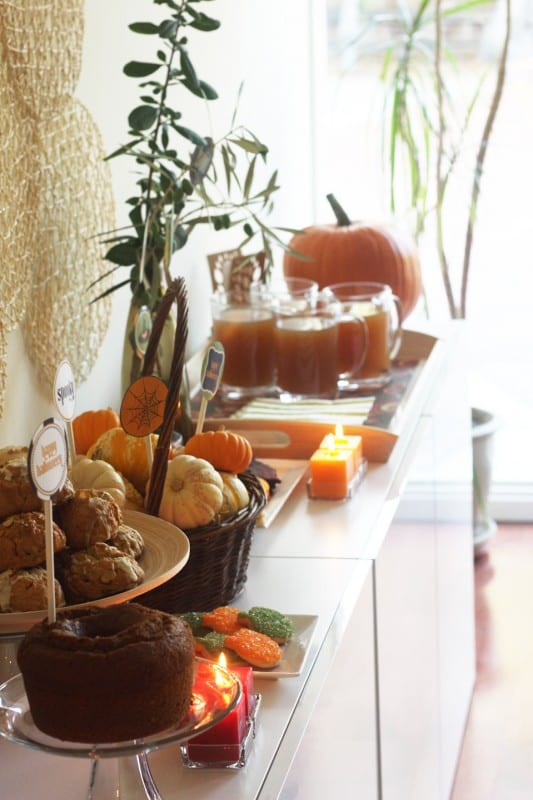 But what I really wanted to play with was smell. So I made homemade spiced apple cider to serve to my guests.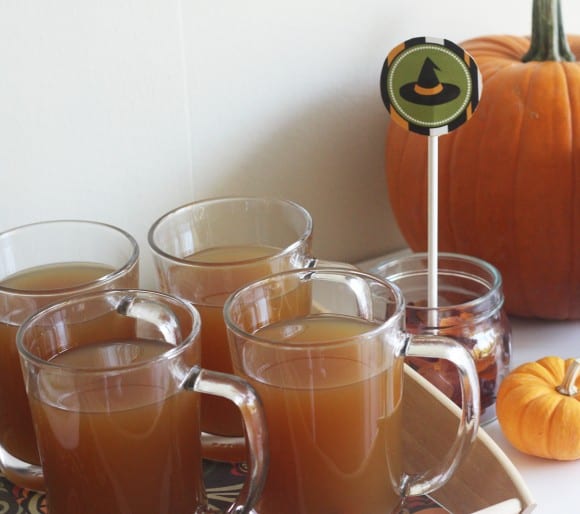 HOMEMADE SPICED APPLE CIDER RECIPE
Ingredients:
2 quarts apple cider or apple juice
3 star anise
1 whole nutmeg
6 cloves
4 cinnamon sticks
20 black peppercorns
1 orange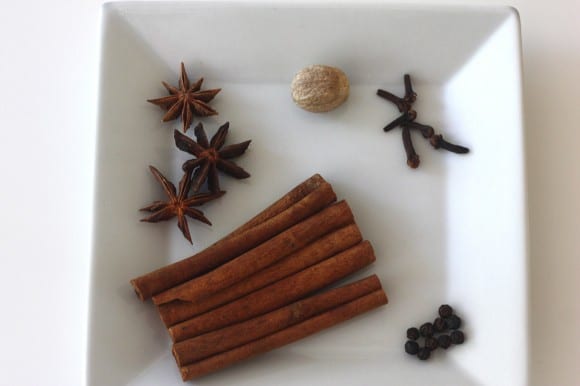 Directions:
Crack the nutmeg and break the cinnamon sticks in half. Add the spices to a saucepan and cook on medium heat for a minute or two, until the smell of the spice starts to develop.
Add the apple juice. Quarter the oranges, squeeze the juice into the pan, and throw the rind in as well. Turn up the heat until the juice starts to simmer, then turn to low and cover for 30 minutes.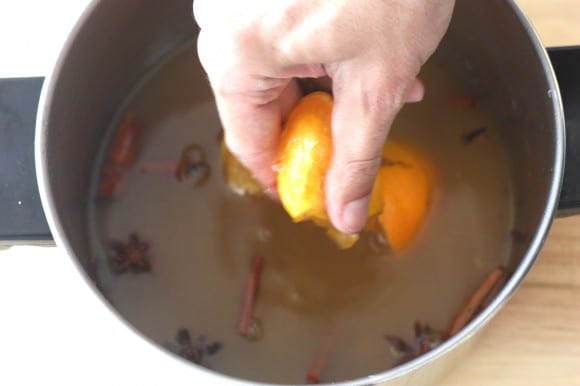 Serve hot! You can add some rum or bourbon for an adult beverage.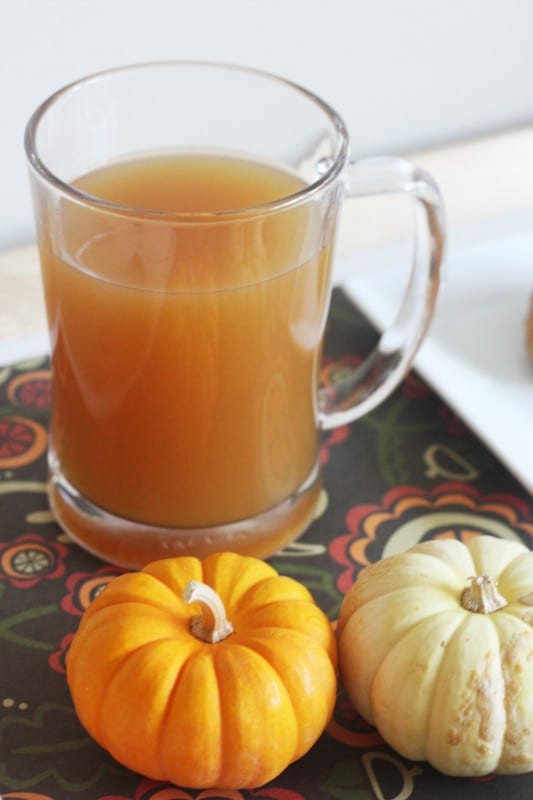 For more Halloween inspiration, check out all these amazing Halloween parties on our site!