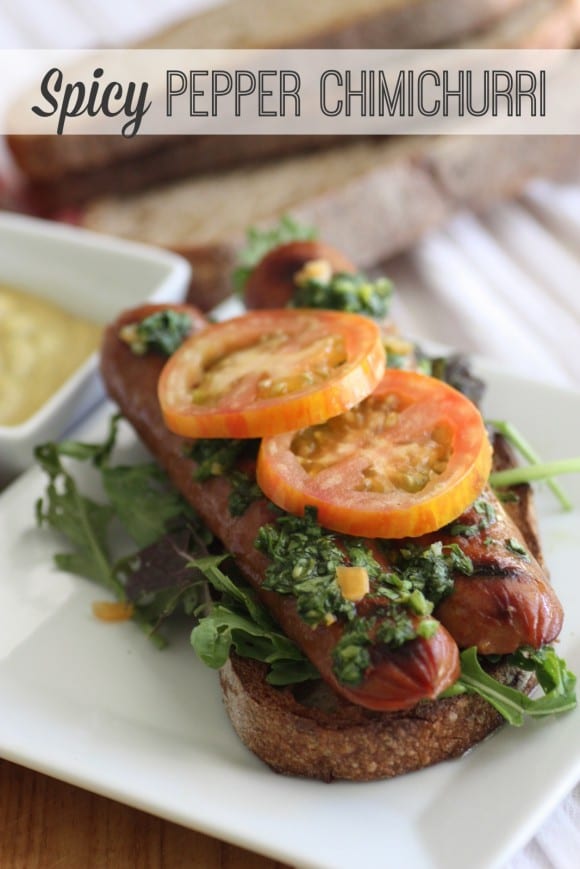 This is my favorite way to eat hot dogs, as a grilled hot dog sandwich topped with our delicious spicy habañero chimichurri recipe!
Originally from Argentina, chimichurri is a marinade usually made from parsley, olive oil, garlic, and lemon juice that adds a zing of flavor to all kinds of meat.
We decided to add some heat to our chimichurri with habañero peppers. We love spicy and we thought it would balance the smoky, salty flavors of the hot dog well!
We sliced our hotdog in half,  grilled both sides to get a good char, toasted up some whole wheat bread from the farmer's market, placed our hot dog on a bed of arugula and mizuna (I love greens that add a little bite). Then we topped our hot dog with our spicy chimichurri sauce and added some heirloom tomato slices for acid and crunch.
The whole thing was so easy and yummy! This sandwich is a great way to take your hot dogs to a whole new level this summer.
SPICY HABAÑERO CHIMICHURRI RECIPE
Ingredients:
1/2 cup fresh parsley chopped fine
1/4 cup olive oil
1 tablespoon red wine vinegar
1 tablespoon lime juice
2 cloves garlic finely minced or pressed
1 tablespoon onion
2 teaspoons of finely diced habañero pepper
1/2 teaspoon kosher salt (to taste)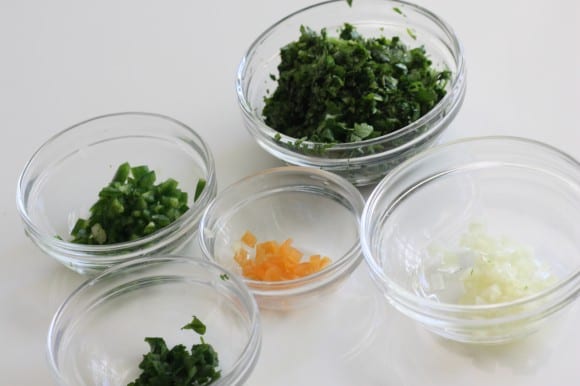 Directions:
Combine olive oil, parsley, red wine vinegar, garlic, lime juice, and salt and habanero pepper in a bowl. Mix and taste. Two teaspoons of habanero should be medium spicy. Add another teaspoon or two if you like it hot! Let it rest for an hour or two to let the flavors combine.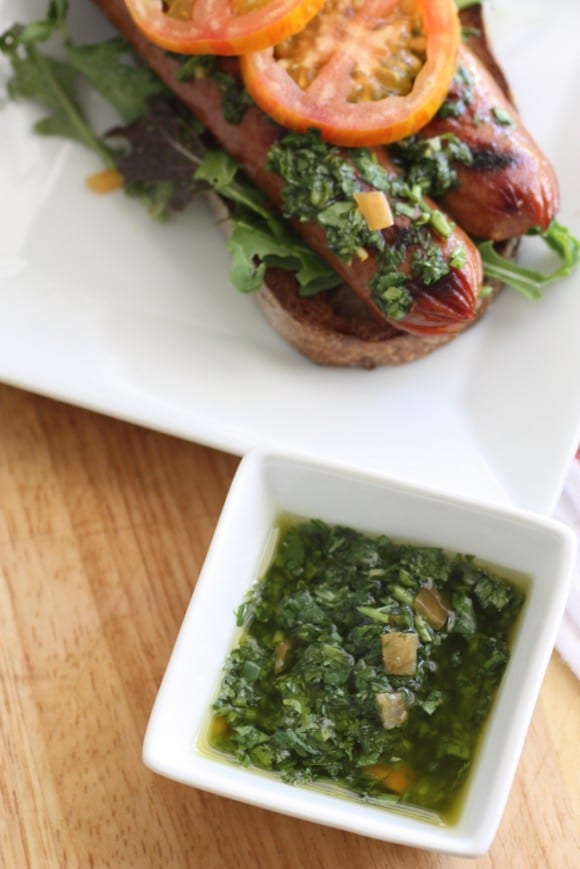 When entertaining in summer, I love putting food out and giving my guests lots of choices.
For a BBQ, I recommend putting out a plate of grilled hot dogs, some sliced bread, some lettuce and tomato, and an array of condiments including ketchup and mustard for those old school flavors.
I'd give no instructions to my guests on how to make their sandwiches, but let them do the creating. It's more fun that way, and if you can get people talking about food — their likes and dislikes — you have a party. In my opinion, there's no better ice breaker!