As soon as I saw the photos from Laura B's Vintage Circus Birthday Party, I needed to know more, in fact I needed to know everything!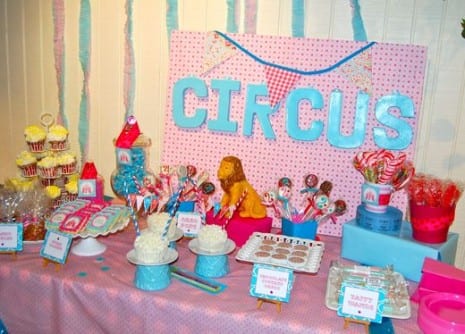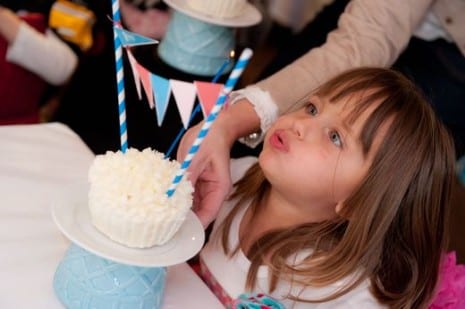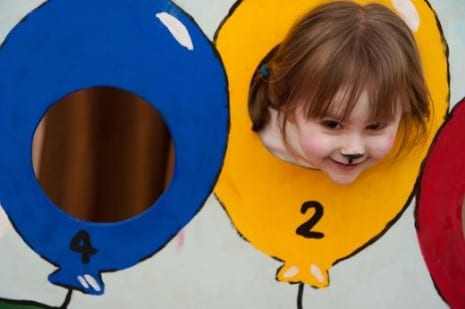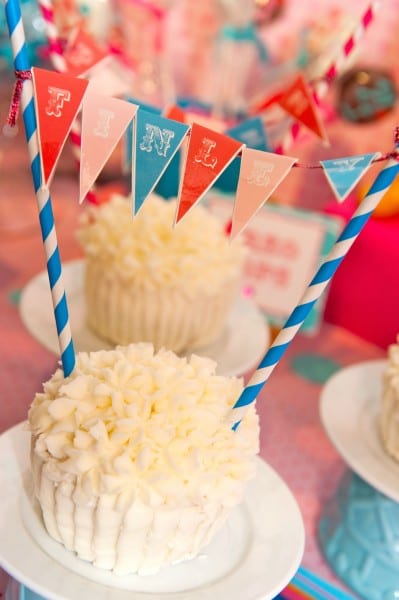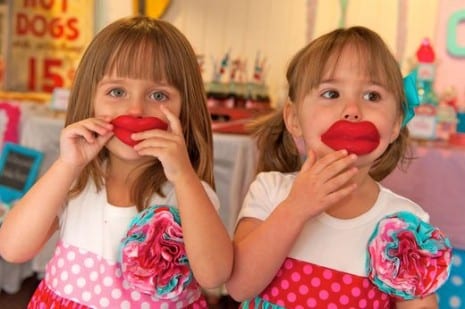 I contacted Laura, asked her some questions about her party, and here's what she said in all the gory details…
Who was the party for and how did you come up with your theme?
The party was to celebrate my three daughters' birthdays. Preslee and Mason who turned four, and Finley who turned two. Last year we did two separate parties two weekends apart and it was a lot. My twins love anything having to do with the circus and once we started talking about it, I knew that this would be the perfect theme. My girls are "girly girls" so we had to have that feminine spin on things. A circus with a girly twist = LOTS of frills, ruffles, pink and glitter!
How long did it take to plan?
The idea came to me about a year ago, right after their last parties, but I didn't actually start putting things together until about 6 months ago. Don't laugh, it's my Type A personality!
How many guests did you have?
We had 33 kids and 55 adults!  It was crazy fun!
What was your overall budget?
I hope my hubby isn't reading this  HAHA…The biggest expense was the rental of the venue. The party was held at Confetti's Event Center.  They are a party rental place but have a room that you can rent out for parties.   It's local here in Baltimore.  I did the paper goods (signs, favor tags, party circles) myself and there were so many DIY aspects to this party. Spent a lot of time at Home Goods, The Dollar Tree and the clearance aisles at Michaels. You also have to remember that this party was for three children and doing it for just one would be much less expensive.
Did anyone help you put it together?
I had lots of help, ideas and inspiration from some amazingly talented ladies. Jess from Party Box Design designed my invite and offered some cute party ideas, Ally from Allyson Jane did the gorgeous cookies, and Kim from Sweeties by Kim created the yummy Oreo pops and chocolate covered Oreos. The Super Chick herself made the ruffle on the wall behind the dessert table and I ordered some tasty taffy from Kate Landers Events. This was the first party that I designed and did the paper goods for since opening my shop, Cupcakes and Lemonade. It was so fun and special to do that for my daughters and see it used in a "real" party. Also, my babysitter and a few of her college friends worked all the booths.  I ordered them "carnie hats" and aprons from Oriental Trading Company to wear for the party.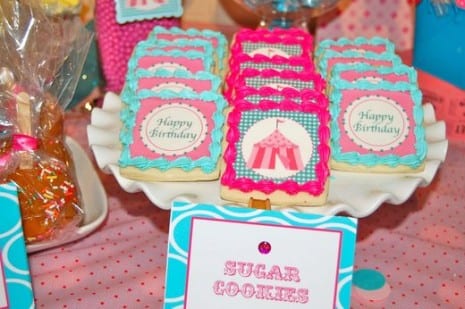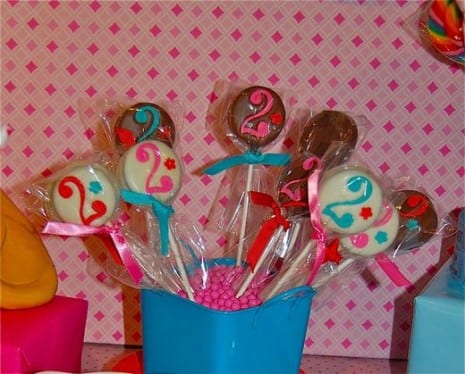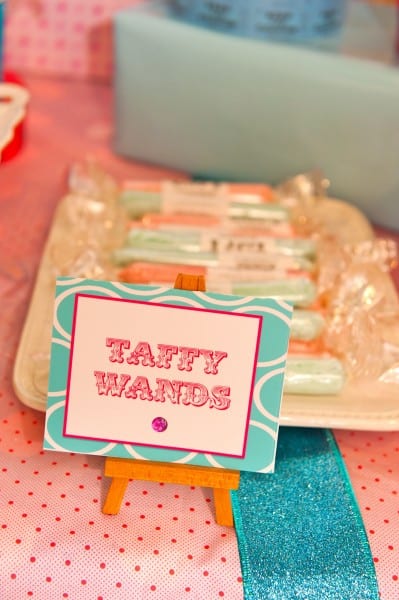 What was the most fun part of planning it?
As the months passed, my dining room table began to pile up with all the things I was buying to use for the party. It was so awesome the night that I set up a "mock" dessert table and I could for the first time really see how it was all going to come together. My husband was asleep and I ran in, woke him up and dragged him in just to see. It all looked so pretty!
What was the most difficult part of planning it?
I think forcing myself to stop looking in magazines and on the Internet. The more you look, the more awesome ideas you see, and at some point you just have to step back, stop and say this is enough for this party. I had to remind myself that I didn't need to use every single one of my ideas on just this party.
What DIY elements did you do?
I did not want to be THAT parent who sent each child home with a live goldfish so I made goldfish soaps for each child to take home as prizes when they played the ping-pong toss. They were so easy and such a cute and unexpected idea for that game. I also made the popcorn cupcakes and the candy apples, which were a HUGE hit with the kids and all the parents.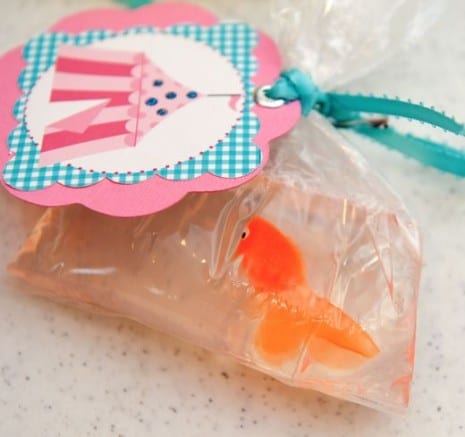 What was your favorite DIY element?
I think it has to be the goldfish soaps. They really were so easy. I am going to have to do a tutorial on my blog.
What food and beverages did you serve?
We had a dessert table with every kind of sweet you could imagine. Cookies, candy, cupcakes, candy apples, cotton candy, and popcorn. We also served hot dogs, chips and pizza. Just good ole' circus food. It was so easy and the kids loved being able to just grab a quick bite and run right back to playing all the games. For drinks, I had juice boxes for the kids and bottled water with cute matching labels from The Paper Cupcake. I also found at a garage sale an old Coke crate. My local grocery store carries the old Cokes in bottles. I stuck one of those in each slot with a fun striped paper straw.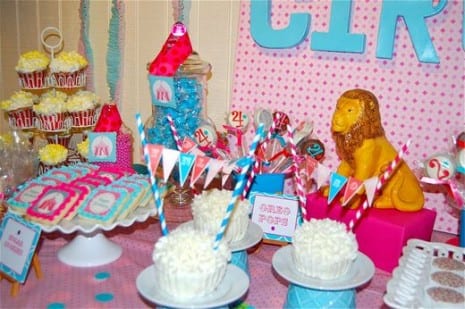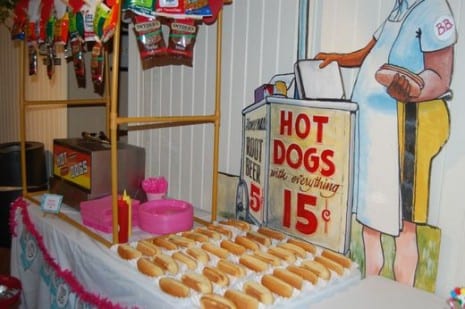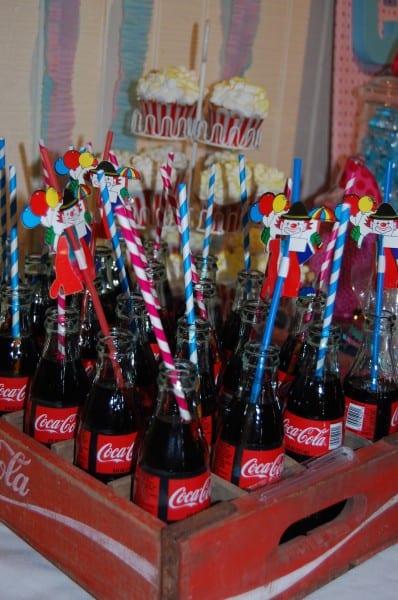 What, if any, activities did you have?
We had a stilt walker, a photo booth with lots of fun props; spin art, a bounce house, ring toss, beanbag toss, ping-pong toss, a ballpit for the little ones and a kiddie stryker. We had a face painter as well who was amazing! When the guests arrived at the party, they each received a gable box full of circus treats as well as tickets to play each game. When they "won" the games, they were given a gold coin, which they could turn in, at the end of the party for prizes.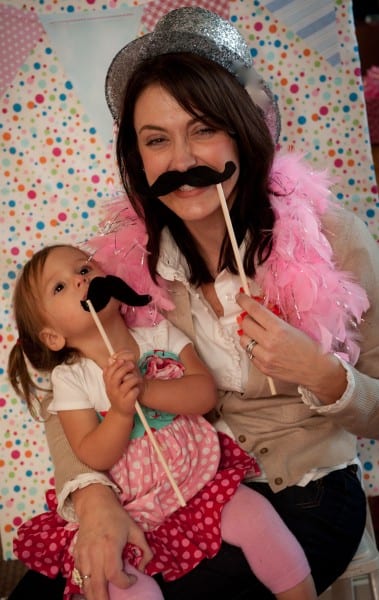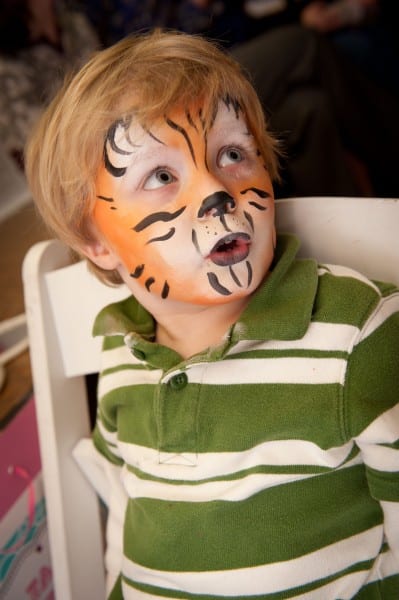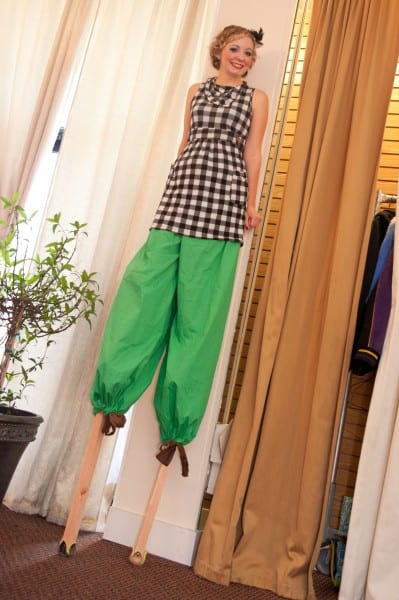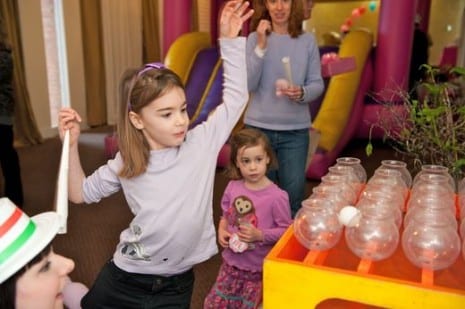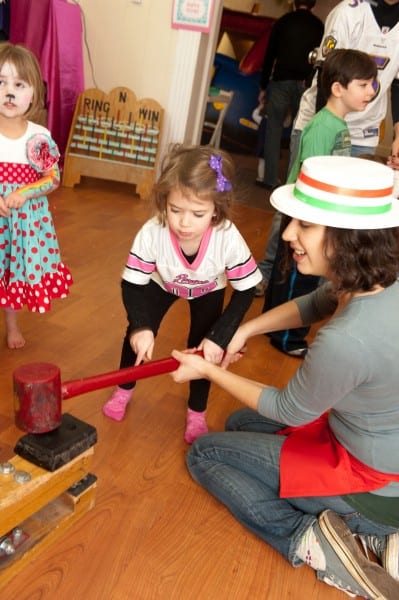 What was your favorite moment during the party?
Almost ever child that walked in the door had this look of amazement on their faces. Literally their mouths were hanging open and they just squealed. That made my whole day! So many of them have since told me that it was the best party that they have ever been too. Makes all the hard work totally worthwhile.
Any lessons learned from planning the party (things you might do the same or differently next time)?
I feel so lucky, for me, this party went exactly the way I envisioned it. One thing I did that I have never done before was having a photographer. It was something that I budgeted and planned to spend the money on. It was so nice to be able to enjoy the party and not worry about running around trying to take pictures of everything and everybody. I know this is an extra expense, but even if you don't do a professional photographer, get someone to be responsible for taking those special pictures for you.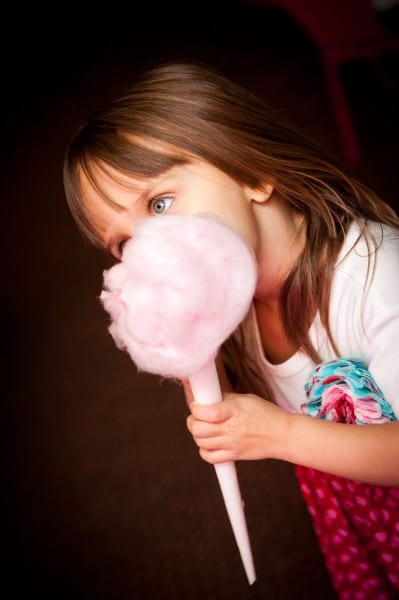 Any final thoughts about the party?
This was a party that anyone can do. My daughters all have birthdays in January so that makes it hard to do anything outside. This would be a FAB party in your backyard. You could have so many fun outdoor games, petting zoo, etc. There are so many DIY aspects as far as the food and decorating, etc. I think all kids love the circus/carnival and it was just so neat to stand back, actually enjoy the party myself and let them run wild. It doesn't have to be totally organized and that was one of the best parts!
Thank you, Laura, for sharing how you put this unbelievable party together! It looks so magical and fun.
To learn more about Laura and find great party tips and ideas, visit her blog, Cupcakes and Lemonade. Also visit her Etsy shop for cute printables, cards, and invitations.