When I first saw Kate A's Under the Sea Birthday Bash, I was blown away by all the amazing details.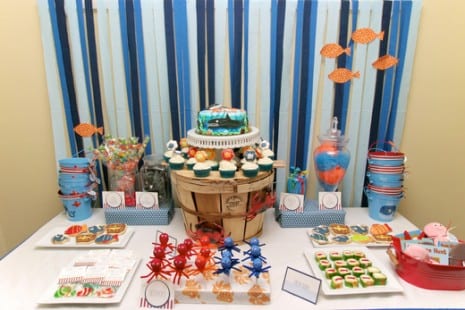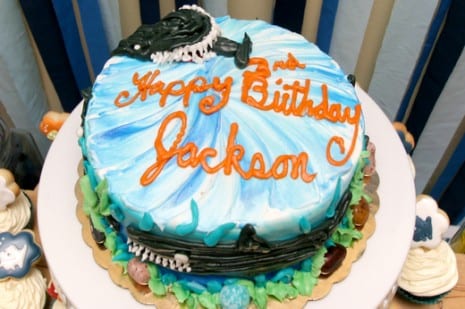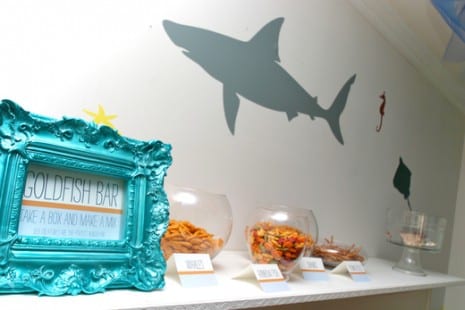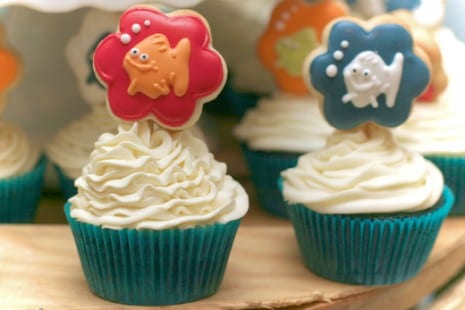 I see a party like this and I want to know the story behind it. So I approached Kate and asked if I could do a spotlight feature on her party. I sent her a list of questions, and here's her story…
Who was the party for and how did you come up with your theme?
The party was to celebrate my son's 3rd birthday. He has been an avid fan of sea life all year, so it was a natural choice for him.
How long did it take to plan?
I choose the theme and starting gathering ideas and products 6 months out. I know! That's a long time. But since it was always a constant thought in the back of my mind, I knew to grab things when I saw them. For instance, I bought the favor buckets from the dollar section at Target in April. And they set the tone for the party colors and paper products.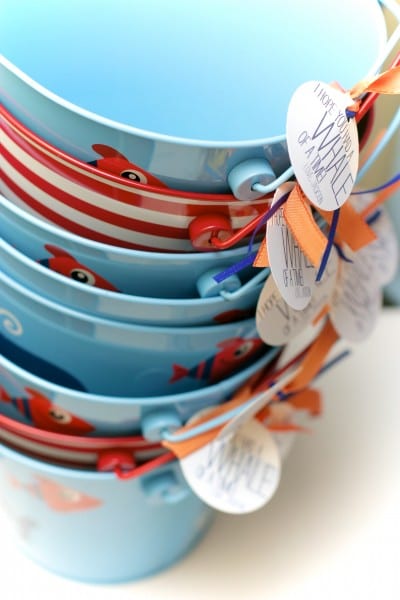 What was your overall budget?
Well, that depends on who you ask. ; ) The truth is, party expenses can escalate quickly. I like to think that I limit the expense to the best of my ability without sacraficing the end result. The "Fish Kabobs" for instance were a find at my local grocery store for $1. I cut off the cheesey looking tag and tied them up with ribbon instead.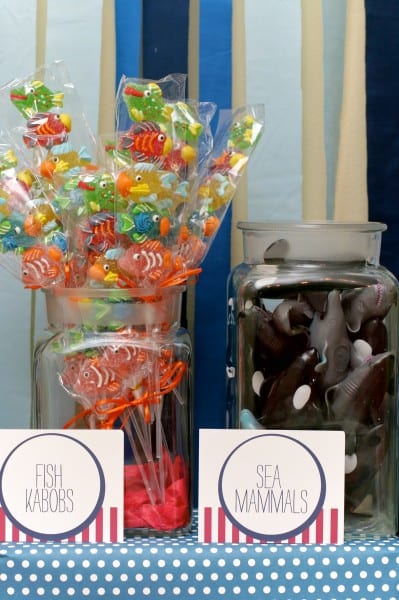 Did anyone help you put it together?
My husband was my saving grace for this party. He did the waves on the ceiling, the sea life decals on the walls, carved the watermelon shark, etc. Remind me to kiss him on his face again for all of that!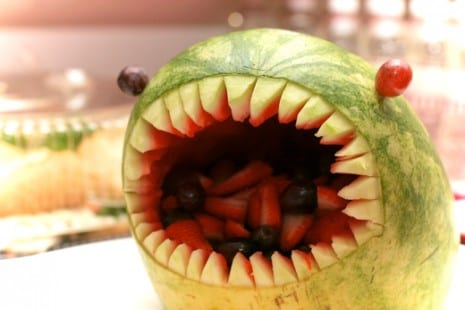 What was the most fun part of planning it?
The details! I love taking a party one step further. As I drive along or have quiet time to myself (HA!), I focus on different aspects. For instance, with the "Octopops" I thought, "how could I incorporate something with an octopus?" Or I'd think, "what looks like a sea urchin?"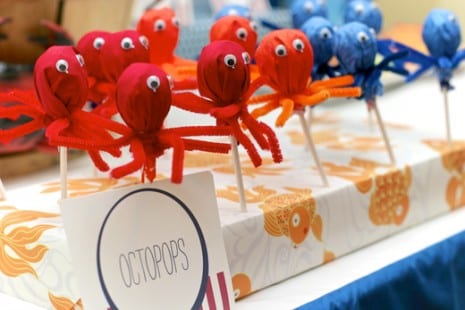 What was the most difficult part of planning it?
Time management. Isn't it always? You have to know what you are capable of, and when you're asking too much of yourself. Jackson is 3 and I also have an eighteen month old. Each time they napped together, I swear the clouds parted, the sun started to shine, and I knew the Party Gods were looking down on me. (hehehe)
What DIY elements did you do?
Everything was homemade with the exception of the cookies, cake, and wall decals. But if you really look at the details and break them down, you'll notice it's all easily done. The jellyfish paper lanterns simply required me to tape ribbons to the inside of the lantern. I actually lack any artistic ability. So if you see something at a party of mine, just know you could totally do it yourself too!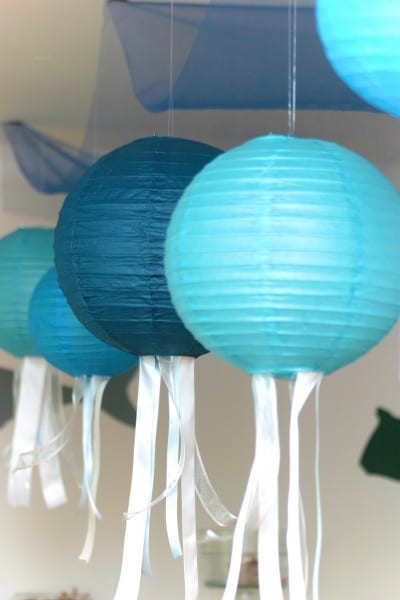 What was your favorite DIY element?
The Octopus in a Blanket. That's probably not the answer you were looking for, huh? At "Ariel's Grotto" in Disneyland they serve Octopus hot dogs on top of macaroni and cheese. I loved that idea but wanted something quicker and easier for little hands, so I created Octopus in a Blanket. My older sister passed on that little nugget of Disneyland wisdom, but I think it's incredibly smart to research something like that. If you do any kind of themed party relating in any way to Disney, investigate what they do and serve. They are the very best, after all!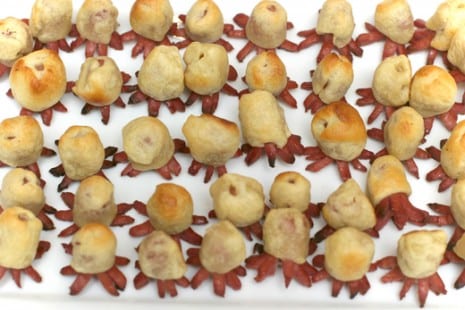 What food and beverages did you serve?
All of the food was themed, which just meant I gave silly names to everything I served. Seaweed spread was artichoke dip, Pop Chips became Sand Dollars, etc. The party was at 11am on a Friday morning, so I  served bottles of water, "Freshly Bottled Ocean Water" and Izze, "Sparkling Octopus Ink" to drink.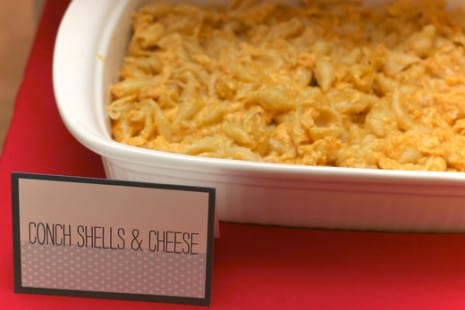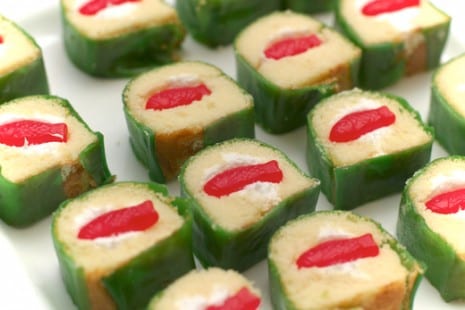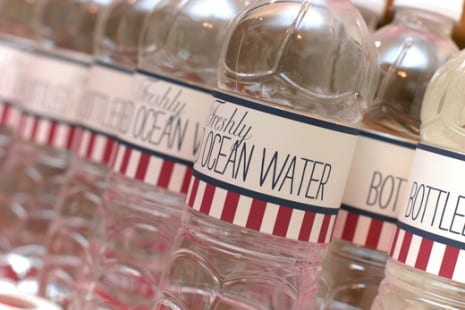 What, if any, activities did you have?
The kids "fished" in a blown up kiddie pool and made mini oceans to take home. If you try the game, I recommend leaving the balloons out of the pool. It was hard enough for the kids to "fish" without the balloons in the way. I thought the craft project was a total success. It was quick and easy. And I think the kids really enjoyed that they were able to customize their own ocean.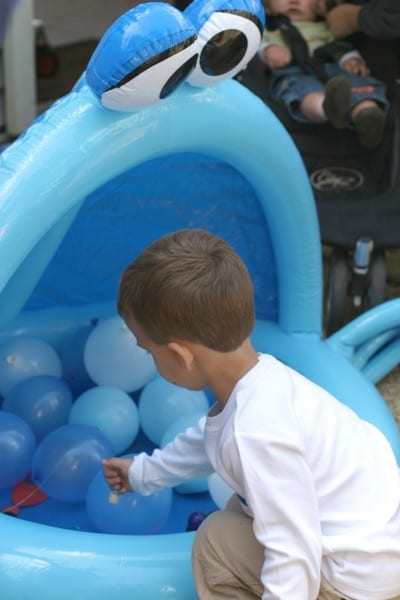 What was your favorite moment during the party?
You know, having nothing to do with the theme or effort involved, watching my little guy blow out his candles gets me every time.
Any lessons learned from planning the party (things you might do the same or differently next time)?
Two things: First, I made the rookie mistake of cutting my fabric into strips before ironing it. That meant the backdrop for the dessert table had creases in it. That makes me cringe every time I see a picture. And, I think for the first time I realized what my limitations are in the baking department and hired professionals to do it. Taking that stress off of myself was worth every penny.
Any final thoughts about the party?
Coming up with really thoughtful details is easy when you're reading books, watching shows, singing songs and talking about the "theme" with your child daily. When you pick a theme that they really love, the details come naturally to you because you become an expert on the topic too!
Thank you, Kate, for sharing with us all about your awesome party!  What a great job you did! To see more of Kate's parties, check out her gorgeous Pinkies Out! Tea Party on our site and if you want to learn more about Kate, please visit her blog, CupKate's Event Design.