These effortless, 20-minute Oreo pops will shave off tons of time when getting party-ready.
Cake pops are always a hit at kids' birthday parties, but they do take a bit of time and planning, while this recipe requires zero baking.
I love serving these at a little girl's birthday party.
Also, if you are looking for 1st birthday themes or 21st birthday themes, we've got you covered.
Plus, you can change the sprinkle colors so they work for any party themes for adults, too.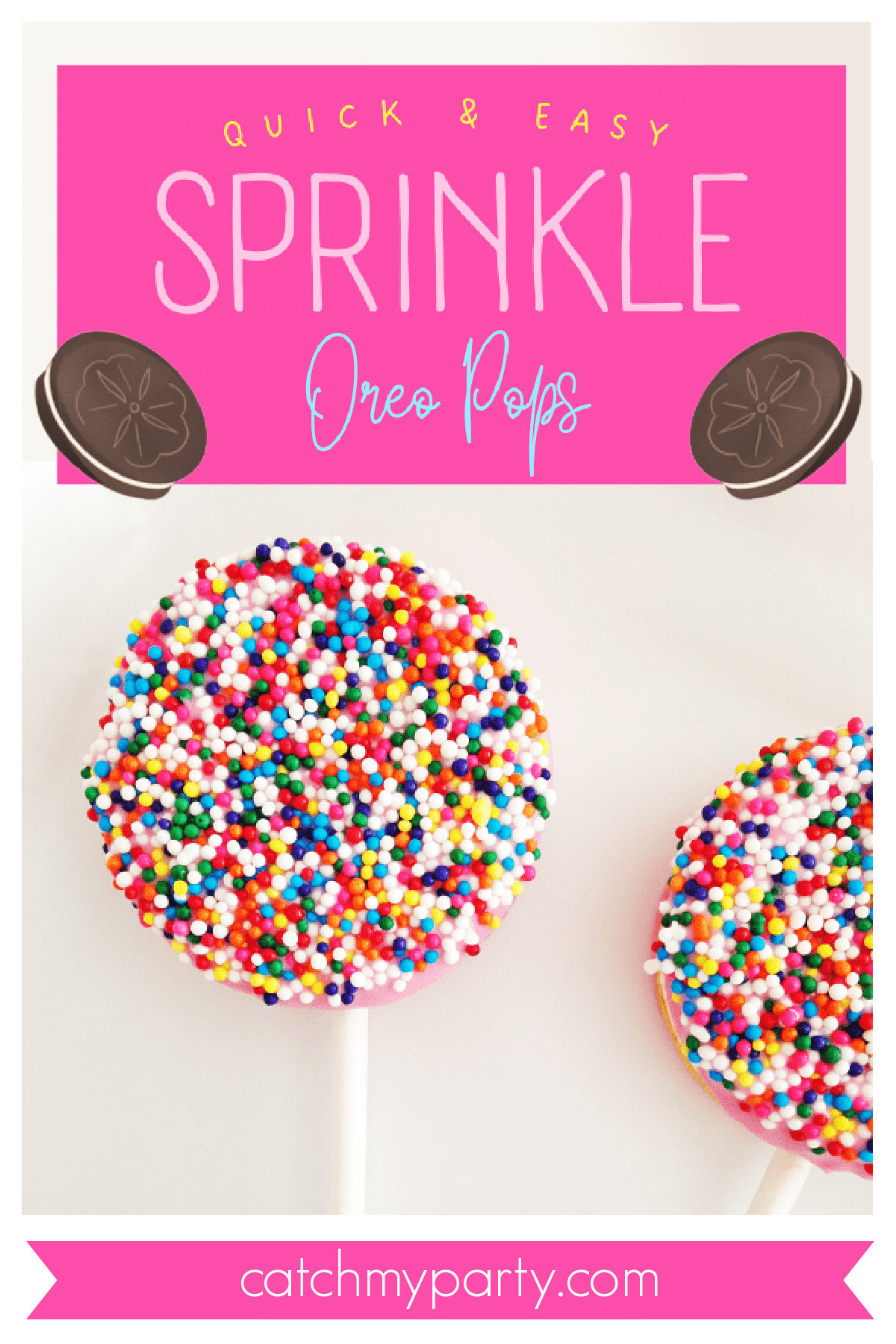 If you're searching for ideas on what to do on your little one's special day – we've check out these 38 fun 4-year Old Birthday Party Activities.
To make these pops, all you need are Oreos, candy melts, lollipop sticks, and sprinkles!
Reasons To Love These Sprinkle Oreo Pops
4-ingredient, quick recipe: With only a few ingredients and simple steps, anyone can make sprinkle Oreo pops. Don't spend hours in the kitchen making cake pops from scratch unless you REALLY want to!
Pretty as a picture: bright and beautiful.
Customize them: You can use different colors and types of sprinkles to match the theme.
They are a crowd-pleaser: They will surely be a hit with kids and adults alike.
Ingredients And Supplies
Golden Oreos Unlike regular Oreos, Golden Oreos have a vanilla-flavored filling sandwiched between two golden cookies. This creates a different flavor and appearance for the Oreo sprinkle pops.
Pink candy melts: Candy melts are small, disk-shaped pieces of candy coating that can be melted down to use as a coating for treats. Pink candy melts add a pop of color to the Oreo sprinkle pops, but you could also use white or another color if you prefer.
6 lollipop sticks Lollipop sticks are long, slender sticks that are used to hold the Oreo pops. Make sure to choose sticks that are sturdy enough to hold the weight of the pops without bending or breaking.
Rainbow nonpareil sprinkles: Nonpareil sprinkles are tiny, round sprinkles that are commonly used to decorate baked goods. Rainbow nonpareil sprinkles add a fun, colorful element to the Oreo pops.
Cooking oil: Cooking oil is used to thin out the candy melts to make them easier to work with. You can use vegetable, canola, or another type of neutral-flavored oil. Be sure to only use a small amount, as too much can affect the texture and flavor of the candy melts.
How To Make Sprinkle Oreo Pops
Step 1: Setup the sticks
Insert the cake pop sticks into the Oreo.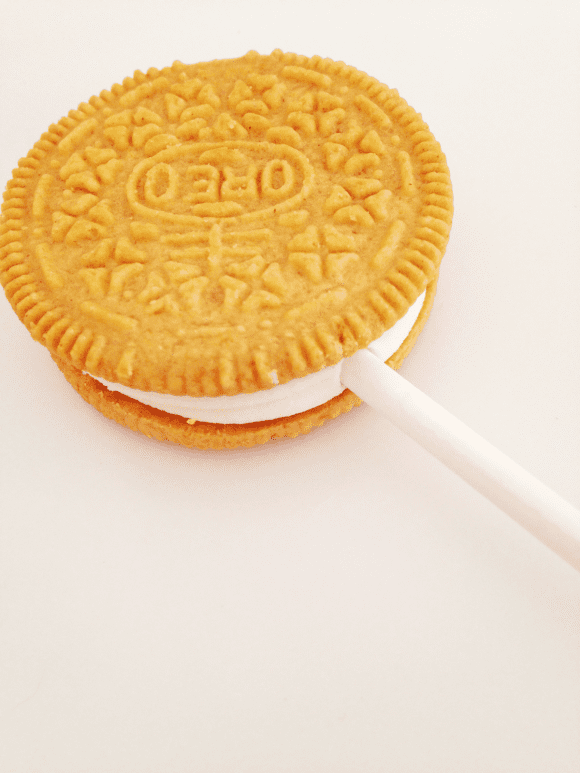 Step 2: Melt the Candy Melts and Dip the Oreos
Add cooking oil and heat the candy melts in a microwave-safe bowl in the microwave in 30-second intervals until melted. Make sure to mix between intervals.
Then dip the Oreos in the candy melts, just covering the cookie on both sides.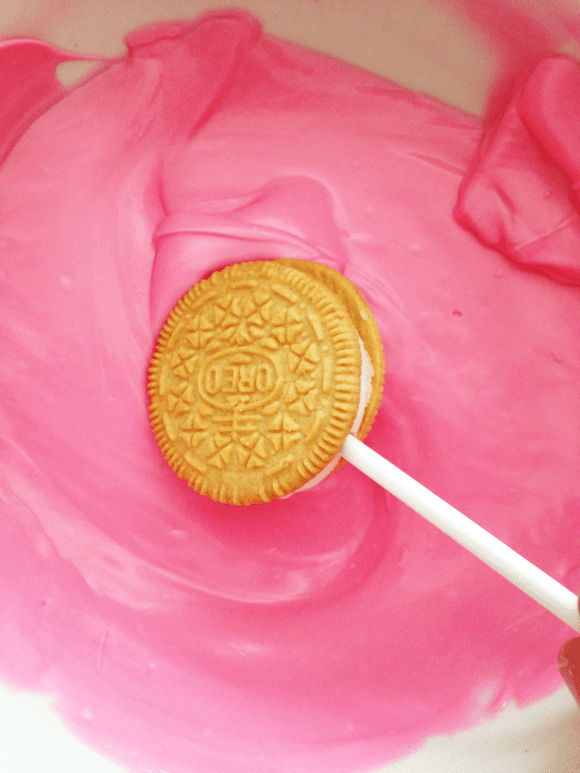 Step 3: Coat the Sprinkle Pops
Finally, dip both sides in a bowl of nonpareil sprinkles!
Aren't they beautiful, fun, and delicious!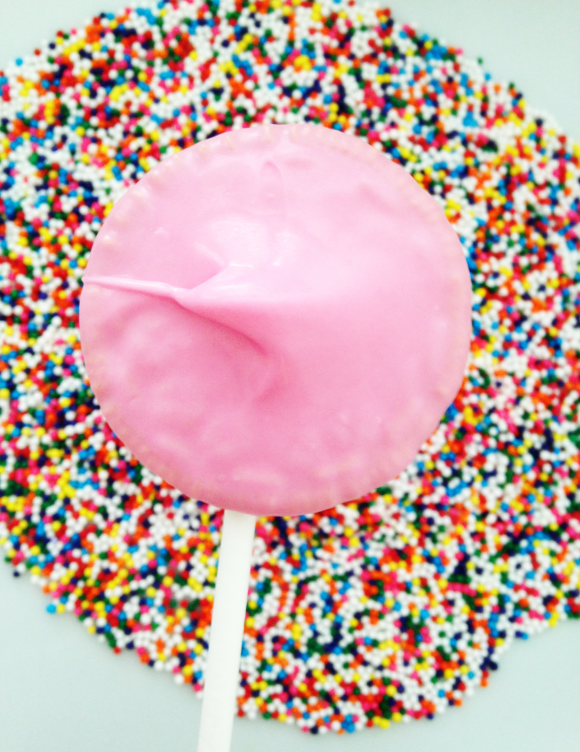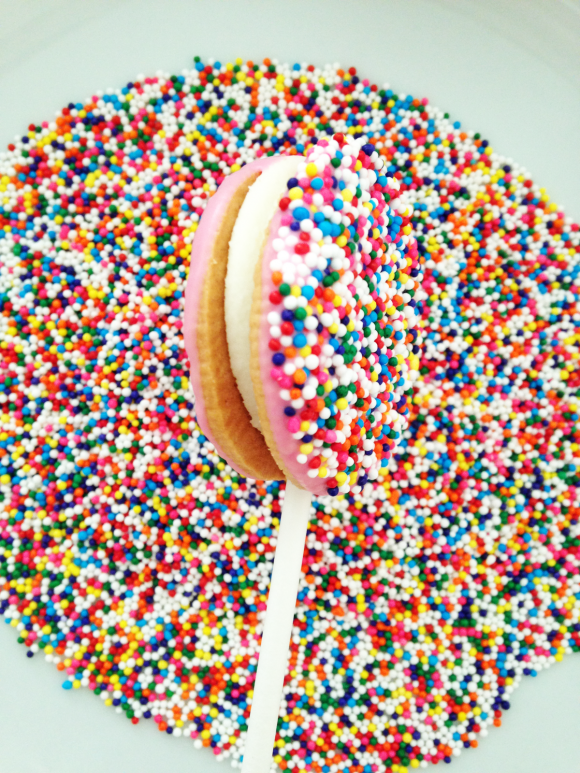 Step 4: Package them as party favors!
You can wrap them in cellophane bags and give them out as party favors.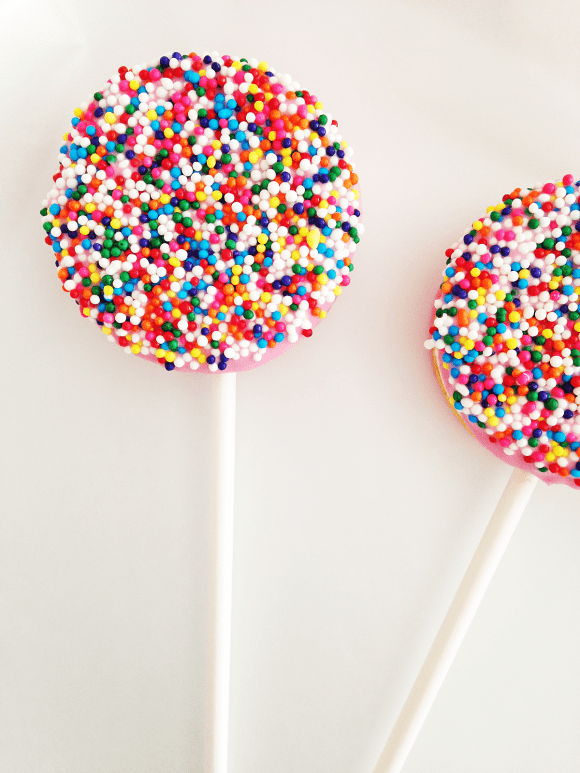 Tips and Substitutions
Use room-temperature Oreos: It's best to let your Golden Oreos come to room temperature before making the Oreo sprinkle pops. This will make it easier to insert the lollipop sticks without breaking the cookies.
Use different candy melts: If you don't have pink candy melts, you can use any color you like or even use white candy melts and add food coloring to achieve the desired color.
Substitute sprinkles: Rainbow nonpareil sprinkles are just one type of sprinkle that can be used to decorate Oreo sprinkle pops. You could also use jimmies, sanding sugar, or any other type of sprinkle that you prefer.
Add extracts or flavorings: You can add a drop or two of your favorite extract or flavoring to the candy melts to give them a different flavor. Vanilla extract or strawberry extract are popular choices.
Use parchment paper or silicone mat: To prevent the Oreo sprinkle pops from sticking to the surface they're placed on, you can use parchment paper or a silicone mat to place them on while the candy melts harden.
Chill before serving: Once you've decorated your Oreo sprinkle pops, it's a good idea to chill them in the fridge for a few minutes to help the candy melts set before serving.
Serve them upright: this is a great idea if you want to preserve them.
When can I serve Oreo pops?
At birthday parties, Valentine's Day and at other special events where kids will be in attendance.
How should I store Oreo pops?
In an airtight container and in a single layer.
Can I freeze Oreo pops?
This is not recommended as the Oreo cookie will become soggy.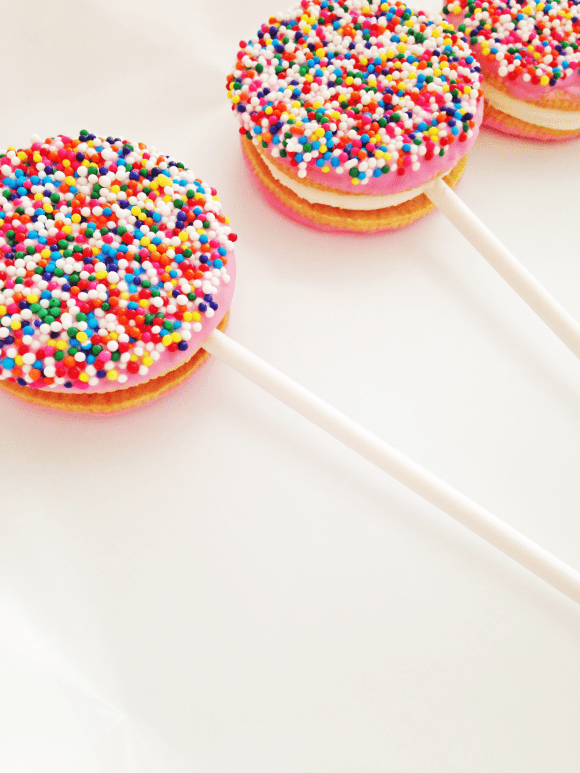 Other Party Recipes You'll Love
Be sure to check out the fantastic party themes we feature on our site. We've got everything from boy first birthday ideas to Sweet 16 themes.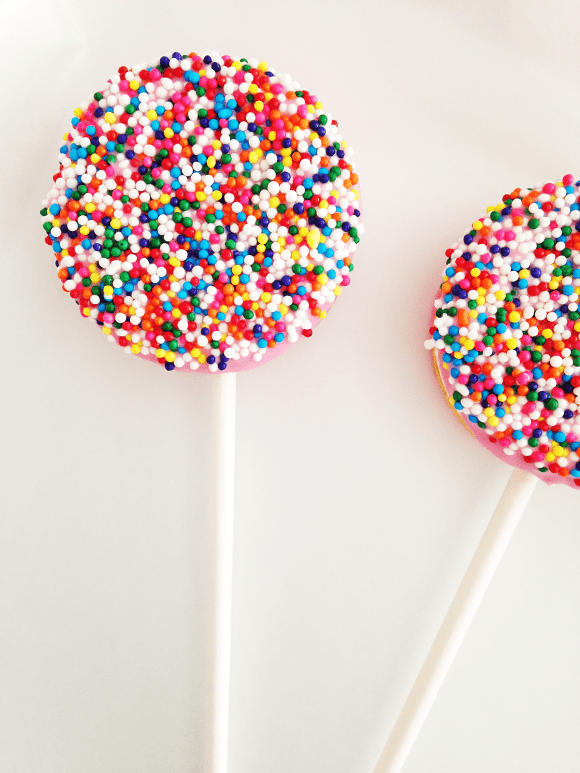 Instructions
Melt candy melts according to package instructions, adding about 1/2 teaspoon oil to the melts before heating. Melt and stir until you have a smooth consistency.

Take the lollipop stick and dip into the melted candy. Insert the dipped lollipop stick into the center of the Oreo cookie and allow to dry for a minute or two.

Next, dip each side of the cookie into the melted pink candy.

Dip the Oreo pops into a plate full of nonpareil sprinkles and place them on parchment paper to dry.

Package your pink sprinkle Oreo pops in clear cellophane bags with ribbon and pass them out as party favors.
Notes
Some of these links may be affiliate links. I may make a small commission if you click and buy, at no expense to you.
Nutrition
Serving:
1
pop
|
Calories:
105
kcal
|
Carbohydrates:
16
g
|
Protein:
1
g
|
Fat:
4
g
|
Saturated Fat:
2
g
|
Polyunsaturated Fat:
2
g
|
Cholesterol:
2
mg
|
Sodium:
63
mg
|
Fiber:
1
g
|
Sugar:
12
g
This post may contain affiliate links that won't change your price but will share some commission. We are participants in the Amazon Services LLC Associates Program, an affiliate advertising program designed to provide a means for us to earn fees by linking to Amazon.com and affiliates.