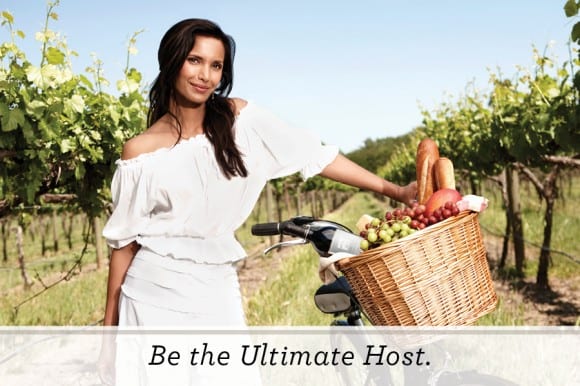 Sterling Vineyards is launching its second annual search for the Sterling Vineyards Ultimate Host Contest.
Do you love to entertain and do you love a challenge? Then this contest is for you!
Here's how it works… There will be four hosting challenges. Your job is to host a party using the announced challenge theme, then submit videos, photos, and/or text to describe your party and how you put it all together.
Your submissions will be judged by a panel that includes Padma Lakshmi from Top Chef (I love her!), representatives from Sterling Vineyards, plus Kristen Doyle from Dine & Dish, Tori Tait from Thoughtfully Simple, Aryka Randall from TheFabFemme, and little ol' me! I'm really excited to be a part of this, I must admit.
Winners from each challenge will compete in a grand finale event in NYC (yes, they're flying the finalists to NYC) for the top prize which is awesome… $25,000 in cash plus two trips… one to Napa Valley, CA and one to the Pebble Beach Food & Wine Festival in Carmel, CA. Plus, you get to be Sterling's next "Sterling Ultimate Host" for the year.
The first challenge, to host a "Girls/Guys Night In," was announced today, so head to the Sterling Vineyards Ultimate Host Contest Facebook page to read all the details.
Good luck, everyone! And I can't wait to meet the finalists in NYC!