If you have a little girl at home that is unicorn mad, then you really don't want to miss all the amazing 43 unicorn party ideas that we have rounded up for you from Catch My Party for some unicorn-themed inspiration.
Unicorn birthday parties are so popular! Everywhere you turn unicorns seem to be popping up all over the place!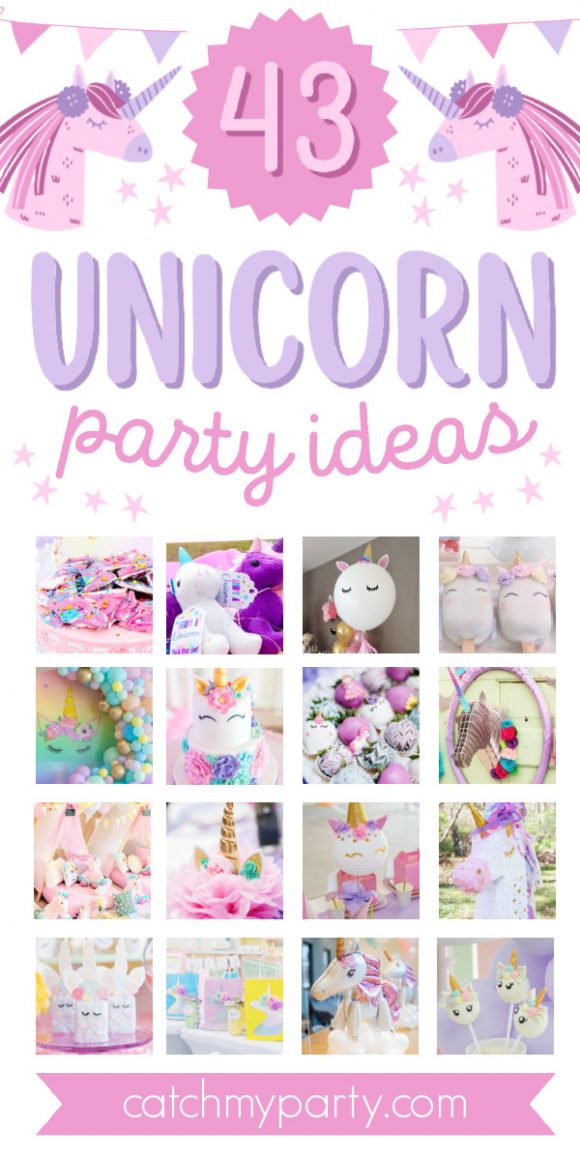 Girls, both young and old, love them!!  So, if you're planning a unicorn-themed party, for either a birthday, baby shower, christening, or any other celebration, then don't miss these stunning unicorn party ideas.
We've got ideas for unicorn birthday cakes, unicorn-themed dessert tables, unicorn cookies, decorations, unicorn party favors, and much more…
The 43 Best Unicorn Party Ideas
These colorful free unicorn party printables work for any unicorn party you may be throwing, and they are just what you need to decorate your upcoming birthday party in style.
The collection includes unicorn invitations, a unicorn welcome sign, 2″ party circles, a unicorn birthday banner, favor tags, tented cards, water bottle labels, and straw flags.

If you a throwing a party for a younger child this gorgeous set is perfect for a unicorn birthday party or even a baby shower!
The set includes everything you'll need. You just need to download the pdf, print, cut out, assemble and you're good to go!

This amazing pastel pink, purple, turquoise, and white unicorn dessert table is so amazing!!
The gorgeous balloon garland beautifully frames the illustrated backdrop and gives the dessert table such a magical vibe.

One of the biggest trends right now are sleepovers.
There's honestly nothing better than staying up till late at night chatting away with your girlfriends.
Treat your guests to a comfy mattress in their very own teepee decorated with a balloon garland and some colorful bunting.
Place a bunch of goodies at the entrance of each teepee for your guests to use both at your party and at home, such as a plush unicorn and some pretty cushions.

What little girl wouldn't love a stunning unicorn cake like this one? The mix of pastel-colored flowers gives it so much life and makes it so vibrant.
This unicorn birthday cake design has now become a classic and a staple at a unicorn birthday party!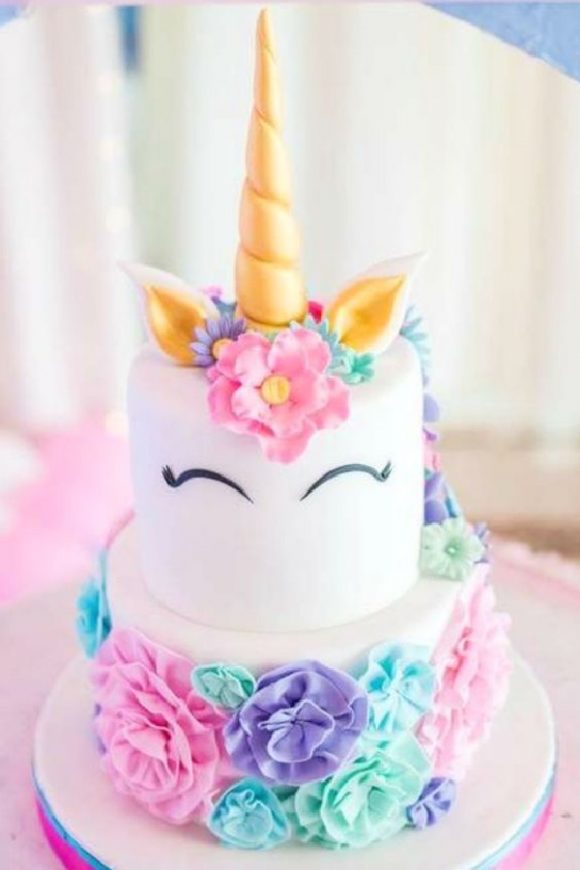 These colorful frosted cupcakes with a gum-paste gold horn and sugar flowers are so impressive and the perfect unicorn party food.
You couldn't dream of more delightful unicorn cupcakes.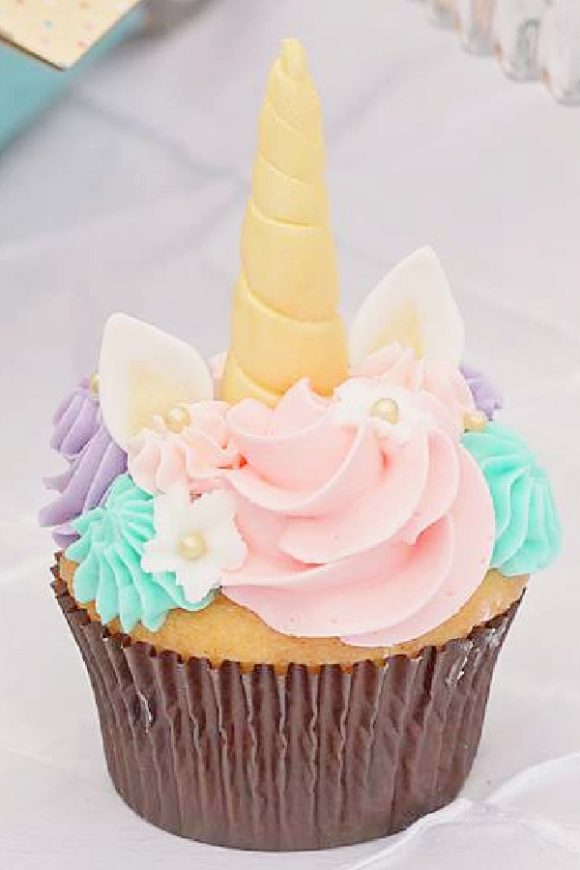 Another amazing sweet treat are these unicorn-inspired sugar cookies, especially if you a throwing a baby shower.
They are so beautifully decorated with such attention to detail, with tiny flowers and edible unicorn horns. Absolutely adorable!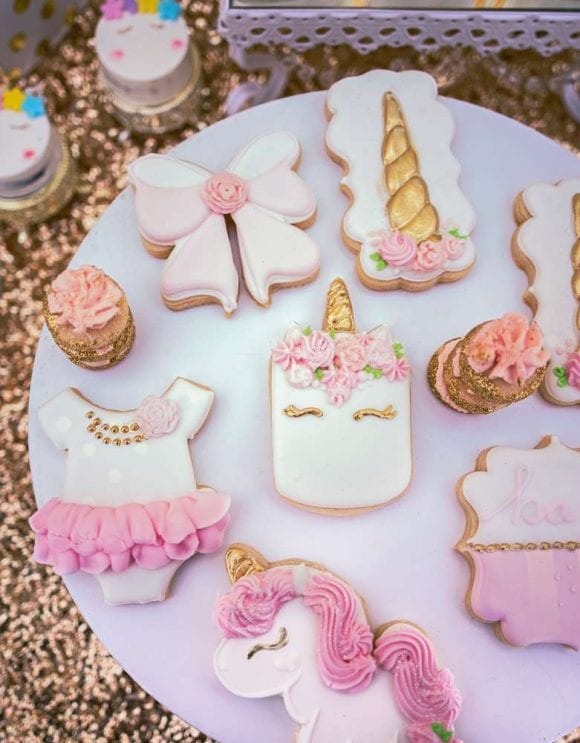 Treat your guests to these impressive unicorn-inspired 3d cookies.
They'll look amazing on your dessert table and blow everyone away!

If you want to add some sophistication to your unicorn-themed party how about serving stacked cookies instead of regular sugar-coated ones?
Top them with pretty frosting and a gold horn and impress your guests!

Kids love everything chocolate, so these chocolate-covered unicorn cookies are guaranteed to blow them away!
They'll look so impressive on a plate on your dessert table are such a great idea if you want to add some elegance to your party food.

These unicorn cake pops are so much fun with their gold decorative little horns and eyes and adorned with delicate little flowers.
Your guests won't be able to resist them.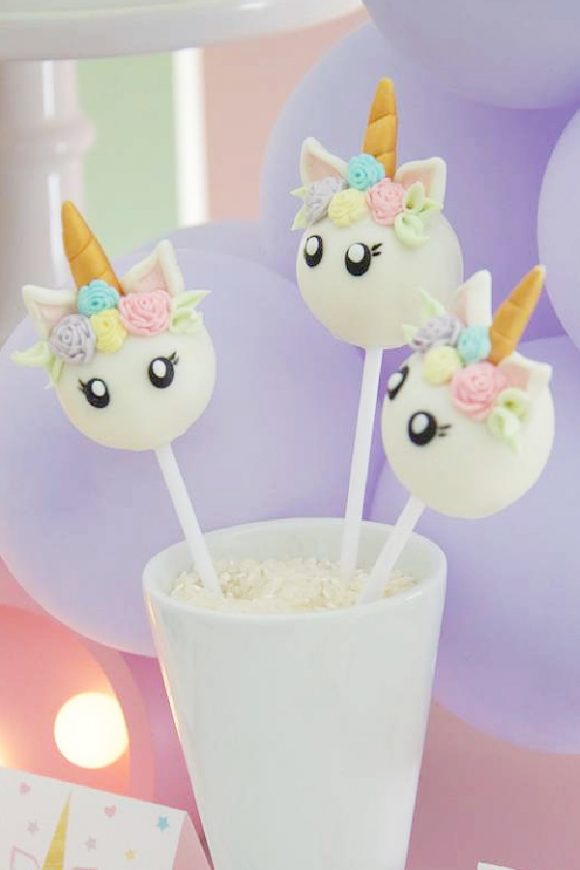 Cake pops are such a popular party food but if you want to take things to another level and be totally on-trend you've got to have unicorn-themed unicorn cakecicles. Cakecicles are a fun twist on a traditional cake pop and so much easier to make yourself.
These lovely unicorn cakecicles are decorated with pretty pastel flowers and edible unicorn horns.

Another fun party food for a unicorn party are these sweet unicorn-themed Krispie Treats.
Stick a cake pop stick or even a straw into your Krispie Treats and dip them into white chocolate. Draw some delicate little unicorn eyes and cheeks on them and finish them off with a unicorn ear and horn topper.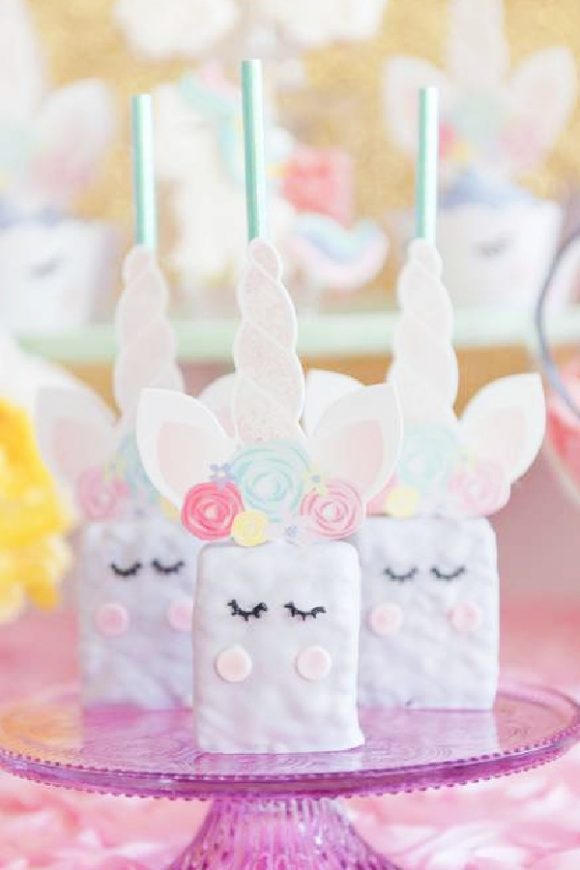 Cake pops can be really tricky to make, so how about making some unicorn marshmallow pops instead.
All you need to do is grab some marshmallows and draw some little eyes on them. Top them off with some fondant unicorn ears and a gold horn, and you're done.
It really is that easy!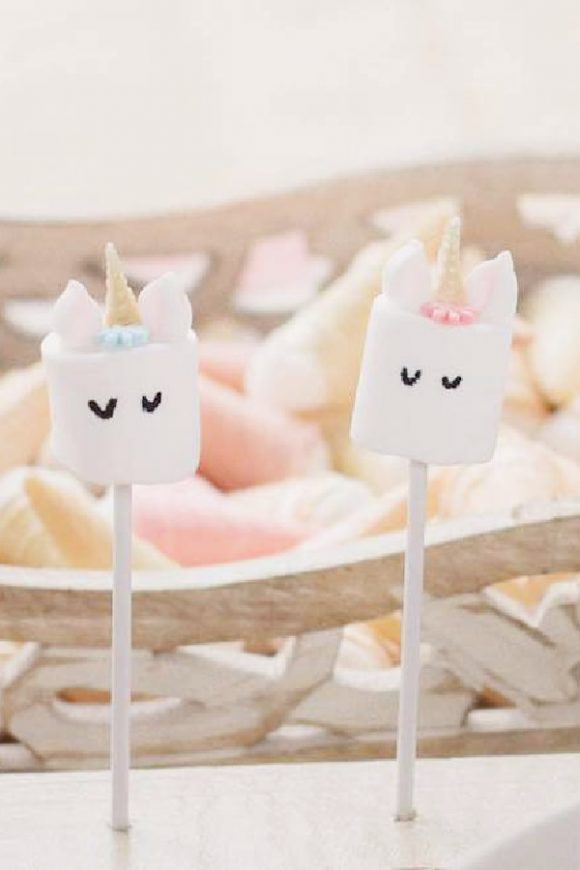 No one can resist a delicious donut!
They are am awesome party food and can easily be transformed into unicorns for your party by adding an edible gold horn, some fondant ears, and colorful flowers.

WOW! This macaron tower is absolutely amazing and undoubtedly a show stopper!
Place this on your dessert table and everyone will be blown away!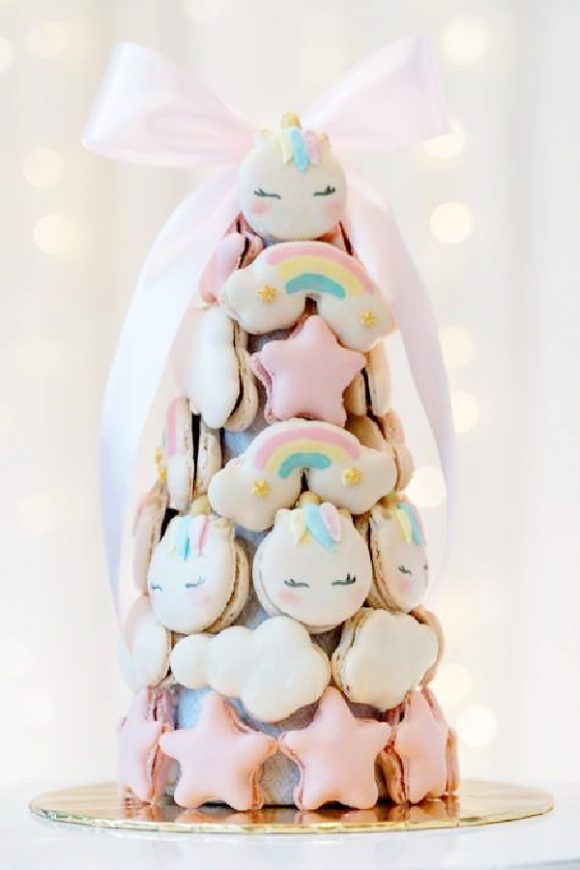 Another fun and elegant party food that your guests will love are some unicorn-decorated chocolate strawberries.
Imagine just how blown away your guests will be when they set eyes on them!

If you are looking for something a little different and more unique, then you really don't want to miss these wonderful meringue unicorn horns on sticks.
They are so much fun and such a cool party food for your unicorn-themed celebration!

There's something about cotton candy that makes it so hard to resist!
Fill a bunch of little plastic tubs with some and add a 'unicorn breath' label to it and you are good to go.
No effort went into making this fun unicorn party food that your guests will love.

The more unicorn-inspired party food you have to offer your guests at your unicorn birthday party the happier they'll be.
You can bet they'll love this gorgeous pink unicorn bark full of sprinkles, and you won't believe just how easy it is to make yourself!
Serve your party food, such as chips, cookies, or even popcorn in cute unicorn-inspired boxes like this one.
They'll look amazing on your dessert table and are totally on theme!

Add unicorn candy bacon to goodie bags, along with other bits and pieces, or serve them as party food at your celebration.
They are so colorful and adorable. You can bet they'll be a hit!

These magical unicorn milkshakes look delicious and are such a fun idea!!
Just pour pink strawberry milkshake into some adorable vintage glass bottles (affiliate links) decorated with a lovely label.
Top them with tiny marshmallows, starry sprinkles, a pretty paper straw, and you're good to go!

If like me, you love everything unicorn and can't live without hot chocolate this recipe is for you.
It's the perfect drink for those cold winter days and is so easy to make that your kids are going to want to give you a helping hand.
The pastel colors are so pretty and give this unicorn vanilla hot chocolate a magical touch that is sure to put a smile on your face!

The table settings at this boho unicorn-themed party are a little girl's dream!
The cozy floor cushions and the beautiful floral arrangements make everything look so magical.

There's something so special about these gorgeous unicorn pastel mason jars full of cutlery, and it's such a practical way for your guests to help themselves.
You can easily make some yourself by painting some mason jars. Draw some eyes with a black sharpie pen and glue on a gold horn and some unicorn ears. Don't forget to finish them off with some colorful flowers.

If you are looking for a fun way to present floral arrangements at your unicorn-themed birthday party you must take a look at this pretty mix of painted mason jars decorated with gold sparkly unicorns.
It's such a simple idea and a fantastic way to decorate your tables.

Finding the perfect centerpiece to decorate your unicorn party can sometimes be a little tricky.
A great way to add some unicorn magic to your tables is to use these beautiful pink tissue paper pompoms decorated with lovely unicorn ears and a gold horn.
It looks so whimsical and adds such a delicate touch to a party.

A great way to create an impressive centerpiece without much effort is to decorate with some unicorn foil balloons.
They are guaranteed to look amazing and really are a quick and easy fix.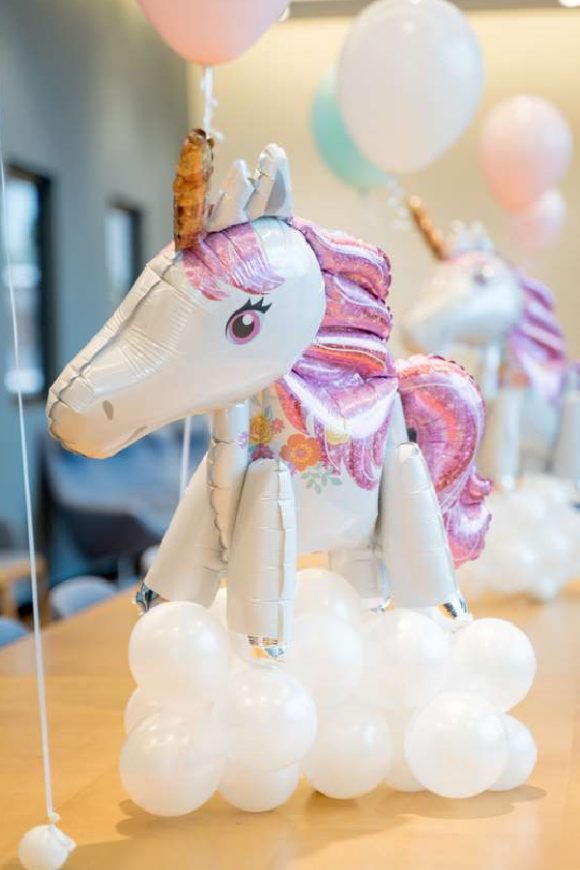 This next party decoration is fabulous for a unicorn party.
Transform some white paper lanterns into unicorns and you've got yourself a quick and easy centerpiece that is sure to delight!

Welcome your guests to your party with a delightful personalized welcome poster.
Place it in a pretty frame and add some gorgeous paper flowers for maximum impact.

Decorate a wall at your unicorn party with an awesome cardboard unicorn head (affiliate links) with a colorful horn and felt flowers.
Place it in the center of an empty colorful ornamented frame to help make it stand out.  Then, all you need to do is hang it above your dessert table and you've got yourself the perfect backdrop!
It isn't easy finding the perfect unicorn decoration, but if you are feeling crafty and would like to have a go at making your own check out this stunning unicorn-inspired monogram.
You can even do a whole name and place it on your dessert table.
If you are working with a tight budget and would like to decorate your party with some wonderful unicorn party decorations then you'll love this idea!
Grab a white regular white latex balloon. Use a Sharpie to draw some eyes, glue on some ears made or cardstock, and finish it off with a gold horn and some little paper flowers.
You can do a couple of them and scatter them around your venue.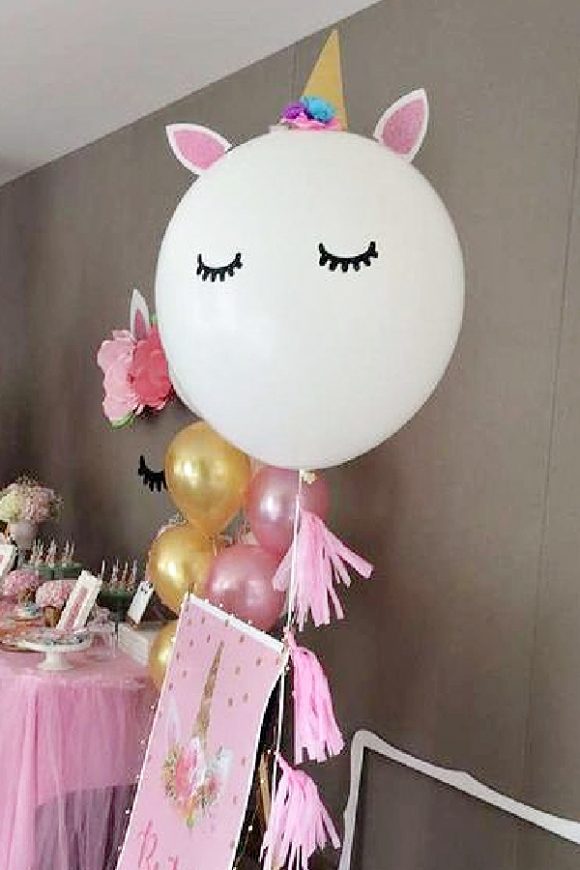 Balloon garlands are a must-have at any party nowadays. They pop up all over CatchMyParty and are such an amazing way to add some color and impact to any party.
They are perfect as a backdrop to a dessert table or a fun photo booth.
See more party ideas and share yours at CatchMyParty.com
There isn't a kid out there who doesn't love a pinata! This unicorn pinata (affiliate links), with its pretty pastel colors, is gorgeous.
The best thing about it is that you can place it on the dessert table during the party and you'll have yourself a beautiful centerpiece too.

Keeping kids entertained at a party is always a bit of a struggle but a fun activity that most kids love is a crafty painting activity where they can apply all their creativity.
Create a painting station where each one of your guests has a unicorn drawn on a canvas. Set out some paints and brushes and enjoy watching them create their very own works of art!

Imagine how much fun your party guests will have racing these wonderful felt unicorn hobby horses. (affiliate links)
Hours of fun are guaranteed, as are fab photo opportunities to be had. To top it all off you've got yourself the ultimate unicorn party favor too!

If you are stuck on a fun unicorn party favor you may want to consider delighting your guests with a unicorn adoption.
Fill a basket with a bunch of plush unicorns so each child has one to adopt and take care of. Make sure you print out a bunch of unicorn adoption certificates to officialize the occasion.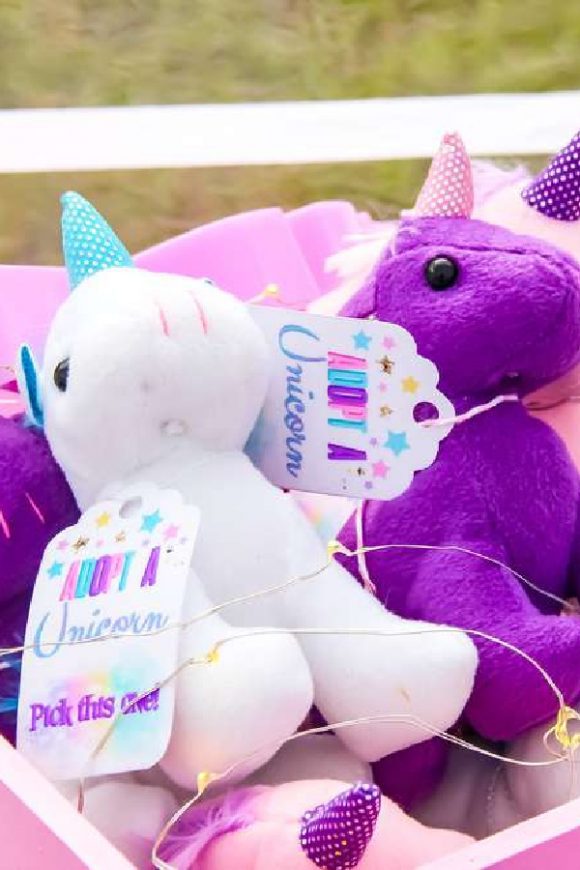 All your guests are going to feel so lucky to go home with one of these gorgeous unicorn favor bags full of amazing unicorn-themed goodies.
You can easily make them yourself at home by cutting out a unicorn silhouette on some foil cardstock paper and gluing it onto a colored bag. Finish it off with some pretty tissue paper flowers and you´ve got yourself some adorable unicorn gift bags.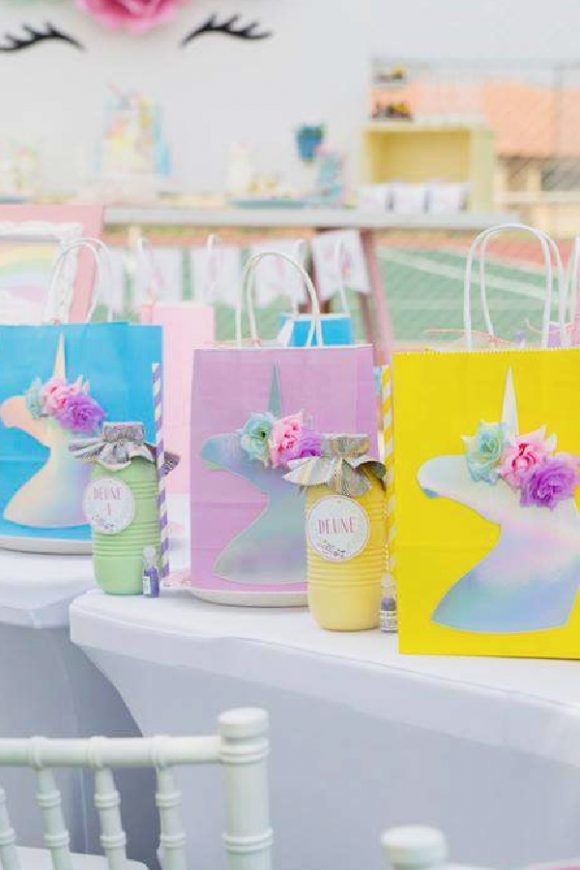 Send your guests home with a cute unicorn party favor box full of goodies.
Make your own by grabbing a bunch of gable boxes and gluing on some eyes, unicorn horns, ears, and pretty flowers.
They are so easy to make and are a wonderful way to put a smile on your guest's faces.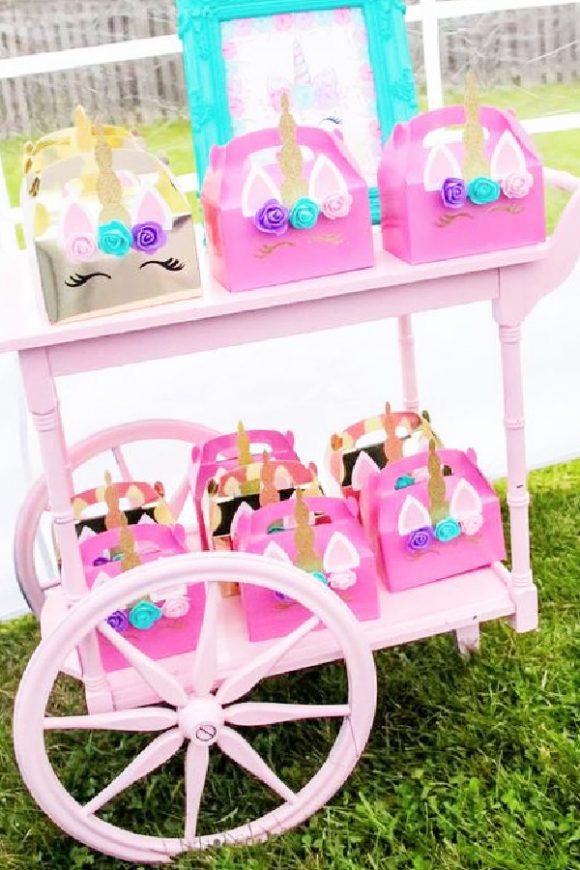 These unicorn horn headbands with pretty flowers are such a wonderful party favor for your happy guests to take home. They can also be used as a photo booth prop too!
Find out how to make your own DIY unicorn headband or set up a crafts table at your magical unicorn birthday party and treat your guests to a fun party activity.

The perfect way to show your guests just how much you appreciate them is by giving them an unforgettable party favor that they can treasure and take home as a keepsake of their wonderful day.
If you are stuck on ideas then take a look at this magical necklace with a little star and unicorn pendant. It's every little girl's dream that they won't want to take off!

Need more unicorn party ideas and unicorn crafts?
Need unicorn party food ideas?
For more inspiration, check out all the stunning unicorn parties on our site, and check out these unicorn party supplies from vendors with listings on Catch My Party!

Save
Save
Save
Save
Save
Save
Save
Save
Save
Save
Save
Save
Save
Save
Save
Save
Save
Save
Save
Save
Save
Save
Save
Save
Save