Check out these 30 awesome summer BBQ party ideas we've collected for you!
Get your grill or smoker out, and get ready for a fun summer outdoors with you all your family and friends. I can't think of a better summer themed party than a backyard BBQ!
30 Awesome Summer BBQ Party Ideas to Get You Ready to Celebrate!
We've rounded up so many fun barbecue party ideas such as a BBQ meat stamp, cool BBQ party decorations, and loads, loads more…
There's nothing better than finally being able to get together with family and friends after such a long time apart.
Celebrate the summer and invite everyone over for a backyard BBQ with this fantastic invitation.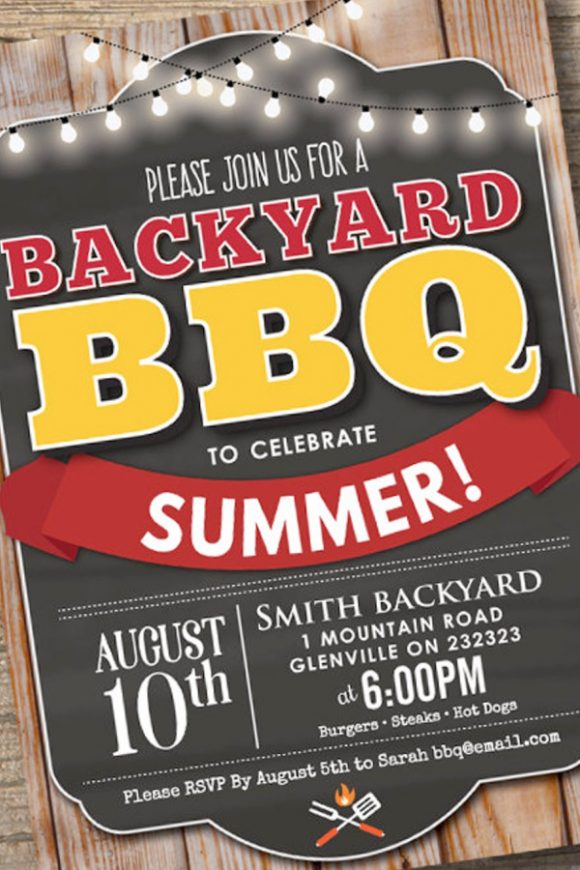 BBQ PARTY FOODS AND DRINKS
Placing cold drinks and beers in a charcoal grill full of ice is the perfect way to serve drinks at your BBQ.
You can fill mason jars with Strawberry Ginger Lemonade and other drinks so your friends can help themselves.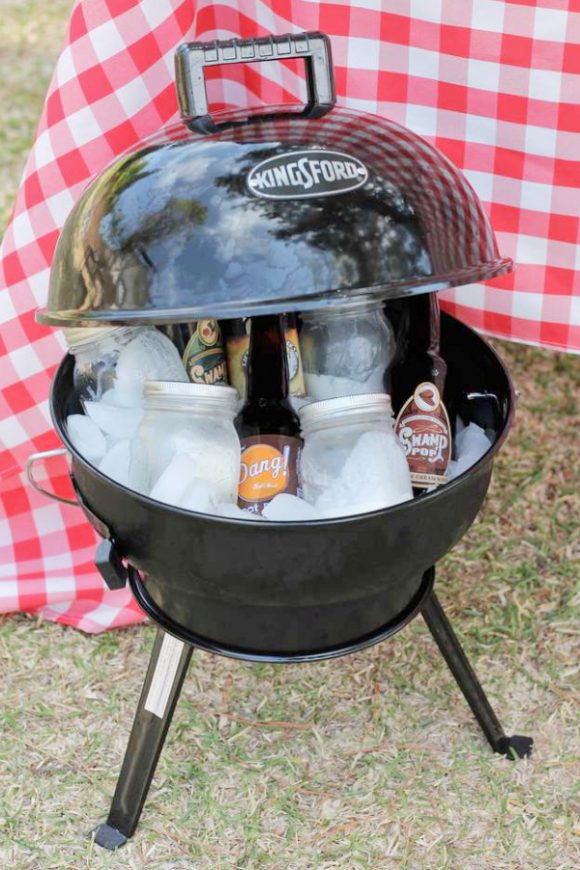 Treat your guests to individual bags of chips so everyone can help themselves.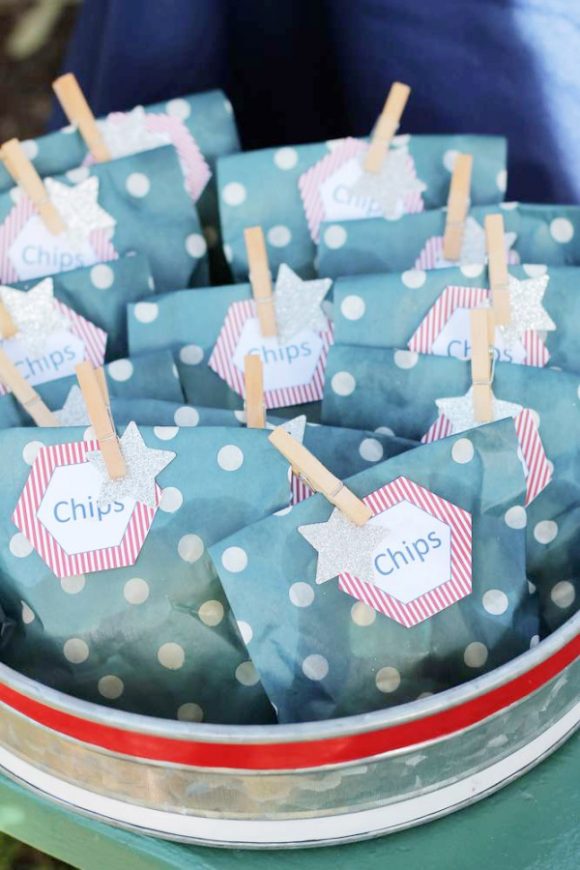 Serve your barbecue beans in mini mason jars so that each guest can grab their own.
Decorate each jar with a fun label or alternatively cut out circles of pretty paper and glue them to each lid.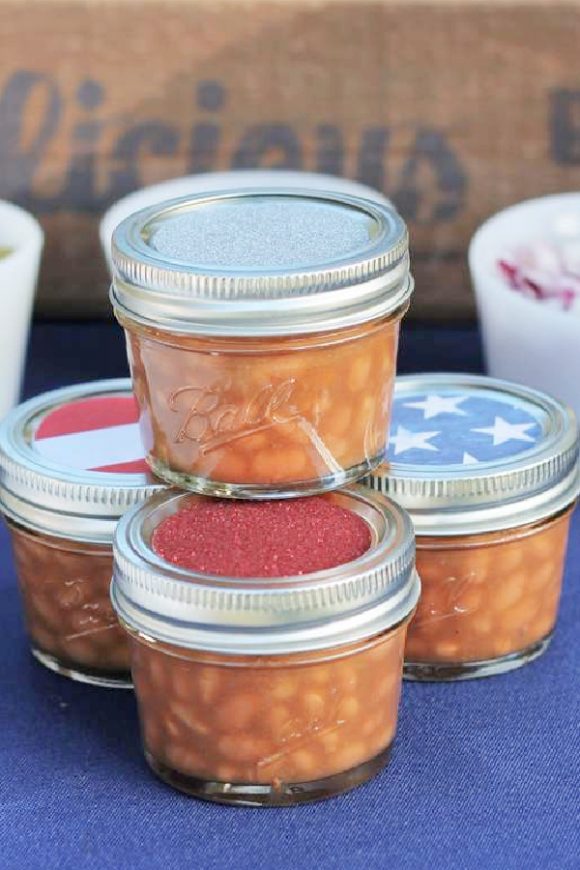 You can also serve coleslaw in individual plastic containers with lids.
Stack a bunch of them on a table with a mix of different salads so your guests can pick whatever one they like best.
As with the previous idea you too can decorate the plastic container to match the theme of your barbecue.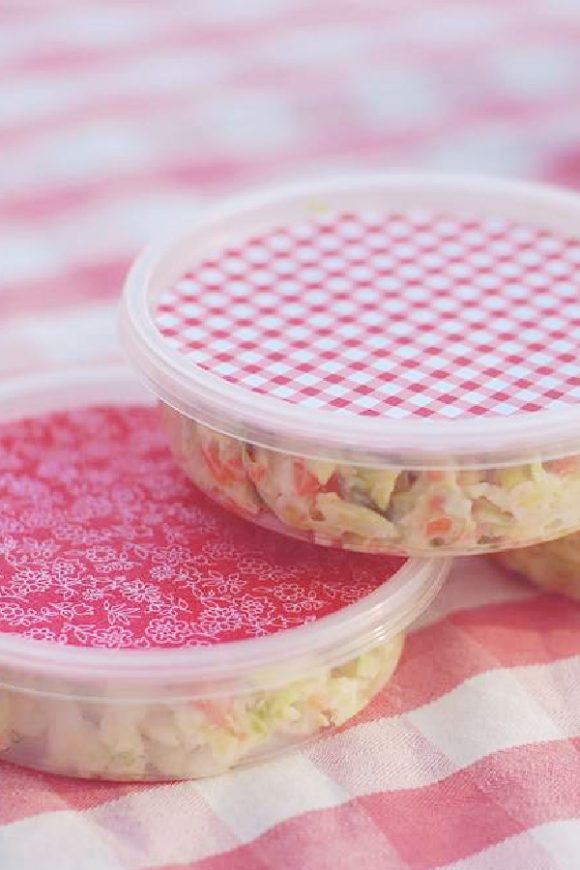 If you are looking for a different way to make s'mores then you must check out this grilled s'more pizza recipe.
It's the quintessential dessert to do over a grill and that your guests will love.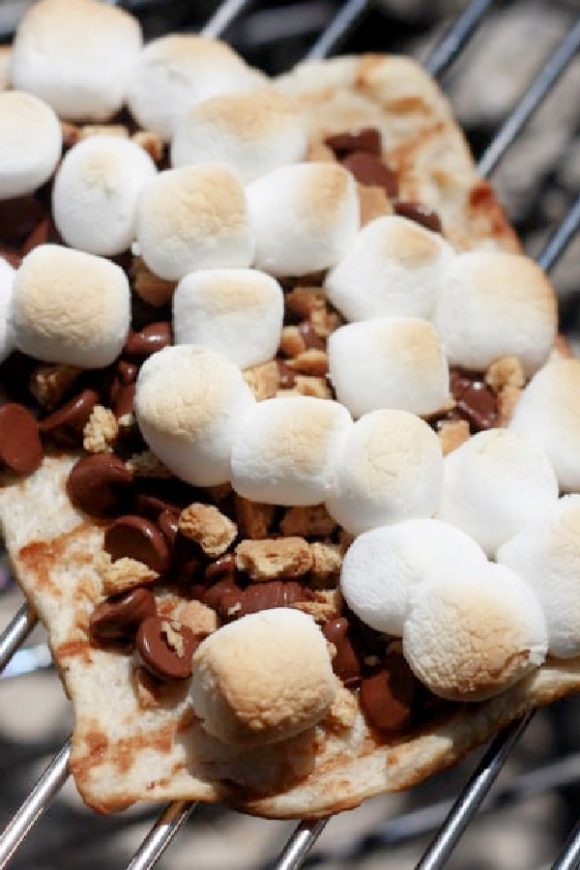 BBQ PARTY DECORATIONS
I'm so happy to be sharing our FREE BBQ party printables download and use to decorate your cookout!
The collection includes everything you need, such as cupcake toppers, SOLO cup "party" banner, BBQ welcome sign, straw flags (that will look great in your SOLO cups), and menu/place cards.

Decorating a party is always so much fun.
This double-sided BBQ party flag is a great party decoration that you can set up on your front lawn, patio, or porch to welcome your family or friends.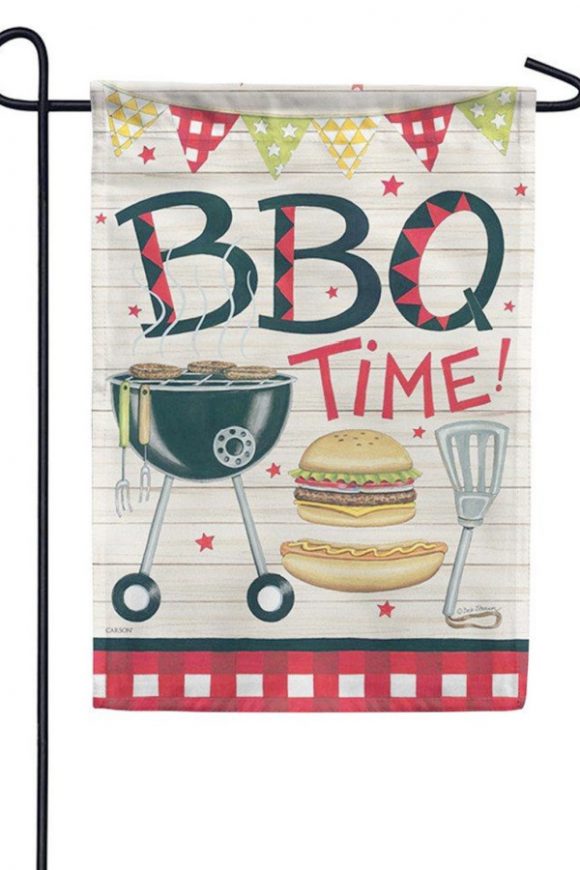 You can never have too many party decorations, and this chalkboard pig is just what you need to add to your barbecue, especially if you've got some pork in your smoker.
Place it on your food table to label your food or write a BBQ-themed phrase on it.
If you're looking for a cool quick and easy centerpiece, then take a look at this fun BBQ party decoration.
Tie a bunch of old empty beer bottles together with some string and use them as an improvised vase for some beautiful flowers.
It couldn't get any easier than this.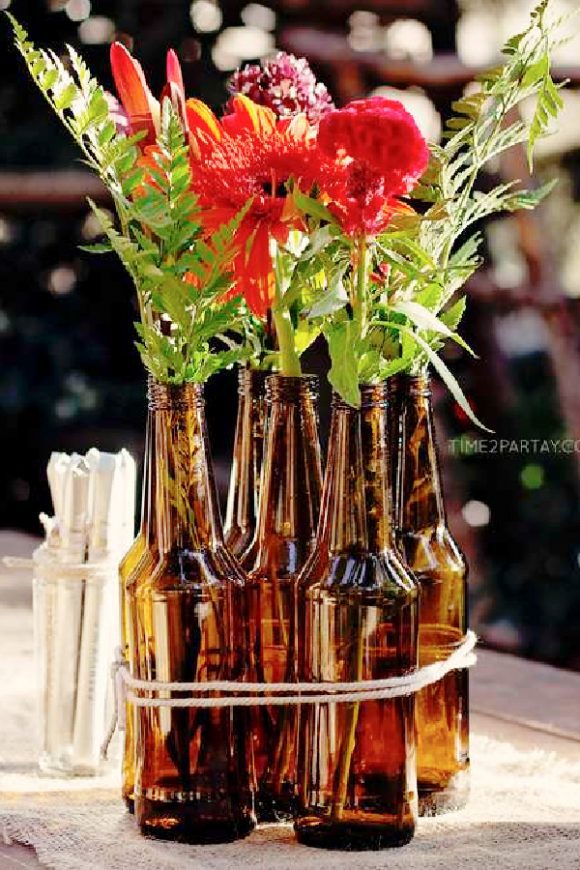 Decorate your party with a bunch of these BBQ pig-inspired foil balloons.
You can place one at either end of the dessert table, for instance, or you can have them scattered around your venue.
Either way, they'll look fantastic at your party!

You could also go with these beer and barbecue grill foiled balloons and use them to decorate.
Hang the foil letter balloons that spell out "Grillin' and Chillin'" and hang them up against a wall to really make a statement.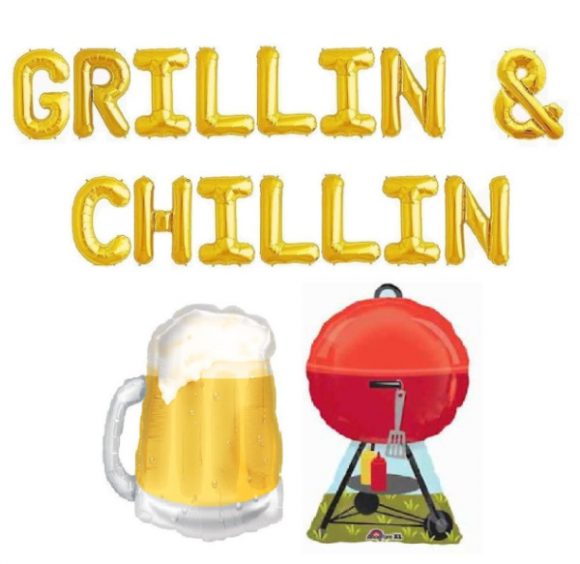 Decorate your party with this burlap "Pig Out" bunting banner.
You can either hang it up on the wall or have it hanging from your food table.
Wherever you choose to place it, you can bet it will always look awesome.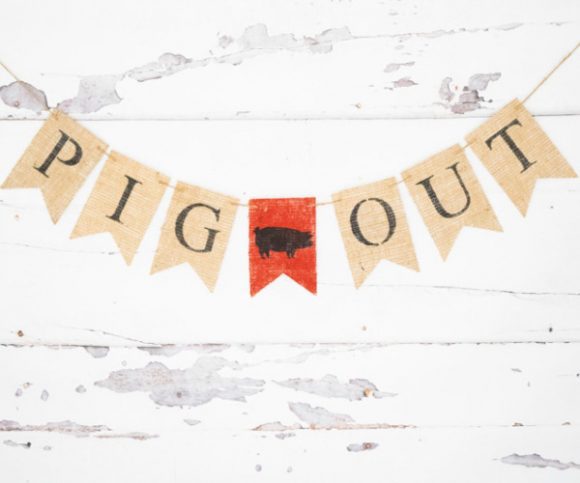 BBQ TABLE SETTINGS
When throwing a party for many people outdoors the best solution is always a vinyl tablecloth that you can simply wipe down if there are any spills.
Use this vinyl red gingham tablecloth to decorate the table at your BBQ.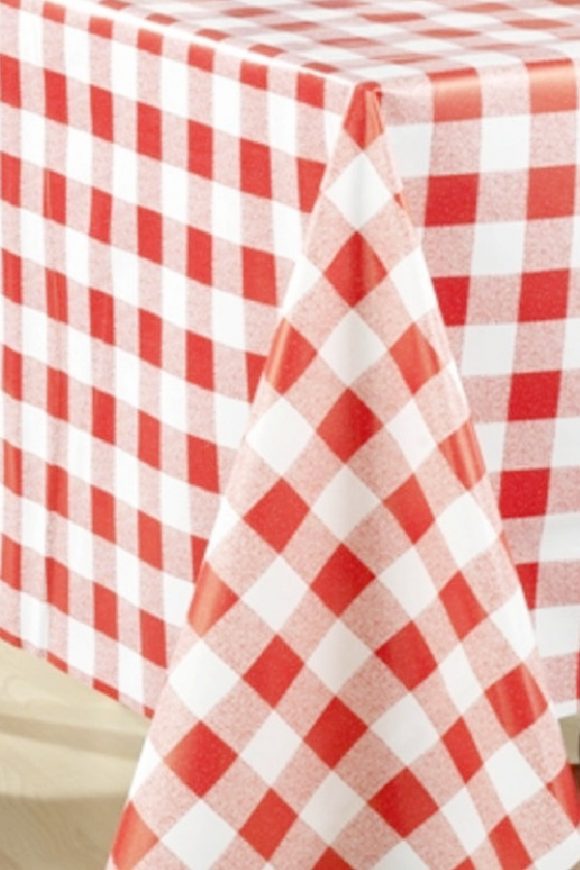 Getting a hold of the perfect napkins isn't always easy, but we've found just what you need for your outdoor get-together.
Check out these fantastic BBQ-themed gingham paper napkins. They look so cool with all the illustrated BBQ motifs and are just what you need at your party.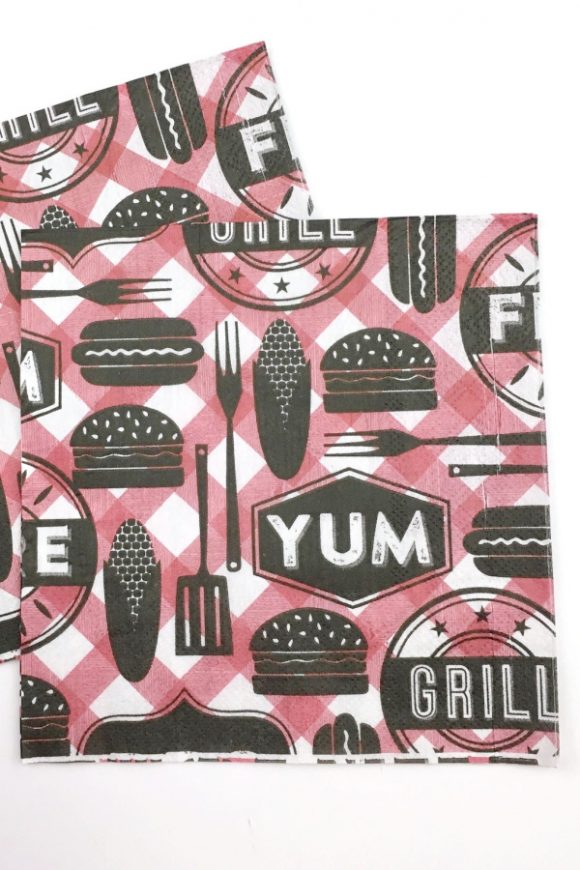 Place your cutlery and napkins in these individual paper bags with this fab BBQ design.
Set them out and let your guest help themselves to their own bag.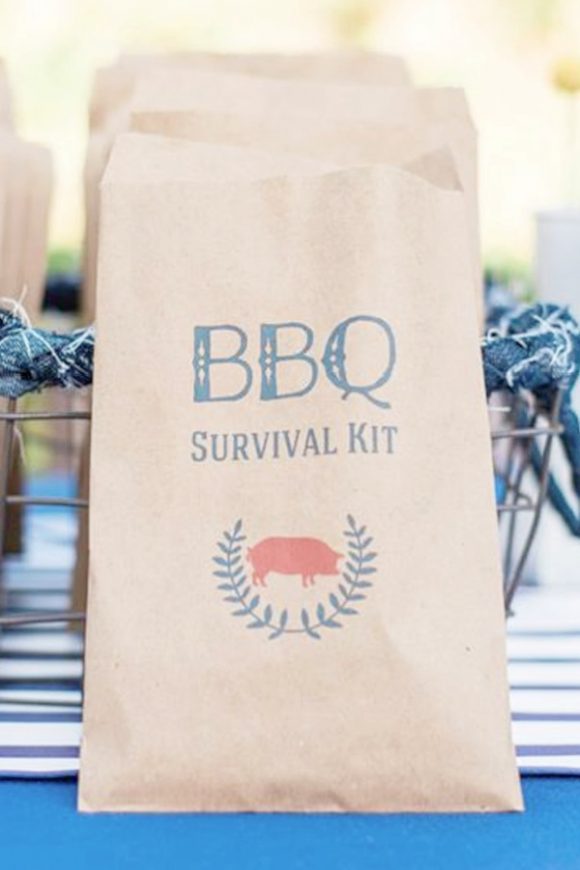 These BBQ-themed snack cups are just what you need for your party.
Each one has a different barbecue-themed illustration on them which makes them perfect for serving party food.
They are a cool option for serving ice cream.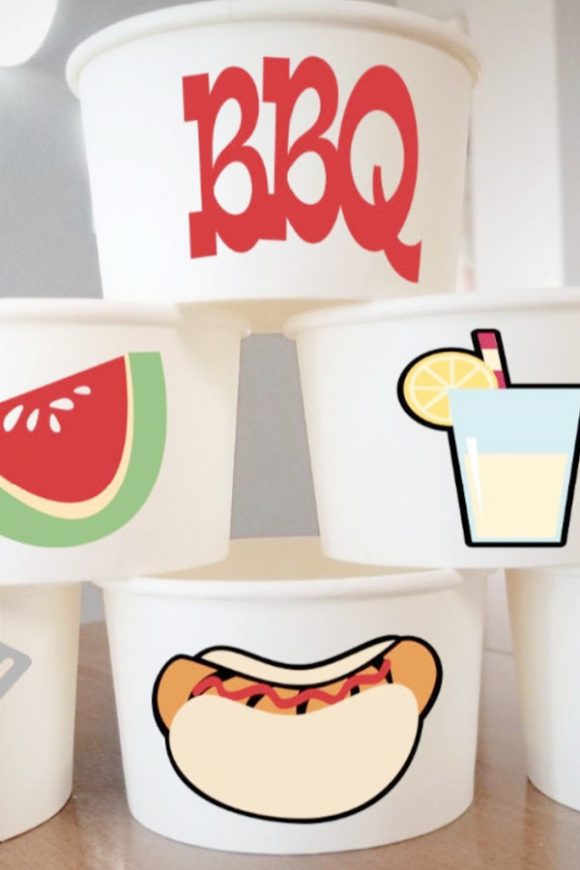 This party cup holder provides a designated place for you to stack your cups and have a marker readily available so your guests can mark which one is theirs.
Made from hardwoods and finished with a cutting board oil, it is designed to hold a cup between 3 & 4 inches in diameter (16oz and 18oz party cup)

Matching the BBQ snack cups we also found these wonderful BBQ-themed cups with lids and straws.
They are a fun addition to your party and because they come in a mix of designs it's easier for your guests to know which one is theirs.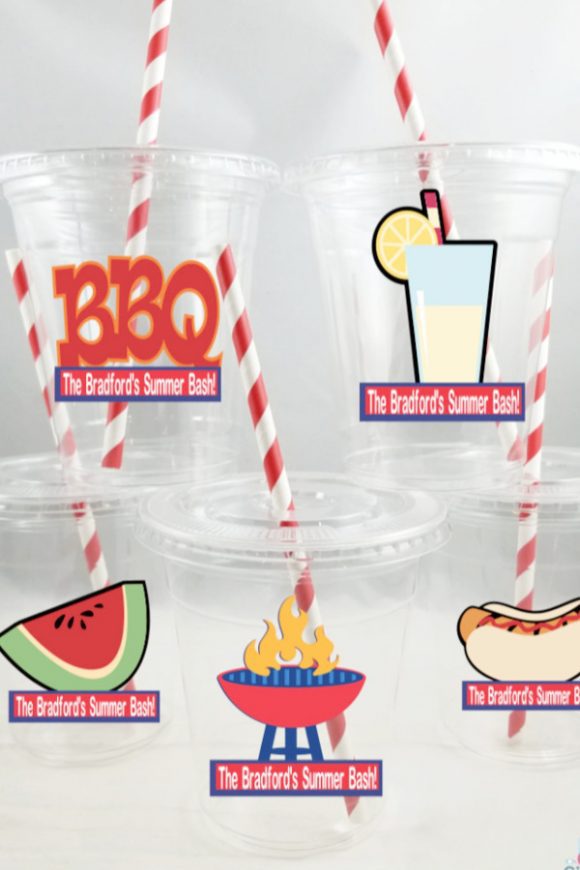 BBQ ESSENTIALS
This BBQ stamp tool is the ultimate way to leave your own personal touch on the meat.
Impress everyone by marking your steaks or burger buns, or even use it to individually mark each steak according to the way each person likes theirs cooked.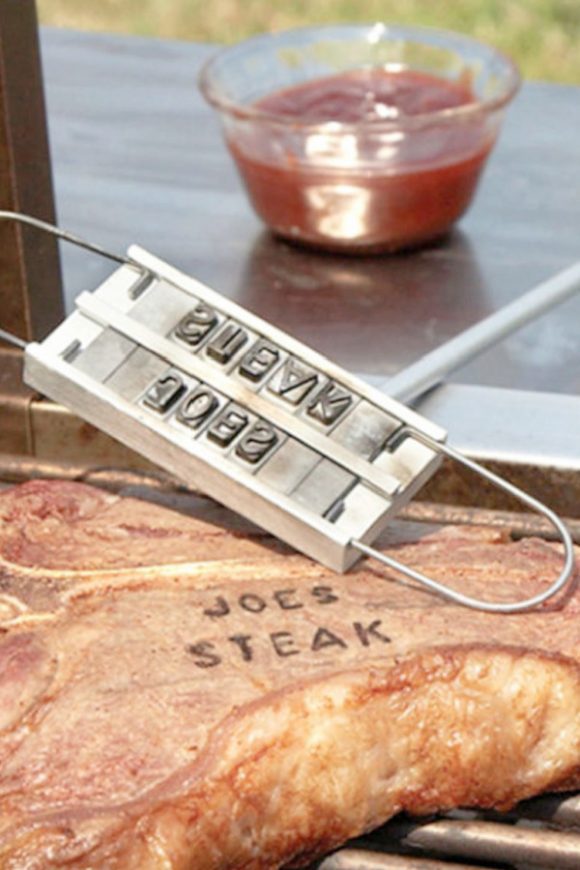 The master griller of the party needs somewhere to hang his or her tools. This is why this BBQ grill tool holder is just what he or she needs.
Hang it up beside the grill so he all the tools are at hand.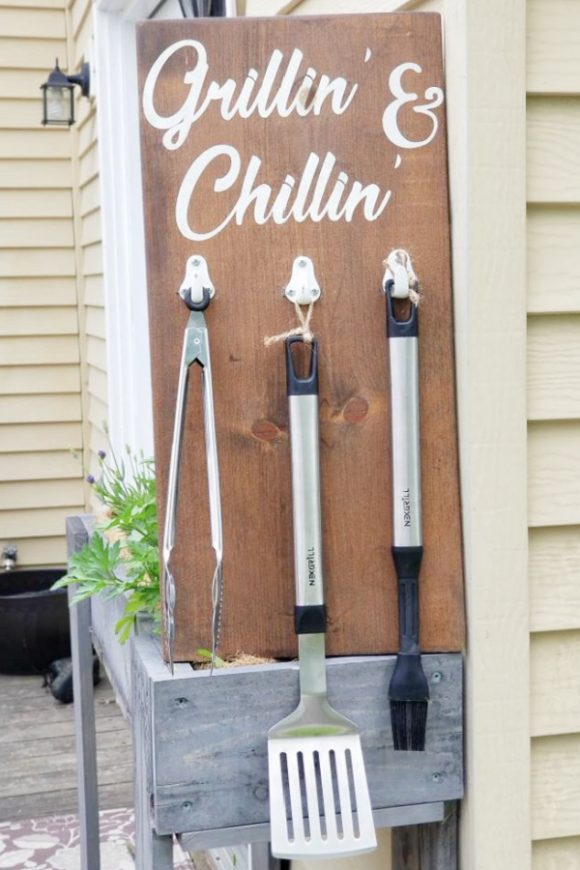 Carving grilled meat is a big deal, which is why this personalized BBQ-themed wooden carving board is just what you need at your party.
You can also use it to serve your meat and will look amazing on your table.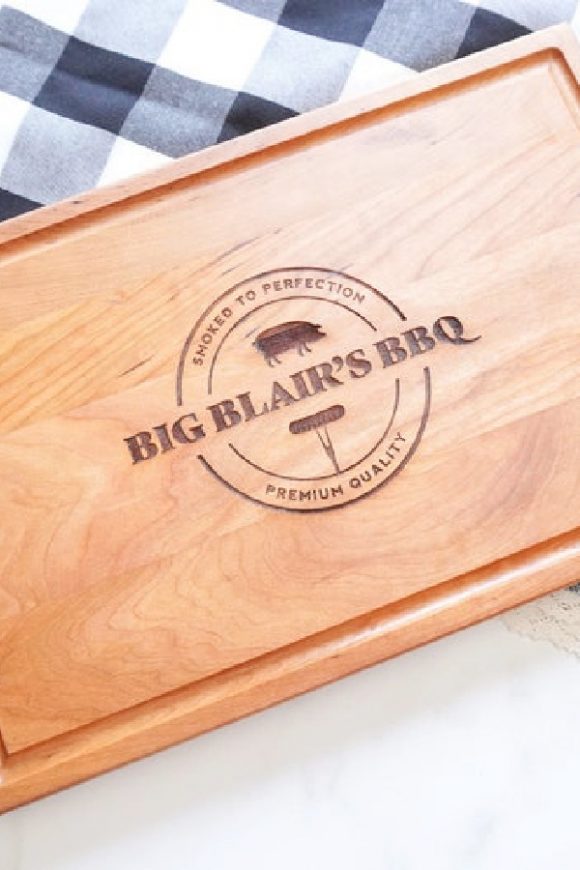 This BBQ tea towel is so cool and an essential accessory at a barbecue party. Keep things tidy and cute! Love the design.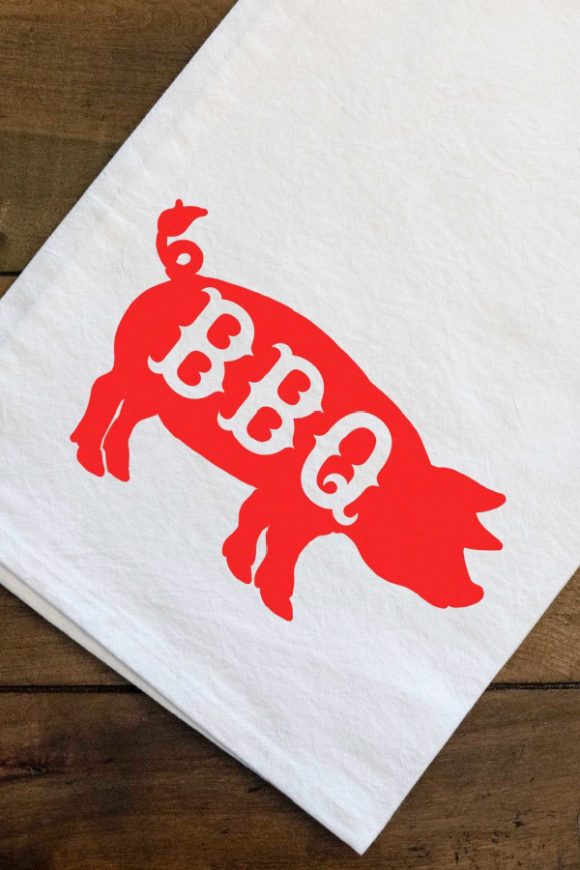 BBQ Apparel
Guys and grills are the best of friends, so how about letting your man show off his grilling skills while proudly wearing this "King of the Grill" apron?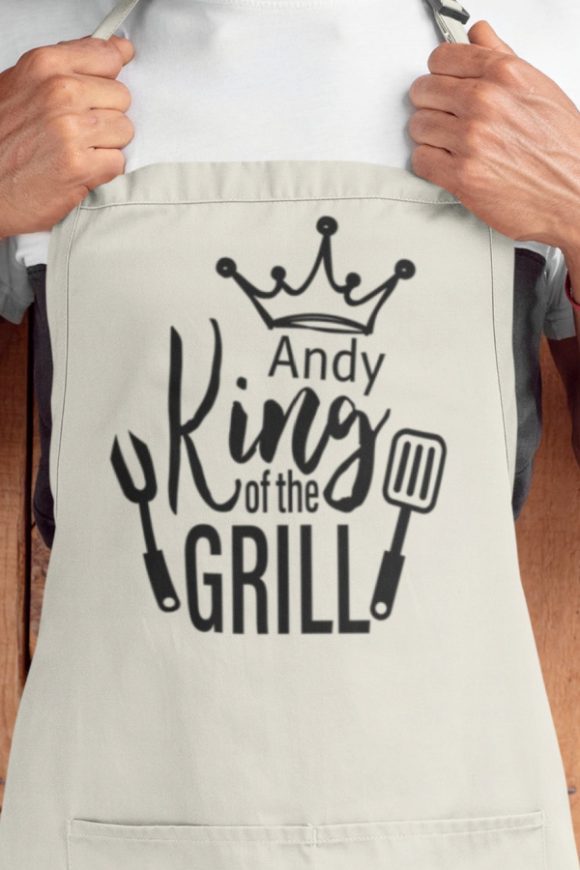 A guy can never have too many t-shirts and this "Chillin' and Grillin'" one is perfect for your outdoor summer BBQ party.
I have no doubt the t-shirt will give him a confidence boost.
The look isn't complete without the ultimate fashion accessory… a barbecue baseball cap like this one!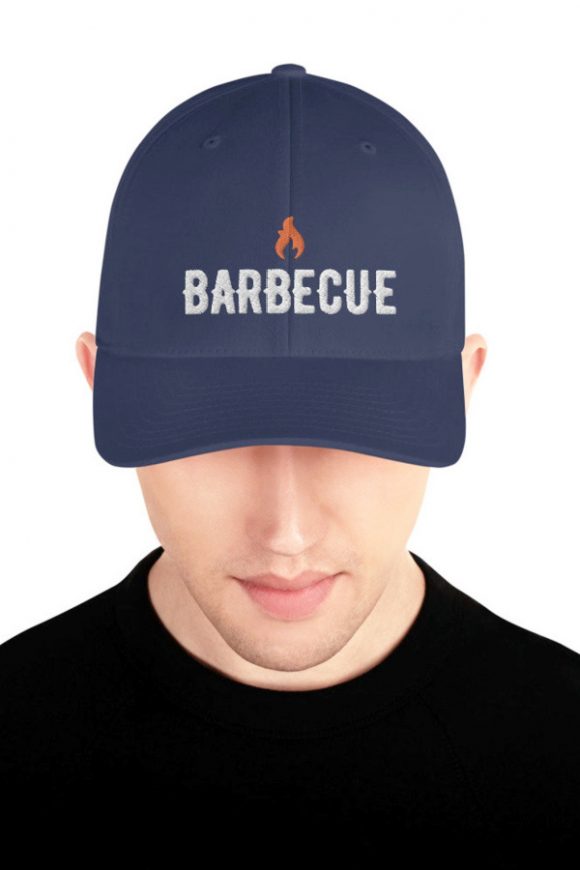 BBQ PARTY ACTIVITIES
It's always so challenging trying to keep kids entertained at a party, so how about treating them to an awesome printable BBQ activity sheet that they can dig into and enjoy.
Don't forget to add some individually packed crayons for them to use too.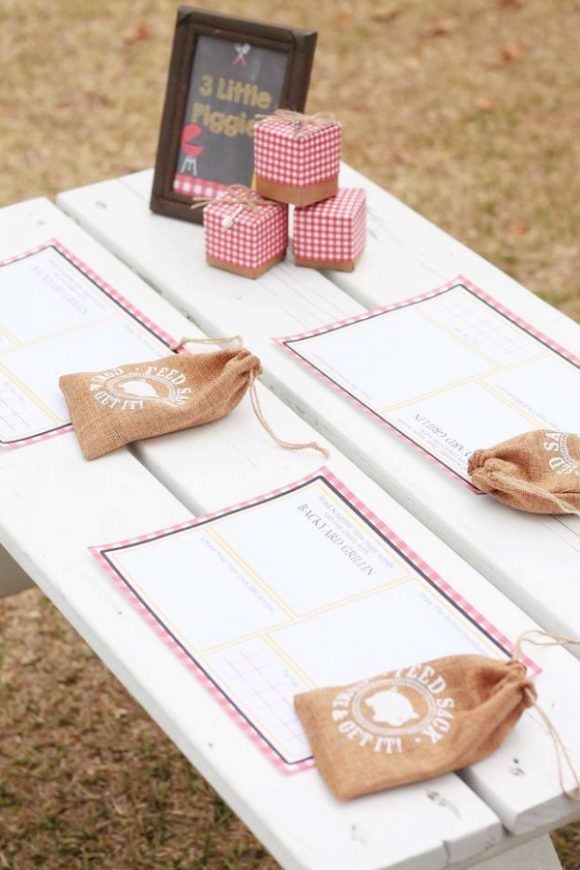 Tic-Tac-Toe is such an enjoyable game to play with someone else.
Get yourself some large tic-tac-toe pieces and some rope and you're good to go!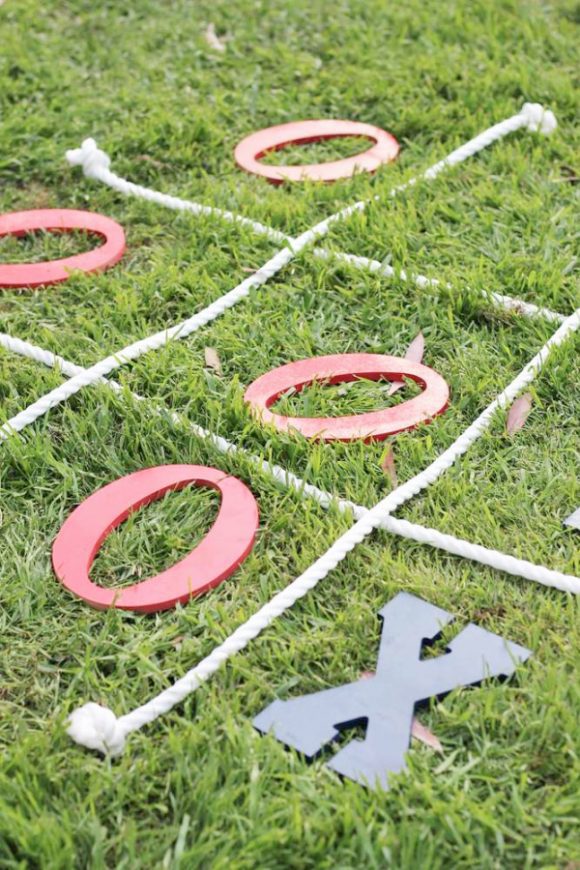 Another fun BBQ party activity is a game of tin can knockdown.
Stack up a tower of cans in a pyramid shape and let your guests' can have a go at throwing balls or bean bags at them to knock them down.
You can decorate each can by gluing pretty wrapping paper to each one.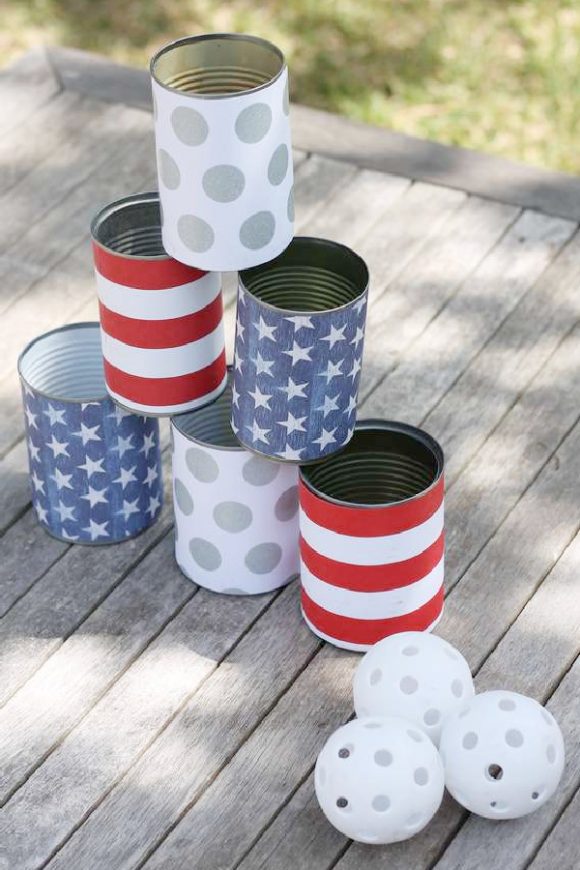 There is nothing better than having a laugh and fooling around with some photo booth props while having your photo taken.
Everyone always has a blast and the photos make wonderful keepsakes, that you can cherish and look back on in years to come.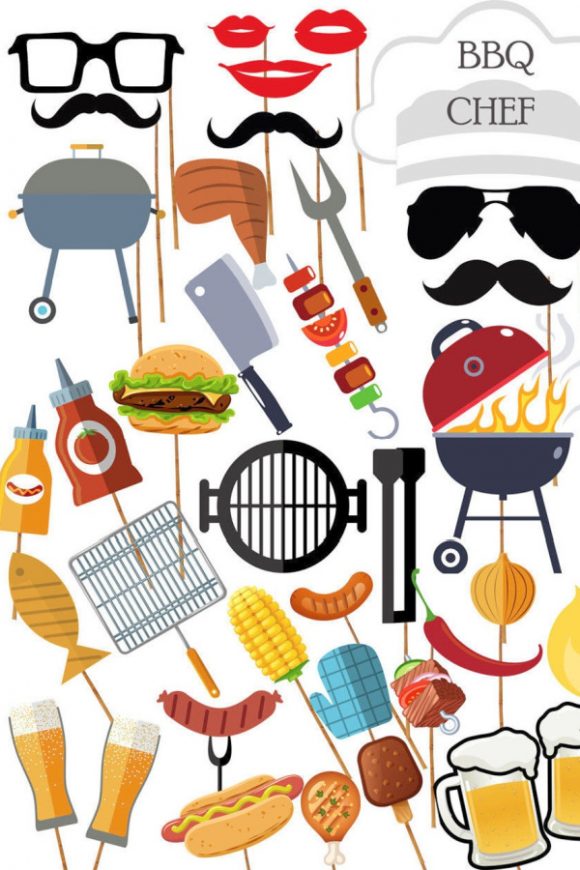 Be sure to download our FREE BBQ party printables to decorate your party, and check out our awesome mouthwatering BBQ recipes and these delicious BBQ grill cookies.
Also, we have more wonderful ideas for BBQ parties and BBQ party supplies on our site, so don't miss them!
Need more outdoor party ideas?
**Some of these links may be affiliate links.