Fortnite is a massive worldwide hit, especially with kids, that would love to play for hours on end if we'd let them!
If you're planning a Fortnite birthday party and are at the stage of trying to look for the best party invitation, look no further.
We've rounded up the coolest Fortnite party invitations we could find to make the task a lot easier for you.
Hope we can help…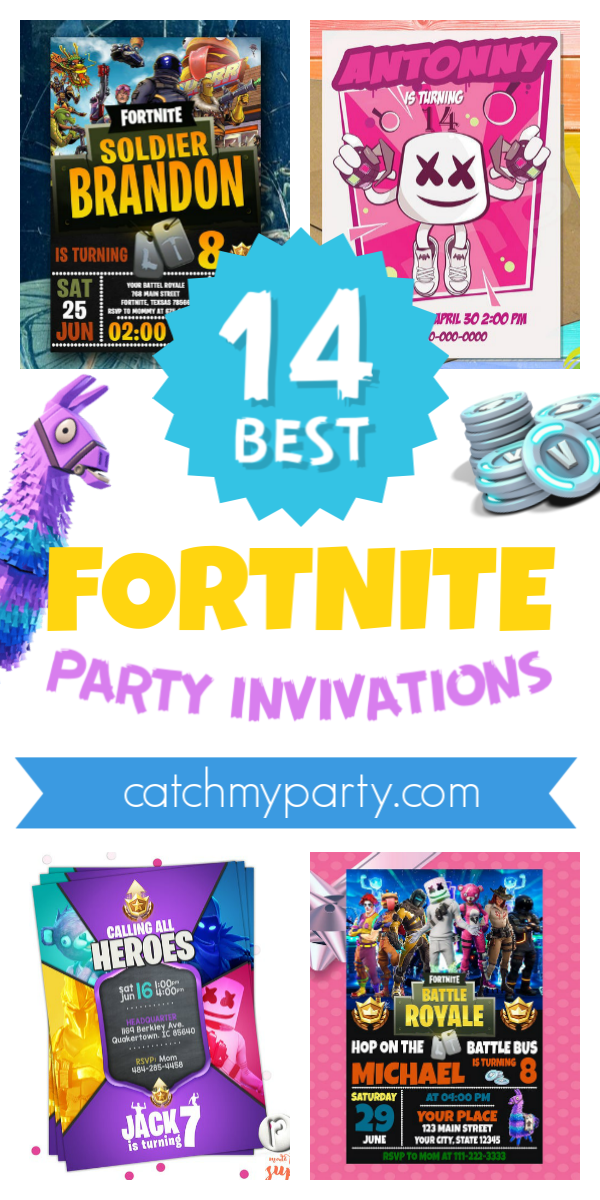 We've found lots of different awesome Fortnite party invitations. Enjoy…
Take a Look at the Coolest Fortnite Party Invitations!
Starting off our list of cool Fortnite party invitations we have this colorful one.
Featuring various skins it's a great way to get your guests in a party mood.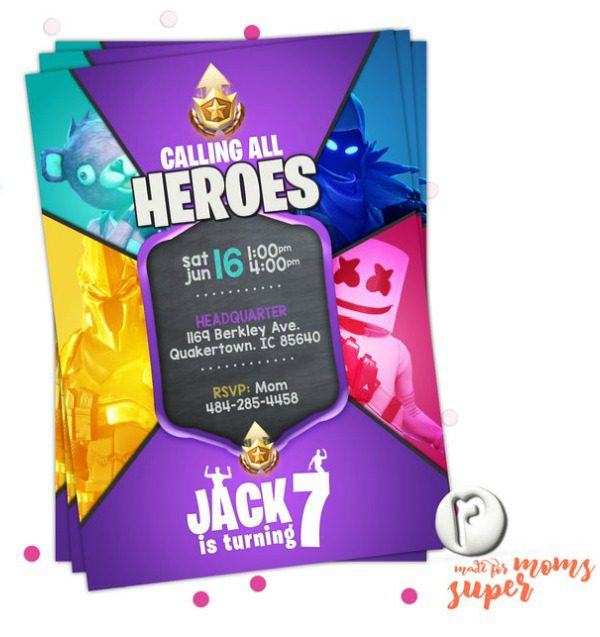 Marshmello is a popular electronic music producer and DJ who made Fortnite history by performing live at the 1st ever in-game concert.
As part of his collaboration with Fortnite, Marshmello is now a skin for players can purchase.
So if you're child is a Marshmello fan this invitation is perfect for them!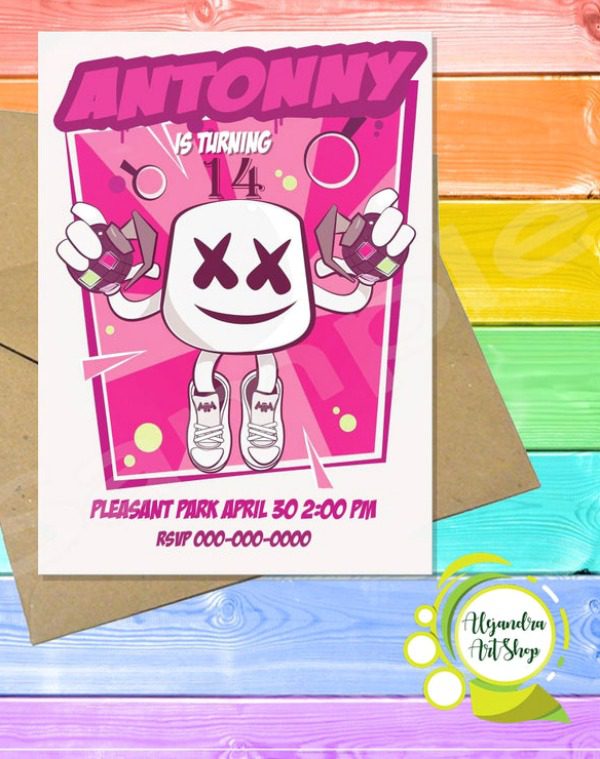 Soldiers are one of four classes in Fortnite, known for carrying around and using heavy weapons, such as rocket launchers.
The design of this invitation is great. Check out the cool Fortnite dog tags!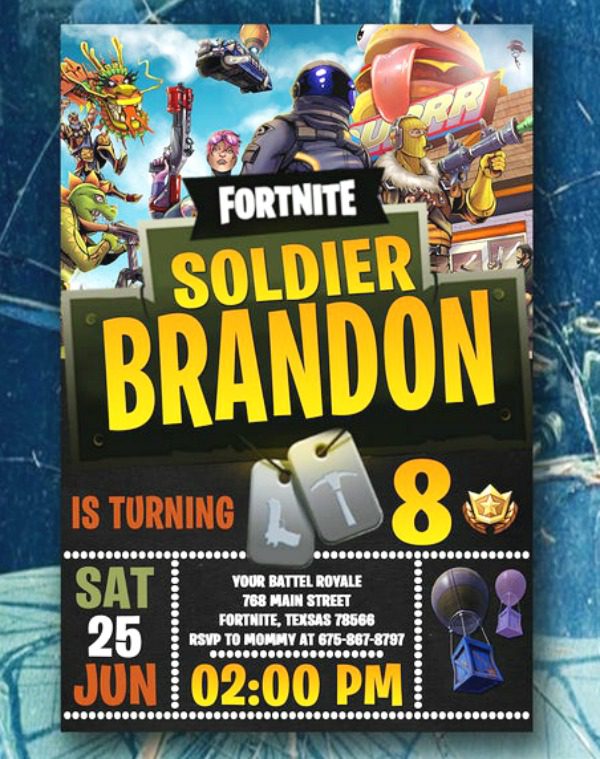 This Fortnite Battle Royale invitation is an excellent choice for a Fortnite fan!
The design includes a bunch of the most popular Fortnite skins, such as Marshmello, Beef Boss and Dark Voyager.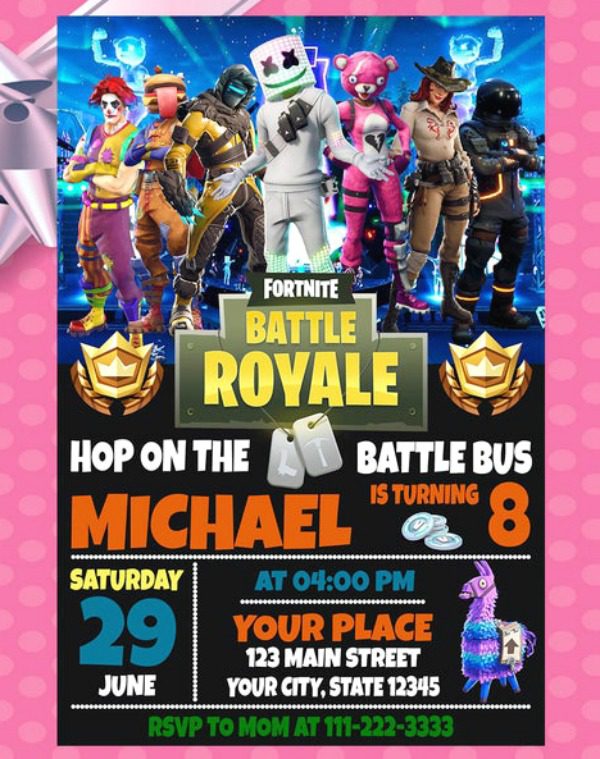 Peekaboo and Nite Nite are 2 Fornite clown skins that players love to use.
If your child is a clown fan then this invitation is going to put a massive smile on their face!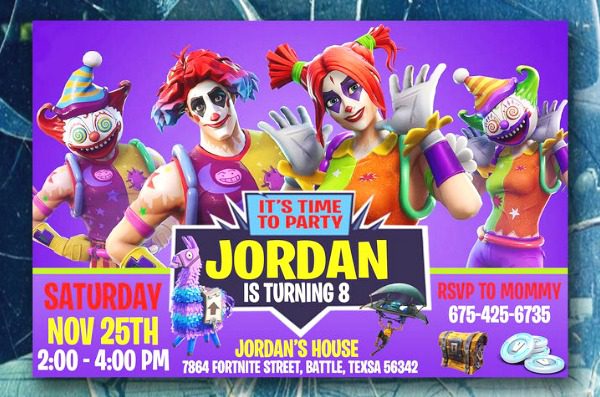 Check out this fun Fortnite party invitation with a bunch of Fortnite's most popular skins.
It's so cool that the invitation picks up the battle bus reference!
Battle bus is a blue school bus that roams the air thanks to a giant hot air balloon as drops off players into the Fortnite island.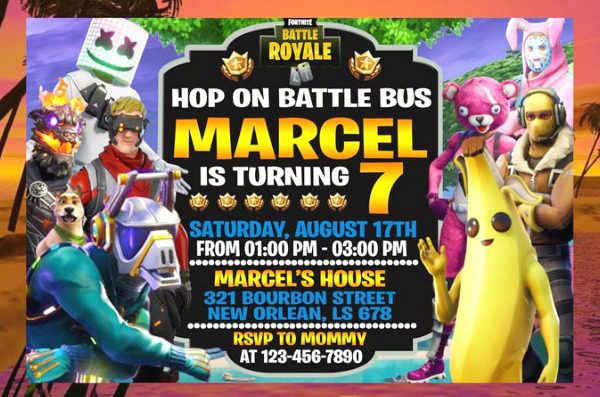 Fortnite is made up of various seasons that change every couple of months. each one introducing a narrative and consequent changes such as a new battle pass and new skins.
This invitation is made up of season 9's battle pass skins, such as Rox, Sentinel and Bunker Jonesy.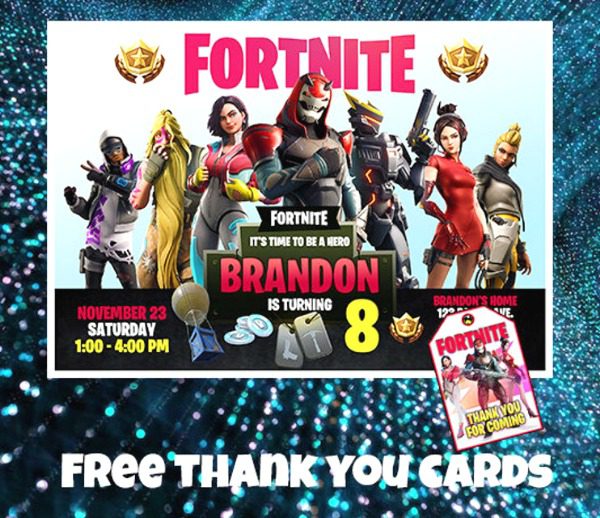 In the Fortnite lobby, players wait for the game to start as other players are loading their own game and being spawned in.
I can' think of a better way to invite guests to an epic Fortnite birthday party!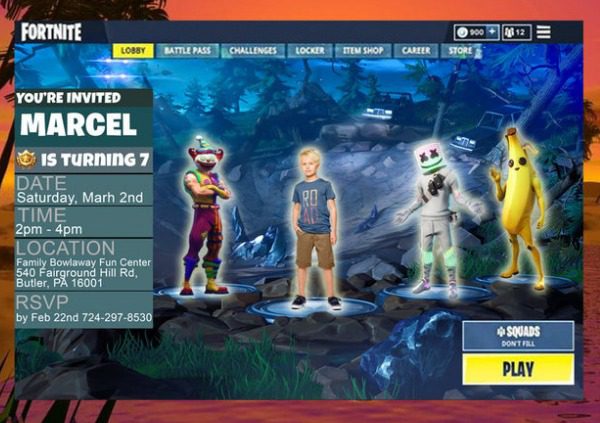 This fun Fortnite party invitation also has a bunch of fan-favorite skins and the text appears in what looks like a battle pass.
It's a great Fortnite party invitation choice for anyone that loves to play Fortnite!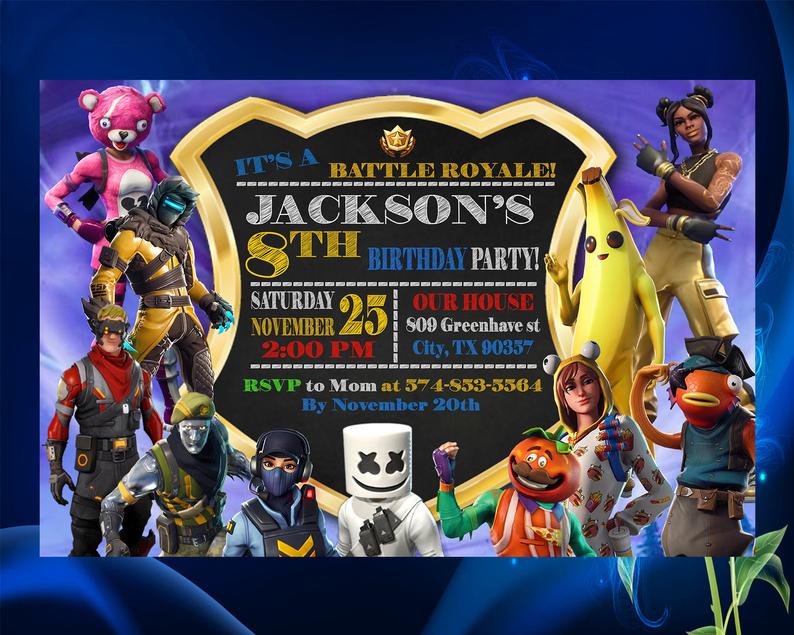 Catalyst is the female version of the Drift skin from season 5. She made her 1st appearance in season X and is one of the more recent favorite skins.
This Catalyst invitation is a spot-on pick for some who loves the character.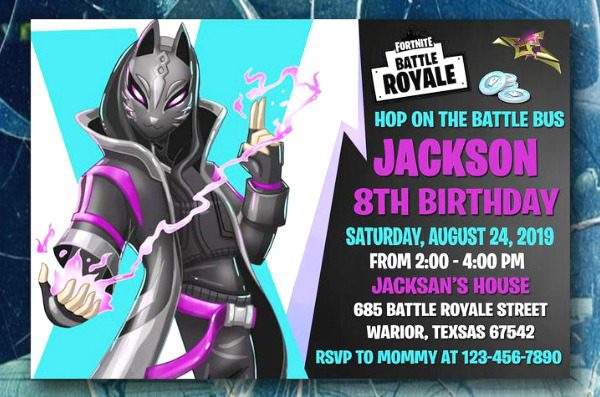 Season X started during the summer of 2019 and is the latest Fortnite season available.
This awesome invitation features all the skins that became available when season X was released, such as Catalyst, X Lord and Sparkle Supreme.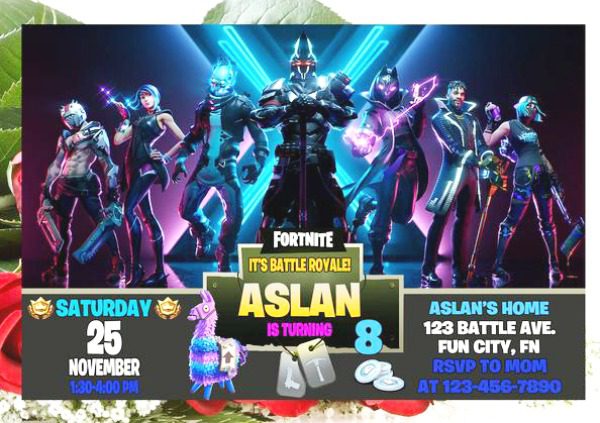 Love this Fortnite party invitation designed around the loot llama, one of Fortnite's primary mascots.
If you're a loot llama fan look no further. You have to have this incredible party invitation.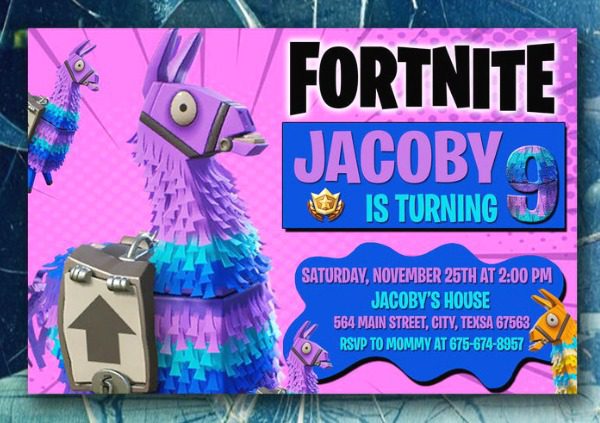 Although summer is almost over and kids are going back to school, if you're thinking of hosting a Fortnite pool party you won't want to miss this fantastic invitation.
It features Sun Tan Specialist, Sun Strider, and Bullseye and is a cool pick for an end of summer Fortnite party.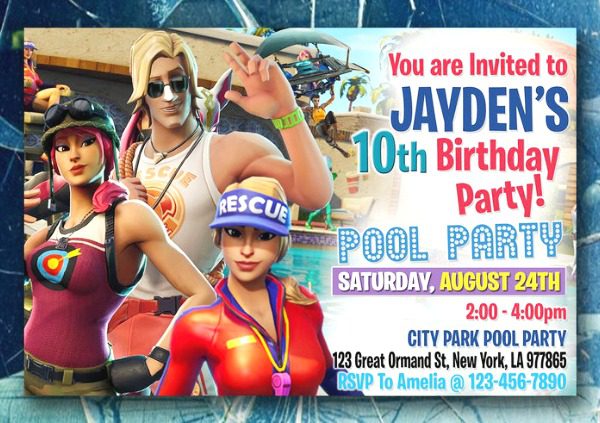 The Fortnite Avengers crossover was so cool!
Marvel's Avengers and Fortnite joined forces and created Fortnite Endgame.
A version where players got to battle it out against Thanos using Avengers powers.
This limited-time game mode became available when the  Avengers Endgame movie was released in April 2019.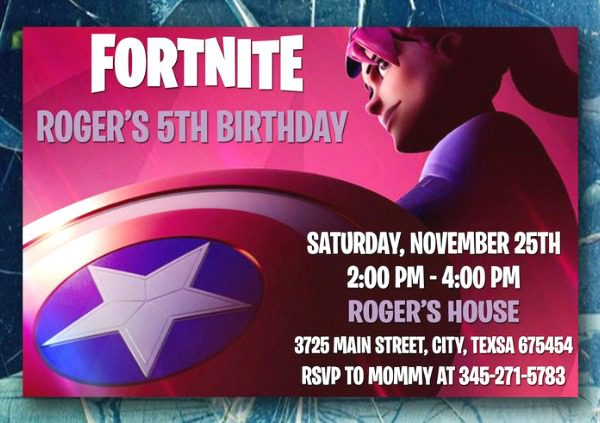 ** Some links are affiliate links.**
For more inspiration, check out all the incredible Fortnite parties on our site, and check out these Fortnite party supplies from vendors with listings on Catch My Party!
MORE FORTNITE POSTS YOU'LL LIKE: