One of the most popular party themes on CatchMyParty.com are Minnie Mouse parties.
Minnie Mouse has been a part of our lives forever. Young children and us grown-ups alike just love her!
Which is why I can't wait to share all these gorgeous Minnie Mouse party invitations with you all.
We have the most amazing ideas for all sorts of Minnie parties, so sit back and scroll down…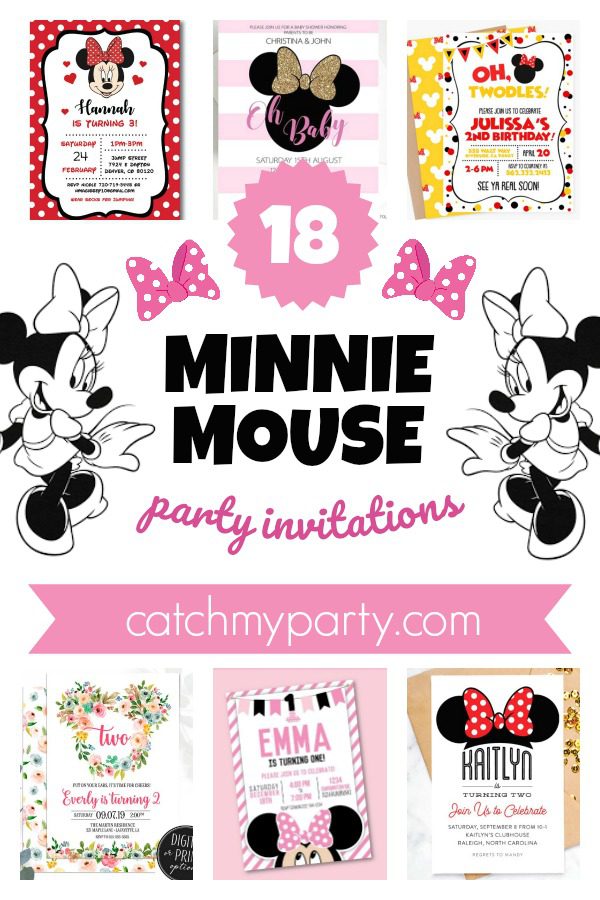 We've found beautiful Minnie Mouse invitations for Minnie 1st birthdays, boho Minnie parties, pink and gold Minnie Mouse parties and so many more…
Take a Look at the Most Gorgeous Minnie Mouse Party Invitations!
Let's kick off our round-up of wonderful Minnie Mouse party invitations with this adorable 1st birthday one.
The design is so pretty with a pink and black banner and a peaking Minnie. It's so fun and delightful!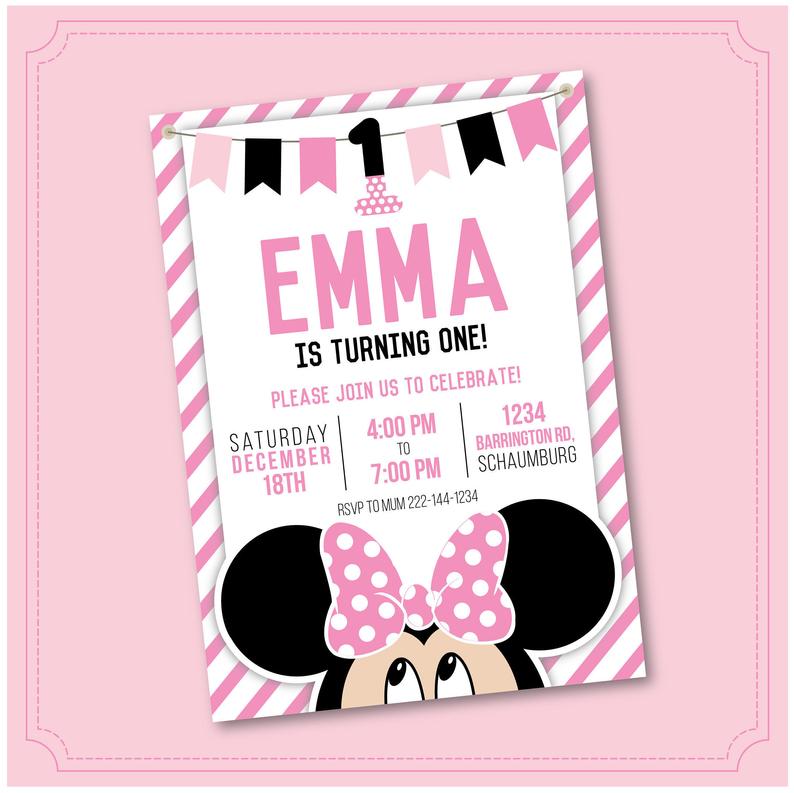 If your little girl is turning two then you've got to have a 'two'dles birthday!
Toodles is a supercomputer that always has the correct answers for  Mickey, Minnie, and their friends when they need of help.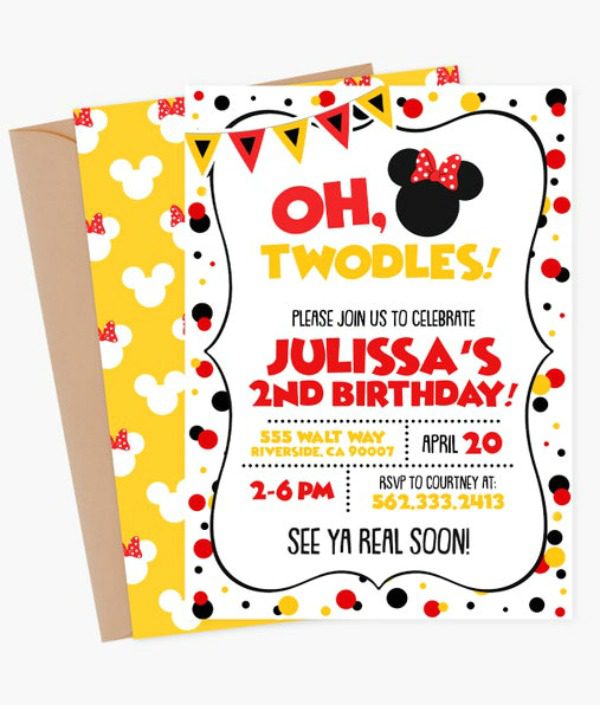 Just like Mickey, Minnie is also famous for her adorable ears.
You just have to walk around a Disney park and you'll find loads of kids wearing them.
So it seems only fitting to have a Minnie party invitation inspired on them.
These ears include her wonderful large red and white polka dot bow!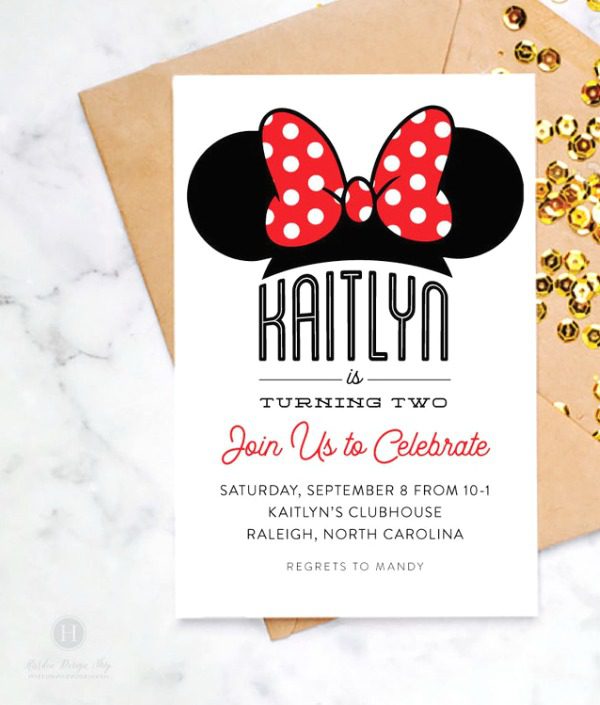 If you want to add a photo to your daughters Minnie Mouse invitation look no further.
This Minnie invitation is so cute and has ample space for a beautiful photo of your little girl.

If you're opting for a more traditional Minnie Mouse birthday party, this classic invitation is simple in design but super cute and effective.
Minnie takes center stage with her fabulous red bow that jumps out at you.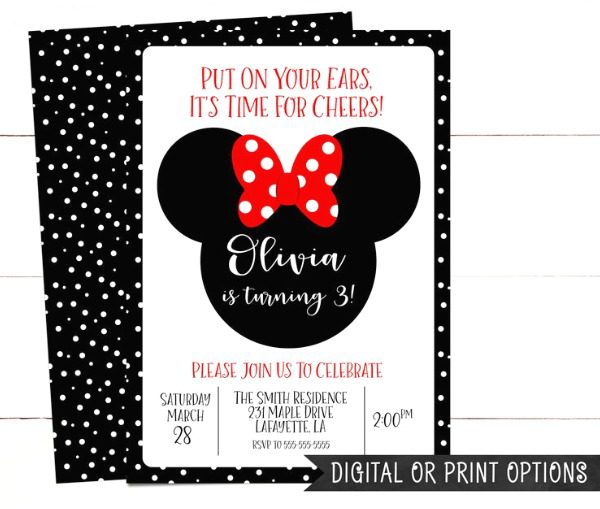 On the other hand, if you're going with a red color scheme at your Minnie Mouse party this invitation is exactly what you need.
Love how the backdrop matches Minnie's red bow with loads of white polka dots.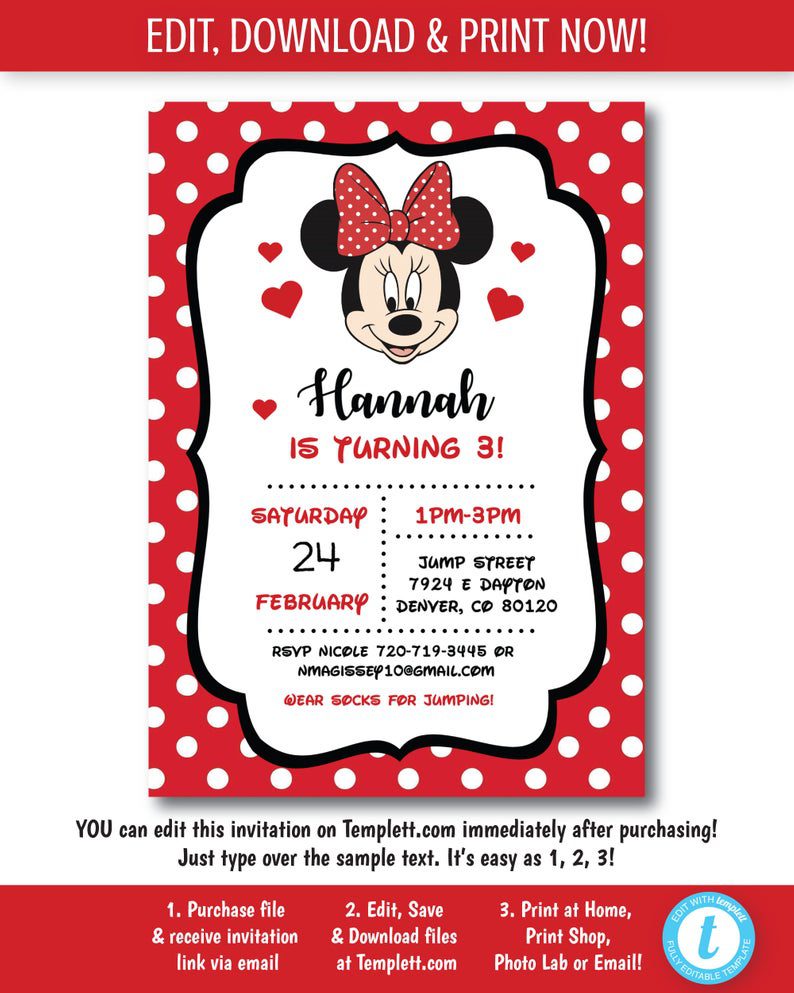 You could also go with a very girly pink and gold color scheme which is fabulous for a Minnie Mouse party.
Similar to the previous invitation, this one too has a backdrop just like Minnie's bow but in pink and gold.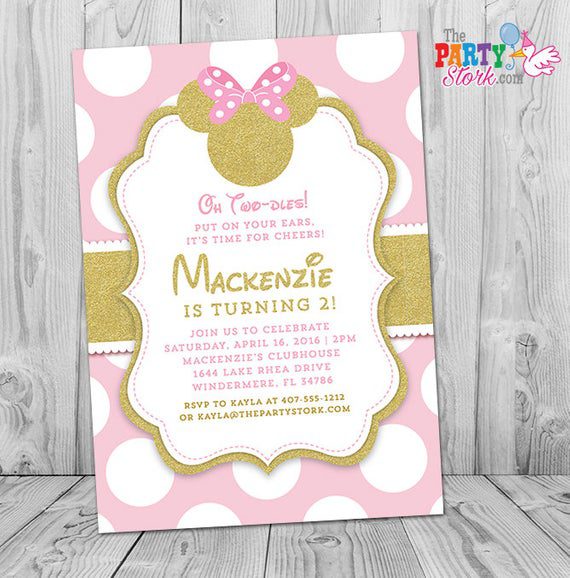 Minnie loves her bows and together with Daisy they have a store dedicated to them called 'Minnie's Bow-tique'.
It's a great Minnie mouse party theme, especially if your little girl is a fashionista!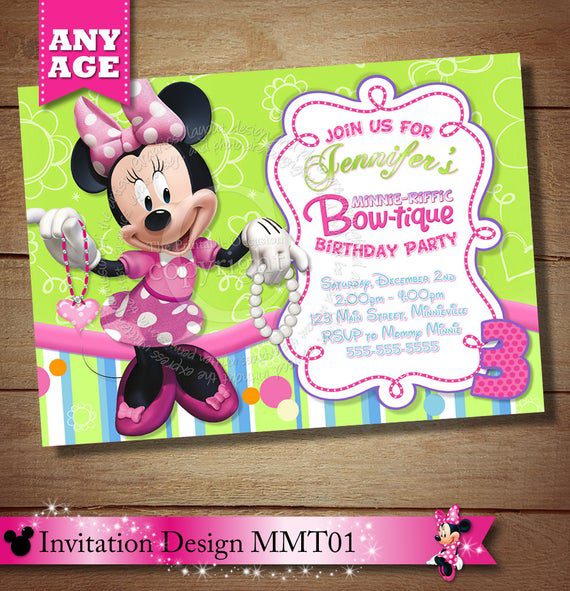 If the weather is nice then you may want to treat your guests to a glorious Minnie Mouse picnic.
This invitation is a wonderful choice, with pretty lots of sunflowers and a rustic wooden backdrop.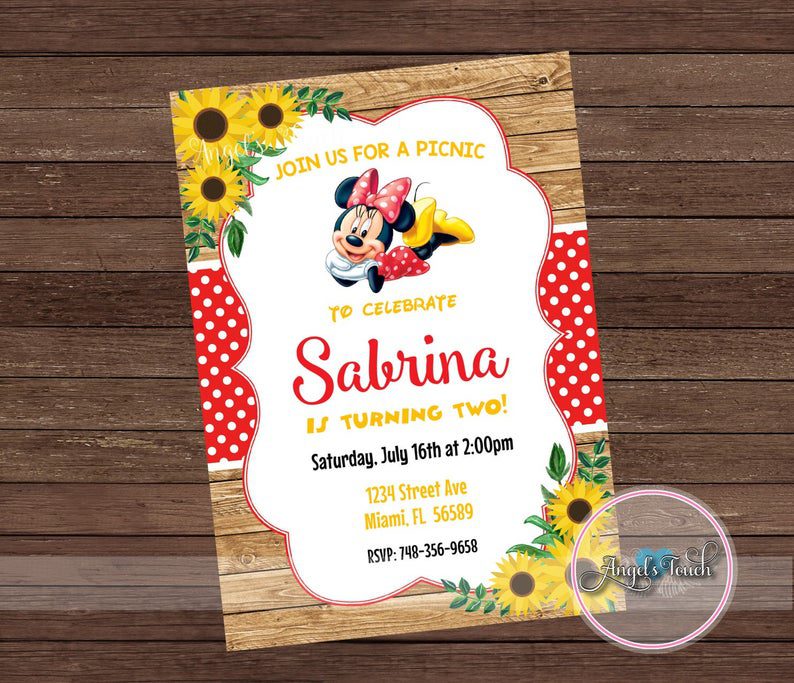 Floral parties are so pretty and such girly theme. Nothing is prettier a garden party full of flowers.
So if you're celebrating a rustic Minnie Mouse birthday this beautiful invitation is ideal for your party!
You don't want to miss this fun chalkboard Minnie Mouse invitation. It's a great solution that gives your party a very relaxed feel.
The design includes a happy Minnie in her characteristic red dress covered in polka dots, surrounded by gifts and party balloons.
The lettering is designed to look like it's been written on a chalkboard. How cool of an idea is that?!

Balloons are a party must-have. They are the essential party decoration and this invitation has joined the both of two worlds. Balloons and Minnie Mouse!!
The pink balloon on this invitation is designed to look like Minnie Mouse with a gorgeous gold tassel.
You couldn't wish for a more luxurious party invitation!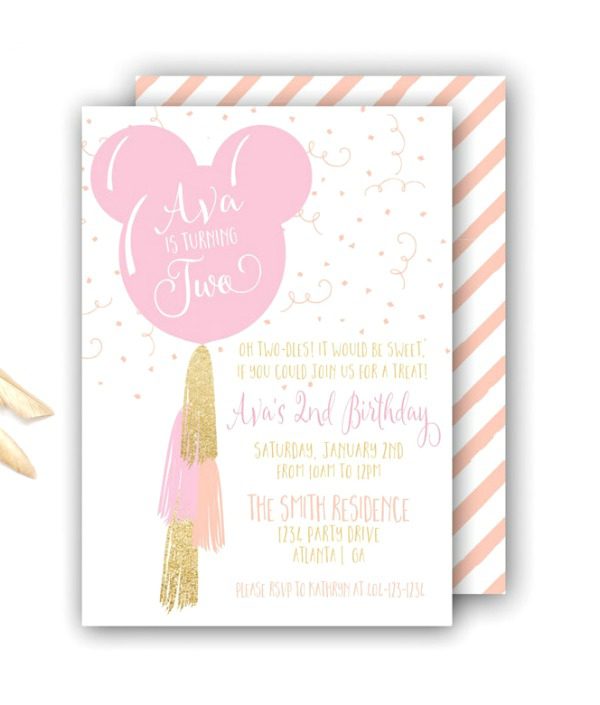 13: Princess Minnie Mouse Party  Invitation
Minnie Mouse and princesses are synonyms with being a little girl.
If you add pink into the mixture, you've got a party invitation like this one that is every little girl's dream.
The design is so impressive, with the pink and white stripes and the dazzling gold dots.

Who said you can't play around with a party invitation?
A fun alternative to a traditional Minnie Mouse invitation is this ticket like one.
It comes in a variety of colors and can be used to enter the party.

Safari parties are all the craze at the moment.
Wild animals are a huge hit with kids s,o how about transforming your Minnie Mouse party into a safari-themed one.
This party invitation is so creative, with a Minnie Mouse dressed to the nines in her safari gear.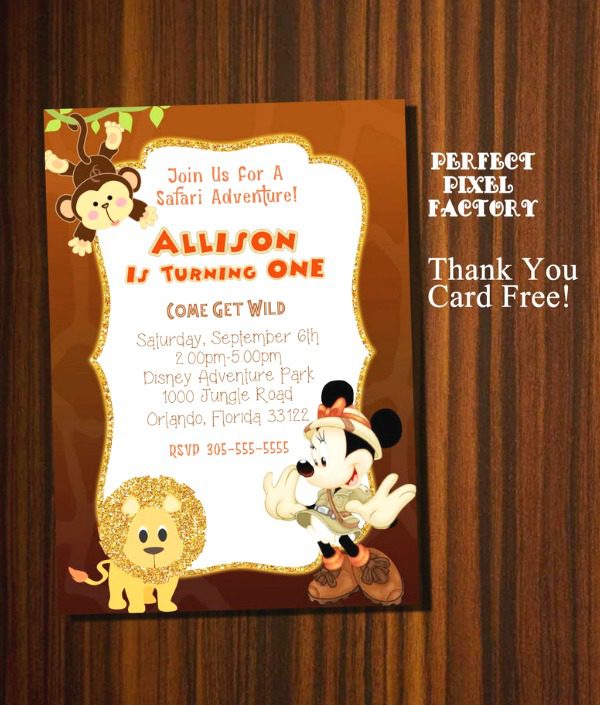 A Minnie Mouse party doesn't have to be limited to birthday parties.
They are also a wonderful girl baby shower theme.
So, if you're planning a baby shower for your little baby girl we've found the perfect Minnie Mouse party invitation.
The horizontal pink and whites striped backdrop gives it such a sophisticated look.
Not to mention the sparkly gold bow what gives the design that extra special touch!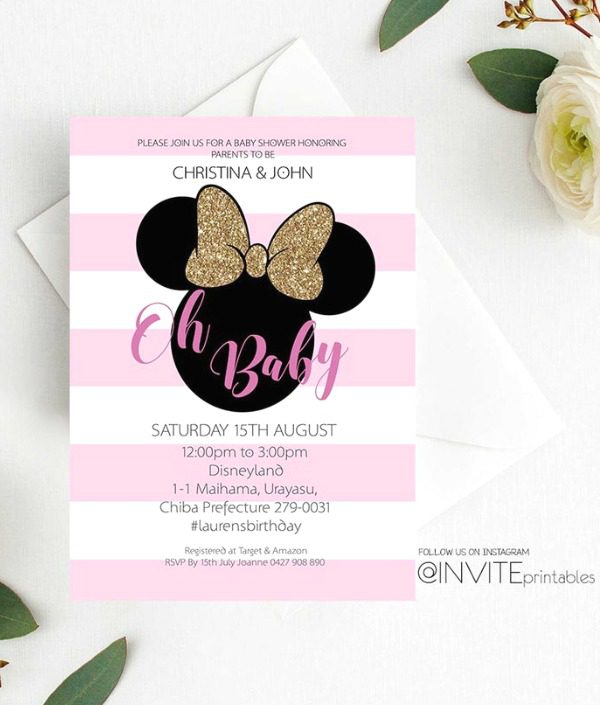 Before we know if Halloween will be here and it's never too late to start preparing.
If your hosting a Halloween party for younger children that aren't yet ready to be spooked a Minnie Mouse Halloween is a fantastic alternative.
This invitation will put a smile on all your guest's faces, with a  fun witch Minnie Mouse flying off on her broomstick!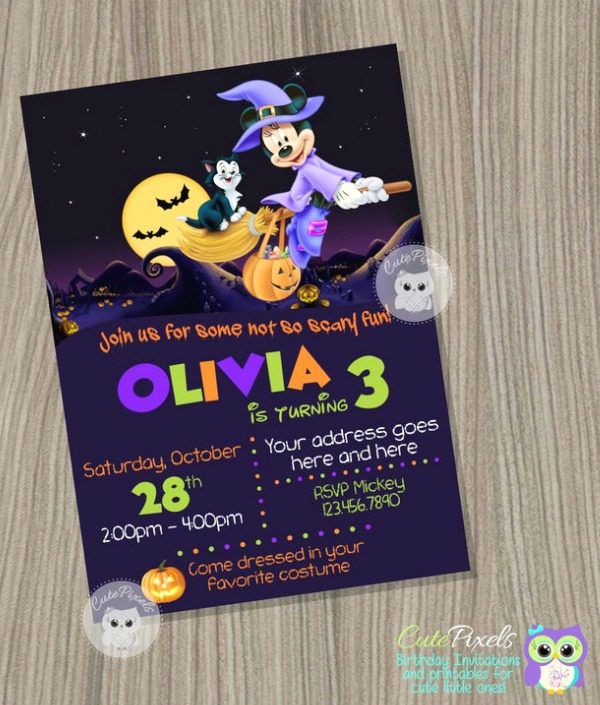 To finish off our list of Minnie Mouse party invitations we've got this magical Disney-themed Christmas party invitation, staring the one and only MinnieMouse!
You can bet it will fill your guest's heart with joy and goodwill during the holiday season.
Love the Minnie ears with a Santa hat!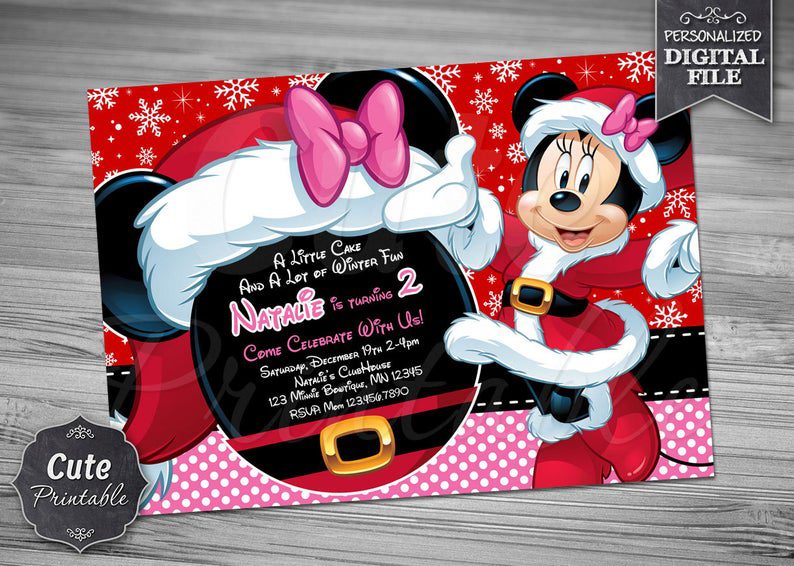 ** Some links are affiliate links.**
For more inspiration, check out all these fantastic Minnie Mouse party ideas on our site, and check out these Minnie Mouse party supplies from vendors with listings on Catch My Party!
MORE MINNIE MOUSE POSTS YOU'LL LIKE:
Need Minnie Mouse party ideas?
Need FREE Minnie Mouse party printables?