Now that Fall is here and we are all celebrating together again, pumpkin parties are starting to pop up all over Catch My Party.
It's a great theme for baby showers, 1st birthday parties, baptisms, etc… with the most gorgeous color palette.
Try our delicious recipes for Pumpkin Biscotti, Mini Pumpkin Pie Bites, and Pumpkin Pie Blondies, or try making these cute pumpkin straws to decorate your drinks with!
If you're crafty, you are going to love to have a go at making this beautiful pumpkin vase to decorate your fall party!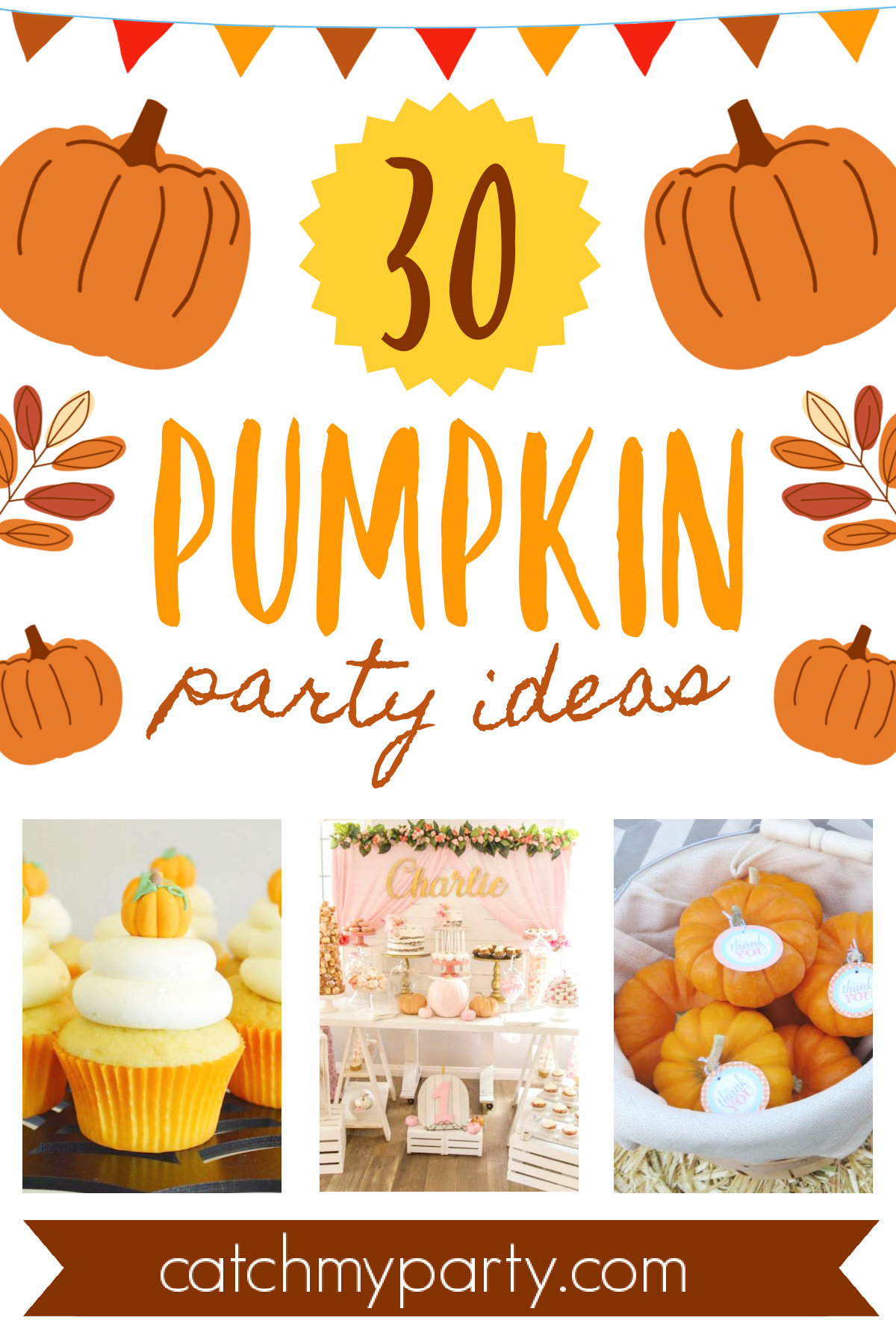 If you're thinking of planning a pumpkin-themed party you'll want to go through our roundup of gorgeous pumpkin party ideas for lots of inspiration and wonderful ideas!
You'll find ideas for pumpkin party decorations, cupcakes, cookies, table settings, party activities and so much more…
Reasons to Love These Pumpkin Party Ideas!
Creative and festive decorations that set the perfect pumpkin-themed ambiance.
Fun and engaging party activities that keep guests entertained and immersed in the festive spirit.
Captivating table settings that create a visually stunning and cohesive party experience.
Variety of pumpkin-themed party ideas suitable for different occasions like baby showers, birthdays, and more.
Beautifully designed pumpkin party supplies that complement the overall theme and add that extra special touch.
Endless inspiration and ideas to help you create a memorable and unique pumpkin-themed celebration.
Amazing Pumpkin Party Ideas!
Pumpkin Party Ideas FAQs
Why are pumpkin parties a great theme for various celebrations?
Fall-themed pumpkin parties are versatile and can be tailored to fit occasions like baby showers, 1st birthday parties, baptisms, and more.
Are these pumpkin party ideas suitable for different occasions?
Yes, the pumpkin party ideas can be adapted to various celebrations like baby showers, birthdays, and more.
What are some creative ways to incorporate pumpkins into a party theme?
Consider carving out pumpkins to use as unique centerpieces or painting them to match your party's color scheme.
How can I create a memorable pumpkin party atmosphere with lighting and decor?
Use twinkling fairy lights inside hollowed-out pumpkins and scatter them around the party area for a warm and inviting ambiance.
For more inspiration, check out all these fantastic pumpkin party ideas on our site.
Need Pumpkin party ideas?