The party went off without a hitch!! Lainey had a great time, we had a great time. It was a lot of work, but well worth it. Here are some pictures to show you what it looked like.
Setting up before the party. Everything was in Lainey's favorite colors — pink and purple. The day couldn't have been more beautiful and if you look in the distance, you'll see the ocean.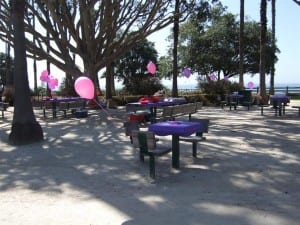 The birthday girl arriving at her party…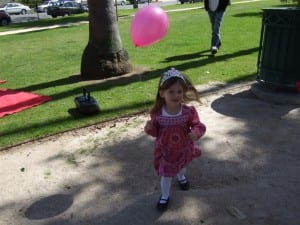 Lainey and me before the party started. Notice our party beads. All the kids got pink and purple party beads as a welcome gift when they arrived.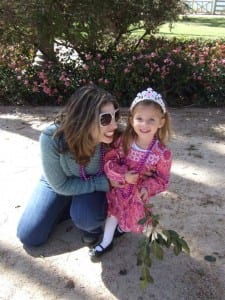 One of the guests brought rocket balloons, which was a great addition to the party. Here's David surrounded by the kids as he works the magic rocket balloon launcher…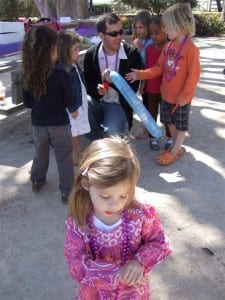 Goofy Gil, the entertainment, who really got the party started…
And it wasn't called "Lainey's Dance Party" for nothing. Serious dancing occurred. When I asked Lainey what her favorite part of the party was, she said, "The dancing!" I did my job.
And to any three year old (and most adults), the most important element… the cake! This one was from Susie Cakes in LA. It was well worth the expense. Beautiful and delicious.
At the end of the party, I gave out these gift bags. To seal them, I got stickers made at Kinko's of the picture on the Cocodot invitation. Inside was a pink glow stick, some Silly Putty, and some Wikki Stix.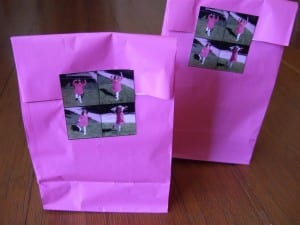 All in all, it was a really great day! And to make sure Lainey remembers this when she's 20, I've got the pictures to prove it!