If you're planning a TikTok party then don't miss these 13 show-stopping TikTok cakes.
We have a bunch of fab birthday cake ideas to help you pick the perfect one for your party.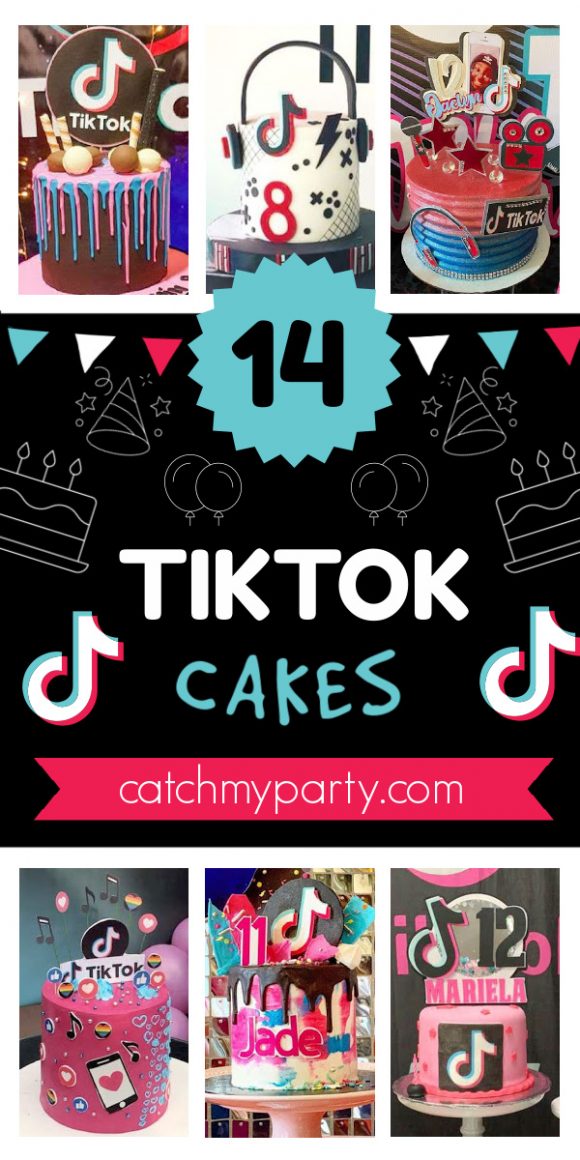 Feast Your Eyes on These 13 Show-Stopping TikTok Cakes!
Don't miss the amazing TikTok cakes we've rounded up for you in a number of different styles, such as a drip TikTok cake, an emoji TikTok cake, and one even with earphones!
This tiered birthday cake is a great one to kick off this post.
Covered in tiny musical notes, topped with headphones, and decorated with a large TikTok logo, this cake is everything a TikToker dreams of.
Try and recreate this cake with these fondant music notes.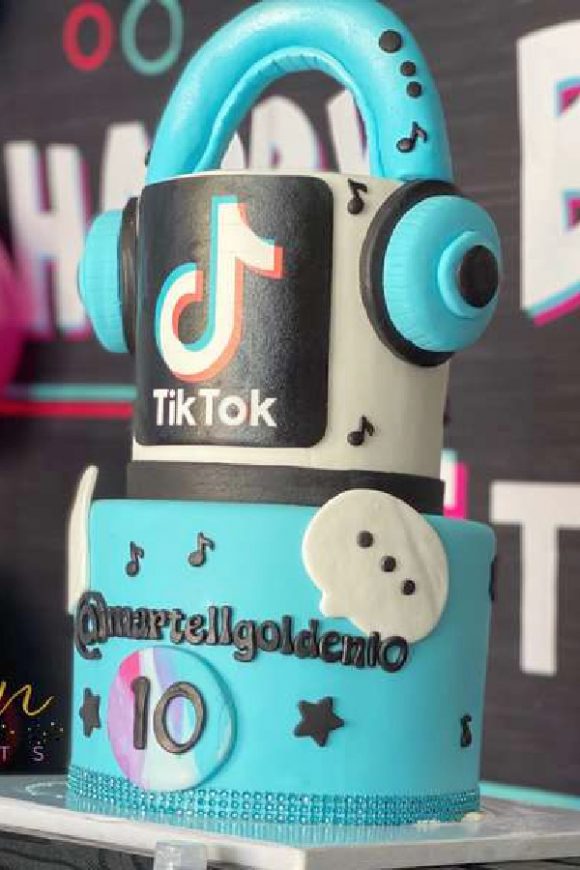 This tiered birthday cake really does knock it out of the park.
Each tier is a cake within itself. You have one for each taste, from an ombre bottom tier, to a black top tier with a TikTok logo, headphones, and the birthday girl's name and age. You can bet your guests will be blown away!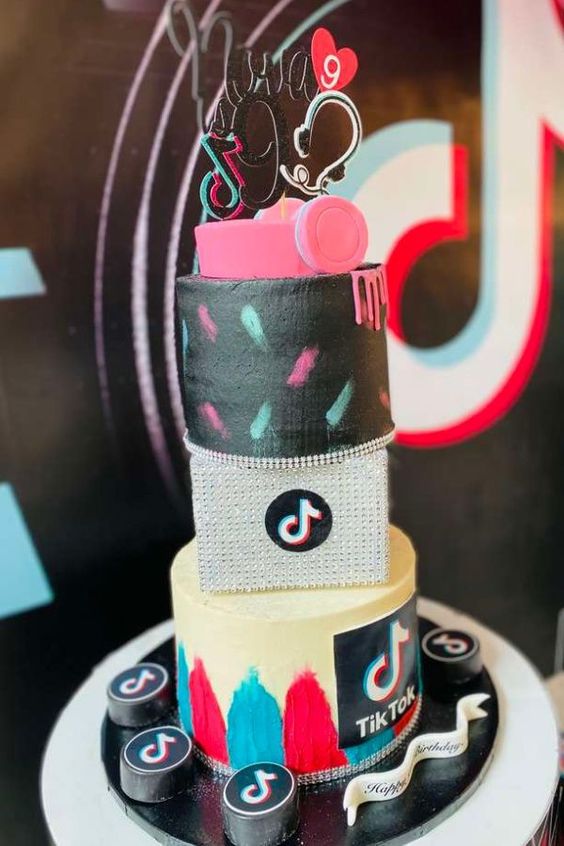 This next cake is so fun and colorful!
The cake itself is a white, pink, and blue ombre cake decorated with a delicious chocolate drip, and topped with TikTok-colored candy and a large TikTok logo.
You couldn't wish for a cuter cake!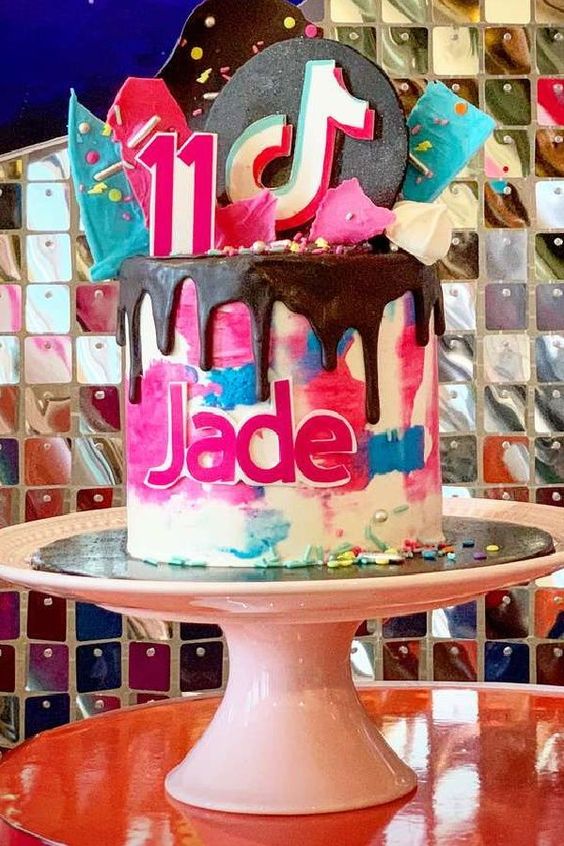 Take a look at this pink and blue TikTok extravaganza!
Decorated with a large TikTok logo, this cake is covered in musical notes and topped with candy.
It's an awesome pick for any TikTok fan.
Recreate fondant musical notes with these cookie cutters.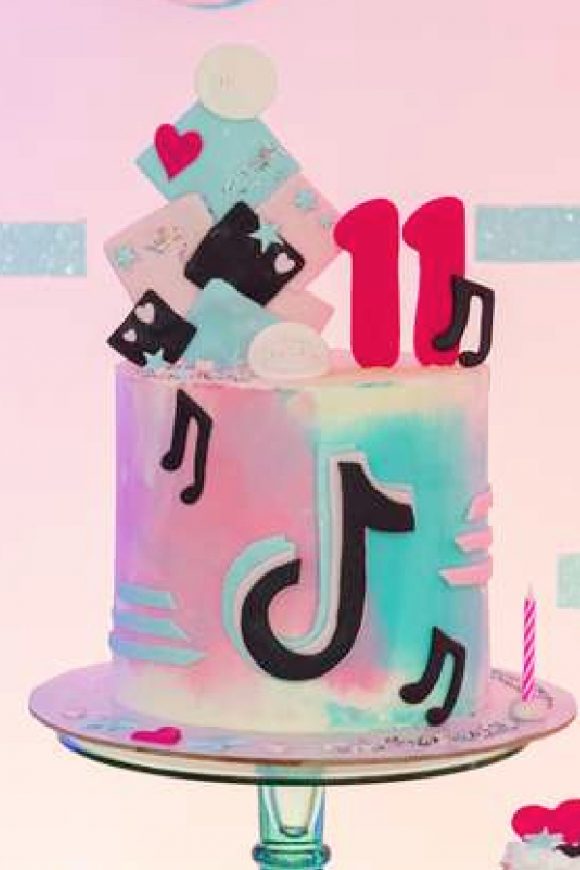 This next cake is also a drip cake.
The pink and blue drip looks fantastic against the pitch-black cake. Talk about making a statement!
It's topped with chocolates, cookies, and a large TikTok topper.

If you're looking for a cake that oozes TikTok and everything social media, look no further.
This pink and blue frosted cake is so cool. We love the microphone, star, and cellphone toppers!
Recreate the look with these awesome fondant toppers.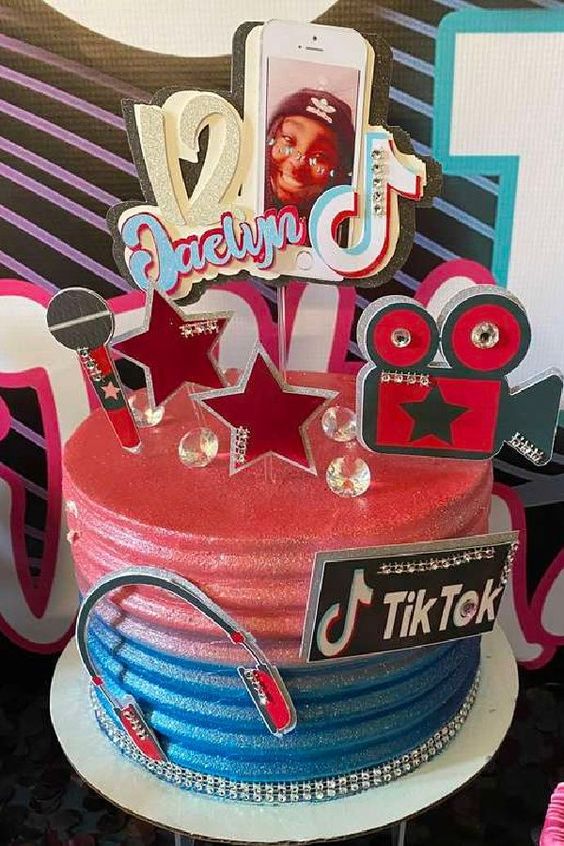 We love this next TikTok cake!
It makes such a bold statement with its simple white frosting and black TikTok fondant decorations.
Like many other TikTok cakes, this one, too, is topped with fondant headphones and a large TikTok logo.
What more could you ask for?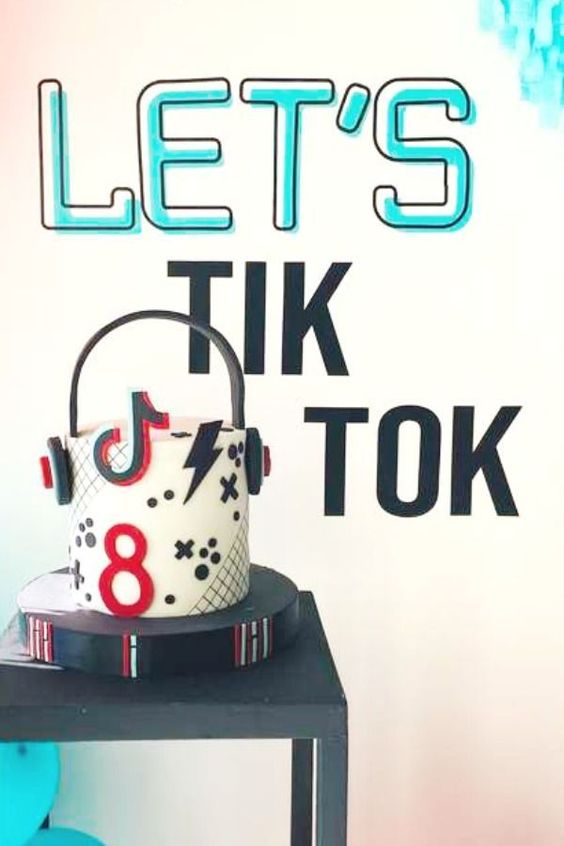 This pink and blue cake is definitely the star of a TikTok dessert table!
Also covered in tiny black fondant musical notes, and topped with a set of fondant headphones and the number 14.
It's the perfect cake for a TikTok teen.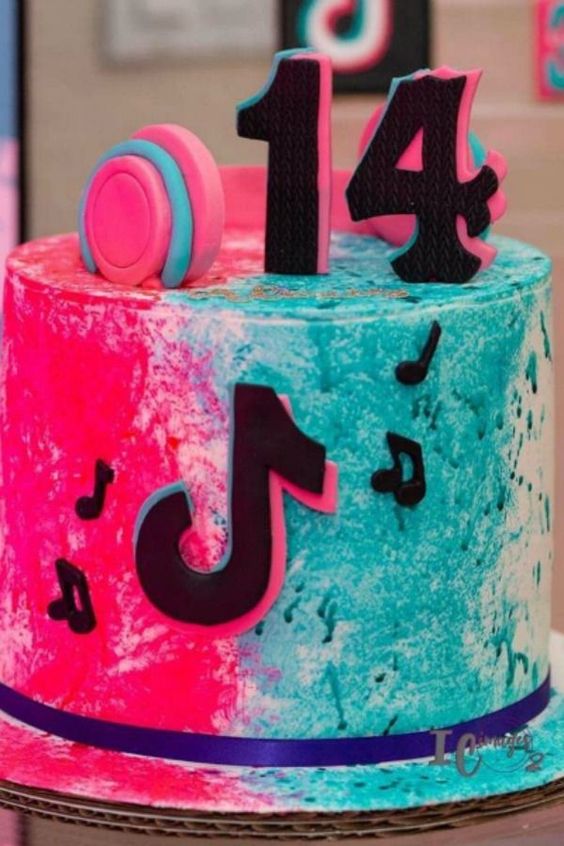 WOW! You don't want to miss our next TikTok cake.
The bottom half of the cake is decorated with pink and blue brush-like strokes.
The top half is covered in pink and blue fondant stars with some scattered TikTok logos.
To finish it off, this cake is also topped with some pink fondant headphones, a large TikTok logo, and a bunch of musical notes.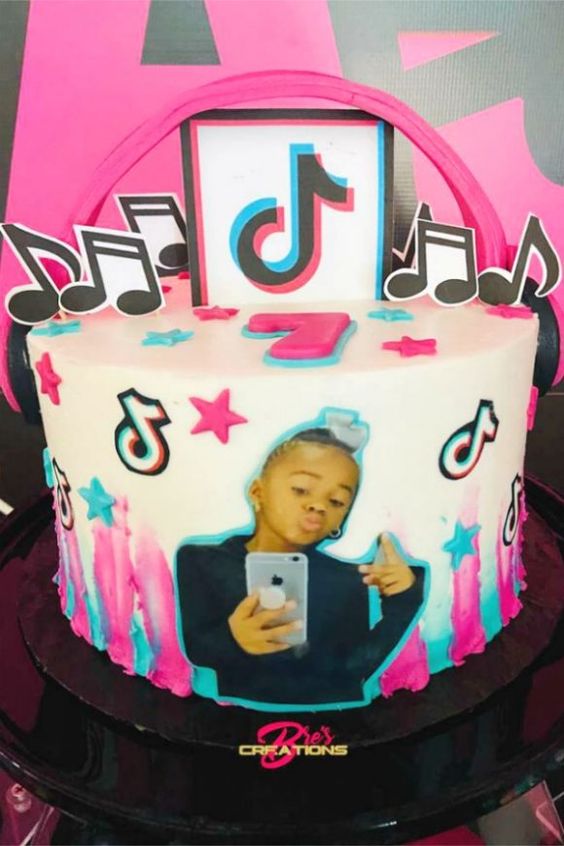 Treat your guests to a pink TikTok cake similar to this one covered in tiny pink fondant stars and decorated with a large logo.
The personalized topper is just as impressive. Recreate the look with this similar TikTok topper

This next cake is perfect if you are looking for a minimal but effective cake.
The white frosted cake is decorated with a large fondant TikTok logo and topped with a matching number 8.
The macarons decorating the cake give it a chic touch.

You are going to love this next TikTok cake!
It's covered in bright pink frosting and decorated with tiny emojis, musical notes, hearts, and sprinkles.
The matching TikTok topper are wonderful and look so impressive!

To finish off our roundup of TikTok cakes, we have this pretty tiered cake with a top drip cake in pink and blue.
The fun cake, embellished with matching chocolate-covered Oreos, is ideal for a teen!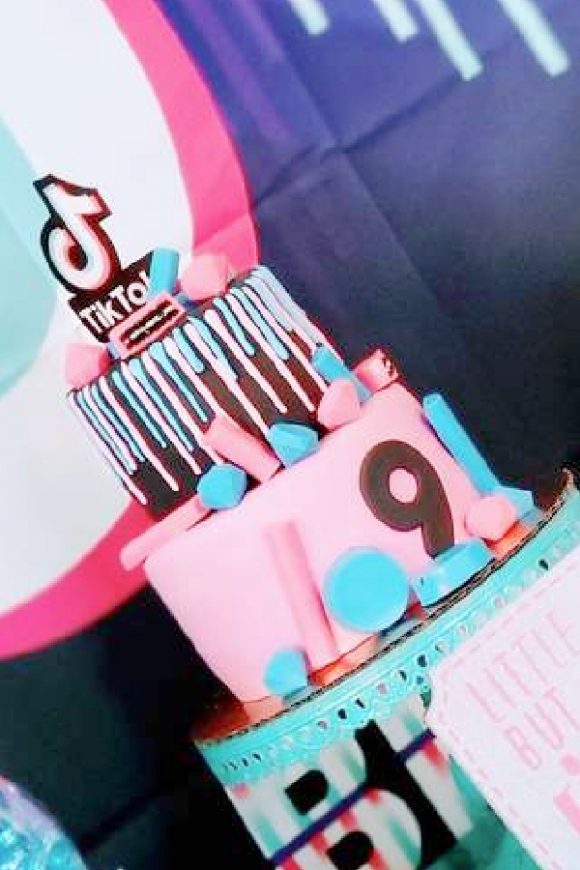 Be sure to download our FREE TikTok party printables to decorate your party, and check out our awesome TikTok gift ideas and party supplies.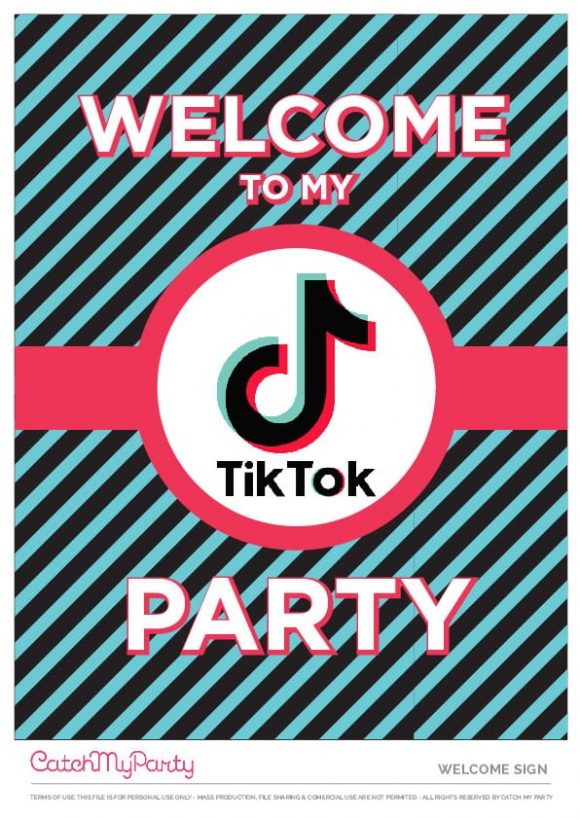 Also, we have more wonderful ideas for TikTok parties and TikTok party supplies on our site, so don't miss them!
Need more TikTok party ideas?
**Some of these links are affiliate links and we might make a small commission if you purchase, at no cost to you.