Nicole, who created the gorgeous Sugar Plum Fairy Birthday Party we've featured on our site, was so kind to put together a tutorial for how she made her tulle garlands.
Now she's being unbelievably generous by putting together another tutorial, this one for how she made her dramatic gumdrop branch centerpieces. Thank you, Nicole…
When designing my Sugar Plum Fairy party, I was on a tight budget. I didn't have money for lavish floral arrangements, so I had to be creative. I wanted something that would carry through the wintry Sugar Plum Fairy theme, and came up with these below: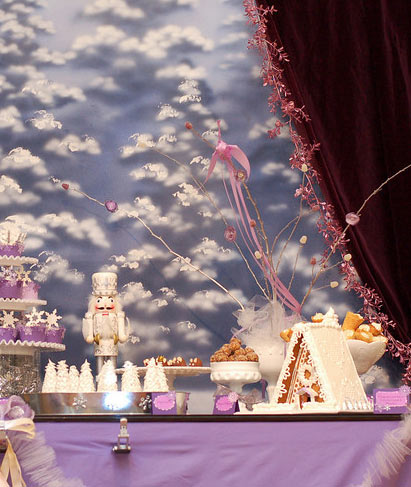 They're incredibly easy to make, cost very little, and were striking because of their large size.
Materials:
Branches (I just gathered mine when our neighbor did some massive trimming of his mesquite trees)
Spray paint (I used silver)
Some type of vessel or vase
Either styrofoam or stones to keep the sticks in place
gumdrops (optional, but cute!)
Instructions:
1) Break off branches in whatever desired length.
2)  Spray paint branches any color.
3)  Put sticks in a vase or other receptacle of your choice.  You can use floral foam or just stones from the yard to make the sticks extra secure, but if you have a tall vase, even that probably isn't necessary. I used foam to secure the branches in a compote for the Sugar Plum Fairy party, and used strips of tulle to hide the foam in a cloud of material.
For some of the arrangments scattered through the house where I didn't need floral foam, I added a little bit of sugar in the bottom of the vase to look like snow and hide the price sticker.
4)  If you'd like to, push gumdrops on the tips of the branches.  It looked perfect for our Nutcracker ballet Land of Sweets!
That's all there is to it!  I used this technique again last weekend for our annual gingerbread house decorating party, where I hung Swedish cones full of Chex mix from the branches on my anti-dessert table.
It's large scale, it's dramatic, and the only thing I spent any money on was the $5 can of spraypaint.  That's just the kind of craft I like!
Thank you, Nicole for another great tutorial!
If you make a centerpiece like this for one of your parties, please email me photos so I can post them. Also, please check out Nicole's other amazing parties on our site, and to get more of her party tips and learn about her handmade tiaras, veils, and other wedding accessories, please read Nicole's blog, Tradewind Tiaras.
(Do you have a DIY project from one of your parties that you'd like to share?  Please email me at jillian@catchmyparty.com.  I'd love to show it off!)