For Laura B's Vintage Circus Birthday Party, she didn't want to be that parent that sent each child home with a live goldfish, so she made goldfish in a bag party favor soap instead!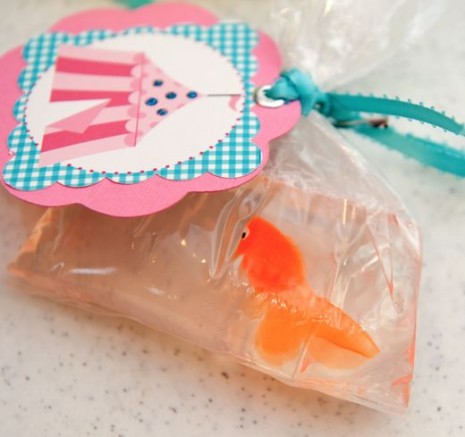 Of course I had to ask Laura if she'd put together a tutorial for us on how she made them, and she so kindly said yes!  So here it is…
Goldfish in a bag are pretty easy to make, but there are lots of little things that you can do to ease the frustration and get perfect fishies.
I wanted mine to look very "I just won this at a carnival," so I took the extra time to use wire to position the fish, and also to make sure the soap hangs while it cools so there are no sharp edges to take away from the illusion of "wow, it's a bag full of water…with a fish!" Tie it with a cute little matching ribbon and you have the most adorable favor!
Ingredients and Equipment:
Melt and pour soap, extra clear (I found mine at Michaels)
Vinyl/plastic goldfish (You can order from Oriental Trading Company)
Plastic bags, 8 inches x 2.5 inches
10 inch lengths of wire, fairly thick but still bendable. (Floral wire will work)
Very small cup or bowl
2 cup Pyrex with pouring spout
Rubbing alcohol in spray bottle
Twisty ties or ribbon
Chip clips or clothespins
A place to hang your soaps while cooling (I hung mine on a wire basket in my kitchen)
Instructions:
1. Prepare your goldfish by sticking the wire all the way through your fish tail. Push the wire through the hole with about an inch sticking out underneath the bottom of the fish. Curve it slightly up towards the fish body.
2. Fold down the top 4 inches or so of the bag onto the outside. This is to prevent making a mess of soap on the inside of the upper lengths of the bag when you pour it. Prop it up inside a small cup or bowl to keep it from moving while you pour the soap.
3. Cut your soap into small cubes and place about 3.5 ounces by weight into the Pyrex dish. I just used a small food scale that we had lying around. Microwave (15-20 sec stirring after each session. Do not fully melt the soap, and definitely do not boil it! When it is mostly melted with just few small chunks left, remove from microwave and stir until fully melted. Do not get it too hot because the bags will melt! This happened to me! It gets hot really quick!
4. Pour your melted soap into the bag and then spray the surface with rubbing alcohol to get rid of the bubbles. Put your wired fish into the bag and spray for bubbles again if you need to.
5. Pull the sides of the bag up carefully and twist the top a couple of times, then close with a twisty tie. The wire will still be sticking out the top. Move the wire around so that the fish is positioned how you like it and make sure the wire end is not pressed up againstside of bag. It can pop a hole in it and soap will leak out ever so slowly. Try not to mess with it too much. As soon as you have a position you like leave it alone. It's possible to pull the wire out accidentally and it just makes the kids sad when their fish is bellyup (then again, that might be a really funny selling point). I just try to get it where the fish is floating somewhere in the middle of the bag and try to make him as straight as possible.

6. Take your clothes pin or chip clip and attach the bag to some kind of handle or something that will let the fish dangle. This is to keep the "bag shaped" edges of the soap. If you set it on the counter it will have one flat edge and not look like it is really a bag full of water.
7. After the soap is set up, gently pull the wire out of the soap and the fish. I let mine set for about 30 minutes. This is best to do before it is completely cool. If you pull it out when the fish is set well but the soap is still a bit soft, the wire won't leave a track. If you wait too long (like I did with one of these) there will be a bit of a mark where the wire was in the soap.
8. And you're done! Tie a cute ribbon and favor tag around the bag and get ready to watch all the kids scream with excitement!
Thank you Laura for the great tutorial! To read more about Laura's amazing circus party, check out this spotlight feature blog post.
To learn more about Laura and find great party tips and ideas, visit her blog, Cupcakes and Lemonade. Also visit her Etsy shop for cute printables, cards, and invitations.