We get so many fairy parties on our site, it's definitely a top theme. So when I saw these gorgeous fairy wands Candace M made for her daughter, Janelle's Pixie Hollow Party, I had to ask her how she made them.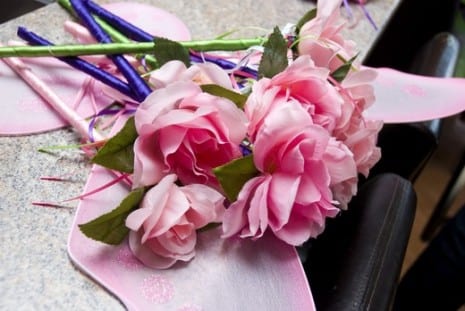 She graciously put together this tutorial. Thank you Candace!
These fairy wands were a big hit at my daughter's pixie hollow party. They were used in the fairy tag game and then taken home as favors. Supplies Needed:
7/16 inch wooden dowels that are 12 inches long
5/8 inch ribbon in color of choice
A bunch of artificial roses with leaves
1/8 inch ribbon in 3 or 4 different colors
Scissors
Glue gun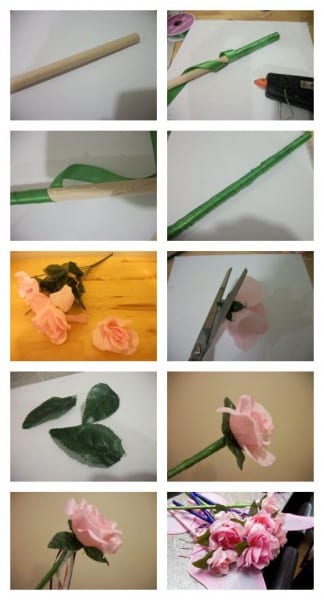 Take a wooden dowel and apply hot glue to the side of the dowel and wind the ribbon tightly around the dowel working your way down to where the glue stops. Continue adding glue and winding ribbon around the dowel.
Once the dowel is covered in ribbon, take a rose from rose bunch and cut the top close to the stem.
Hot glue the rose top to the top of the dowel holding for about a minute.
Using the rose leaves from the rose bunch, hot glue the leaves around the top of the dowel just under the rose.
Tie the 1/8 inch ribbon strips around the top of the dowel to finish off the fairy wand. You can add a tiny amount of hot glue to make sure the ribbons do not slide down the wand.
Let the magic begin!
Thank you, Candice, for this easy tutorial. The end product is so beautiful!