We're starting a new feature called "Tips from A Catch My Party Member," where members of our community give tips on how they made certain items (foods, crafts, decorations, etc.) for their parties.
Today's feature is all about macaron towers, because if you checked out our recent dessert table post, you know that macarons have become quite a popular item.
And what are macarons? They are cream-filled French sandwich cookies made from egg whites, almond flour, and sugar. They are both delicious and colorful, which is why they work great on dessert tables.
Linda V., from Brisbane Australia, who made this gorgeous raspberry macaron tower for her daughter Lilli's Pink Fairy High Tea 6th Birthday Party, is going to show us how she did it.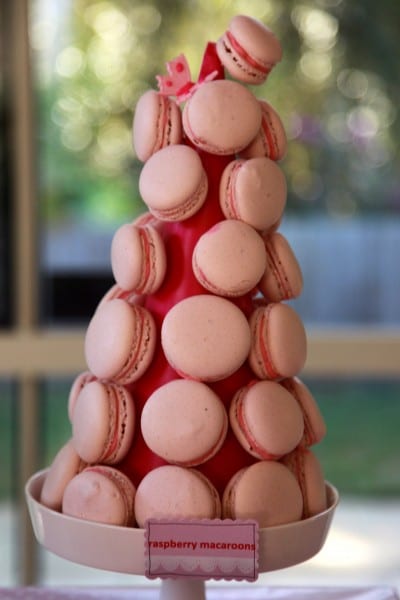 Linda put together a great tutorial on her baking blog, Bubble and Sweet, so I'm just going to recap it here.
Things you will need for your macaron tower:
A Styrofoam cone available at any craft shop (the one she's using here is 27 cm or 10 1/2 inches high)
Some pretty paper (optional)
Lots of toothpicks
Lots of macarons
Linda first wrapped the Styrofoam cone in paper so that no Styrofoam would show through the gaps in the macarons.
Next, at the bottom of the cone, she popped a toothpick in, leaving approx half a macaron's width poking out.
Then, carefully holding the sides of the macaron, she pushed the macaron onto the cone.
She continued inserting toothpicks and macarons around the tower in a spiral, working her way up, trying to leave as little space between macarons as possible. On the top couple of tiers, she cut the toothpicks in half.
And voila, here's what she had at the end, a beautiful chocolate macaron tower…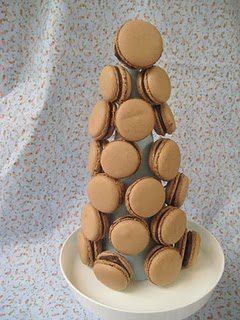 And if you want to try your hand at baking chocolate macarons, Linda has a great recipe and tips on her blog (plus you can check out her little macaron mishap).
Do you have a DIY project from one of your parties that you'd like to share in a "Tips from a Catch My Party User" post? Please email me at jillian@catchmyparty.com. I'd love to feature it!