If you love video games and are planning on throwing a Super Mario party get ready to embark on an epic journey through the Mushroom Kingdom with all our 58 awesome Super Mario Party Ideas!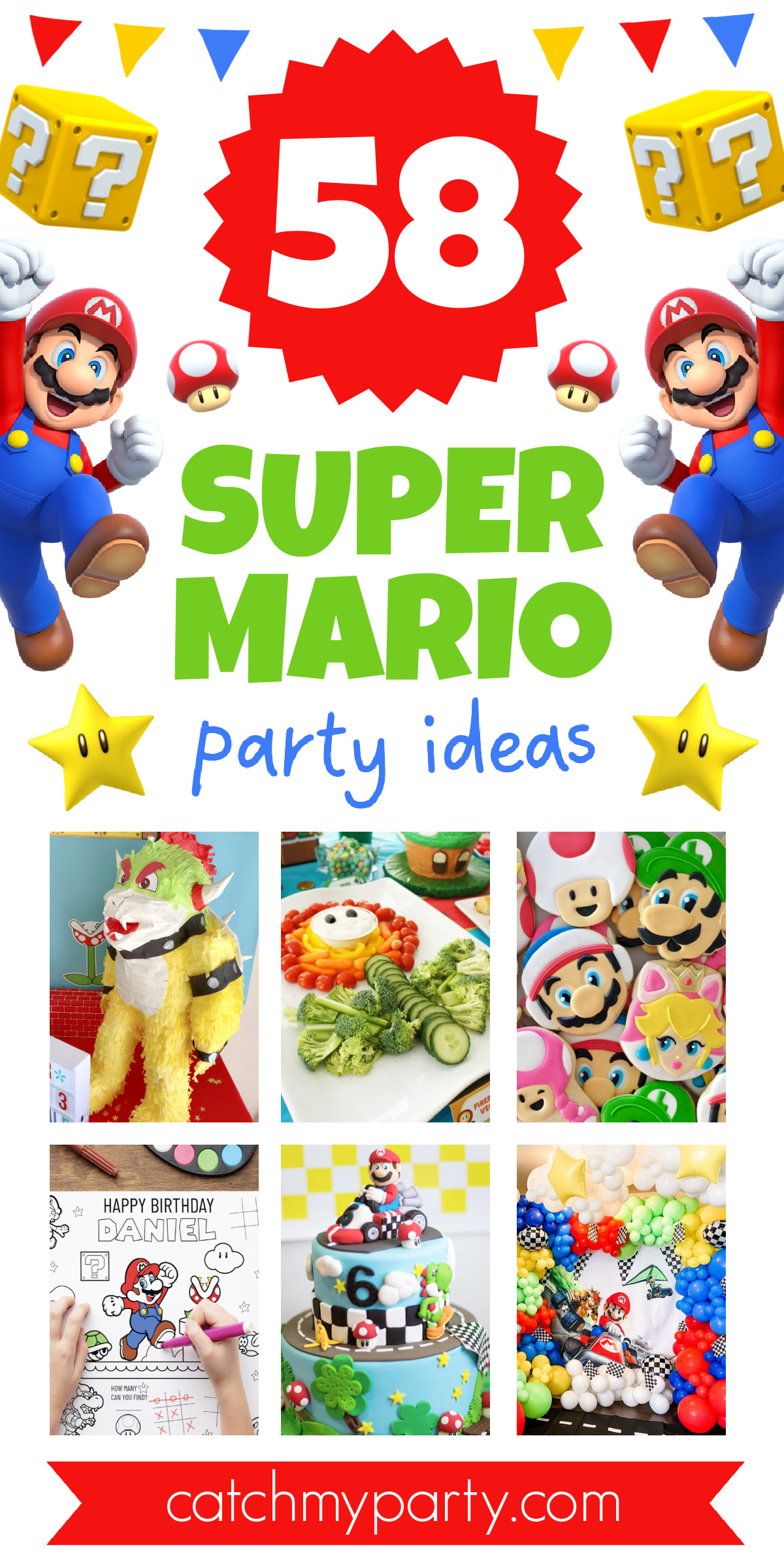 Get ready to jump, slide, and power up as we dive into a world of nostalgic fun and gaming excitement.
From Mario-inspired decorations to themed activities and tasty treats, we've got all the ingredients to make your party an unforgettable celebration. So grab your controllers, gather your friends, and let's level up the fun with our Super Mario Party Ideas
Reasons to Love These Super Mario Party Ideas
This post is packed with creative and exciting ways to bring the beloved characters, games, and themes of the Super Mario franchise to your party,
Super Mario is a favorite gaming franchise that brings a wave of nostalgia, allowing both kids and adults to relive their favorite gaming memories and share them with friends and family.
Kids love playing Super Mario because it offers a colorful, imaginative world, fun gameplay, memorable characters, and the joy of embarking on exciting adventures.
It's a great opportunity for friends and loved ones to come together and celebrate, and create lasting memories.
Awesome Super Mario Party Ideas
Super Mario Party Ideas FAQs
What age group is most suitable for a Super Mario party?
Super Mario parties can be enjoyed by a wide range of age groups. Younger kids may have a stronger connection to the characters and themes, whereas older children and even adults who grew up playing Super Mario games, will find joy in the nostalgia of a Super Mario party.
Which Super Mario themes can I choose for a birthday party
Here is a list of Super Mario themes you can consider for a birthday party:
Super Mario Odyssey, Super Mario Kart, Super Mario Bros, Super Mario Party, and Super Mario Galaxy.
Which is the most popular Super Mario party theme?
The Super Mario Bros. theme is widely considered the most popular and iconic choice for a Super Mario party, representing the classic Super Mario games.
How can I throw a Super Mario party for a girl?
Focus the party around Princess Peach, the iconic female character from the Super Mario series. Incorporate pink and pastel colors into the decorations, and feature Princess Peach-themed games, activities, and party favors.
Need more Video Game party ideas?
For more inspiration, check out all the awesome real Super Mario parties on our site!
Disclosure: This post may contain affiliate links that won't change your price but will share some commission. We are participants in the Amazon Associate Services LLC Program, an affiliate advertising program designed to provide a means for us to earn fees by linking to Amazon.com and affiliated.