If you haven't seen Stacey W's U Pick Party, you are in for a treat. It's an end of school party she threw at a local hydroponic farm. I know… cool.
Stacey of Elle Belle Creative did almost all of this gorgeous party herself, including making these yummy fruit dip favors for her guests. What a great favor for a summer party. I love edible favors!
So without further ado, here's Stacey telling us how she did it…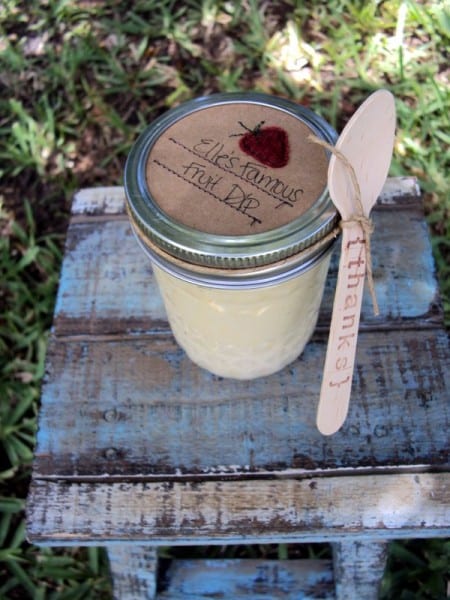 There are usually more parents at one of my parties than kids, so I always try to include them in party festivities, and I like to send them home with a little favor of their own, too.
Fruit Dip fit the bill perfectly since the kids all picked strawberries at the farm that day!
I found a great recipe online, changed it a bit to include one of Elle's favorite flavors, almond, and got creative with the packaging.
This dip is great for a party because it's inexpensive to make, delicious, and makes a big batch! Here's the recipe for Elle's Famous Fruit Dip:
Ingredients:
3oz package of instant vanilla pudding
3/4 cup milk (we used almond milk)
1/2 tsp almond extract
8oz container extra creamy Cool Whip
Directions:
Mix together the pudding mix, milk, and almond extract.  Fold in the Cool Whip.  Chill 1 hour before serving.  Makes 4 cups.
I printed the recipe on craft paper (a printable of the recipe formatted for the jar lids available for free on Elle Belle Creative here) & cut them out, spooned the dip into pint sized quilted mason jars, put the metal disc, put the recipe, an adorable Mud & Twig handmade label on top, & screwed the lid on.
To finish them up, I  stamped "thanks" on a little wooden spoon, and tied it on with a bit of twine around the lids.  I packed the jars up in a little crate and put them out for the parents to take as they were leaving the party.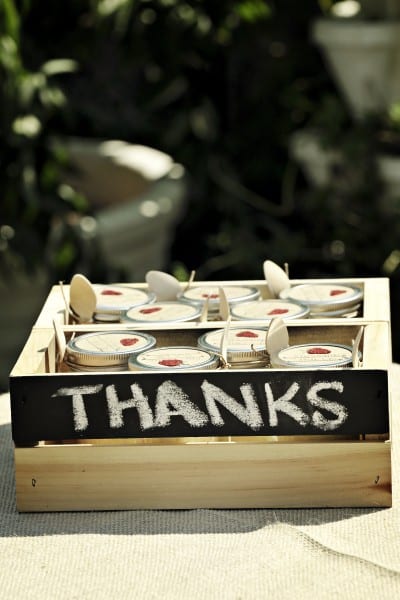 Gorgeous, Stacey, thank you!! I love the crate you displayed them in, too!
Again, if you haven't seen the rest of the summer party, take a look. And to learn more about Stacey and read about her creative inspirations, please check out her blog, Elle Belle Creative.