White Chocolate Maple Walnut Blondies Recipe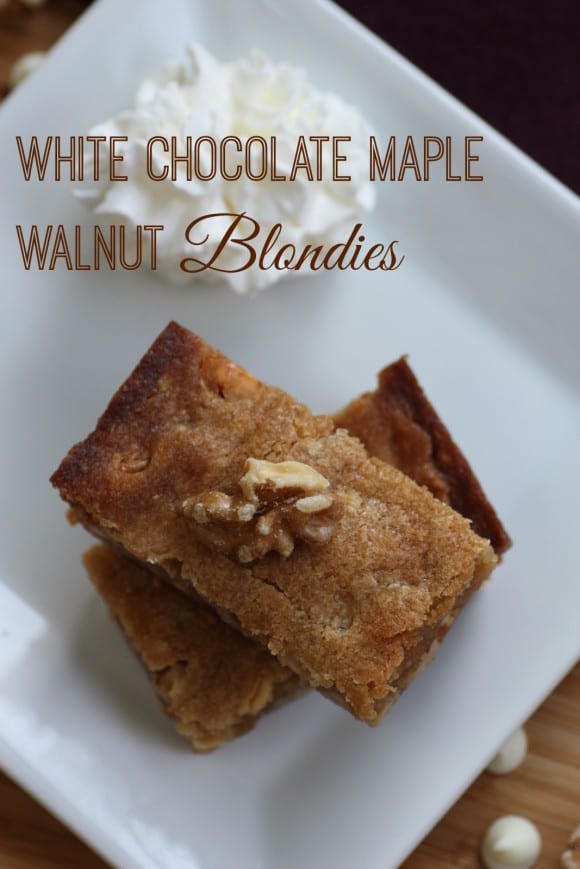 What fun I had today baking these white chocolate maple walnut blondies. I wanted to bake something I could give to our neighbors as a little "thank you" gift and these were the perfect treat!
Since I was a kid, I've loved blondies. I will choose them over brownies any day. Usually I make them basic with chocolate chips and walnuts, but today I wanted to switch it up a little. I added some maple syrup and swapped in white chocolate chips.
I don't like cakey blondies, I like them chewy and nutty. That's exactly what these were. And because of the maple syrup and walnuts, they felt like a great dessert for fall. I recommend them for Thanksgiving.
In case you are interested. I've been thinking about my food fantasies…
My first fantasy is that everything I bake turns out fantastic!! I wish that were the case, but I have my share of baking fails, and sometimes I have to retry the recipe a bunch of times to get it right.
My second fantasy is that everything I bake has zero calories! I definitely have a sweet tooth. I sometimes think that if I eat enough baked goods, I will tire of them and not crave them anymore, kind of like when you hear about people who work at ice cream shops and ultimately get sick of ice cream. Unfortunately that is not the case with me, no matter how much I try to overindulge.:) Seriously, my solution…  to give them away. And I must admit I love this solution. There's nothing better than sharing my food with the people I love, they get the calories and I get the warm feeling in my heart.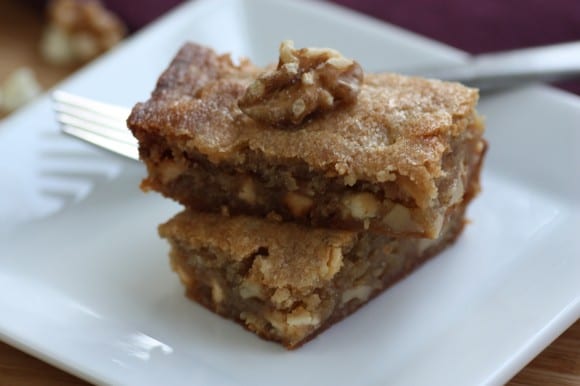 WHITE CHOCOLATE MAPLE WALNUT BLONDIES
Ingredients:
2 cups all-purpose flour
1/2 teaspoon baking powder
2 teaspoons salt
1 cup butter (2 sticks) at room temperature
1 cup lightly packed light brown sugar
1/2 cup maple syrup
1 egg
2 teaspoons vanilla extract
1 1/2 cup Diamond of California Walnuts
1 cup white chocolate chips
Directions:
Preheat the oven to 350 degrees F. Line a 9 x 9 inch baking pan with tin foil or parchment paper, leaving enough hanging over the edge that you can lift the blondies out once it they're cooked. Grease with butter.
Mix the dry ingredient (flour, salt, and baking powder), and set aside.
Add the butter, sugar, egg, vanilla, and maple syrup to a mixing bowl. Beat on high for about 2-3 minutes until light and creamy.
Mix in the dry ingredients in three parts, until just combined. Roughly chop the walnuts, and fold them in along with the white chocolate chips.
Use a spatula to move the dough into the baking pan. Smooth the top and bake for about 30 minutes. The edges should be brown, and the top should just be starting to brown when it is done.
Here's the plain batter. Notice my finger marks. It's that good!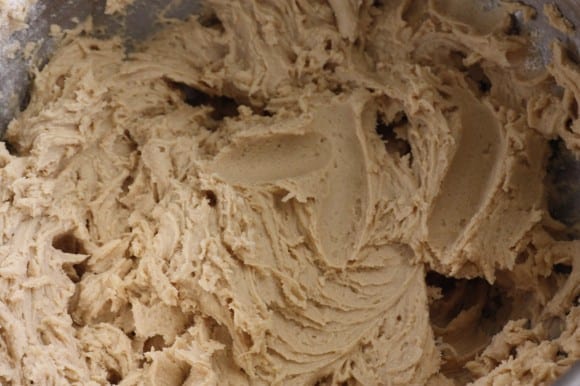 Here's the batter with the added white chocolate chips and walnuts.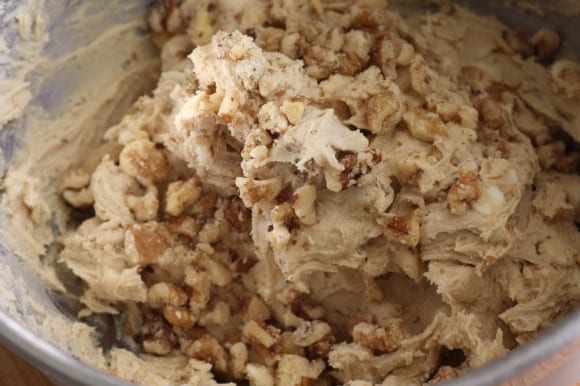 Ready for the oven.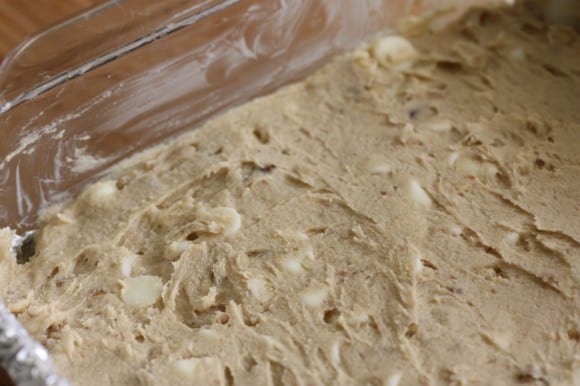 I serve them with a little whipped cream to my family. My daughter licked her plate!!