One of our most popular party themes at the moment are sleepover and slumber parties, so if you are planning on throwing one don't miss these 21 fantastic slumber party party supplies so yours will be one to remember!
It's a great theme that kids love because they can stay up till late chatting about and pampering themselves. I couldn't think of a better party theme myself!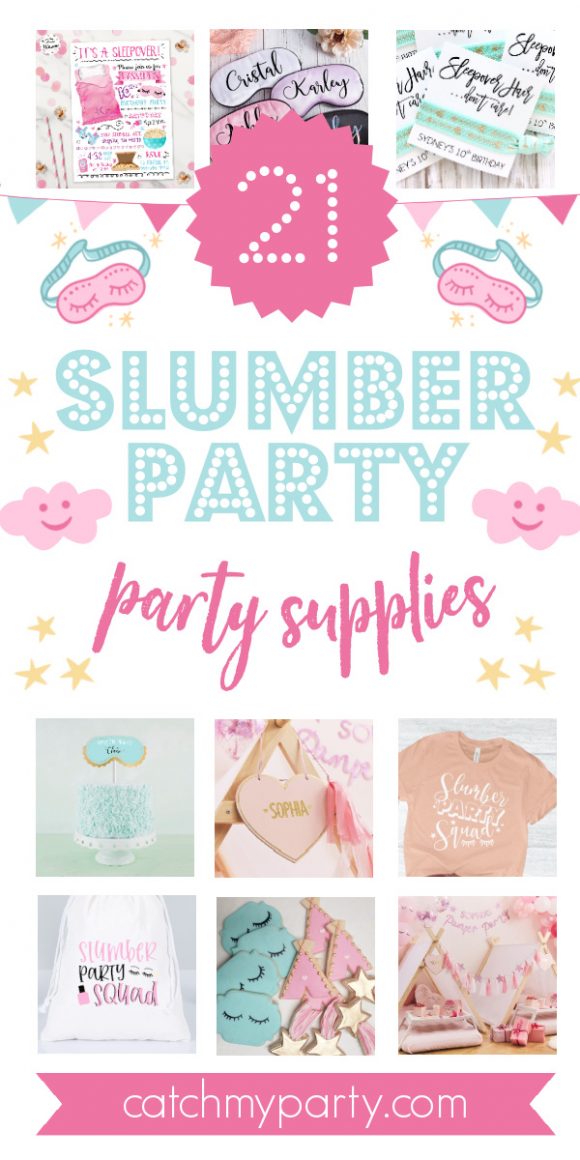 We've searched high and low for the cutest slumber party party supplies that will undoubtedly be a hit.
We've found fab invitations, party decorations, party favors, and much much more!
You Won't Believe These Amazing 21 Slumber Party Party Supplies!
First things first, you need to get those invitations out and in the hands of your friends.
This sleepover party invitation is spot on and includes everything you need to entice your guests to a night of fun.
The illustrations are gorgeous and ever so girly!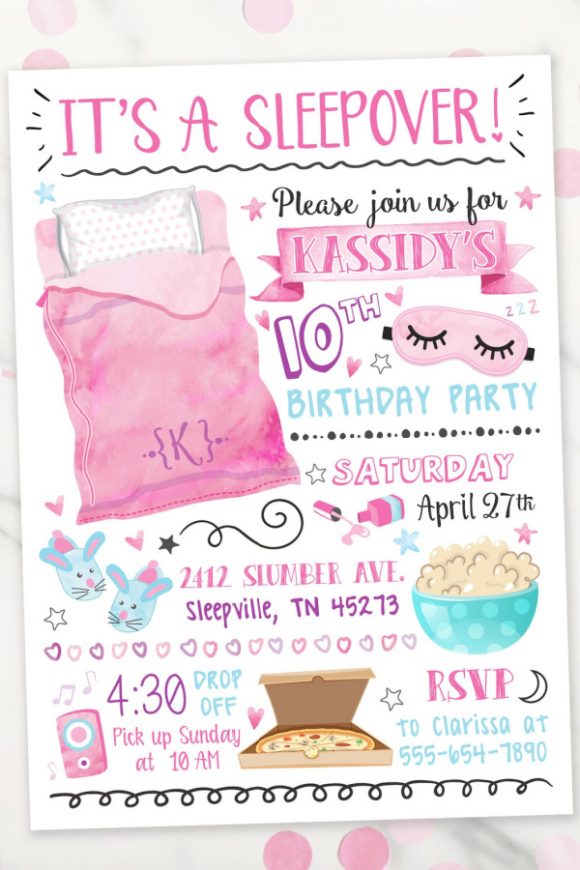 Digital invitations are really convenient and totally hassle-free.
Create a text message group and send out the invitations to all those you want at your party.
Everyone will instantly get the invite and get back to you in no time.
This design is so pretty and says it all with only a pillow, some popcorn, and an eye mask.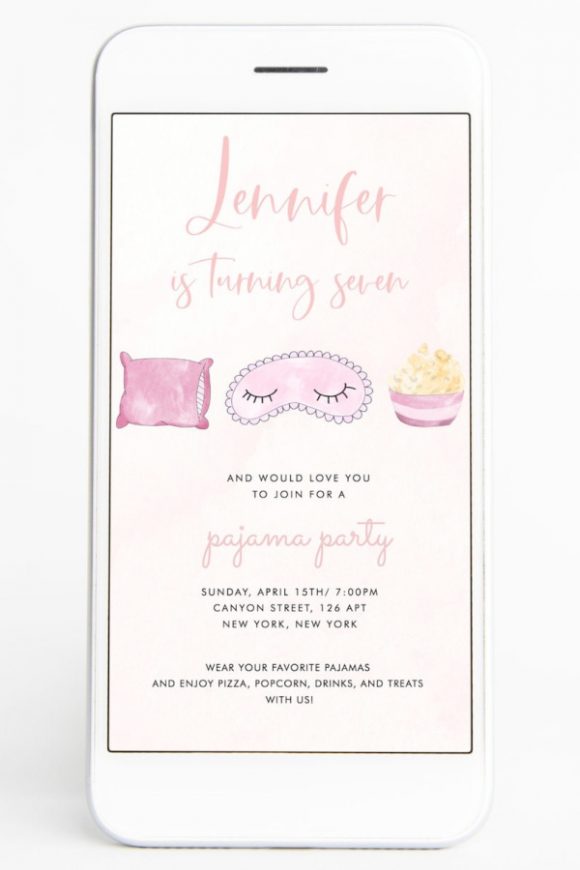 Welcome your guests to your slumber party with this fun and colorful welcome poster.
The design includes lots of stars, some comfy pillows, and some typical sleepover party activities such as a movie and some girly pampering.
Personalize your poster with your name and age.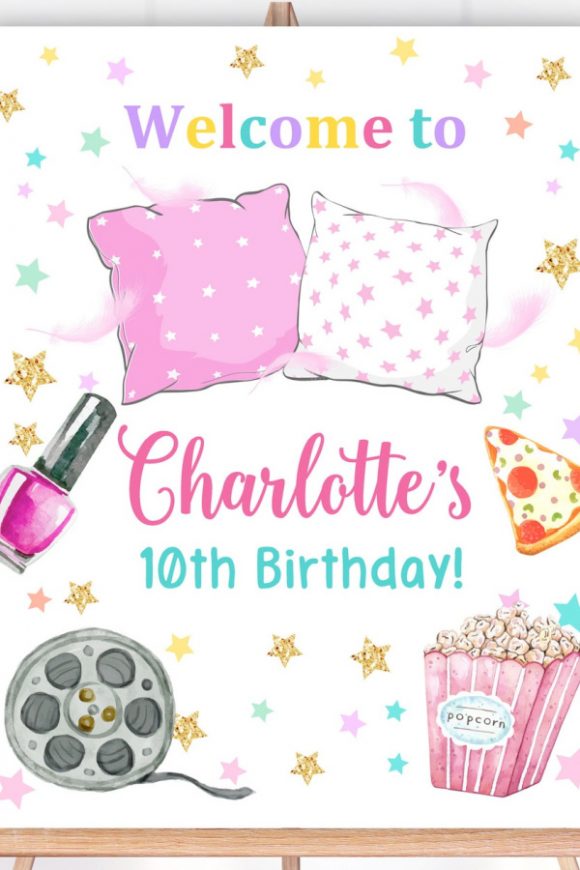 Teepees are a must-have at a sleepover!
Fill a large room with a bunch of them and treat your guests to a girls' night in to celebrate your birthday.
Be sure you decorate your teepees with fun party decorations just as you would any other birthday party.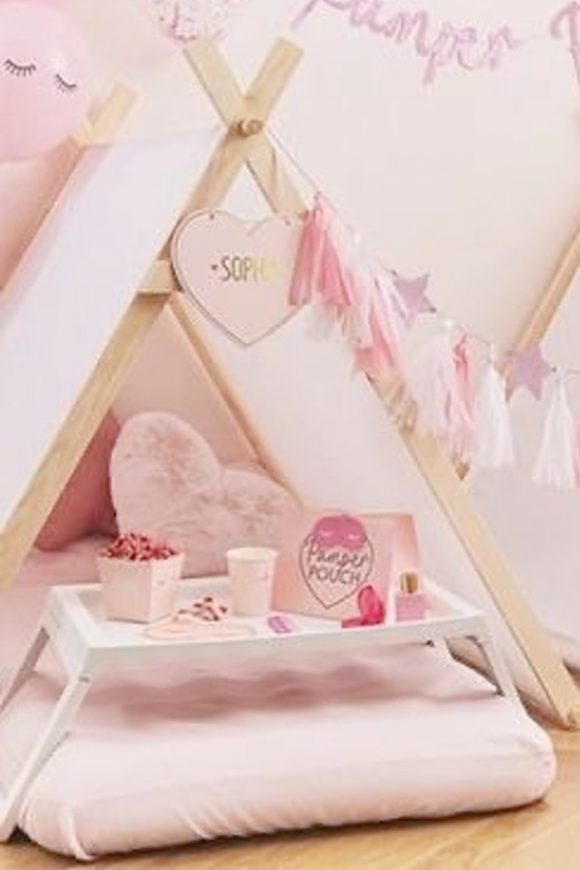 Let your guests know which one is their teepee by decorating it with a personalized heart that you can place at the entrance.
Not only is it a nice way to personalize each teepee as it also doubles up as a party favor too.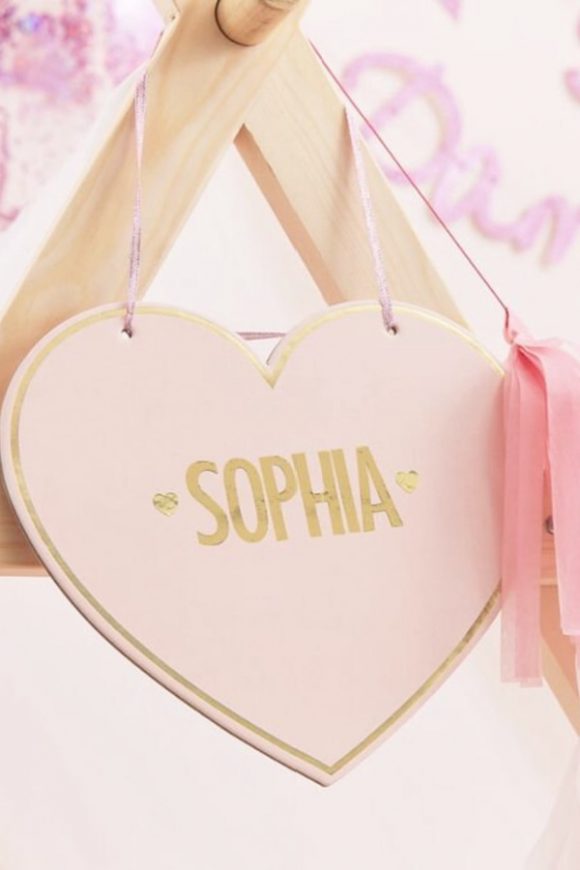 There's nothing better than a comfortable pillow for a good night's sleep, so treat each one of your guests to one of their own.
These personalized silk pillows are so stylish and will add some luxury to your sleepover.
At the end of the party, your guests can take them home with them as they make an awesome party favor too!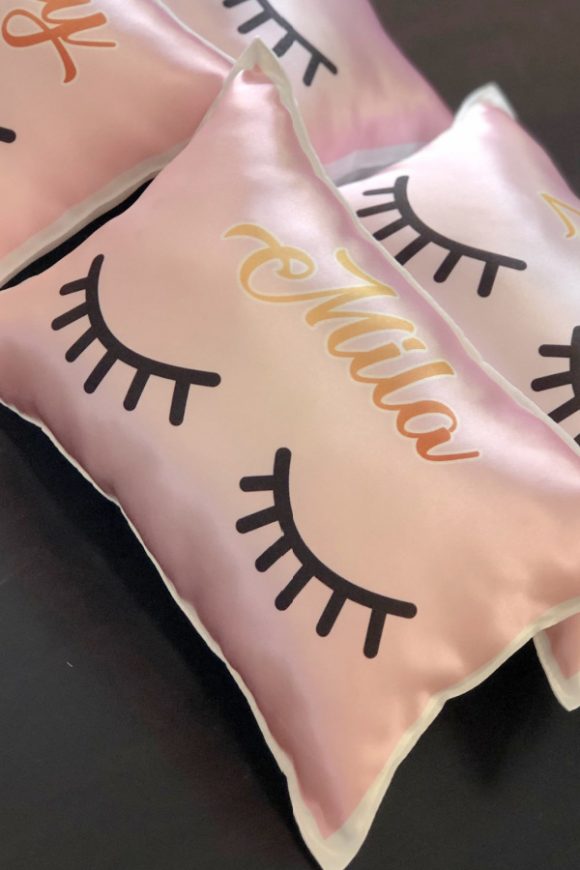 Another must-have item for a slumber party is an eye mask, and these silk personalized ones are just what you need to block out the light and get a good night's rest.
They also double as a wonderful party favor that your guests will be able to take home with them and wear every night.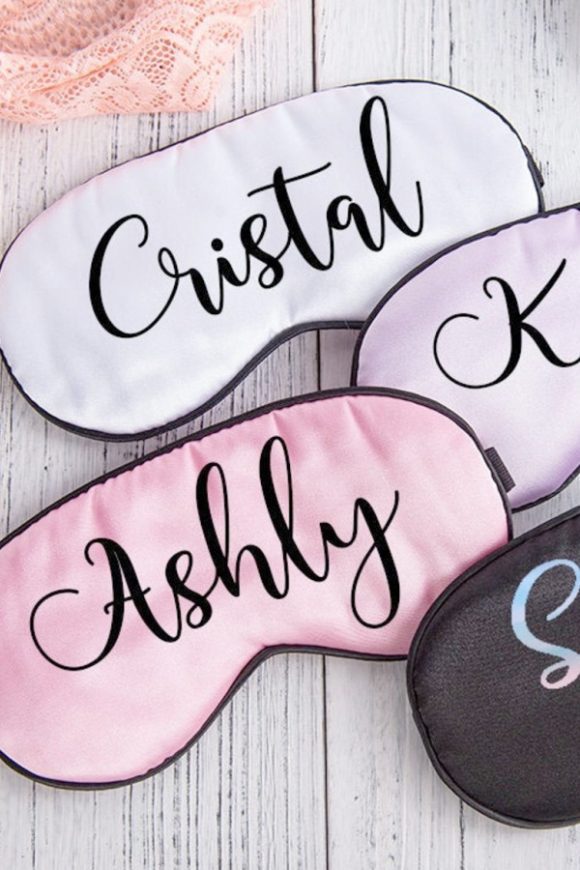 If you are looking for something more to add to your slumber party kit then how about treating your guests to some soft personalized slippers?
Each girl will be able to wear their own during their fun night of pampering and then take them home with them the following day.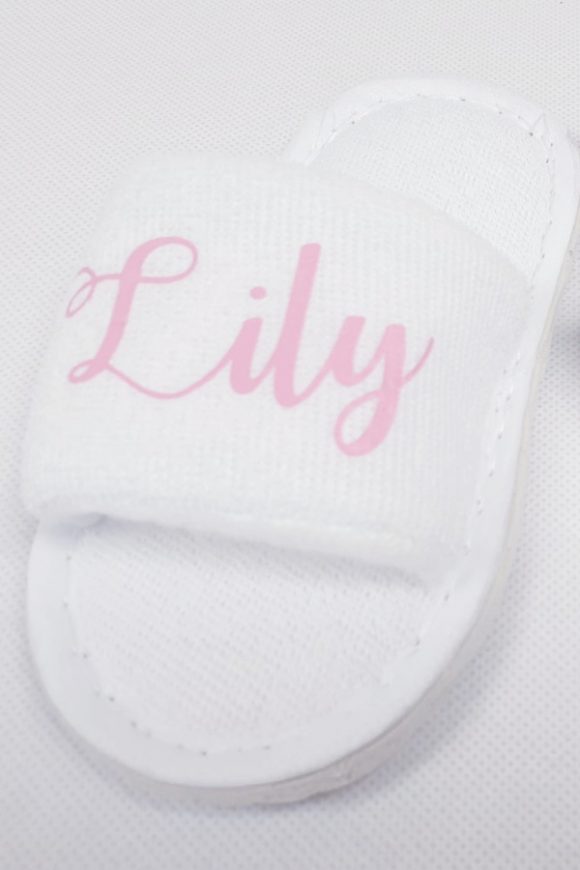 These personalised silk robes are the ultimate must-have slumber party fashion accessory, and your guests are absolutely going to love wearing theirs during the evening.
You can bet they'll be a big hit and that they will be getting a lot of use once they take them home with them.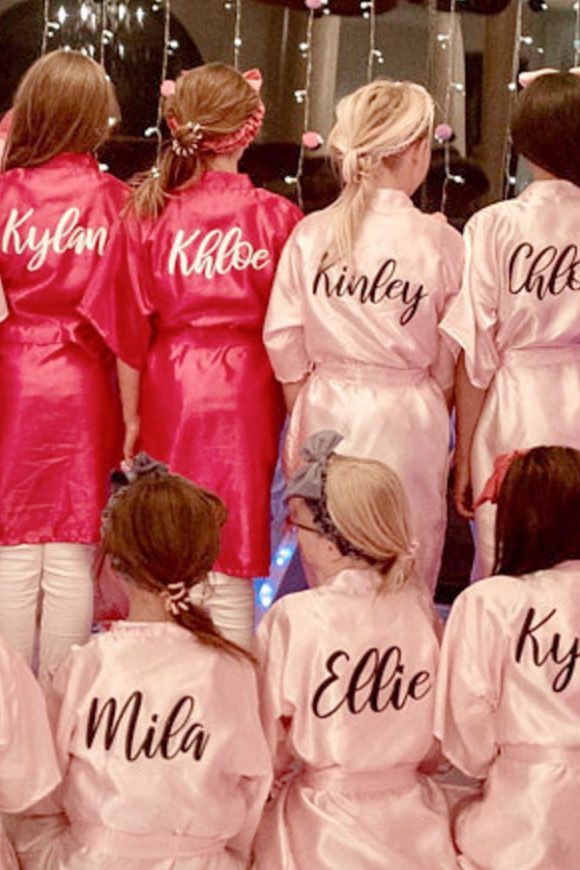 If you want something more relaxed then these 'slumber party squad' t-shirt may be what you are looking for.
They are great to wear during the party and if you add some PJ bottoms these t-shirts can easily be worn to sleep.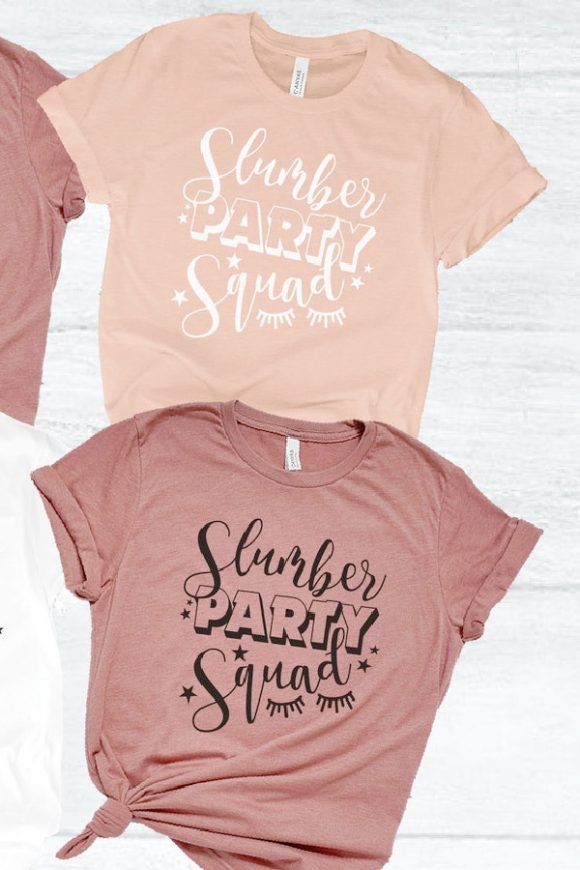 You are so going to love the topper we've found for your slumber party birthday cake.
Top your cake with this pretty personalized eye mask cut-out topper and create a show-stopping birthday cake with no effort.
What more could you ask for?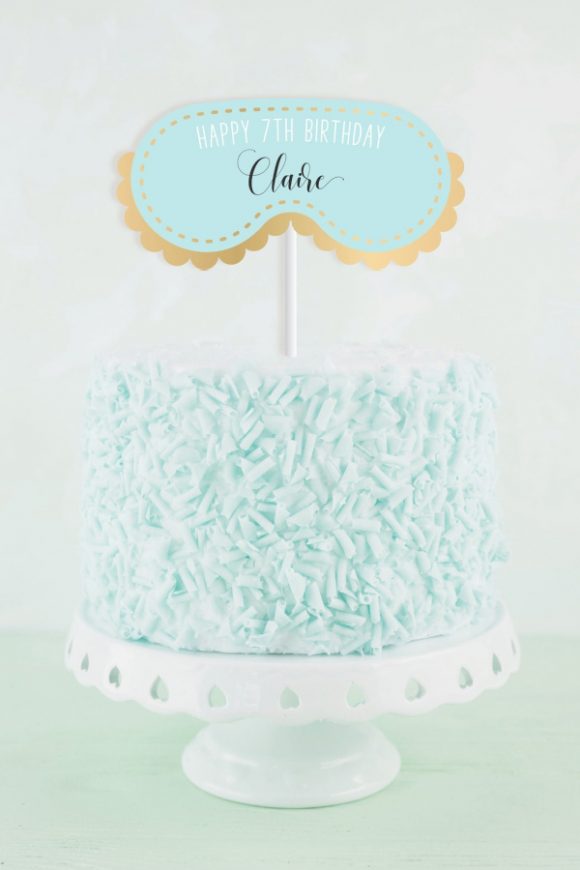 Cookies are my favorite party food and these sleepover-inspired ones are no exception!
The set comes with some sleeping clouds, teepees, and some wonderful shooting stars.
They'll be gone in no time!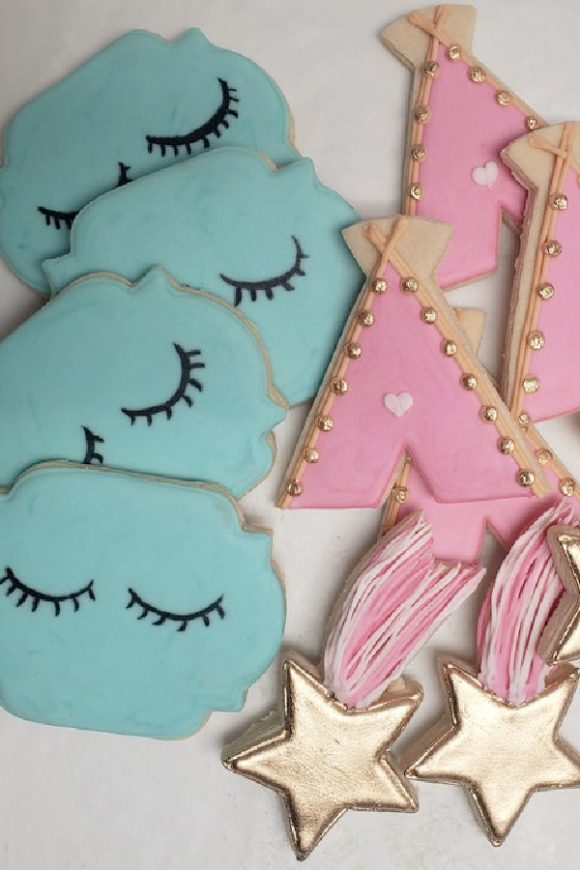 Grab yourself a bunch of store-bought cupcakes and quickly turn them into the perfect slumber party party food by simply adding these sweet teepee toppers.
They are just what you need as a midnight snack at your party!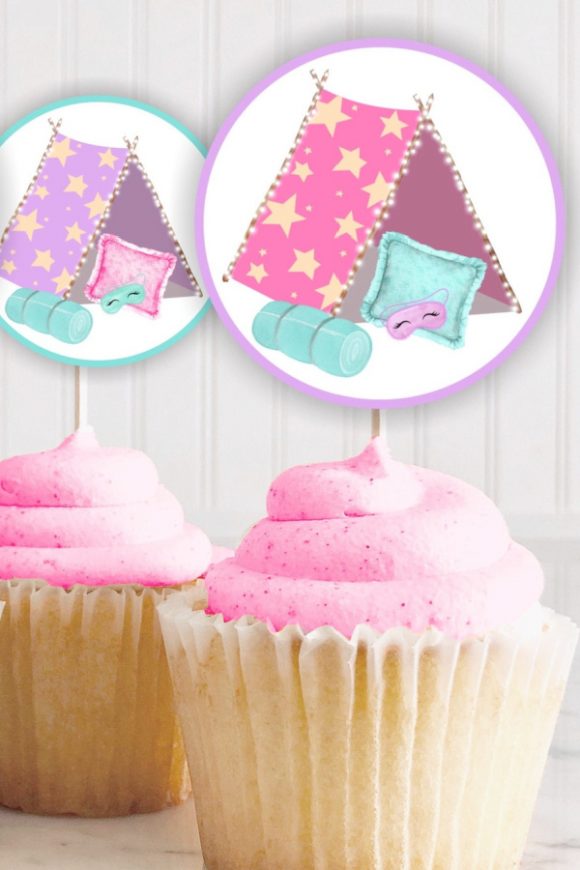 These sleepover snack boxes will come in so hand for all those midnight snacks for if you are planning on all watching a movie together how about filling them some delicious popcorn?
The boxes with some shut are so pretty and are so on-trend.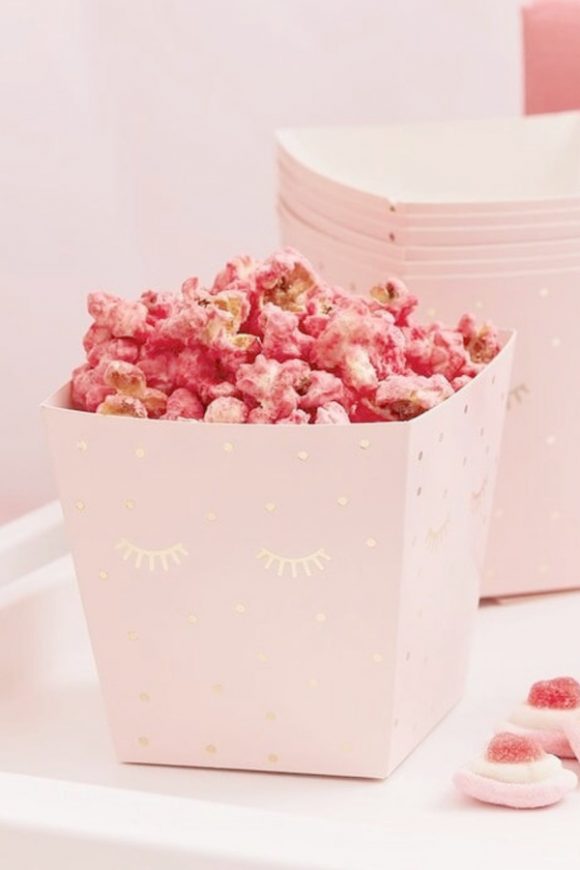 You are gonna need a pretty napkin like this one for all those sleepover party snacks.
These wonderful pink and gold eye mask napkins are perfect for your party and will look gorgeous on a tray at the entrance of your teepee.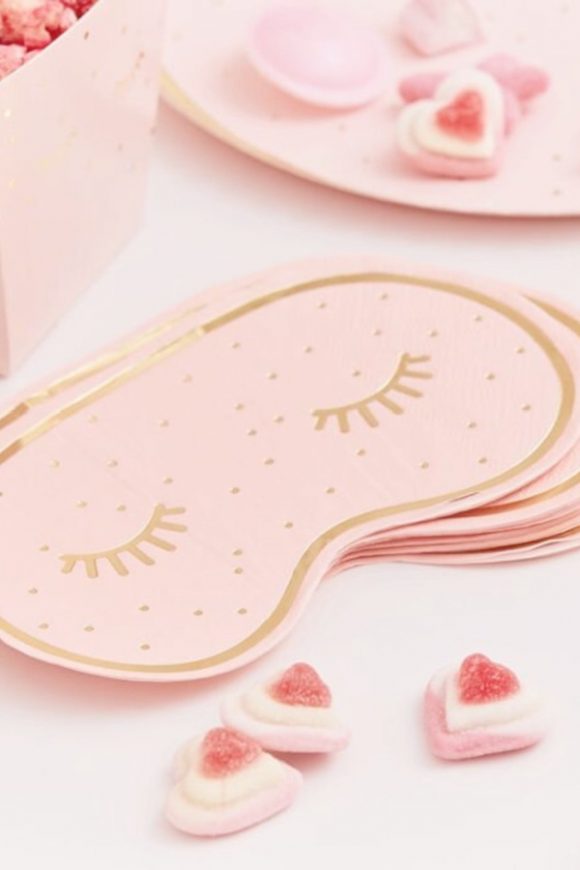 It's not very hard to come up with some fun sleepover party activities. Any pampering or makeovers are a sure hit, as is a bucket of popcorn and a good movie.
If you'd like something extra that you could maybe add to their sleepover kit then these printable sleepover party games are a great option to keep everyone busy.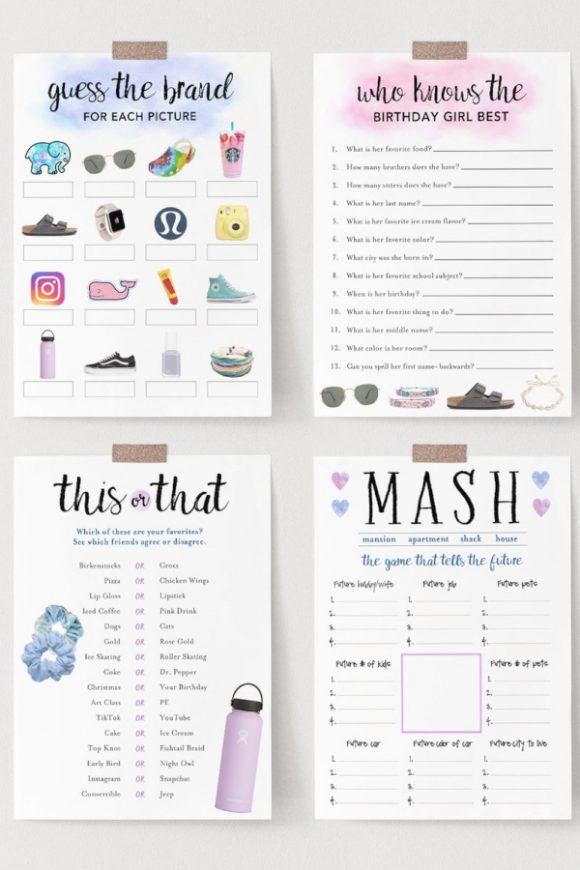 Photo booths are so much fun and are always a laugh.
It's a sure thing that any photos you snap with these sleepover party photo booth props are going to be delightful.
This pampering-inspired set is perfect for making memories of a wonderful night!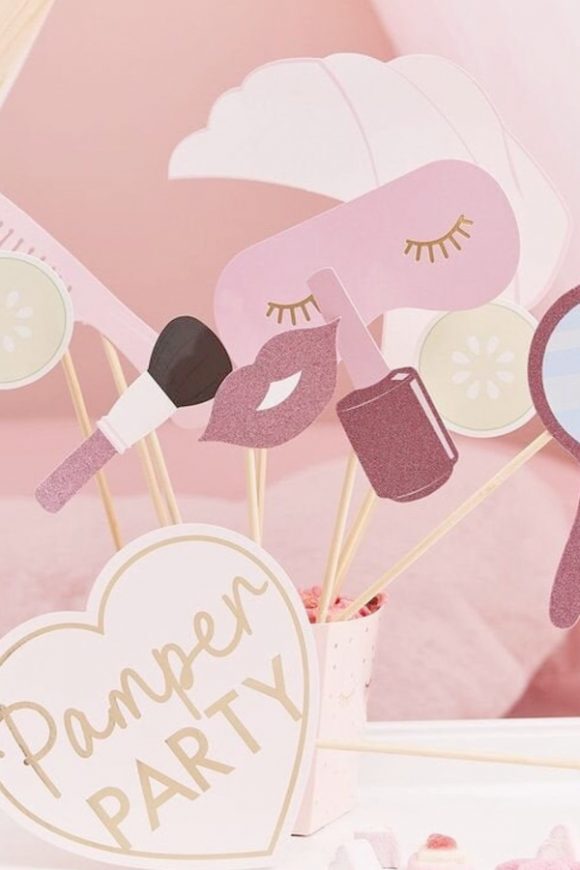 Finding a cool party favor can sometimes be challenging but with this personalized slumber party tumbler, you really can't go wrong.
You can add them to the goodies your guests can use at the party and then allow them to take them home.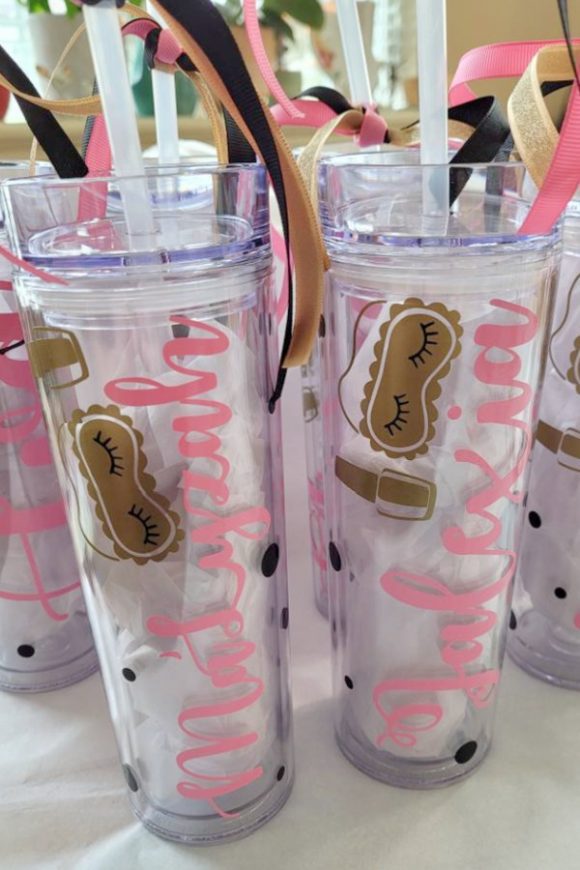 A girl can never have too many hair ties so they are always a great option as a party favor.
They can be worn as a pretty wristlet when you want to let your hair down and then in your hair when you want to tie it back.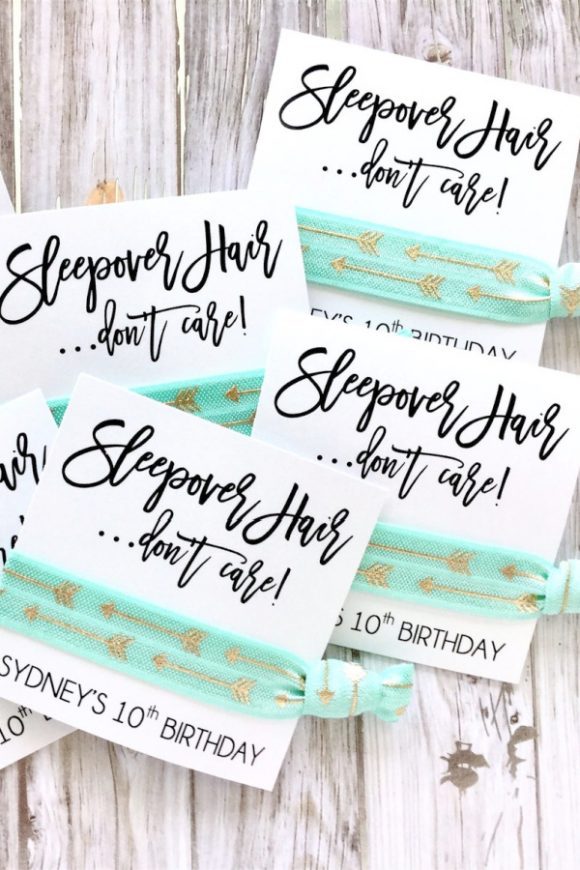 Tattoos are always fun!
Kids love nothing more than applying them and they are a great fashion accessory.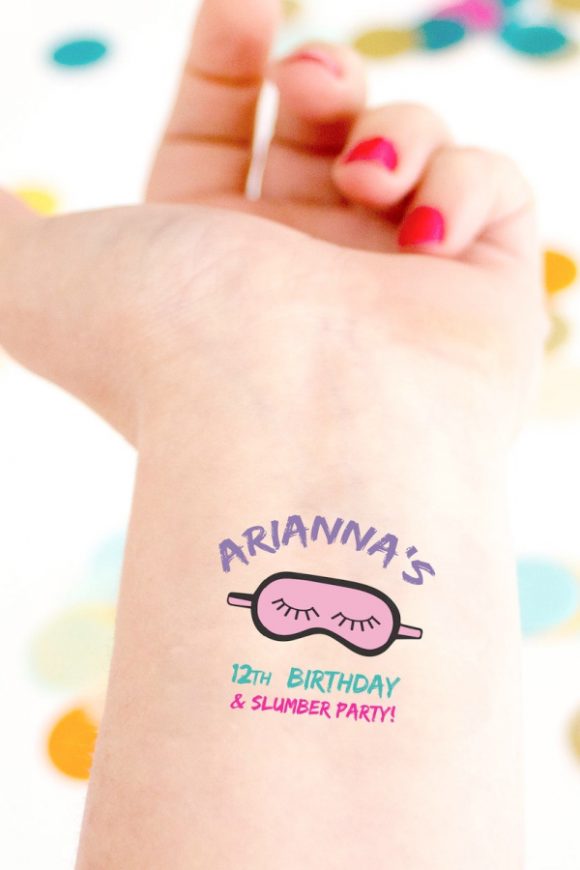 Place all your slumber party goodies in this fantastic 'slumber party squad' drawstring bag.
It will look amazing placed at the entrance to each teepee and are so on-theme.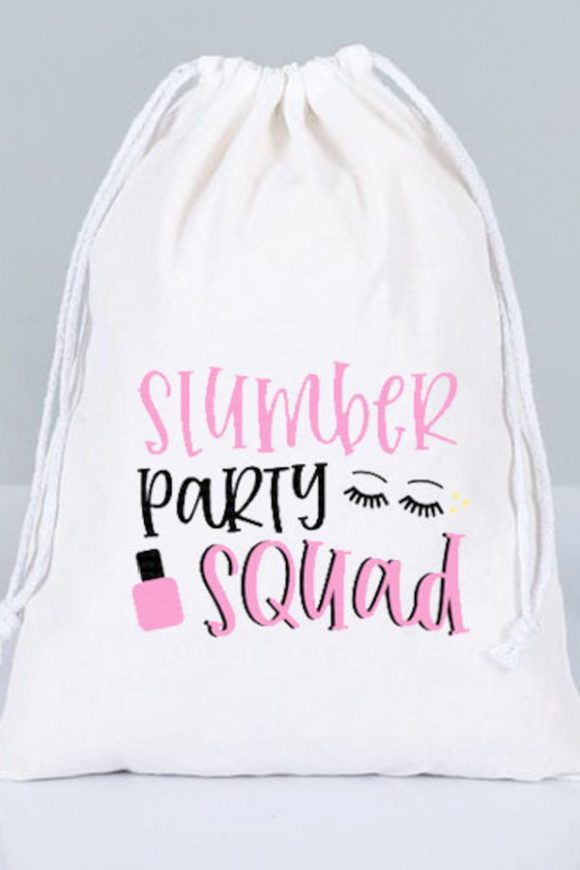 ** Some links are affiliate links.**
Need more slumber party party ideas?

For more inspiration, check out all the awesome sleepover parties on our site, and check out these sleepover party supplies from vendors with listings on Catch My Party!