Earlier this week, I posted the recipes I wanted to try over Labor Day and tonight my husband, David, and I got cooking. Here's what we made…
Heirloom Tomato Caprese Salad with Balsamic-Basil Vinaigrette
We purchased these tomatoes at the Santa Monica Farmer's Market so it would be hard to go wrong with this dish. Clean and fresh flavors, with a little bit of sweetness from the balsamic and the tomatoes. This was the dish I kept eating.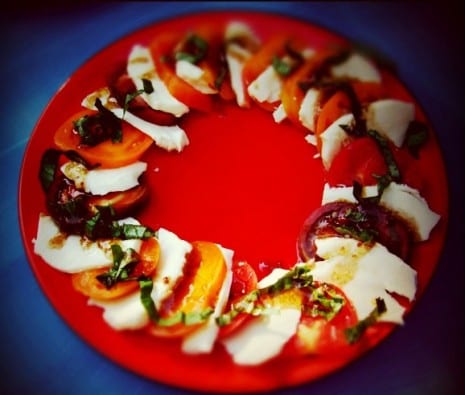 Grilled Corn with Basil Butter-Oil
Basil on corn is actually a flavorful combination and the butter-oil with the infused basil was delicate and not too overpowering. But next time I will chop up the basil even more so it doesn't look like seaweed. 🙂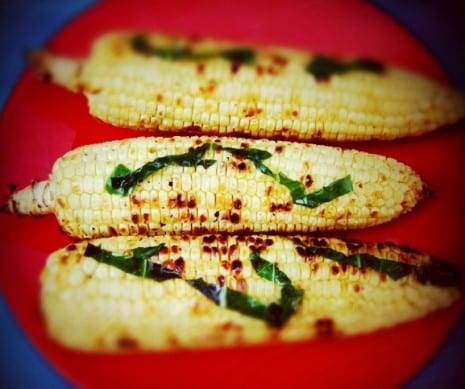 Grilled Chicken with a Homemade Rub
David wasn't in the mood for steak, so instead I purchased these air-chilled chicken thighs and with a blend of homemade spices we grilled them. Because of the fat under the skin, the grill kept igniting, hence the burnt skin, but these were delicious!! David couldn't stop eating these.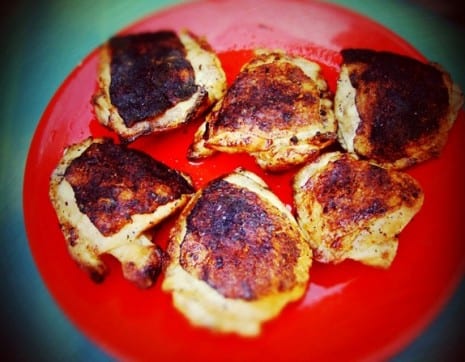 Tomorrow I'll bring you the S'mores Bars my neighbor, Paula, volunteered to make. They're setting in her fridge right now (my mouth is watering while I write this). I'll post photos tomorrow.
I'd love to know what you ate this Labor Day. Hope it's delicious!