Turing 30 is such an important milestone in all women's lives and finding the perfect gift can sometimes be tricky.
To help you find just what you're looking for we've rounded up 22 amazing 30th birthday gifts for women.
Each one of these gifts is a memorable one that will surely be cherished.
Enjoy…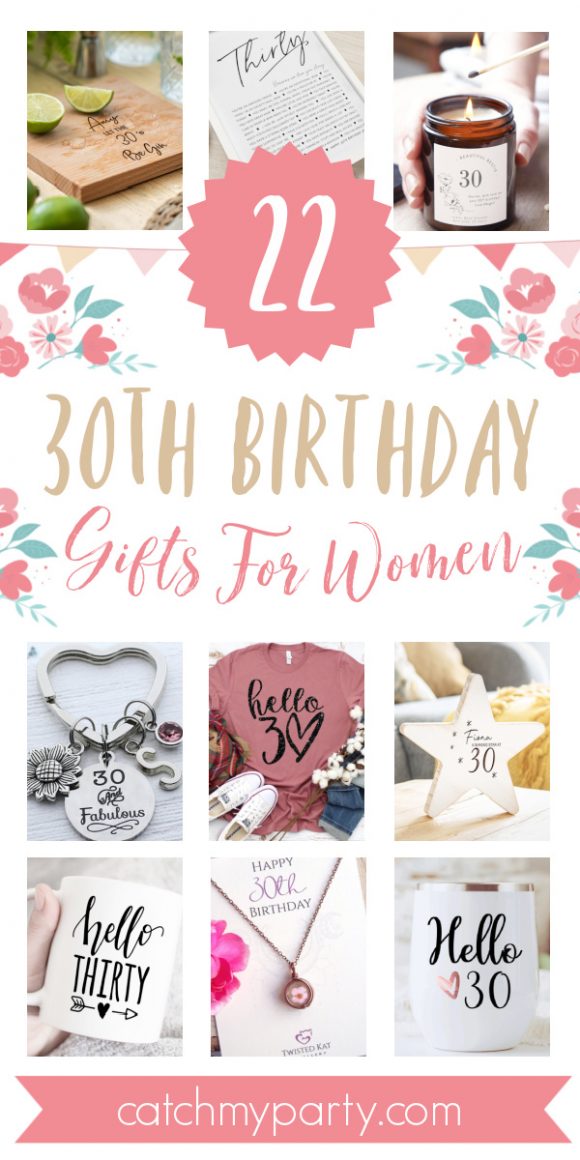 We've got so many fabulous ideas such as a spa gift box, some gorgeous jewelry, a stylish bag, a scented candle and so much more!
Scroll down to go through them…
Take a Look at These 22 Stunning 30th Birthday Gifts for Women!
To start off our round-up of fabulous 30th birthday gifts for women, we've picked this gorgeous 30th birthday gift box.
Fill it with some heartfelt gifts and personalize it with the birthday girl's name.
I can't think of a better way to present your presents.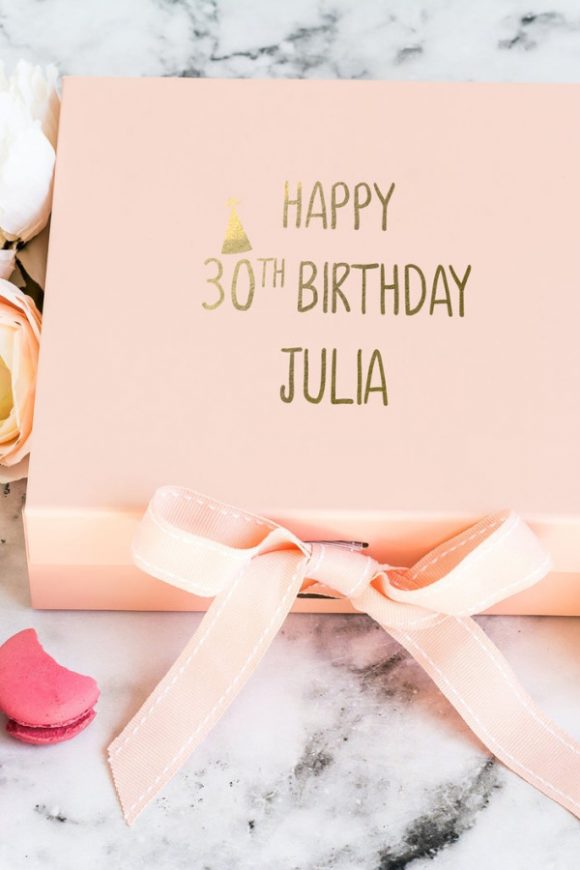 Treat your friend or loved one to a beautiful piece of jewelry for their 30th birthday.
This elegant bracelet is made up of three 13 mm rose gold, silver, or yellow gold twisted rings on professional stretch elastic.
Each ring represents a decade, making it a wonderful keepsake that can be treasured.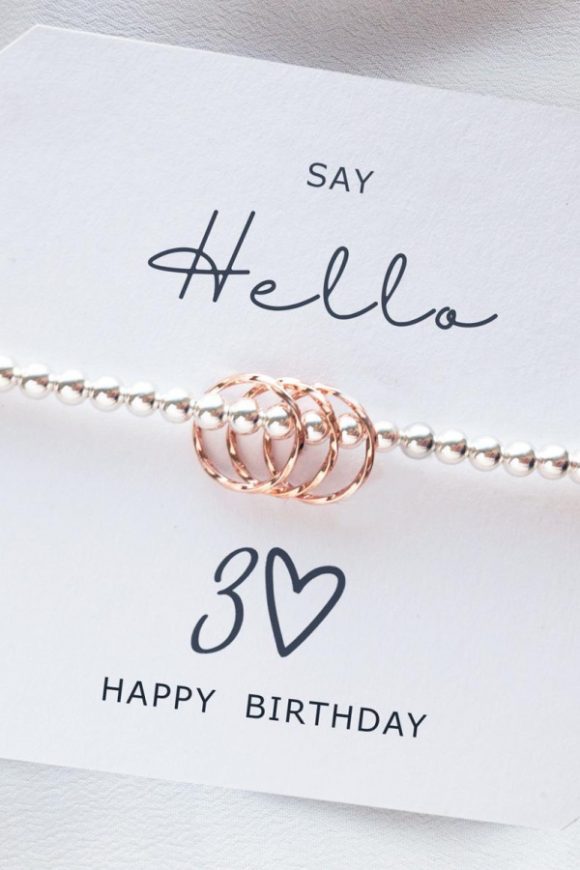 An alternative to a bracelet would be a stunning necklace like the one below.
The delicate pendant features a resin cabochon with a real pressed flower, available in copper or silver.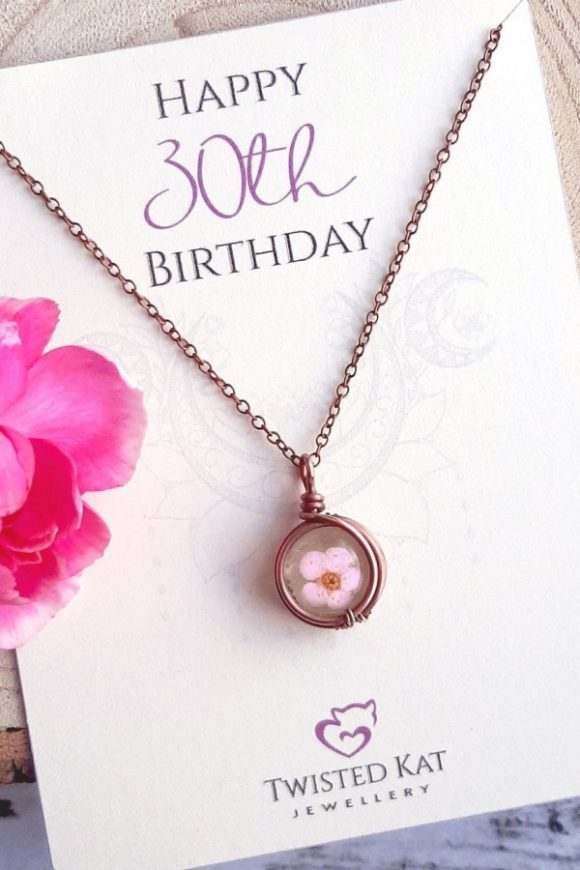 Show someone just how much they mean to you with another piece of jewelry!
Mark a 30th birthday with these earrings made up of 3 stars, each one representing an amazing decade.
They are a lovely gift that can be worn on any occasion.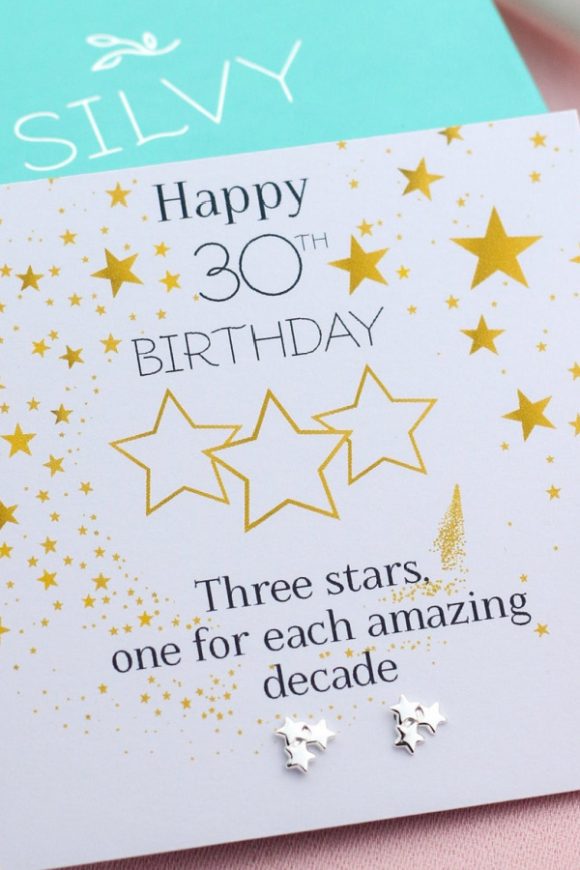 This 30th birthday, personalized adjustable wrap-around ring (in sterling silver) is yet another impressive gift that has such meaning.
Who wouldn't love to be treated to such a fabulous gift?!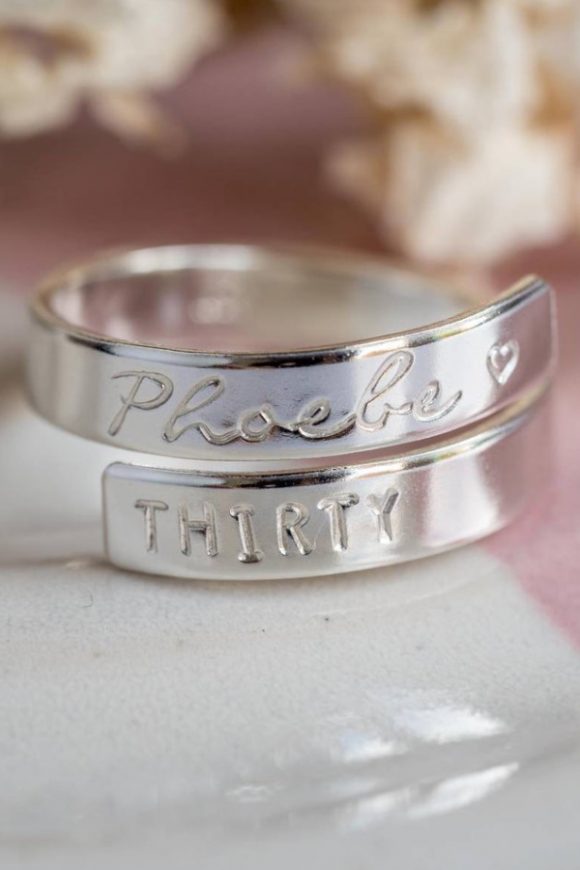 Sometimes small gestures of generosity can be so meaningful to people that are special in our lives.
A pretty charm keychain is a lovely gift that can be attached to keys, bags, purses, etc… and is a wonderful keepsake.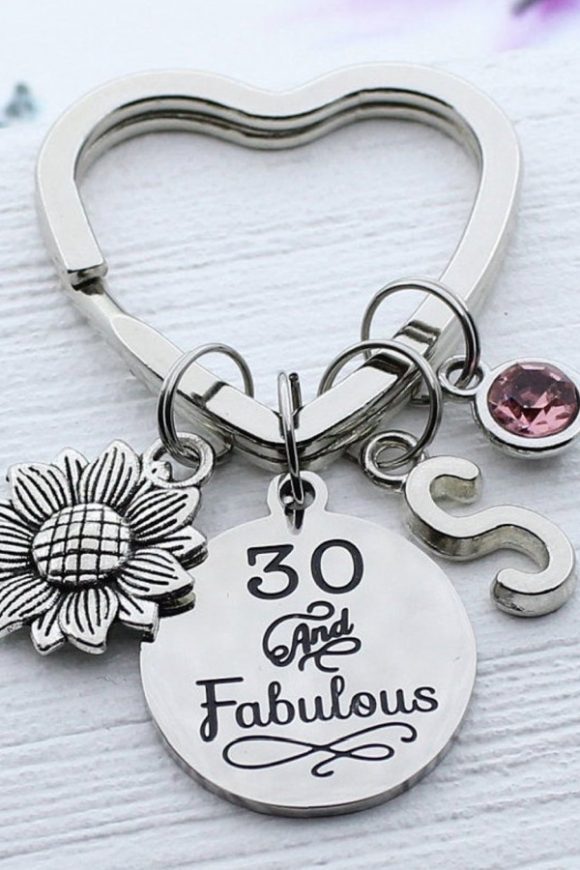 A thoughtful gift for any 30 year old has to be a trinket dish where she can store her loose bits of jewelry at the end of a busy day.
It's great for keeping everything in one place and is a really practical gift.
Personalized with the year of birth is a magical way to mark this special birthday.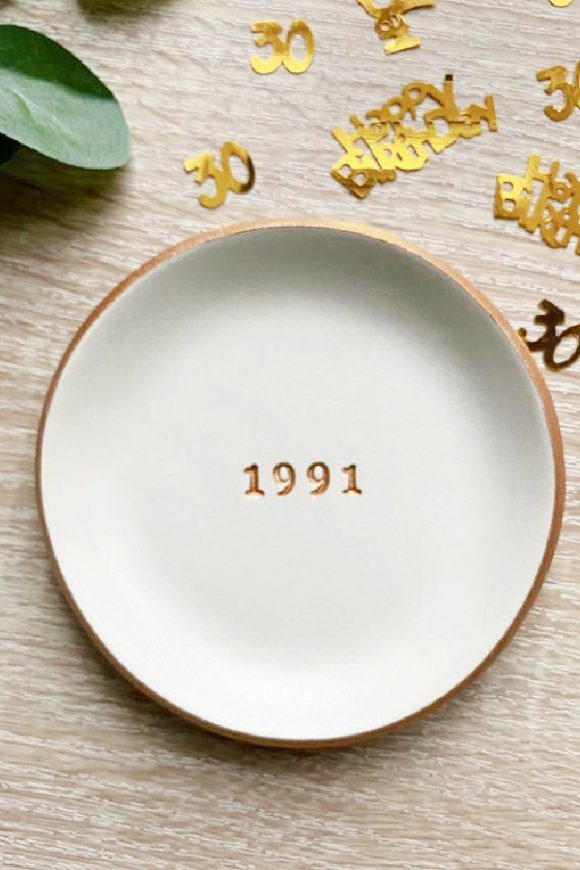 Any fashionista would love to get a stylish t-shirt for her birthday!
Treat the birthday girl to this fabulous 'hello 30' shirt she can use for all her birthday selfies!
There are a number of different colors to choose from, so make sure you try to get one in her favorite color.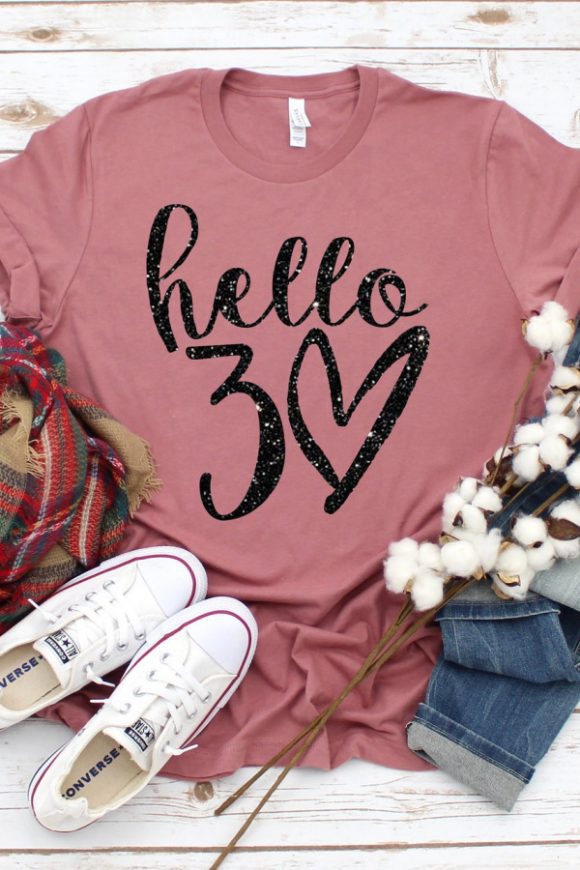 This 'vintage 1991' sweatshirt is so cool and looks ever so cozy!
Great for everyday use, this sweatshirt is also a fab gift for someone who likes fashion finesse.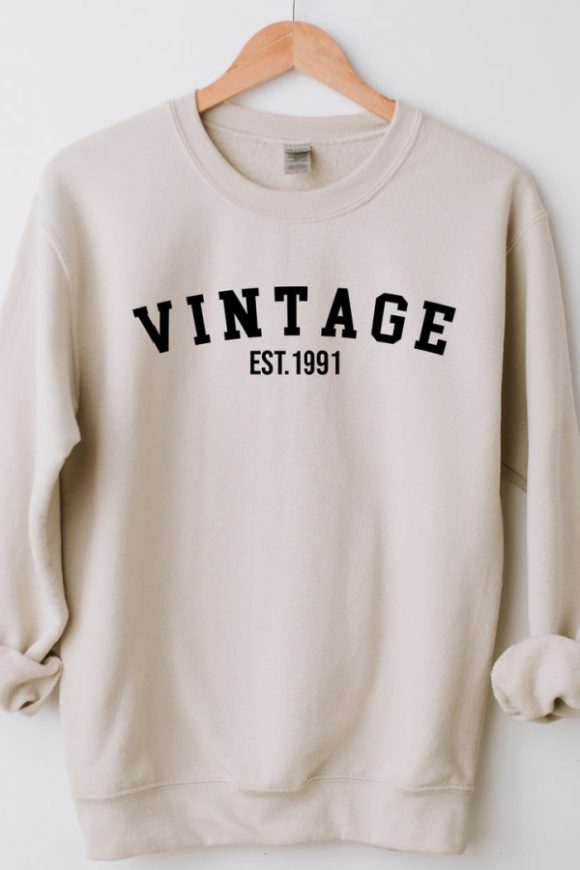 Girls love handbags and this practical tote bag is a great addition and looks oh so chic if you're popping out to the store.
So, how about offering the birthday girl a cool bag she can proudly show off while she's out and about?!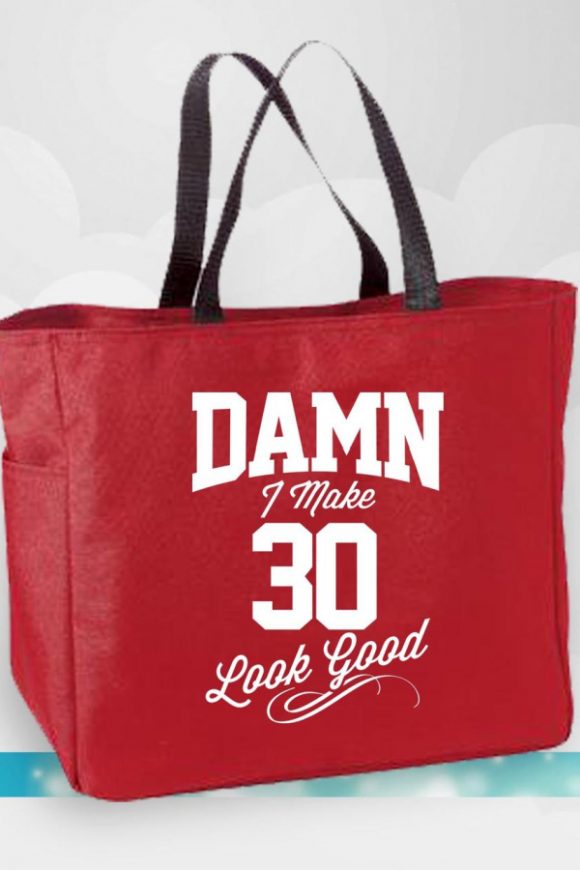 Sometimes keeping it simple yet thoughtful is what matters, and this 'hello thirty' mug is a wonderful example.
It's a fab gift, especially for someone who loves their daily dose of caffeine, but can also be used to store pens on your desk!
Raise a glass to the past 30 years and drink to the many more ahead with this elegant champagne flute.
It's a stunning keepsake that marks the special date!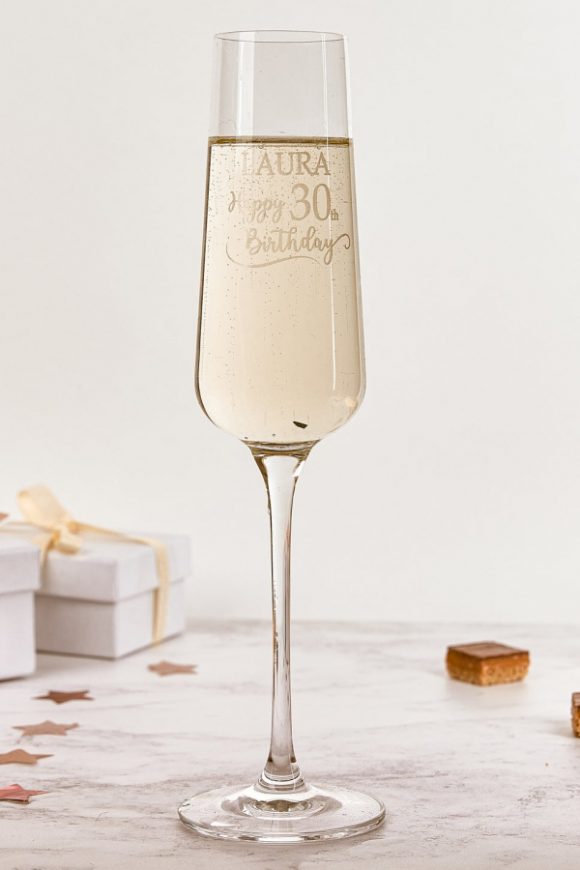 If you're looking for something more laid back but just as meaningful then how about this 'hello 30' tumbler?
No more drinking out of boring glasses!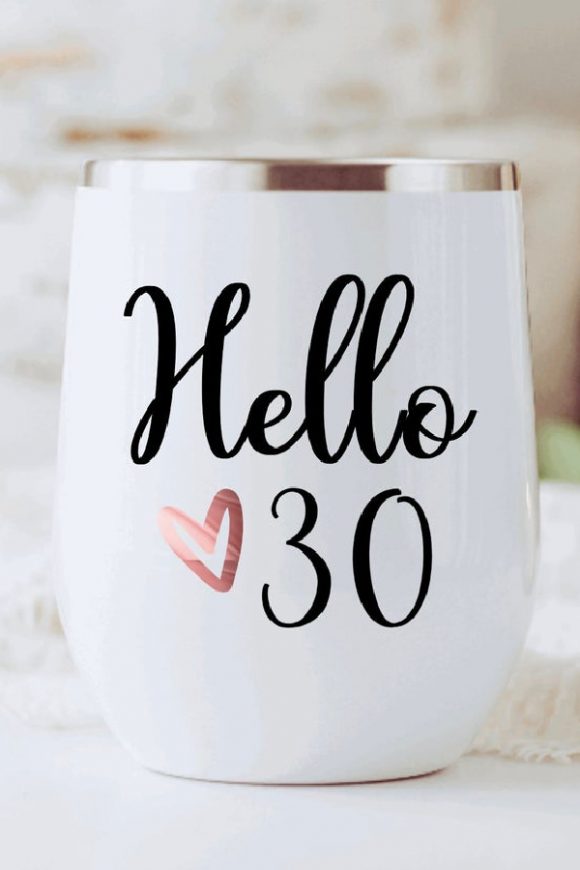 This 'vintage 1991' metal bottle is great for those on the run.
It's such a unique and great for day-to-day use!
Made with durable stainless steel metal this vacuum flask bottle is the perfect gift for work, sport, or even travel lovers.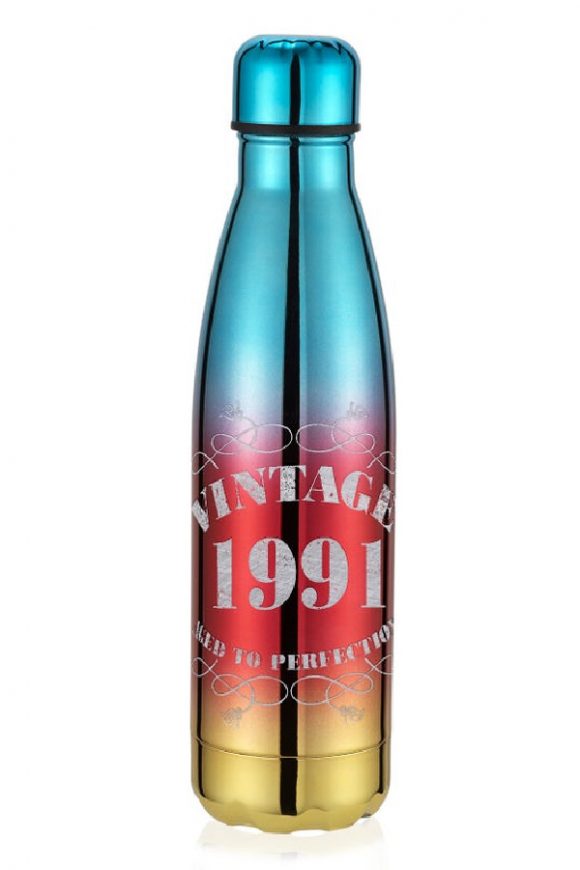 This next gift is ideal for anyone who kills at making a delicious cocktail!
Surprise the birthday girl with a personalized gin chopping board that she can use to show off her talents.
You can bet it'll come in handy!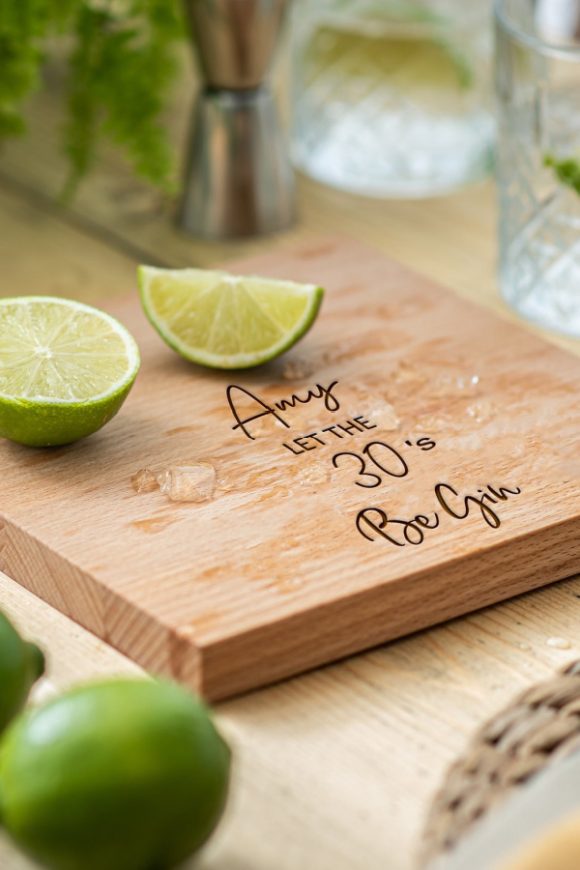 If you are planning on sharing a gift with more friends look no further.
This 'Thirty reasons we love you' poster is an amazing gift that is so heartfelt and will certainly be cherished.
Each one of you contributes to the poster by explaining, in 30 reasons, exactly why you love the birthday girl.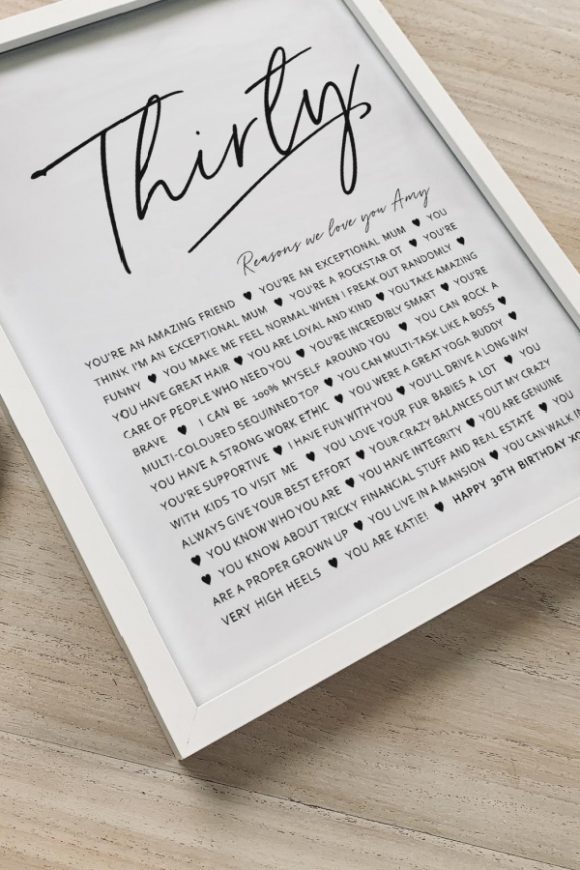 If you are looking for something more fun then this 30th birthday newspaper poster is a great gift!
Step back in time to 30 years ago and check out all the awesome moments from an important year.
It will look fantastic on a wall and it a magnificent way to honor the birthday girl!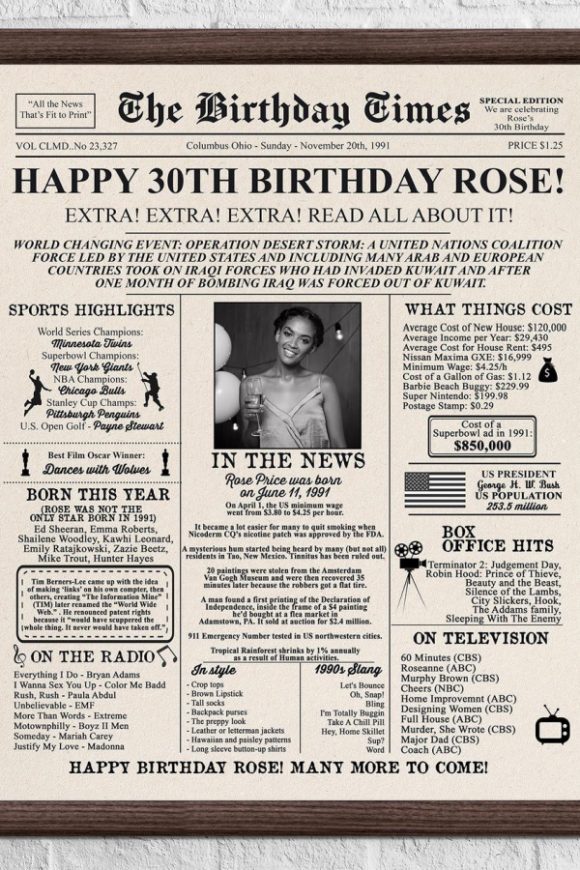 There's nothing better than a beautifully scented home so you can never really go wrong with a lovely scented candle.
It is beautifully hand-packed (with a floral label) and comes in a wide variety of gorgeous scents, with a 25 hour burn time.
What a magical gift!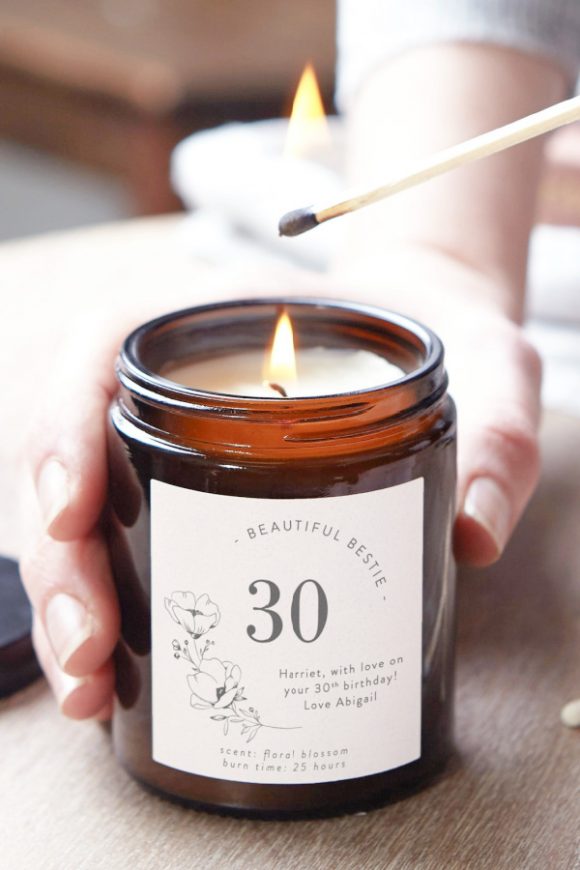 Treat the birthday girl to some pampering with an incredibly luscious gift.
What could be more indulging than an amazing 30th birthday spa gift box?!
Included in the box are a lavender soy wax candle, some peppermint-shea lip balm, a lavender natural castile soap, a rose petal bath bomb, an orange bath bomb, a greeting card, and an engraved wood heart with an inspirational message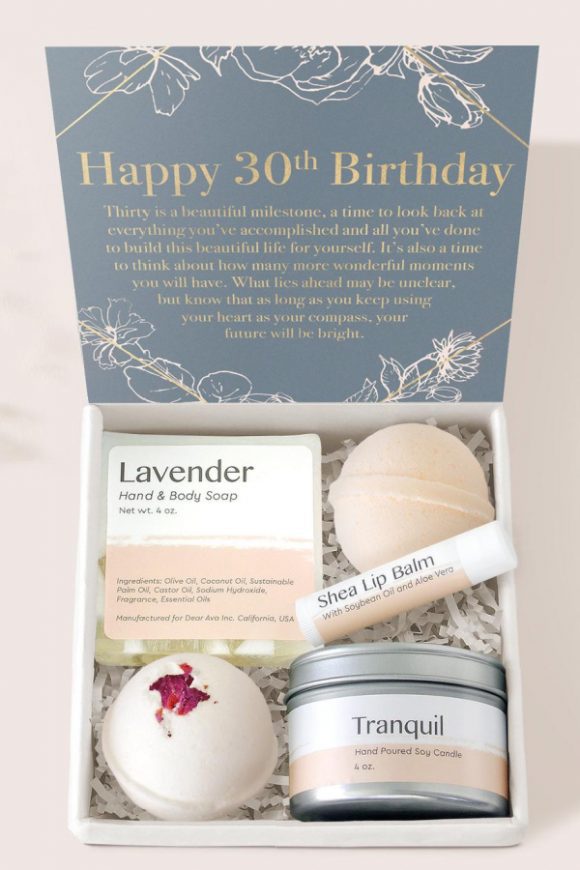 A makeup bag is essential for ladies that want to always look their best, even when they are out and about.
This fabulous 'talk thirty to me' is the perfect gift and is so handy.
What's even cooler is that it can also be used in the summer as a beach pouch too!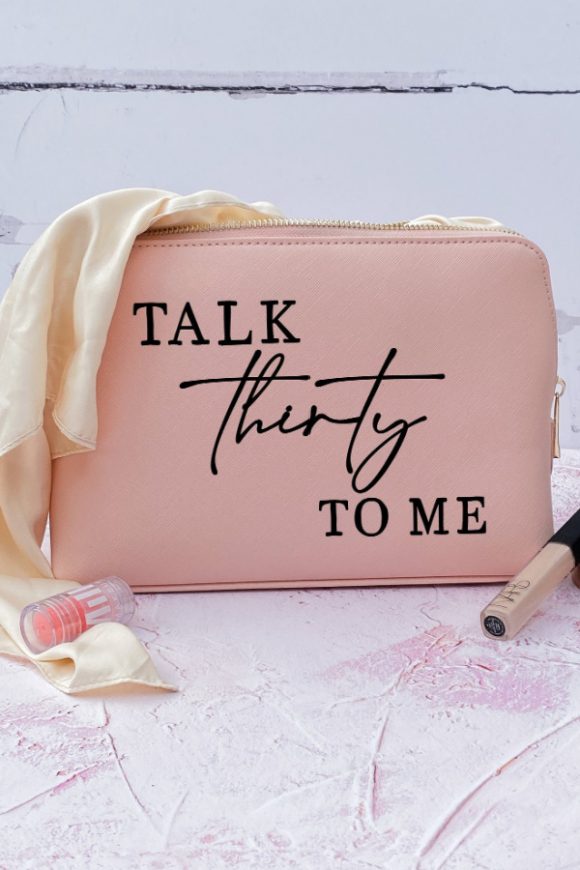 Any 30-year-old star in your life deserves this next gift.
This wonderful personalized wooden star is a beautiful decorative piece that can be cherished by a very birthday girl.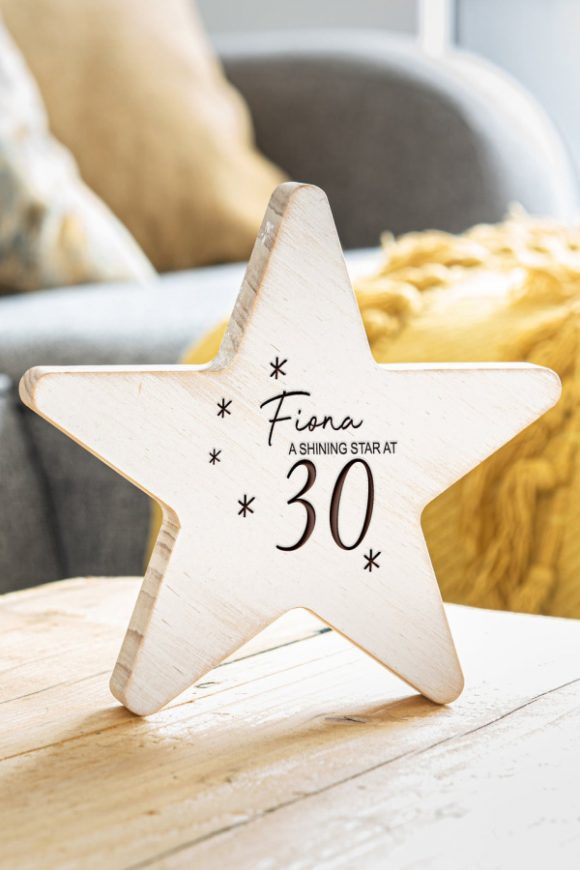 To finish off we have this pretty 30th birthday ceramic heart keepsake that is so precious.
It can be hung in a special place as a reminder of this milestone!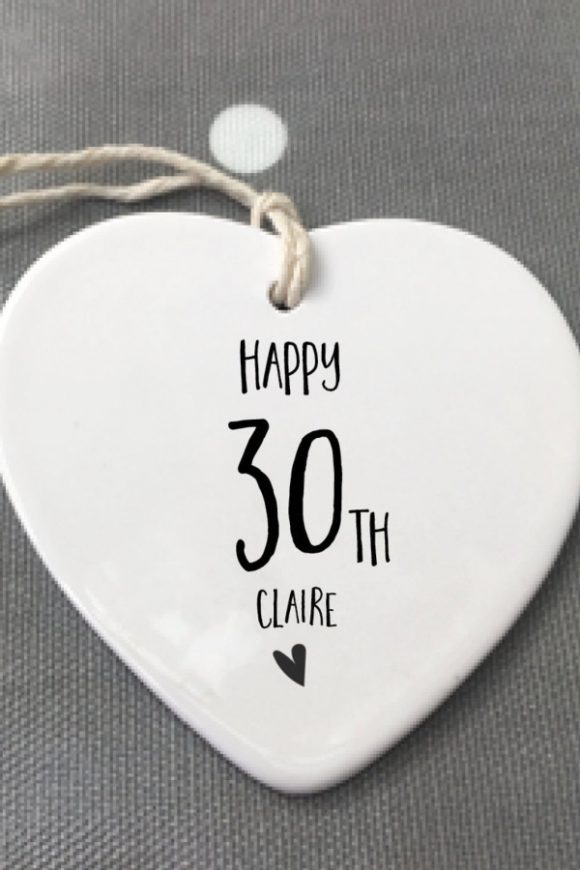 MORE 40TH BIRTHDAY PARTY POSTS YOU'LL LIKE:
For more inspiration, check out all the stunning 30th birthday parties on our site, and check out these 30th birthday party supplies from vendors with listings on Catch My Party!
Some links are affiliate links. If you click and purchase we might make a small commission at no cost to you.