If you are on a quest to throw the ultimate Barbie-themed bash in 2024 and are seeking a treasure trove of dazzling activities, you've just struck gold!
We've handpicked the crème de la crème of Barbie party activities, 23 in total, to elevate your event into a whirlwind of laughter, smiles, and pure Barbie fun.
Be sure to also check out all our fabulous Barbie party ideas, and download either our FREE Barbie "Let's go party" printables or our FREE vintage Barbie party printables and use them to decorate your celebration!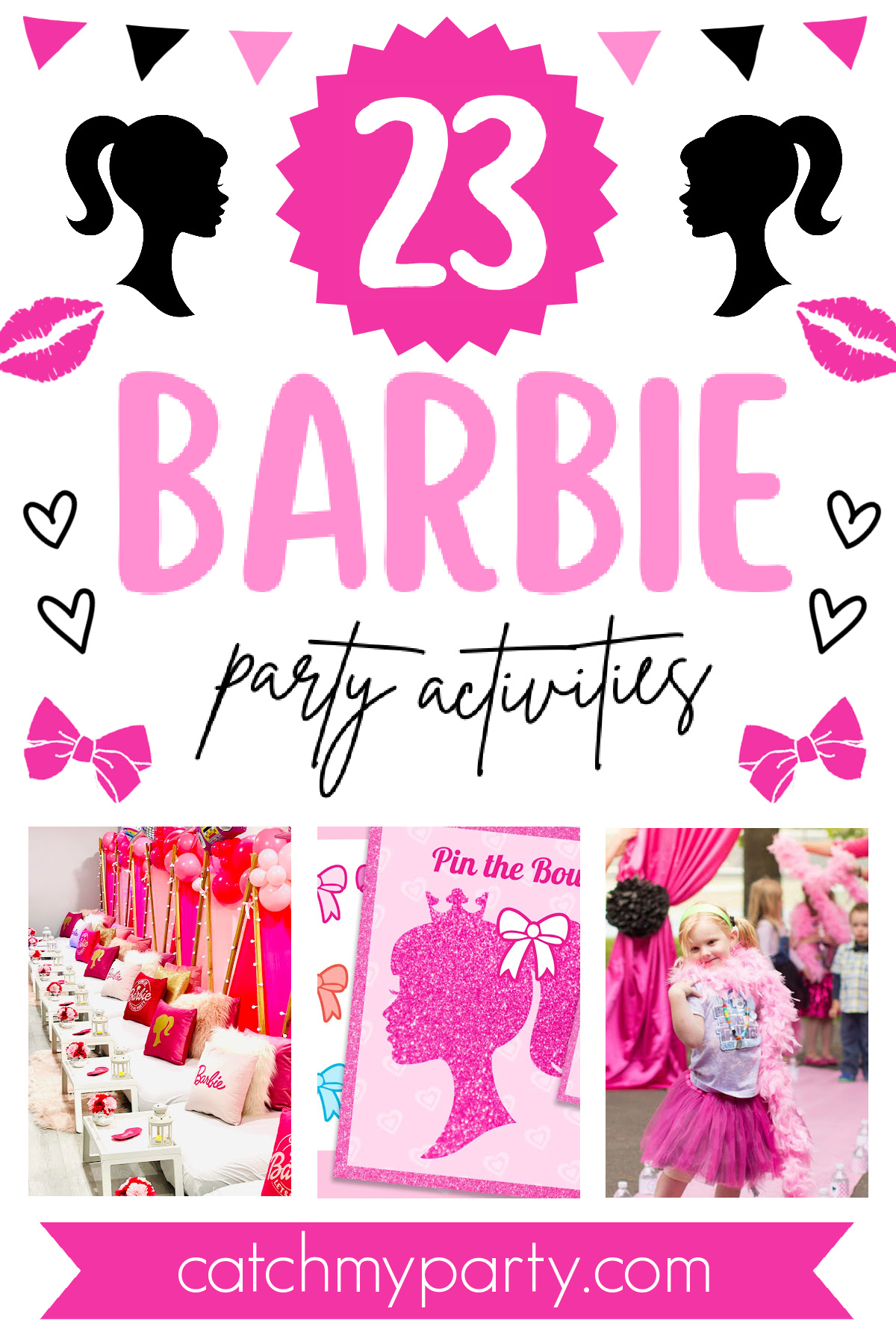 Immerse yourself in a world where creativity knows no bounds and where every doll gets to live her dream—because at a Barbie Party, the possibilities are as limitless as your imagination. Get ready to sparkle, laugh, and play; it's time for a Barbie bash that's nothing short of fabulous!
Reasons to Love These Barbie Party Activities
Interactive Fun: These activities provide interactive fun for kids, keeping them engaged and entertained throughout the party.
Creativity: The activities encourage creativity as kids get to design their own outfits, crafts, and even decorate their own dreamhouses.
Variety: There is a wide variety of activities to choose from, ensuring that there is something for everyone's interests and preferences.
Memorable Moments: The joy of bonding with friends over fun-filled games and crafts in a Barbie-themed wonderland creates cherished memories for a lifetime.
Inclusive: These activities can be enjoyed by both boys and girls, promoting inclusivity and allowing everyone to participate and have a great time.
The 23 Best Barbie Party Activities
Barbie Party Activity FAQs
What is a creative way to capture memories at a Barbie party?
Setting up a Barbie-themed photo booth with props and costumes can be a creative way to capture memories and have fun posing for pictures.
Are there any interactive games for a Barbie-themed party?
Yes, interactive games like a Barbie scavenger hunt, where kids search for hidden Barbie-themed items, can add excitement and engagement to the party.
How can you encourage creativity at a Barbie party?
Encouraging creativity can be done through activities like a Barbie fashion design contest, where kids can design and showcase their own unique outfits for Barbie dolls.
How can I create a Barbie-themed atmosphere for a birthday party?
Decorate the party space with pink and purple balloons, Barbie posters, and tablecloths featuring Barbie's iconic silhouette.
How can I make the birthday cake Barbie-themed?
Bake or order a Barbie doll cake where the dress is made of cake and the doll serves as a cake topper, or decorate a plain cake with Barbie-themed edible images.
What are some Barbie-themed party favors I can give to the guests?
Consider giving out Barbie stickers, Barbie-themed stationary, mini Barbie dolls, or personalized Barbie-themed goodie bags filled with small toys and treats.
For more inspiration, check out all these stylish Barbie Birthday Parties on our site.
Need more Barbie party ideas?