If you're thinking of throwing a Star Wars-themed party for a Star Wars fan, check out our 21 must-see Star Wars birthday party ideas that are sure to make your celebration out of this world!
Star Wars is one of the most popular boy birthday party themes on our site!
The movies and the whole franchise are so inspiring, and there's so much to theme your Star Wars party around, be it the original Star Wars movies or the Disney+ shows, like Mandalorian, or Andor.
Use our FREE Star Wars party printables to decorate your party, and treat your guests to some delicious Star Wars Toffee and Star Wars Chocolate Candy.
Plus, don't miss these 10 truly inspiring Star Wars cakes.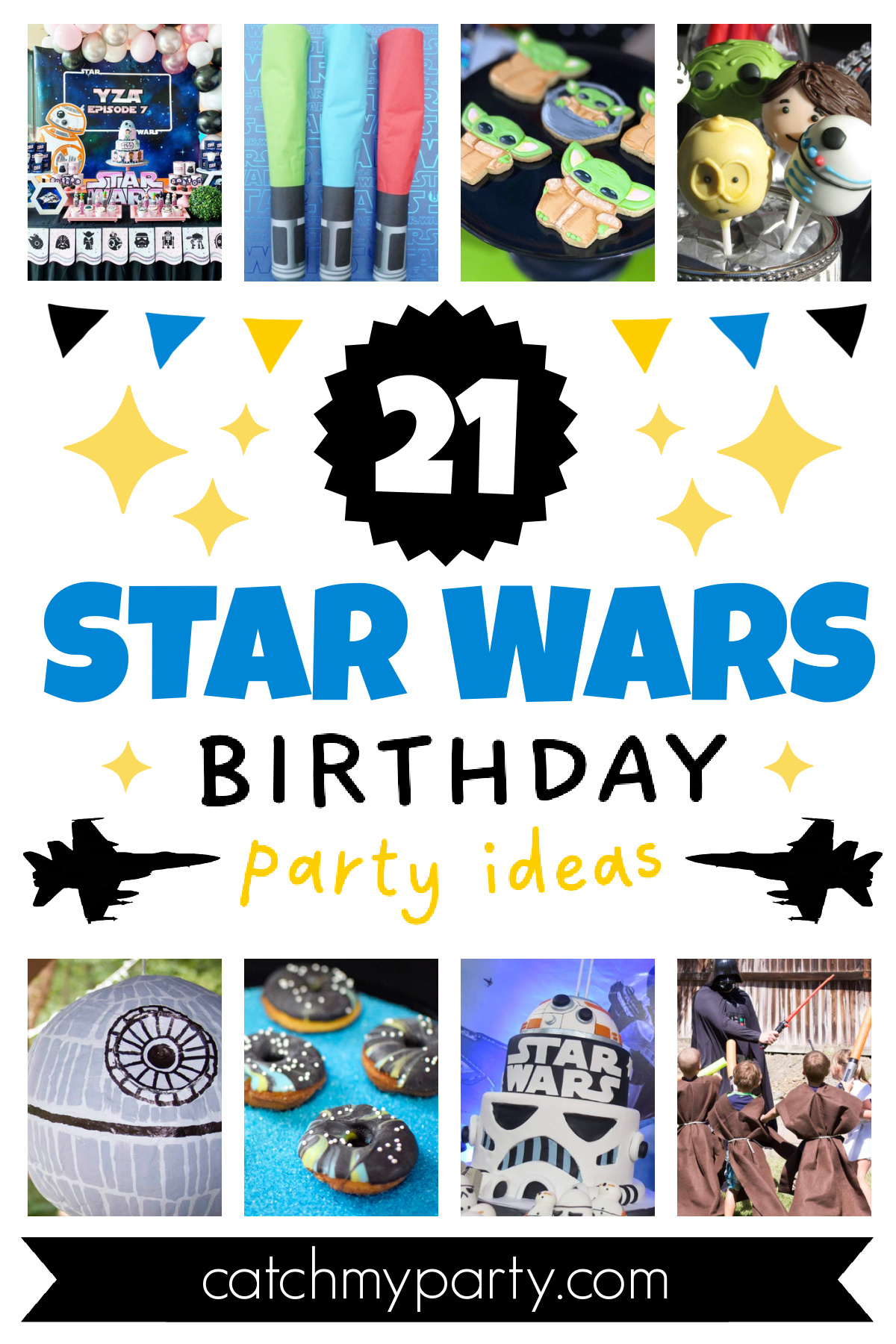 From party decorations to Star Wars party food and games, we have plenty of ideas that will help you create an unforgettable experience and even throw a Star Wars party on a budget.
Reasons to Love These Star Wars Birthday Party Ideas
The Star Wars franchise has such a huge fan base, that your guests are sure to love the theme.
With so many different Star Wars characters and elements to choose from, you can tailor your party to include your favorite parts of the franchise.
Your party will provide lasting memories for your child, family, and party guests.
Great opportunity to get creative with the theme.
Activities and games can be designed around the theme to create an extra exciting experience.
The shared experience of the party theme can help children connect with each other and build lasting friendships.
21 Must-See Star Wars Party Ideas
Take your guests to a galaxy far far away with an amazing Star Wars-themed dessert table like this. The marble balloons used to decorate the backdrop mixed with black and white ones, help transport your guests to another galaxy. The Yoda, R2D2, and Darth Vader decorating the party, add to the whole Star Wars universe.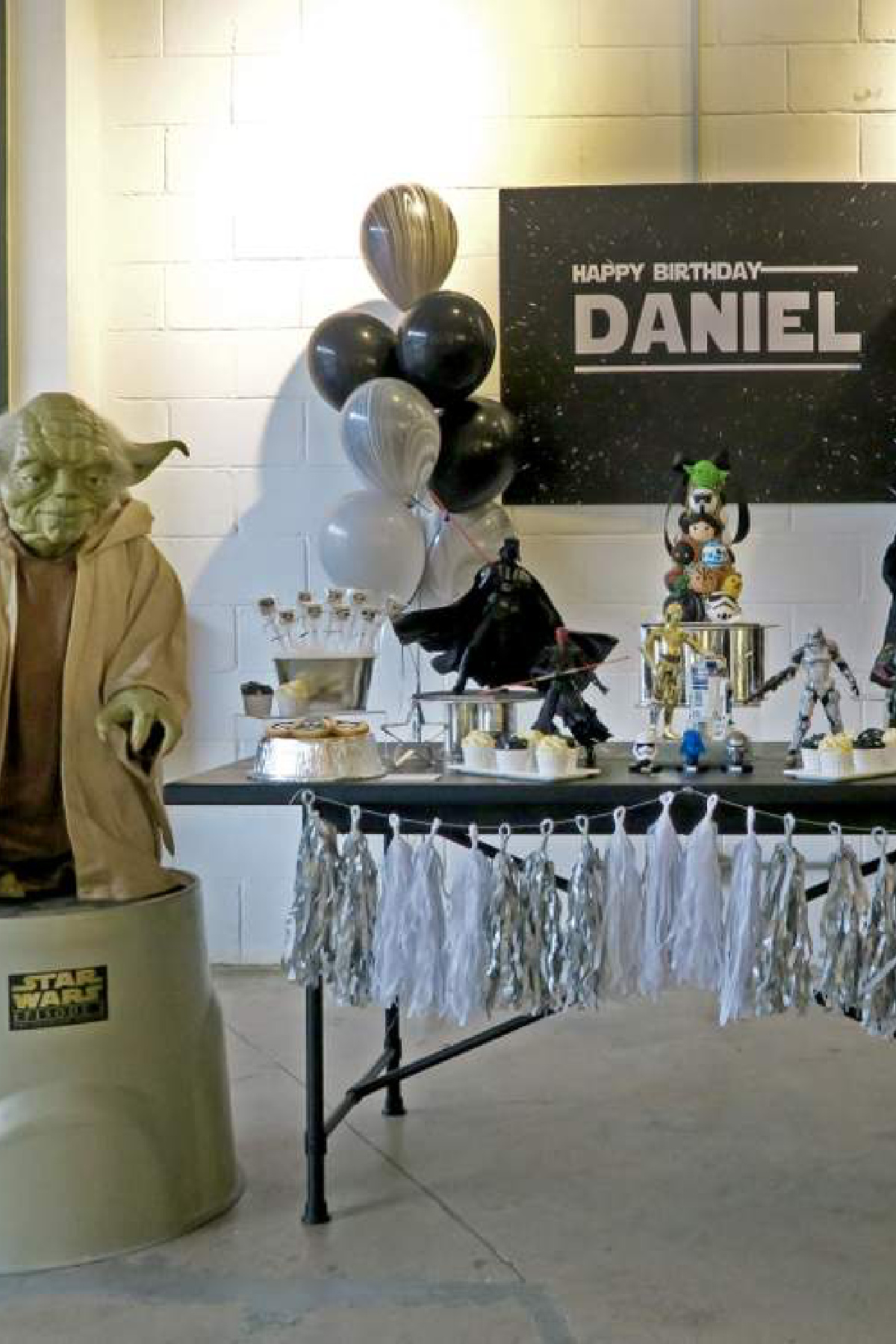 Some girls love Star Wars just as much as boys, so if your daughter is a diehard Star Wars fan treat her to an unforgettable Star Wars party.
To make a Star Wars-themed party more appealing for a girl, consider incorporating her favorite characters such as Princess Leia, Rey, or even Luke Skywalker. You could also add pink to your color scheme to give the party a more feminine touch.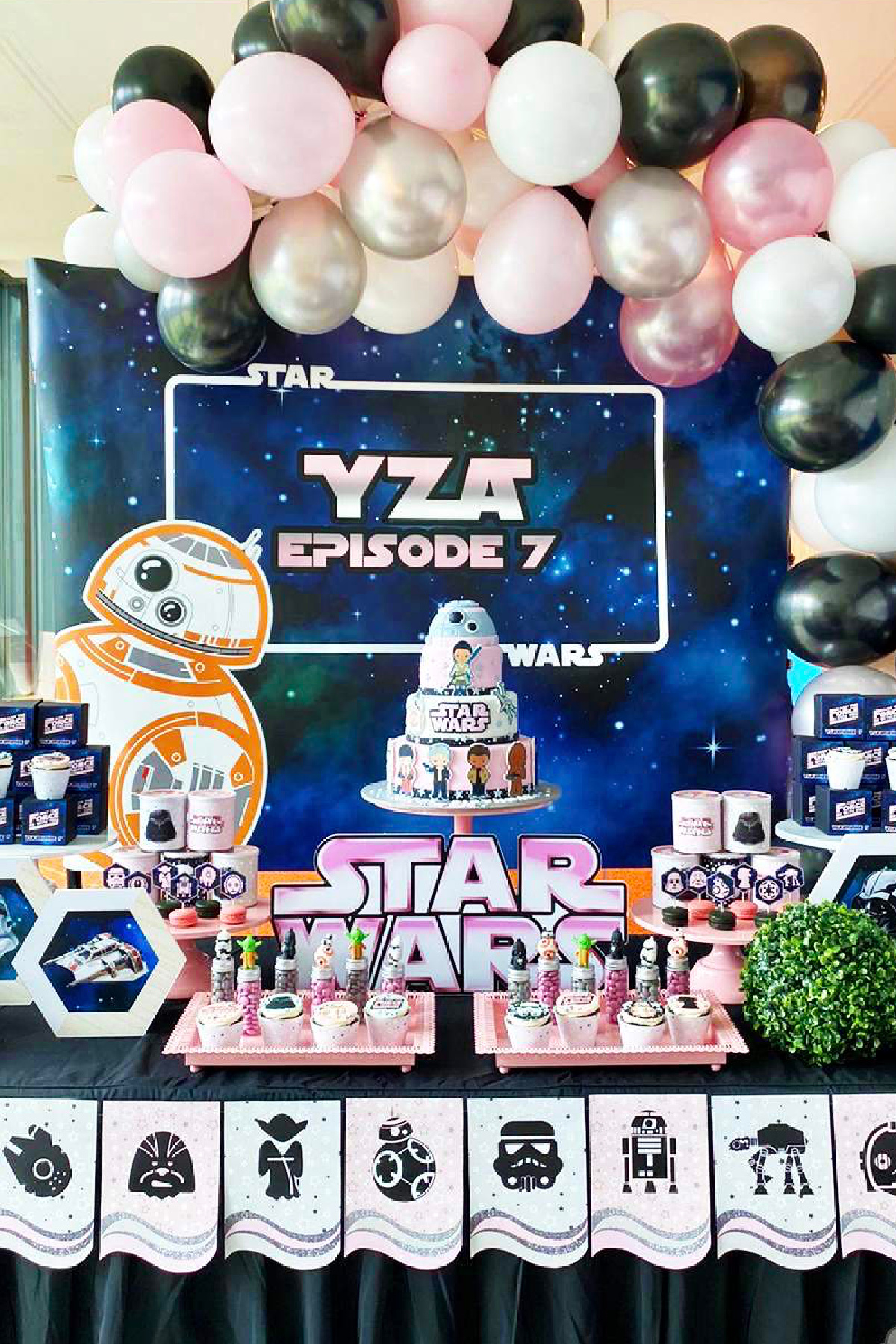 Wow! This pitch-black outer space-inspired drip cake is absolutely incredible, and a perfect reference of the dark side! It's so beautifully decorated with its faraway planets and stars and topped off with the Millennium Falcon. Perfect!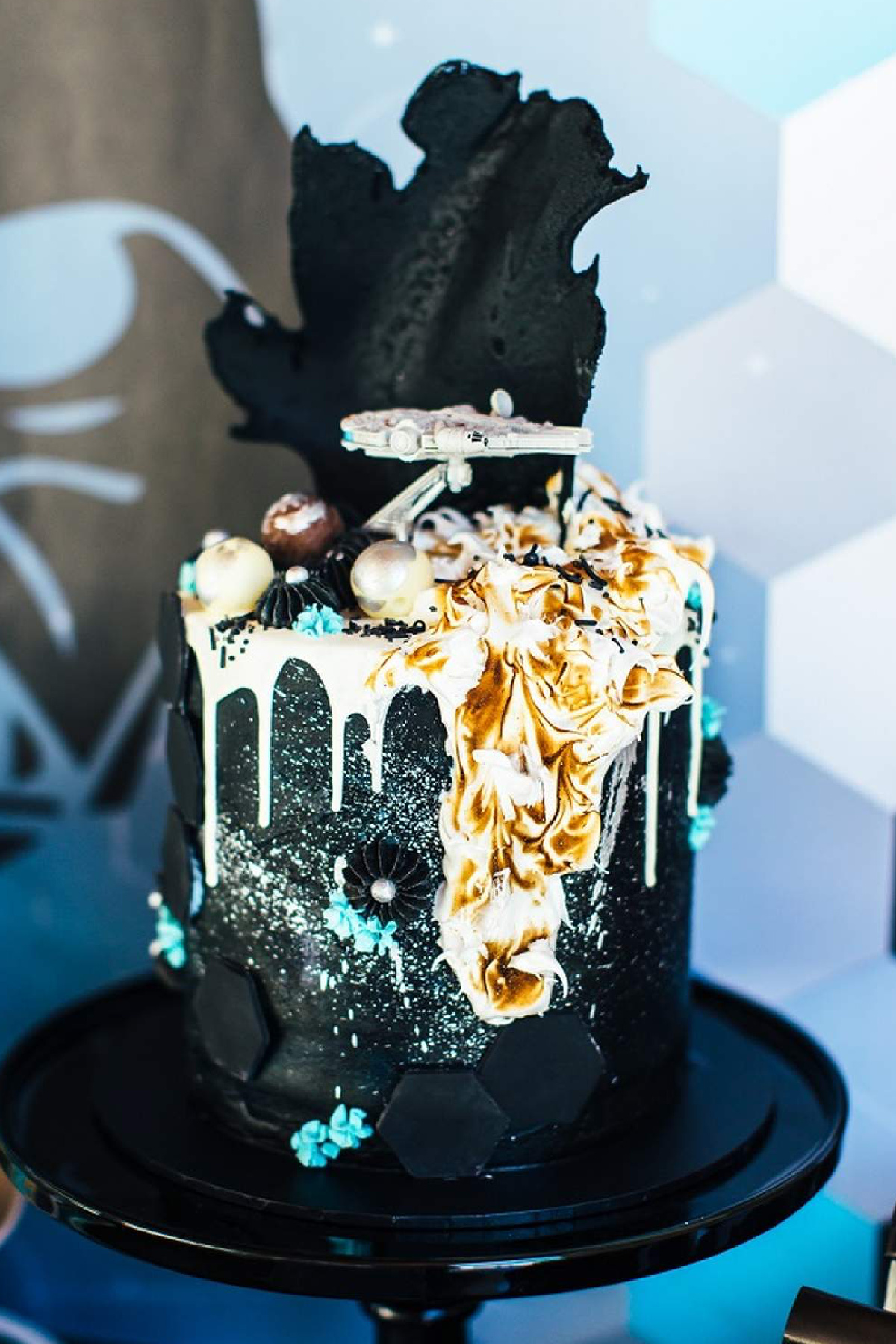 If you're looking for a guaranteed show-stopping Star War-themed birthday cake, consider treating your guests to a multi-tiered cake where each layer is a different character. Not only is it visually impressive but also offers a fun surprise with each layer.
The top BB-8 tier is perfect for Star Wars fans who love the more recent movies, while the Stormtrooper at the bottom is a nod to the original trilogy. The Star Wars logo in the center ties everything together and makes this cake a tribute to the entire franchise.
Click for more Star Wars birthday cake ideas!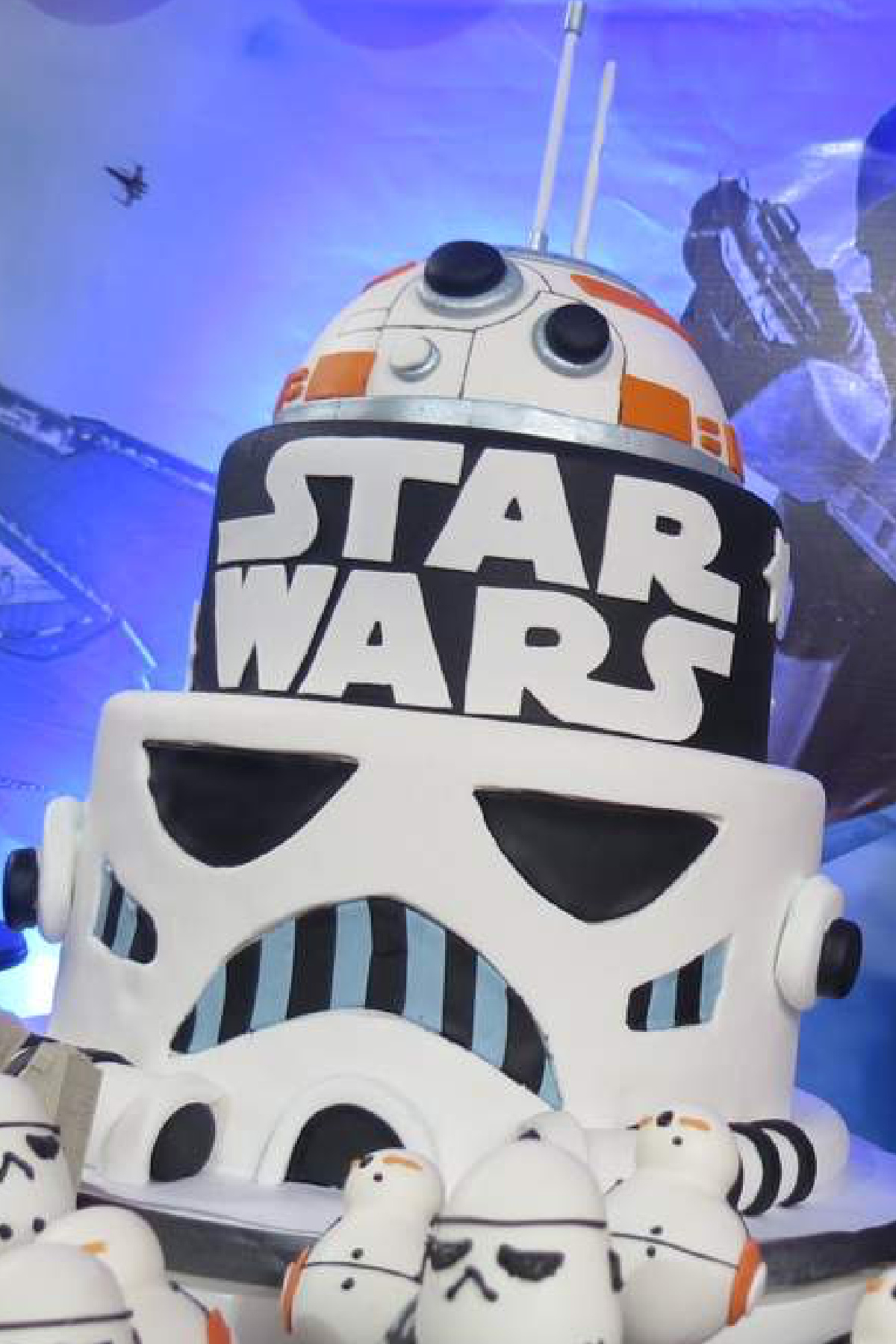 For some fun and easy Star Wars-themed cupcakes treat your party guests to these awesome white frosted cupcakes decorated with mini lightsabers.
Add a simple cupcake wrapper with the Star Wars logo and you're good to go!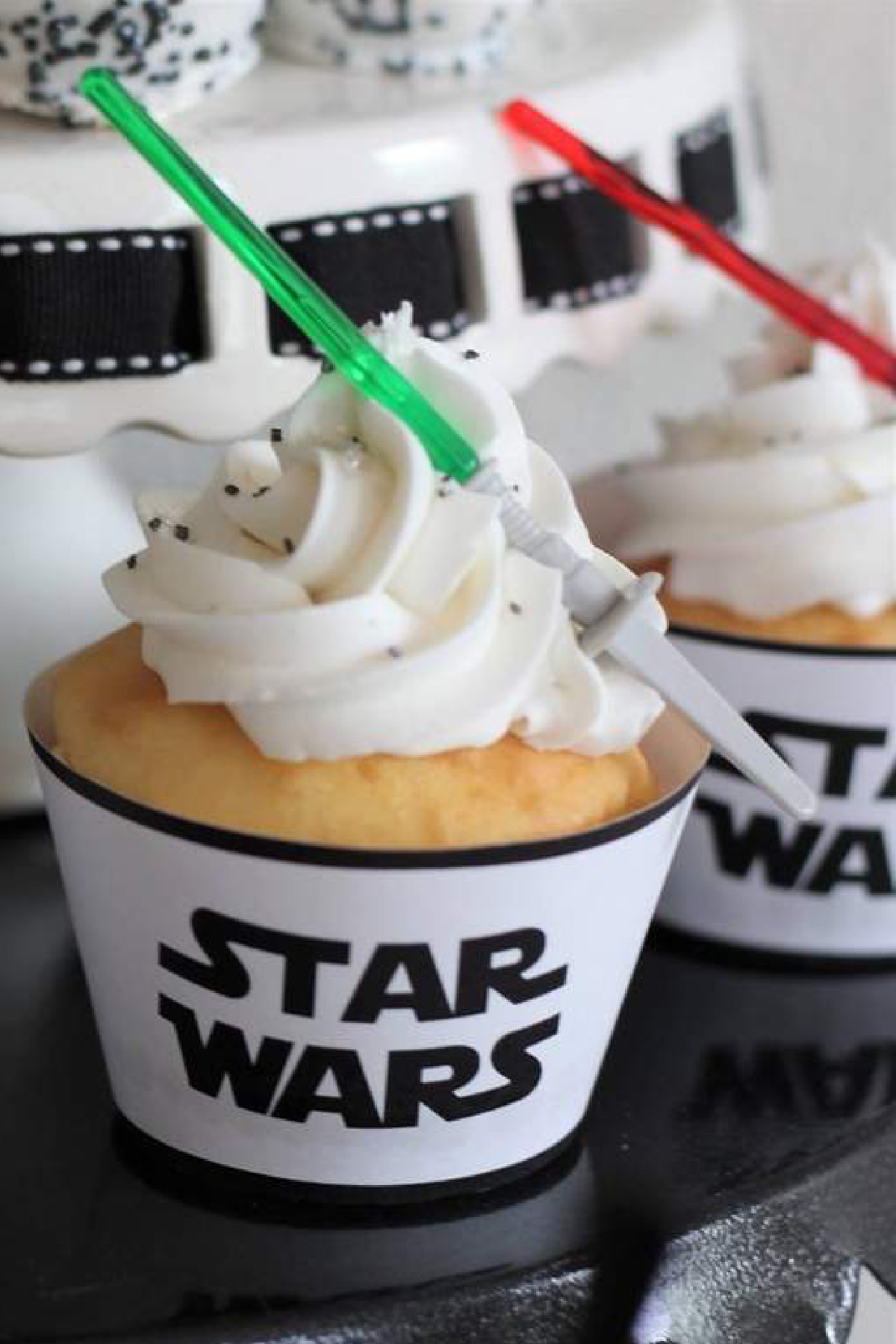 These cookie and marshmallow Tie Fighters will go down a treat at a Star Wars party!
Make your own by attaching a marshmallow, with a dab of icing sugar, between two cookies. Draw lines on each marshmallow, with some black icing, to create the Tie Fighter's solar panels.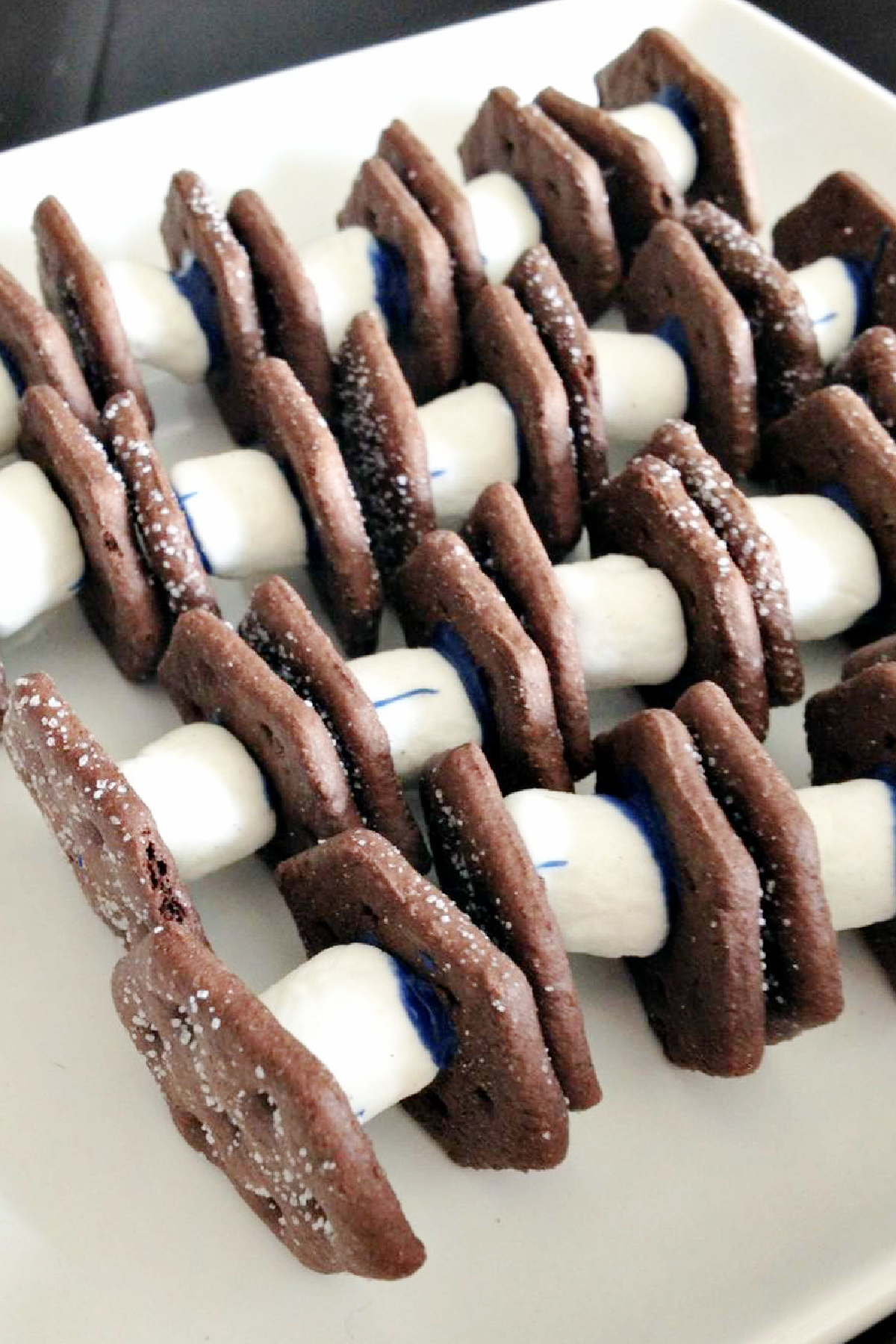 These Star Wars character cake pops are such a fun way to way to incorporate Star Wars into your party. These miniature treats can be decorated to look like your favorite Star Wars characters such as C-3PO, Yoda, and R2-D2, to name just a few.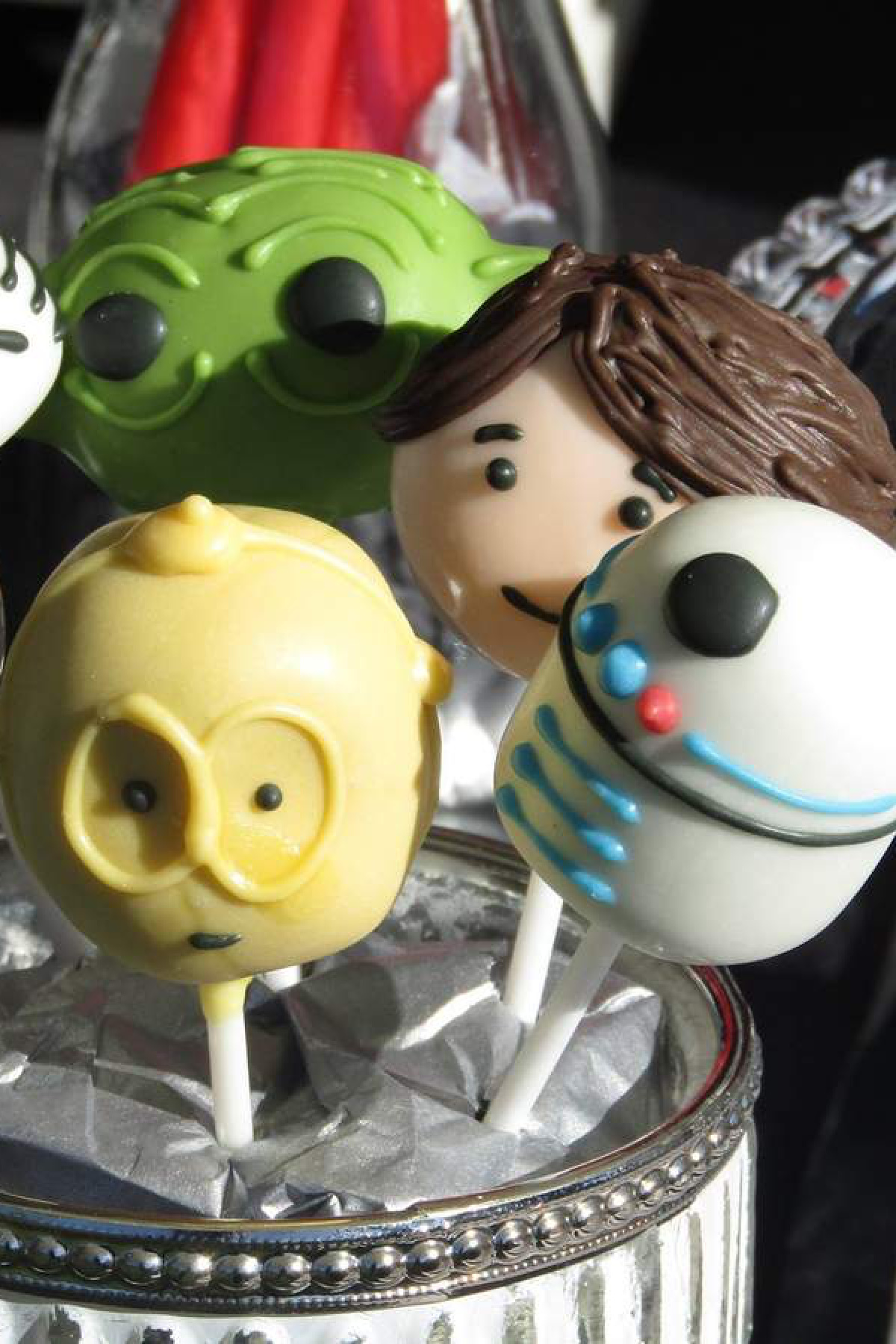 Create some Star Wars-themed donuts by decorating them with black icing and some blue and green swirls. Finish them off with some sprinkles to make them look like some faraway distant galaxies.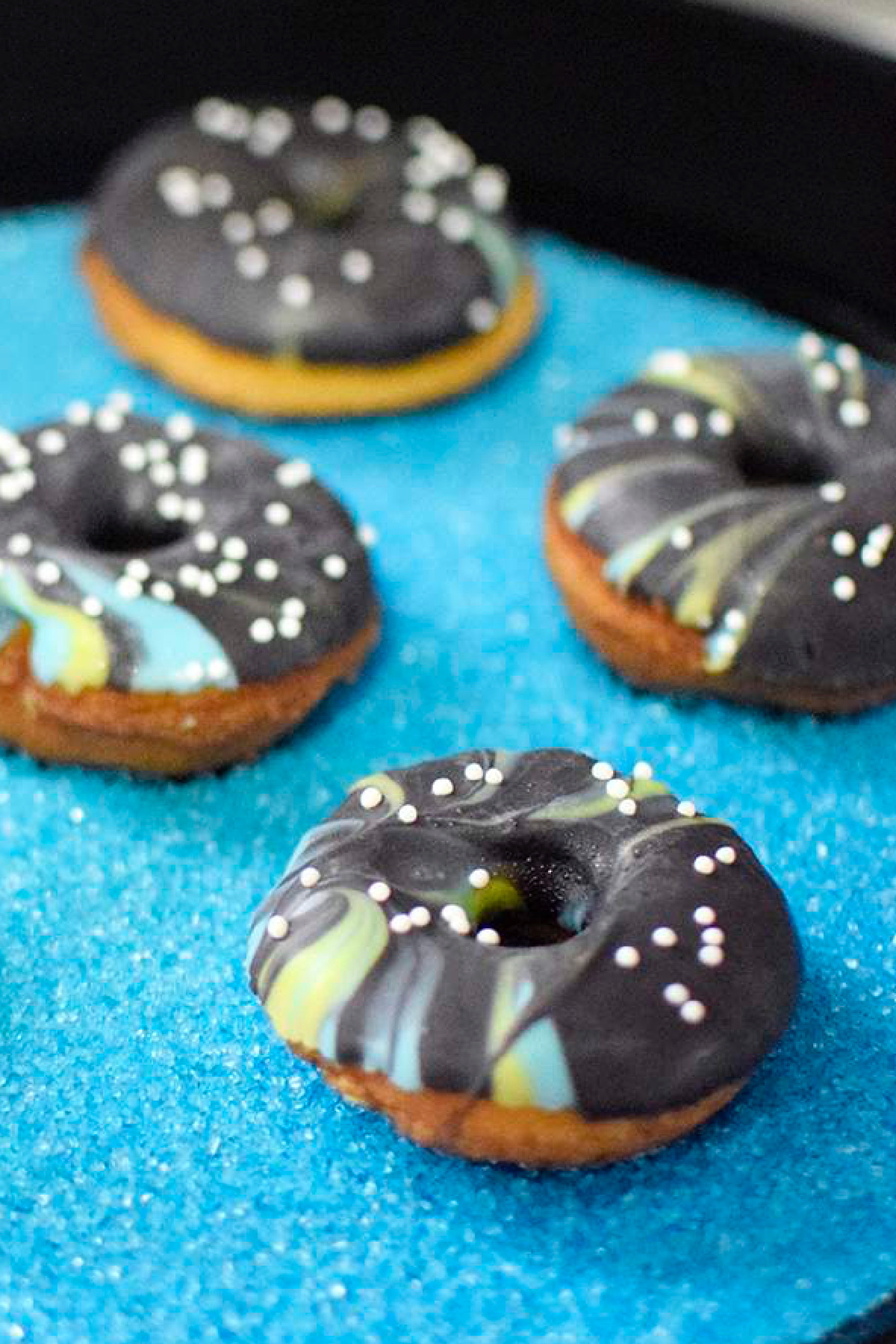 Add some sci-fi flair to your dessert table with some fun sugar-coated Star Wars-inspired cookies. Showcase a bunch of your favorite Star Wars heroes and villains, such as Darth Vader and Chewbacca.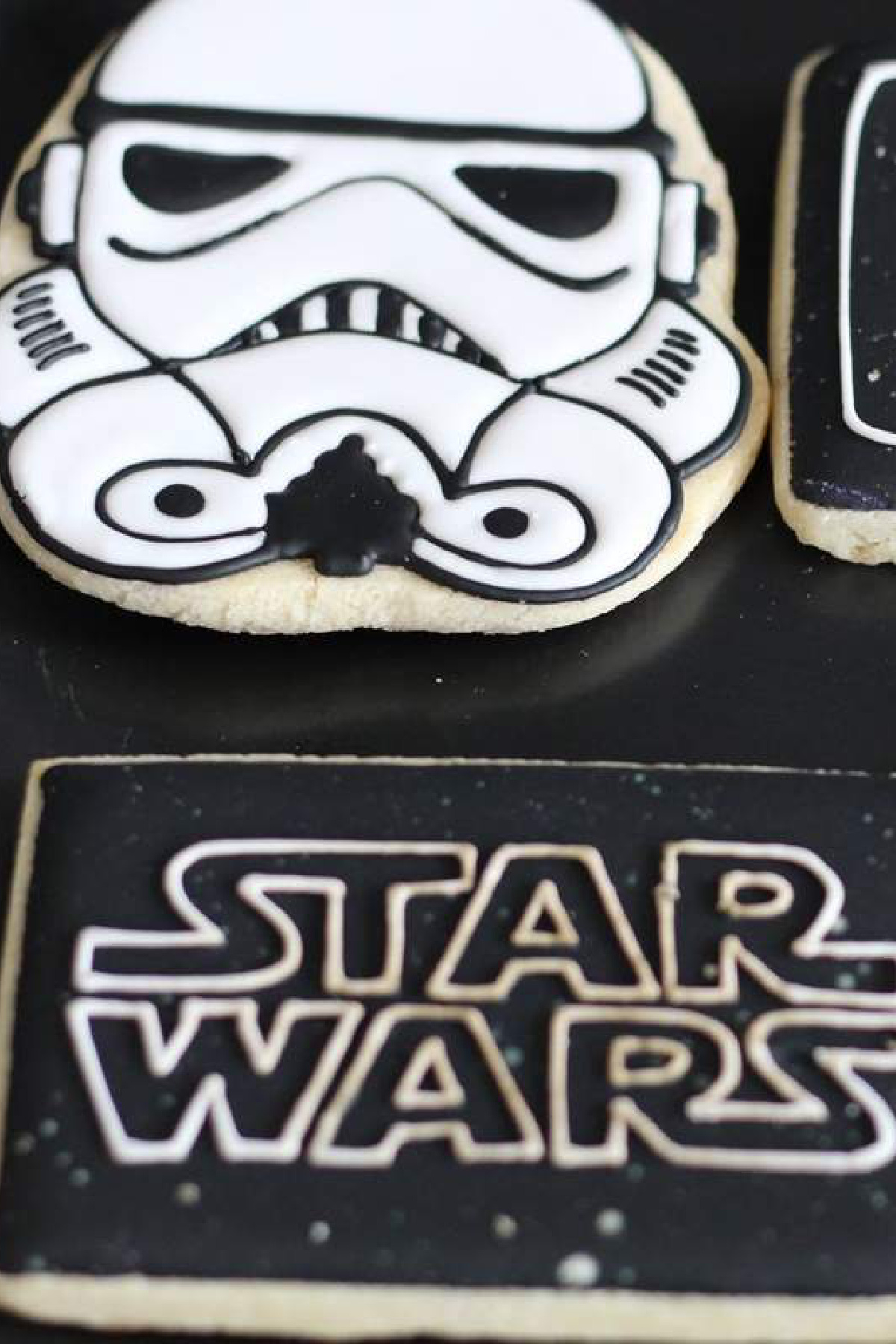 Baby Yoda cookies are a must-have treat for a Mandalorian fan. With his big ears, cute little nose, and wide eyes, these Baby Yoda cookies are sure to be a hit with guests of all ages.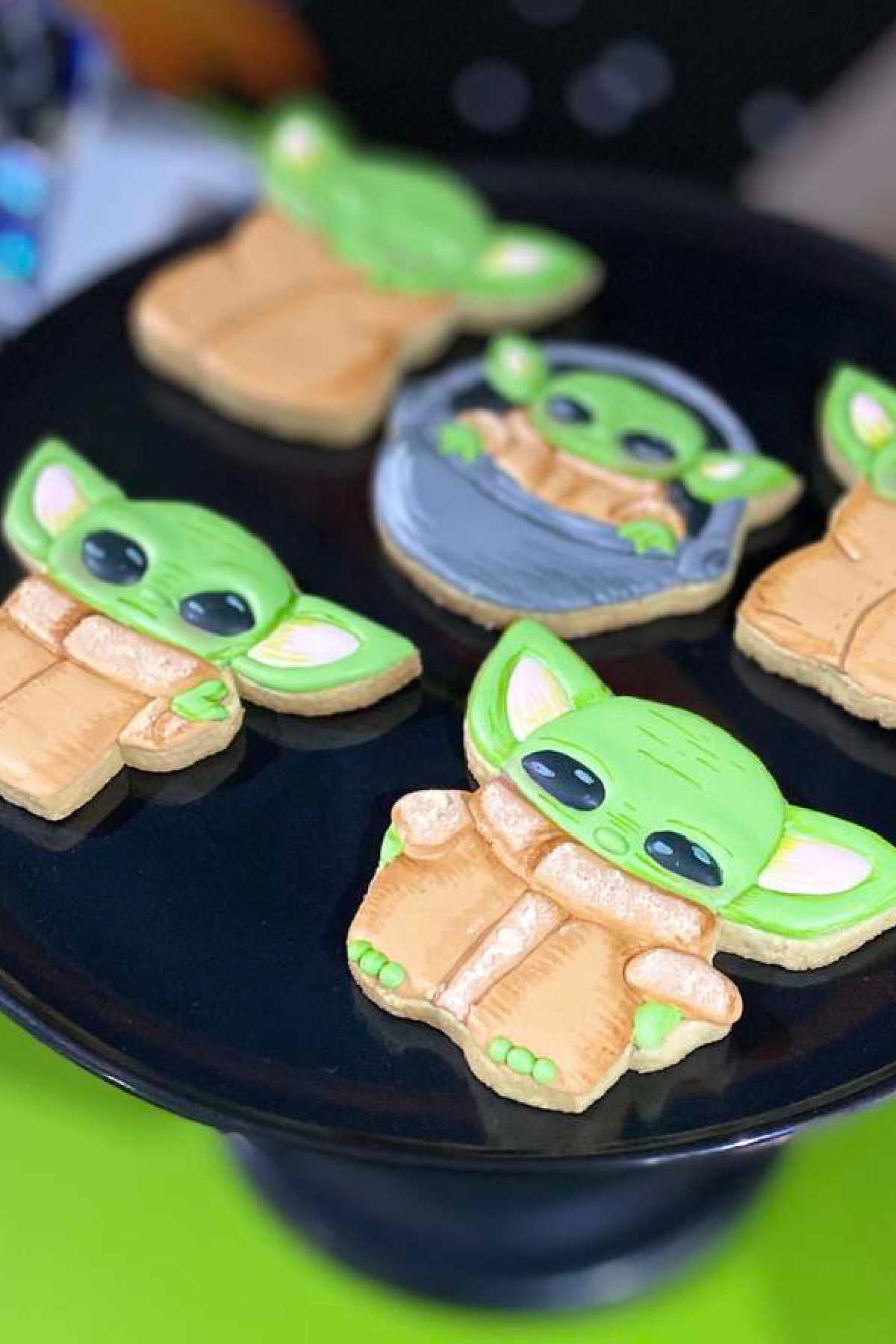 All Star Wars fans out there, are going to love this Star Wars toffee recipe.
Made with Saltine crackers, toffee, swirled candy melts, and sprinkles, you can bet they'll be a hit at your party!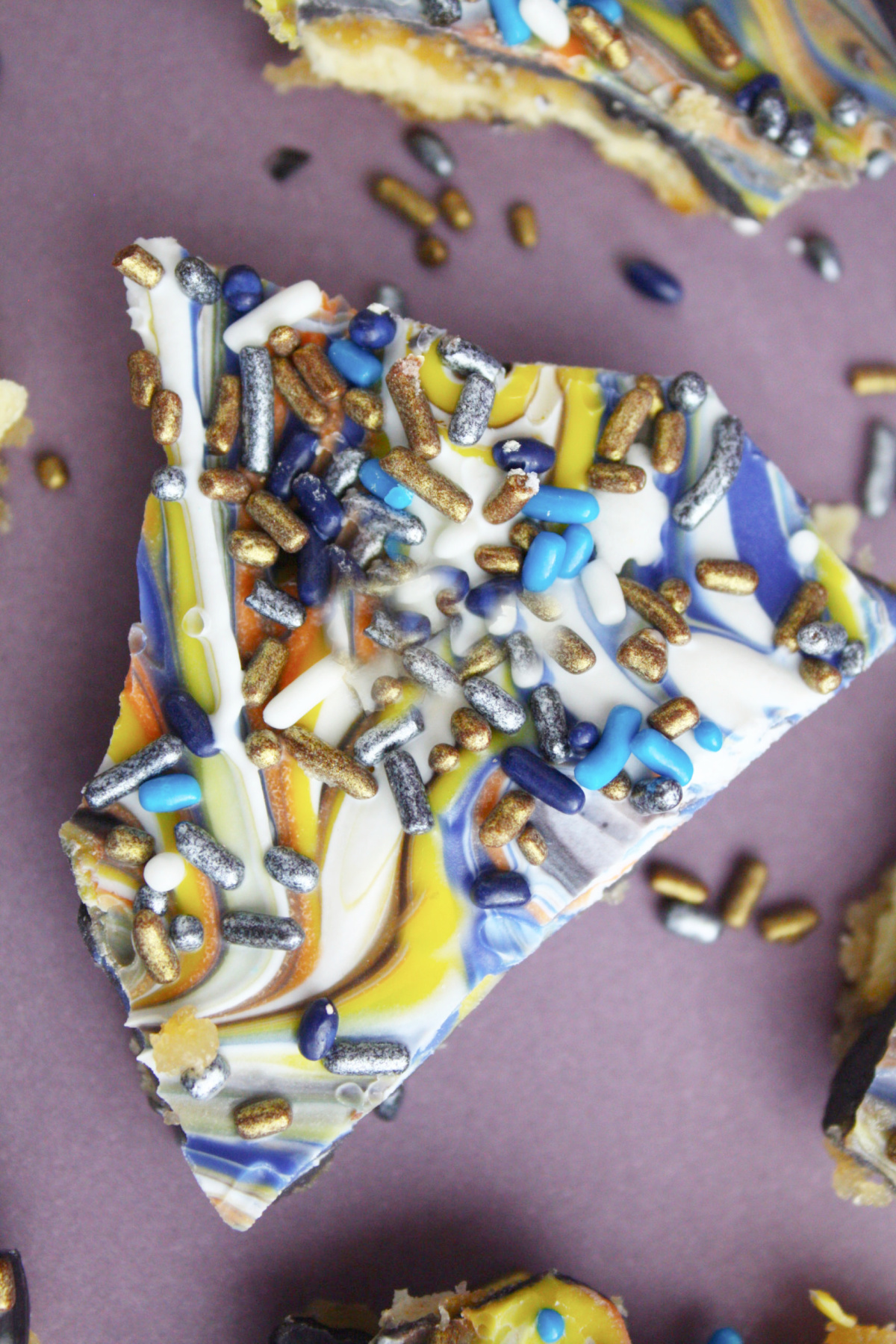 Lay out a bunch of these cool Star Wars chocolate candies on a plate and watch them disappear before your eyes! Be sure to click to make your own!
Turn them into party favors by placing them in transparent bags with a cute Star Wars-themed label.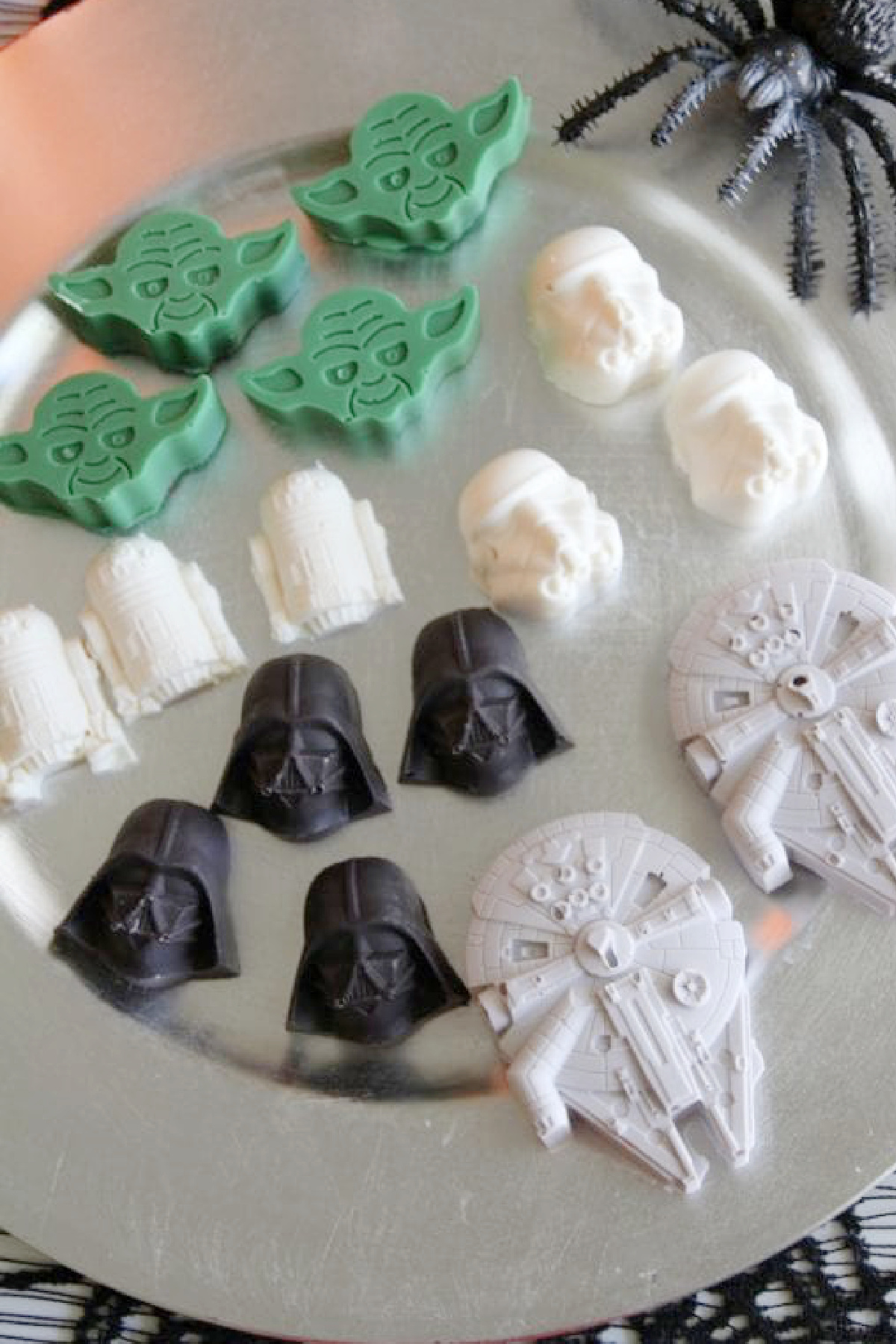 If you're looking for inspiration for a Star Wars-themed tablescape then look no further. The example below is absolutely fantastic!
Love the sparkly blue tablecloth and inflatable light sabers, and check out the awesome seats decorated with the Millennium Falcon.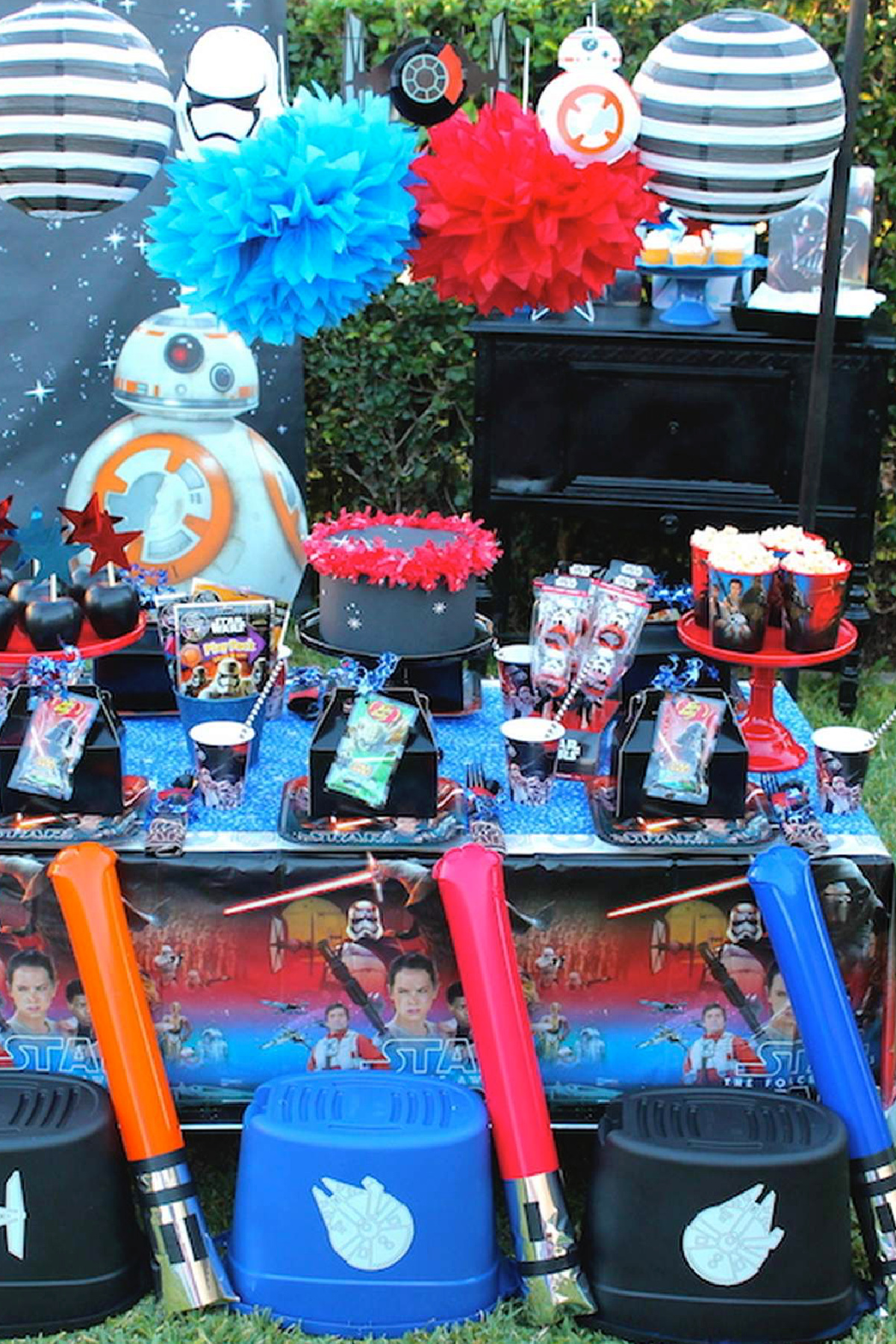 Easily turn regular cups, at your Star Wars party, into R2D2 ones with the help of our FREE R2-D2 printable template. Simply download the file and follow the instructions.
If you want to add some droid-inspired flair to your celebration, give these DIY R2D2 cups a try!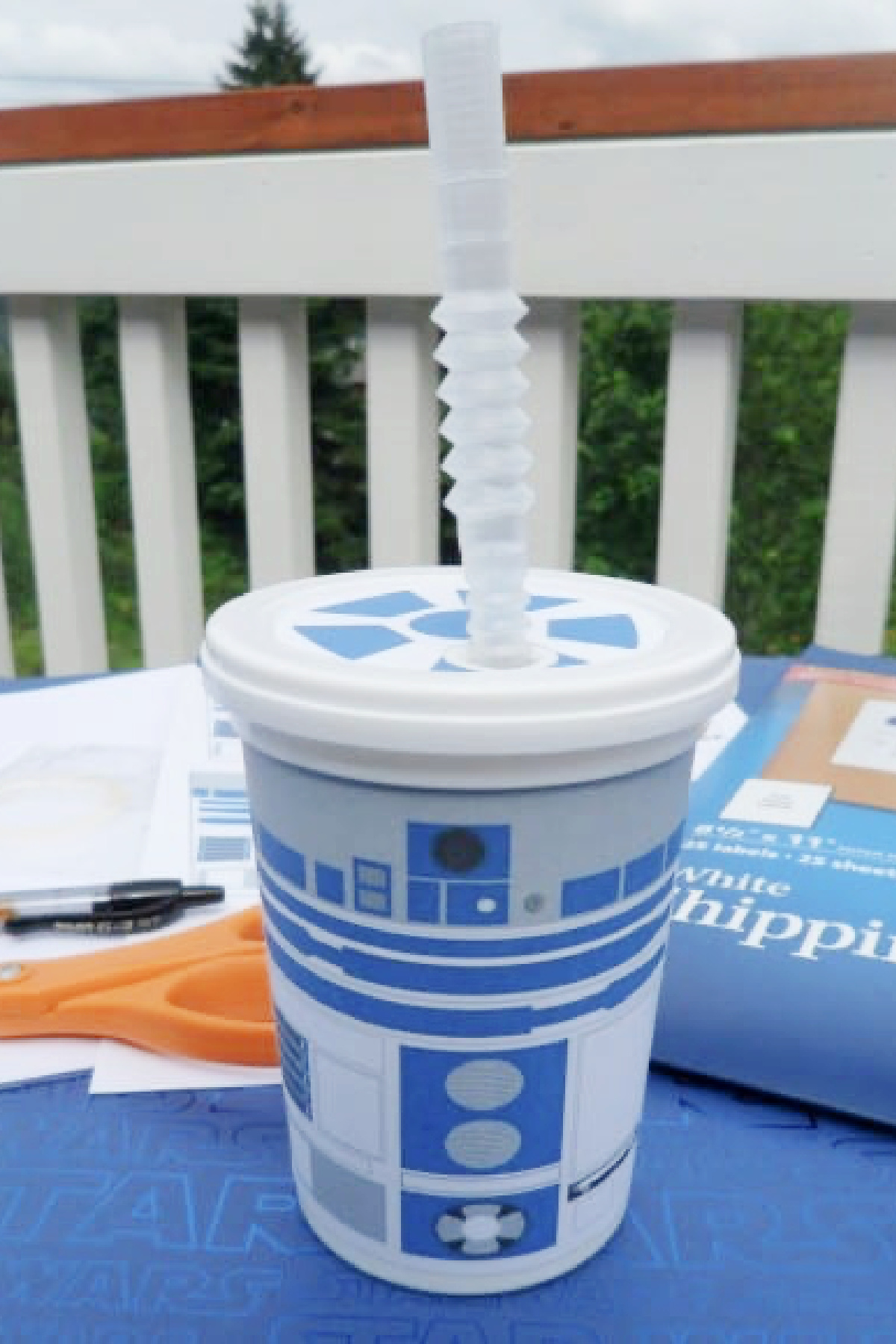 These lightsaber napkin wraps are perfect for a Star Wars birthday party!
Designed to look like the iconic lightsabers from the Star Wars movies wrap them around brightly colored napkins to resemble actual lightsabers.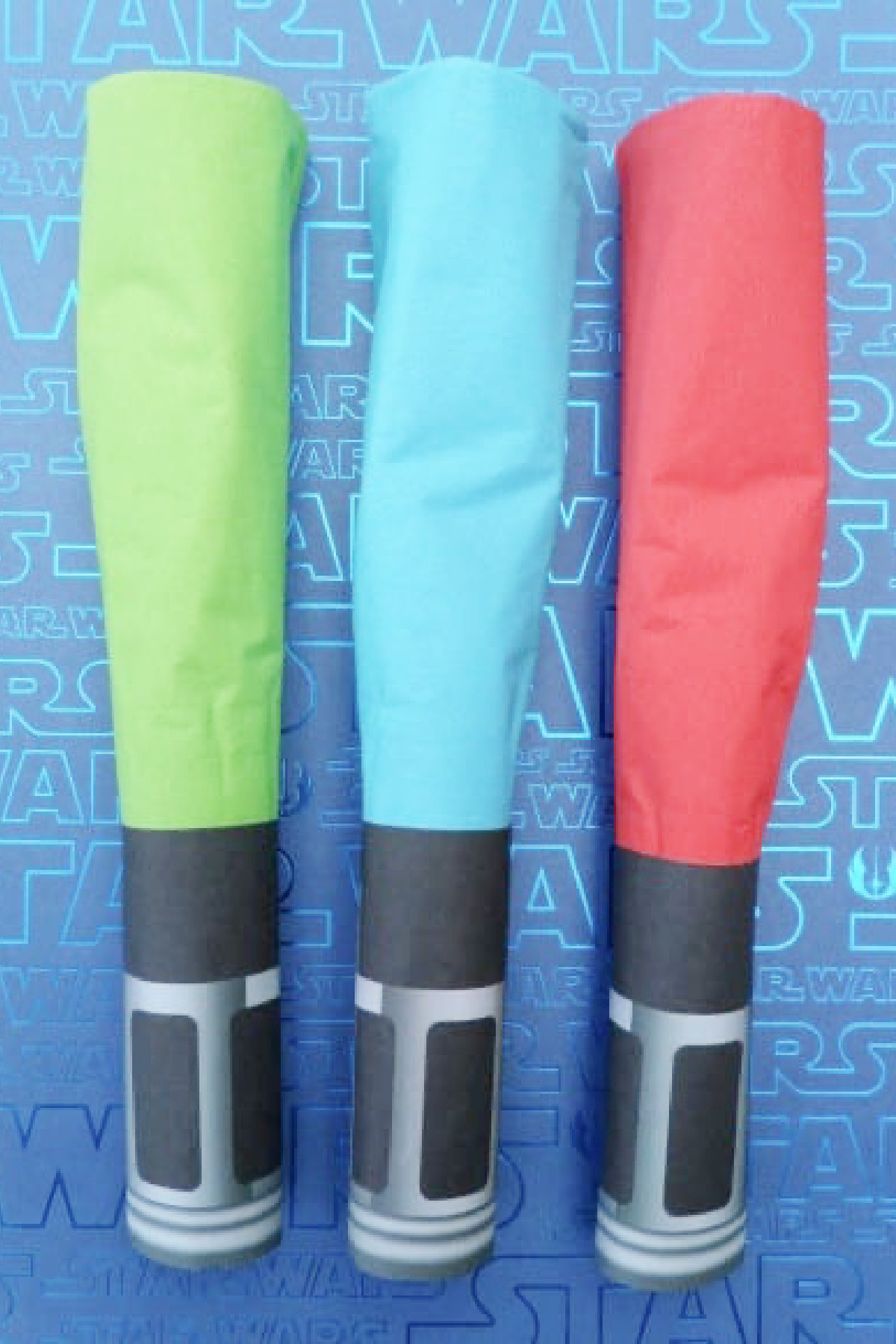 Save time and money with our FREE Star Wars party printables! Download the file and use them to decorate your Star Wars party.
Included in the set are some Star Wars birthday party invitations, a welcome poster, some cupcake toppers, some tented food cards, and some party favor tags.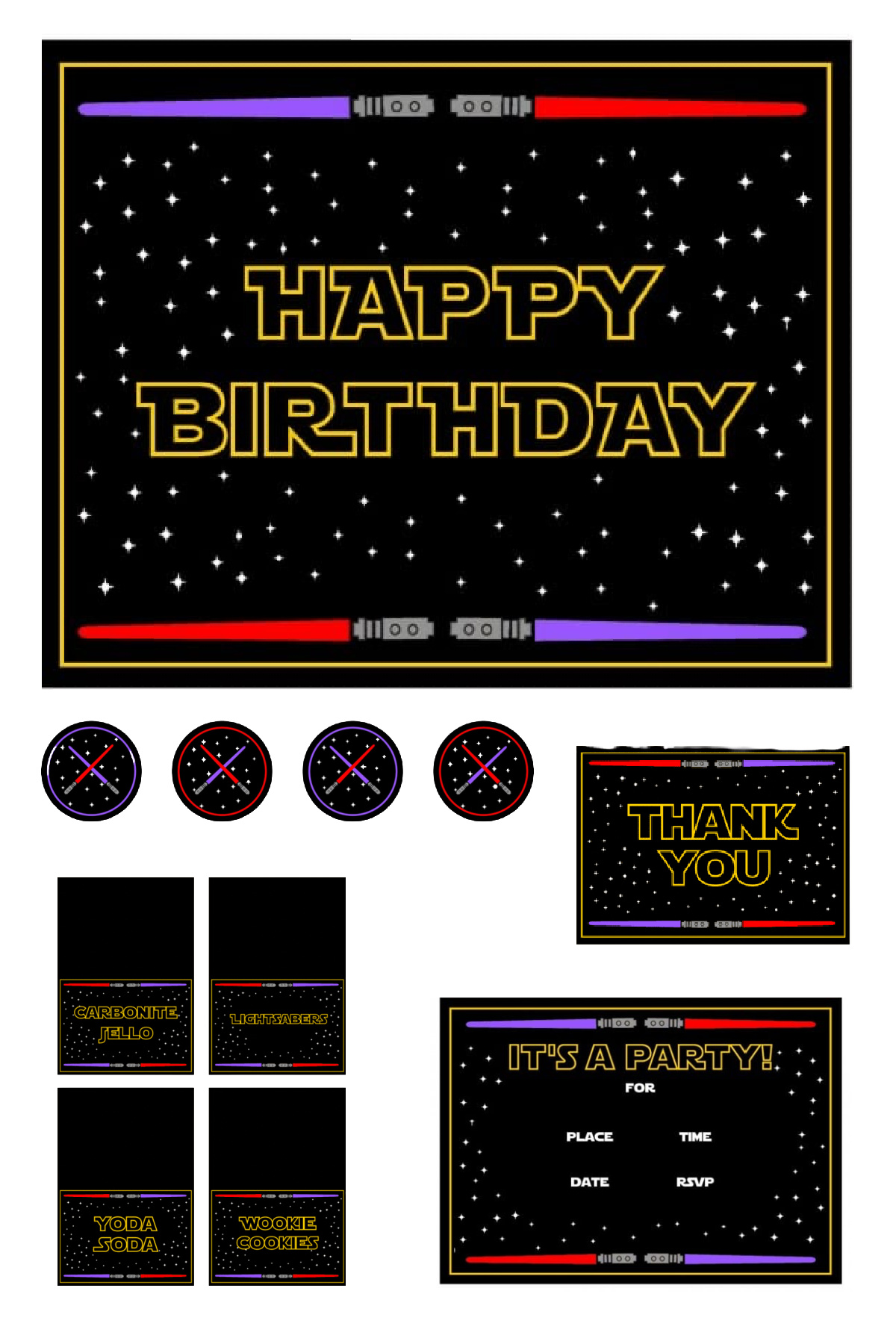 You are gonna love this super easy way to transform plain white balloons into Stormtroopers. Simply stencil an image of one, with black paint spray paint, onto your white balloons and you're good to go!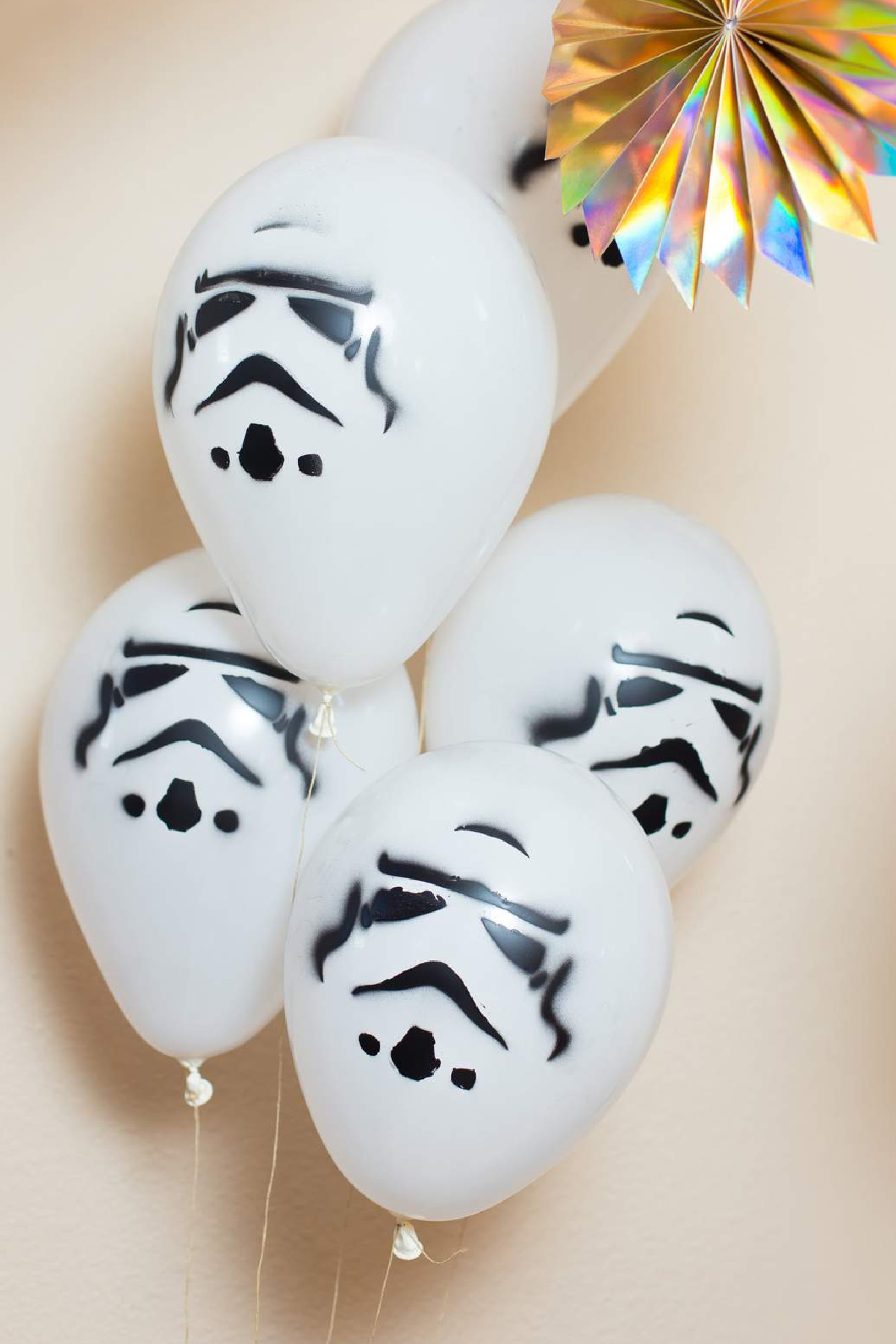 Kids are gonna have a blast bashing the candy out of this awesome Death Star piñata. What's great is that it doubles as a cool decoration during the party too!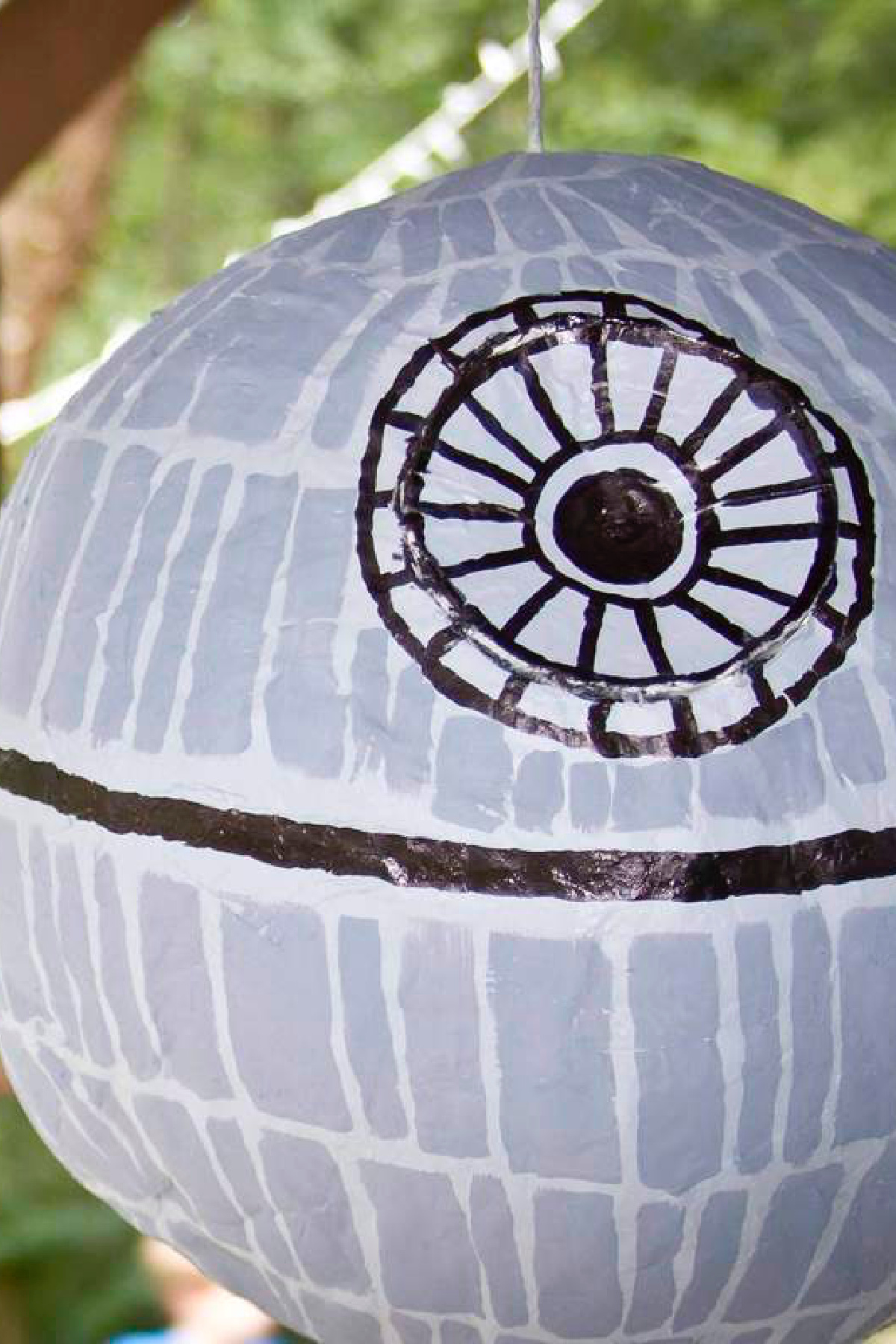 Keep your little guests entertained with some fun Star Wars party games and some Jedi training by no other than the man himself, Darth Vader.
Make it extra special by having the kids wear Jedi robes and their very own lightsabers, made from colorful pool noodles.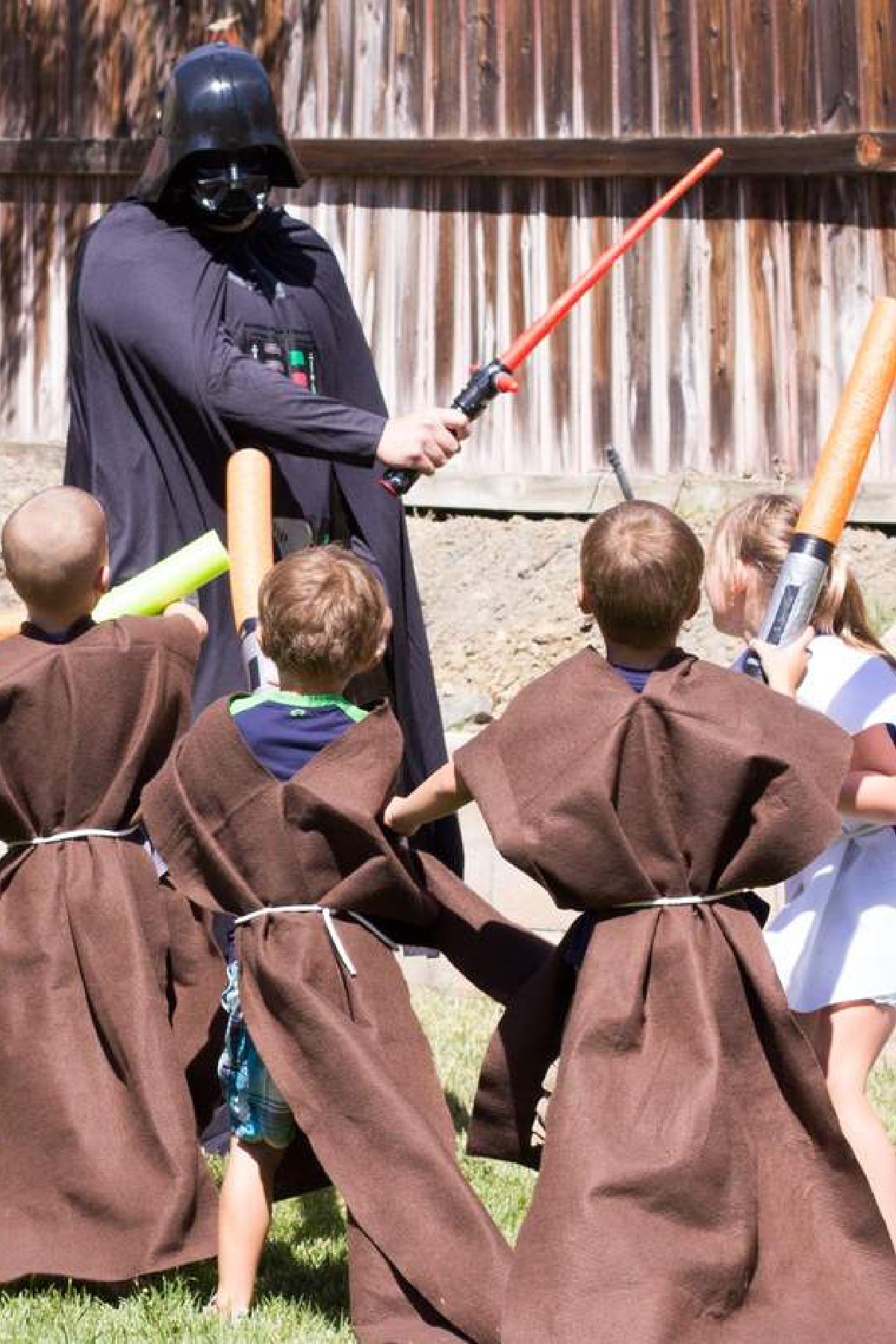 Have your guests feel the force with these awesome Star Wars photo booth props. They'll have so much fun fooling around with them and you'll have a laugh looking back at the amazing photos!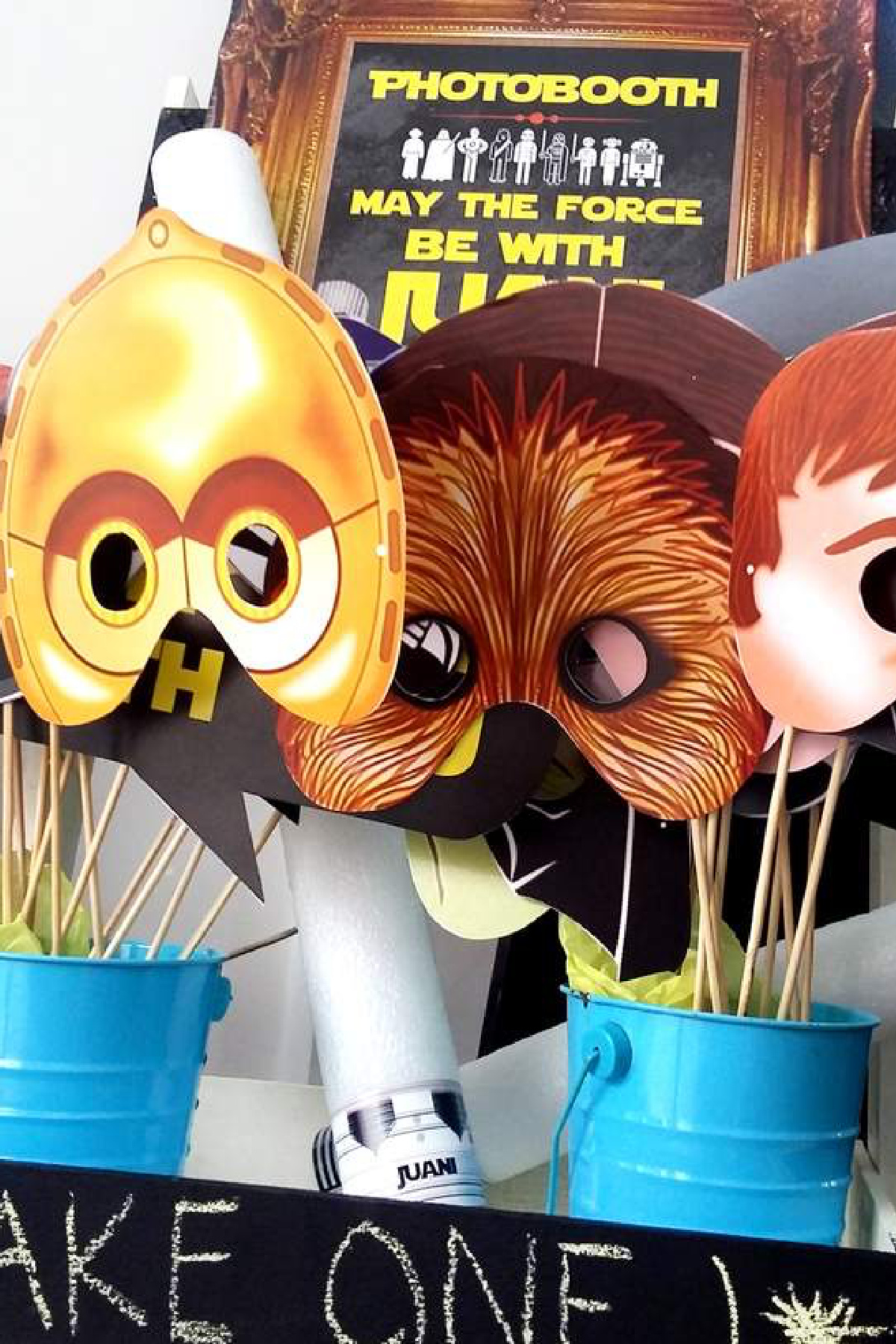 Send your guests home as true Jedis, with a smile on their faces, and bubble wands in their hands, that double as their very own lightsabers.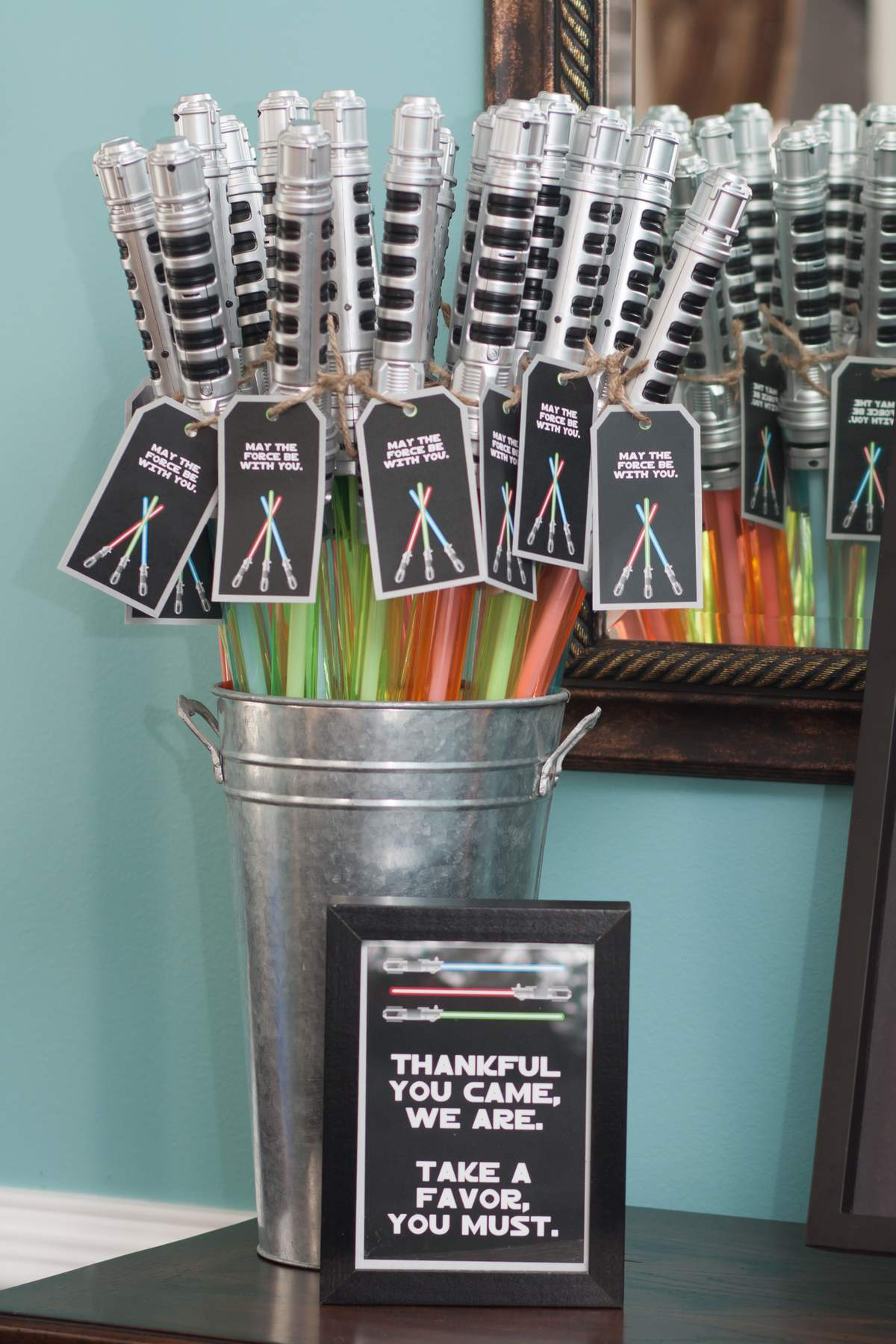 Star Wars Party FAQs
Star Wars birthday party tips
1: Start planning your party about a month in advance
2: Pick a Star Wars-inspired theme
3: Decorate your party by transforming your space into a galaxy far, far away. Download our FREE Star Wars party printables!
4: Serve Star Wars-themed snacks and drinks
5: Plan fun Star Wars party games
6: Treat your guests to some awesome Star Wars party favors.
How many kids should I invite to my Star Wars party?
Under 5 years old: 4-6 kids, between 6-10 years old: 8-12 kids, and over 10 years old: up to 15 kids.
Also, take into consideration the size of your venue and your budget.
How long should a the Star Wars birthday party last?
A party for a toddler should last 1-2 hours, while a party for an older child could be 2-3 hours.
Make sure you provide enough time for your guests to arrive, play games or do activities, enjoy snacks and cake, and open the presents.
What are some fun Star Wars-themed party activities?
Your guests are going to enjoy some Jedi training exercises, a Lightsaber duel, a Star Wars trivia contest, or a Star Wars costume contest.
Ideas for Star Wars party favors?
Send your guests home with cool party favors such as some Lightsaber bubble wands, some Star Wars stickers, or some mini Star Wars figurines or action figures.
For more inspiration, check out all these fantastic Star Wars birthday party ideas on our site.
Need more Star Wars birthday party ideas?