A slumber party is such a popular way to host a party, especially for tweens and teens.
Check out the 36 fabulous sleepover party themes that we have rounded up for you.
Kids are going to love the midnight snacks, and staying up till the early hours chatting away with their best friends, which is why sleepover parties are always so much fun and are a great way to celebrate a birthday.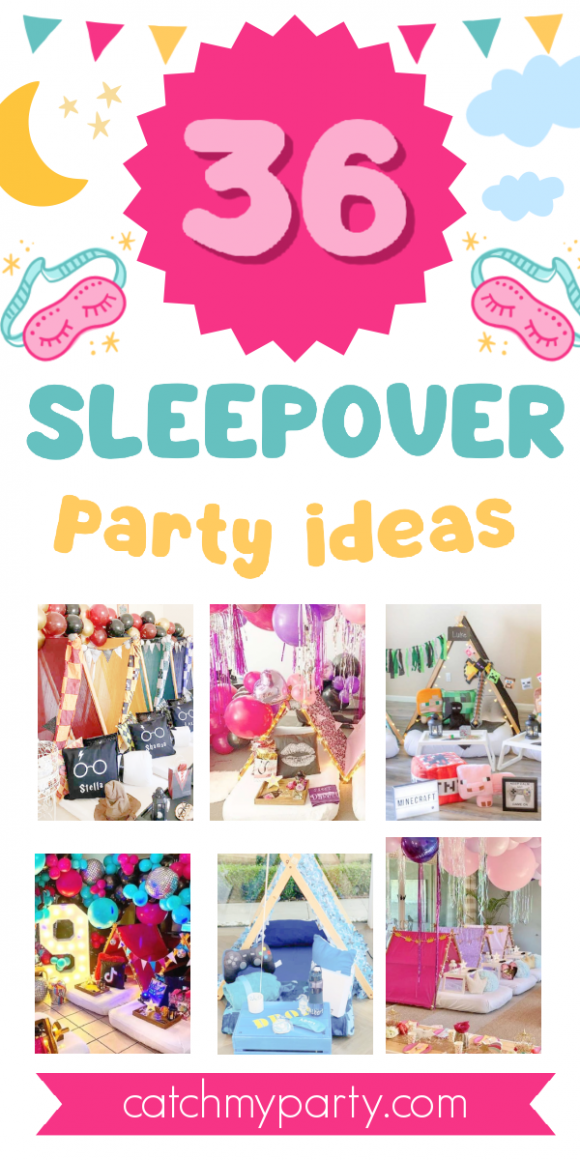 You'll find our best sleepover ideas for themes such as a unicorn slumber party, a mermaid sleepover, a TikTok party and even a Fortnite sleepover.
Set up a bunch of pretty teepees, or even simply some sleeping bags laid out in a row or two, and treat your party guests in their pajamas to some fun sleepover games, plus pizza, chips, and cake!
Maybe set up a photo-booth or red carpet as a backdrop for selfies.
Be sure to scroll down to find the perfect slumber party ideas.
36 Amazing Sleepover Party Themes!
Let's get the ball rolling we have a delightful shimmery pink and purple princess-themed sleepover.
Princess parties are so on-trend right now. They are the perfect theme for all younger kids out there that love to live the dream, even if only for a day.
Decorate your party with our FREE editable princess party printables.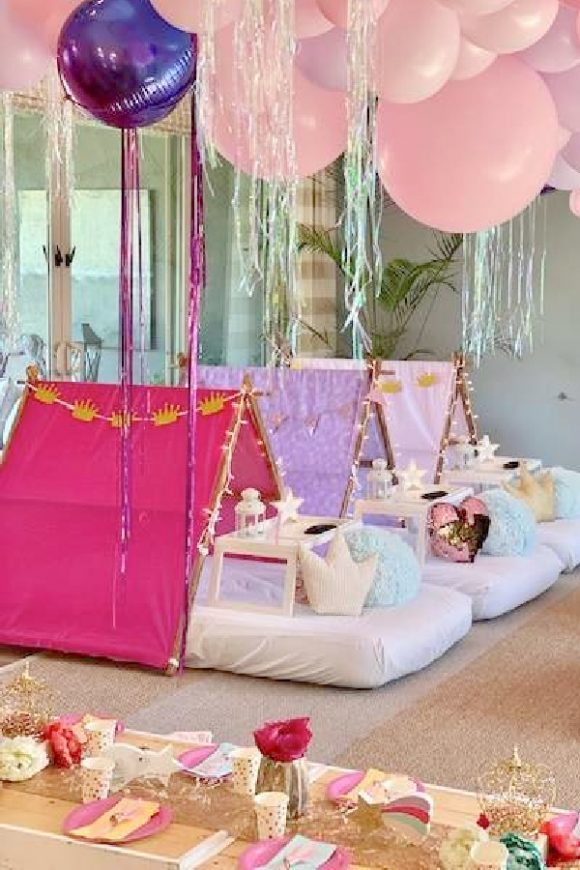 If your daughter has a favorite princess then go ahead and use that as your sleepover theme. Don't miss this wonderful example for someone that loves the Disney movie Frozen.
Frozen birthday parties are a huge favorite with young girls, that can easily be turned into a sleepover by simply adding some winter-inspired party decorations and going with a blue and white color scheme.
Check out these cool frozen party ideas for more inspiration and please help yourself to our  FREE Frozen party activities to keep the girls entertained.
Download these FREE Frozen party printables to decorate your party!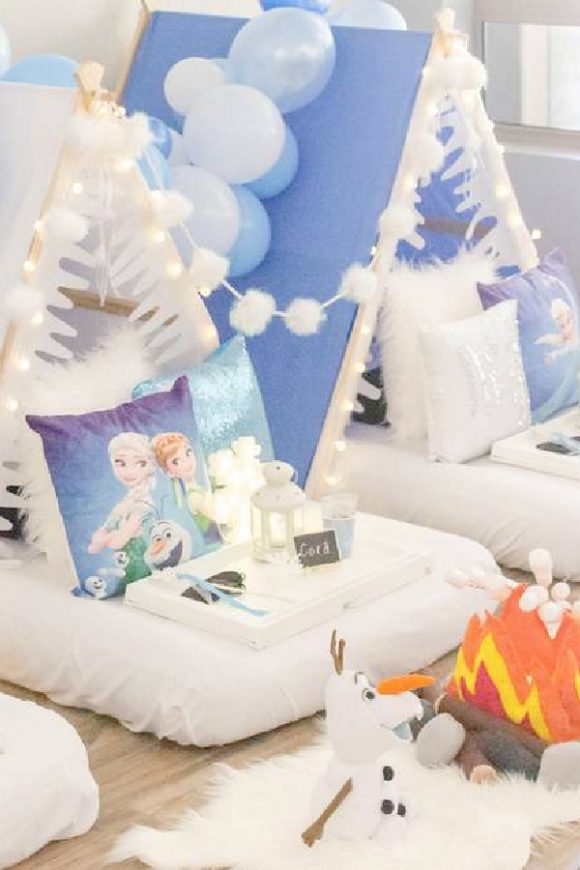 Glam parties are really popular so decorate your sleepover with as much sparkle and glitter as you can get your hands on to create a sensational dazzling Glam slumber party. The more you add the better!
If you are stuck on trying to find a way to guarantee a great time for your guests how about treating them to a classic game of Truth or Dare?
These balloon tassels are just what you need to brighten things up!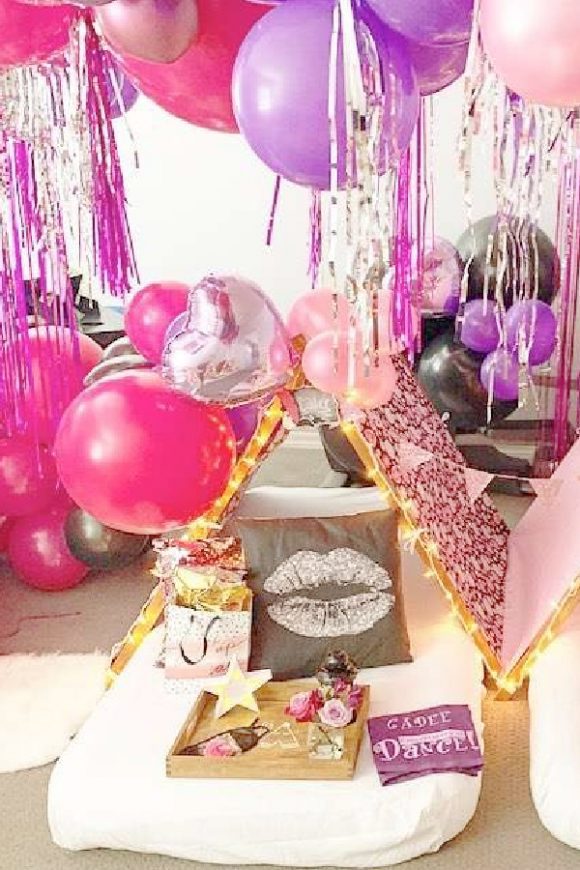 If instead, you are more in tune with nature then a rustic-themed slumber party is a great choice.
Rustic parties are so beautiful with all the greenery and floral party decorations and are a very feminine party theme.
Hang some flowers on your teepees to add to the look and treat your guests to some pretty floral party favor boxes full of goodies.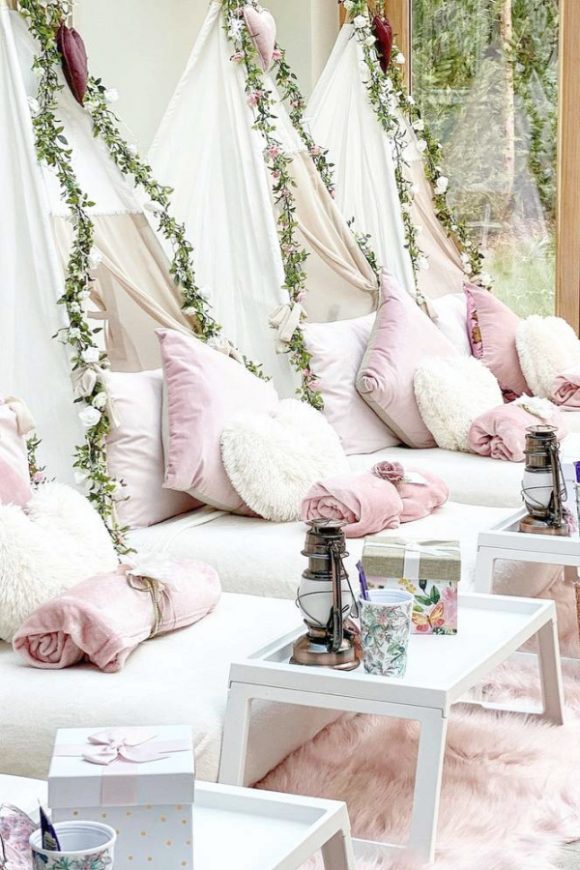 This next slumber party theme makes total sense during the summer. An ice cream slumber party!
Decorate your party with our FREE Ice Cream Party Printables and treat your guests to their very own ice cream pillow.
Take a look at our sweet ice cream parties for more inspiration and our best tips!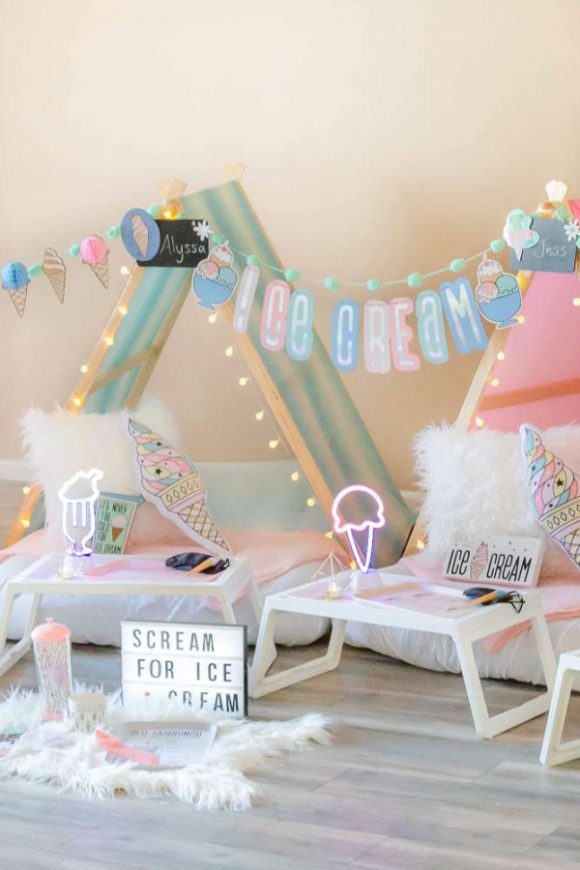 TikTok parties are everywhere at the moment. Kids love spending hours scrolling through their phones recreating dance moves and making their own videos.
So, you really can't go wrong with a TikTok sleepover if you are living with a TikToker.
Recreate the look below with this impressive TikTok balloon garland and make sure to download our FREE TikTok Party Printables.
If you are stuck with a way of trying to get the girls away from their screens then how about our FREE Printable TikTok Bingo Game?
Be sure to check out all the other TikTok party ideas on CatchMyParty.com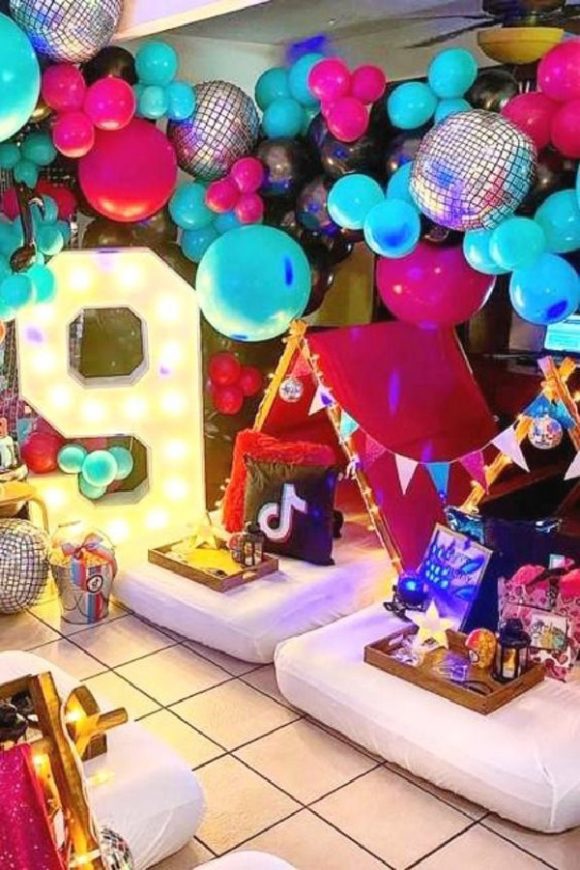 If your kid loves wild animals then a safari-themed slumber party is a great pick.
Safari parties are one of our top party themes at the moment so you can be sure your party will be a hit!
Keep your guests entertained with a fun scavenger hunt and some good old board games.
Use our FREE safari printables to decorate and check out these awesome animal print balloons you can also add to your party.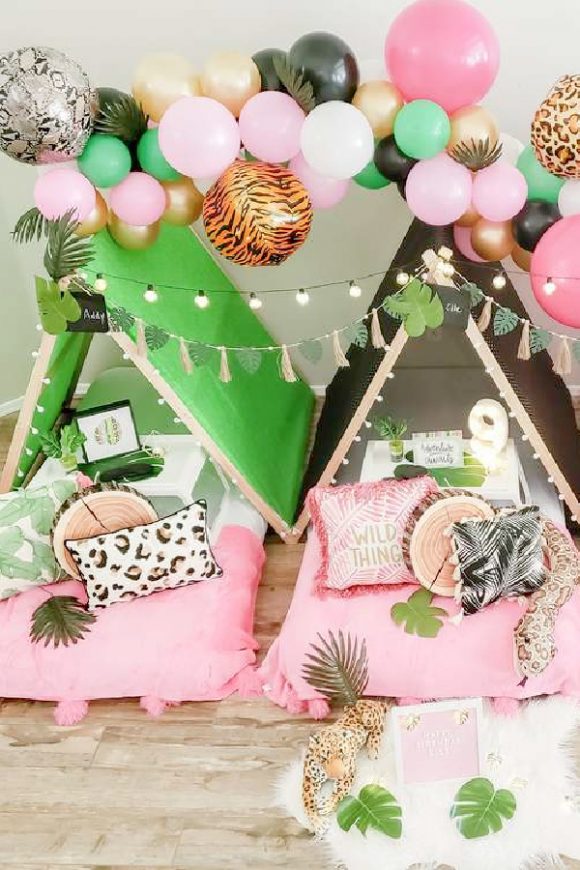 On the other hand, if your child prefers something more graceful that oozes fineness then a tea party sleepover may be just what she needs!
Tea parties are wonderful if you love elegance and charm. As you can see in this example everything is perfectly set out, from the pristine sandwiches and pastries to the gorgeous teacups.
Download our FREE Tea Party Printables if you wish to use them to decorate your party.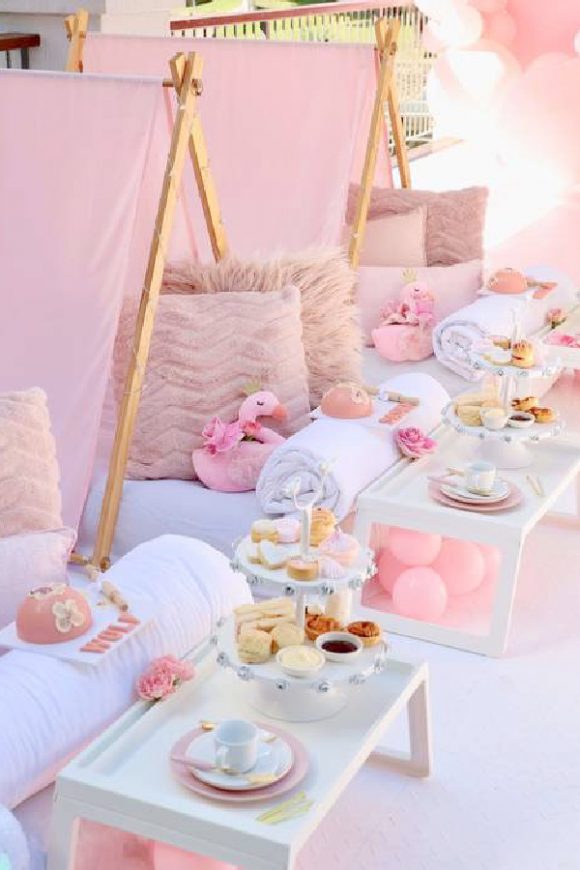 Flamingo parties are another great summer party theme that is fab for a slumber party!
Add some tropical vibes to your sleepover with some tropical cushions, a cute flamingo party favor plush, and some fun games.
Take a look at our round-up of excellent flamingo party ideas for more inspiration and fun activities.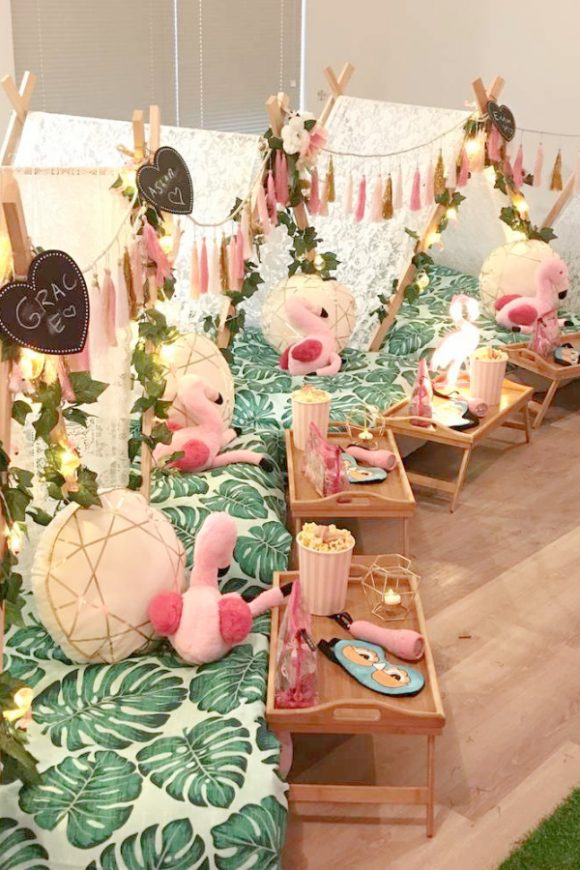 There's something magical about unicorns that kids can't help but fall under their spells.
Unicorn parties are a massive hit and an old-time favorite so how about throwing a unicorn sleepover?
Take a look at this gorgeous unicorn dream catcher that will look fabulous hanging on each teepee and make amazing party favors for the girls to take home with them.
We have a bunch of lovely unicorn party ideas for you to check out and download FREE unicorn party printables to use at your party.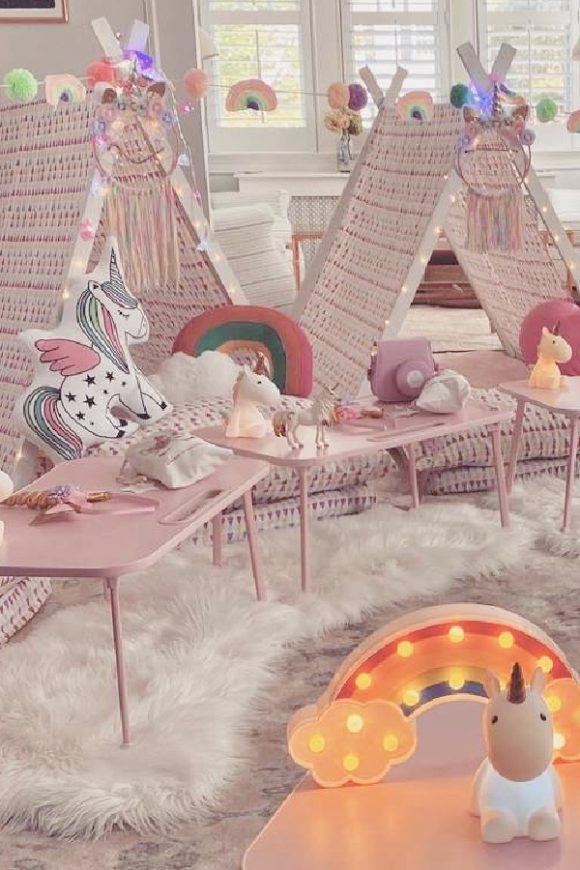 Mermaids are a huge part of the imagination of so many little girls, which is why you can never really go wrong with a mermaid party.
Take it up a notch and treat your guests to their very own under the sea adventure with a fun mermaid sleepover.
If you are stuck on a way to keep them busy, be sure to download our FREE mermaid party games and activities!
Click here for more unbelievable mermaid party ideas.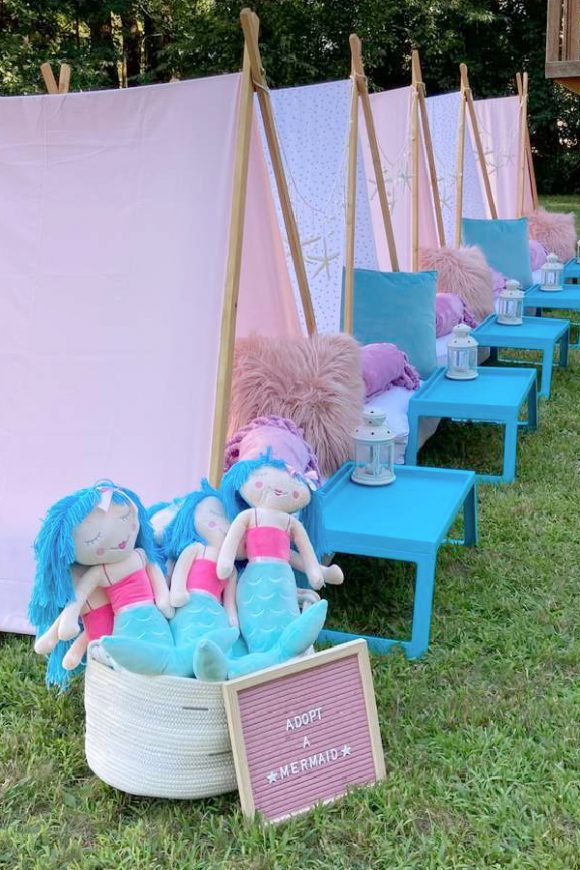 Older children will appreciate a trip over the Atlantic for the night, to the city of lights, for some French chic with a Parisian slumber party!
Parisian parties are really popular, especially with those that love sophistication and travel.
Don't forget to serve your guests some croissants for breakfast the next morning!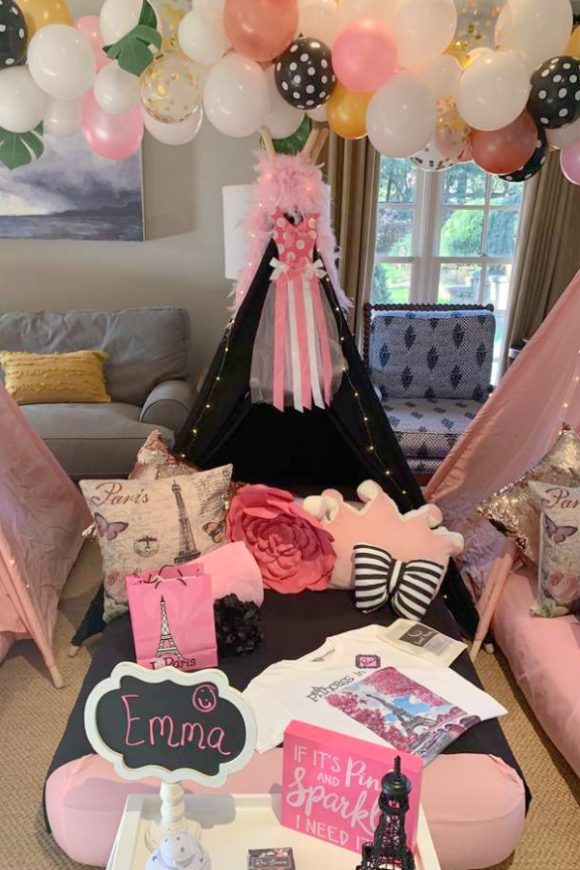 Magic is definitely in the air at a fairy party. So how about taking some of that magical fairy dust and transforming it into a fairy-themed sleepover?
Add some delicate butterfly wings to each teepee and download our FREE fairy party printables to decorate your party.
It's a great theme if it's the first time the girls are getting together for a sleepover.
Glamping is such a fun way to mix the best of both worlds, camping, and some bohemian glamour. What more could you want for a good time?
Instead of filling your party with a bunch of individual teepees, you could go all out and sleep everyone in one large fabulous glamping tent, full of plain white pillowcases and pretty decor!
Be sure to go through our glamping parties for more great ideas.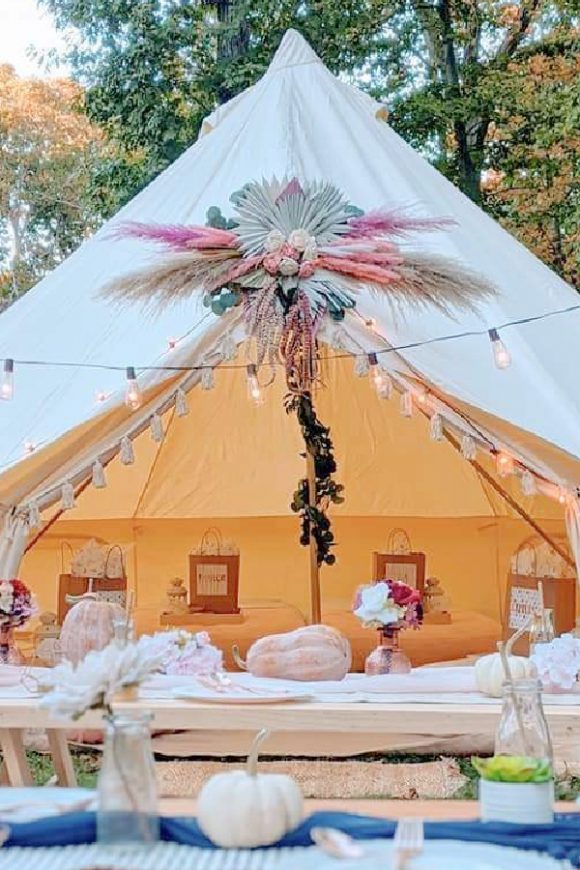 Donuts parties are the ultimate party theme for anyone that can't resist a delicious donut!
If this is the case then no other slumber party theme makes any sense.
Decorate your party with our FREE donut party printables and use a donut wall to show off and serve all your delicious donuts. Undoubtedly the best part of any donut party and a great alternative to a traditional birthday cake.
Take a look at all our awesome donut party ideas.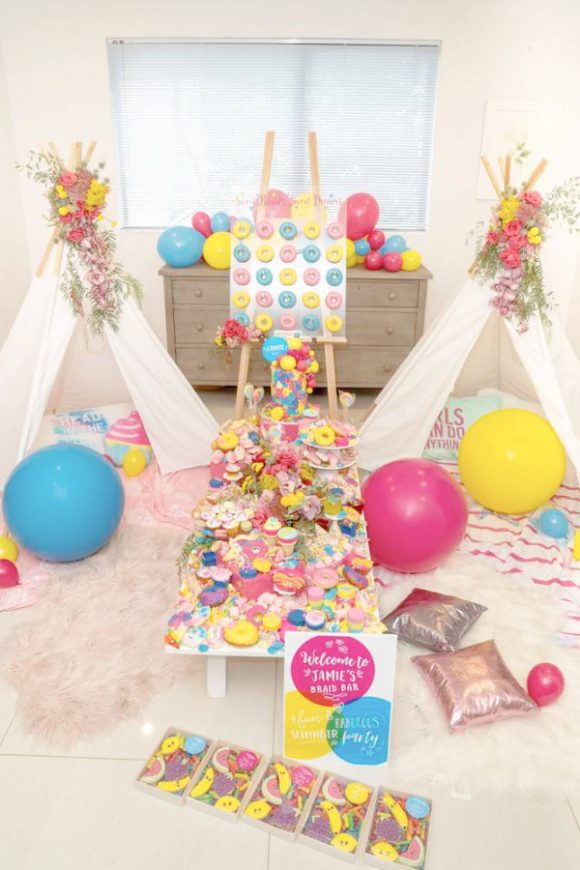 Llama parties are just as popular as favorites such as unicorn parties, but with a more colorful and fiesta vibe.
Treat everyone to a llama-themed sleepover and use fairy lights to decorate your teepees.
If you are looking for some llama party supplies we've got you covered!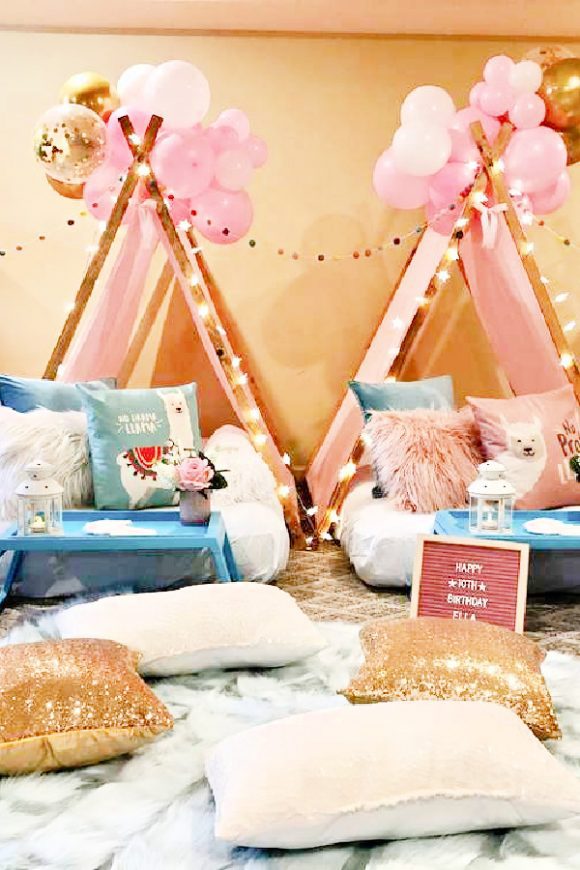 If instead, your child is into pandas then a panda-themed sleepover is a wonderful idea for such a special occasion.
These personalized panda pillowcases are a great party favor and will look amazing in each teepee.
Be sure to look at all the cute panda parties on CatchMyParty.com for more fun ideas.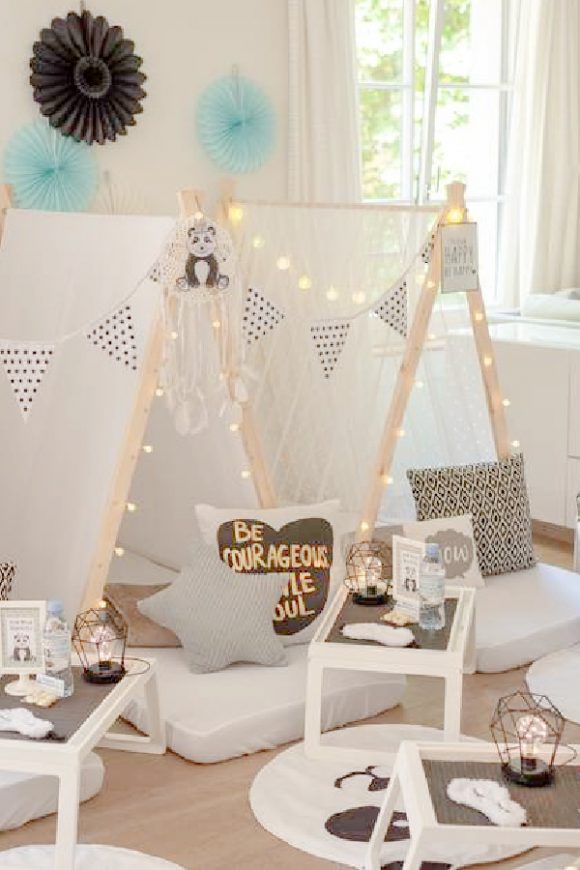 Over the past couple of years, we've seen a boom of Peter Rabbit parties on our website, especially since the movies started coming out. It's such an adorable theme and a great pick for a child's slumber party.
If you are stuck on a party favor some pretty bunny sleeping masks are a wonderful idea. Not only will they be useful at the party but they are also a lovely party favor to take home.
I can't help but fall in love with the little white gate and picket fence decorating the party. Have you ever seen anything cuter?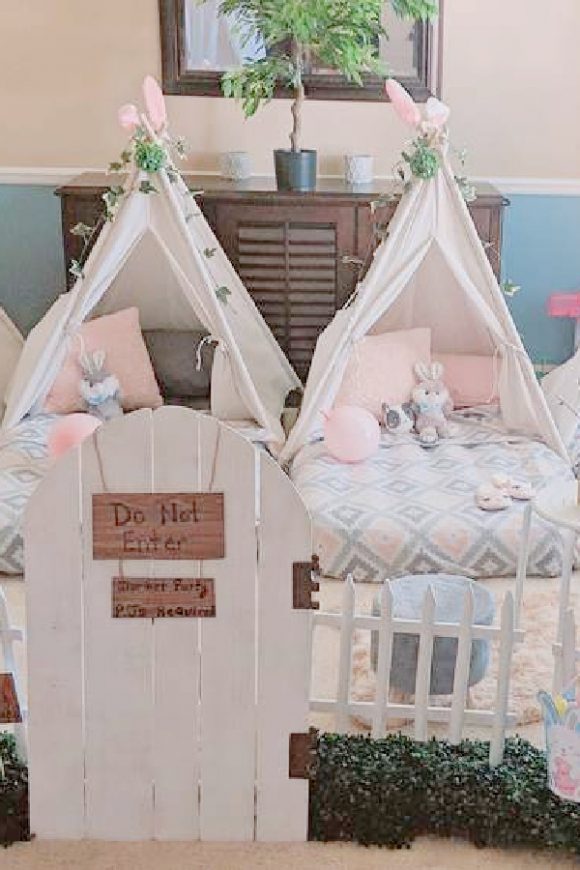 Disco parties are a fab theme for girls of all ages that love to dance, so why not take it to the next level and allow everyone to dance the night away with a disco-themed sleepover?!  I can't think of anything better. Take a things up a notch and make it a karaoke night too!
Set up a bunch of teepees so everyone can crash in once the night is over and decorate your party with a bunch of disco ball balloons.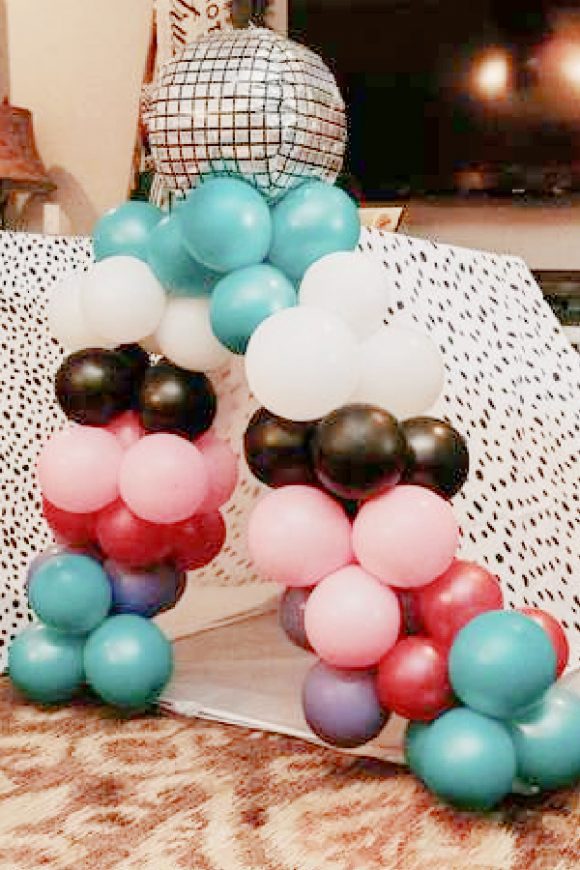 If you dream of a night of some relaxing and pampering with your girlfriends then a spa-themed slumber party is just what you need.
Place a sweet cloud pillow at the entrance of each tent to welcome your guest into a night of pure relaxation.
For the ultimate spa treatment treat your guests to a night of manicures, pedicures, and makeovers. Don't forget to add a bunch of beauty products to their goodie bags, such as nail polish and some face masks.
Don't miss all our other spa parties for more inspiration.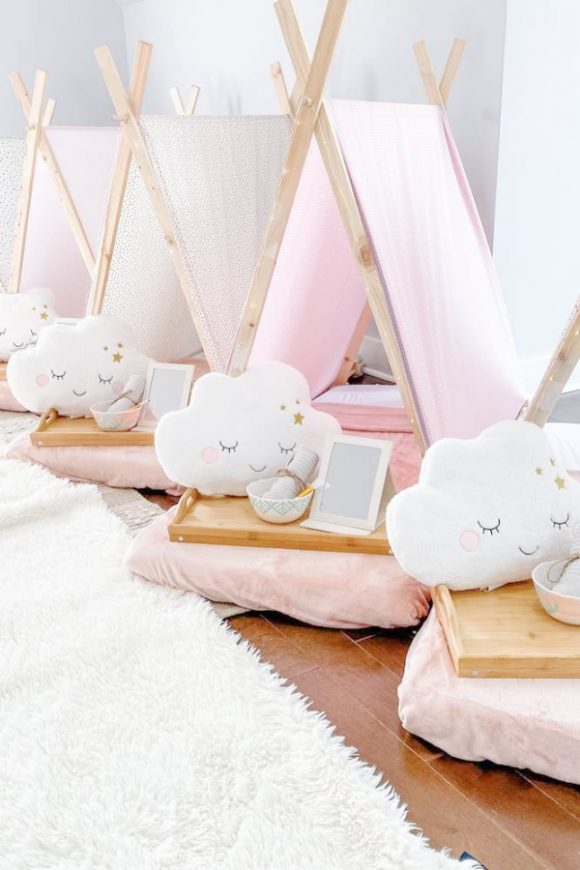 A LOL Suprise Dolls slumber party is the perfect party theme for anyone that loves LOL Surprise Dolls.
Recreate the look of this party and decorate the teepees with a fabulous pink and purple balloon garland.
Take a look at all the fun LOL Surprise Doll Birthday Party Ideas and parties on CatchMyParty.com.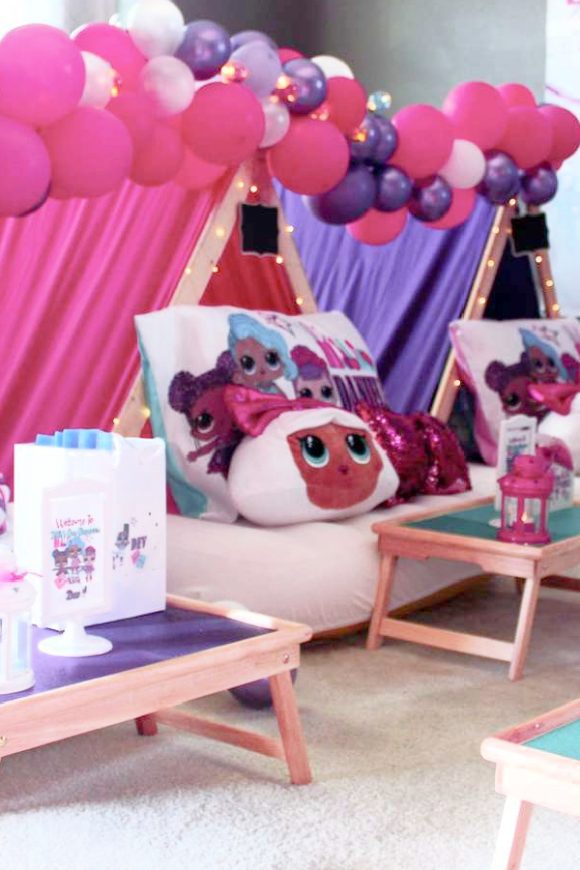 Shimmer and Shine parties are also very popular and make a great theme for a sleepover for little girls.
Use bright, bold colors and add as much sparkle as you can. Again, add fairy lights to the teepees for some extra shine!
You can bet all your guests will be having sweet dreams!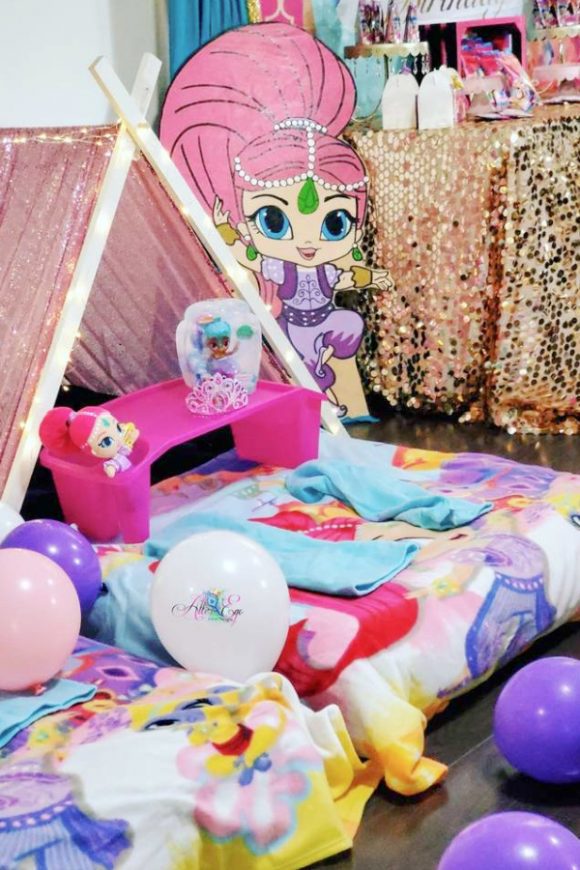 If your daughter loves dolls then American Girl dolls are probably her favorite, which is why it's such an awesome theme for a sleepover, especially a first sleepover.
This American Girl slumber party in a box is just what you need to throw an amazing party! It includes everything from the teepees to the pillow beds, and so much more.
For more ideas check out our American girl parties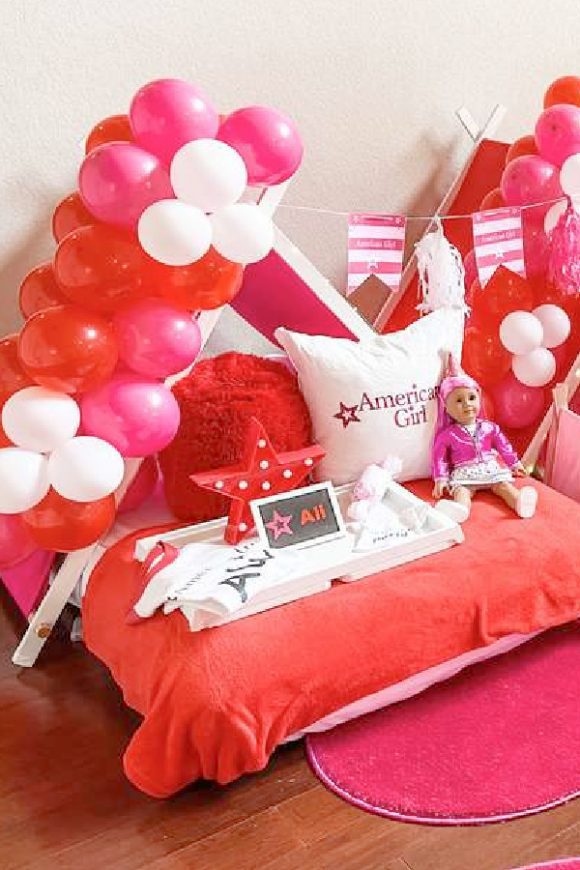 Everyone loves some bling so how about throwing a Tiffany & Co. sleepover?
The goodies at this party are amazing. The 'Sleepover Squad' shirts are fabulous and are great to wear at the party and at home.
A fun activity would undoubtedly be a screening of the movie Breakfast at Tiffany's and turning your slumber party into a movie night with its very own popcorn bar!
Take a look at our Tiffany &Co. parties for lots of fun ideas to help you throw a party to remember.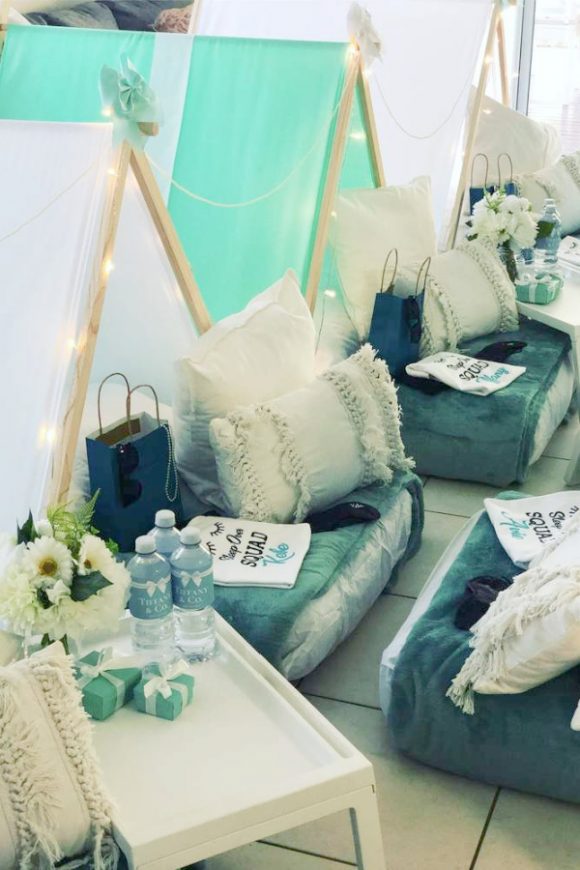 Dog's are said to be a man's best friend and with the number of dog parties on our website, I would say it's true!
The paw pillows and dog paw garland decorating this party are just so cute, and I love that the popcorn is served in dog bowls. What a cool idea!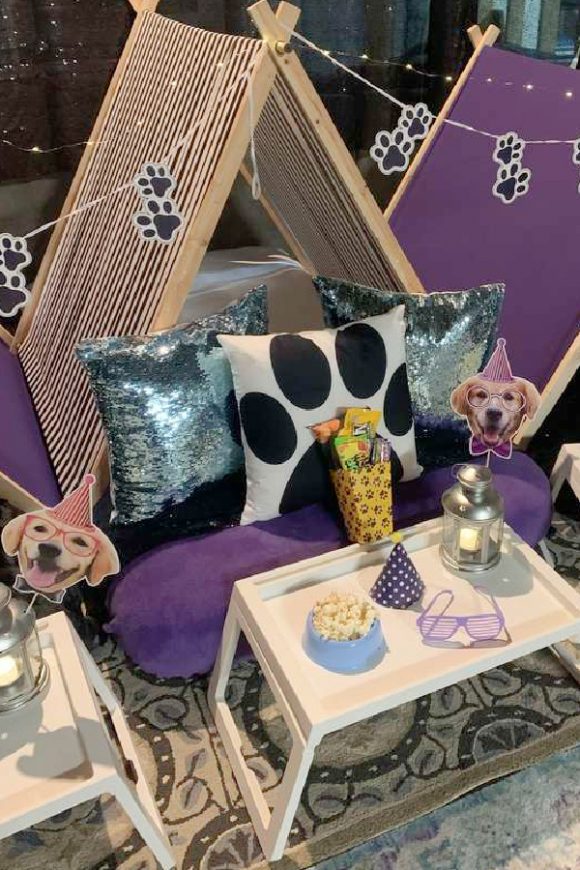 Camping parties are a blast! Especially if they are slumber parties.
Set up a teepee for each of your guests and hang some greenery on each of them to create the ultimate indoor camping experience.
Use our FREE camping party printables to decorate and get some awesome log cushions and you're good to go!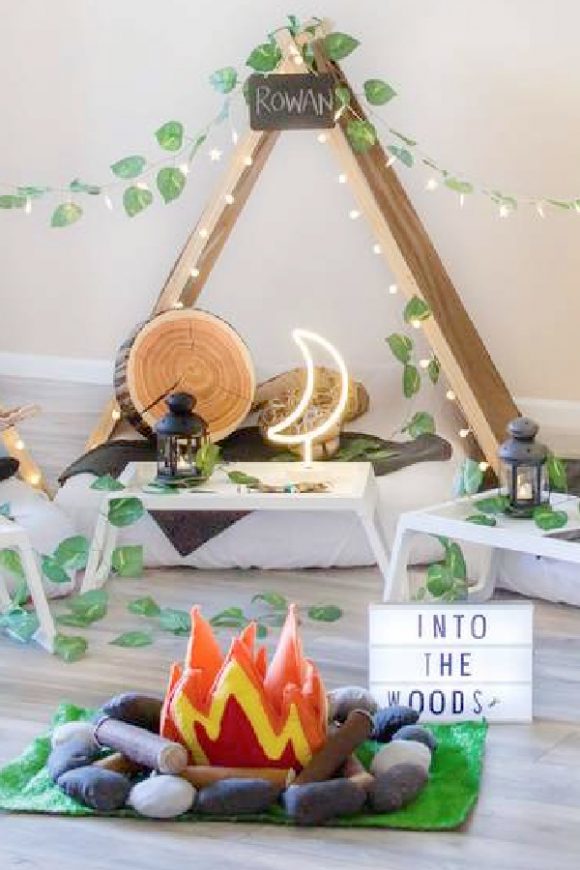 Finding a cool slumber party theme for a boy can be a little harder, but if they are into Minecraft then a Minecraft slumber party is a cool pick!
Minecraft parties are so big on CatchMyParty.com that I guarantee you this theme will be a hit.
Use our FREE Minecraft party printables to decorate, and check out our awesome Minecraft party ideas and Minecraft party activities to keep everyone busy.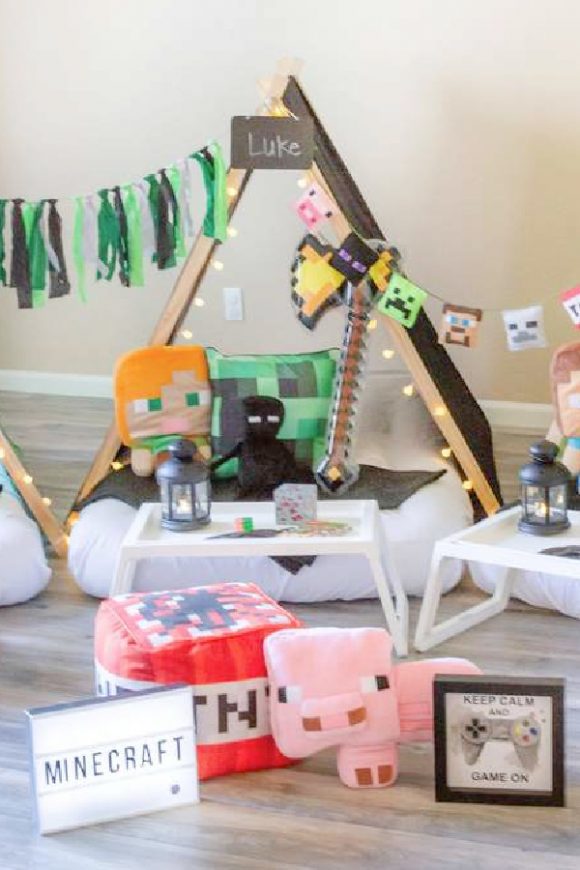 Fortnite is also a hot pick for a successful sleepover party theme for boys. Fortnite parties are all over our site making them one of our most popular party themes.
For a fun sleepover idea, paint a bunch of wooden crates blue to make them look like a supply drop box, and use it as a small table to place all the goodies at the door of each teepee.
Download our FREE Fortnite party printables and make sure you don't miss all our awesome Fortnite party ideas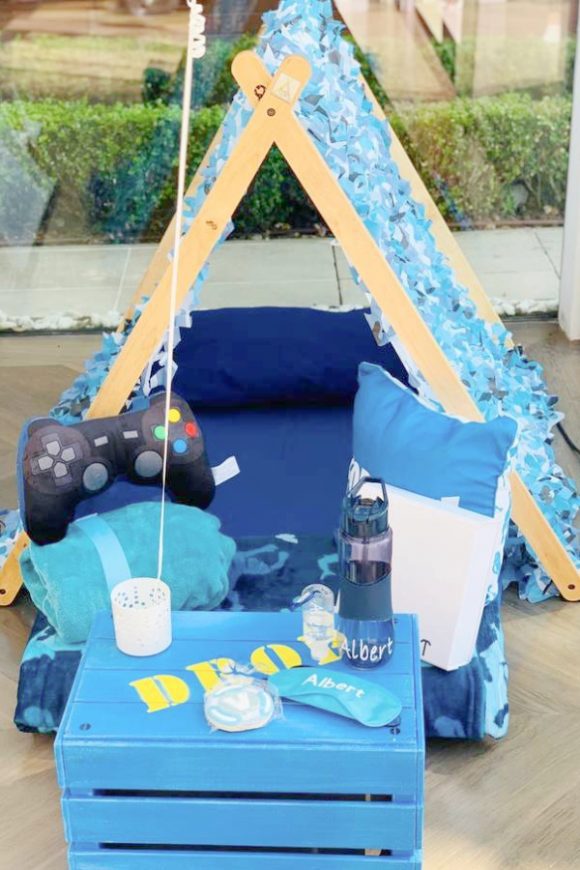 Little boys can't get enough of dinosaur parties and the fascination with dinosaurs never stops, which is why it's a great theme for a sleepover.
You don't even need fancy teepees. Young kids are going to even love putting together a blanket fort and sleeping in it. Now that will be a birthday party to remember!
Decorate your party with our FREE dinosaur party printables and this cool dinosaur backdrop
For more fun ways to throw a prehistoric party make sure you go through all our dinosaur party ideas.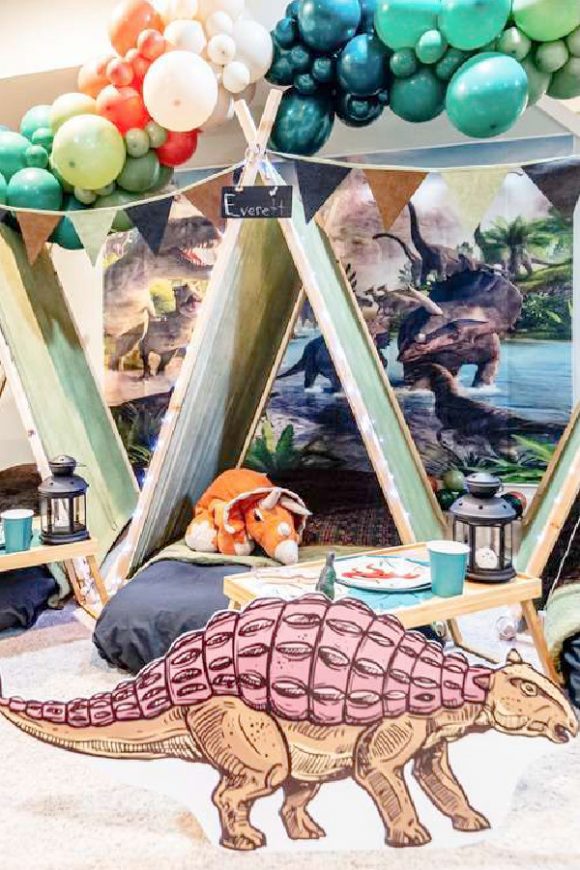 Glow-in-the-dark/neon parties have been popping up a lot on CatchMyParty recently, so how about applying the theme to your slumber party?
It brings such a retro '80s vibe to a party and is a great excuse to get out those glow sticks and black light!!
Make sure you check out all our colorful neon party ideas.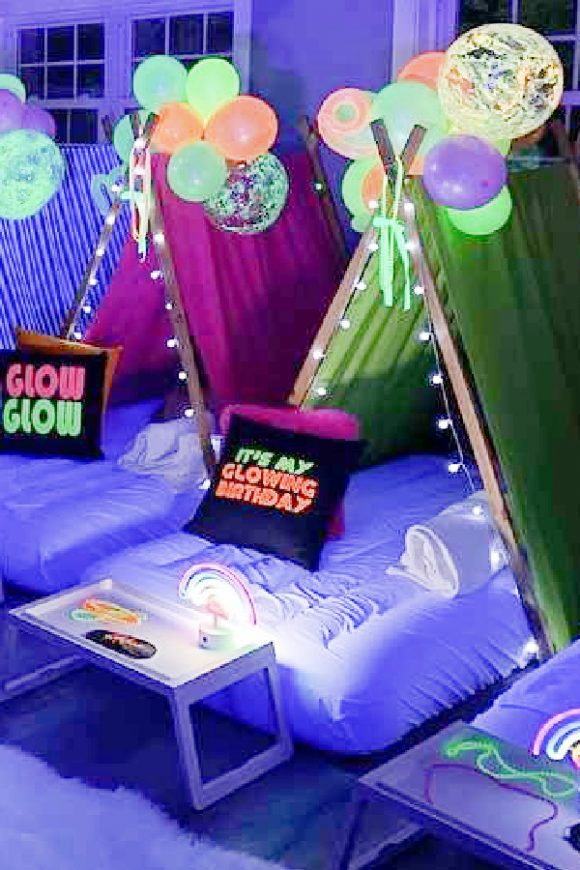 If your kid is into the Harry Potter books and movies then how about throwing them a Harry Potter-themed sleepover?
Treat everyone to a fun sleepover and the ultimate pillow fight!
Don't forget to set up a Harry Potter movie marathon so your guests can pull an all-nighter watching the movies.
Delve into all our magical Harry Potter party ideas.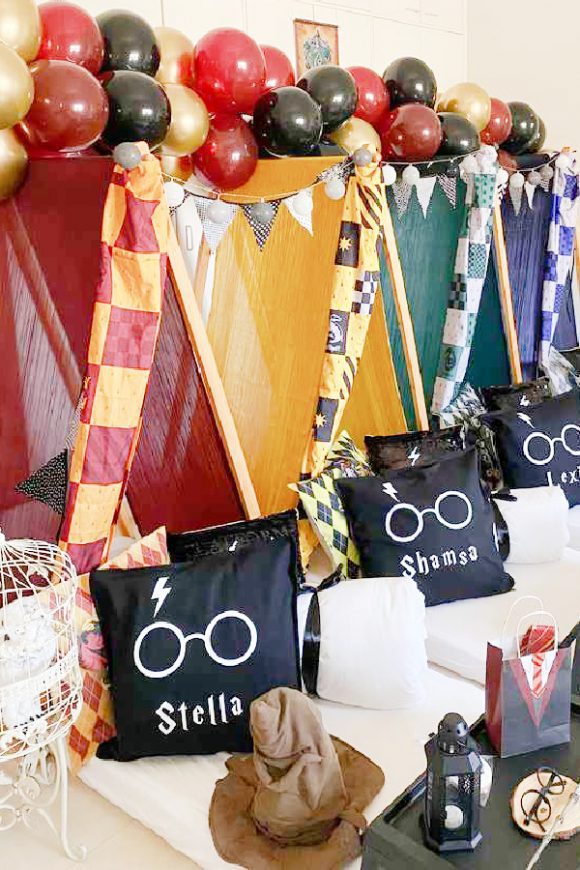 If you are looking for an epic sleepover party idea how about throwing a Nerf slumber party for a bunch of boys?
They'll love nothing more than grabbing a nerf gun and having a great game before tucking in for a night's sleep!
Be sure to look at all our Nerf party ideas for inspiration!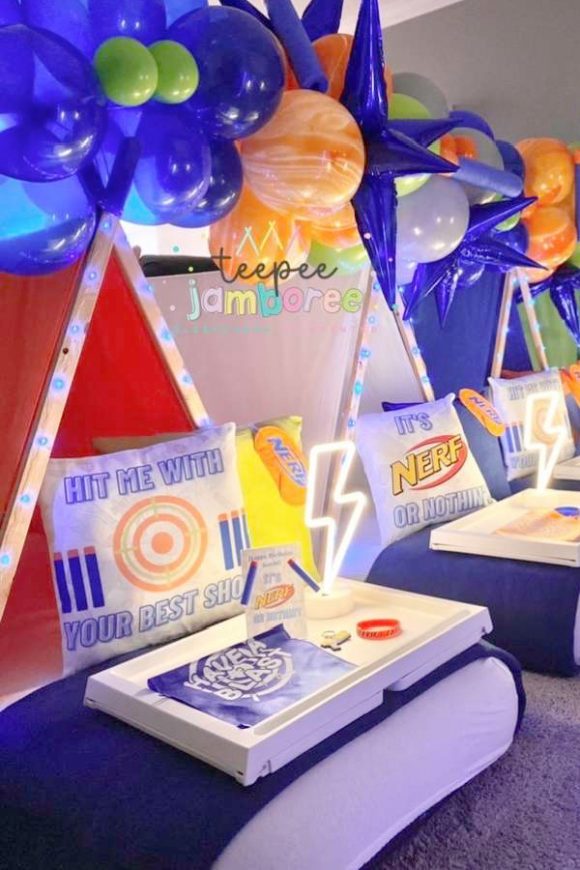 If you're throwing your party in the Winter then you could always use that as your sleepover party theme.
It's a magical time of year so use as many warm blankets as you have to make sure everyone is warm and comfy.
Decorate with snowflakes and download our Free Winter Wonderland Party Printables.
For more inspiration take a look at all our Winter parties.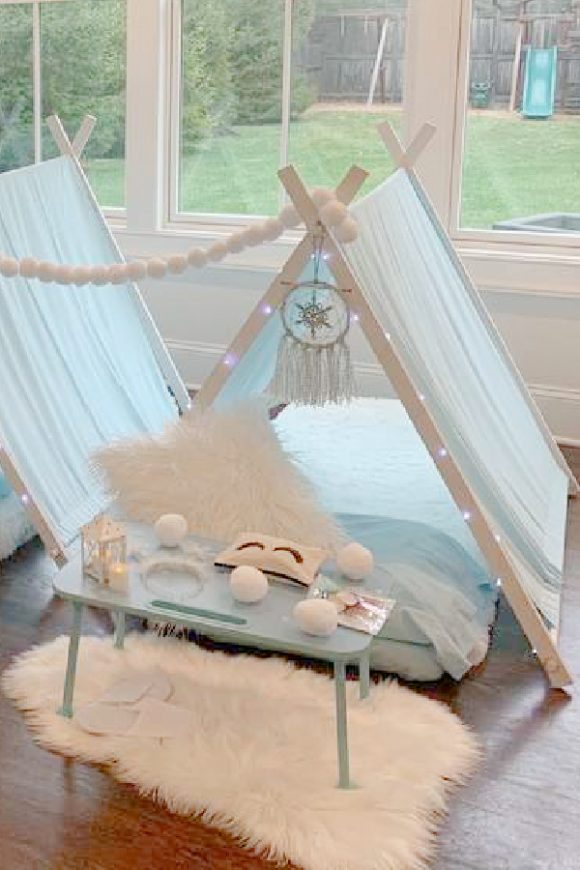 Love is in the air over during February so how about throwing a Valentine's Day party to remember by having everyone over for a slumber party?
Treat your guests to a heart cushion and decorate your party with our FREE Valentine's Day party printables and some red heart balloons.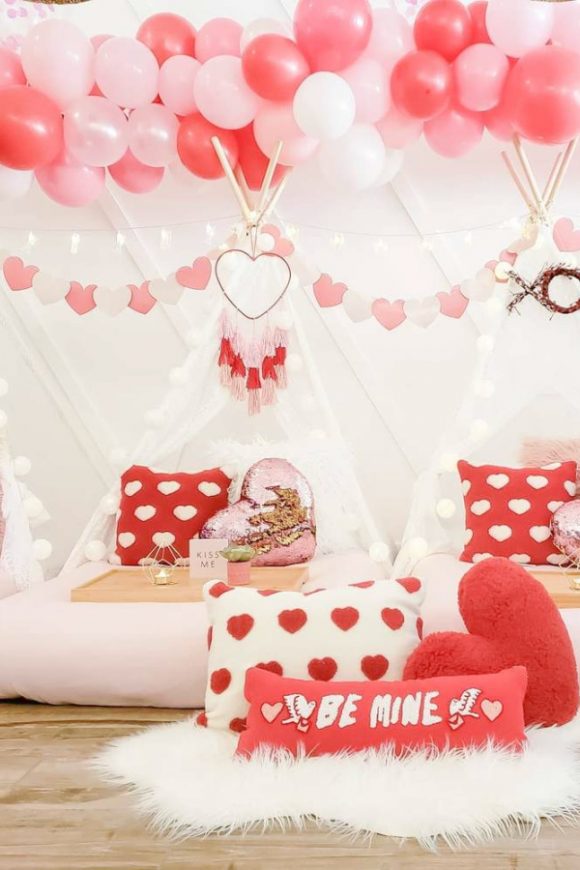 If like me, Halloween is your favorite holiday of the year and you love Halloween parties, why not take it up a notch and throw a Halloween sleepover this year instead?!
After a night of trick or treating there's nothing kids love more than to get together and gobble up all that candy. Make the night a memorable one by treating everyone to a cute teepee and a comfy bed.
We've loads of fantastic FREE Halloween party printables you can download and also this awesome FREE Halloween Bingo printable activity to keep them entertained.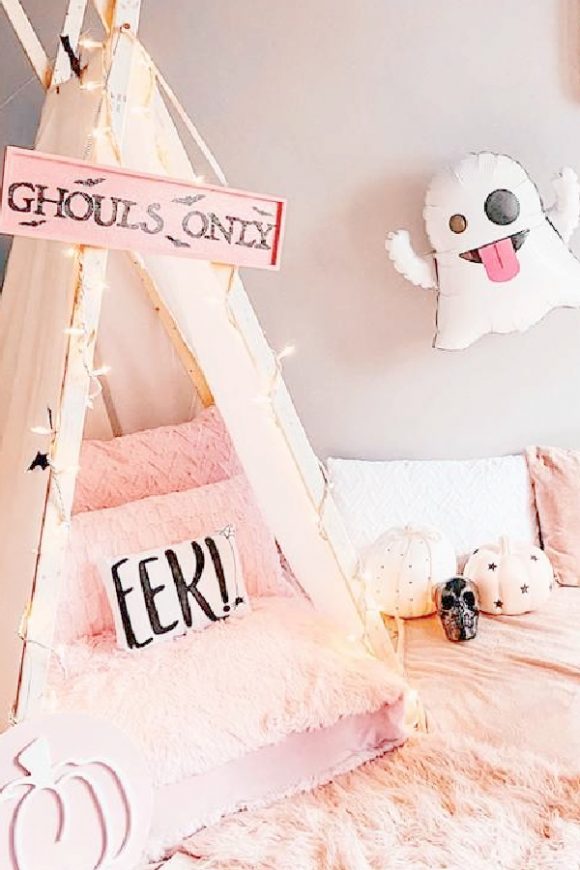 One of the most special times of year is Christmas and the Holidays. Everyone is filled with good cheer and ready to celebrate.
Instead of throwing a Christmas party like you probably do every year, how about doing it differently this time around and hosting a Christmas sleepover?!
I love the idea, just imagine… a good old classic Christmas movie with some friends, some popcorn, and a lovely hot chocolate, all from the comfort of a pretty teepee and a comfy bed. Sounds like heaven to me and a great way to kick off the Holidays!
We also have  FREE Christmas party printables so you can save on the party decorations and also some fun FREE Christmas kids' activities & coloring sheets you can download.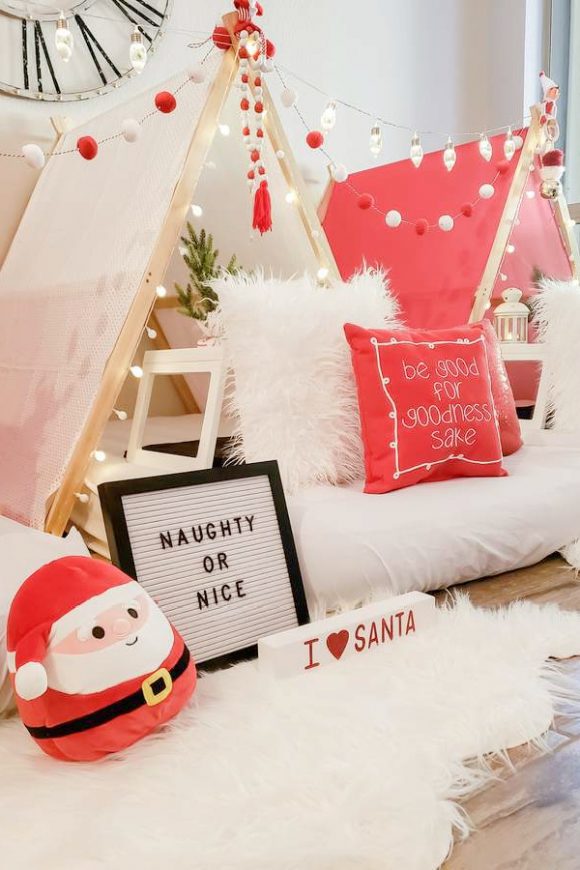 For more inspiration, check out all our wonderful sleepover parties, and check out these sleepover party supplies from vendors with listings on Catch My Party!
Need more party theme ideas?