For anyone throwing a Minecraft party, check out these 15 awesome Minecraft Party activities and games that we've rounded up for you!
There are so many cool ideas that are fun and inexpensive to set up.
Kids will have a blast and you can bet your party will be a memorable one!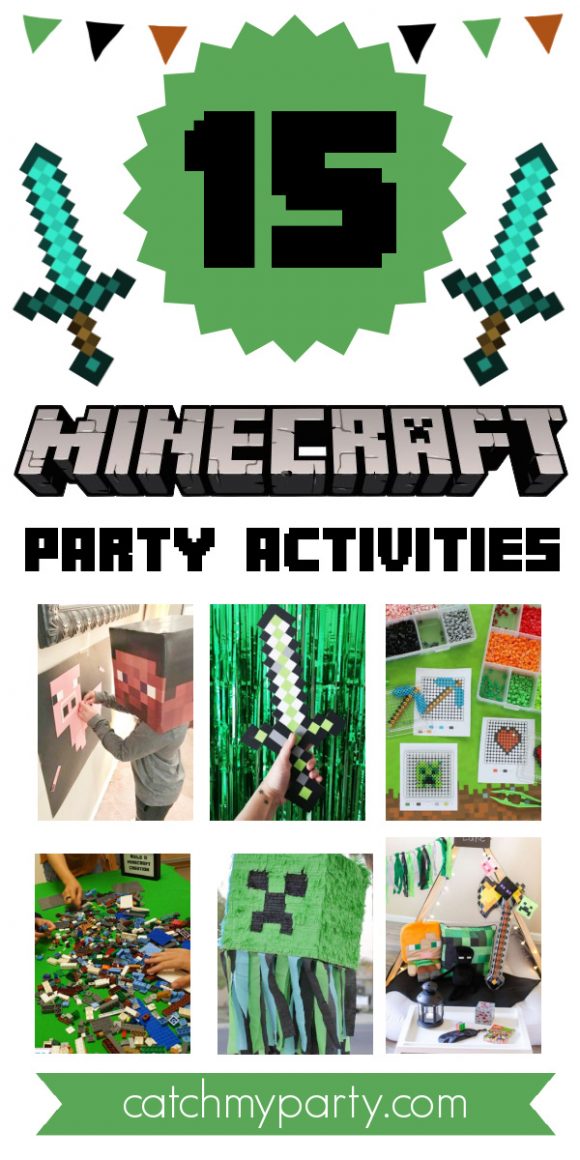 We've got a bunch of fun Minecraft ideas such as a Minecraft bean bag toss, a Minecraft sleepover, a Creeper Pizza, and so much more…
And for more Minecraft party ideas, look no further. We've also got awesome free Minecraft party printables to decorate your party on a budget and in style.
And don't get us started on our Minecraft cake roundup! Get ready to be blow away
15 Awesome Minecraft Party Activities!
Kids love fooling around having their photos taken so how about setting up a Minecraft photo booth at your party?
Set up a backdrop and get some fun Minecraft props to take some memorable photos of your celebration!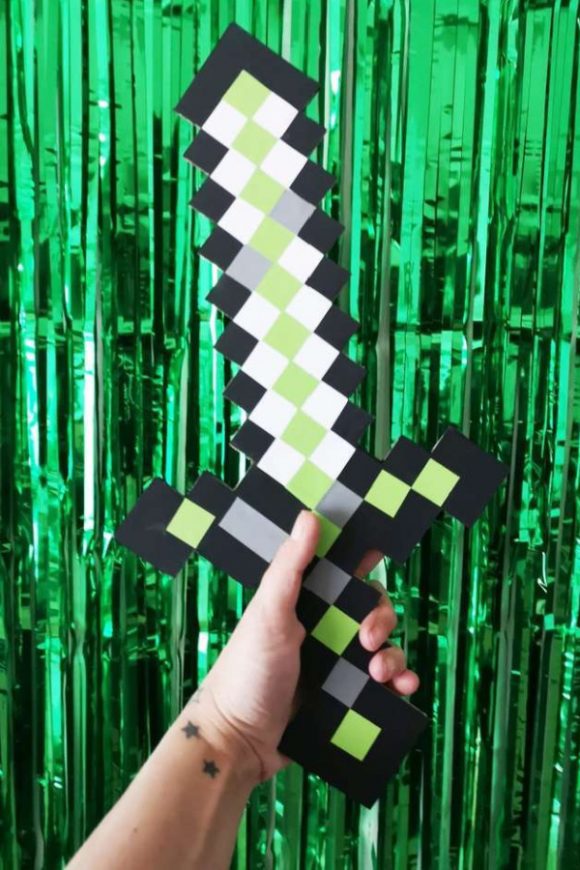 Take your Minecraft crafting to a new level by creating a Minecraft selfie. Here's a fun and simple activity that can later be used as a photo booth prop.
All you need are some large cardboard squares that kids can decorate with post-its (get as many colors as you can find) and let their imagination run wild!
Don't forget to glue a popsicle stick to it so they can hold their selfie up while fooling around.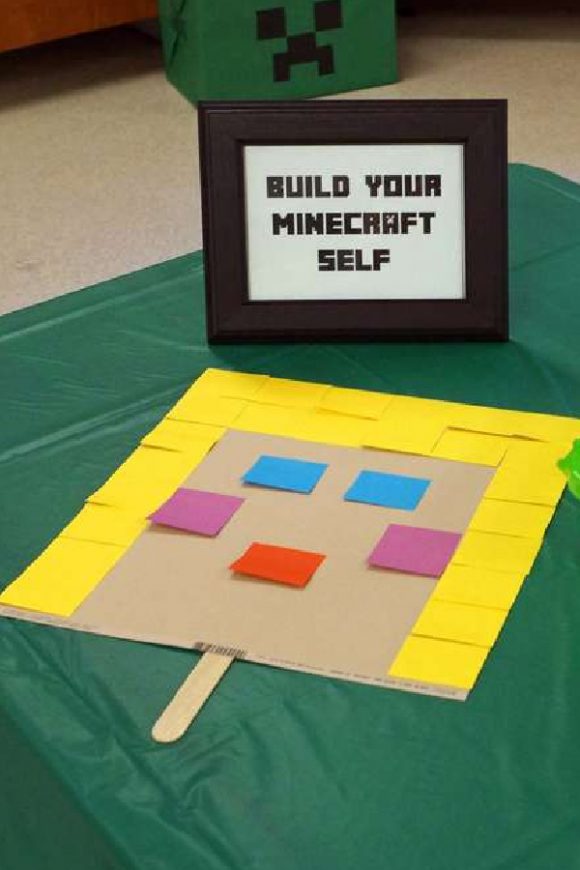 What could be more fun than bashing an actual Creeper to bits?!
A Creeper pinata is such a cool activity that also doubles as the perfect Minecraft party decoration.
Make your own Creeper pinata out of a cardboard box and cover it in green crepe paper.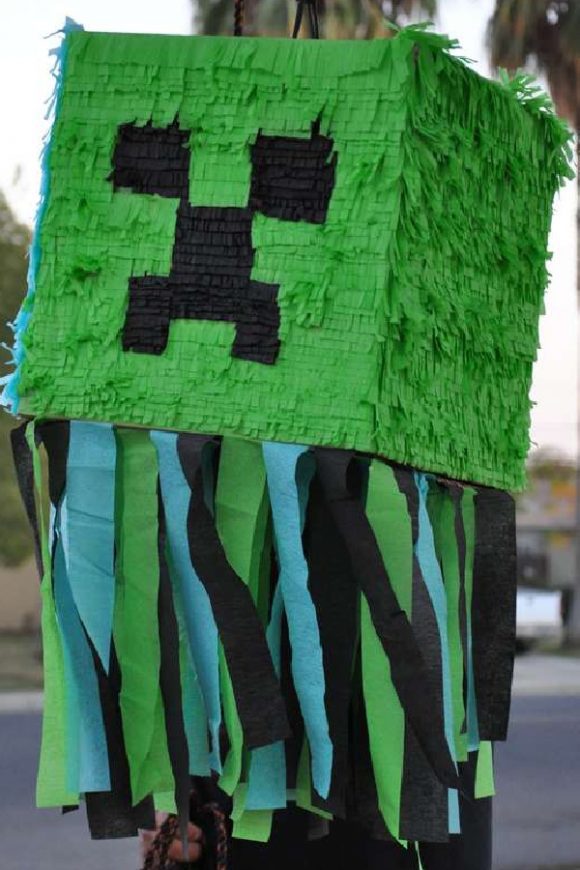 Create a crafting table with lots of different colors felt, some glue, and scissors
Your guests will have an awesome time creating their very own Minecraft-inspired pillows.
Not only is it a great party activity but it's a cool party favor for kids to then take home with them at the end of the party.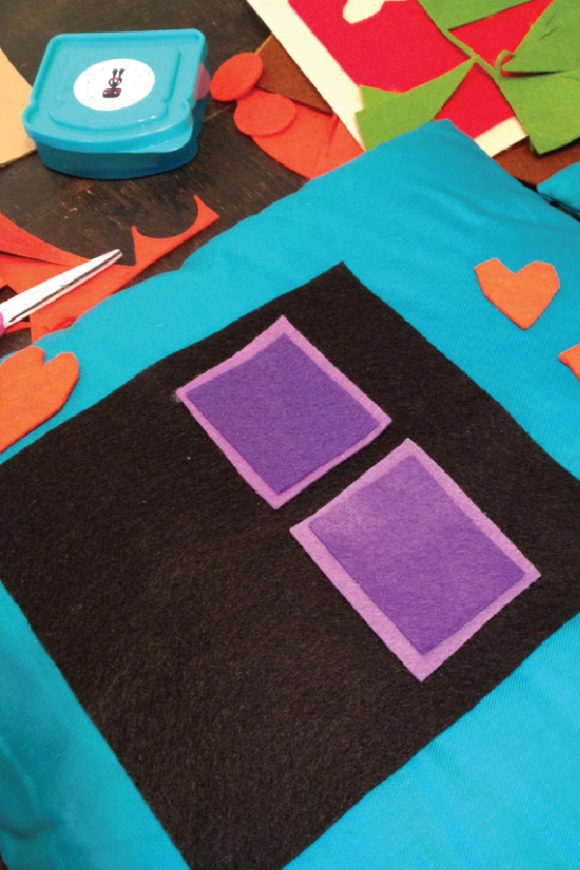 Another amusing Minecraft party activity that is simple to set up is a Creeper bean bag toss.
Paint a cardboard box green and cut out the eyes and mouth to make it a Creeper
Place a couple of bean bags next to the Creeper and have your guests win points by aiming for each hole.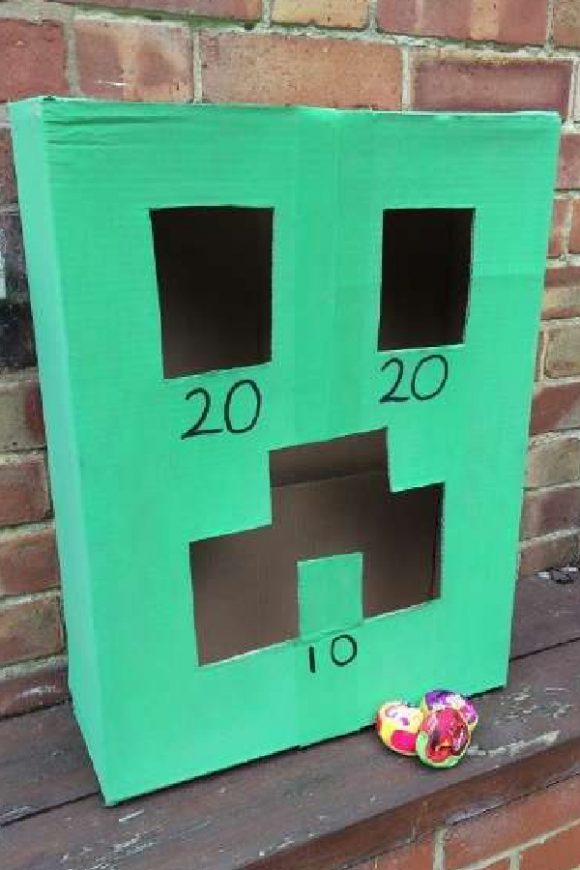 Let the kids at your party join in and make their own Minecraft party food!
It couldn't be easier…
Have them cut a round frozen pizza and some pepperoni slices into squares and transform them into a Creeper!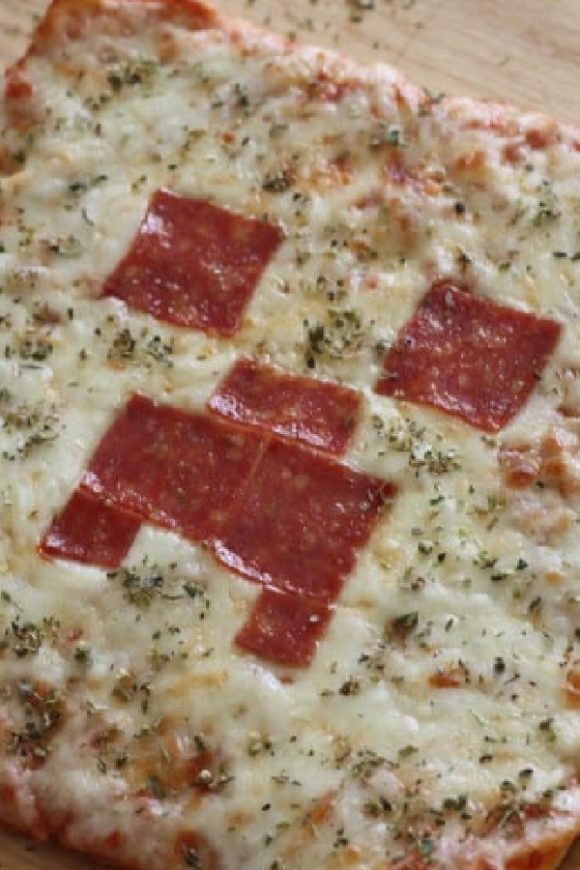 You can never go wrong with a game of Bingo!
Download our FREE Minecraft Bingo printables for some Minecraft fun.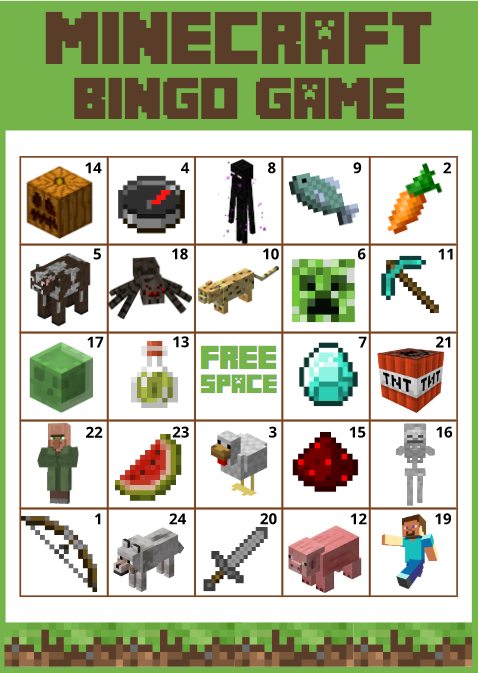 For a more artsy party activity grab some green shirts and black fabric paints and your guests can make their own Creeper shirt.
Like the Minecraft pillow, these too double as cool party favors with the added bonus that they can wear them!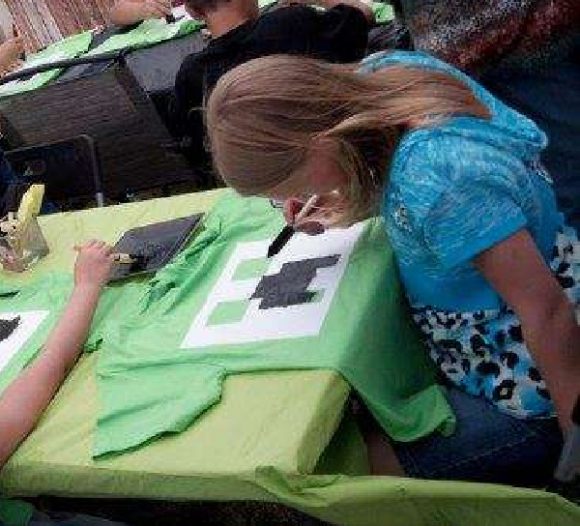 How about having a Minecraft sleepover?
Make it fun with some individual teepees full of Minecraft goodies.
You can bet it will be a hit!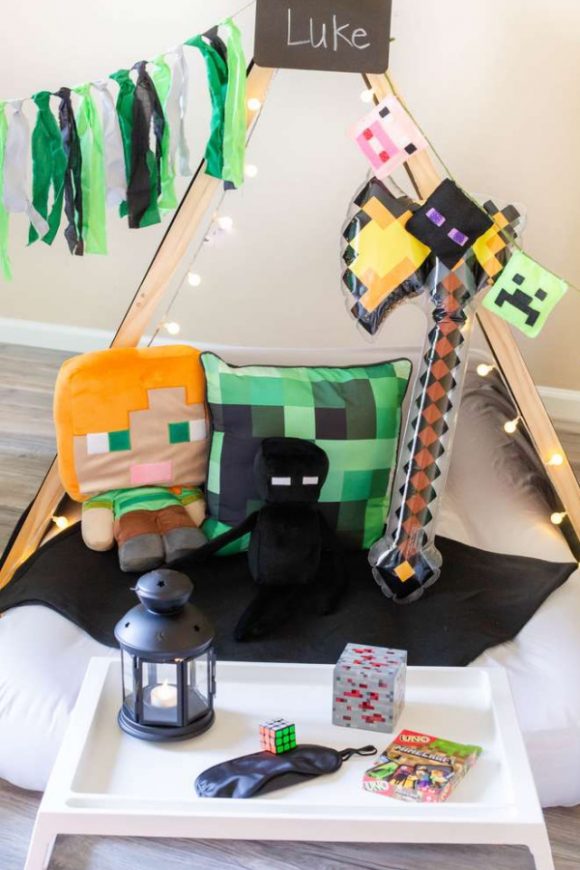 Minecraft is also about building and creativity so bring Minecraft into the real world and let kids do some Minecraft creating with Legos.
All you have to do is create a Lego station with all the lego pieces you have in the house and let the kids create a way to their heart's content!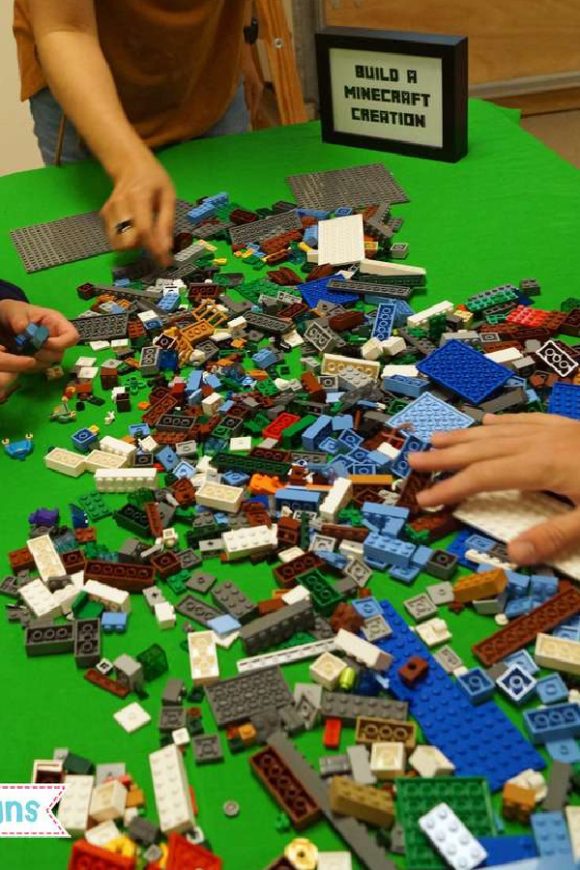 Pin the tail is always a classic party game and always a hit with kids!
Cut out a Minecraft pig from some pink paper and let your guests have a go of trying to pin its tail.
Take the challenge up a notch and cover a cardboard box with a Steve or Creeper face printout and have each player use it to try and pin the tail.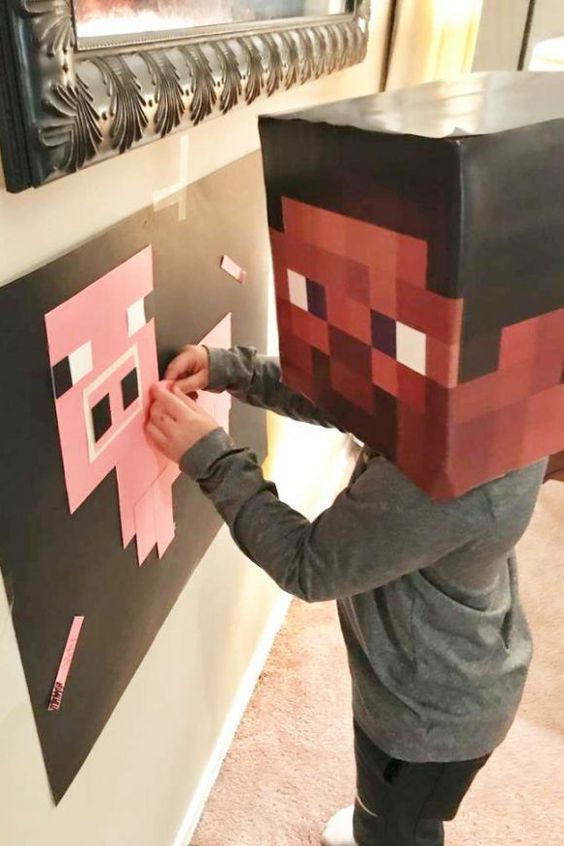 Perler beads are great for artsy kids too.
Create a Perler beads station and have kids make their own Minecraft-inspired creations that they can later take home.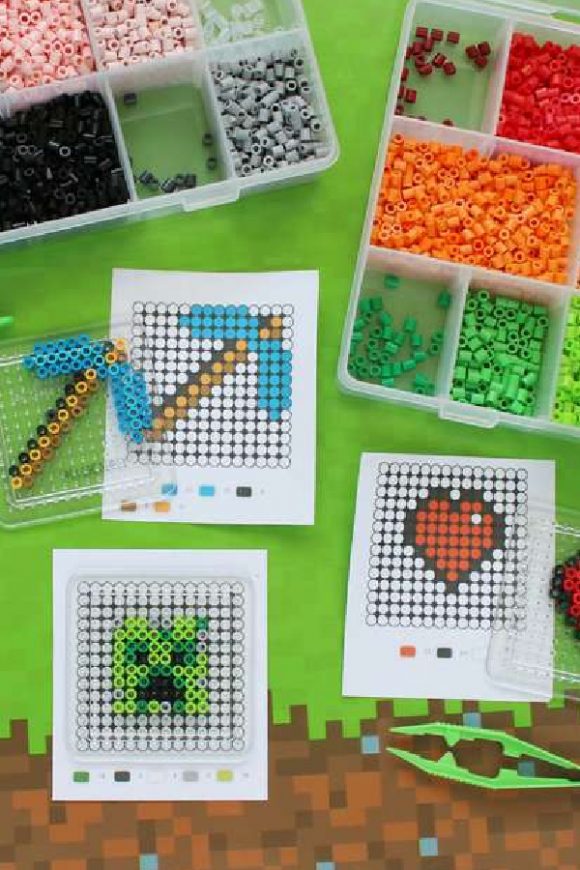 You could also let kids adopt a Minecraft pet!
The kids are going to love taking home a pig, sheep, chicken, and Ocelots!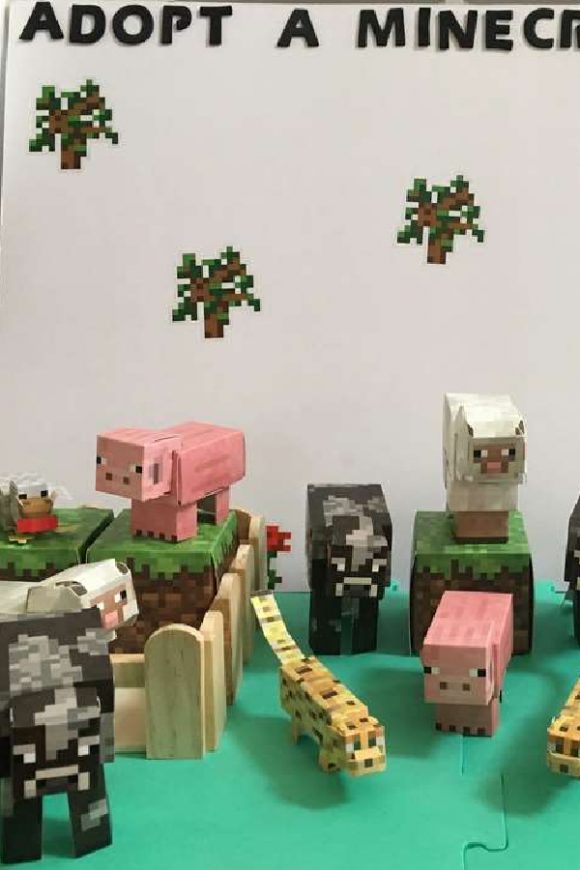 Another fun Minecraft activity is exploring with some sensory bins.
Have different shaped gems in dishes with fillers (such as colored rice, pasta, or beans) and have each blindfolded child try to figure out which gem is in each container.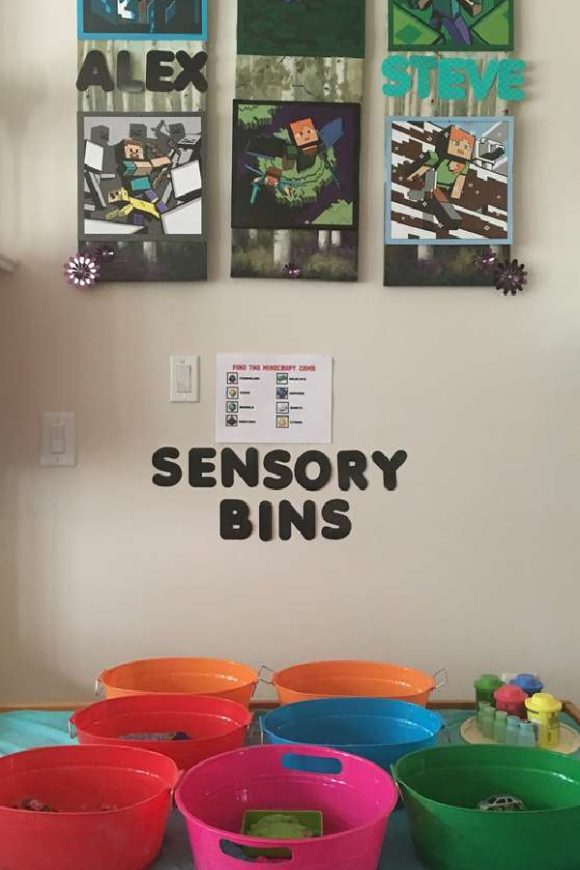 The ultimate Minecraft party activity would have to be without doubt an awesome Minecraft Challenge.
The kids will have a blast playing against each other.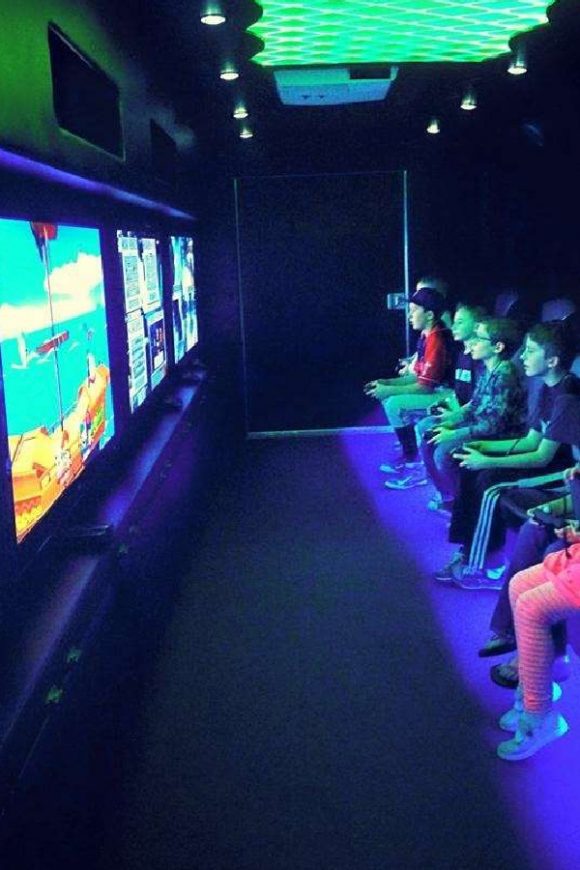 Our 5 Best Minecraft Birthday Party Ideas
Check out these 5 fantastic Minecraft parties for great party ideas!
Here are our 5 best Minecraft parties that are sure to inspire you.
For more cool ideas be sure to take a look at all our 18 best Minecraft party ideas!
If you are looking for cool ideas then you don't want to miss this incredible Minecraft-themed balloon wall.
It looks amazing and is a great way to transform your party into a Minecraft celebration.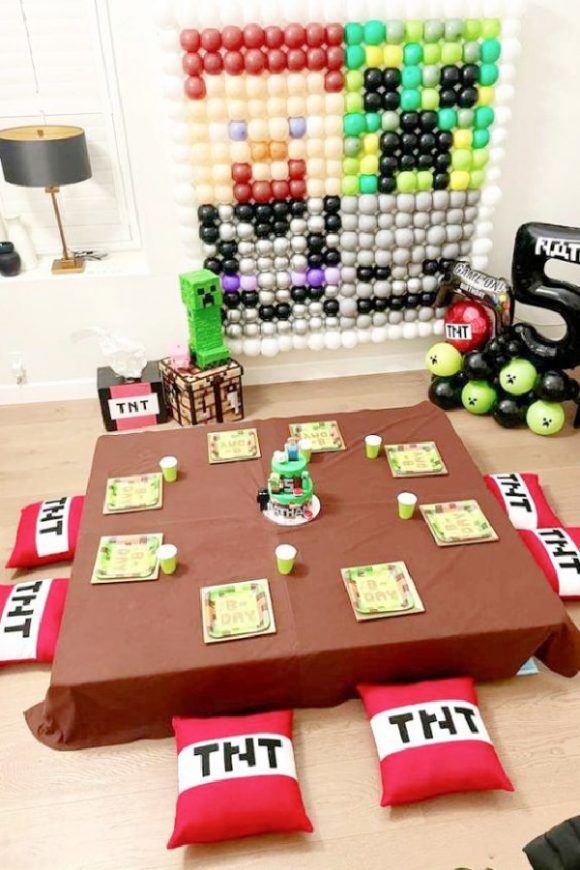 Any Minecraft fan would love a Minecraft party like this one with these cool balloon spiders decorating the dessert table!
They will add so much dimension to your party decorations and are an excellent way to give your party a Minecraft vibe.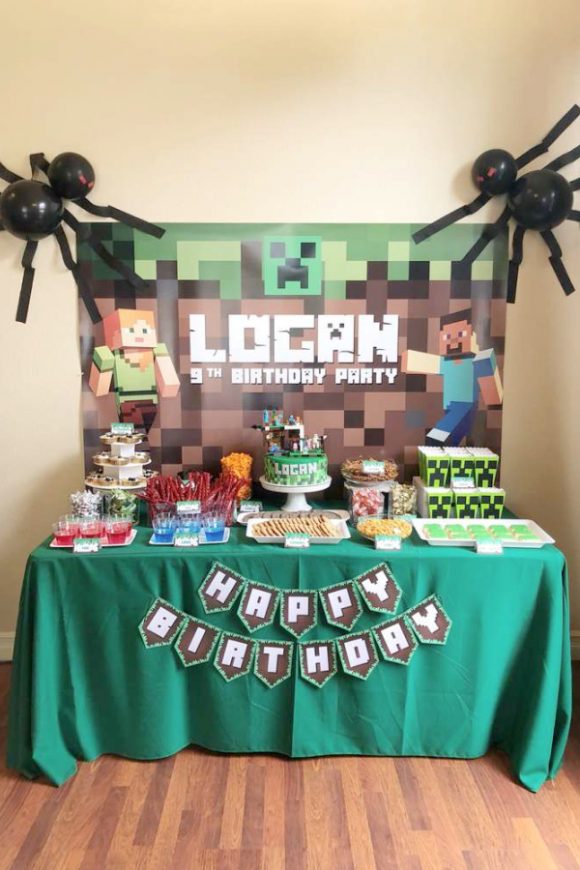 Balloon garlands are such a big party trend. They are the must-have party decoration, even for a Minecraft party!
This Creeper backdrop made with square green plastic plates is so easy to put together and looks absolutely incredible!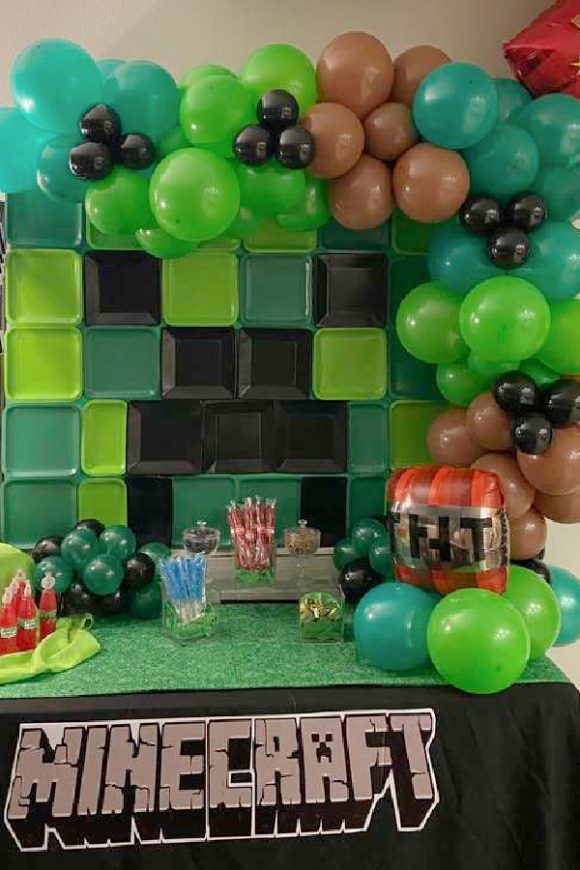 Sleepovers are really popular at the moment, so you can't really go wrong throwing a Minecraft-themed sleepover!
Decorate your teepees with some Minecraft banners and decor, and treat your guests to a bunch of awesome Minecraft goodies.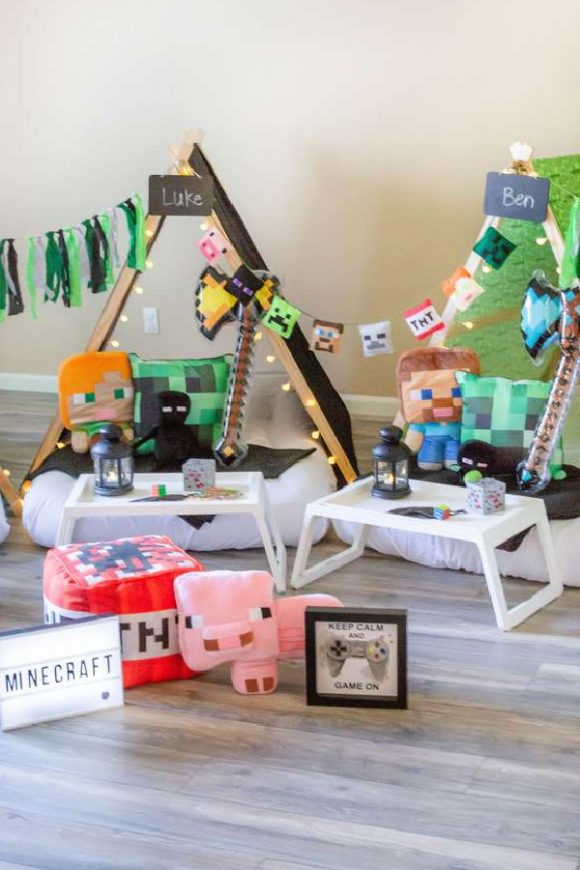 Sometimes you don't need to go all out and throw a large Minecraft party.
Simple parties can be just as effective and equally as much fun.
Add some color to your party with some tissue paper pompoms and decorate with some easy Minecraft party decorations.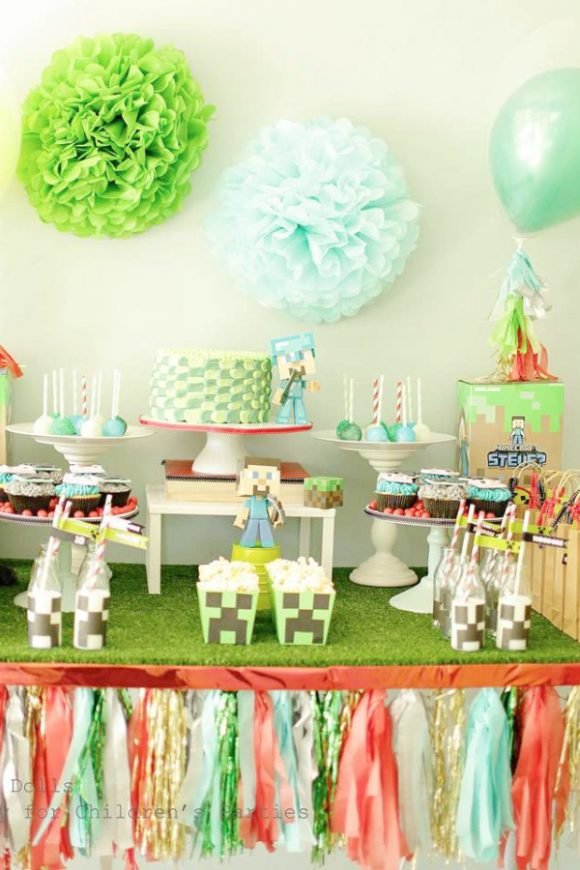 Hope you enjoyed these fun Minecraft party activities!
Need more Minecraft party ideas and crafts?
For more inspiration, check out all the stunning Minecraft birthday parties on our site!