Summer's here and kids seem to be stuck to their phones, tablets, and game consoles playing games.
An all-time favorite is without doubt Minecraft. Kids just can't seem to get enough of it!
So, if you're planning on hosting a Minecraft party, don't miss all the awesome Minecraft party invitations we've rounded up to help with your preparations.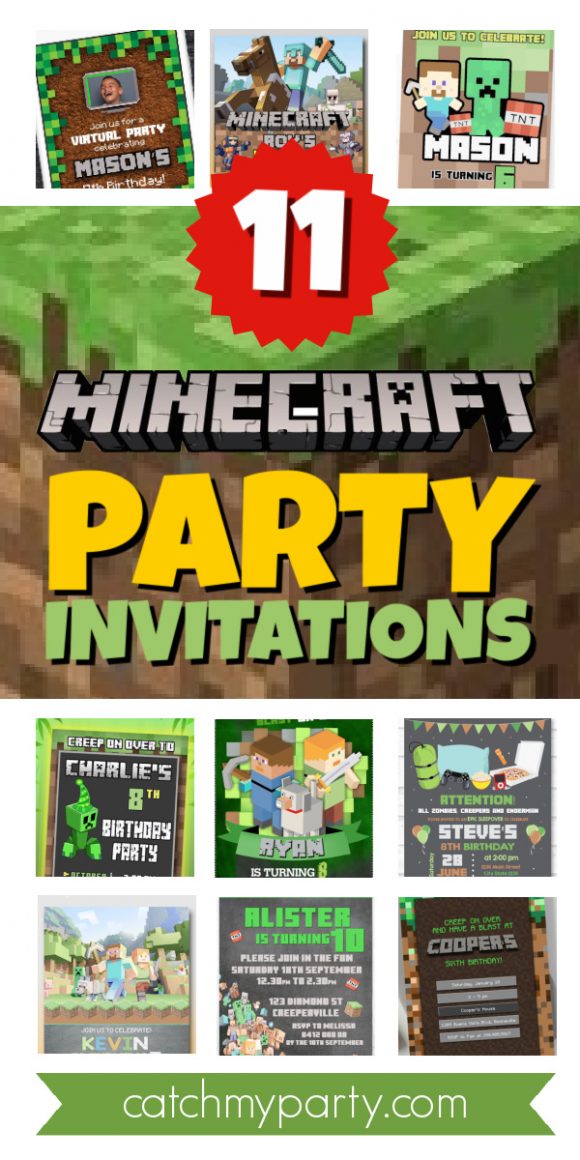 We've found stunning variations of Minecraft party invitations such as a digital version, an armored Steve one, a pixelated invitation, and so many more…
Scroll down to go through them all!
 Check out the Best Minecraft Party Invitations
Digital invitations are a practical and easy way to invite friends and family to your party all at once.
With just the push of a button, you can instantly send out your invitation to all your guests in one simple swoop.
It really couldn't be easier!

If you are looking for an invitation that you can personalize with a photo of the birthday boy, look no further.
This fab Minecraft-inspired invitation has a large area reserved for your photo and is a great pick.

Check out this awesome armored Steve Minecraft invitation.
It'll sure show your guests that you are ready for action!

Picking the perfect Minecraft invitation can be quite daunting with so many out there to choose from.
This Steve and Alex one is great for Minecraft fans!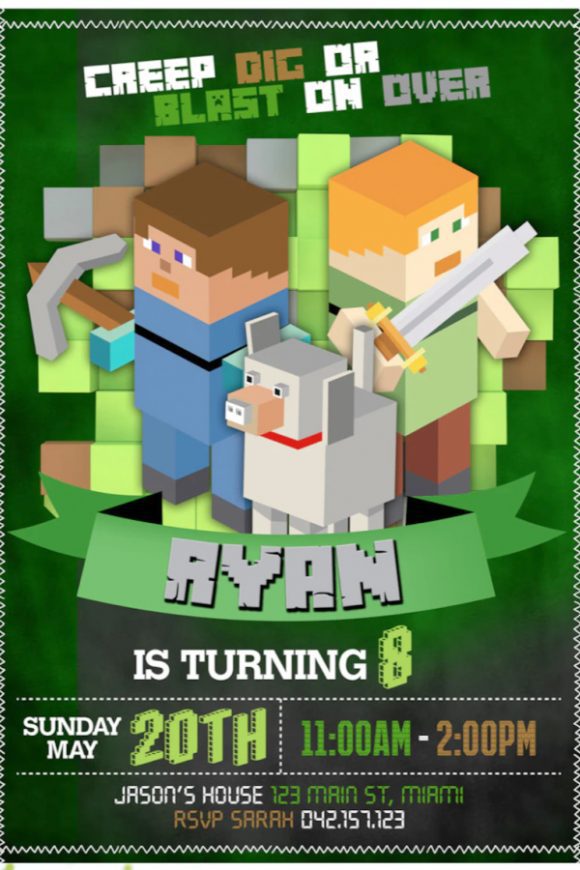 This Minecraft party invitation includes a bunch of characters and monsters and will delight all Minecrafters.
It's the perfect invitation for a gamer!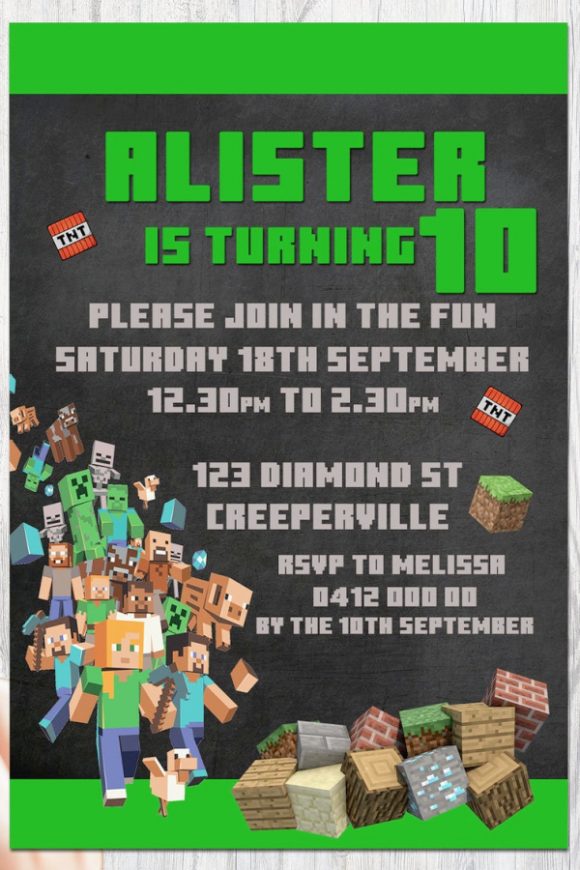 This next invitation takes you into the world of Minecraft with an image of Steve and Alex in a Minecraft scenario.
Any Minecraft fan is going to love it!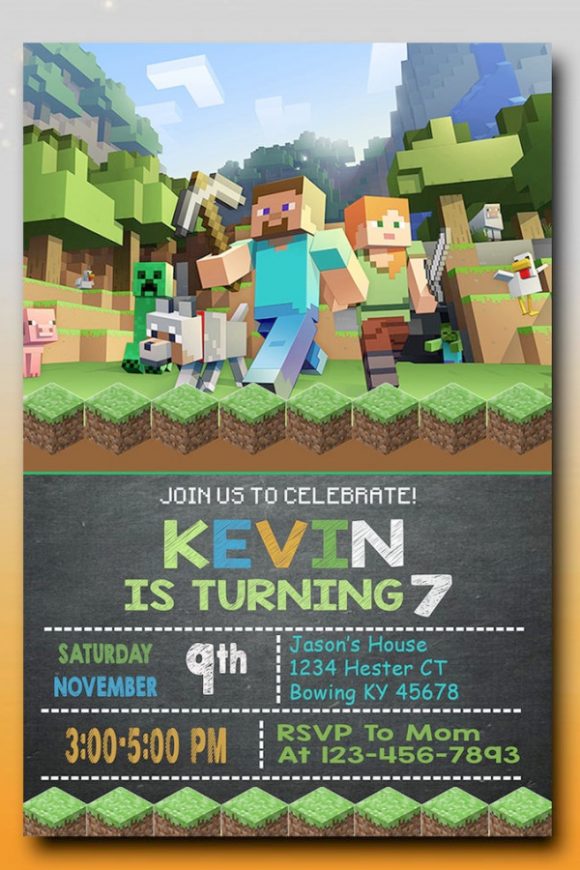 If you are looking for something a little different this creeper-themed invitation is a fab alternative.
You can bet no one will be running away from this next invitation!
There's absolutely no risk of it exploding.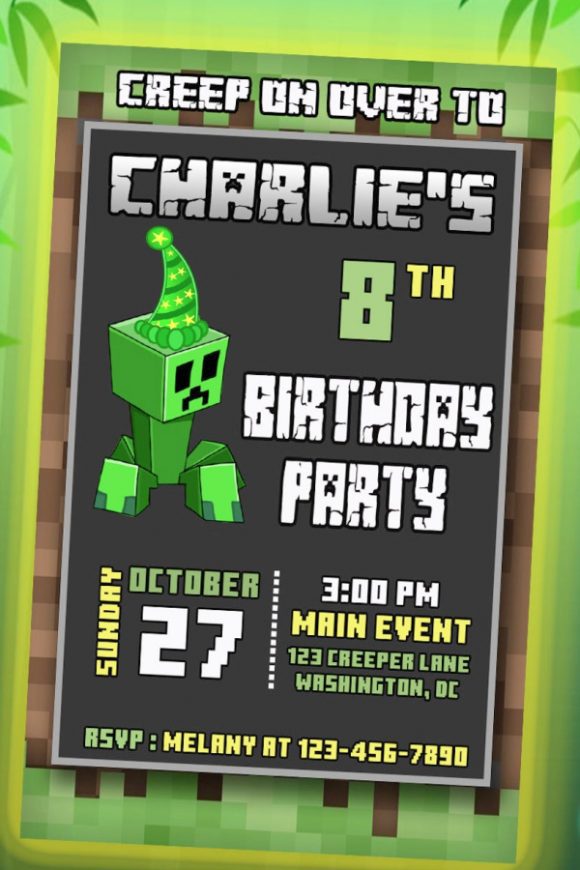 You don't want to miss this illustrated Minecraft invitation.
The design is so much fun and the characters look fantastic!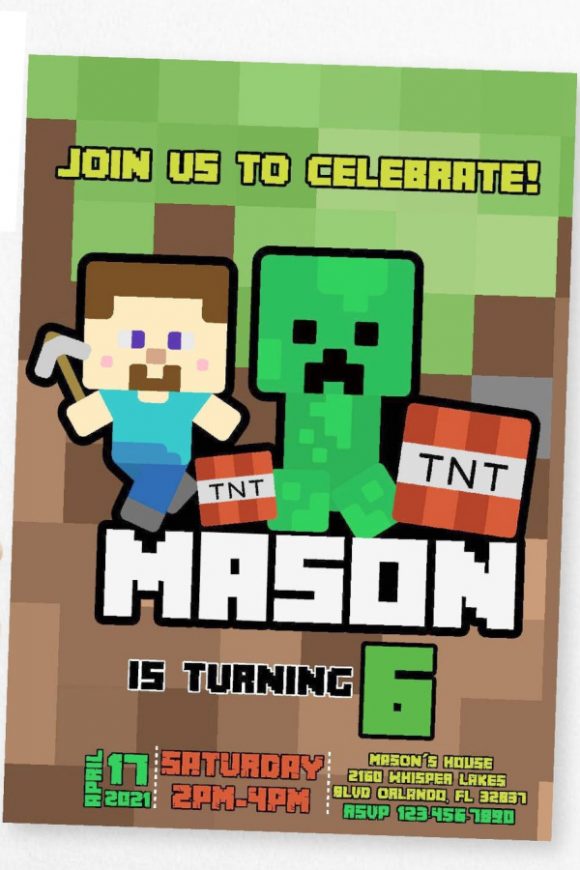 This next Minecraft invitation is designed to look like a game menu, which is really cool!
Your guests will be counting down the days until your party.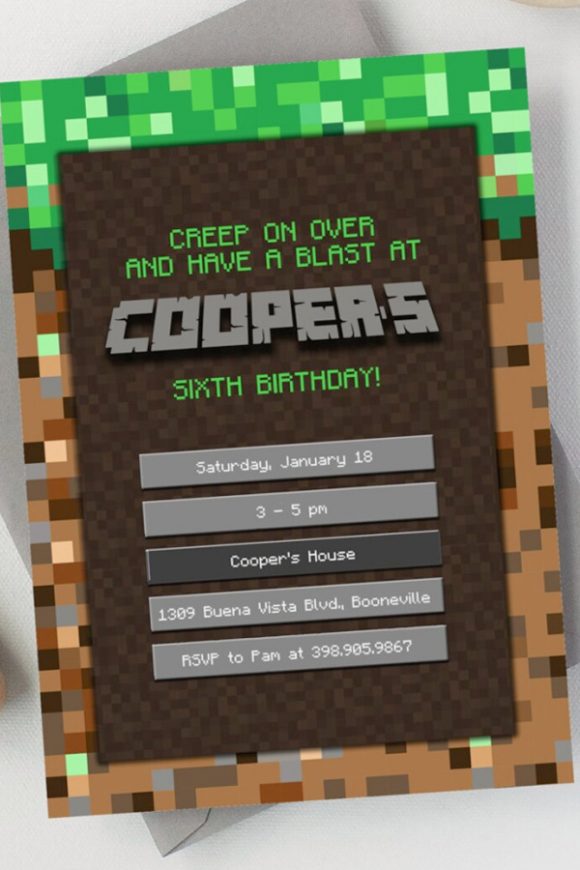 If you are planning a sleepover this invitation is just what you need!
In the design, they've included illustrations of things you'll find at a sleepover… a pillow, pizza, a flashlight, and most importantly, a game controller.

Minecraft is also a huge hit with girls too, which is why we had to include these Minecraft invitations for all girls who love to play.
Love the little pink bow!

** Some links are affiliate links and we may make a small commission if you click and buy.**
Need more Minecraft party ideas and crafts?
For more inspiration, check out all the stunning Minecraft birthday parties on our site, and check out these Minecraft party supplies from vendors with listings on Catch My Party!