Turning 40 requires a celebration!
To help you kick off your birthday bash, we've come up with a list of the 15 most stunning 40th birthday invitations that will surely get your guests in a party mood!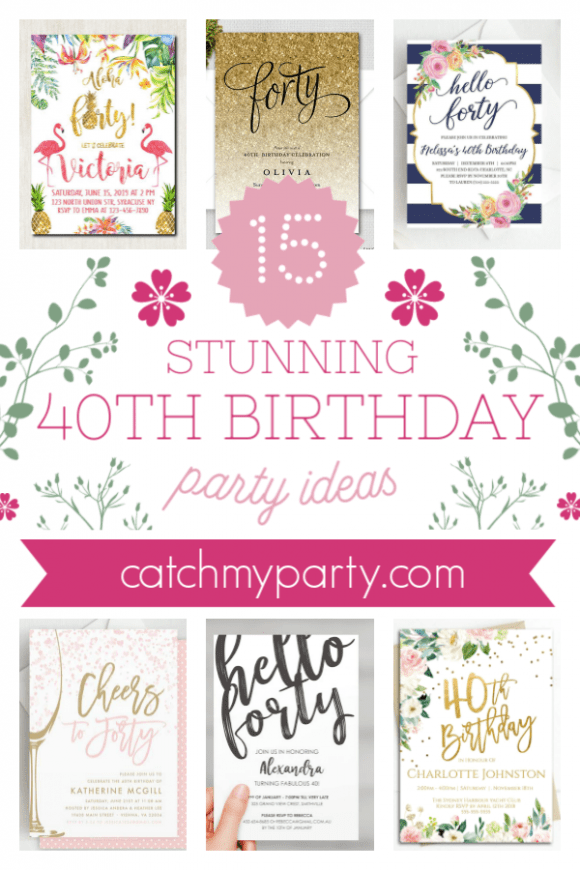 We've found invitations for a variety of 40th birthday party themes such as a luau party, a Mexican fiesta, a tea party and so so many more! You won't want to miss them!
The Most Stunning 40th Birthday Invitations for Women!
To start off our list we have this gorgeous rustic 40th birthday invitation.
Featuring beautiful flowers and stunning gold calligraphy, what is there not to love about it?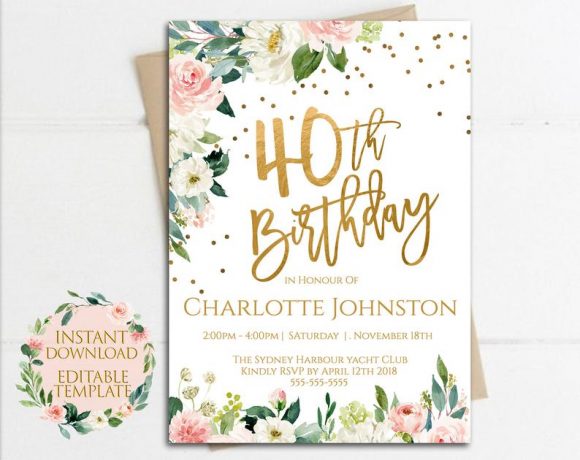 If you're looking for something more modern, this minimalist 40th party invitation may be just what you're looking for.
With just a pink watercolor splash backdrop, this invitation is incredibly stylish and is sure to impress!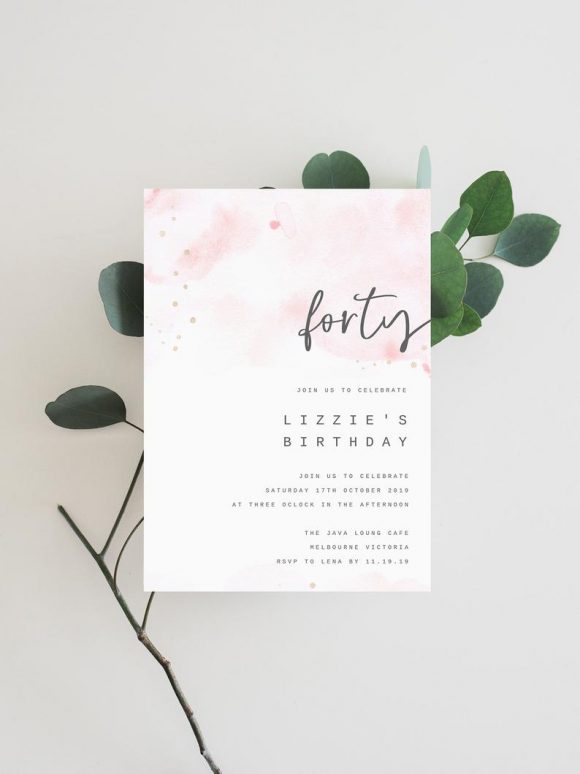 If glam is more your style, then this glitter 40th birthday party invitation oozes sophistication!
Love the black calligraphy on the gold glitter. It's such a fabulous design.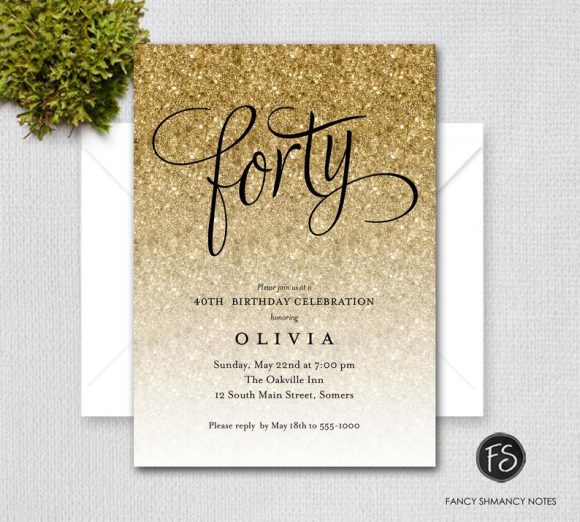 This "Hello Forty" invitation is so cool!
Designed in just back and white, it welcomes your guests to what will be a celebration to remember!

Turning 40 is a great excuse to throw the mother of all parties, so how about treating your guests to one of these fantastic "four-ohs" party invitations?
The design is pretty discrete, but just from looking at it your guest can already sense that this is a party they won't want to miss.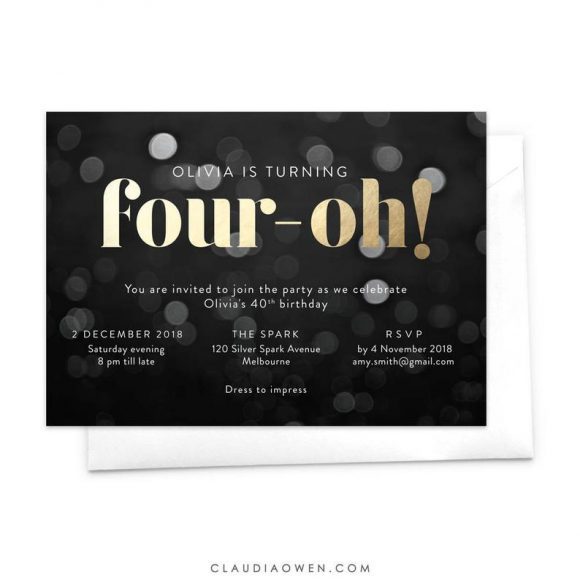 Check out this fun "40 & fabulous'" party invitation featuring a cool balloon to get the party vibes started!
You can bet that your guests are going to be ready to party the second they set eyes on it!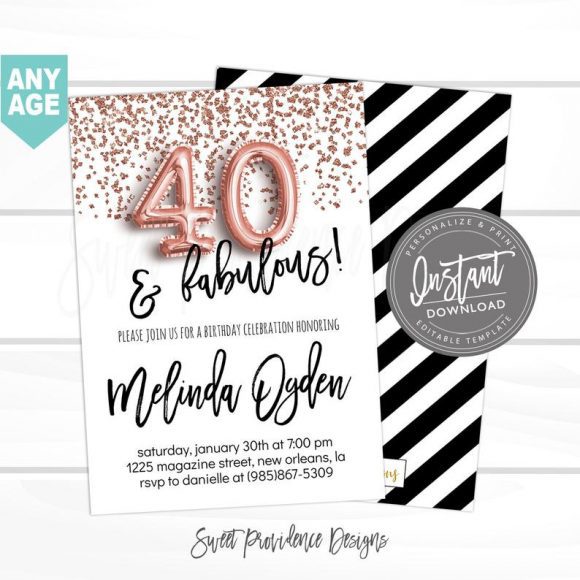 If your 40th happens to be in the summer, then how about going for a luau themed birthday party?
This invitation has everything to you need for the perfect summer bash… flamingos, tropicals flowers, and pineapples. Get your cocktail glasses at the ready!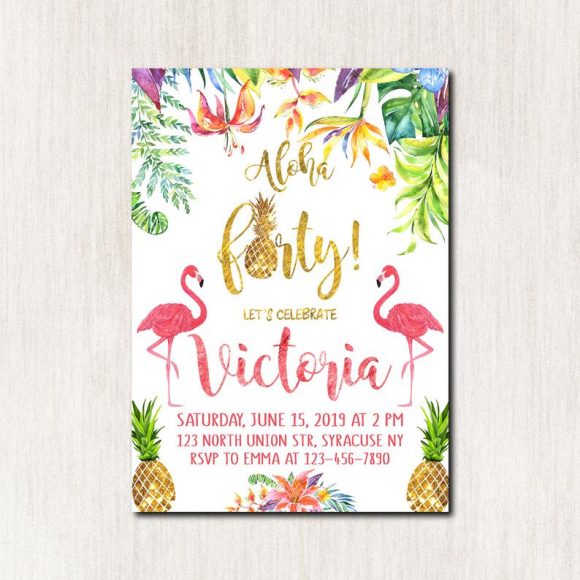 Treat your guests to a trip to Mexico with a full on 40th birthday fiesta!
Full of vibrant colors and gorgeous flowers, you can almost taste the tacos and margaritas just from looking at the wonderful invitation!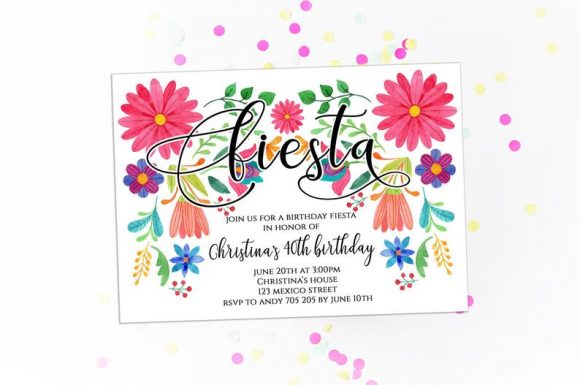 Cactus parties are everywhere at the moment, so be rest assured that this cactus-themed 40th birthday party invitation is absolutely on trend!
Throw in some llamas and your party will be the talk of the town!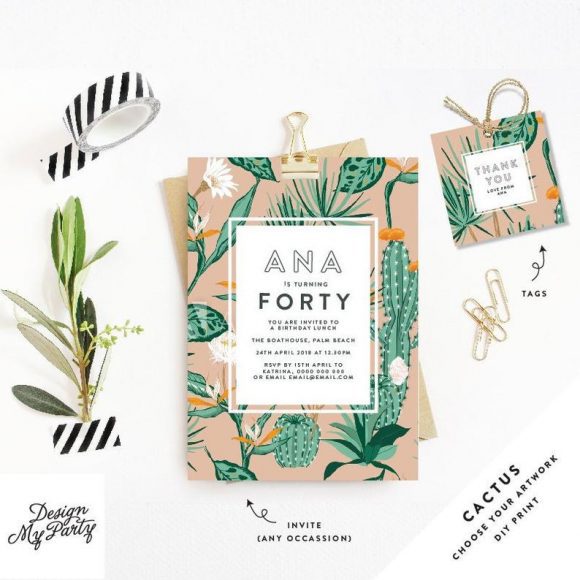 If you love a good brew, then this vintage tea party-inspired 40th birthday invitation may just be your cup of tea.
With an elegant teapot silhouette and some gorgeous flowers, this invitation is perfect for you!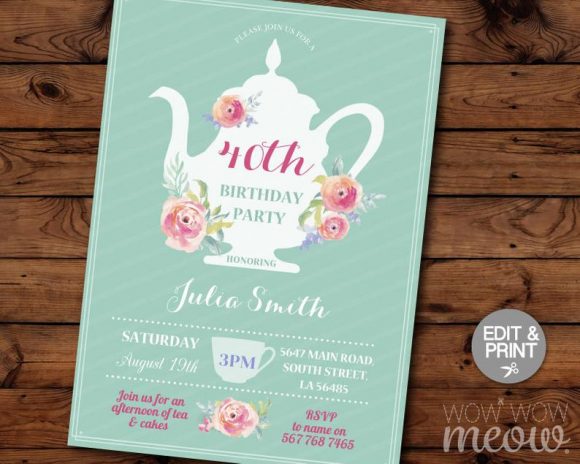 If, on the other hand, you're planning a boho themed 40th birthday, you're going to love this invitation.
The flowers and feathers are so beautifully illustrated, and the gold "40" adds a touch of finesse to it!

This invitation will make all your friends and family want to celebrate your birthday with you and toast to your 40th.
You'd better start putting your champagne bottle in ice, you're going to be needing them!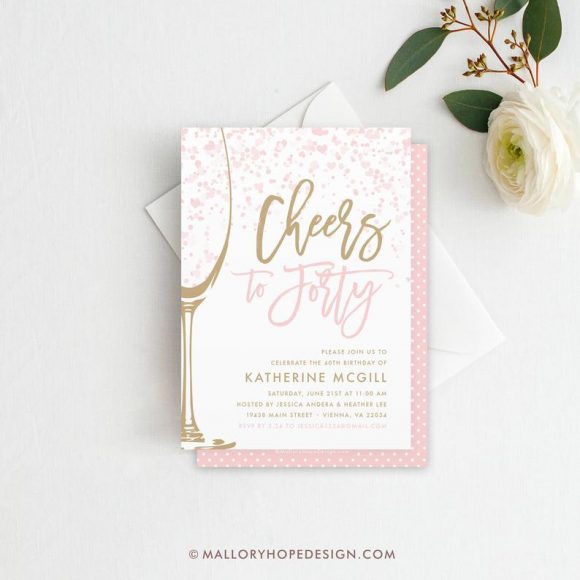 If you're planning a 40th birthday brunch, you're going to love this impressive invitation.
It's so beautifully illustrated with some wonderful watercolored flowers and gorgeous calligraphy. We love it!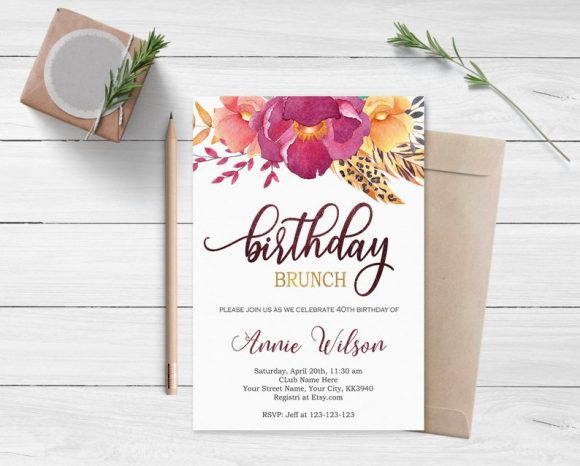 This Kate Spade inspired 40th birthday party invitation is so stylish!
The design is so elegant with the white and navy blue striped backdrop and the lovely illustrated flowers.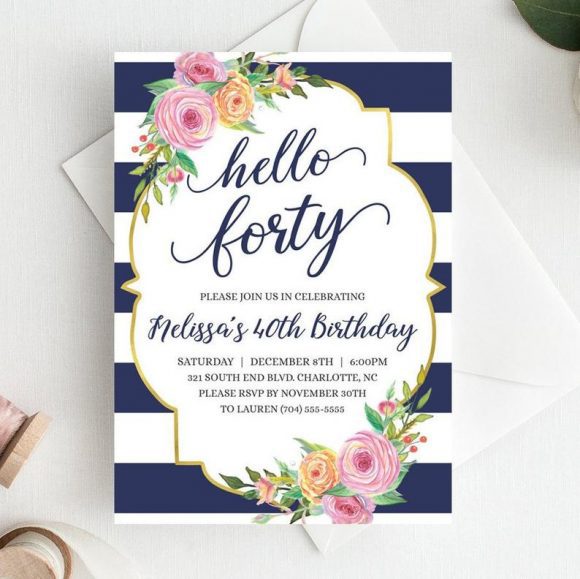 If you have a friend that's turning 40 soon, how about throwing her a surprise 40th birthday party?!
This invitation is so gorgeous with its beautiful pink roses and feminine design!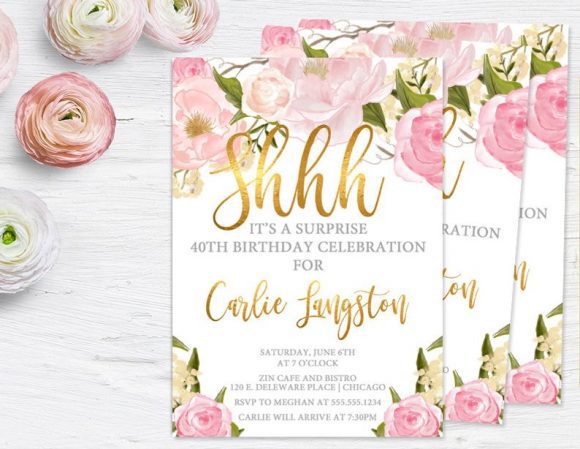 MORE 40TH BIRTHDAY PARTY POSTS YOU'LL LIKE:
For more inspiration, check out all the stunning 40th birthday parties on our site, and check out these 40th birthday party supplies from vendors with listings on Catch My Party!
**Some of these links may be an affiliate.