Only an actual trip to Paris can be more exciting than throwing a French Parisian-themed party! So, if you are planning one be sure not to miss all the 50 stylish Paris party decorations and ideas we've rounded up for you.
It's a wonderful theme, be it for a girl birthday party, a girl baby shower, a bridal shower, or even a bachelorette party!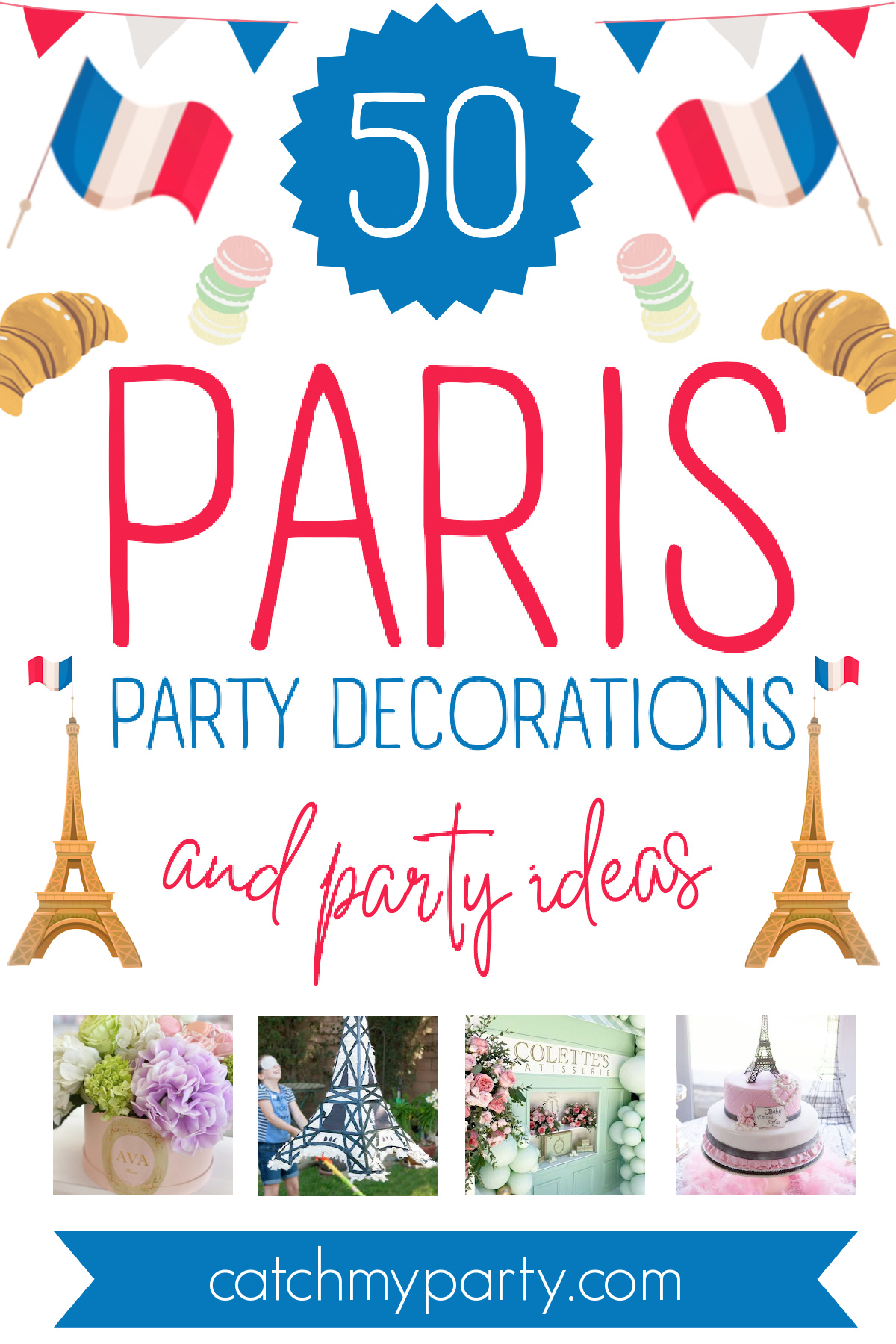 Reasons to Love These Paris Party Decorations and Ideas
Your party will provide lasting memories for your child, family, and party guests.
Great opportunity to get creative with the theme.
Can be used for any age party from a girl's first birthday theme to a 30th birthday theme.
Activities and games can be designed around the theme to create an extra exciting experience.
The shared experience of the party theme can help everyone connect with each other and build lasting friendships.
50 Stylish Paris Party Decorations and Ideas!
Check out all the chic Parisian party ideas and decorations we've found so you can host a party to remember!
First things first… make a guest list and send out your party invitations!
This colorful illustrated 'spend a day in Paris' invitation is the perfect way to invite your friends and family to your Parisian party.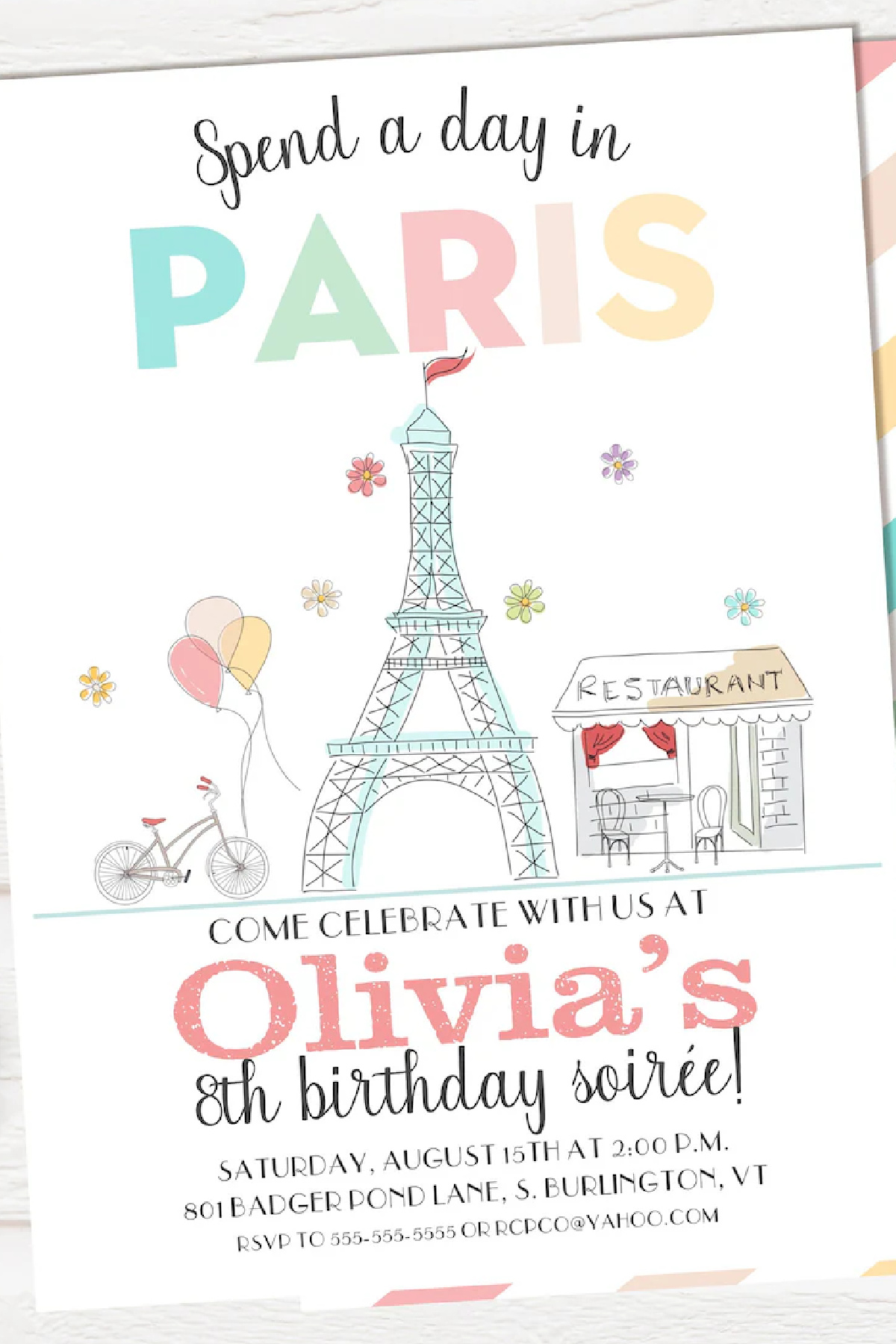 Ooh, la la! This next party invitation is oh so chic! The pink Eiffel Tower is so elegant.
Your guests will be RSVPing you the second they receive theirs!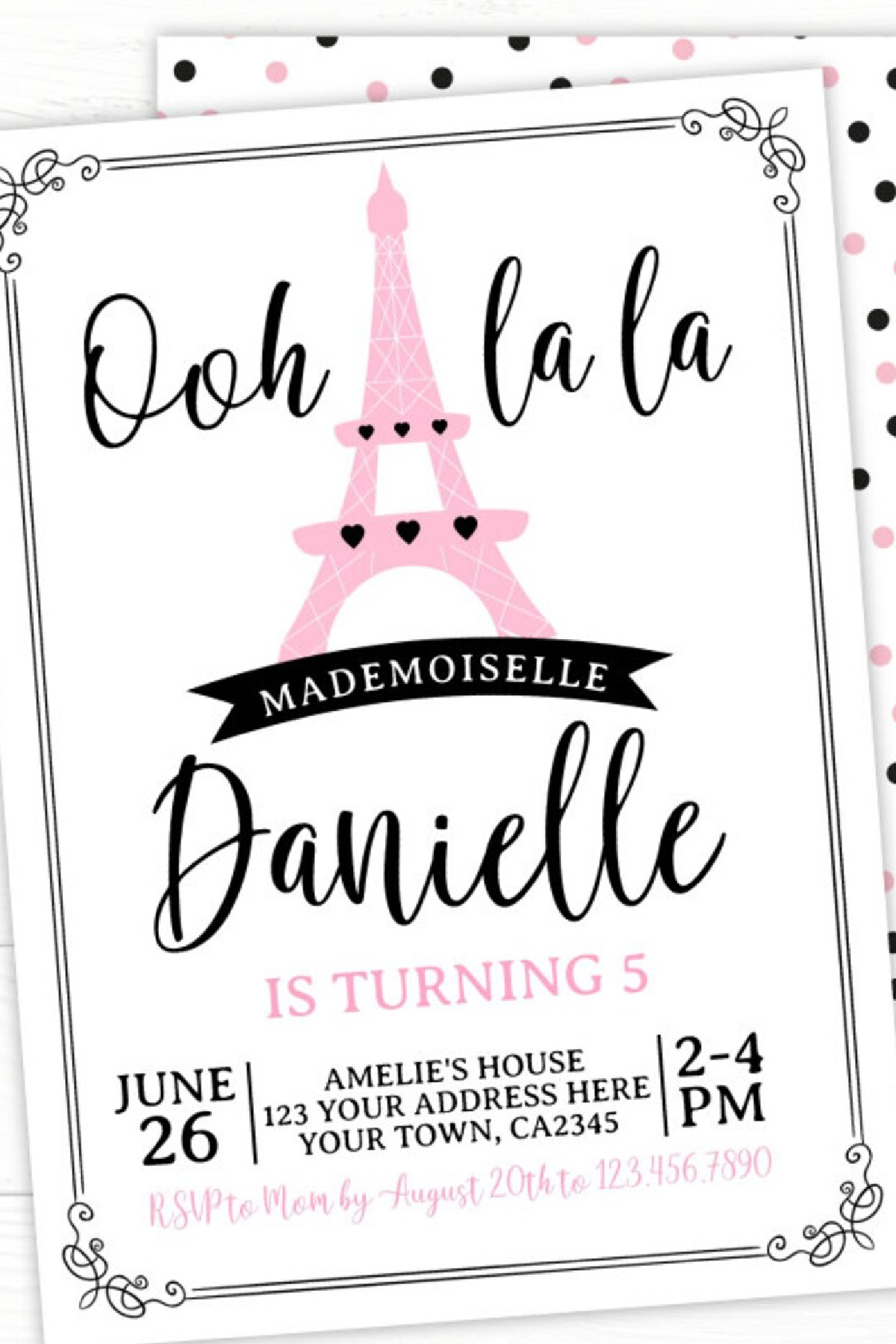 The macarons and pastries from Pâtisserie E. Ladurée are famous around the world and are a must-have when in Paris.
Treat your guests to a delicious feast with a delightful Laudree-themed tea party!
Transform your dessert table into a patisserie storefront, in the traditional Laduree green, and decorate with beautiful pink roses and your finest porcelain.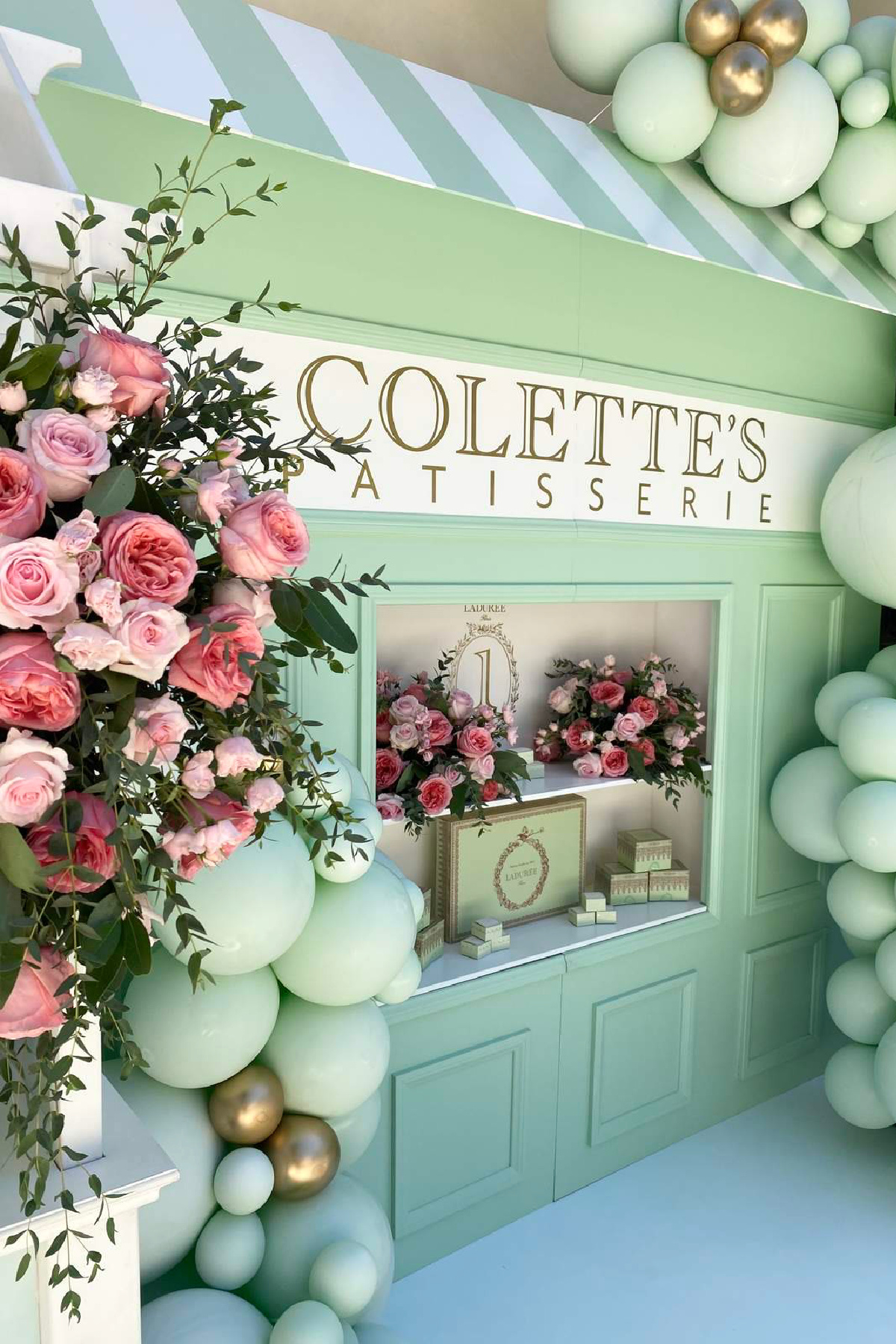 This gorgeous illustrated pastel dessert table is another beautiful example of a Laduree-themed party!
It's so delicate and sweet, just like your birthday girl.
Set out a bunch of small cafe tables for your guests to enjoy their pastries just like they would if they were in Paris.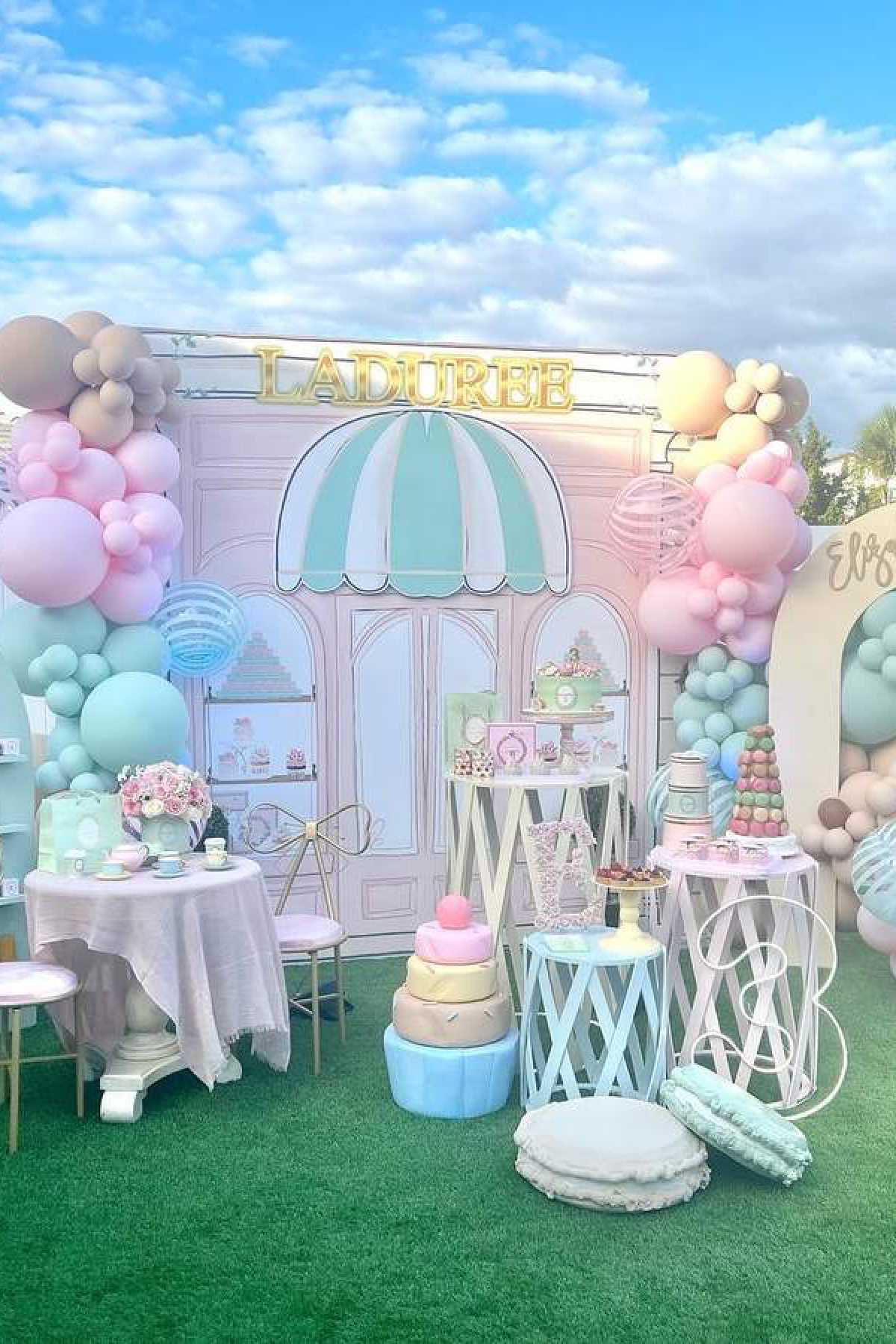 A sweet 16 is one of those milestone birthdays that deserves to be celebrated with a memorable party.
If your daughter dreams of one day visiting Paris, how about treating her and her guests to a romantic Paris- themed birthday party?
What could be better than pretending to be in the city of lights, right?
For a quick and easy party decoration use an Eiffel Tower backdrop to make your dessert table pop!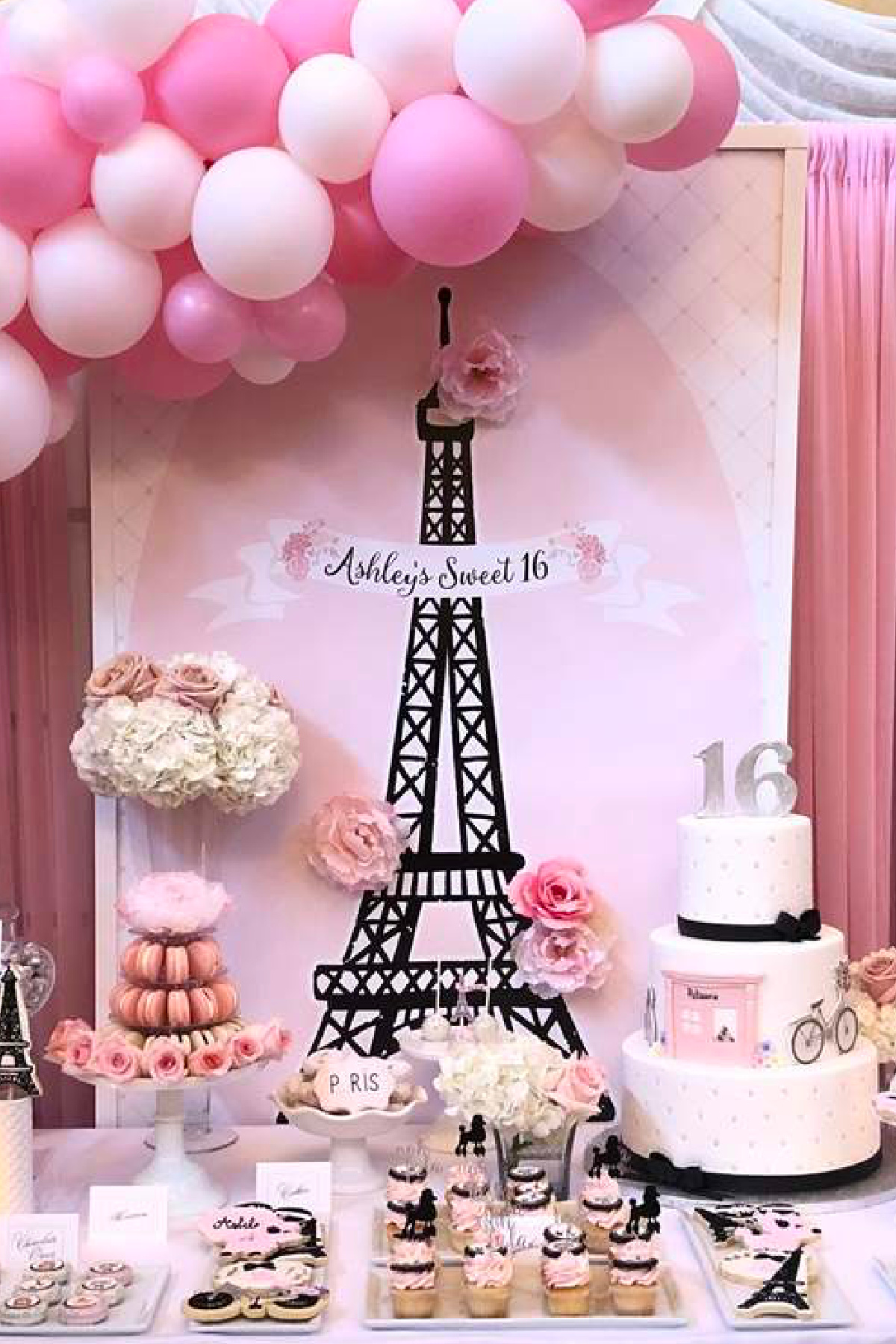 Transport everyone to the streets of Paris by adding some vintage street lights to your dessert table.
They will look amazing and add an authentic 'city of lights' vibe to your party.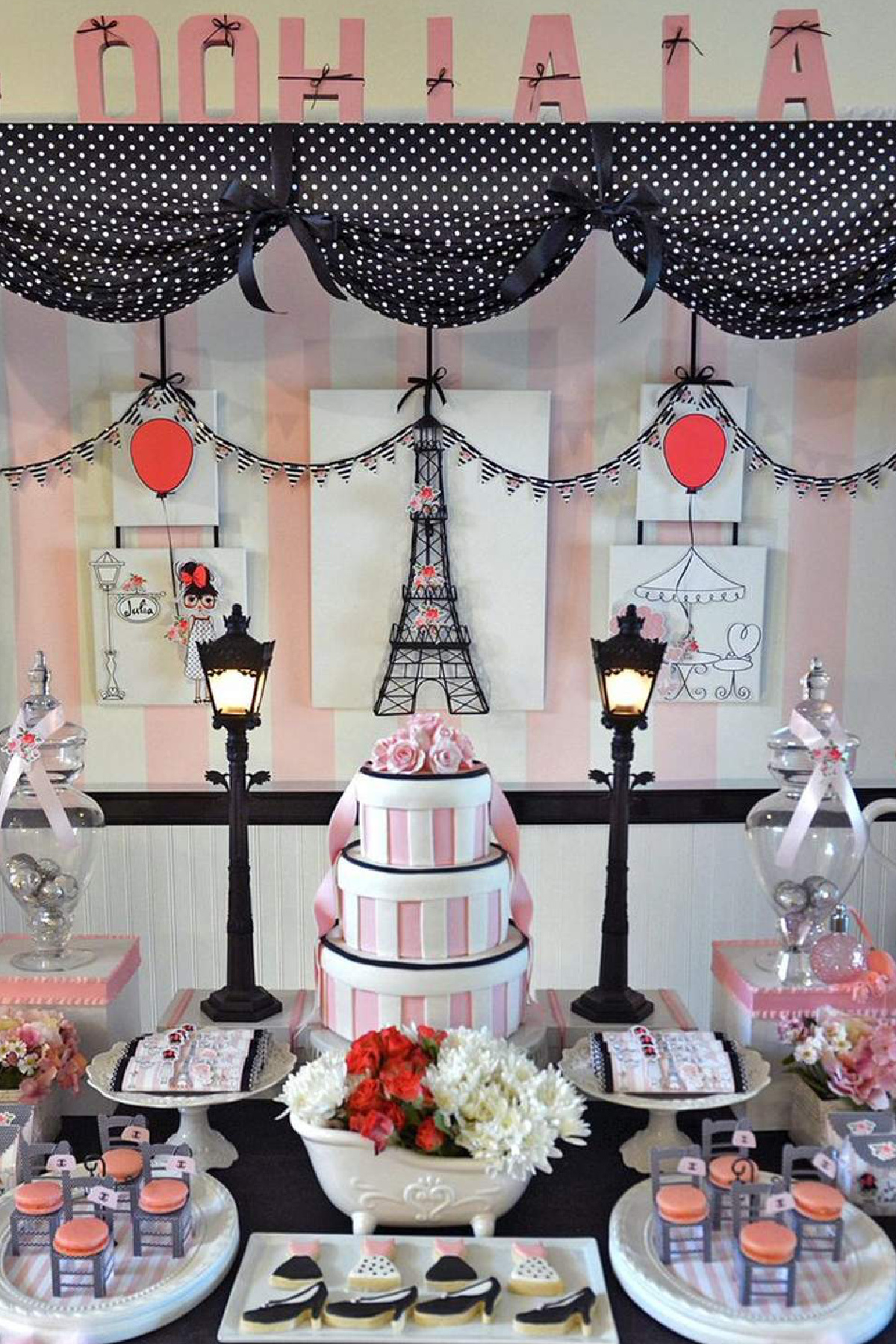 Cafe culture is a big part of the Parisian lifestyle.
Parisians love nothing more than to sit and chat away in cafes, so create your own Parisian cafe by decorating your dessert table with this lovely black and white illustrated backdrop.
Your guests are going to be blown away!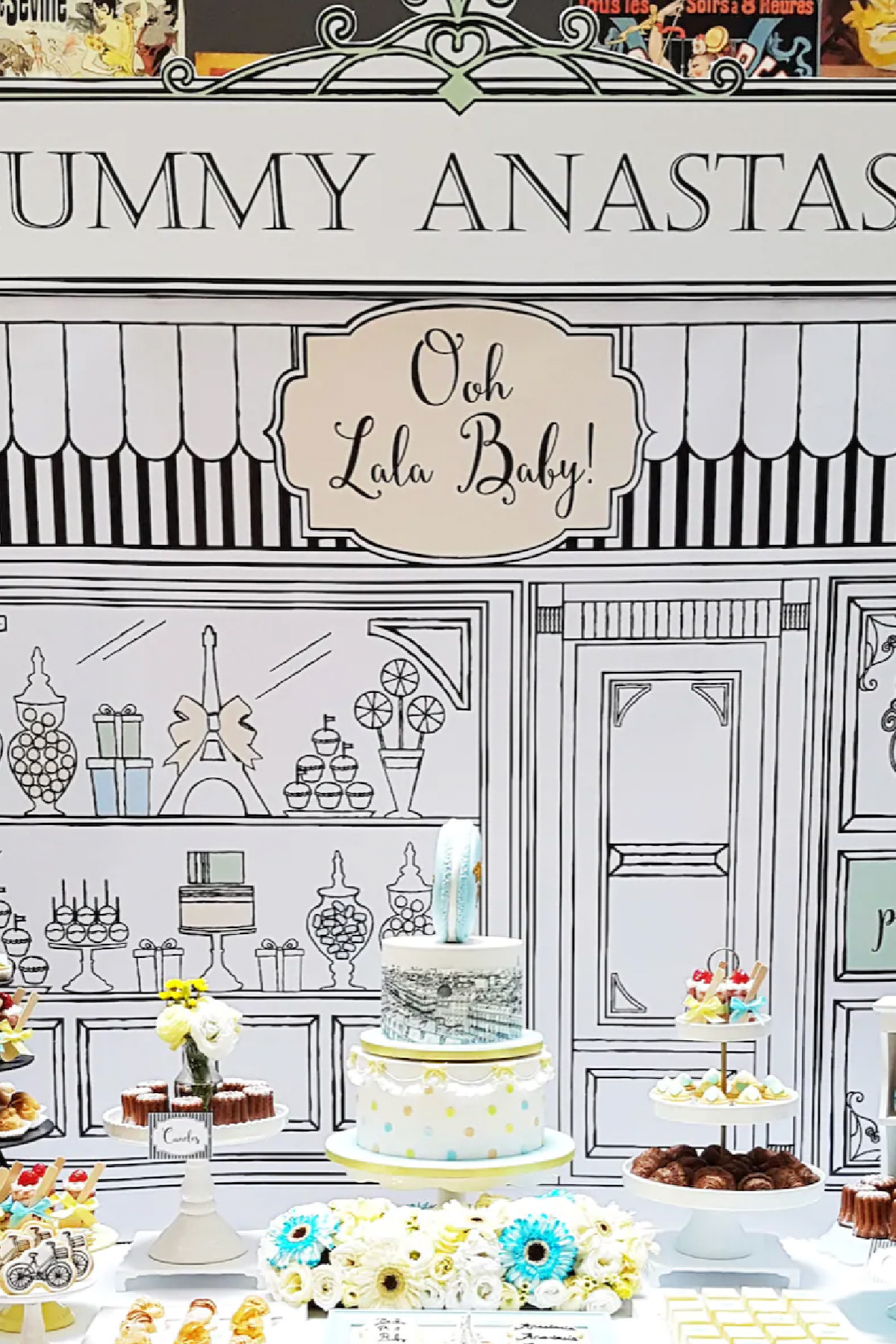 Sleepovers are so on-trend right now, so how about treating your guests to the perfect French celebration and throwing an unforgettable slumber party?
Place Parisian-themed pillows and goodies at the entrance of each teepee for your guests to use during the party and to take home with them the following day.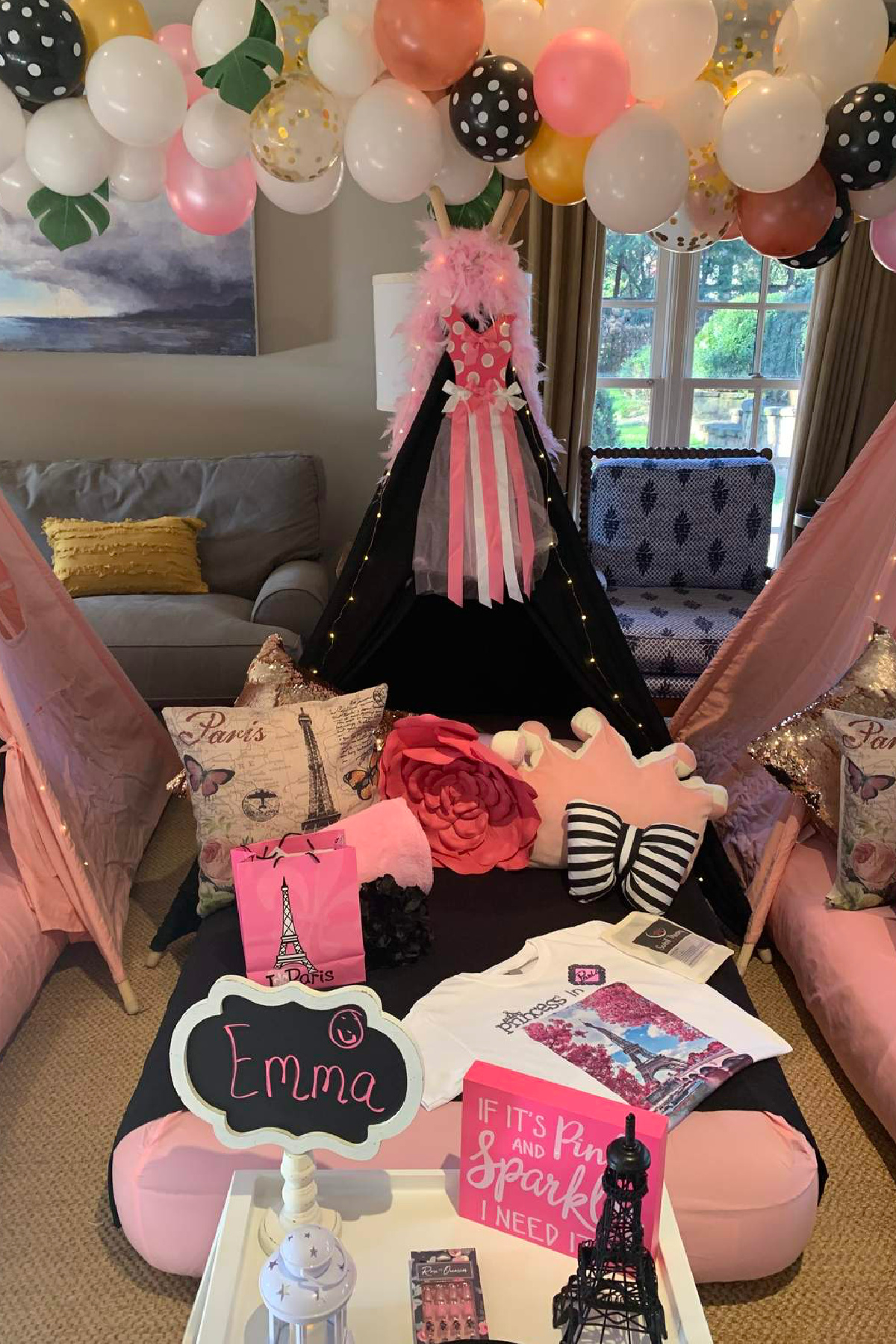 Welcome your guests to your Paris-themed party with a gorgeous personalized welcome sign.
It's a wonderful party decoration to place at the entrance of your party. Love the flowers and the beautifully illustrated Eiffel Tower.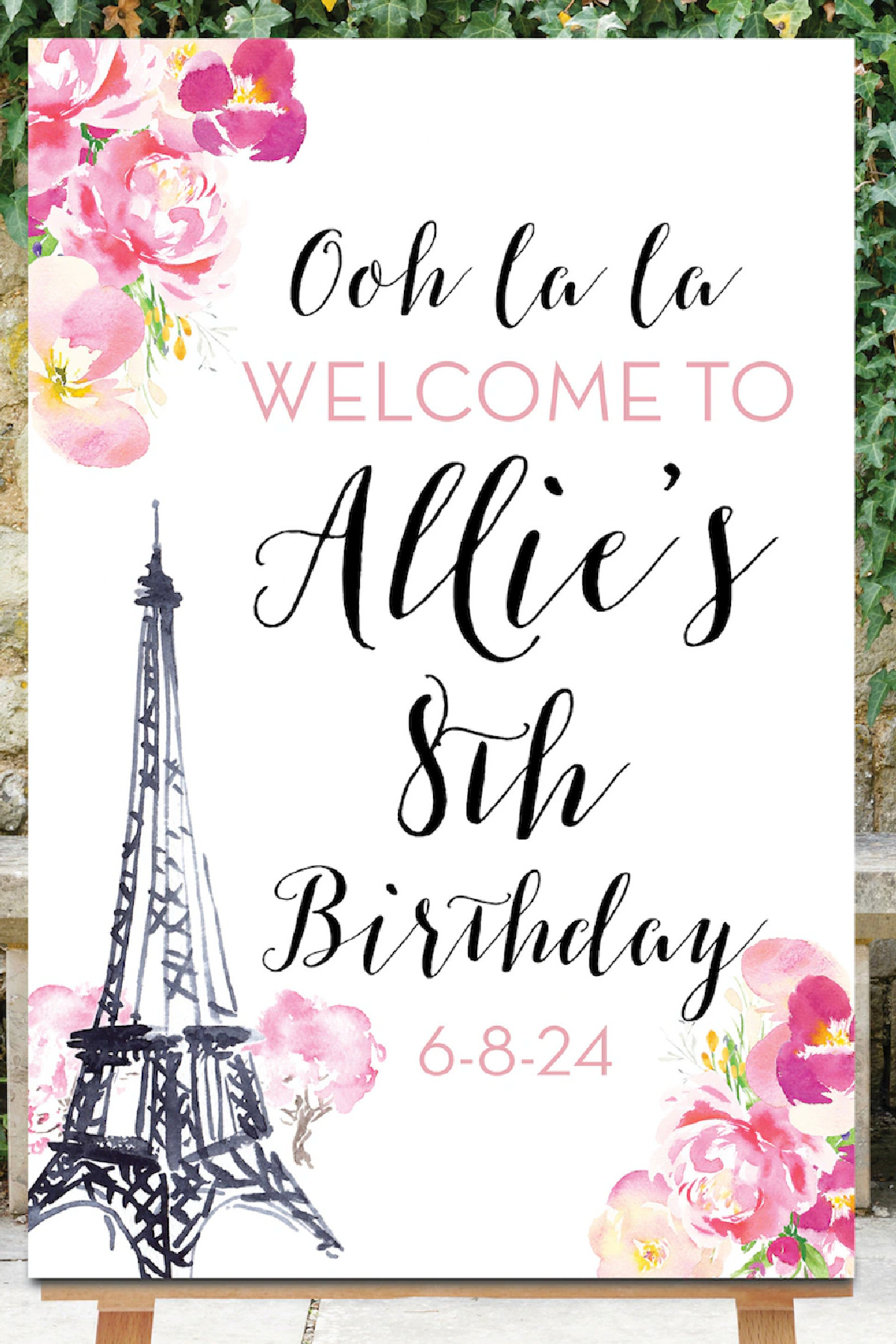 The cake, at any party, should always be a showstopper and take center stage on a dessert table.
This gorgeous Paris-inspired baby shower cake is so elegant and looks absolutely amazing. The sweet pink fondant roses and white pearls decorate the cake beautifully, and what could be better than topping a cake with the iconic Eiffel Tower?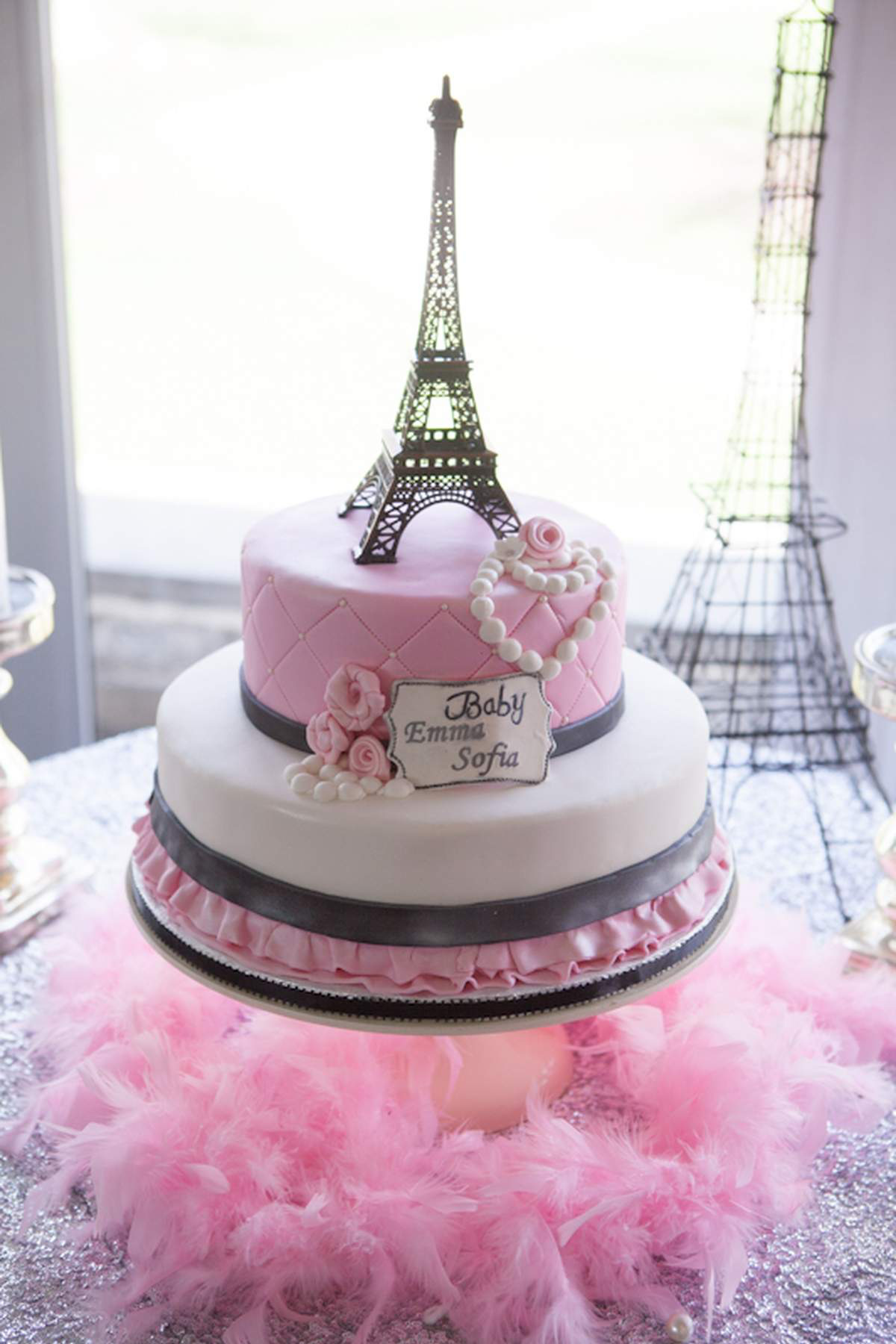 If you love macarons and are thinking of throwing a Laduree-French-themed Parisian party then you don't want to miss this incredible birthday cake.
Decorated to look like a Laduree box and decorated with pastel-colored macaroons, a cute scooter, and a fabulous Eiffel Tower, this birthday cake will delight all of your guests.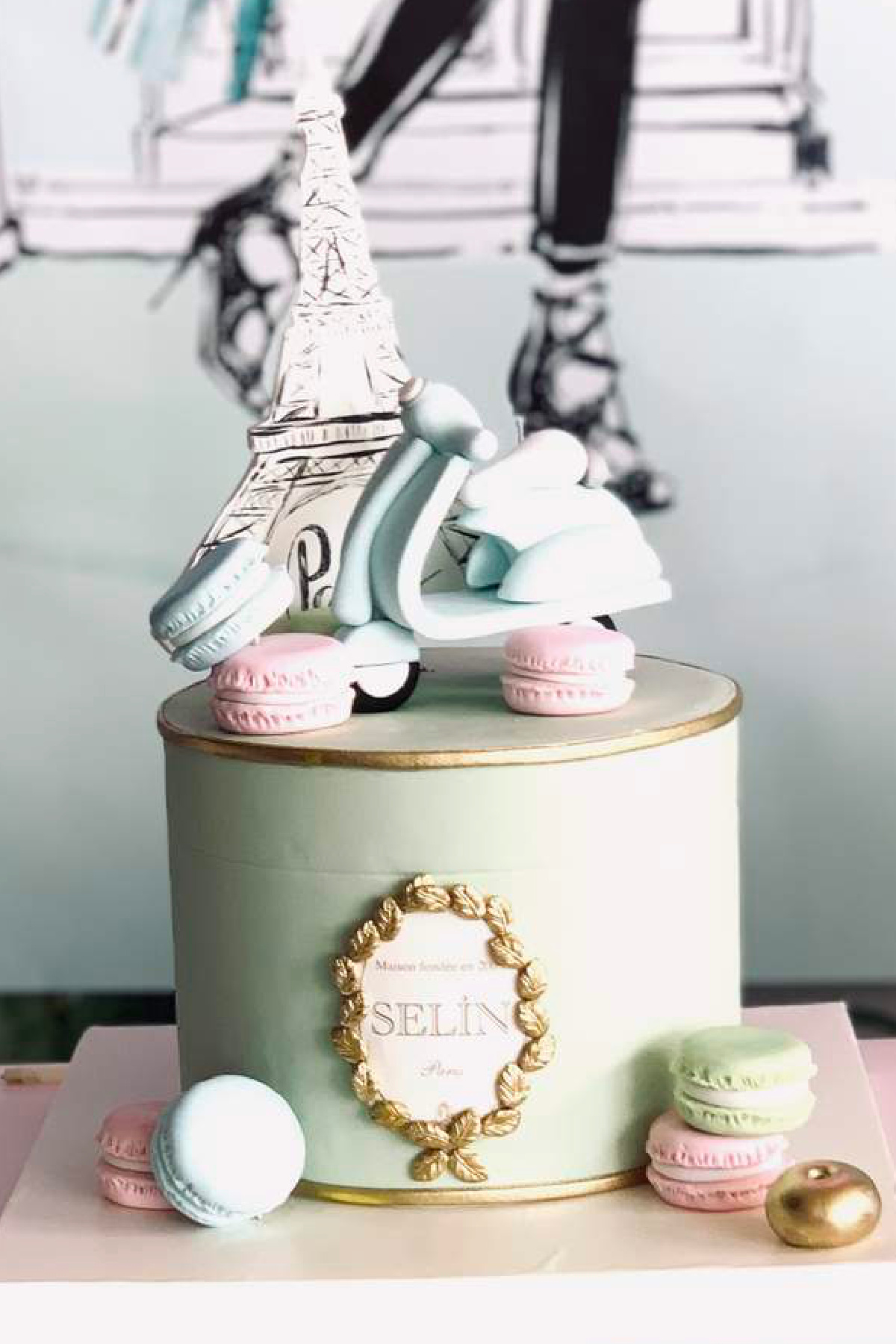 If you really want to make a statement then this next birthday cake is the most amazing birthday cake EVER!
WOW! This Eiffel Tower birthday cake is truly one-of-a-kind and most definitely stands out at a Paris-themed party.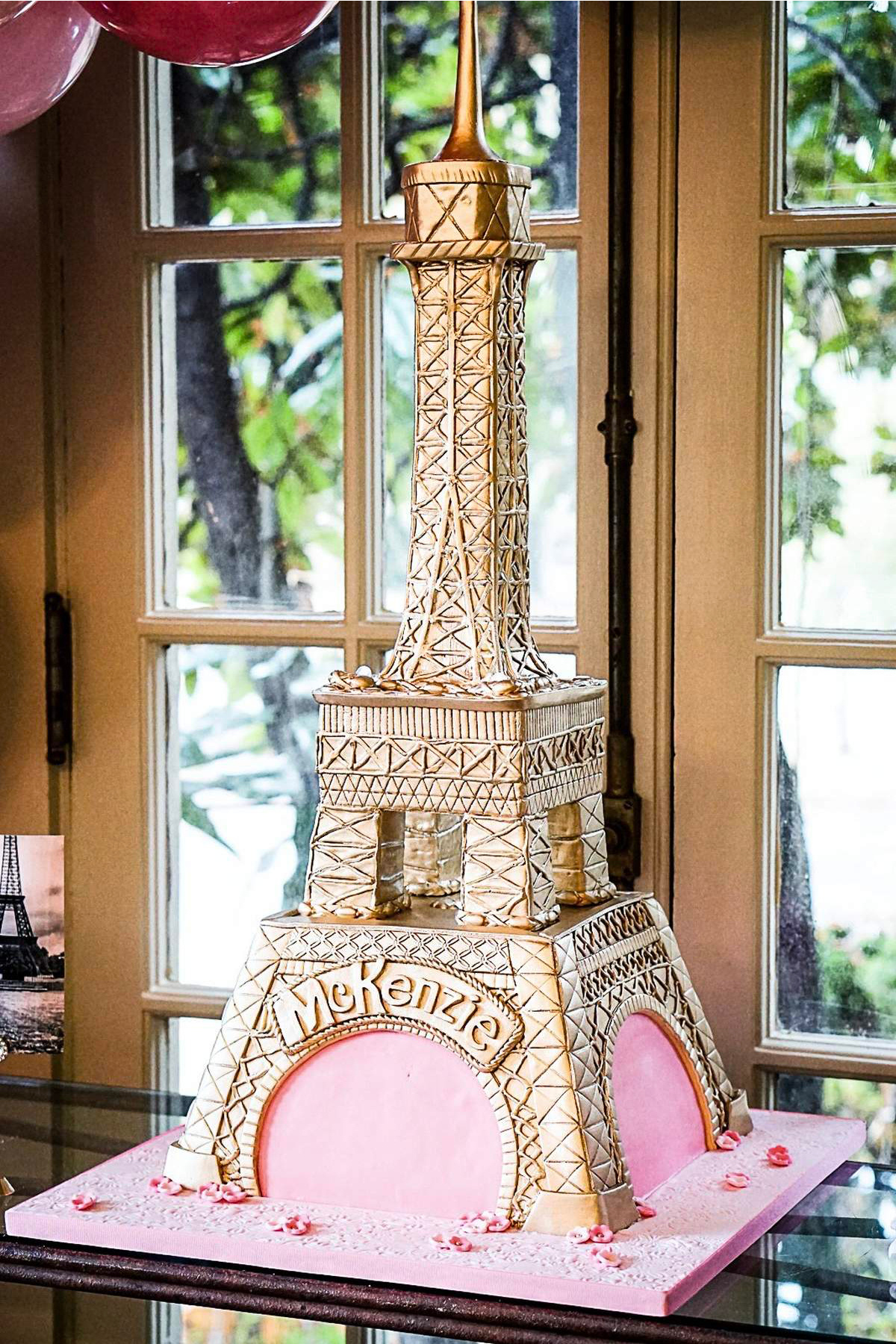 Paris is a wonderful city to stroll about and take in the sites and pretty little cafés and boutiques.
This tiered birthday cake perfectly sums up Paris with its beautiful storefronts. You couldn't wish for a more romantic cake. Topped off with the Effiel Tower this cake is sure to impress.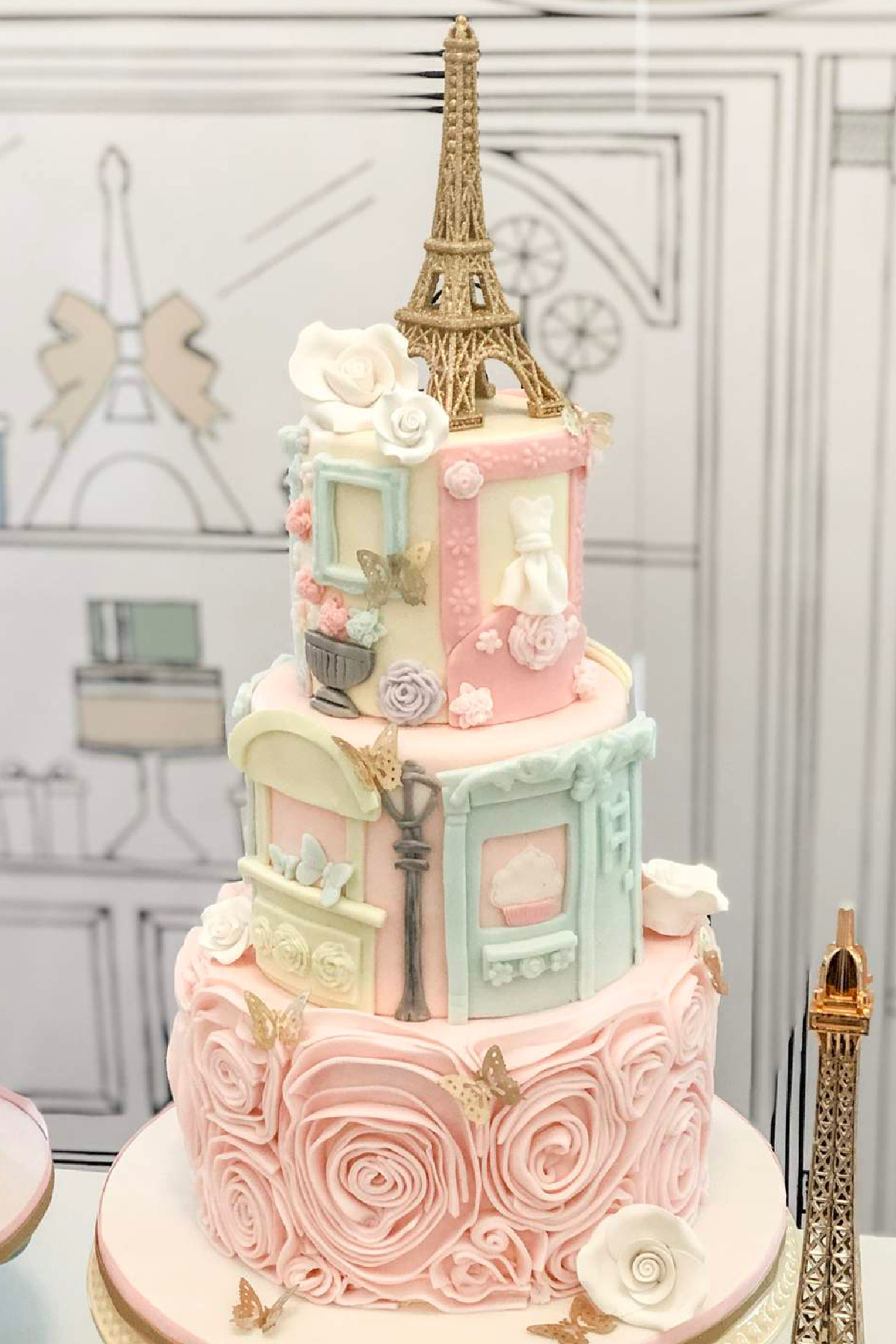 You'll definitely want to be showing off this next cake!
Made up of four tiers this beautiful white cake is decorated with a hand-drawn pink Eiffel Tower. The fresh flowers at the base add so much to this cake and give it a romantic Parisian vibe.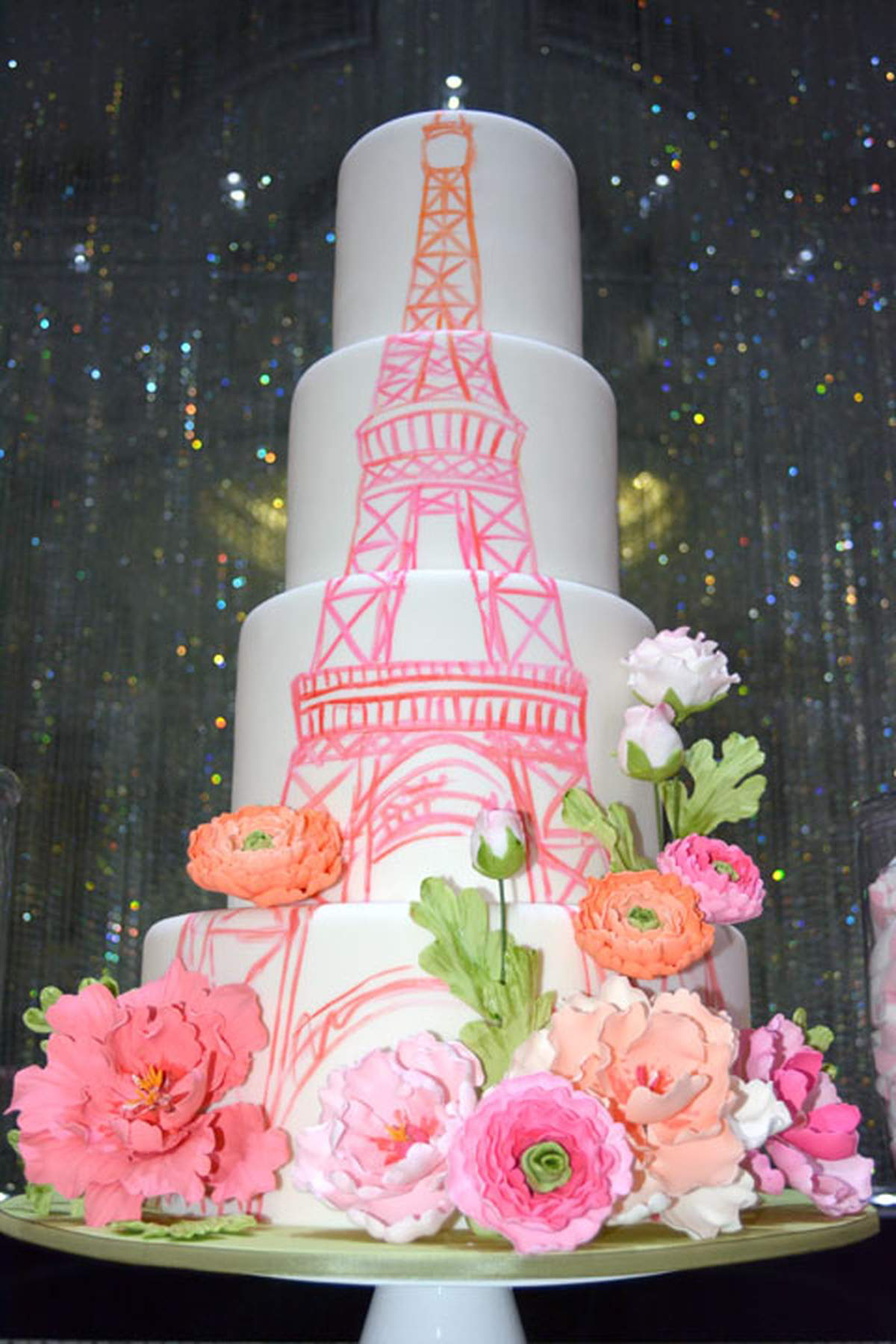 If your little girl loves reading about Madeline's adventures in Paris, then she'll be thrilled with a Madeline-inspired birthday cake!
Designed to look like Madeline's outfit this cake is so inspirational!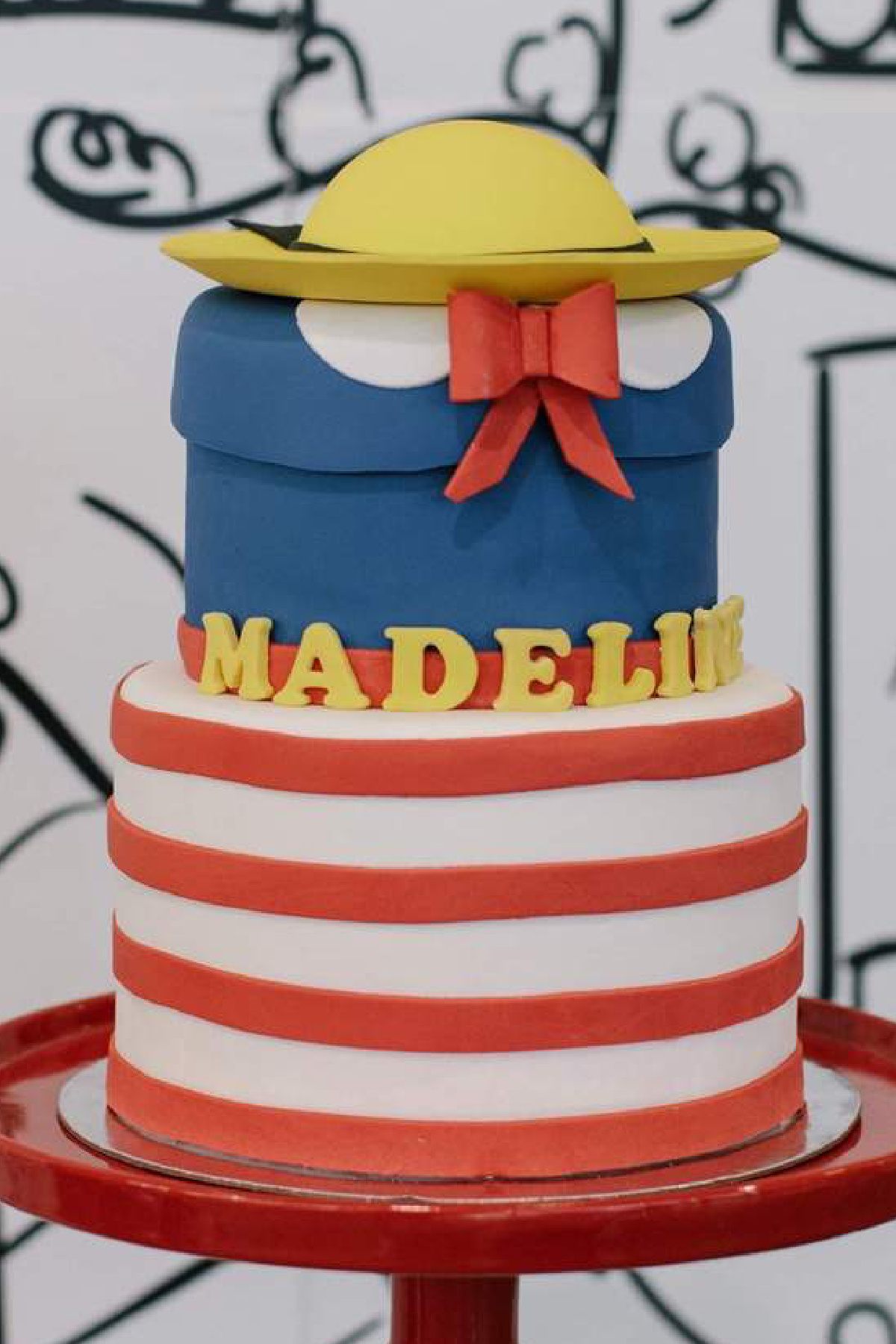 Cookies are always a big hit at a party and this exquisite mix of chic Parisian cookies are so stunning.
Included in the mix is a pink Eiffel Tower, a stack of pastel macaroons, a patisserie storefront, and more delightful cookies that will transport you to the city of lights.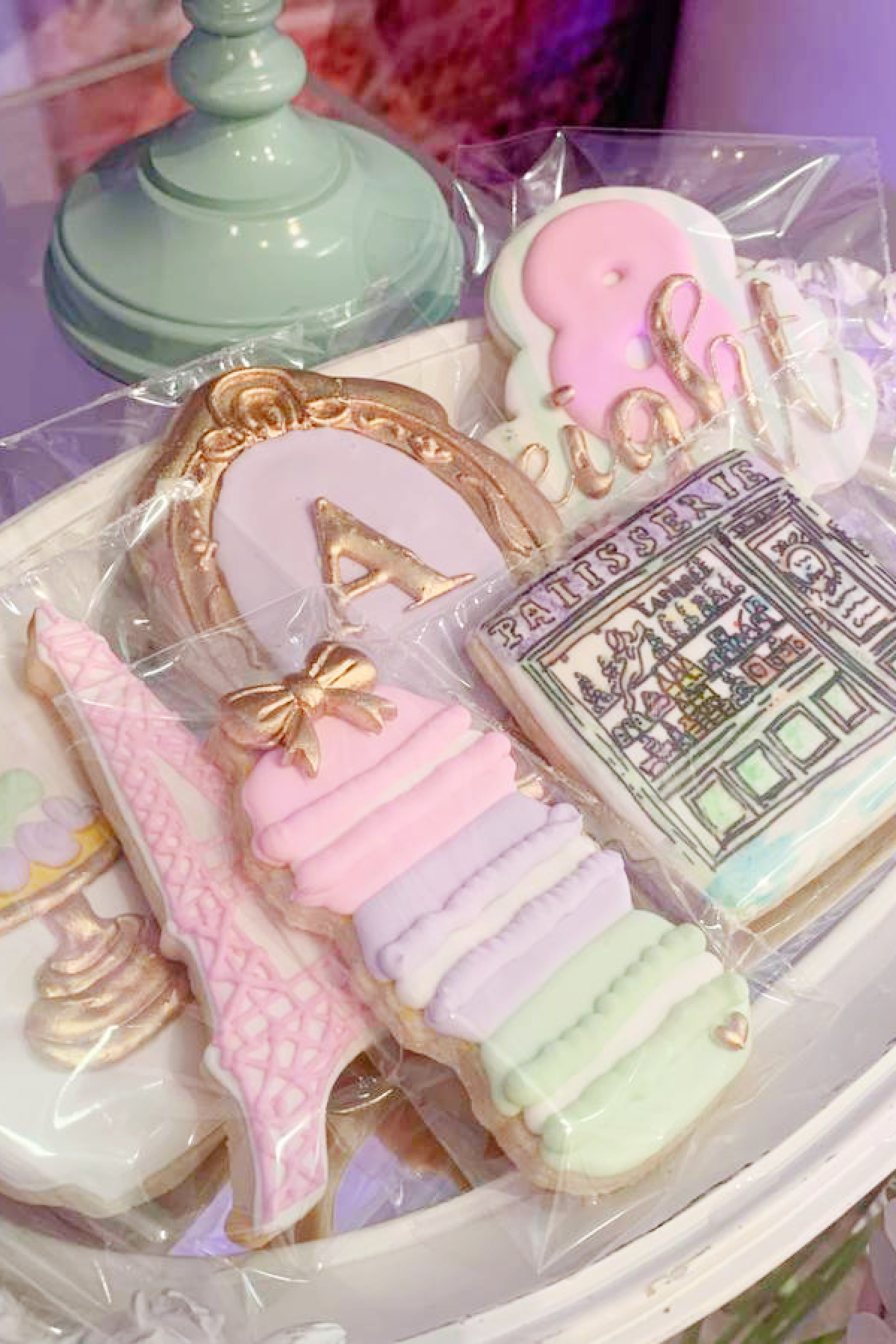 Paris is well known for being a dog-friendly city, and we all have the stereotypical image of fashionable Parisian ladies walking their stylish poodles in our minds.
For a fun idea add some adorable poodle cookies to your Parisian cookie mix!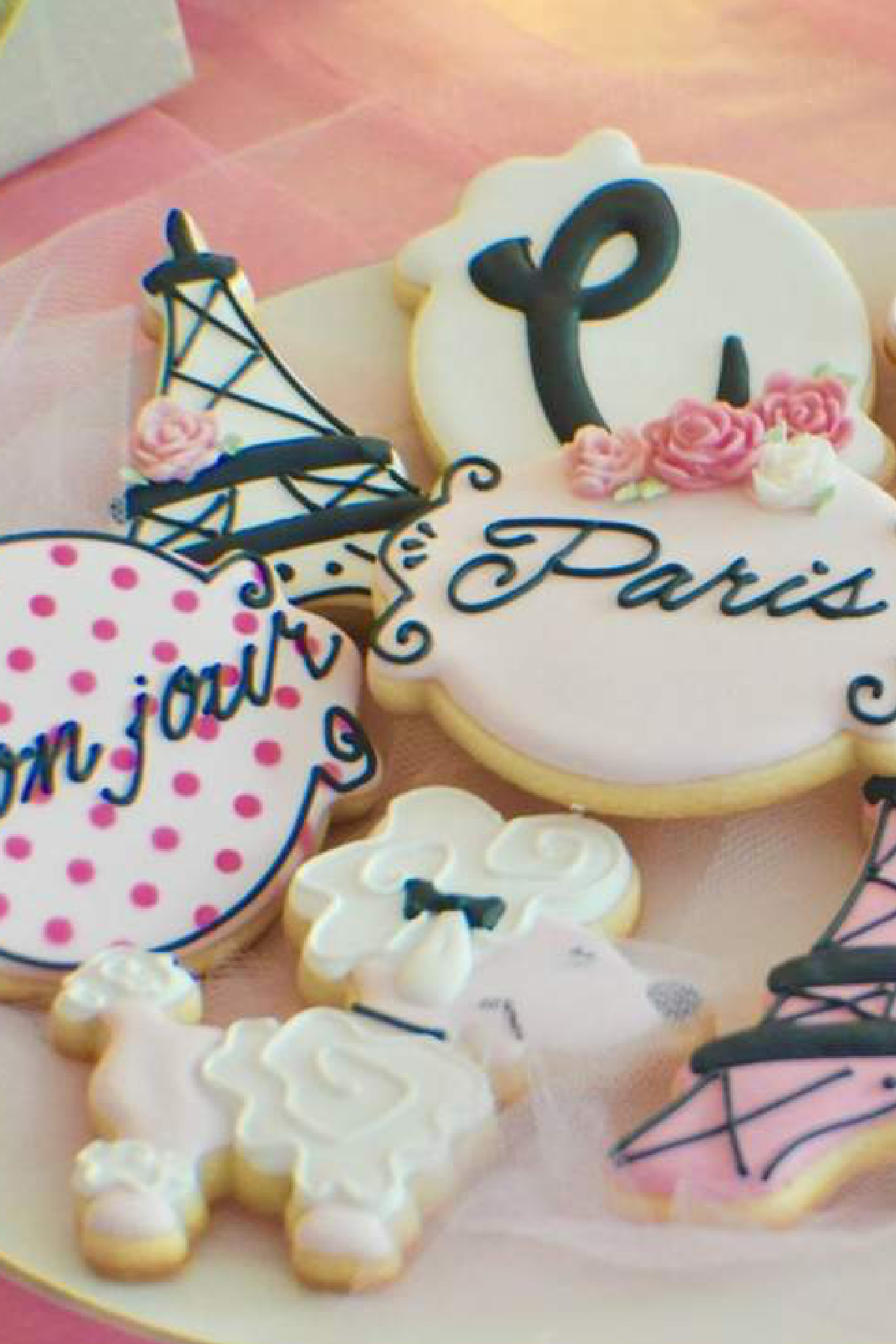 For something a little different, and equally, as impressive, treat your guests to these fabulous pink Effiel Tower cookies on sticks.
They'll look stunning on your dessert table and, I can guarantee, gone in no time.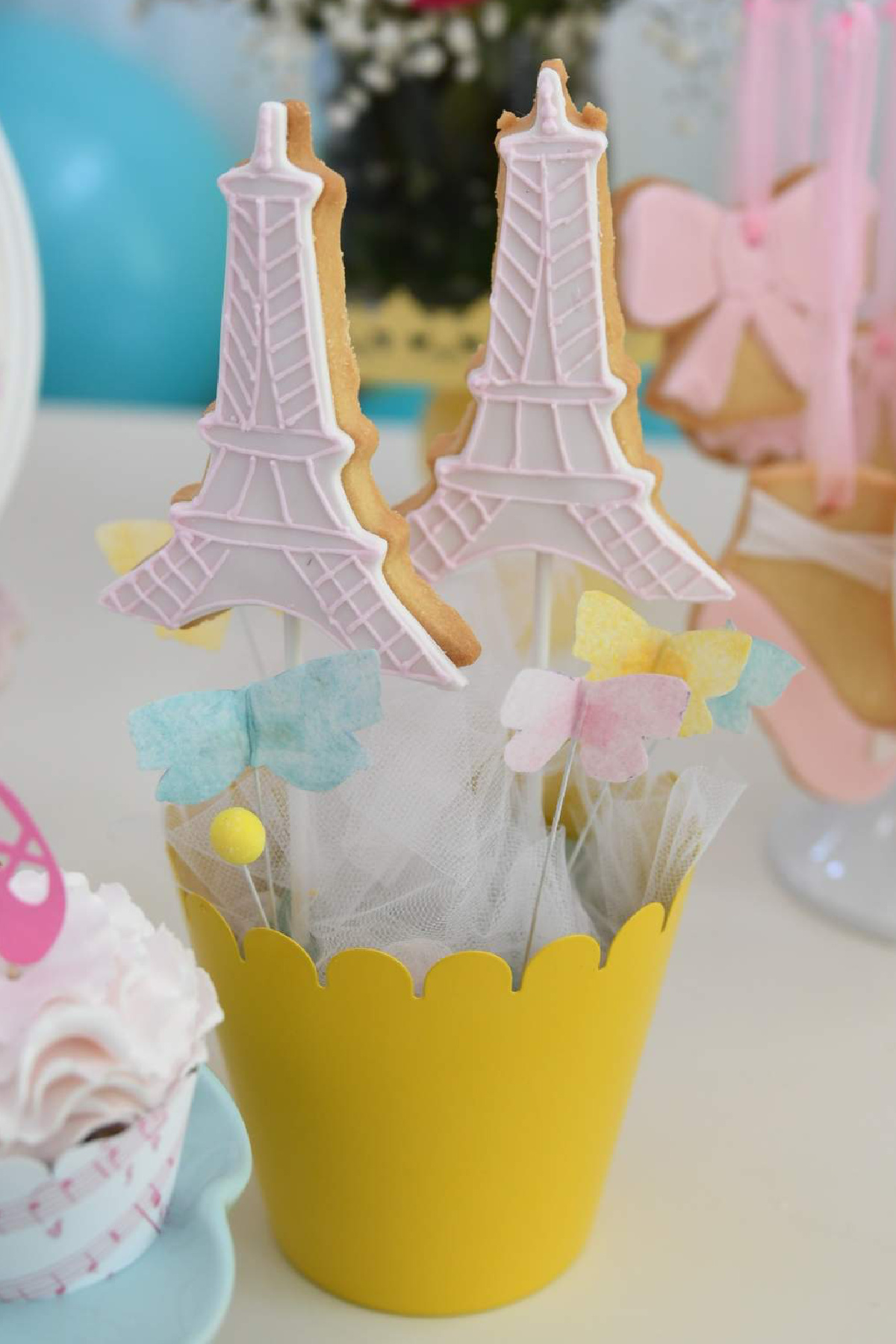 Your guests will be saying 'ooh la la' the second they set their eyes on these elegant Parisian cake pops.
Decorated with Effiel Towers and banners saying 'Ooh la la', these cake pops will add some French style to your dessert table!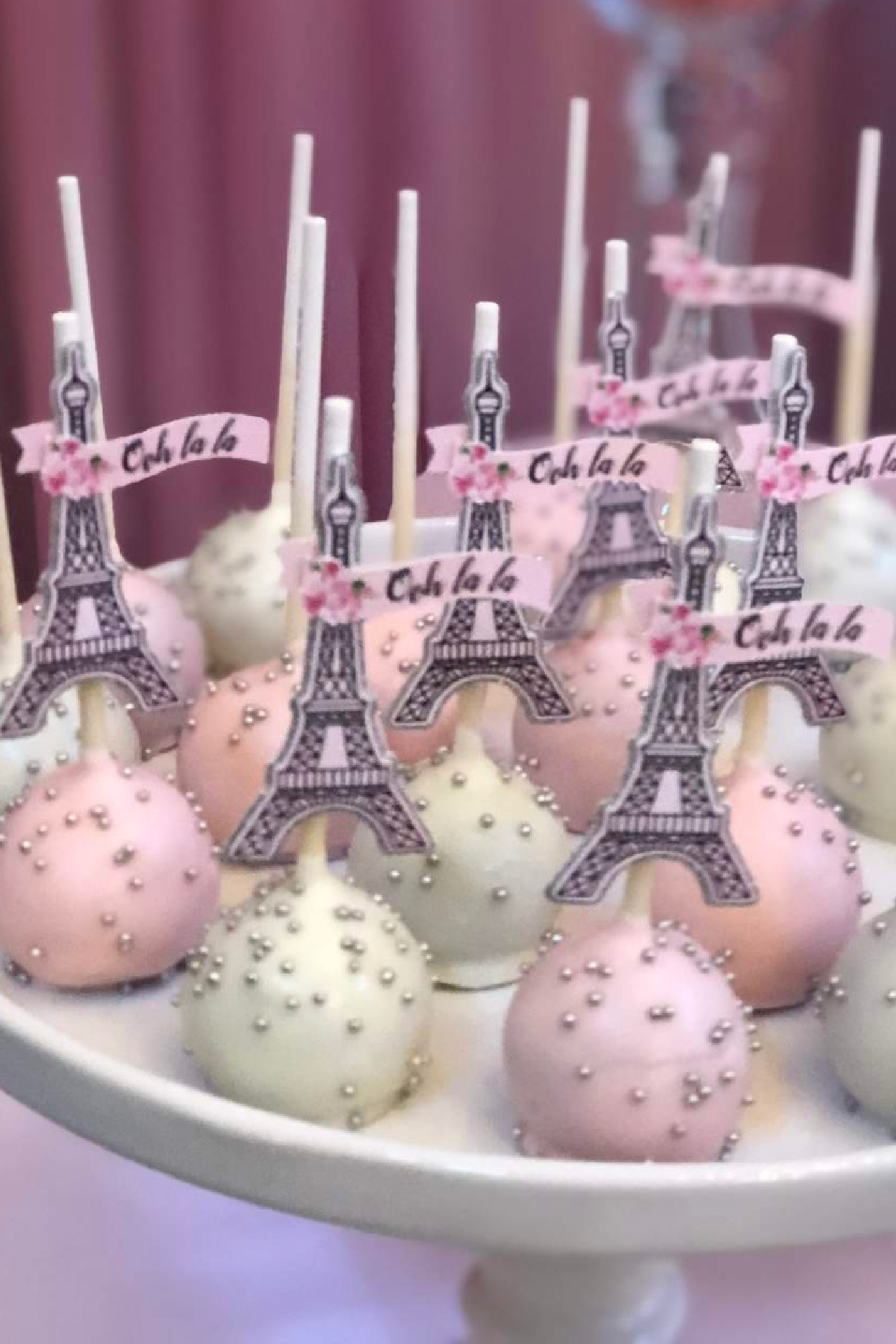 Paris is famous for its macarons. Their crunchy exterior and soft filling, which is typically made of a ganache, buttercream, or jam, are hard to resist.
It's a wonderful party food to serve at a French-themed party and looks so delicate in their pretty pastel colors.
Add a special touch by decorating yours with tiny gold Effiel towers.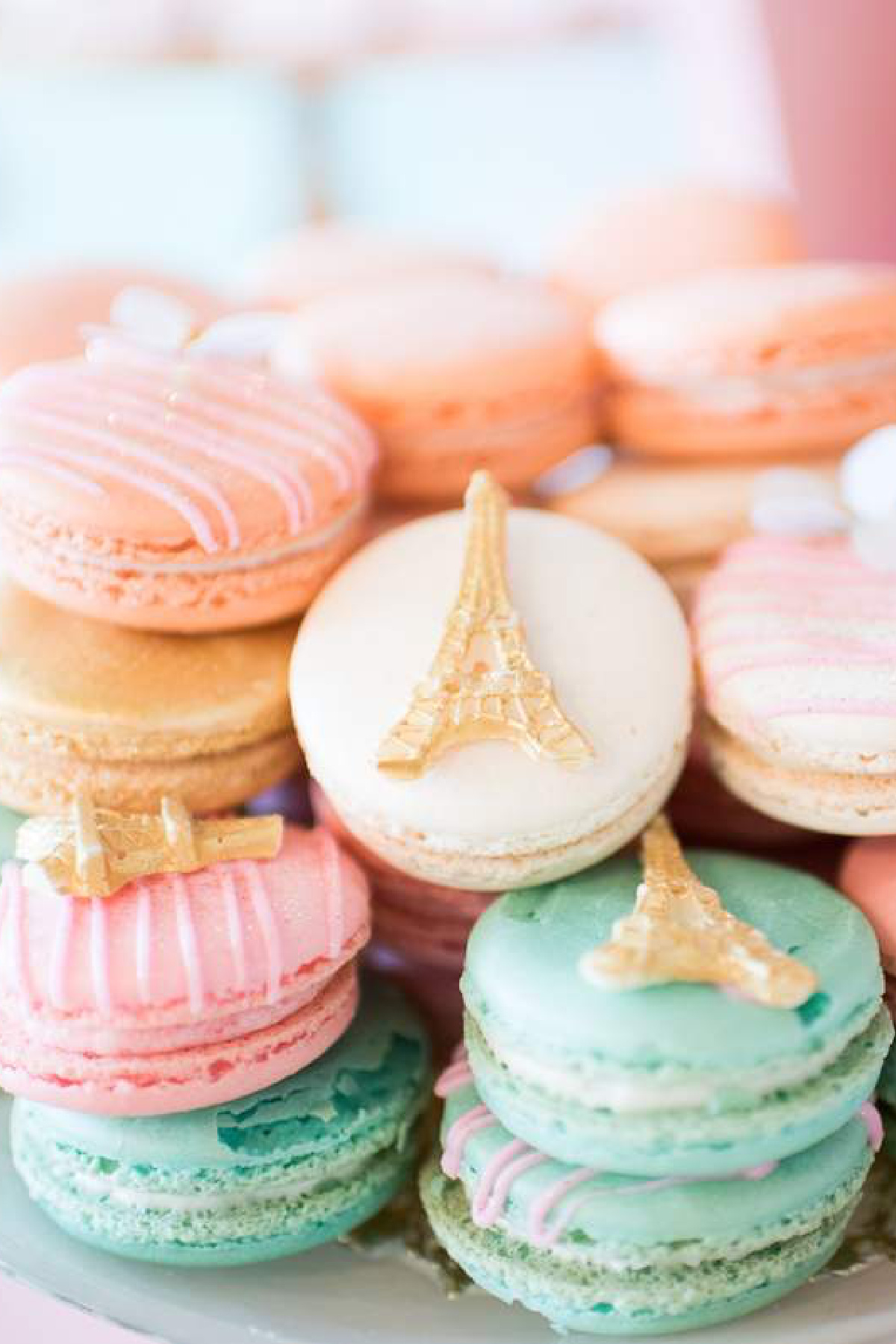 One of the best ways to serve macarons at a party is to create a macaron tower.
It'll look amazing on your dessert table and is an elegant way to serve this delicious French delicacy.
If want to try making some homemade macarons, we've got a recipe for you!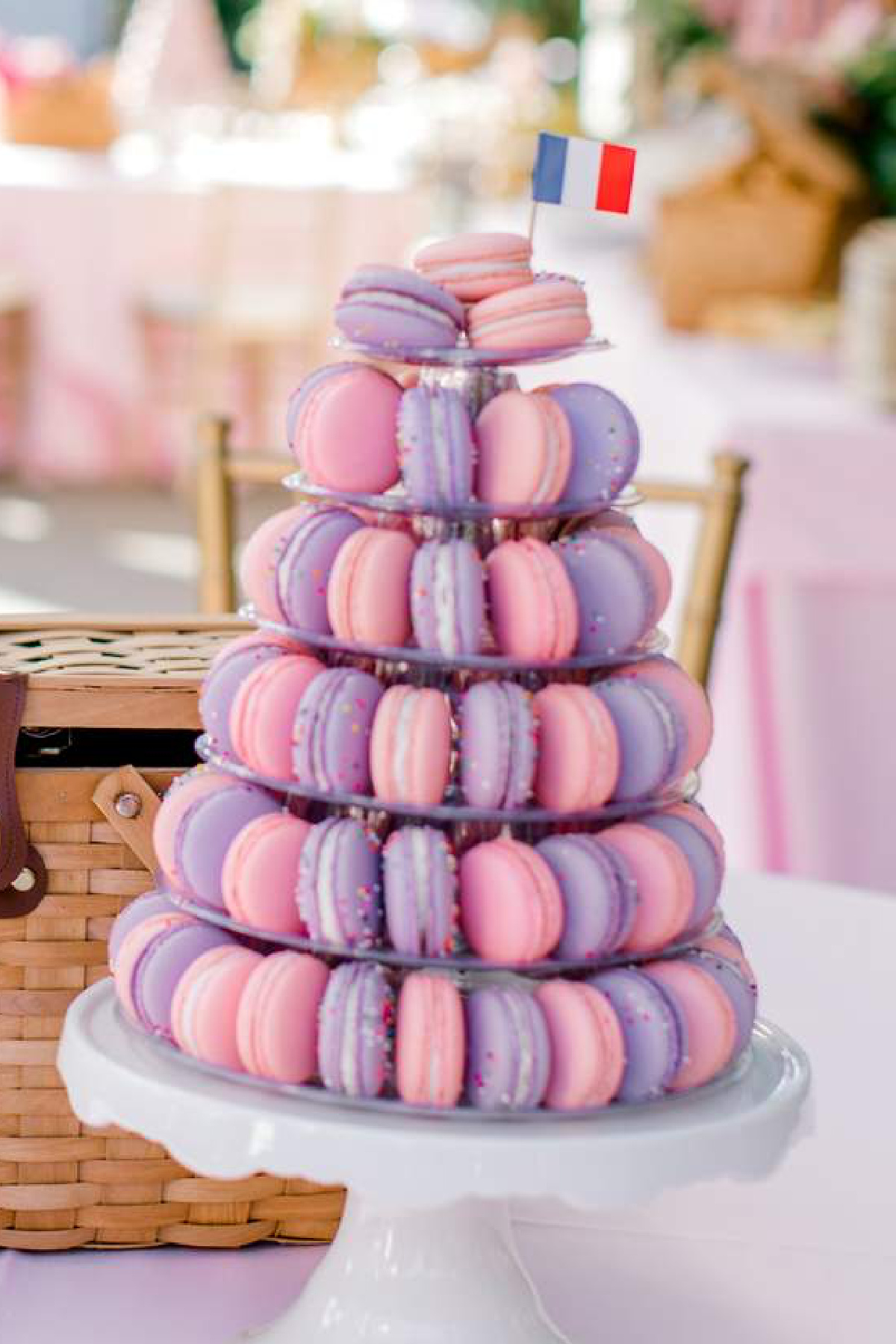 Everyone loves a cupcake and these Parisian ones are no exception.
Placed in pretty pink 'oui oui' cupcake wrappers, and topped with an Effiel Tower topper, your guests will be dying to get their hands on one!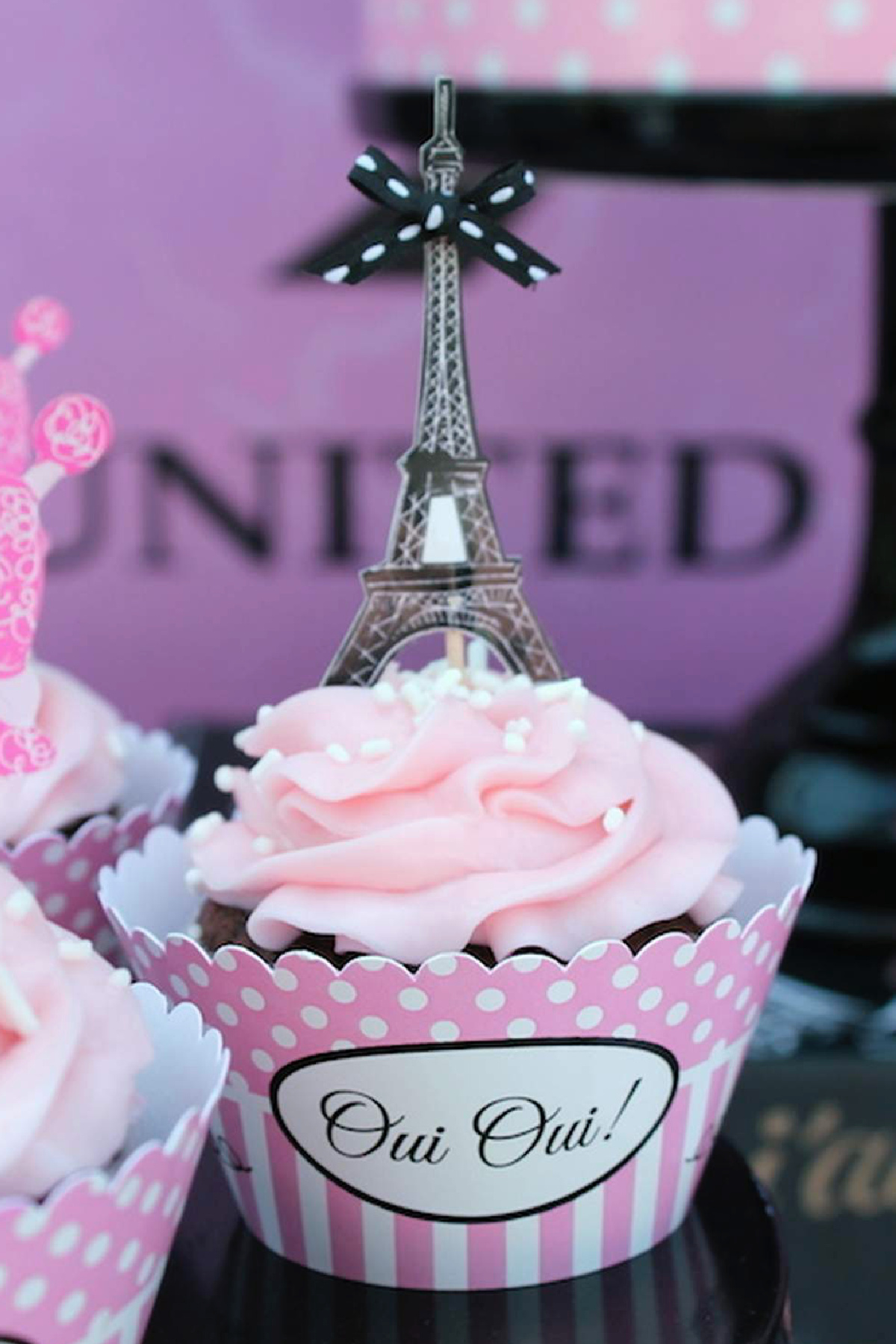 Another great party food for a french themed party are some fun chocolate Effiel Towers on sticks.
They'll look fantastic on your dessert table and so on theme!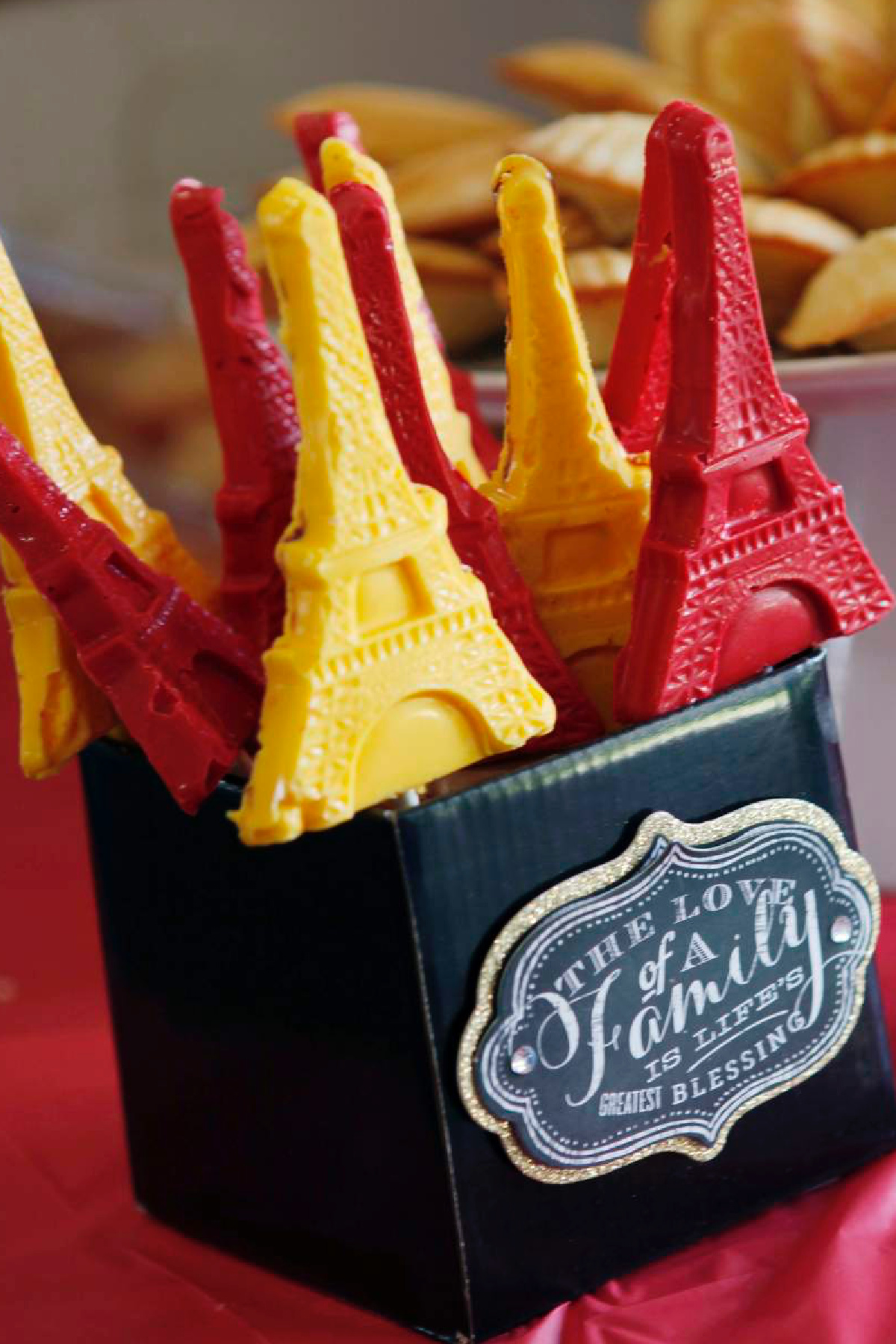 France is renowned for its delicious cuisine and delicate pastries.
Treat your guest to some traditional mouth-watering French desserts such as mille-feuilles, chocolate eclairs, and palmiers, to name just a few!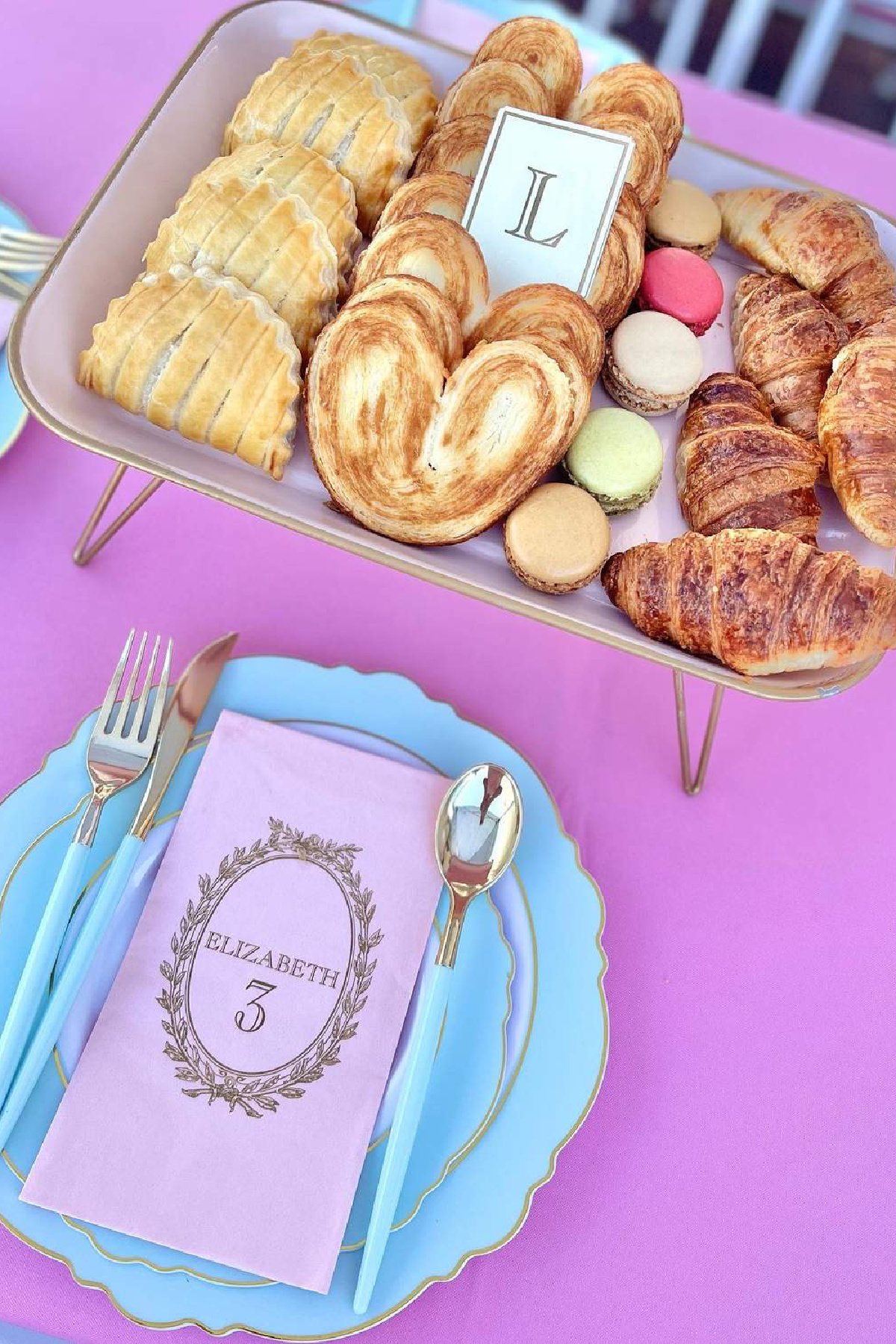 Wish 'Bon Appetit' to all your guests by filling a basket full of delicious croissants, the king of the bakery, and a true icon of France!
These flaky, buttery treats are the must-have party food for a Parisian party!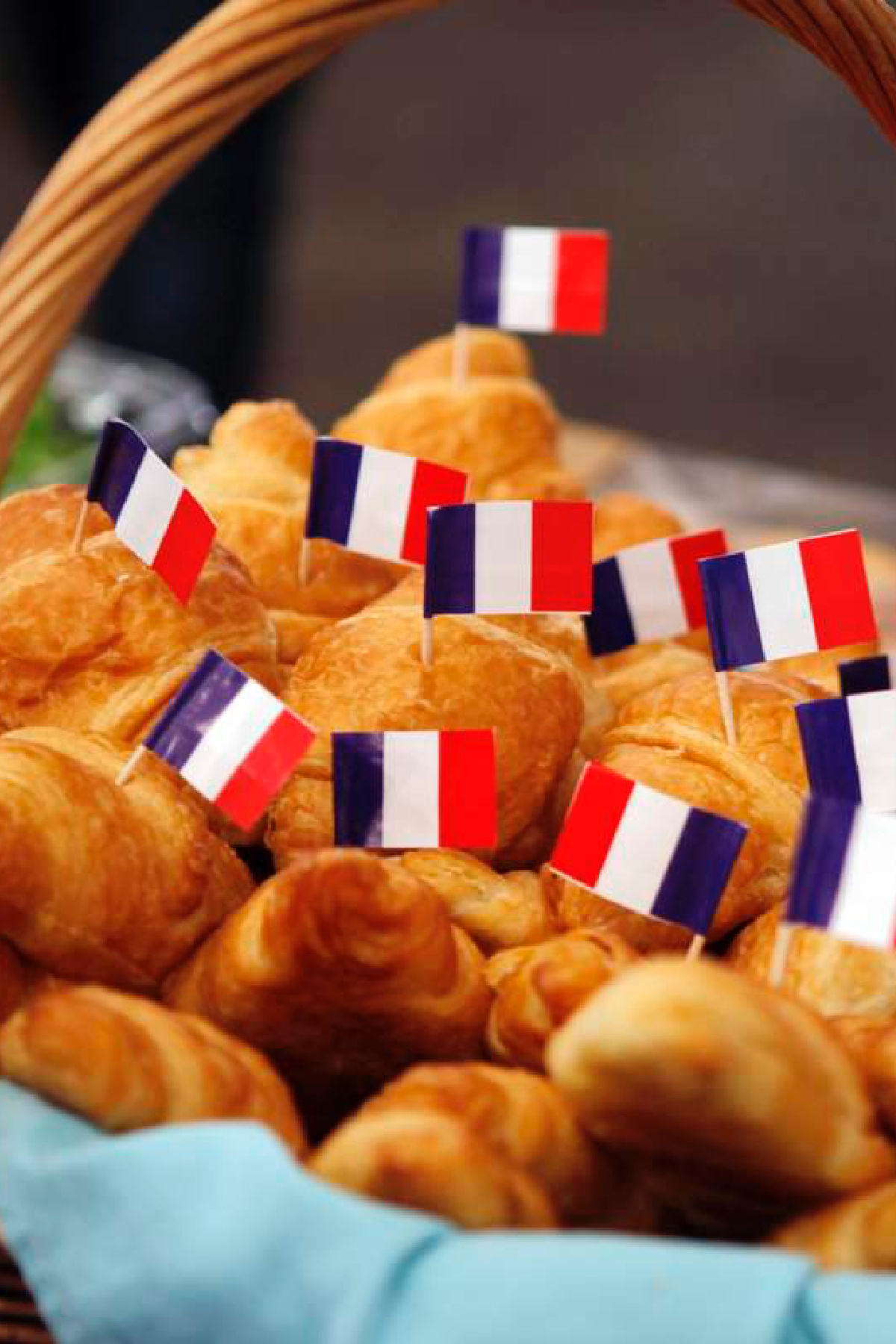 Cream Puffs (or as they say in Paris, 'profiteroles') are an acclaimed classic French dessert filled with tasty cream and dusted with powdered sugar.
They are a yummy Parisian-themed party food that will go down a treat!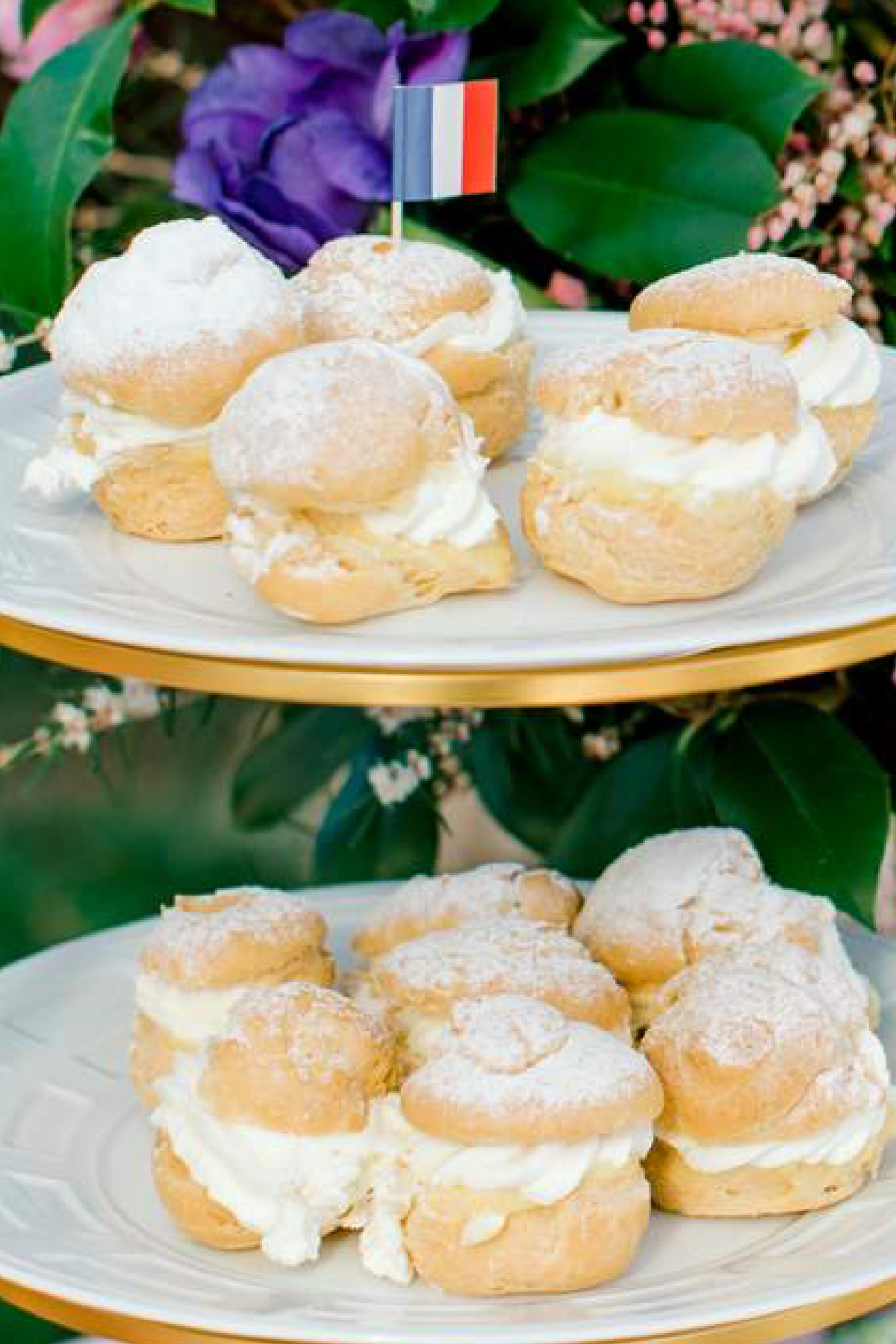 Another typical French food that your guests will love are madeleines.
These heavenly small shell-like sponge cakes are incredibly tasty and are wonderful bite-size party food.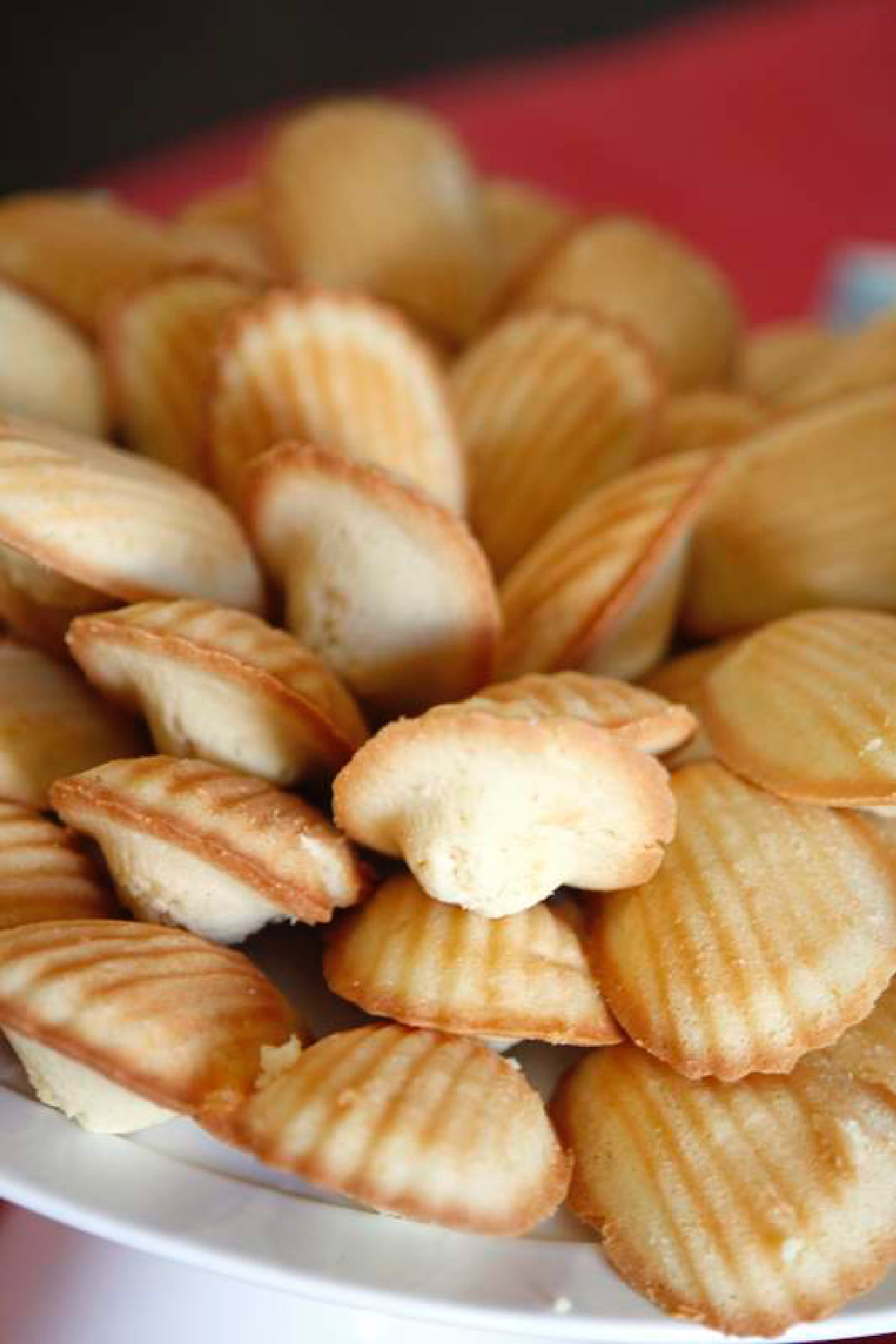 French cuisine is highly regarded throughout the world. Famous for its simple combinations of rich, natural flavors that come together to create unforgettable dishes. You couldn't wish for a more appetizing selection of party food.
A notable French dish is the classic quiche. The most famous is quiche Lorraine, made with eggs, cream, and lardons. Do feel free to get creative and make a bunch of quiches with different fillings for your party.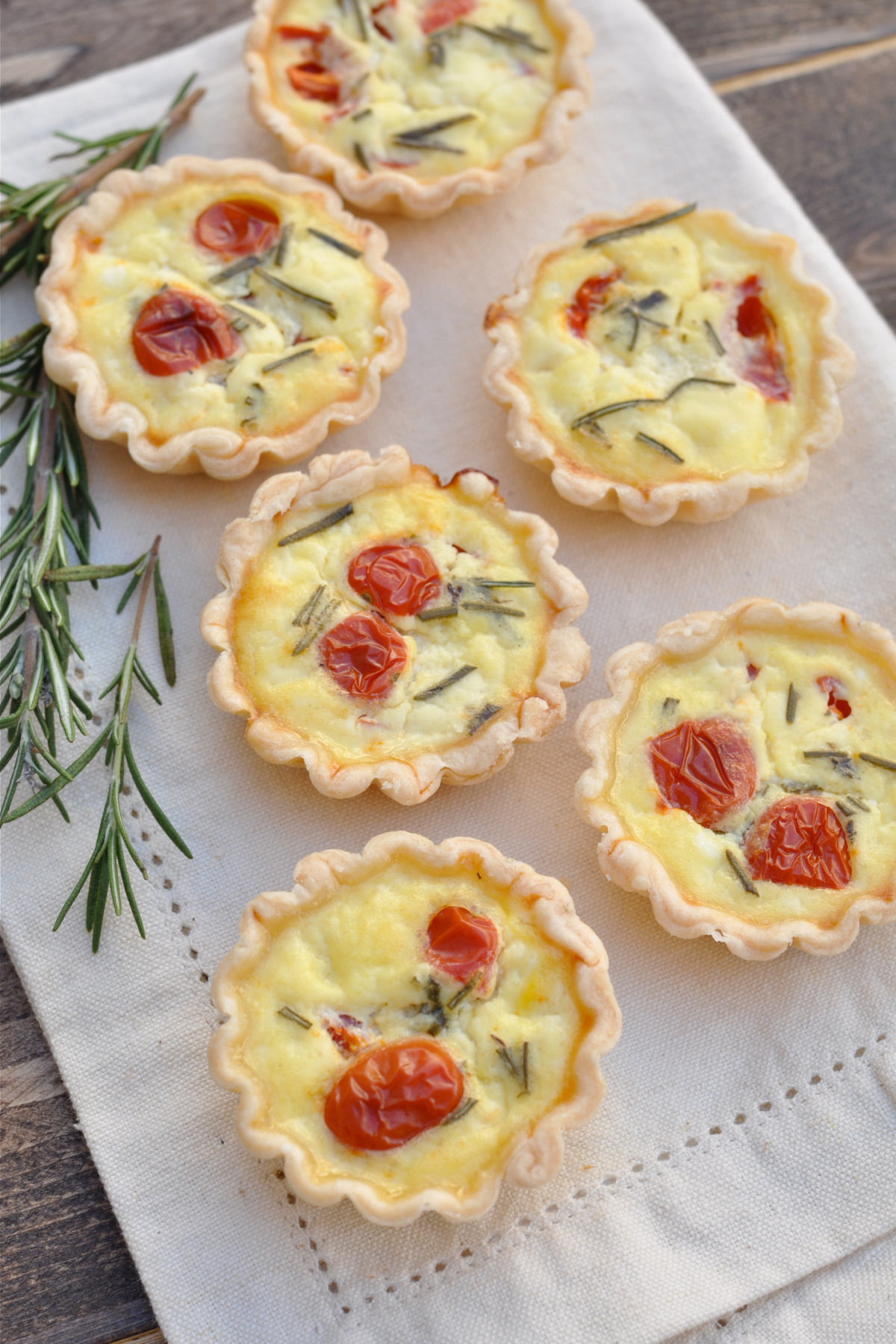 A fun food idea for your French-themed party is to set up a 'crêperie' stand with a mix of sweet and savory crepes for your guests to feast on.
It's the perfect way to bring some Parisian flair to your party!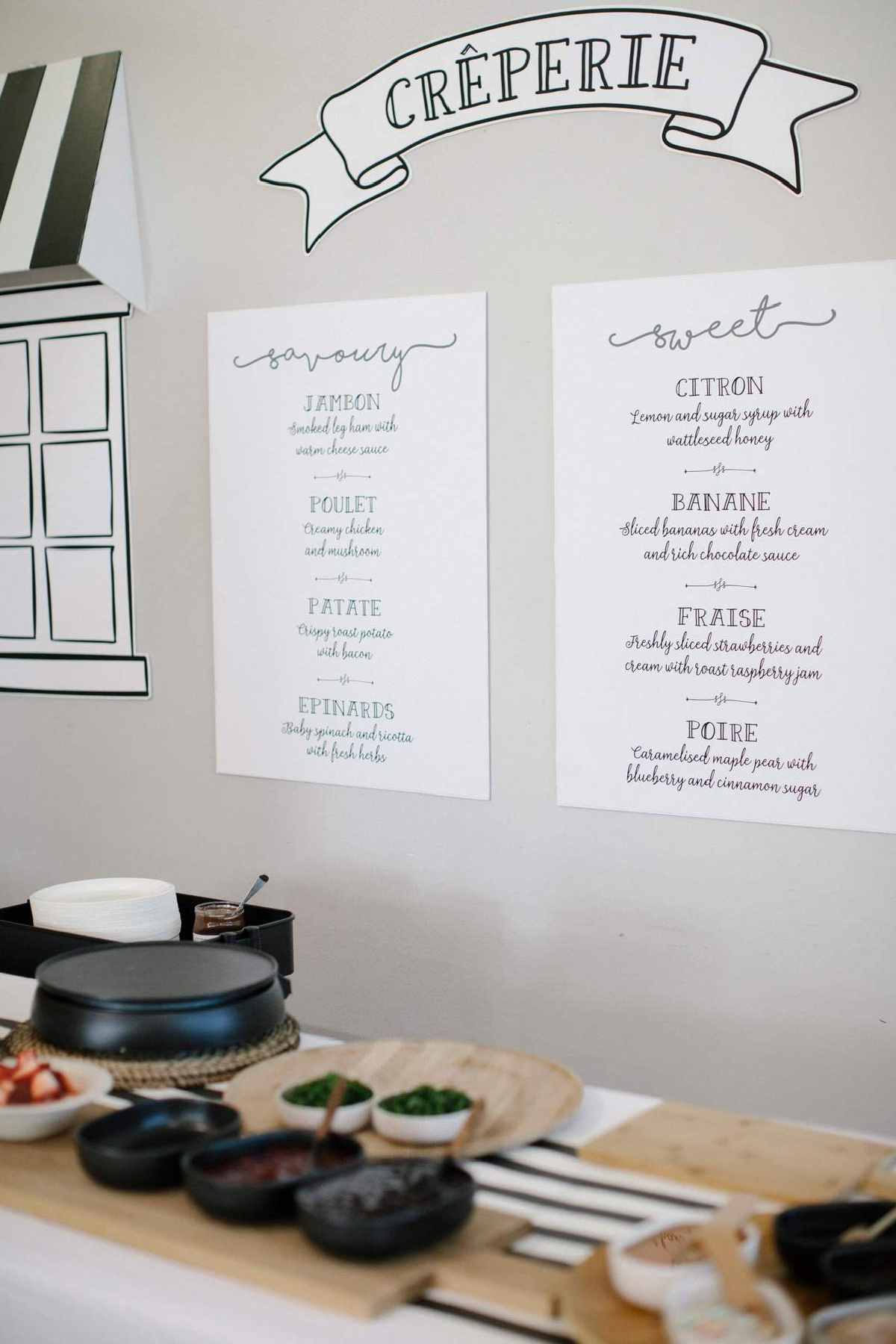 Special occasions deserve special treats and there's nothing more mouth-watering than a cheeseboard with a collection of French cheeses, such as Brie and Camembert.
Add some other cheeses to the mix, like some cheddar or Parmigiano, along with some fruit, nuts, and crackers.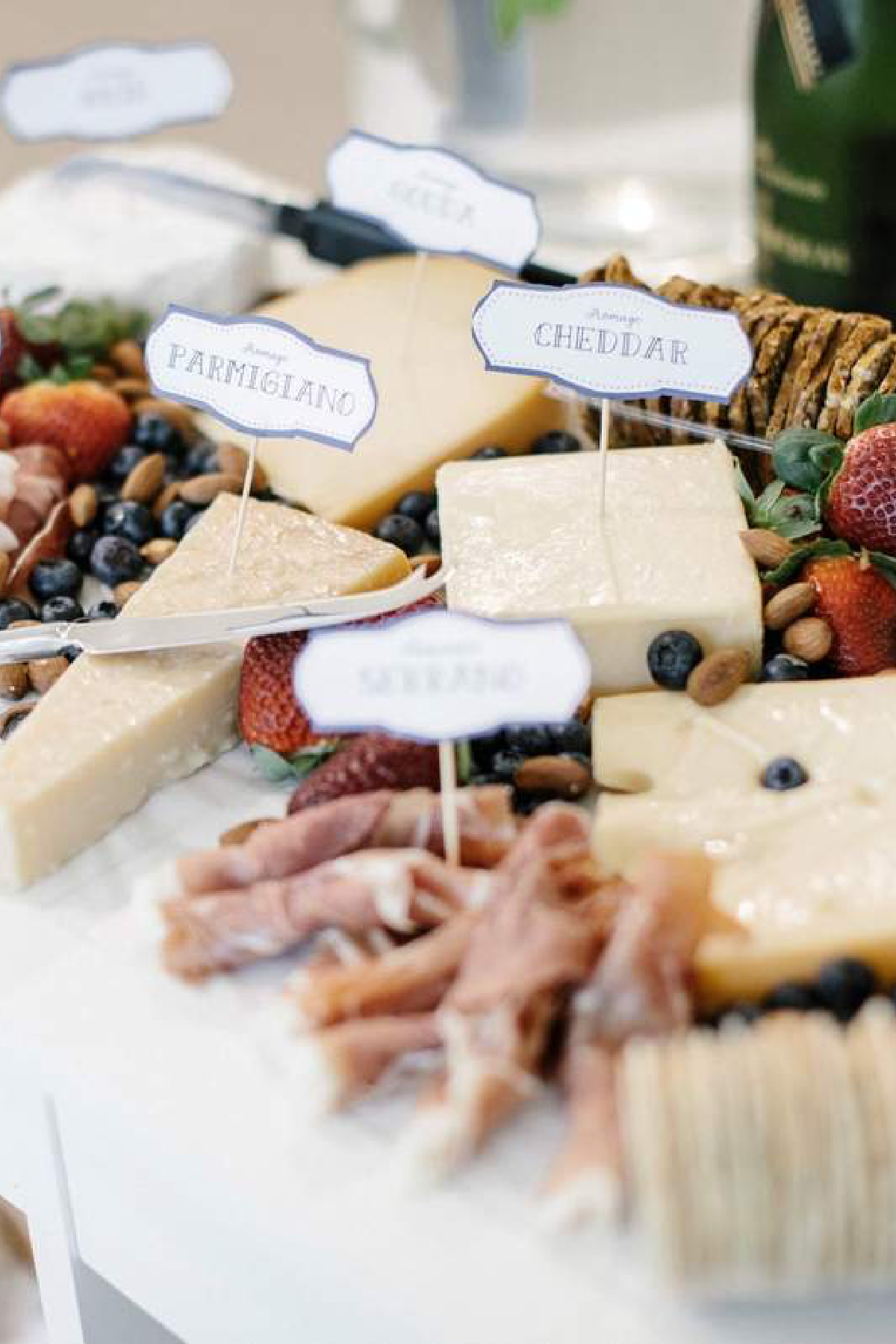 There are so many Paris party supplies out there for you to choose from to decorate your party.
Make your table settings stand out with some pretty pink and black Eiffel Tower paper plates, napkins, some Effiel Tower bottles, and wonderful Eiffel Tower centerpieces!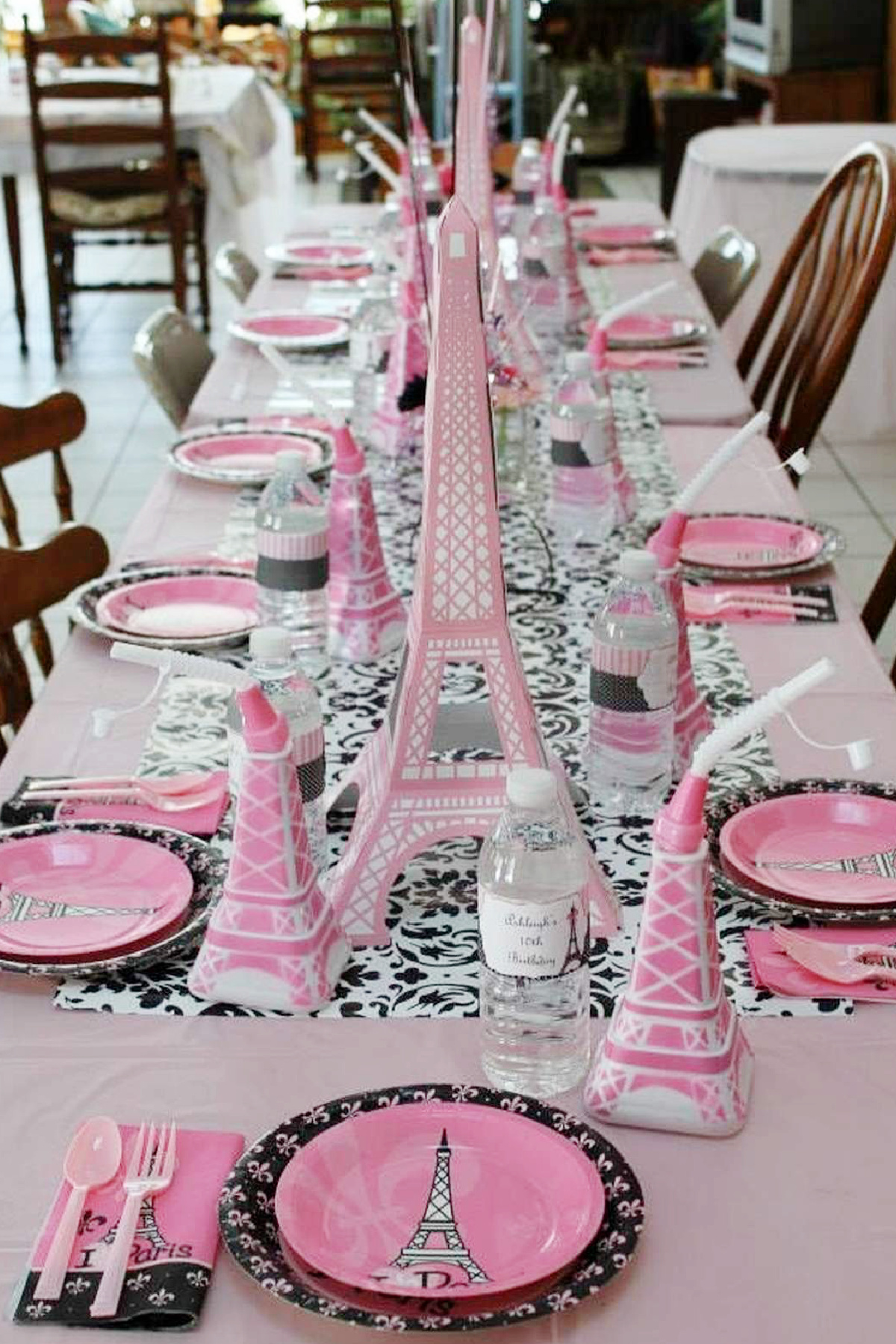 If your Parisian party theme is a Laduree-inspired tea party you don't want to miss these gorgeous table settings.
Decorate your table with pretty teacups and floral centerpieces for a sophisticated look.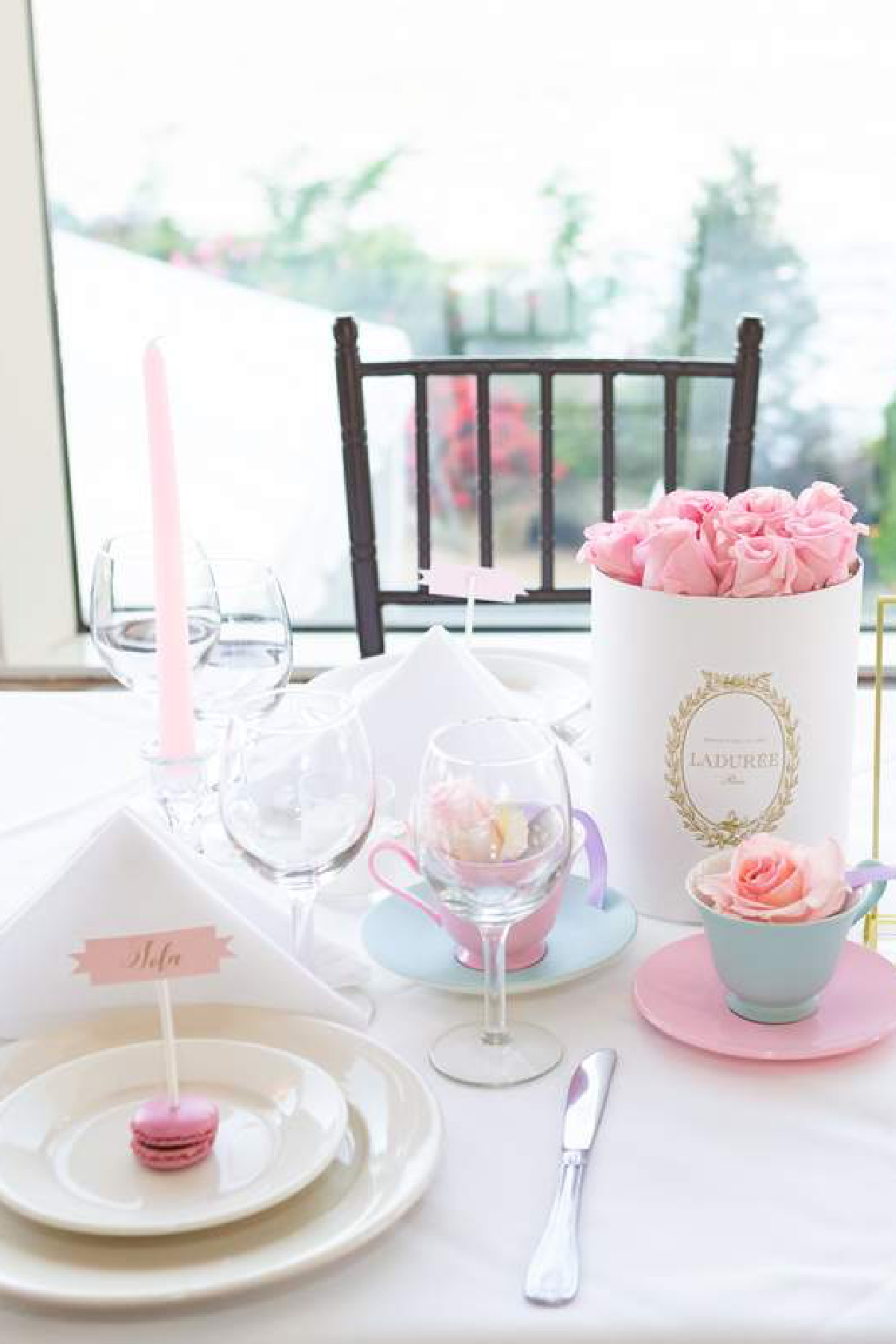 The Madeline books are a great theme for a Parisian party.
Decorate your tables with blue paper plates, a Madeline lollipop, and a red napkin folded to look like a bow.
Add a passport and plane ticket to France for extra fun!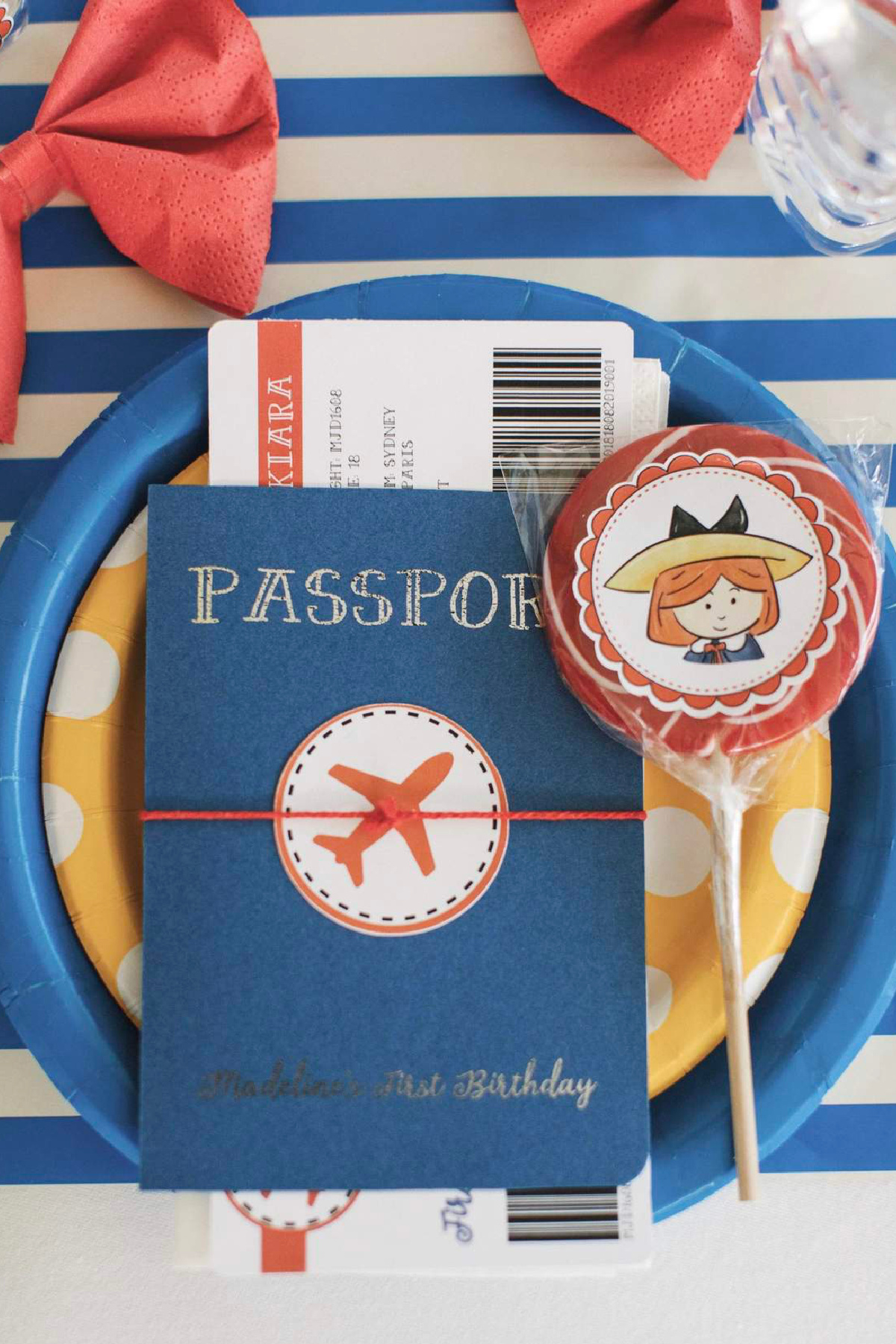 If you want to get away from the typical Eiffel Tower party decorations you could consider decorating with fresh flowers and Laduree-inspired boxes instead.
They will make your table decorations look so elegant and stylish!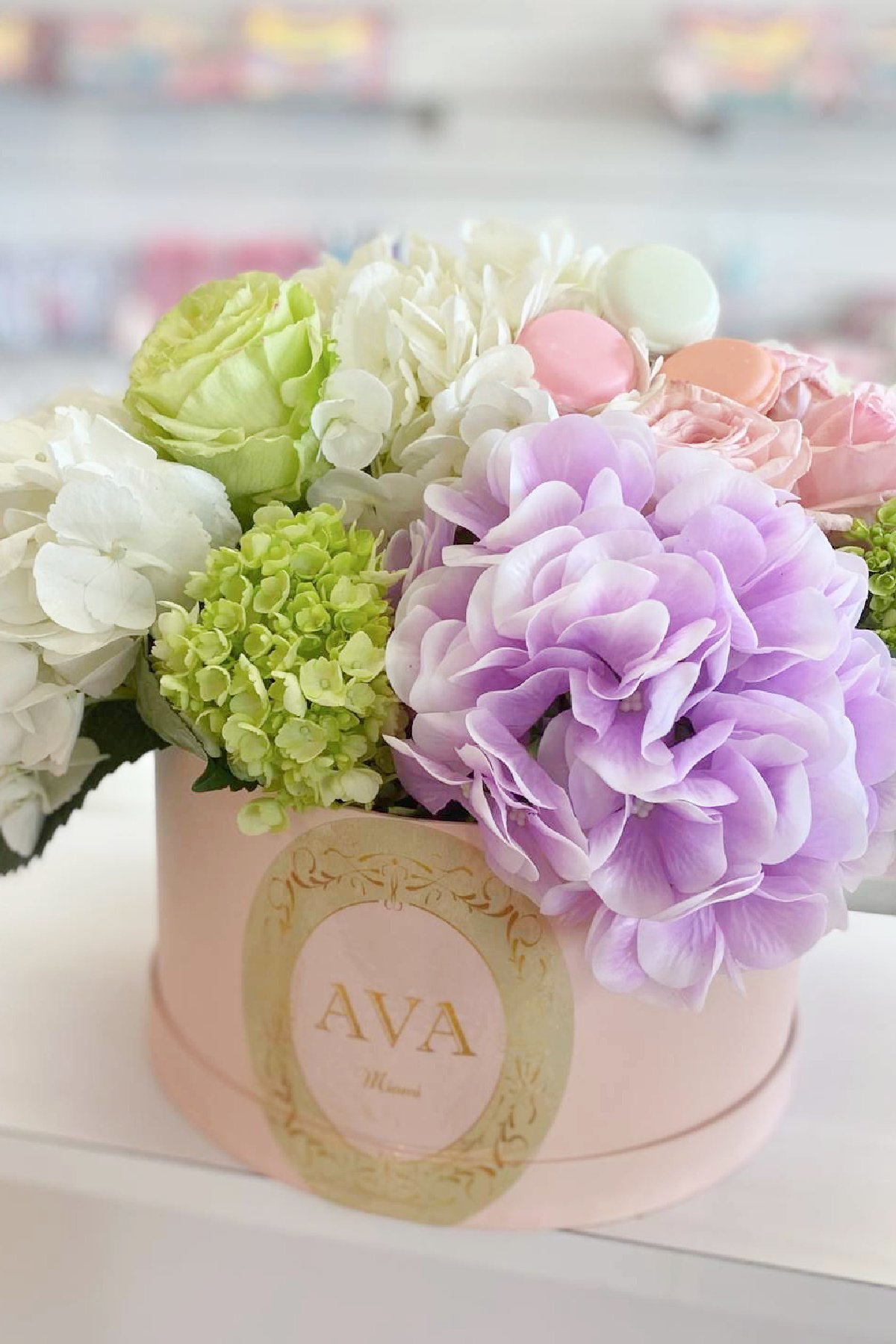 Paris is known as being one of the most romantic cities in the world.
Check out these wonderful Paris-theme party supplies to use as centerpieces, or to simply add as decoration throughout your party.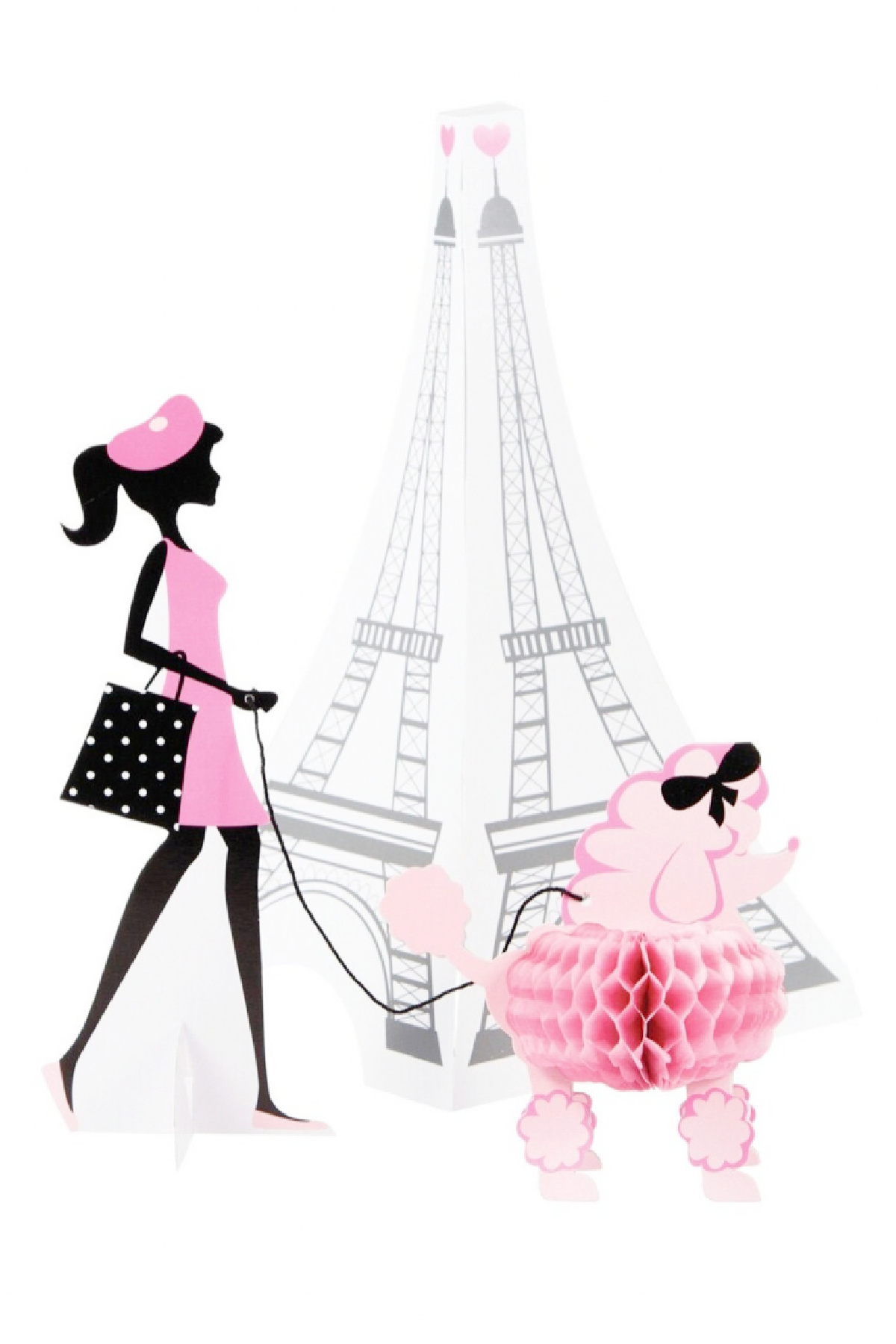 This Eiffel tower centerpiece adds such sophistication to your table settings!
Add some beautiful fresh flowers and pearls to create some French charm.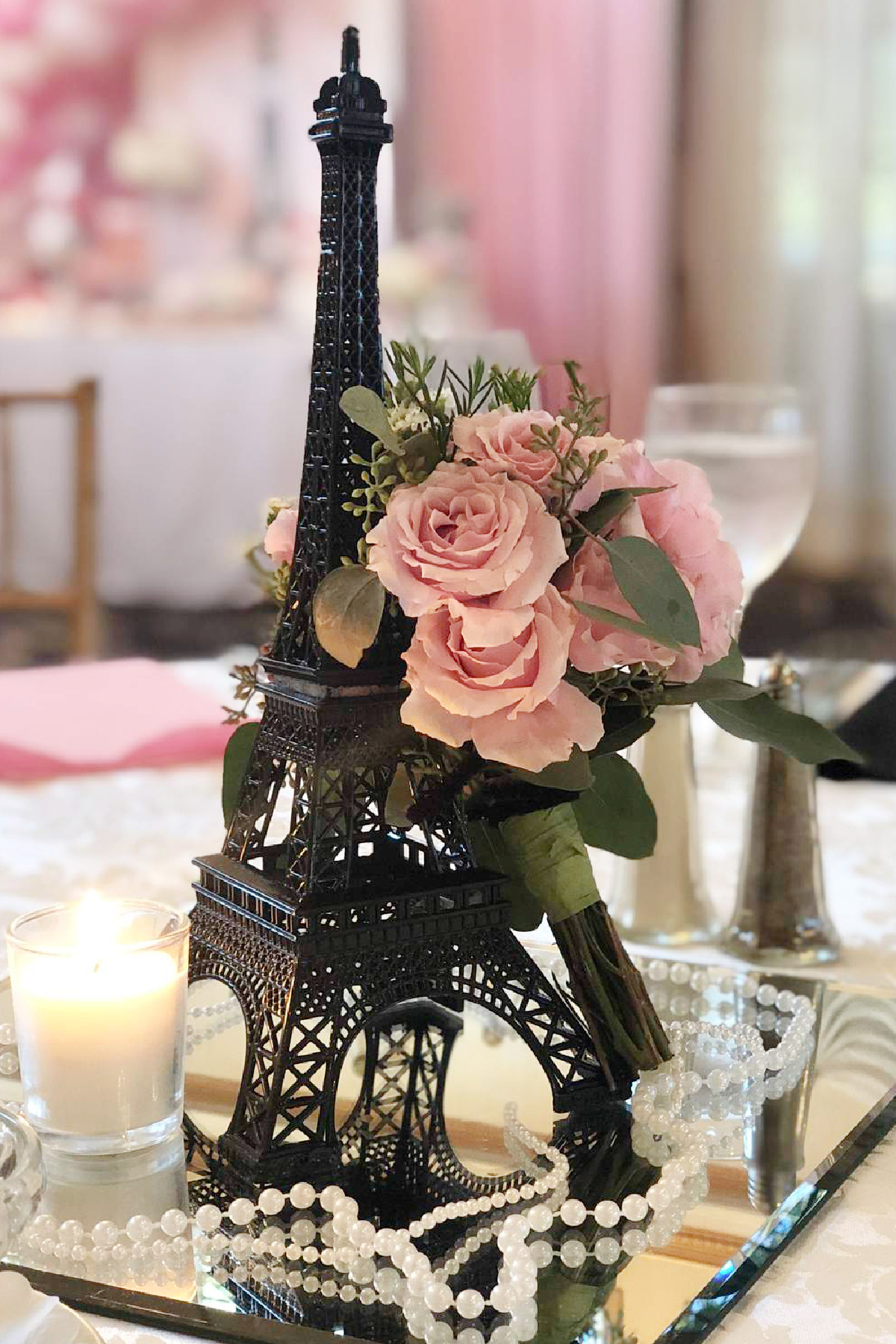 If you are looking for a unique Paris-themed party decoration you really don't want to miss this next party idea.
Look at just how impressive this floral Eiffel tower decoration is! I've never anything more exquisite!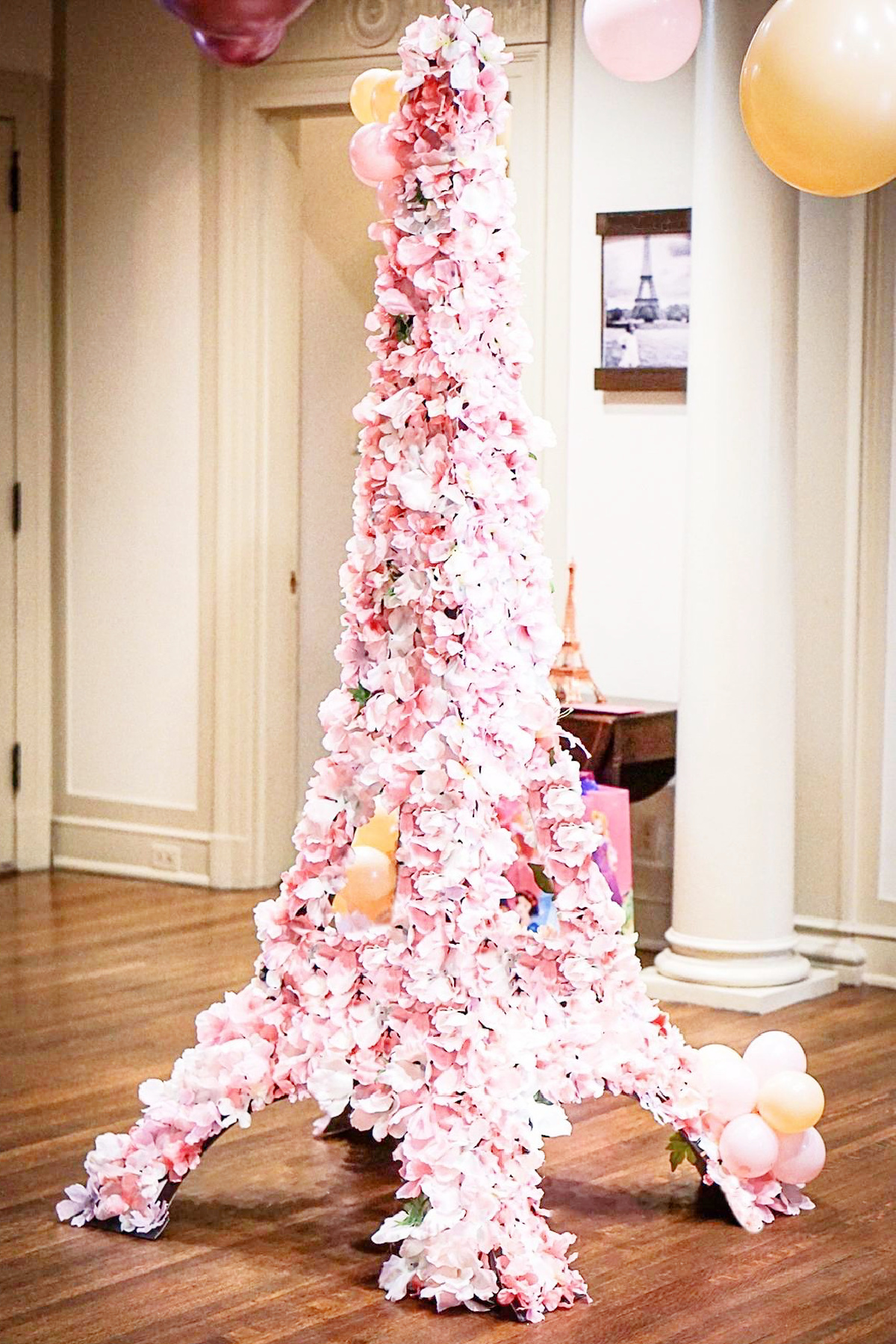 Decorate your party with French art, such as this gorgeous art nouveau Moulin Rouge poster.
It's the perfect party decor for a Parisian party!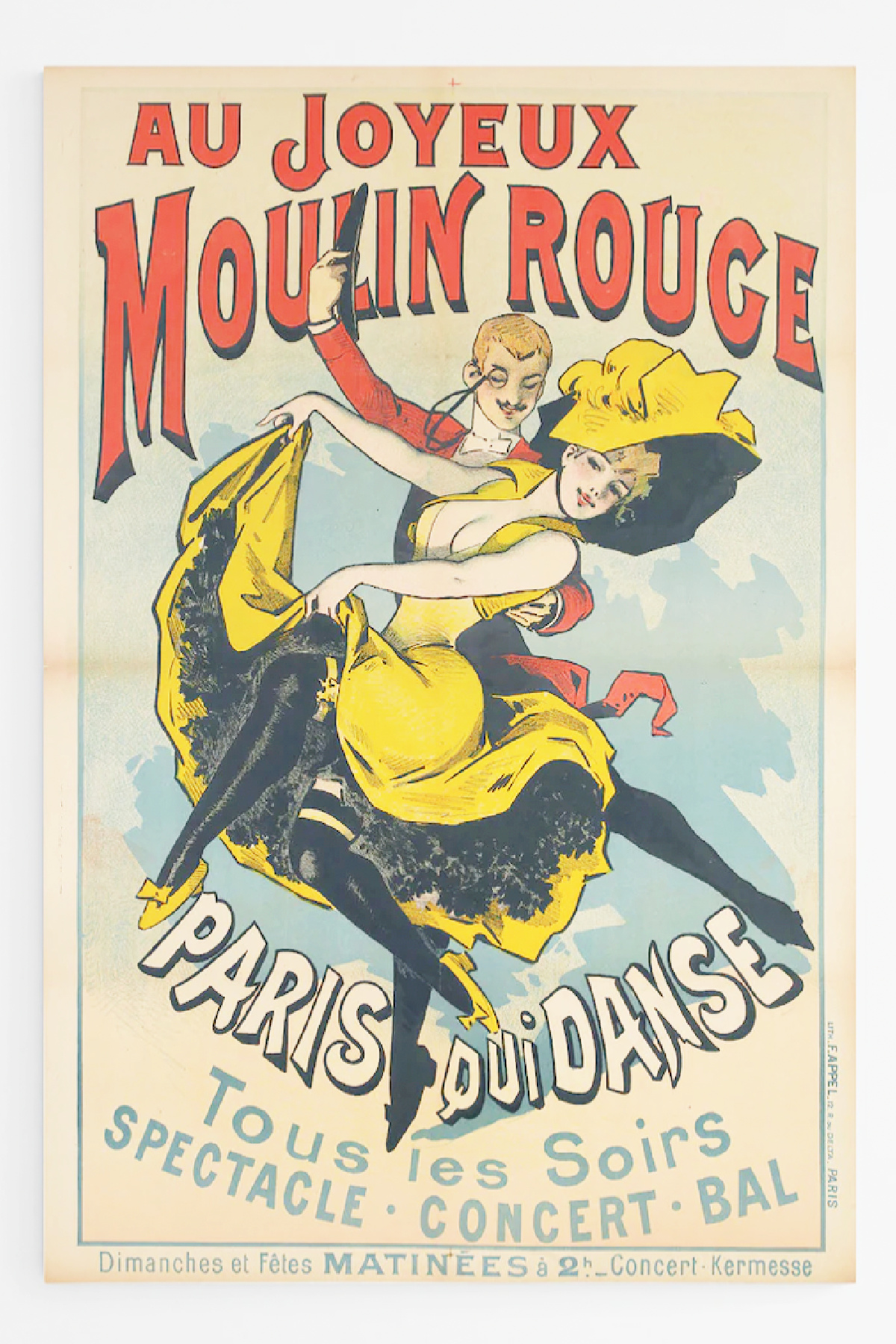 Another cool party decoration is this poster with the famous phrase from the famous Edith Piaf song 'Je Ne Regrette Rien'.
Edith Piaf is one of the country's most loved international stars whose ballads touch the heart of many.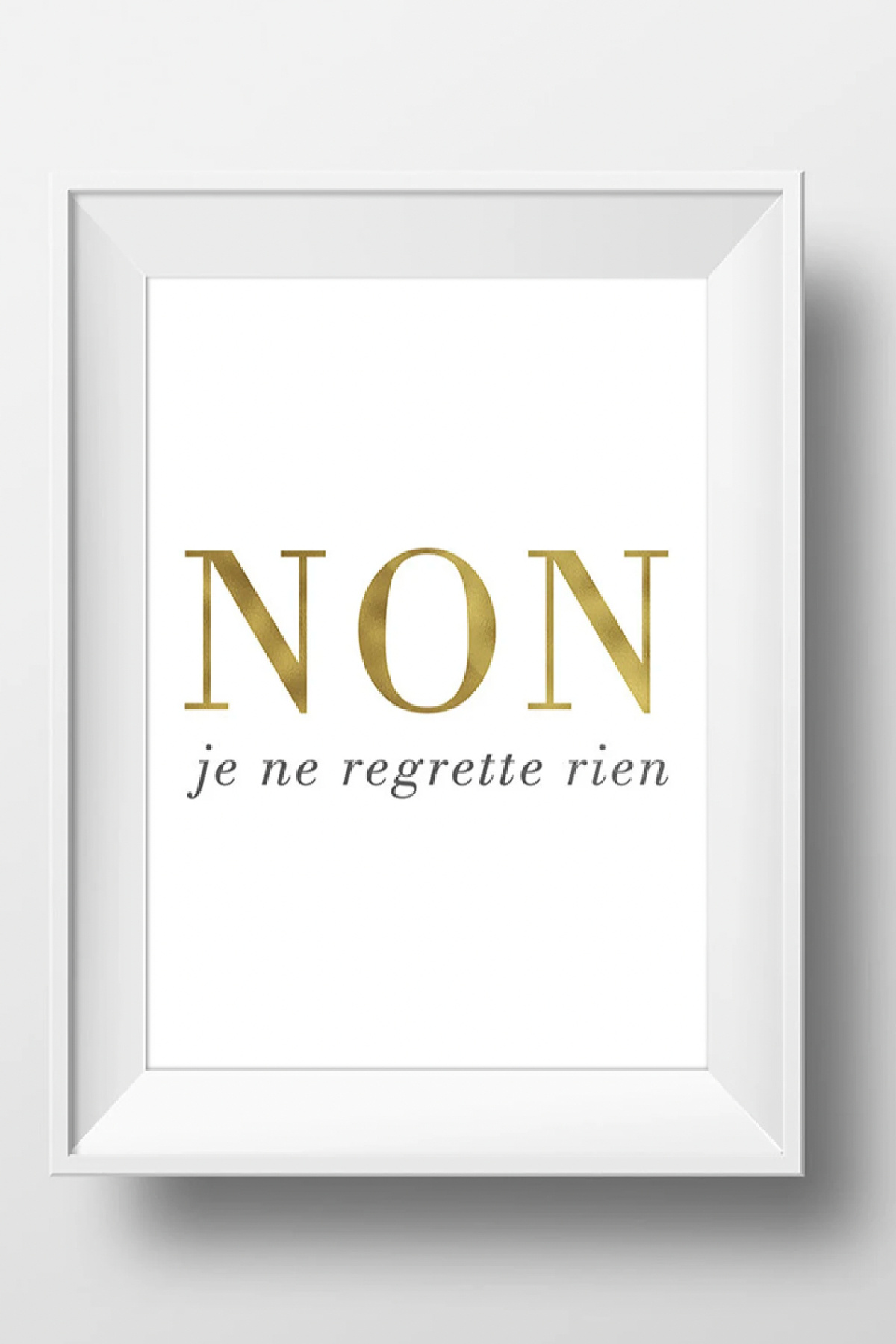 Pinatas are a huge hit with kids. There's so much fun to be had in smashing one to bits and seeing all the candy fall down from it.
This macaron pinata is ideal for a Parisian-themed party, especially if you are throwing a tea party!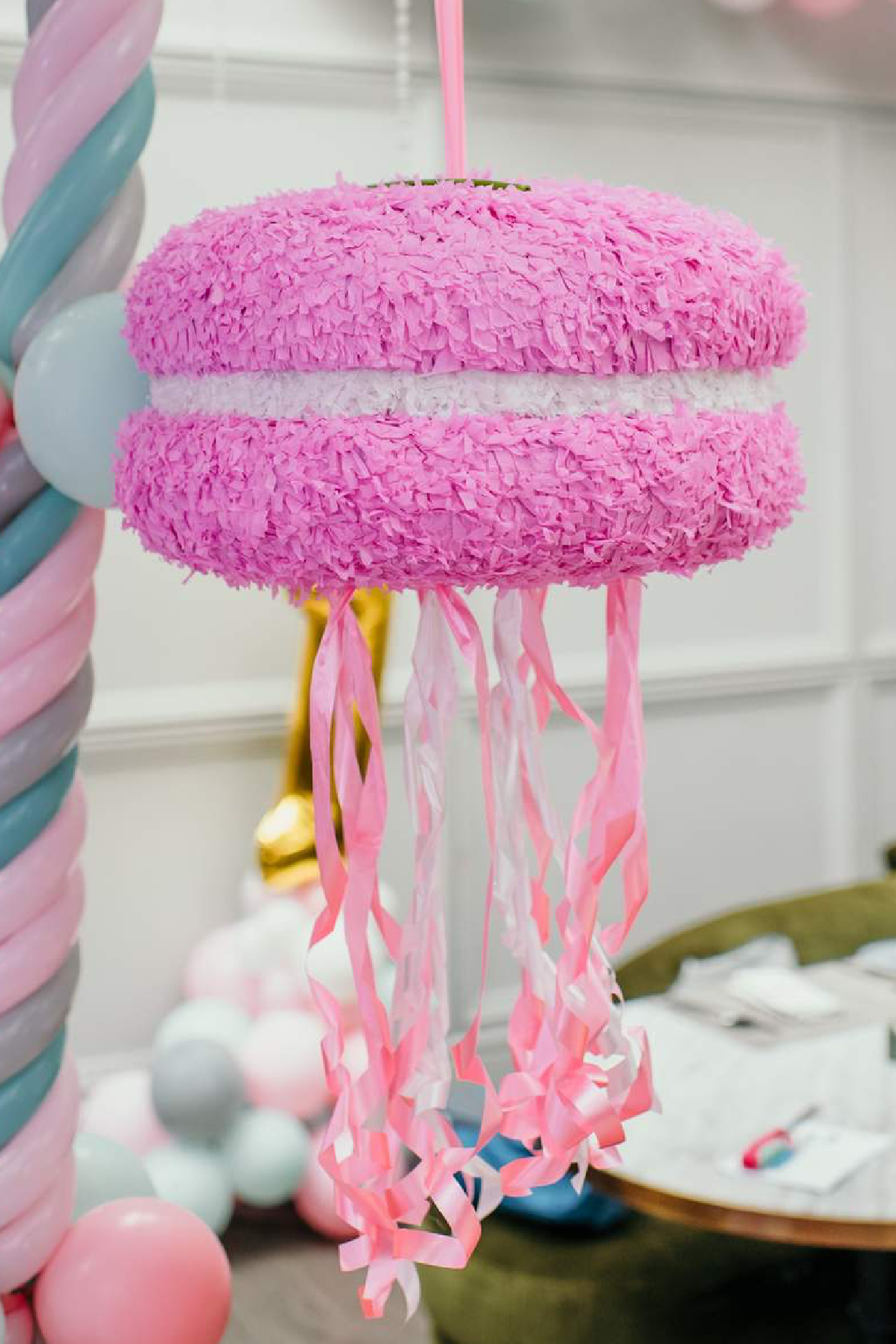 Pinatas are always a good idea. Not only are they great at keeping kids entertained but they also double up as wonderful party decorations.
This Eiffel Tower pinata is amazing and just what you need for your Paris-themed party!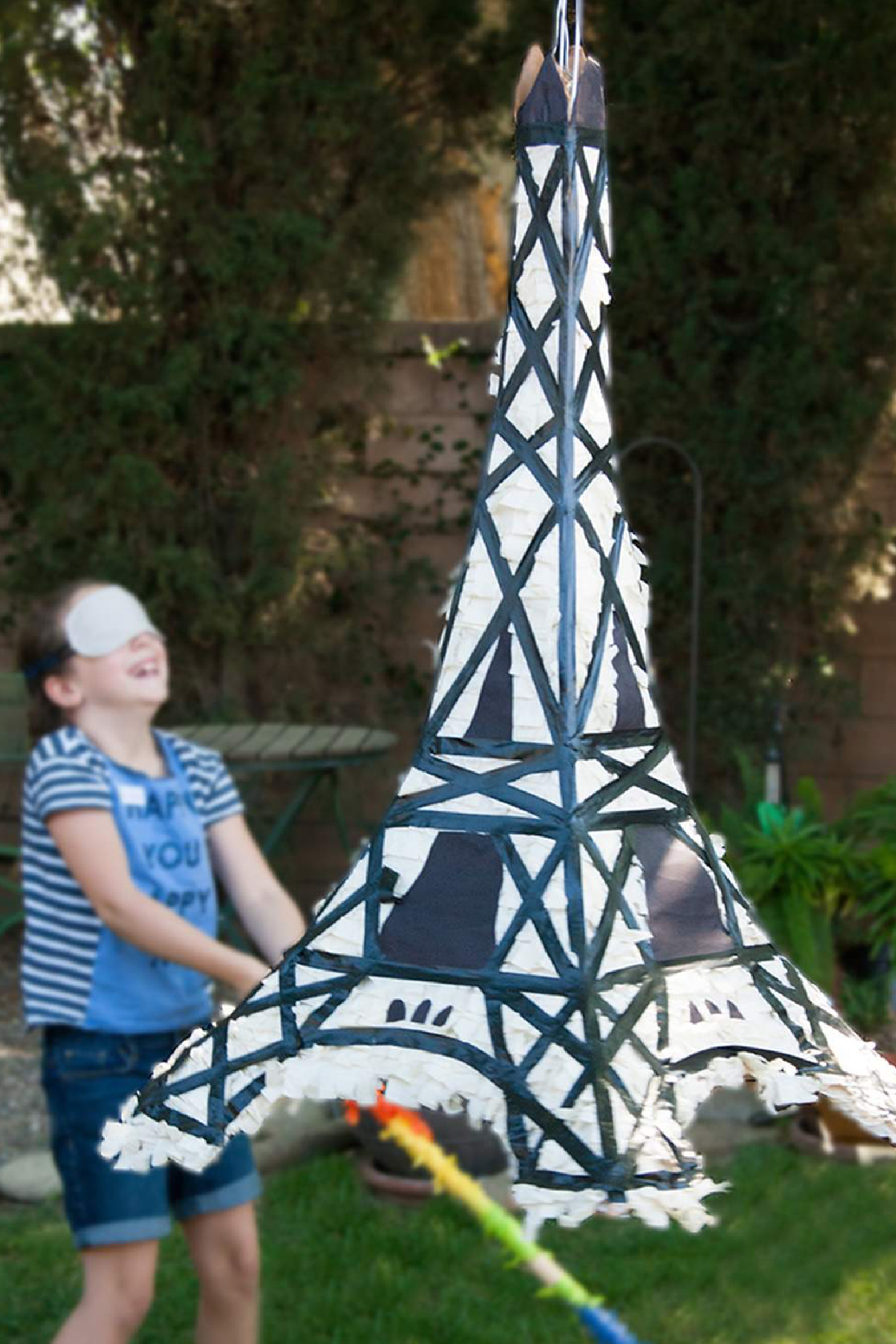 Finding a fun party activity for a Paris-themed party can be tough which is why we loved this one the second we set our eyes on it!
It's a 'Pin the Mustache' game which everyone will enjoy. Blindfold the player and have them try to pin the mustache in the correct spot on the Frenchman. Whoever gets closest wins!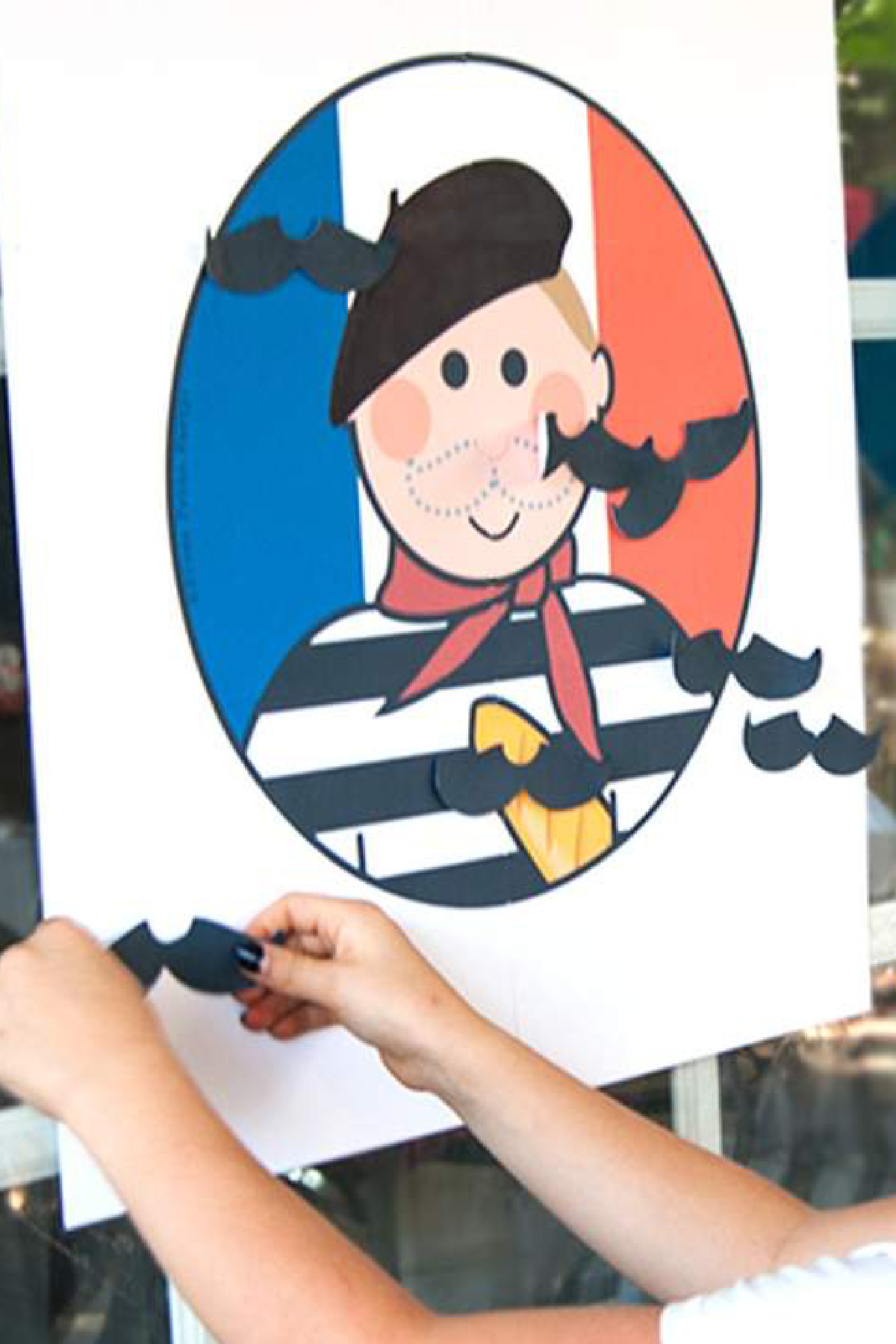 Paris is also known as the capital of the arts because so many famous artists were attracted to the city, such as Monet, Renoir, Toulouse-Lautrec, and Matisse, to name just a few.
The banks of the river Seine are renowned as a place artists gravitate towards to paint, so how about treating the guests to the ultimate Parisian experience at your French party by having a party activity where each one gets to create their own painting?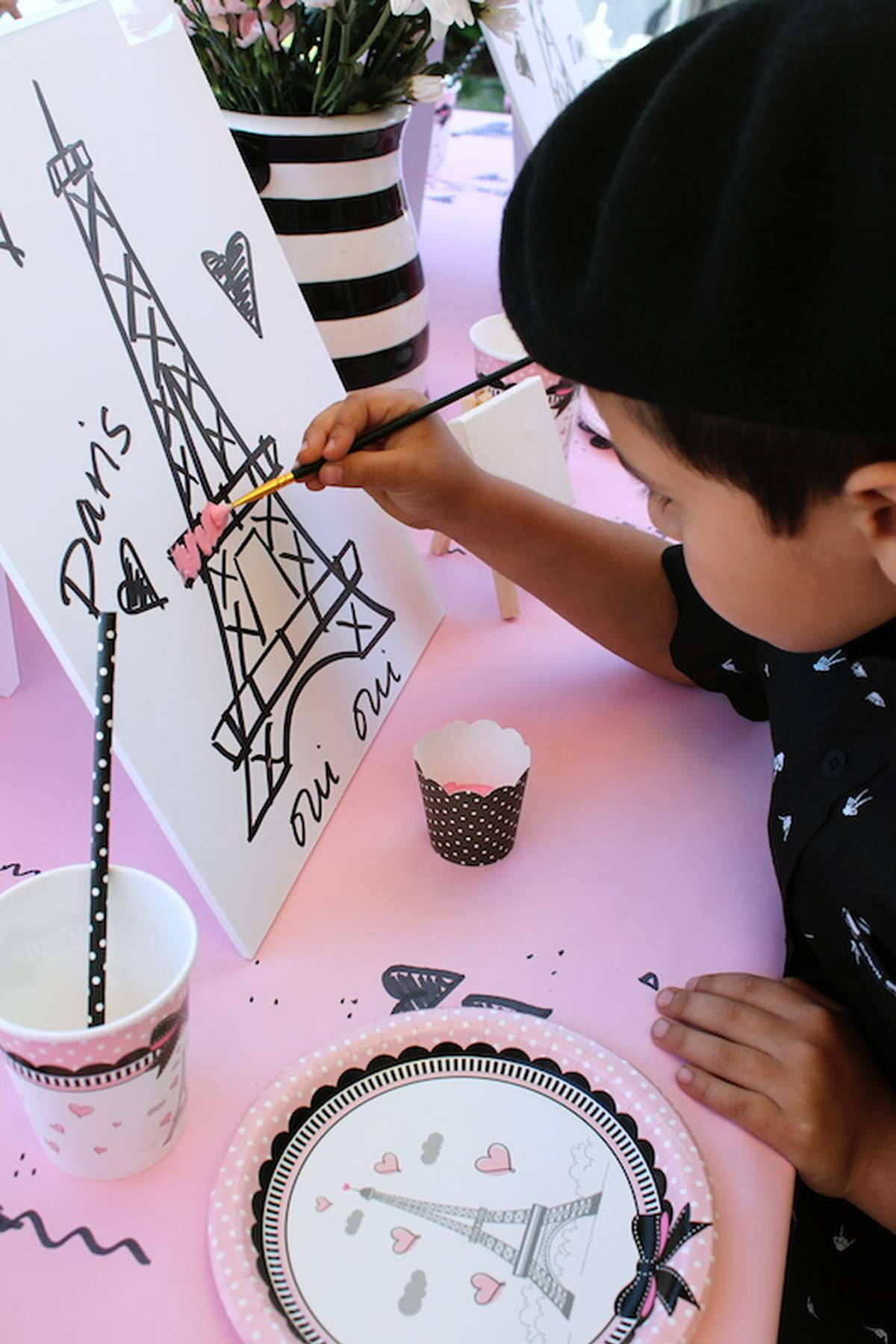 France is famous for its miming street artists which is why a miming entertainer is a great party activity for kids at a French party.
The art of mime (acting using body movements as opposed to speech) is a large part of French culture and is the perfect way to add a touch of Paris to your party.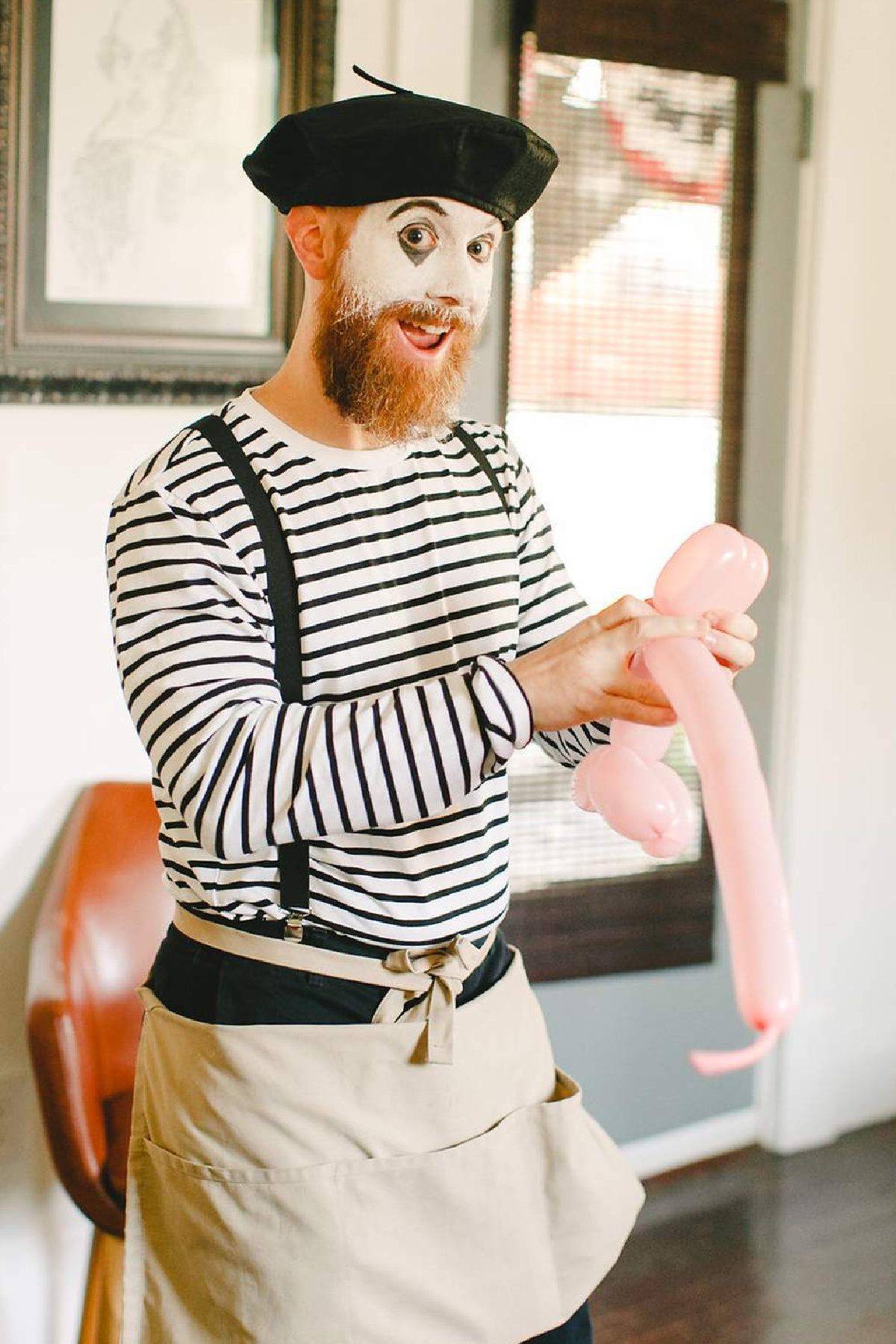 Voila! We've found a perfect way to keep your guests entertained without spending a ton of money!
Treat your guests to a fun Parisian-inspired game of bingo.
Download and print out this Parisian bingo and you're good to go!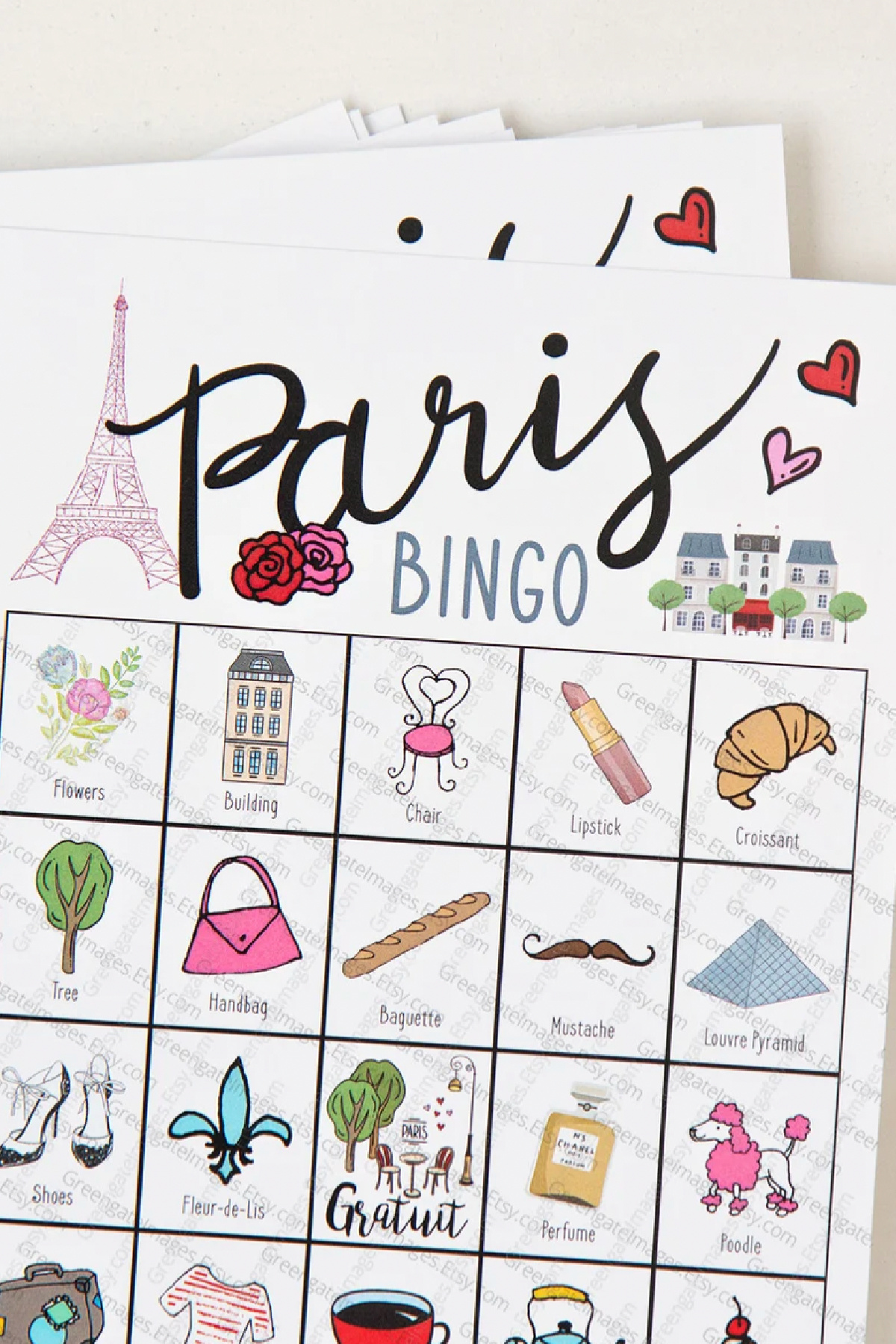 Kids love photo booths! It'll be so much fun to fool around with these awesome French-inspired photo props and have a laugh while having your photo taken.
Get clicking and make some unforgettable memories!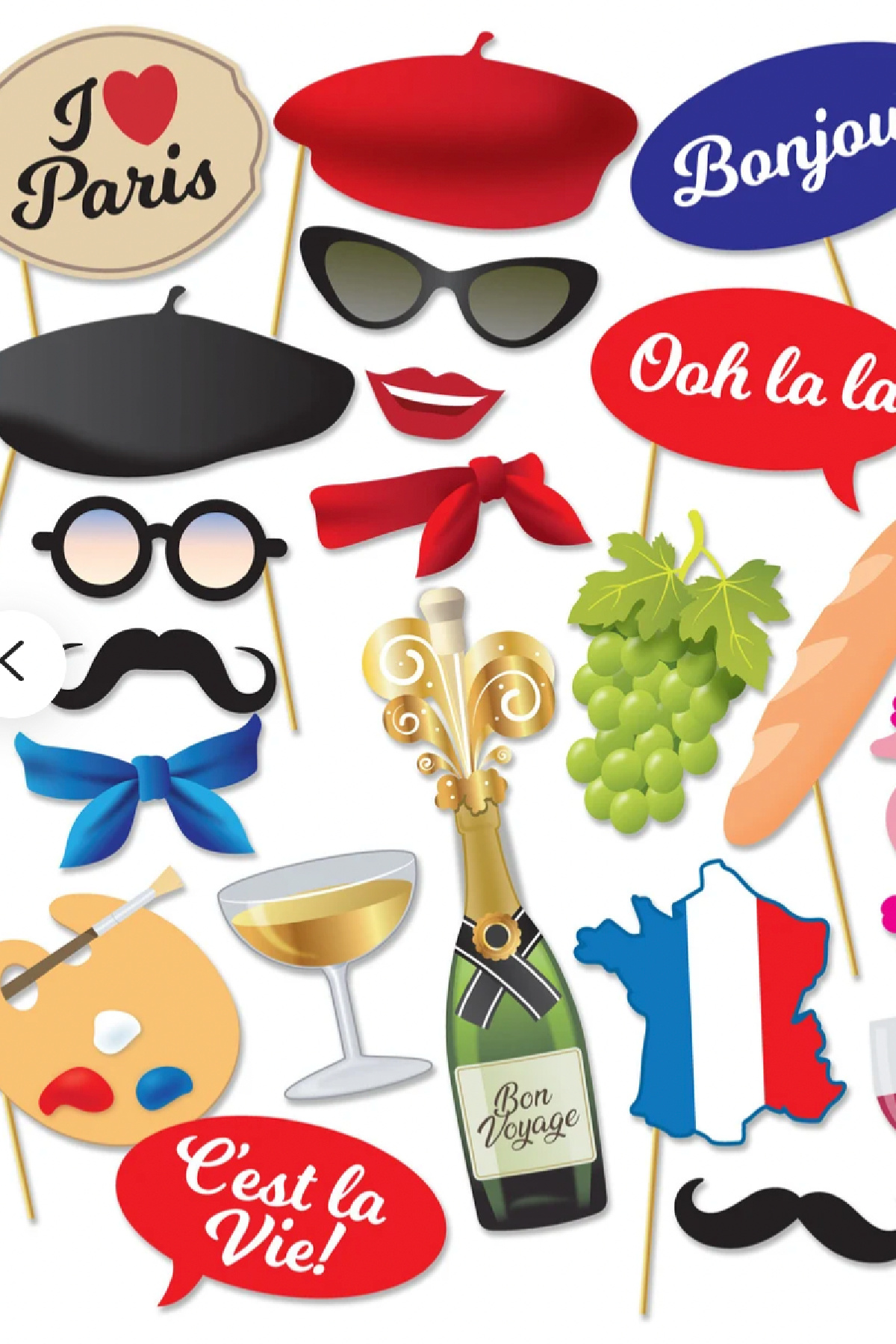 Paris is all about style and fashion so treat your little guests to these pretty Paris-themed party favor bracelets.
Sometimes it's the small details that make a difference and the Eiffel Tower pendant on these bracelets gives them a unique chicness!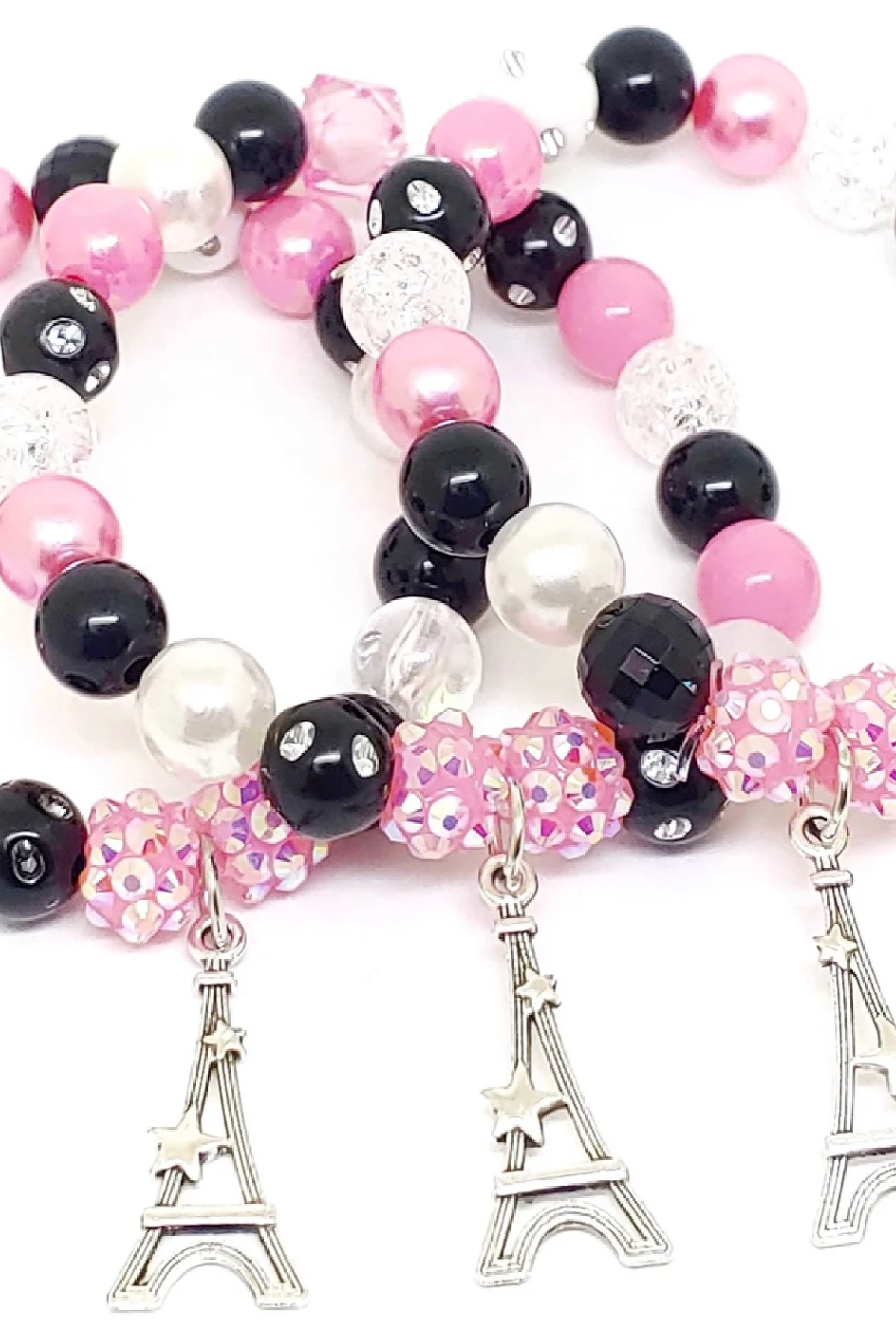 Send your party guests home with a smile on their faces with these gorgeous Eiffel Tower party favor boxes.
They'll look fantastic on a table and are just what you need to fill with goodies!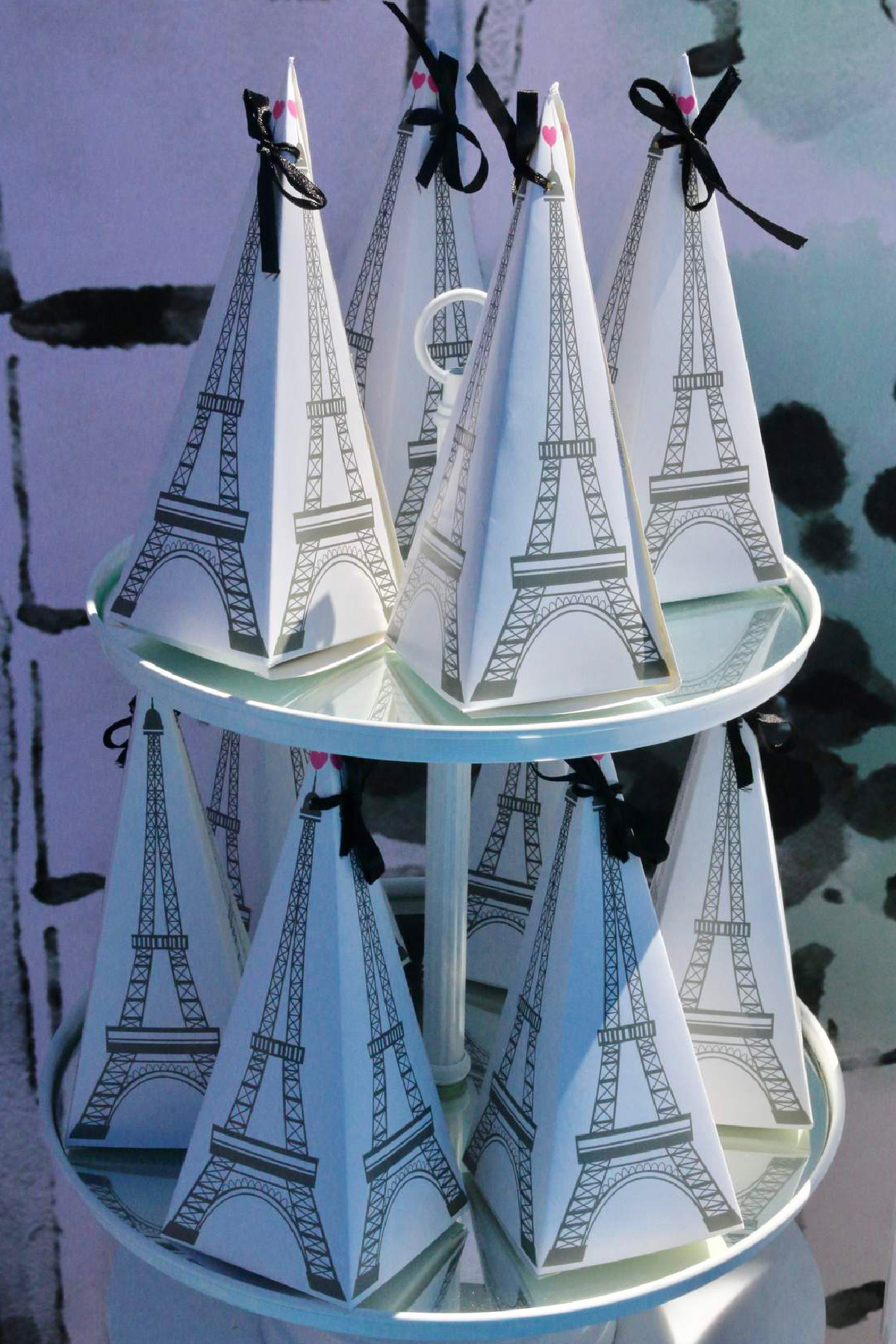 You won't want to miss these beautiful Laduree-inspired party favor boxes.
They are perfect to fill with Paris- themed party favors or simply heavenly macarons.
The pink flower decorating the box gives it such a delicate touch!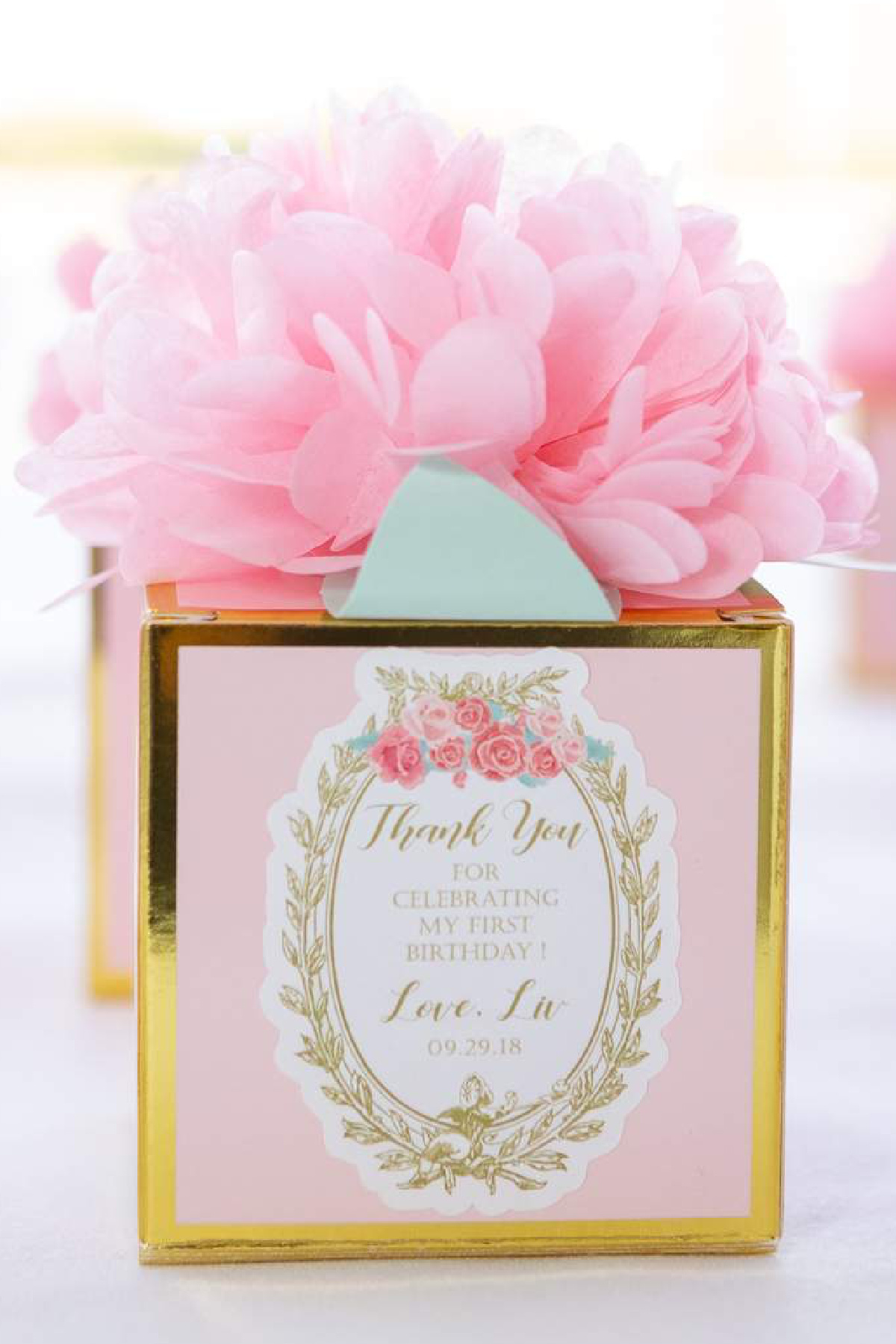 To finish off we've found the perfect Laudree-themed party favor bags for your guests to take home with them.
You can bet they'll feel 'oh so chic' leaving with these stunning bags in their hands, full of wonderful party favors.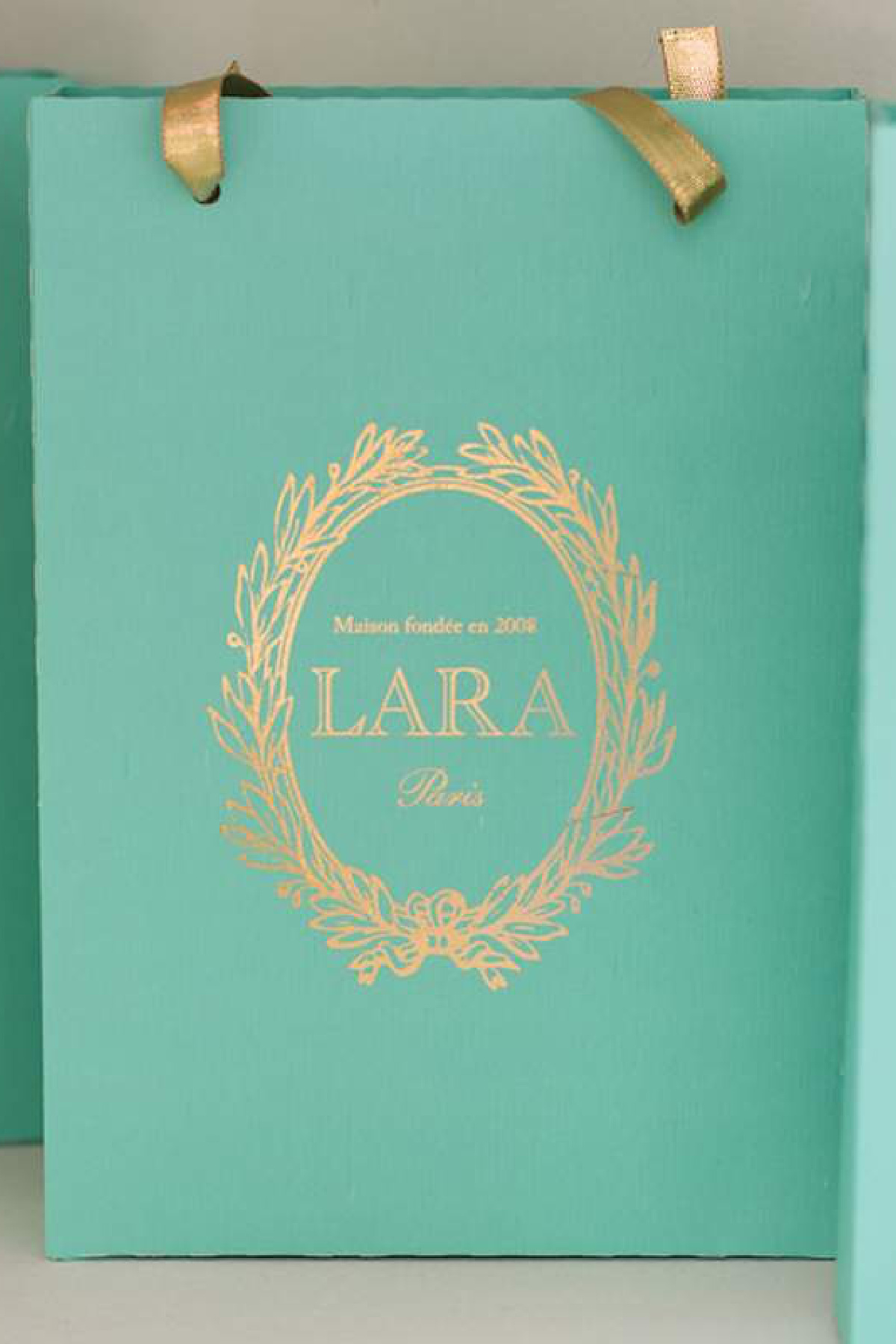 Parisian Party FAQs
Parisian birthday party tips
1: Start planning your party about a month in advance
2: Decorate your party with Eiffel Tower replicas, French flags, and vintage French posters.
4: Serve French cuisine with French wines, and champagne, if you are entertaining adults.
5: Plan fun French-inspired party games or activities, such as a Pin The Mustache
6: Treat your guests to some wonderful French party favors, like a macaron gift box.
Delicious Parisian party food ideas
Serve elegant French cuisine such as croissants, macarons, crepes, quiche, baguettes, and a cheese platter.
What are some fun Paris-themed party activities?
Plan some French-inspired party activities like a macaron-making workshop or a wine and cheese tasting. For kids treat them to an art-themed activity where they paint their own canvas.
Ideas for Parisian party favors?
Send your guests home with a pretty box of macarons, a vintage French poster, or some French wine.
We have more wonderful ideas for Paris-themed parties.
Need more Parisian party ideas?

Disclosure: This post may contain affiliate links that won't change your price but will share some commission. We are participants in the Amazon Associate Services LLC Program, an affiliate advertising program designed to provide a means for us to earn fees by linking to Amazon.com and affiliated.