Don't miss our 26 fab & easy dinosaur birthday cake ideas! if you are throwing a dinosaur party and need ideas for the perfect birthday cake, this is the post for you!
Whether you are looking for an easy dinosaur cake idea or a show-stopping cake that will surprise your party guest, we have ideas for all types of cake, so rest assured we have just what you need!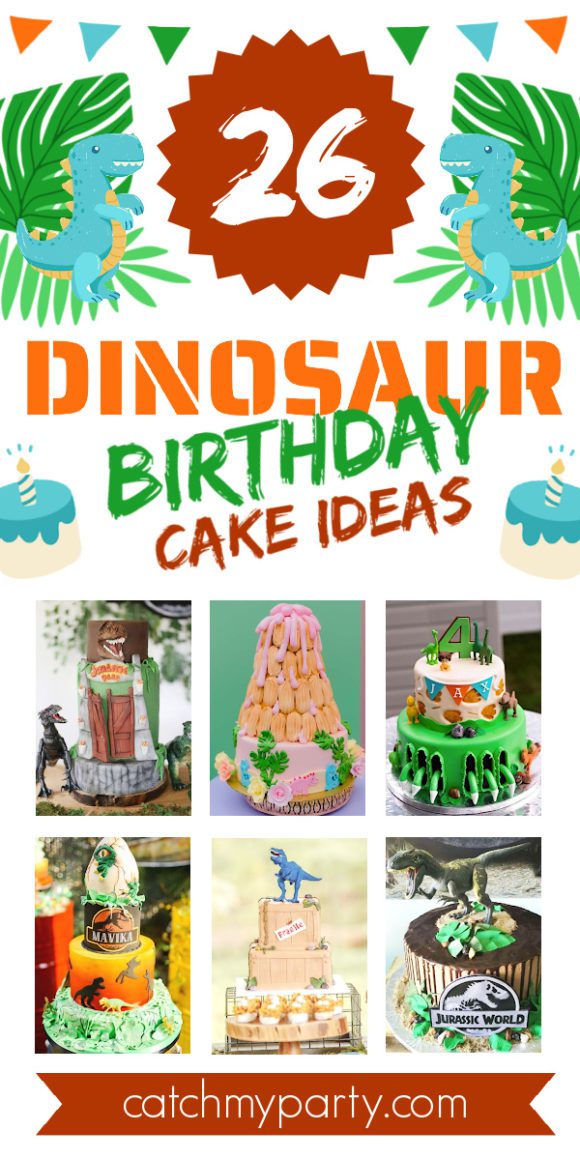 Sit back and enjoy all the best dinosaur birthday cakes we've rounded up for you from all the awesome dinosaur parties on our site!
26 Fab & Easy Dinosaur Birthday Cake Ideas
This Jurassic Park-themed cake is perfect if you are throwing a Jurassic Park birthday party!
Recreate the iconic Jurassic Park gates and decorate with greenery and iconic dinosaurs.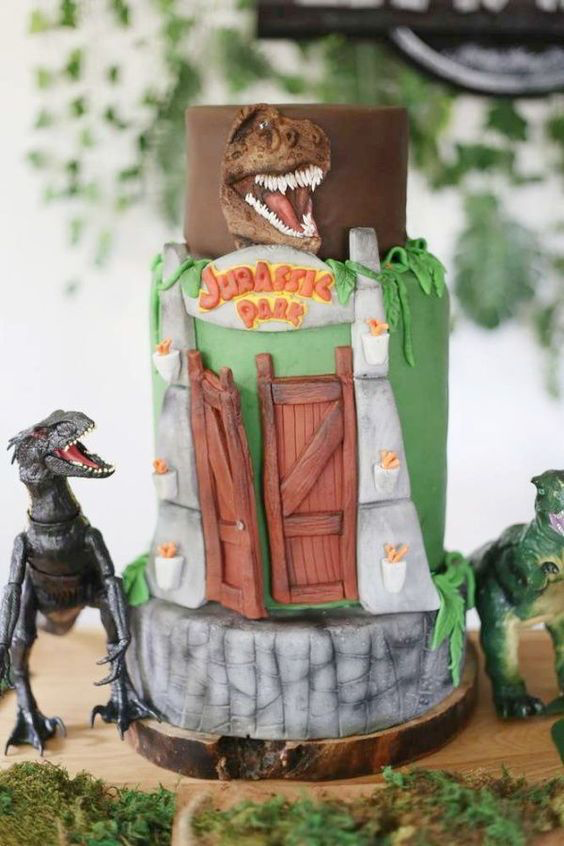 Little girls love dinosaurs as much as boys, so, if you are treating your daughter to a dinosaur-themed party you won't want to miss this amazing pink dino cake!
Covered in pink fondant icing, each tier is decorated with delicate leaves, flowers, and cute dinosaurs with bows.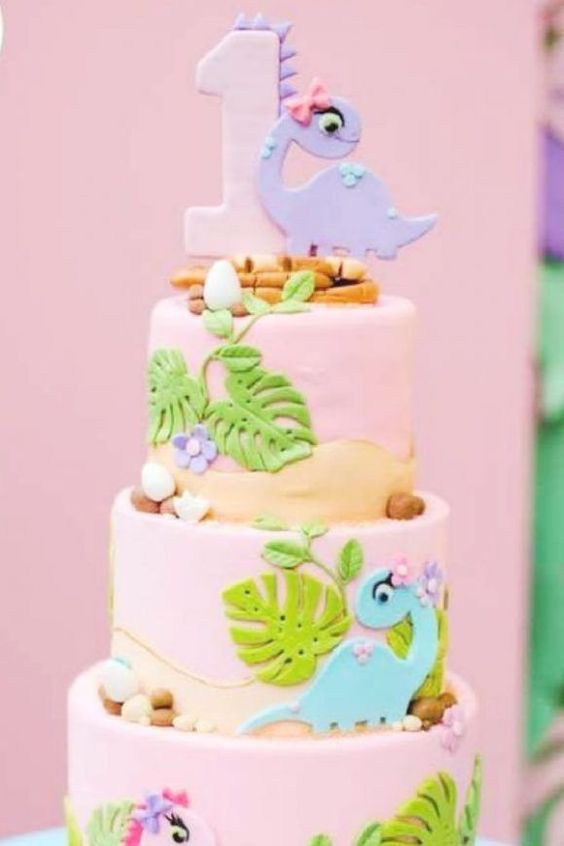 You won't find a more dinosaur-themed cake than this one!
Covered with scary dinosaurs in a lush setting, you've got to love the fondant volcano topper.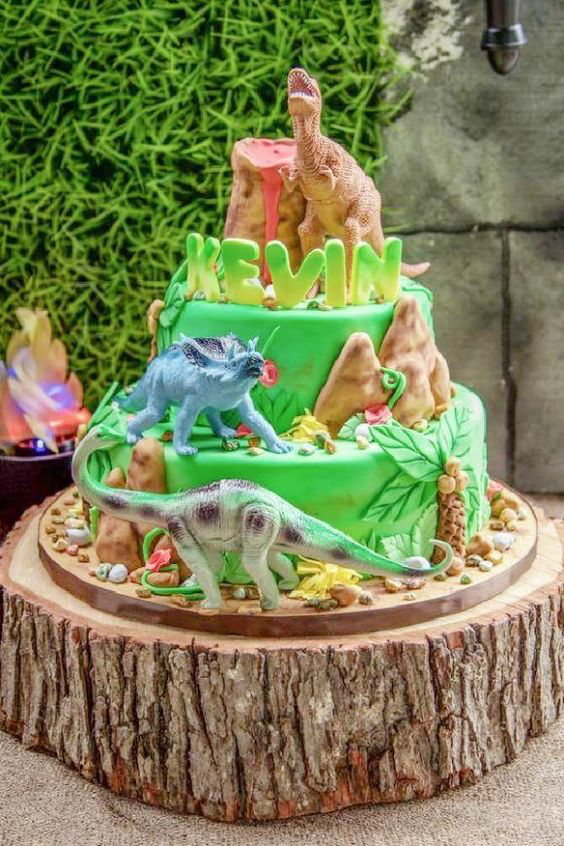 This pink dino cake is so much fun and perfect for a little girl's birthday!
Shaped like a cute dinosaur and covered with pretty fondant decorations, this cake is any girl's dream.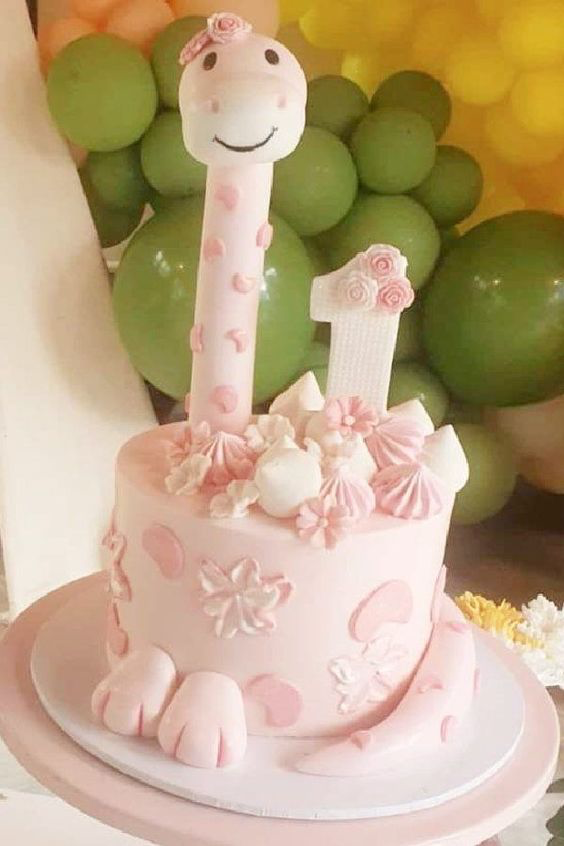 Sometimes the simplest cakes are those that stand out the most.
Simply decorate a white fondant cake with a T'Rex illustration and top it with the birthday boys' age and you are good to go!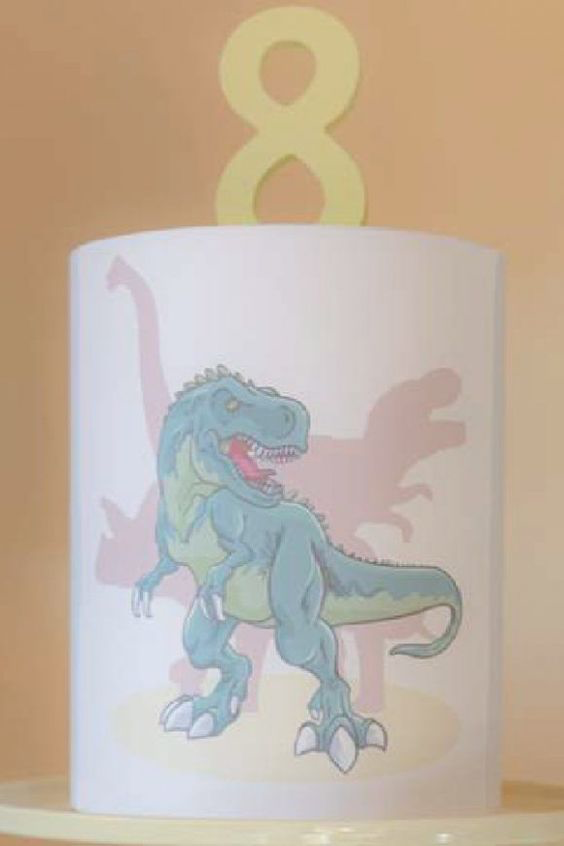 Transform a regular home-baked tiered chocolate cake into a dinosaur extravaganza by decorating it with some plastic dinosaurs, and lots of chocolate cake crumbs (that look like dirt), and finish it off with a fun numbered candle.
It really is that easy!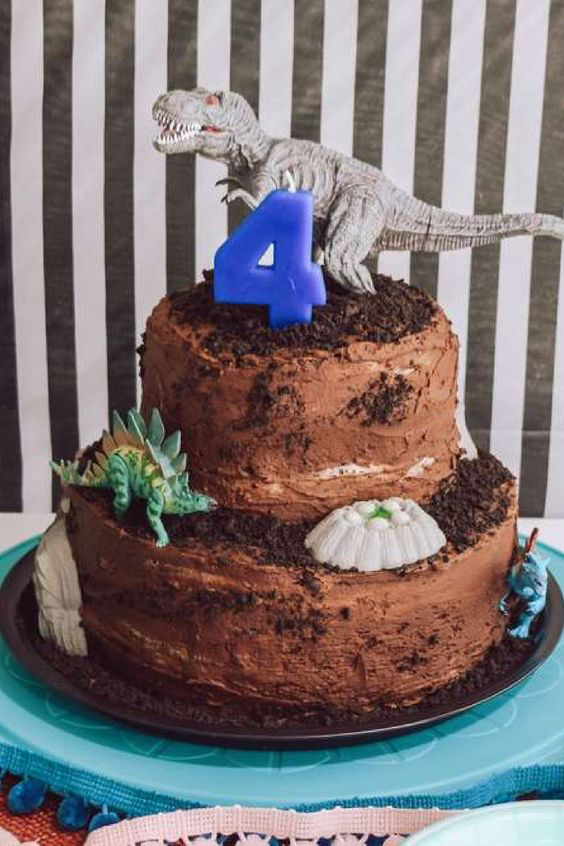 This next cake is another wonderful example of a dino-themed cake for a girl that loves her dinosaurs.
Decorate a pink frosted cake with some green frosting, to make it look like it has grass on it, add some dinosaur-themed candy, and finish it off with a fabulous gold Triceratops!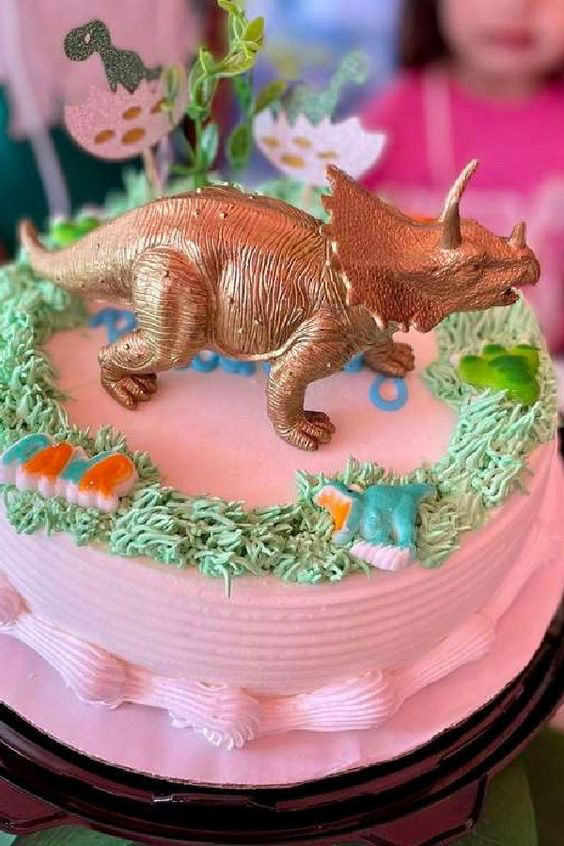 If you are looking for a cake that is going to impress your party guests, look no further!
Decorate a green fondant-tiered birthday cake with some greenery and decorate with dinos and a fondant name topper.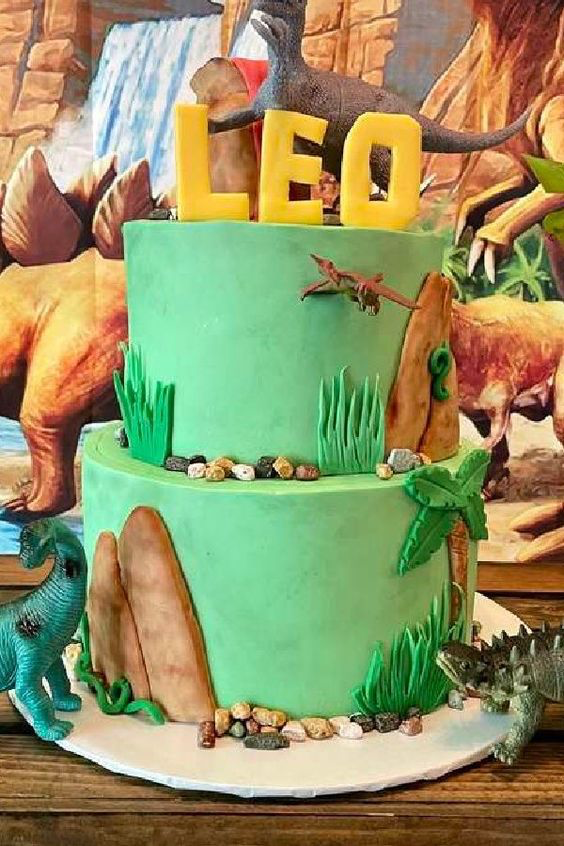 Treat your guests to a stunning minimalist dinosaur-themed drip cake.
Decorate with some spikes and a claw, and top with a dinosaur and an egg.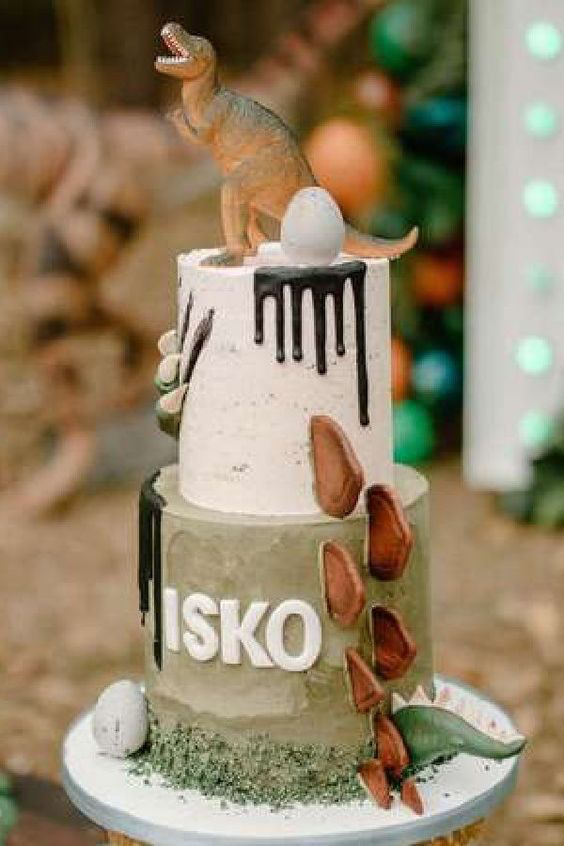 WOW! If you really want to stop everyone in their tracks and blow them away with a show-stopping birthday cake then this next idea will definitely do that!
Serve your guests a creative volcano-themed dinosaur cake made with meringues.
Although this is a girl's birthday cake it can also be adapted for a boy.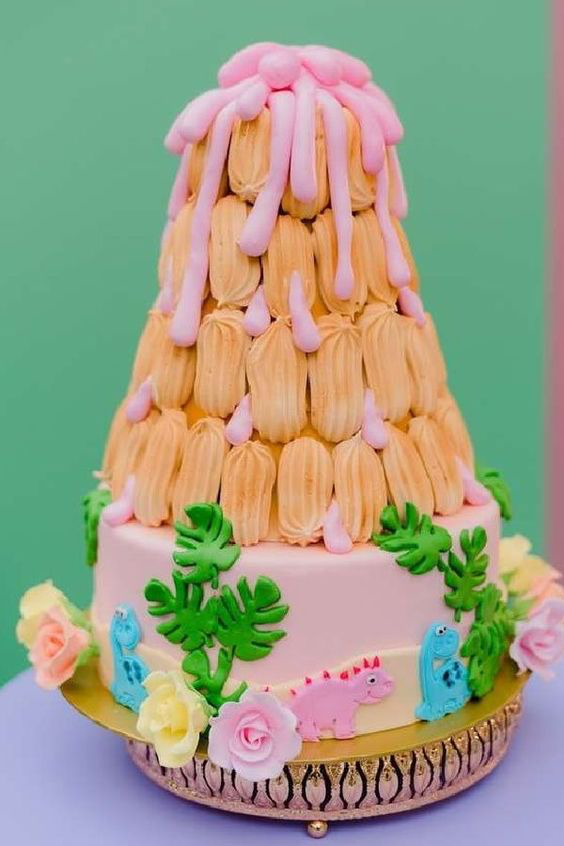 Dinosaur claws have ripped through this cake to create a show-stopping birthday cake that will have every one of your guests in awe of this work of art.
Decorated with a bunch of dinosaurs and dinosaur footprints, this birthday cake is a must for any little paleontologist!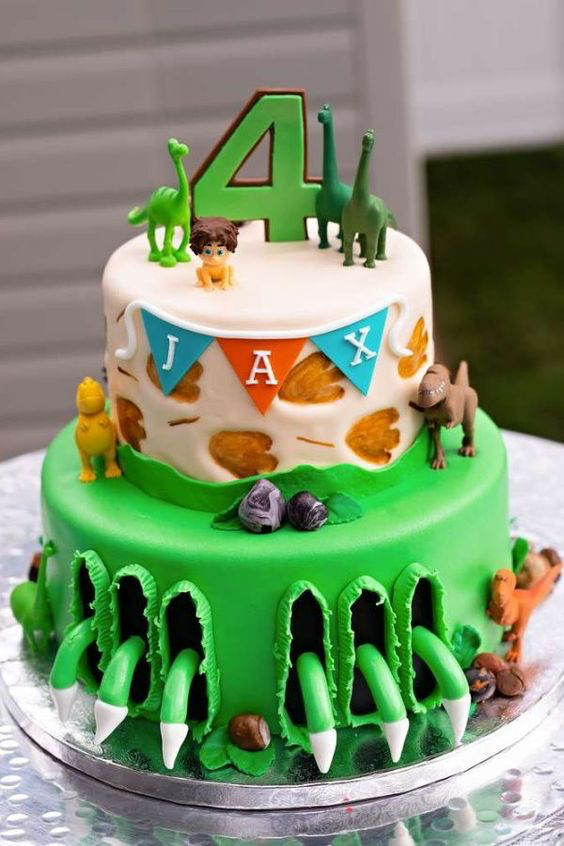 This next cake also has dinosaur claws coming out of it but it's not a menacing cake and is great for younger kids that can't get enough of dinos!
It's decorated with greenery and topped with a fun dinosaur, a fondant volcano, and some cool lollipops.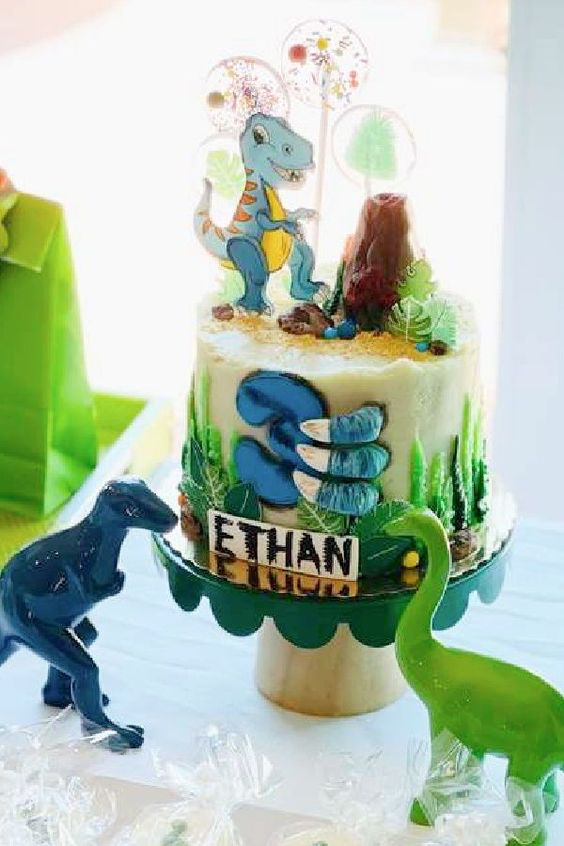 So many small kids find dinosaurs fascinating, so, if you have your very own little paleontologist running around the house, you can bet he'll love this next dinosaur birthday cake.
Perfect for a dinosaur-themed party, this next birthday cake is really simple and looks amazing.
The white fondant cake is decorated with a bunch of geometric shapes and topped with a cute dino, and some cut-out leaves.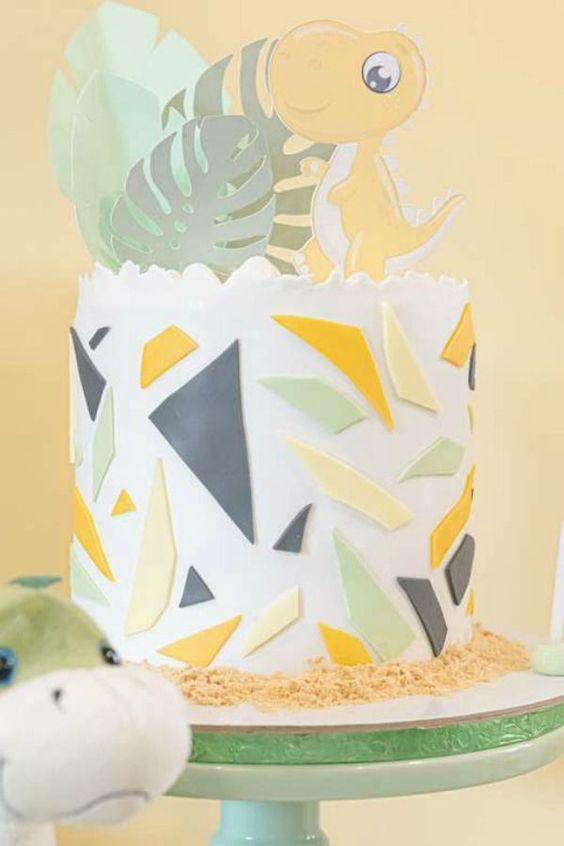 The movie Jurassic Park is a massive hit and has given dinosaurs a new breath of life. With every new movie that comes out, we see a rise in the number of dinosaur parties being shared with us on CatchMyParty.com.
If you are planning to throw a Jurassic Park-themed birthday party don't miss this fantastic cake!
Each tier is different. There's a tier covered in fondant greeney, another that's rich orange and yellow with black dinosaur silhouetes, a black tier with an adapted version of the Jurassic Park logo that includes the birthday boy's name, and a final top tier that is a dinosaur egg with a eye peaking out of it! Wow! What more could you ask for?
In the Jurassic park movies dinosaurs are transported in crates, so how about picking up on this idea and having a stacked crates birthday cake topped with an escaped dinosaur?
It's great if you want something a little different but equally as impressive!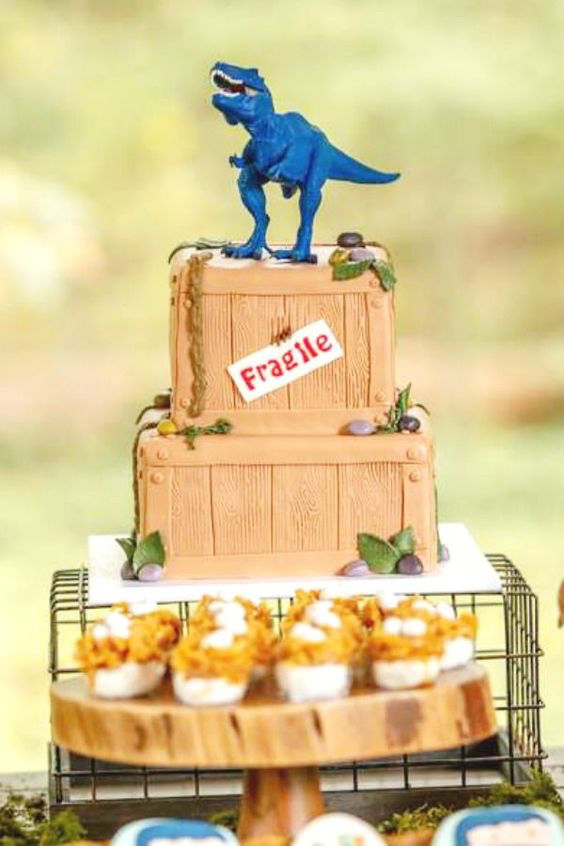 This next birthday cake is very different from traditional dinosaur cakes but is sure to take centerstage at your party.
All designed in white, with black outlined illustrated dinosaurs, this cake is decorated with simple triangles and the child's name.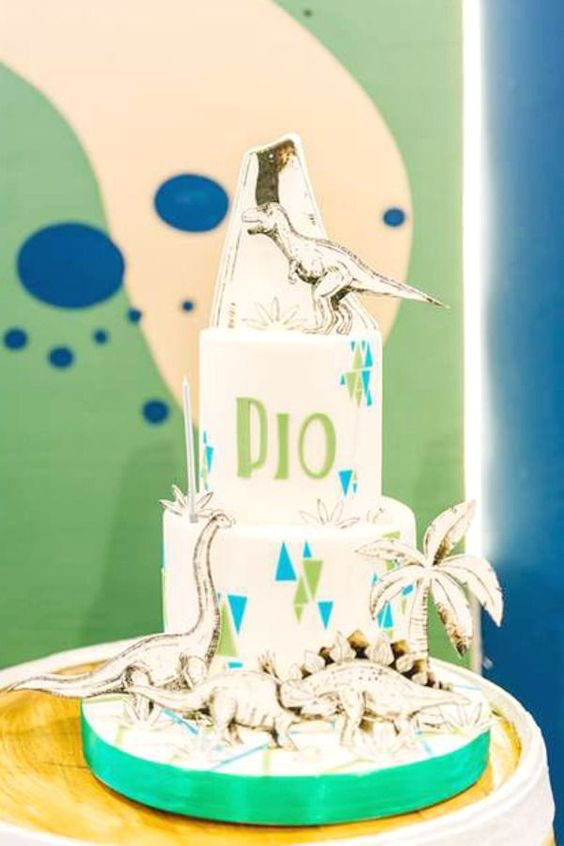 If you are looking for a cake that will proudly stand tall on your dessert table make sure you check this one out!
This cake is too Jurassic Park-themed, and includes a bunch of different tiers that do the movie justice!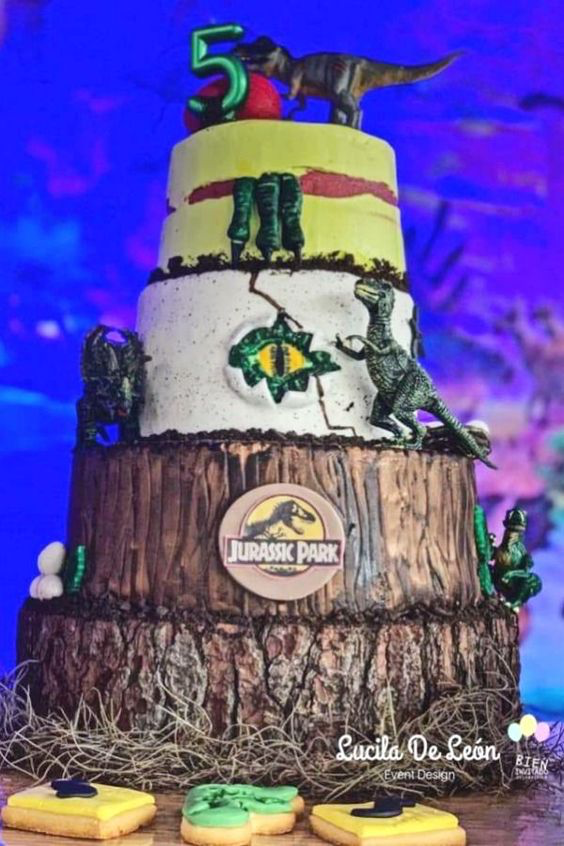 Younger kids will find this next cake adorable.
Decorated with cute friendly dinosaurs, this birthday cake is just what you need if your little one loves everything about dinos.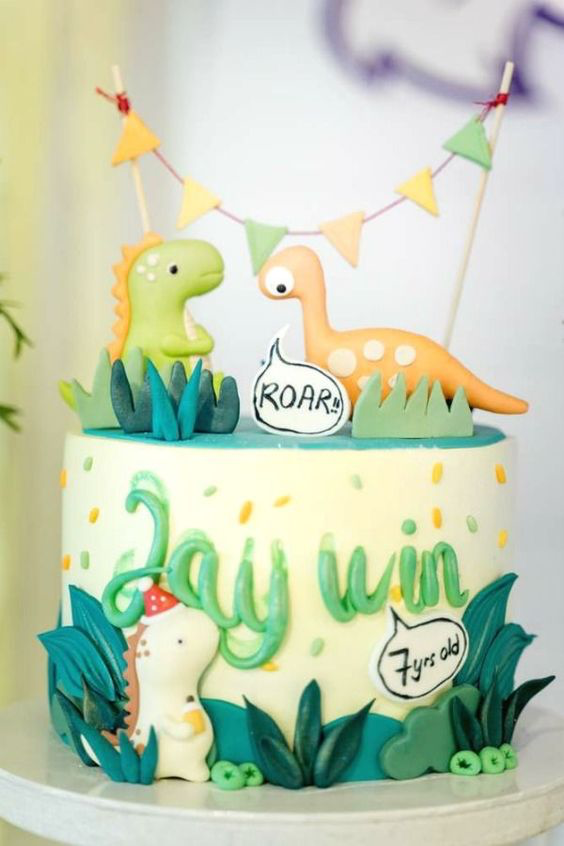 Dinosaurs are notorious for their roars so how about celebrating them with an awesome cake like this one?
This cake is beautiful decorated with so much attention given to detail. The greenery is amazing, and what's not to love about the roaring dinosaur topping it?!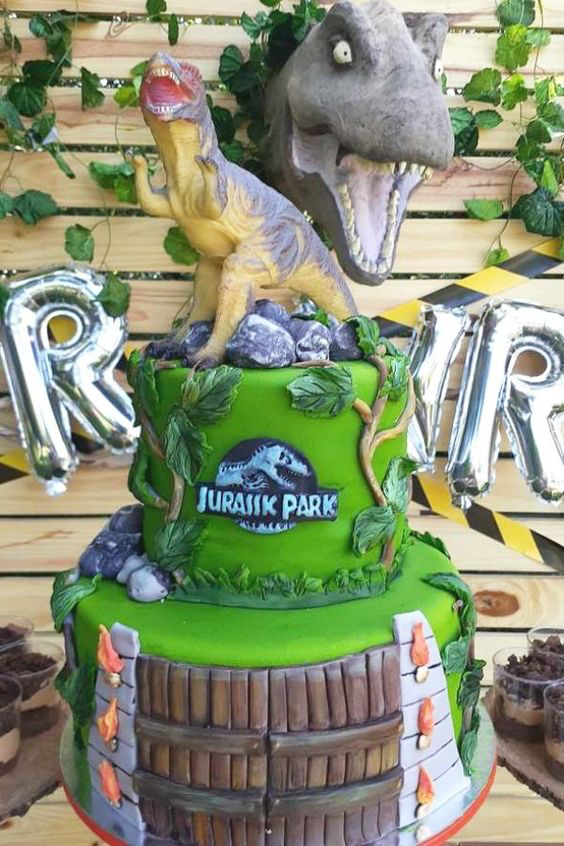 If you love to bake and are up for it, how about trying to make a fun dinosaur cake like this one?
Covered in fondant decorations and a fabulous dinosaur, this cake is sure to stand out on your dessert table!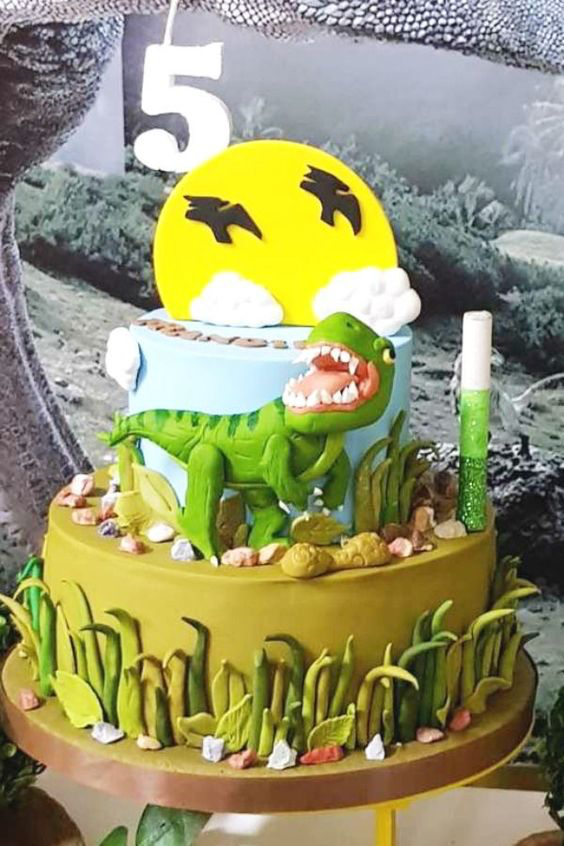 Dinosaurs are known for their menacing spikes so how about having a birthday cake decorated in them?
This teal and gold cake is very elegant and perfect if you are throwing a more minimalist dinosaur-themed party.
The gold dinosaur and the name topper look incredible!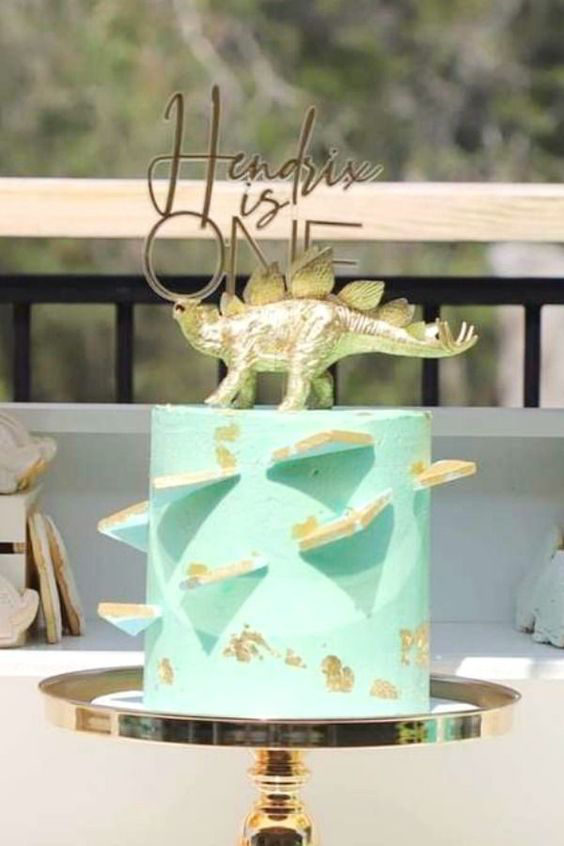 Go all out and treat your party guests to this awesome Jurassic Park birthday cake.
The red and black tiers covered in greenery and dinosaur silhouettes make this birthday cake a cool pick that any fan of the movie would die for!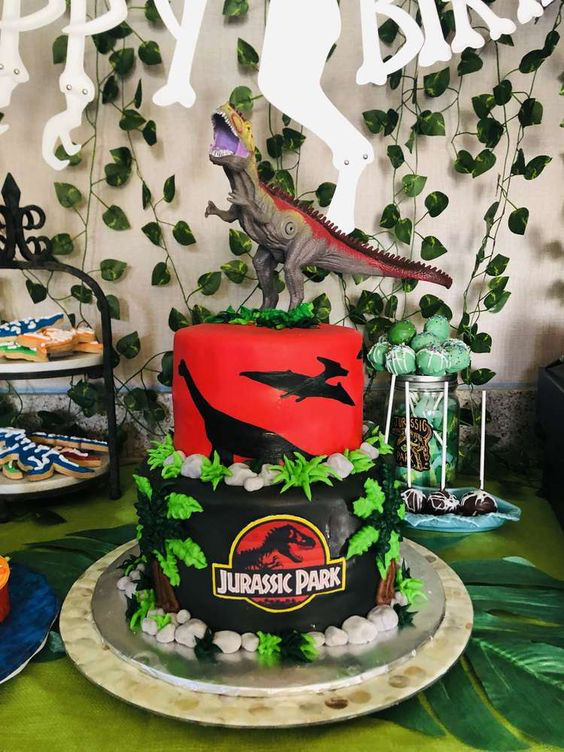 This next dinosaur cake is so exquisite, with all the lush fondant greenery and the regal gold dinosaurs adorning it.
Your guests won't be able to resist it!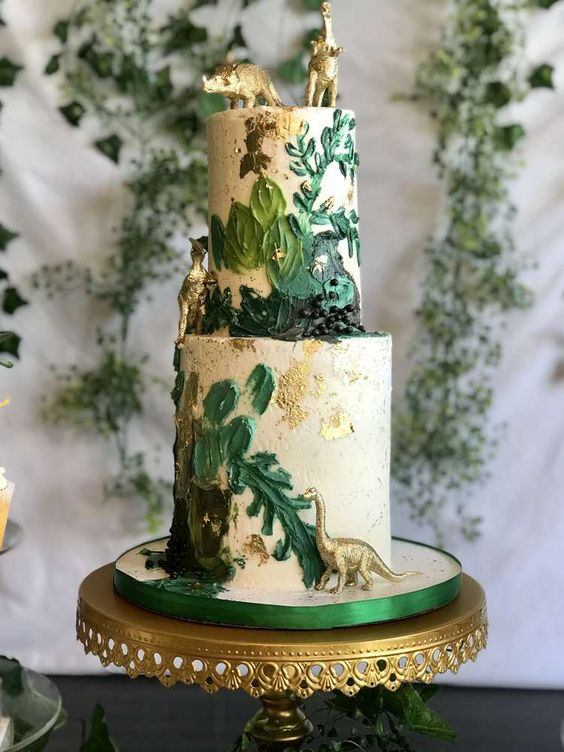 Whether you are planning a Jurassic Park party or just a regular dinosaur party, this drip cake is a wonderful idea and so easy to imitate.
Get yourself a drip cake and top it with a plastic dinosaur toy. Add some green fondant leaves and some cookie crumbs and you are good to go!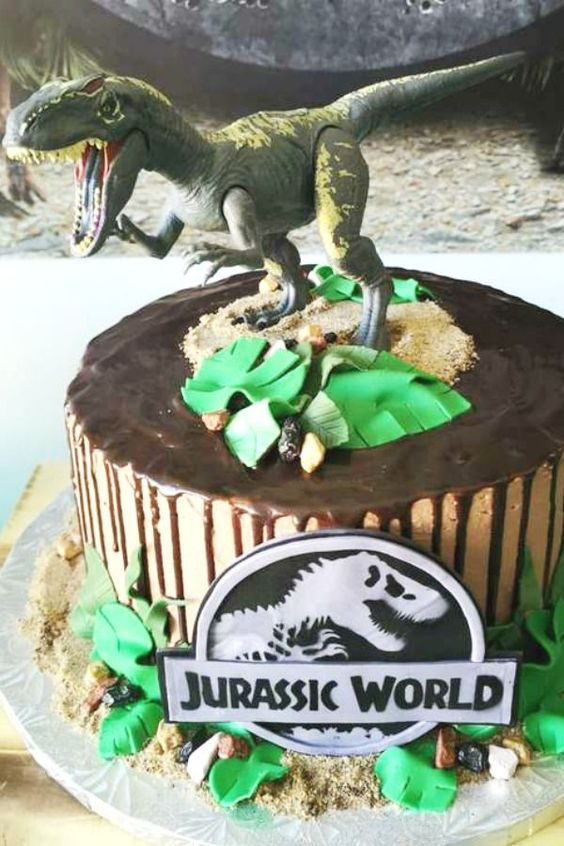 Little dino enthusiasts will love a colorful birthday cake like this one.
Covered in cartoon-like fondant dinosaurs, palm trees, and volcanos this cake will certainly put a smile on their face.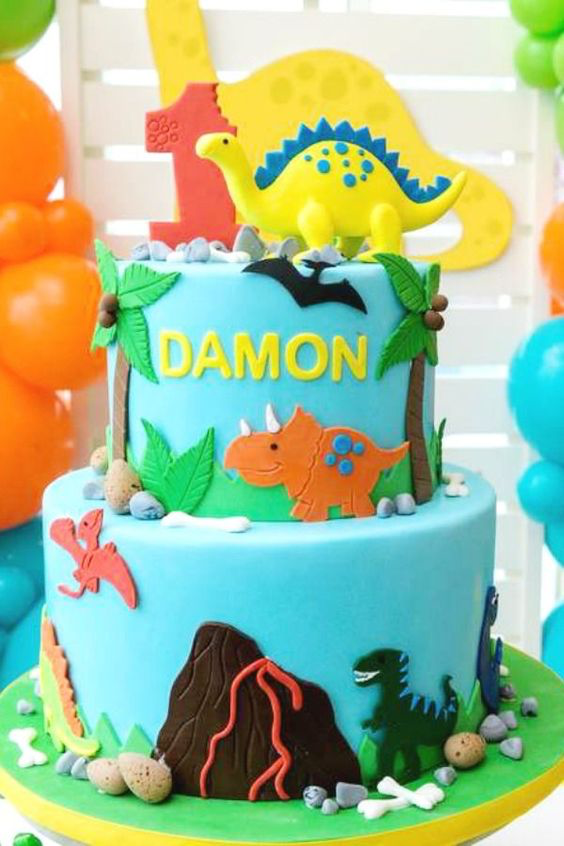 If you want to make an impression then this cake is just what you are looking for.
Different from what is expected of a birthday cake, this Jurassic park-themed one includes a red and yellow bottom tier, and a fabulous tower made of beautiful meringues, and decorated with green fondant leaves.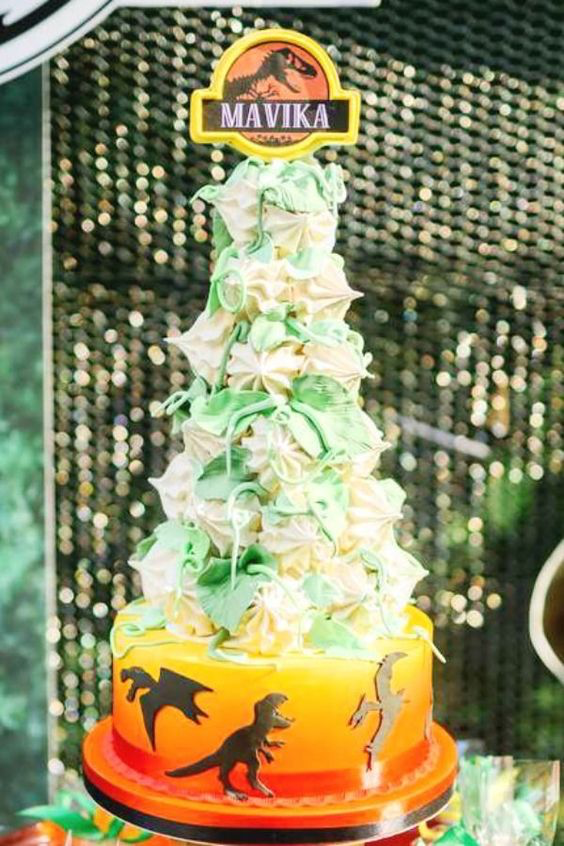 For more inspiration, check out all our fantastic dinosaur birthday parties, and dinosaur party supplies from vendors with listings on Catch My Party!
Need more dinosaur party ideas and inspirations?