Dinosaur parties are incredibly popular on our site. Kids can't get enough of these awesome pre-historic beasts, especially if they loved the latest installment of the Jurassic World movies!
Be sure to check out these 40 fab dinosaur birthday party ideas to make planning your dino party creative and fun!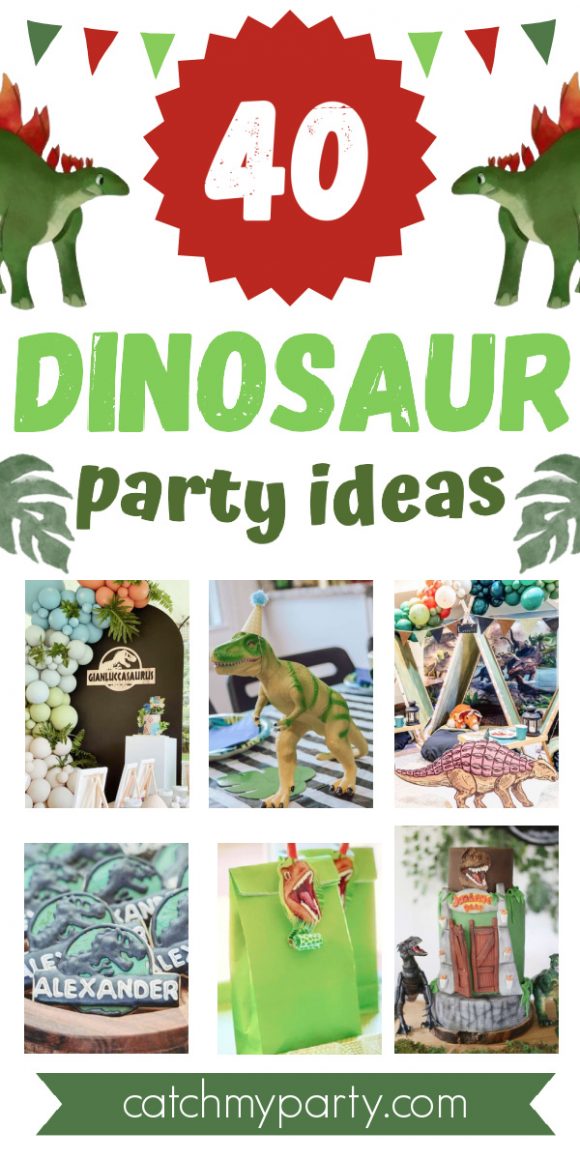 You'll find cool dinosaur party ideas like dinosaur birthday cakes, party games, FREE dinosaur party printables, fantastic dinosaur party decoration ideas, and so much more…
Be sure to check them all out for inspiration.
40 Incredible Dinosaur Party Ideas to Make You Roar!
Download our FREE dinosaur printables to decorate your party.
The set has everything you might need such as a welcome sign, some dinosaur cupcakes toppers, some invitations, water bottle labels, dinosaur food labels, straw flags, party favor tags, and an awesome banner.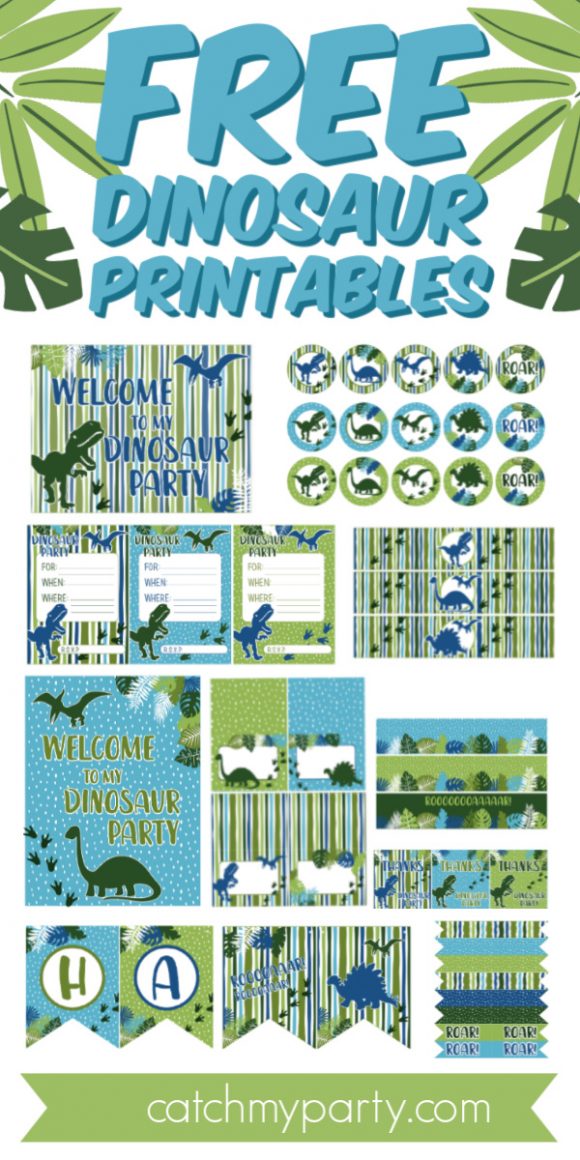 Let everyone know they are invited to a T-Rex dinosaur party and that you are planning a party to remember, with this cute dinosaur party invitation.
All the little dinos are going to be so excited!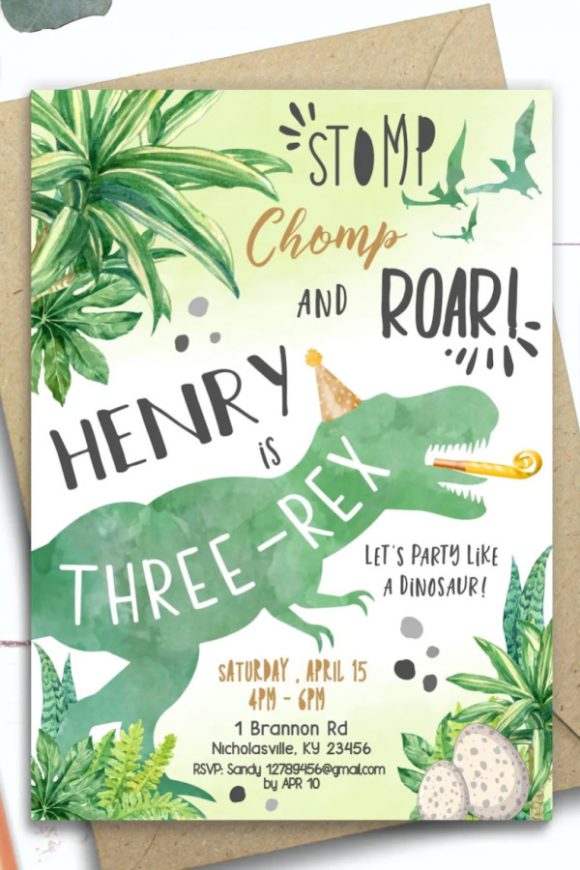 The new Jurassic World movie came out a couple of weeks ago and has been a box office hit. If your kid loved the movie and wants a Jurassic World-themed party then look no further for a party invitation.
I get chills just looking at it!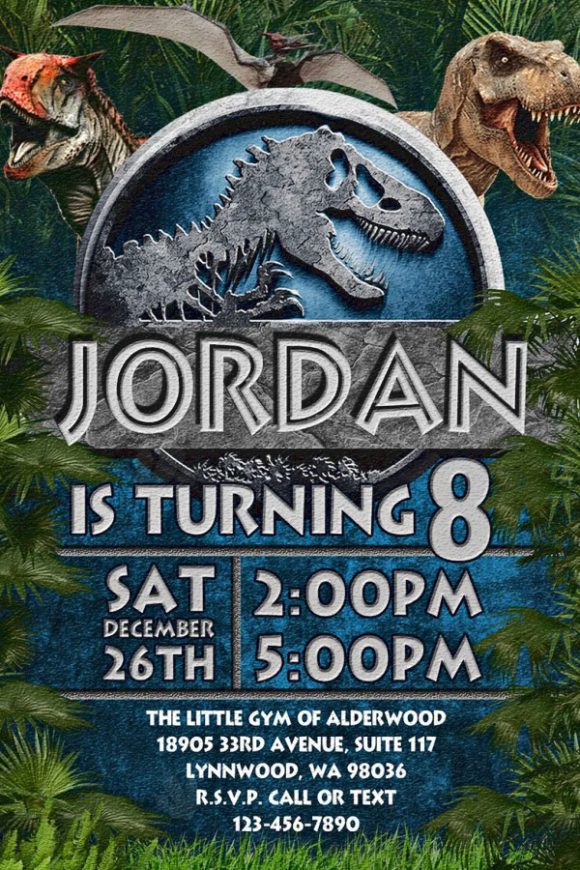 If you want to quickly and easily spread the word about your party and invite all your friends, I recommend you send out digital party invitations.
With the click of a button, your guests will instantly get their invite and start counting down to the big day!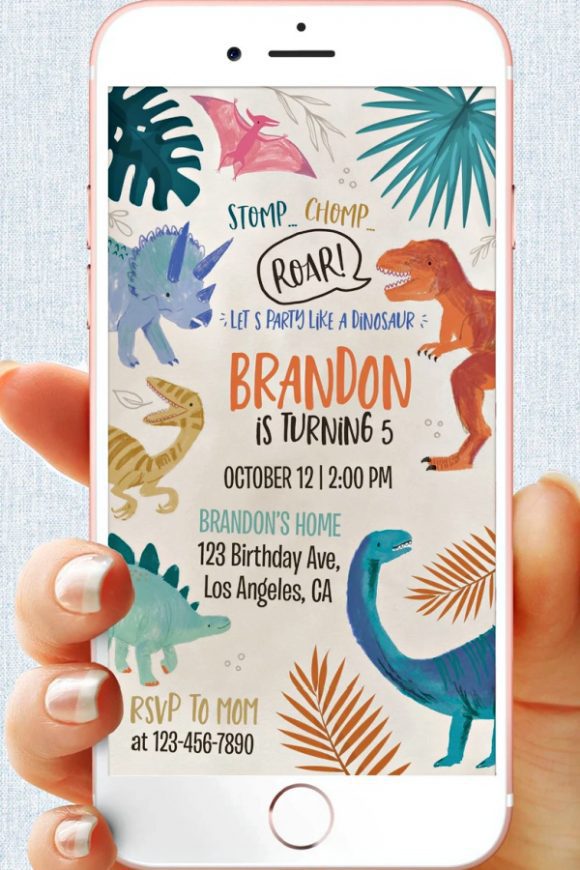 Make your guests feel like they've gone back in time and are fully immersed in a world of dinosaurs with this cool dessert table.
A dinosaur backdrop filled with dinosaurs and dinosaur balloons brings it all to life and is a quick and easy way to instantly decorate your party.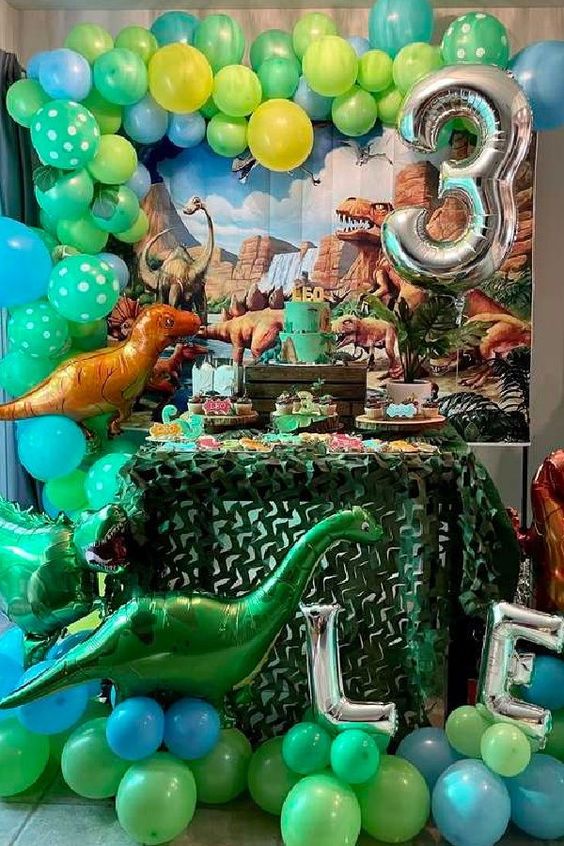 If you have a larger venue and lots of space this next dessert table is a great idea.
Cover your backdrop in greenery to recreate the whole dinosaur universe and place some plants and leaves in and around your party food and other dinosaur decorations.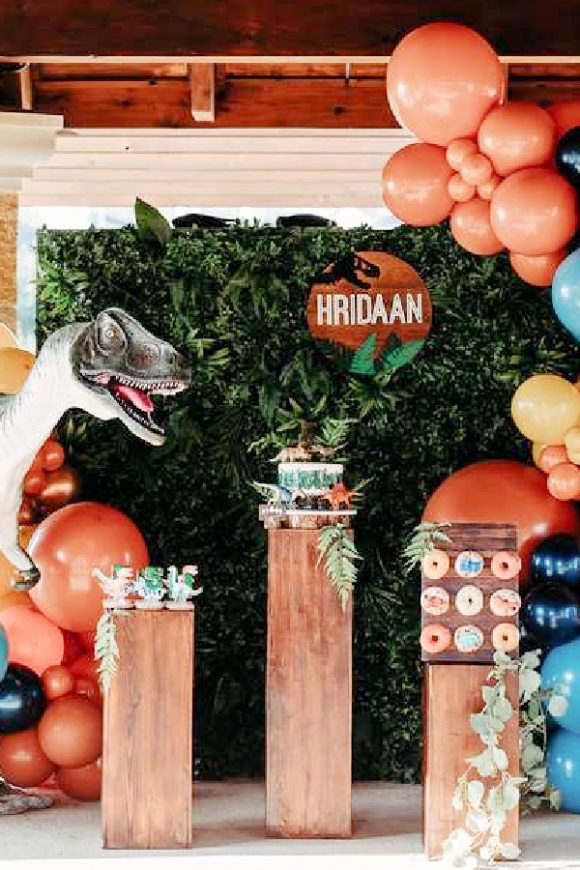 Many girls love dinosaurs as much as boys, so if you have a little paleontologist at home how about throwing her a dinosaur party?
Decorate your dinosaur decorations with bows to give them a more girly feel.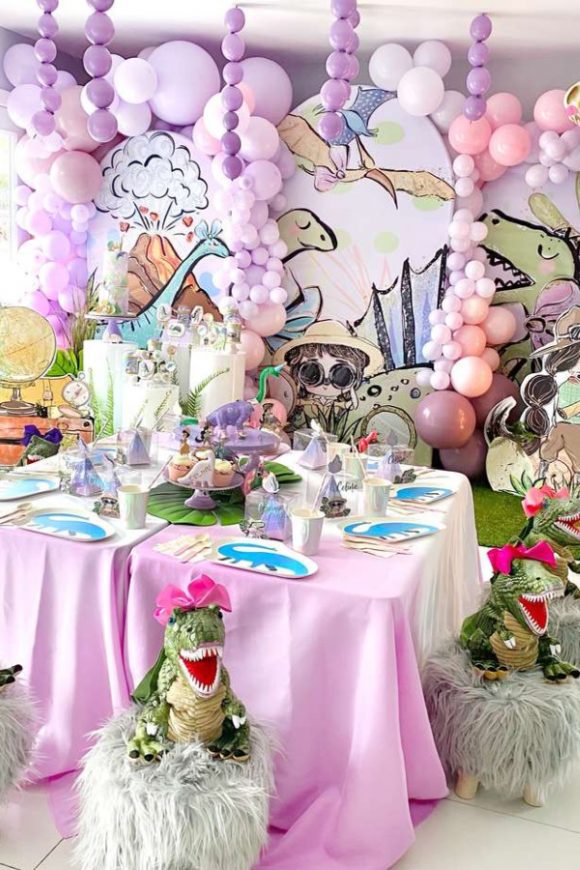 Sleepovers are so on-trend right now so if your kid dreams of spending a fun night with his or her friends, you can treat everyone to an awesome slumber party.
Decorate your teepees with some dinosaur party decorations, such as a fab balloon garland, and thrill everyone to their very own stuffed dinosaur, that they can cuddle up to in the middle of the night and take home with them the next day.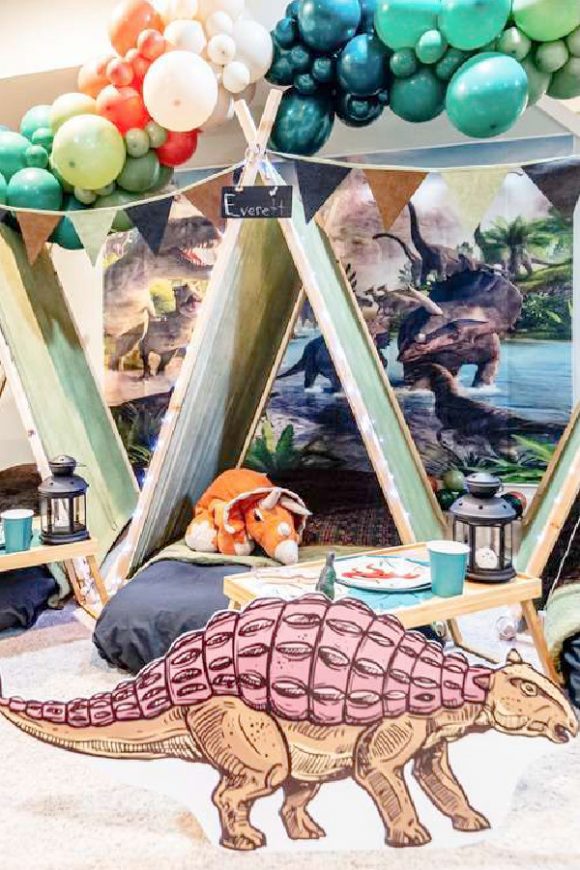 The birthday cake is always the show stopper at any party so transform a pretty simple one into a piece of art by decorating it with some dinosaur toppers and fondant leaves.
If you're feeling adventurous and are good at handling fondant, you could also try creating a fondant volcano to top the cake.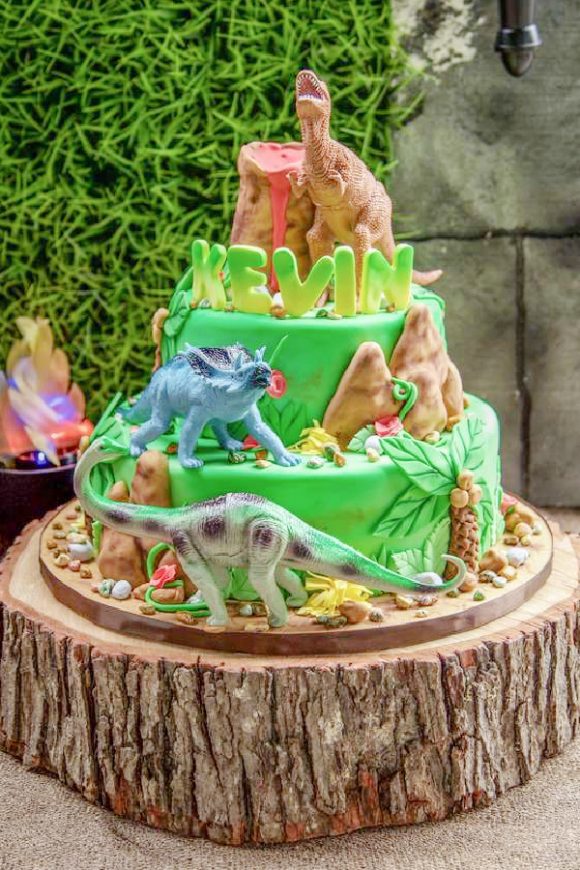 If you are throwing a Jurassic Park-themed party this Jurassic Park-tiered birthday cake will blow you away!
Love the fondant gate that is so iconic in the movies.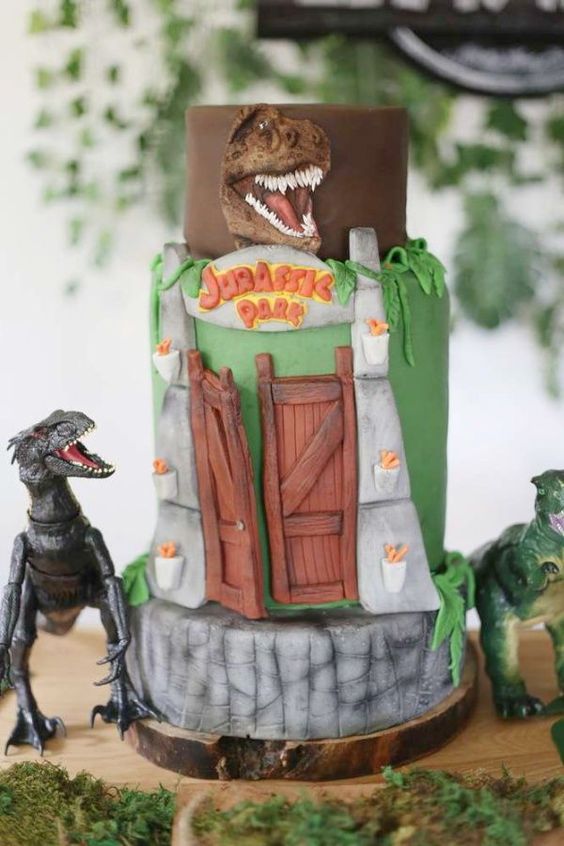 If your looking for ideas for a pink dinosaur birthday cake look no further.
This pink-tiered prehistoric cake is adorable and everything a little girl that loves dinosaurs could wish for. What an adorable dinosaur cake topper!
What's not to love about these cute fondant dinosaurs with little bows and flowers decorating the cake?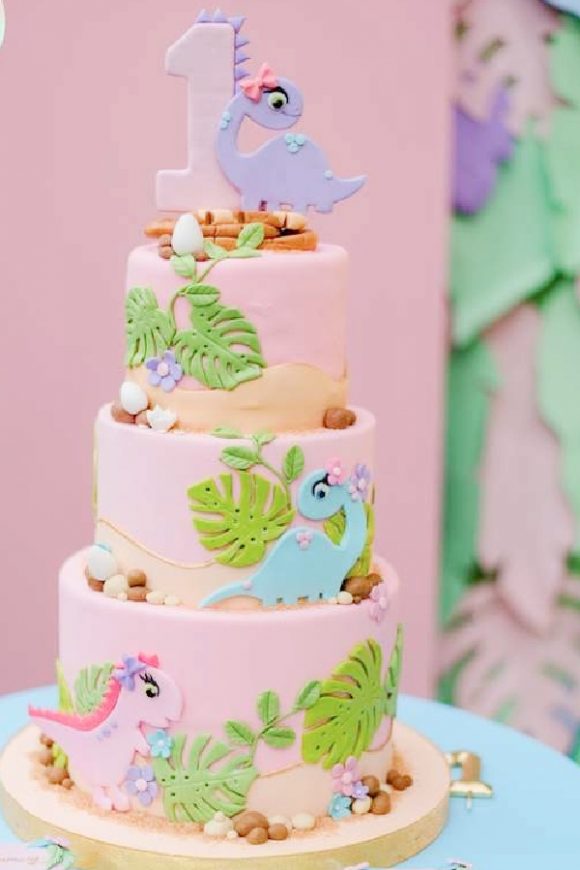 Cookies are also a big hit at parties and look fab on a plate.
If your baking skills are up to scratch and you're throwing a Jurassic Park birthday, then check out these awesome cookies!
All you need is a Jurassic Park cookie cutter and some black, green, and white icing and you're good to go.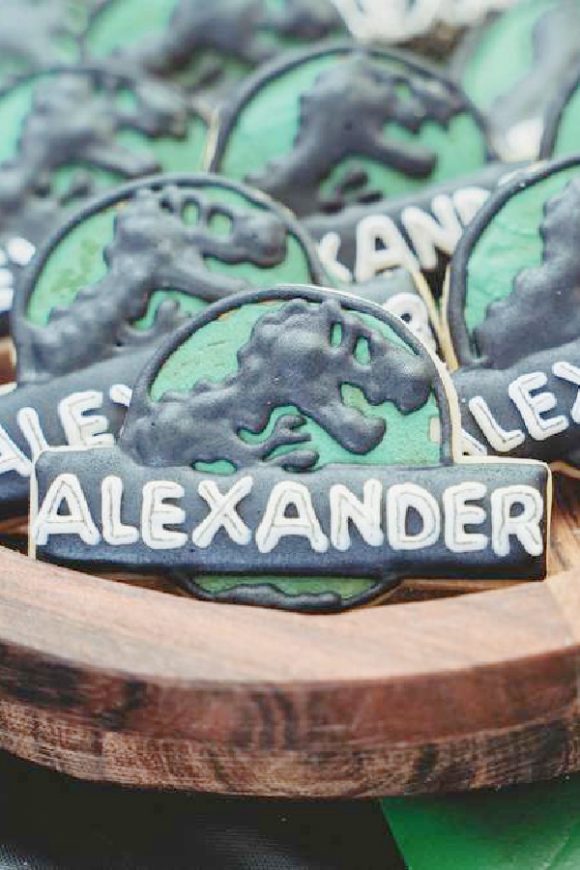 These next dinosaur bones cookies are perfect cookies for a dinosaur party.
They look incredible on a plate and will be gone in no time.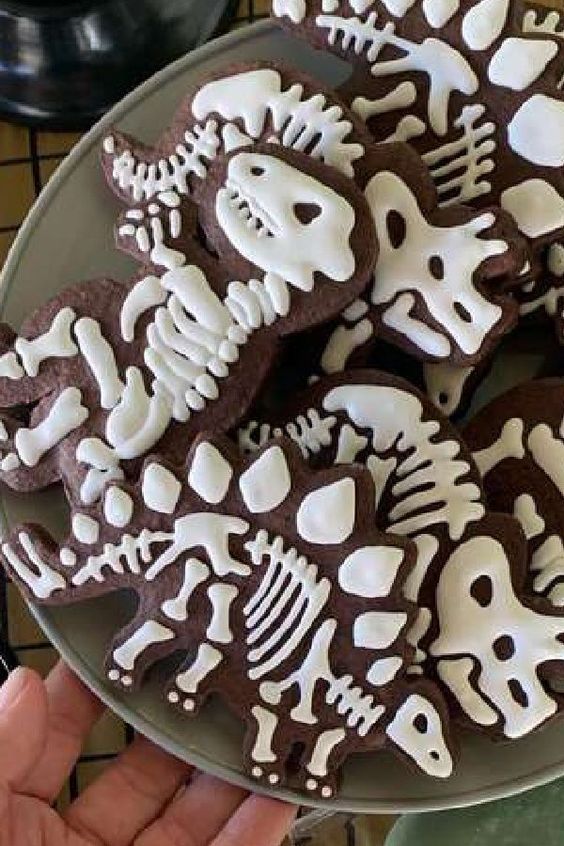 WOW! Just look at these incredible dinosaur-themed cupcakes.
If you are handy in the kitchen and feel up to the task you can bet these cupcakes will blow everyone away.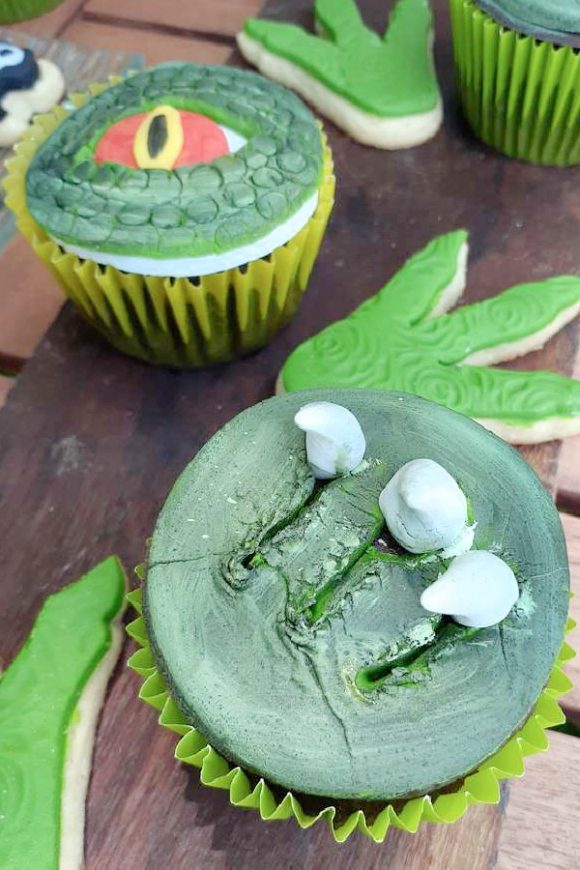 Check out these adorable dino cake pops.
They are so much fun and are an awesome party food that looks wonderful on a dessert table and that kids will love too.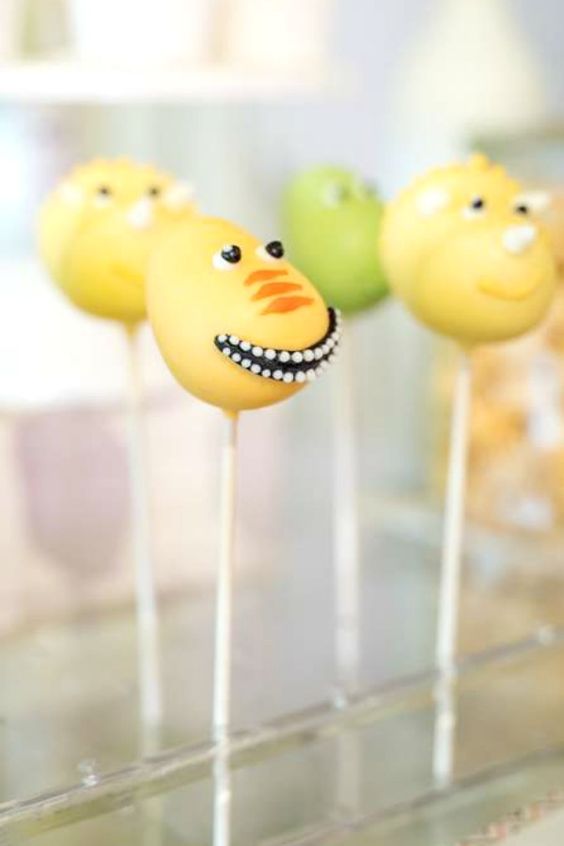 Treat your guests to some dinosaur party food like these dinosaur egg cake pops.
It's such a fun idea and is totally on theme.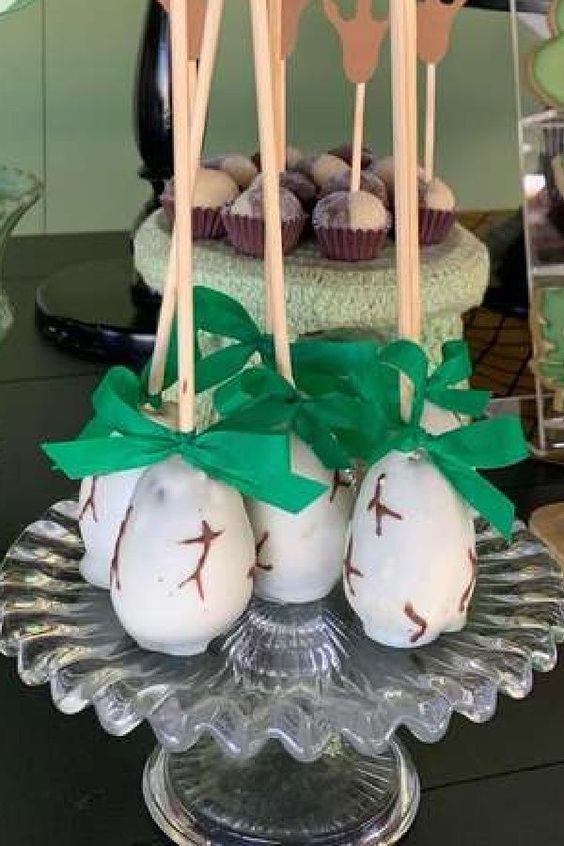 Another cool party food idea for your dinosaur party are these white chocolate-covered pretzels.
Place them in paper bags and labels them as 'dinosaur bones' and you are good to go.
Couldn't be easier!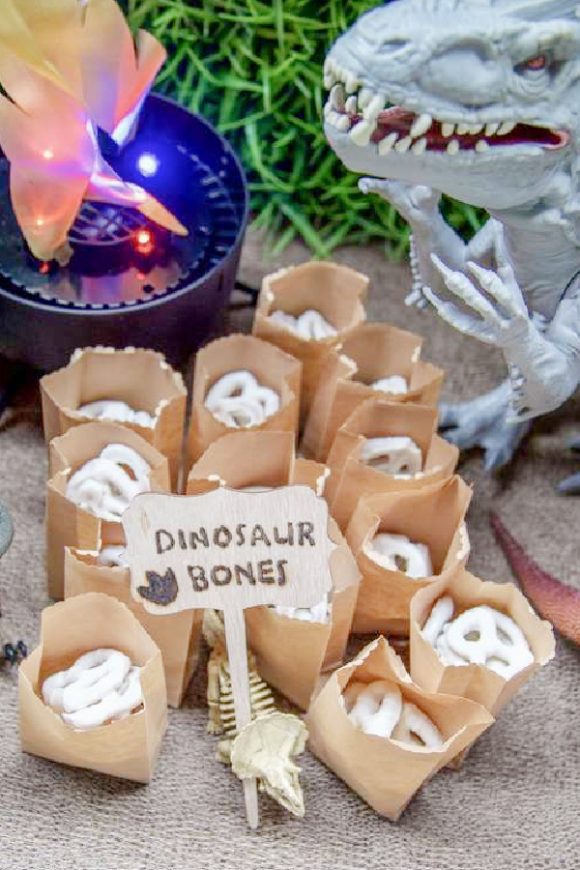 Everyone loves a donut, so how about decorating a bunch of them with some fondant dinosaurs and you've got yourself an instant dinosaur-themed party food!
Place them on a donut wall to impress your guests.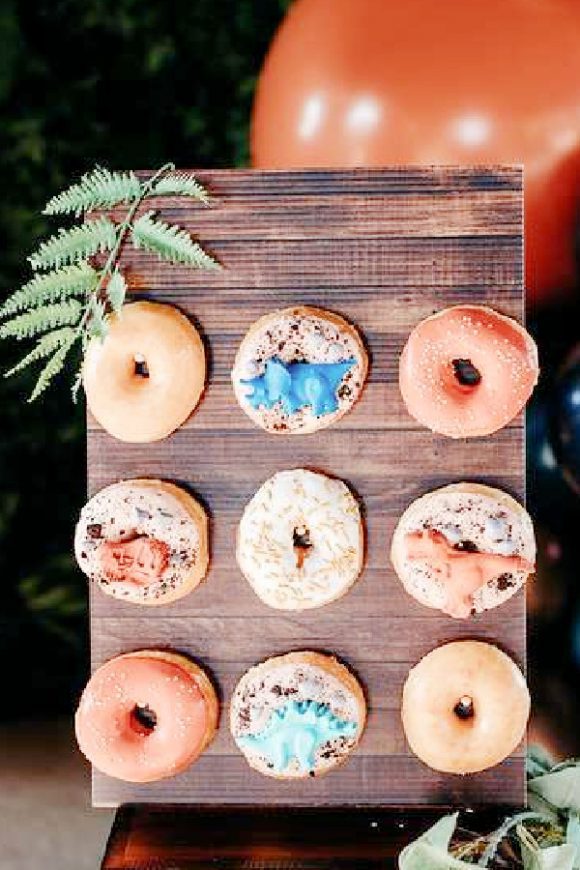 If you are looking for the ultimate Jurassic Park party decoration then check out this amazing Jurassic Park gate!
Place it at the entrance of your party so your guests can step into a party they won't be forgetting anytime soon!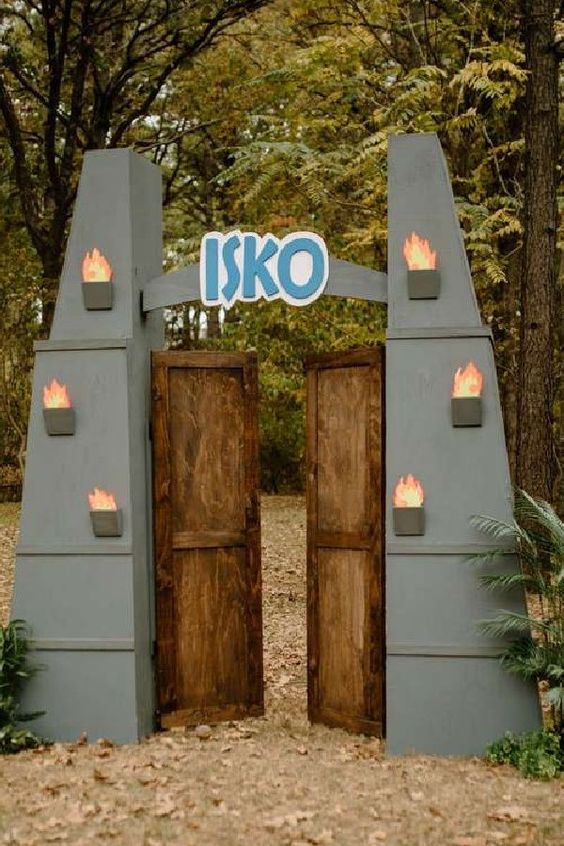 Nowadays if you are having a party then you've got to have a balloon garland. They are so popular and a must-have at all parties.
Love that this balloon garland has been given a 'dinosaur vibe' by simply adding some foliage.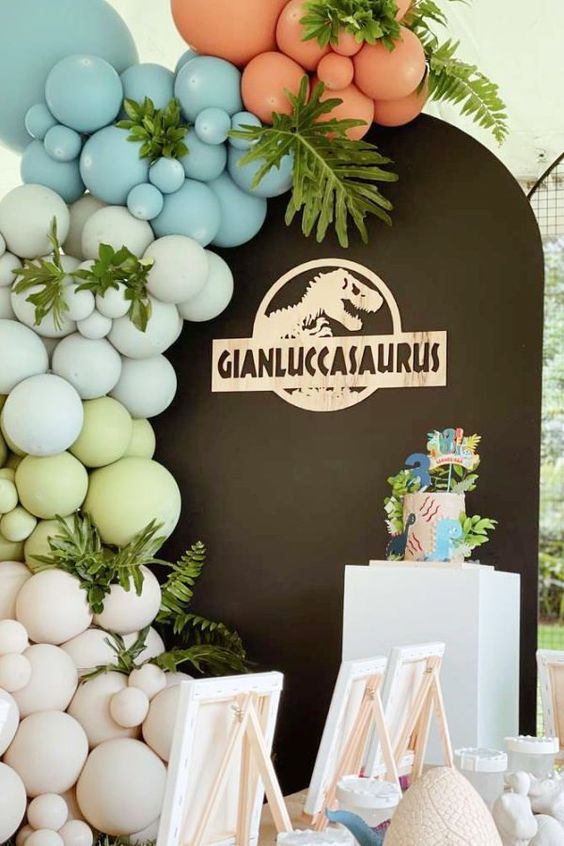 Balloon decorations are everywhere at the moment. The bigger the better.
Decorate your party with a jaw-dropping dinosaur made up of balloons to impress your guests and take your party to another level!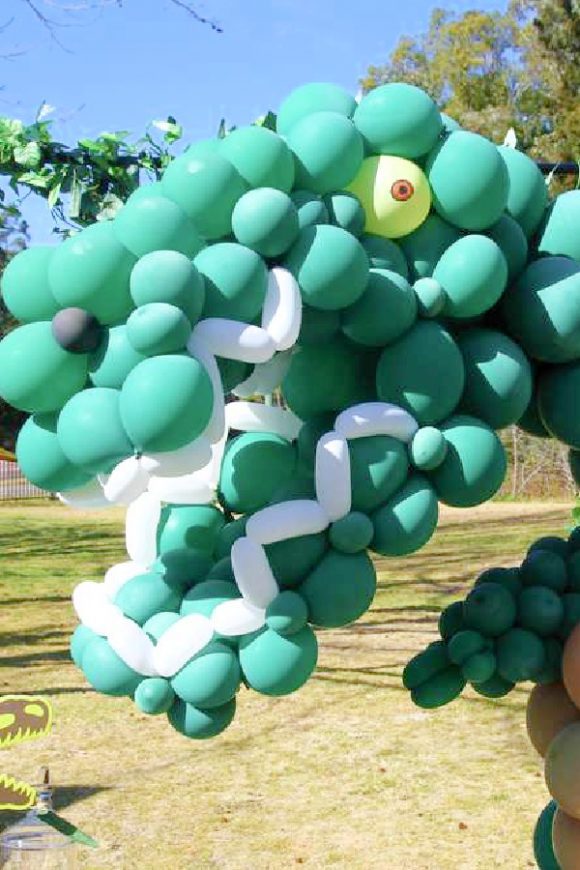 Foil balloons are an excellent party decoration because with no effort you can transform any space into a dinosaur habitat.
Get yourself as many as you can and scatter them throughout your venue.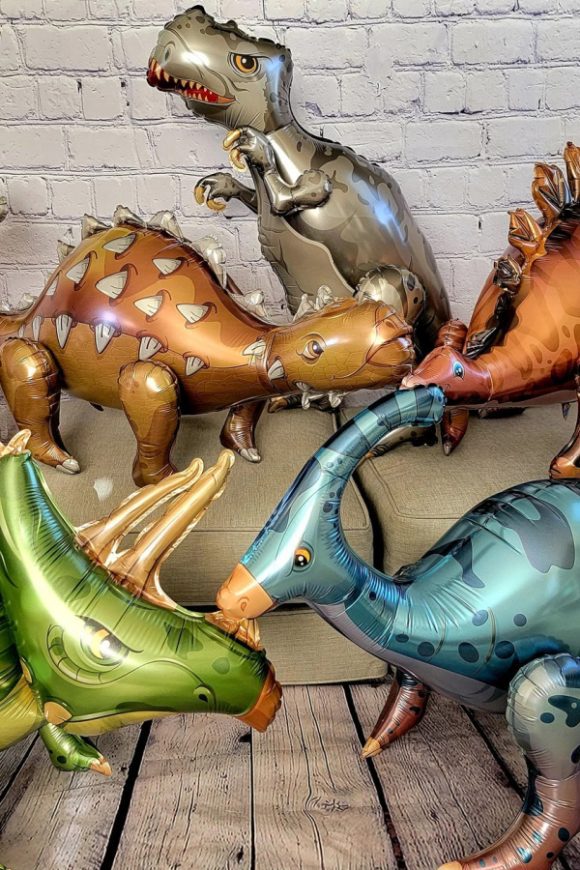 Welcome everyone to your party with this cute sign that gets the ball rolling and greats everyone as they make their way into your celebration.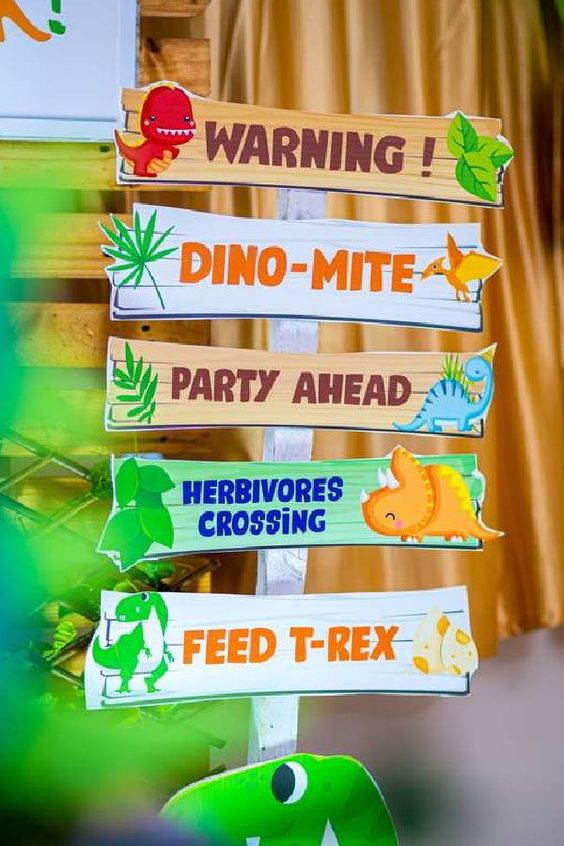 Sometimes finding the perfect backdrop for any dessert table can be tricky but this dinosaur bust backdrop is insane!
You know are in for a fun time when you have an actual dinosaur ripping through a wall and making an entrance.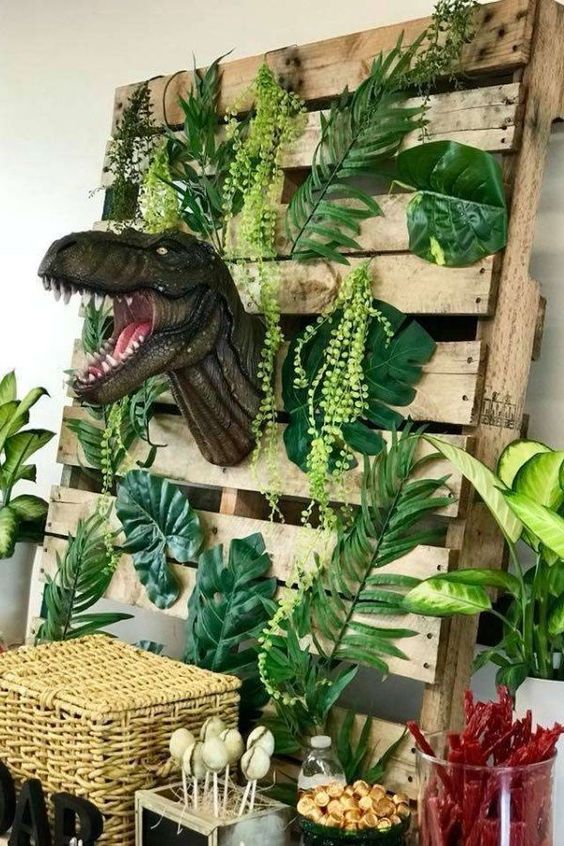 These dinosaur table settings are fantastic.
They really do take you back in time and make you feel like you are among the dinosaurs.
The large green leaf placemats and dino eggs decorating each plate are amazing!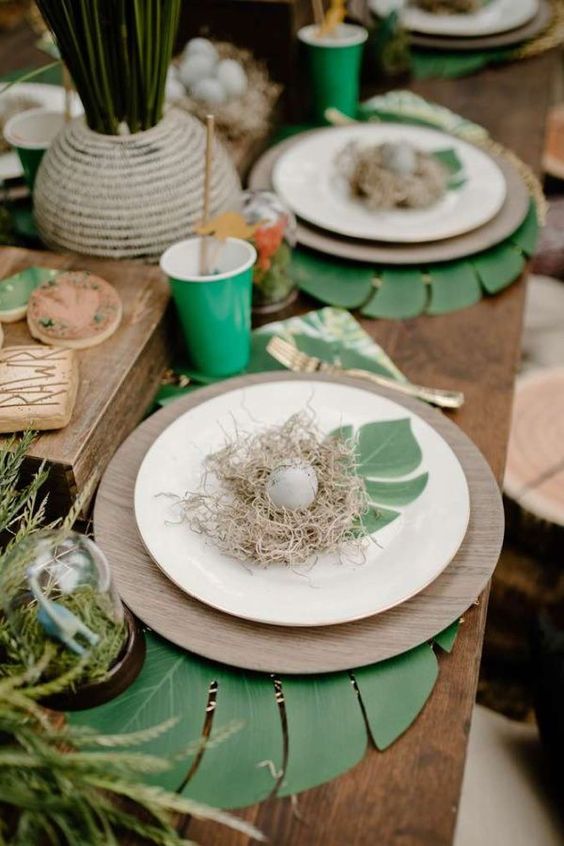 If you are looking for something a little more fun how about decorating your tablescape with these awesome stegosaurus paper plates.
They look great and are so on theme!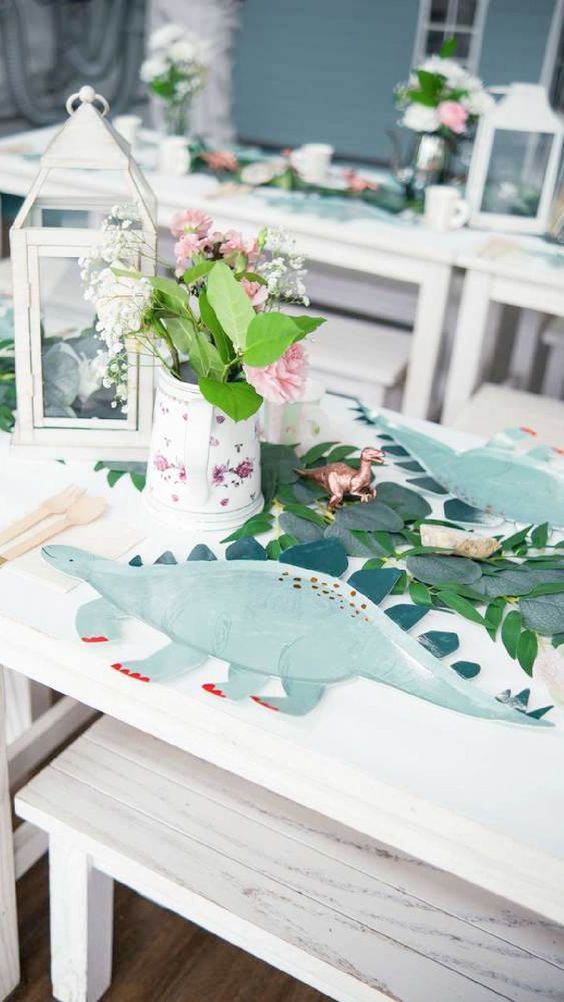 Kids are going to go crazy when they set their eyes on these dinosaur tails decorating each seat.
Not only are they a fab party decoration but kids are gonna love running around with them on.
They double up as a pretty cool photo booth prop and party favor too!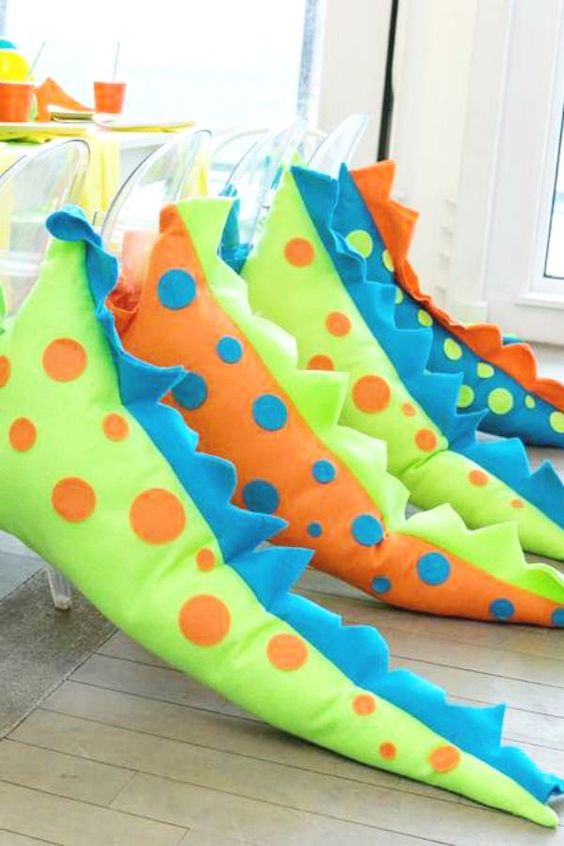 Can't wait to share this next idea!
This dinosaur-inspired centerpiece is such a treat and will amazing decorating a table at your dinosaur party.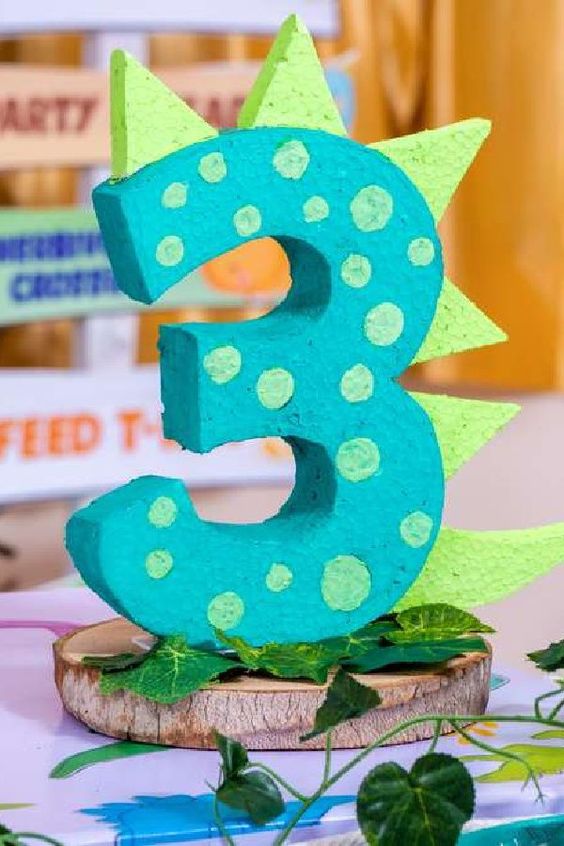 Check out this fun centerpiece.
Dress up large plastic dinosaur toys with party hats and use them to decorate your table settings!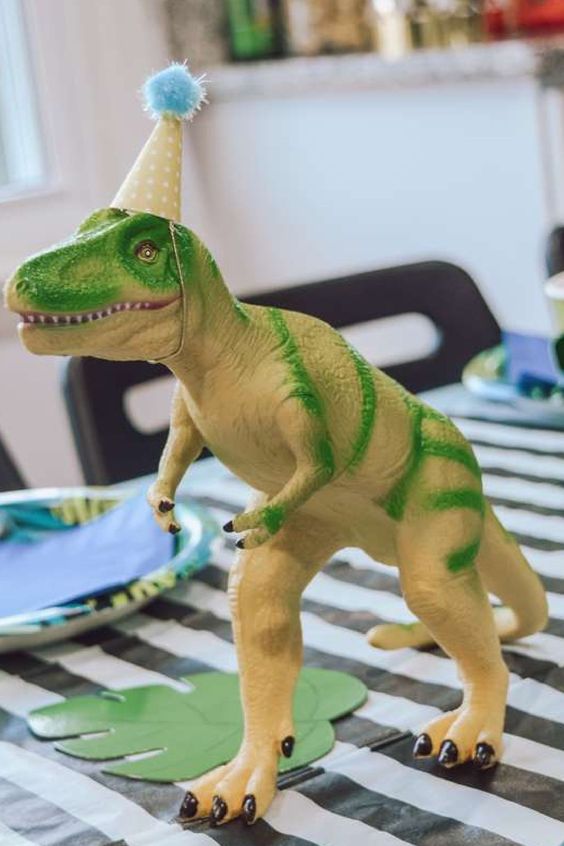 If you are looking for a party hat with a twist then check out these fun dinosaur-themed party hats.
Place one on each plate, so kids can grab theirs and start wearing them once they sit down.
They are a great party decoration and an awesome photo booth prop that will bring so much color to your photos.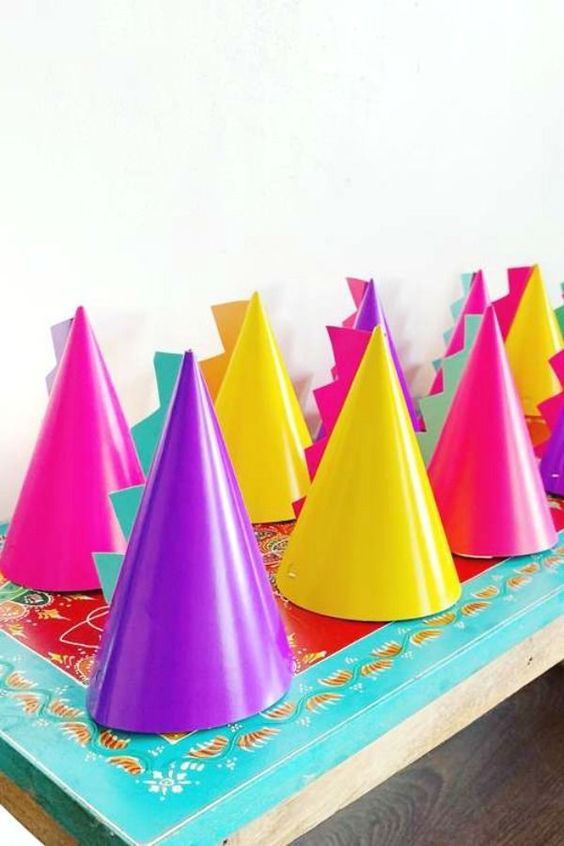 Fooling around at a party photo booth is always a lot of fun, and what a better way to have a laugh at a dinosaur party than with some fantastic dinosaur masks.
Kids are going to love dressing up so have some dinosaur masks at hand for them to help themselves.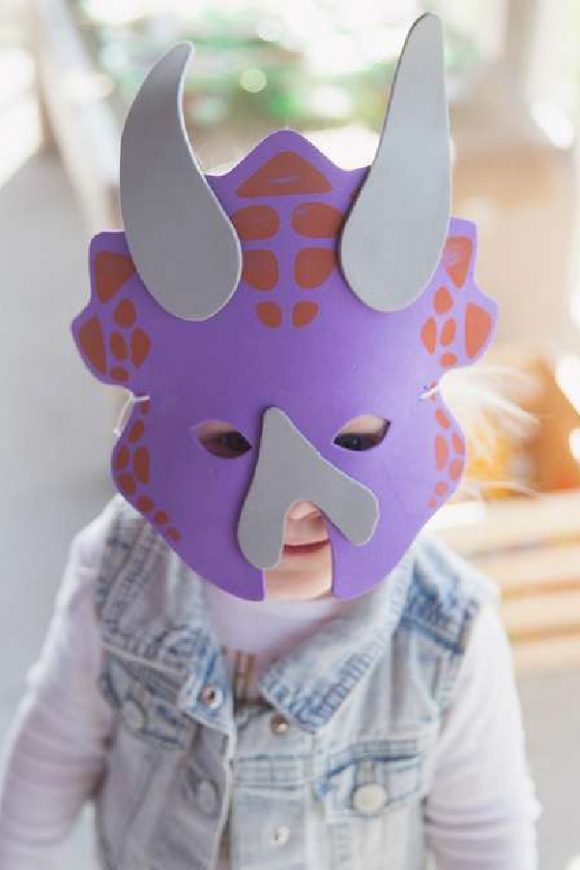 This dinosaur photo booth is the perfect backdrop for all your fun photos.
Create a backdrop with some paper streamers, some dinosaur cutouts and a beware sign, and you're good to go.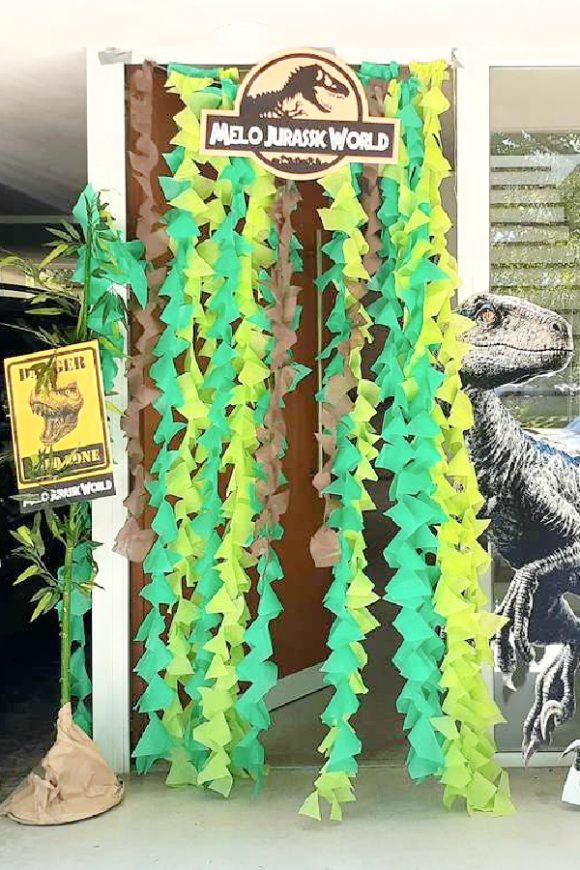 Digging for dinosaur fossils with undoubtedly be the highlight of any dinosaur party!
There's nothing better than digging around in the dirt (sand) looking for some dinosaur bones like a true paleontologist.
Set up this fun dinosaur dig activity by filling a small pool with sand and hide a bunch of plastic dinosaurs and dinosaur skeletons in among it.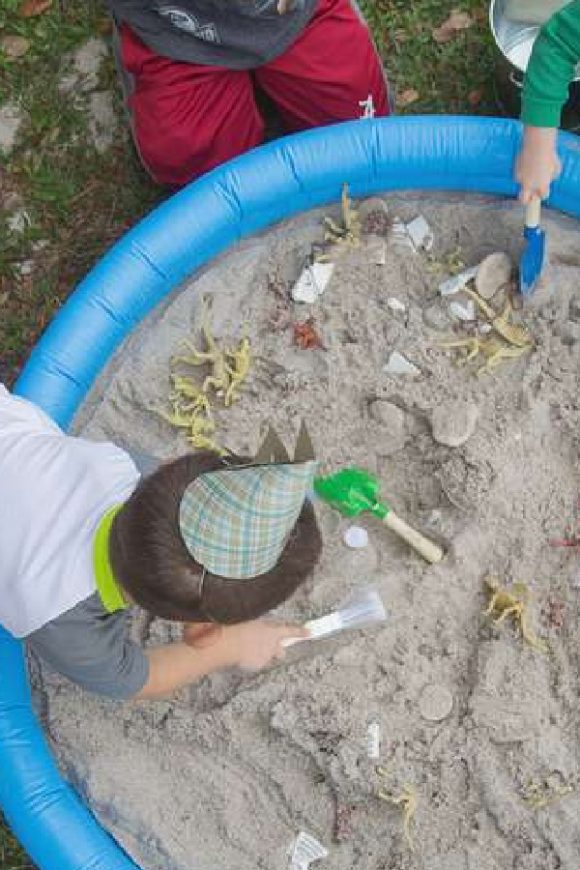 There's an artist in everyone, so how about creating an arts area at your party so your guests can show off their artistic talents.
Set up a canvas, paints, and paintbrushes for each guest and have each one paint their own dinosaur.
What's great is that they can then take their canvas home and put it up on their bedroom wall.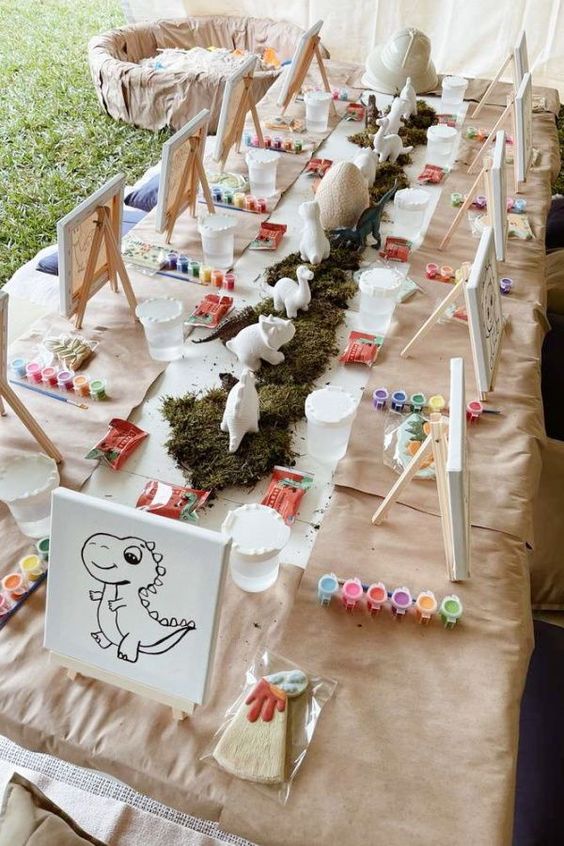 Looking for a dinosaur party game? How about a bean bag toss with a dinosaur twist. Have your guests take aim at a dinosaur's mouth.
The closer they get to the mouth the more points they'll score. Dino-mite!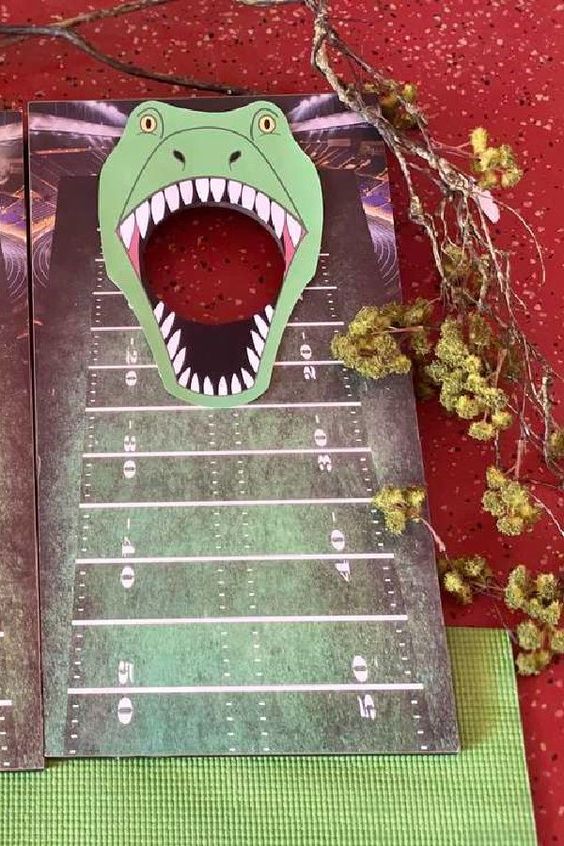 There's not a kid out there that doesn't love bashing a pinata to bits and catching as much candy as humanely possible.
This dinosaur pinata is a great pick for a dino party. Love that it doubles up as a party decoration too.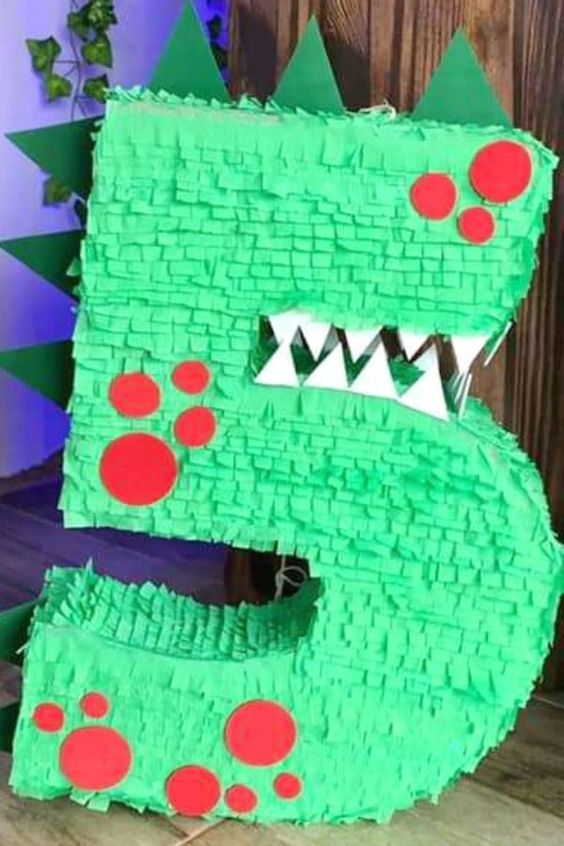 Send each little paleontologist home with their very own excavation kit so they can keep looking for dino bones way after the party is over.
Don't forget to add a magnifying glass to help them on their dig.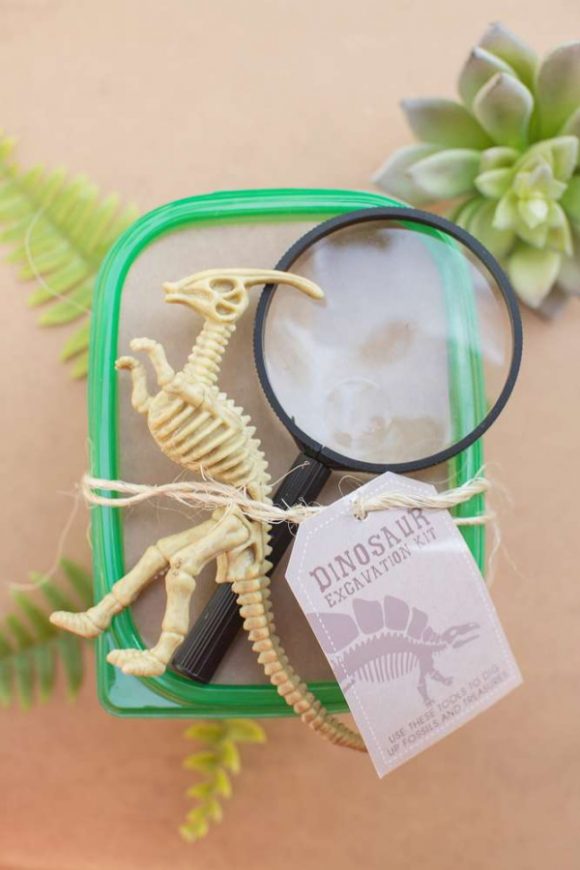 Treat each of your guests to their very own plush party favor dinosaur toy.
Place them all in a large basket and let each child pick one on their way out. Don't forget to hand out adoption certificates with each one.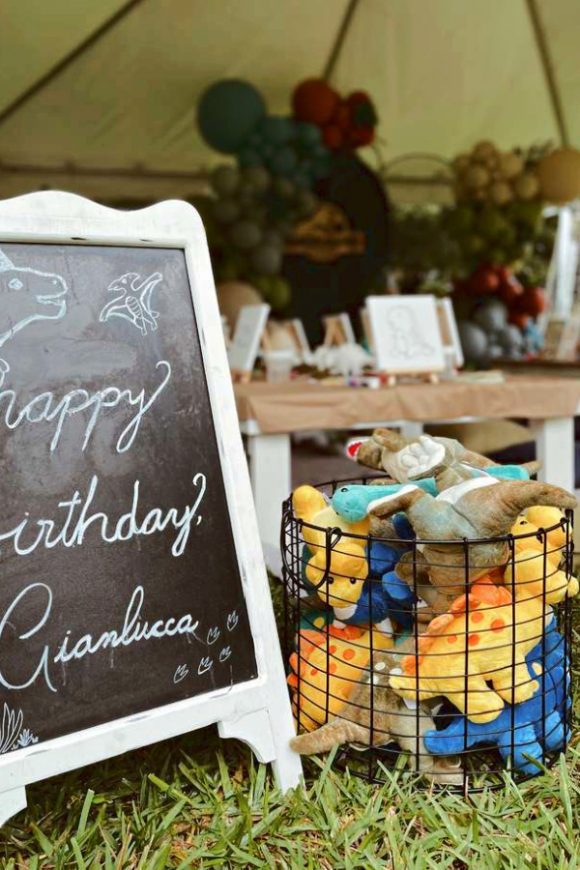 Fill some green paper bags with a bunch of dino-themed goodies and decorate them with some awesome dinosaur party horns.
Not only will they look fantastic but the kids are gonna love them to!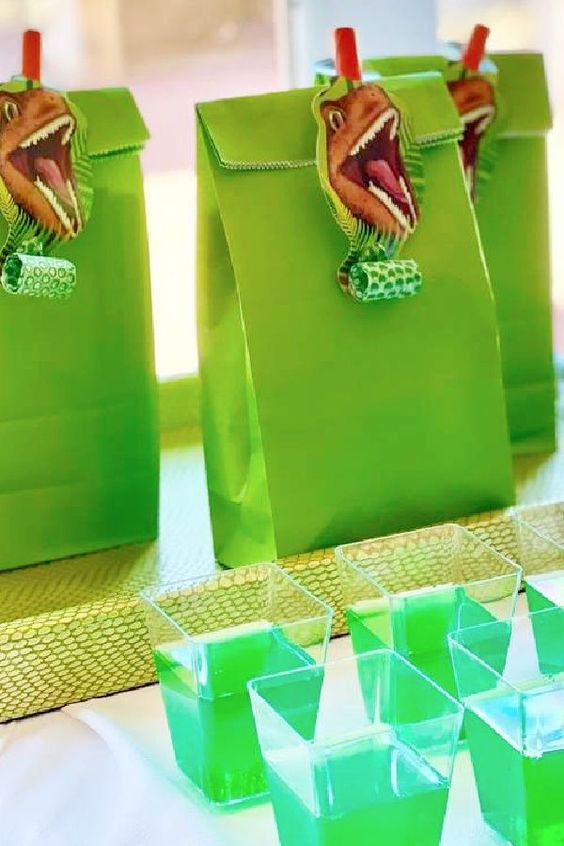 Last but not least send your guests home with one of these fantastic dinosaur backpacks full of goodies.
They'll come in really handy for trips or even for school and are a great way to remember an awesome day!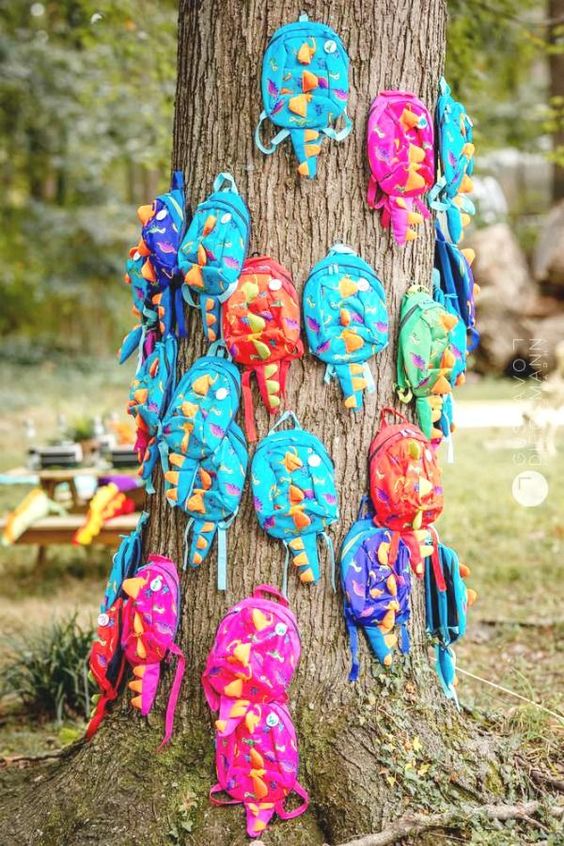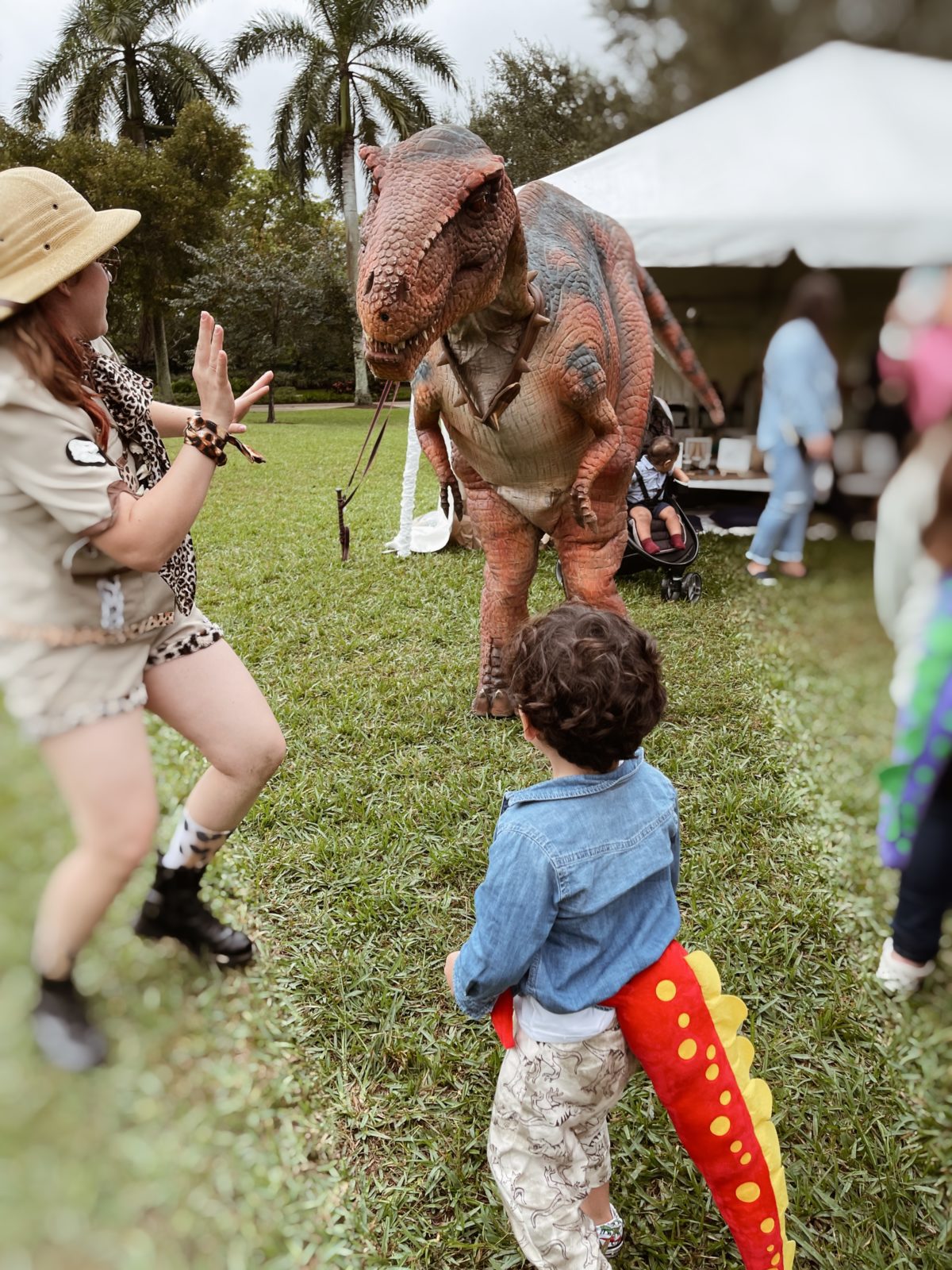 Need Dinosaur party ideas?
For more inspiration, check out all the stunning and real dinosaur birthday parties on our site!